[Editor's Note: With the expansion Vegas Golden Knights making it all the way to the Stanley Cup Finals — and facing elimination tomorrow night — today we have a guest entry from Thomas Roddy (that's him at right; click to enlarge), who recently celebrated his birthday by making himself a logo-themed cake. — PL]
By Thomas Roddy
My wife and I moved to Las Vegas five years ago. With the Golden Knights debuting this season and playing so well, I decided to make my own Golden Knights cake. After looking at the logo, I figured this would be easy, since the Knight's helmet is essentially a series of triangles.
Boy, was I wrong! As a high school history teacher with zero artistic expertise, I soon realized I was in a bit over my head. Here were my early attempts at drawing the logo [for all photos, you can click to enlarge):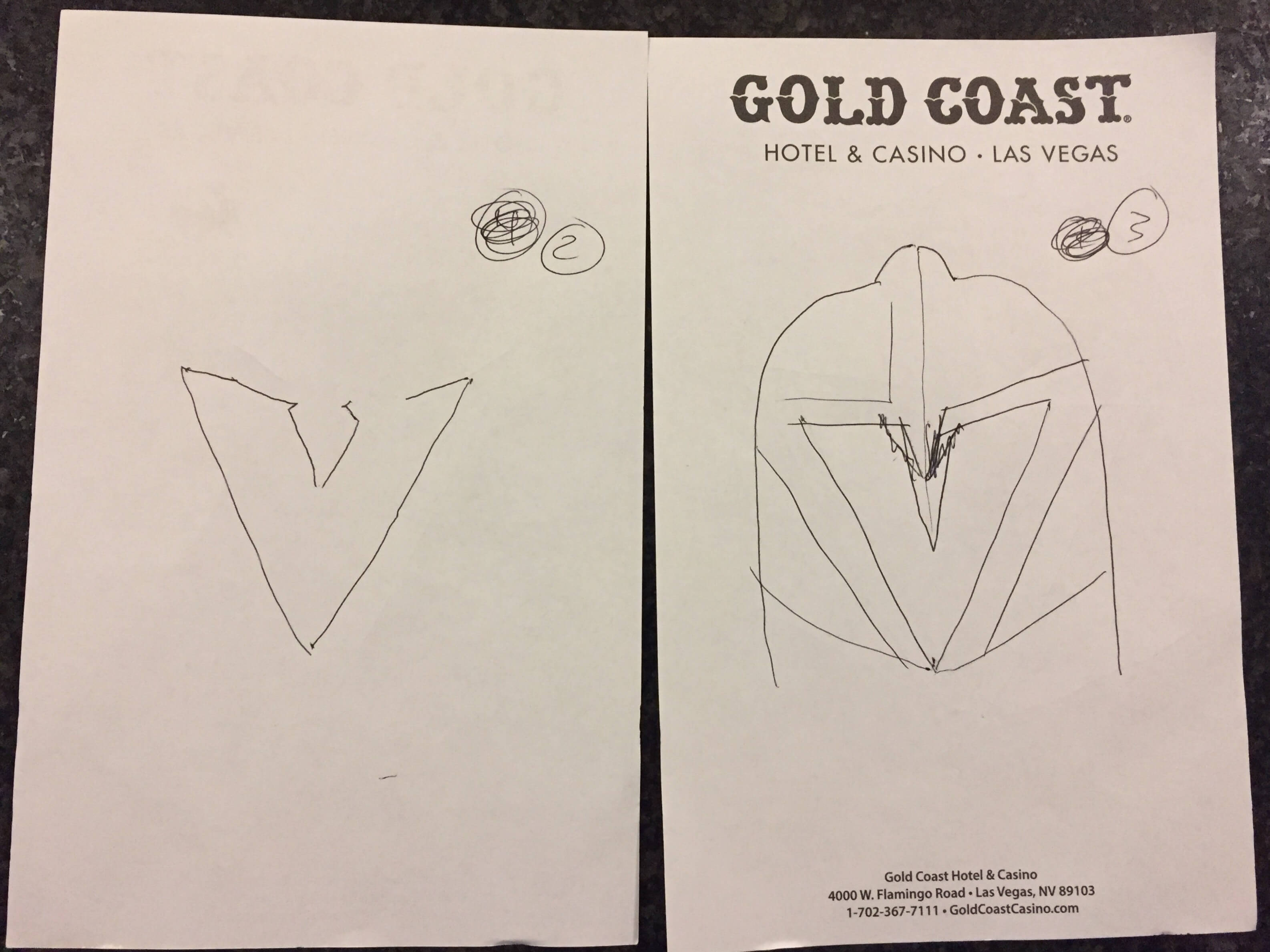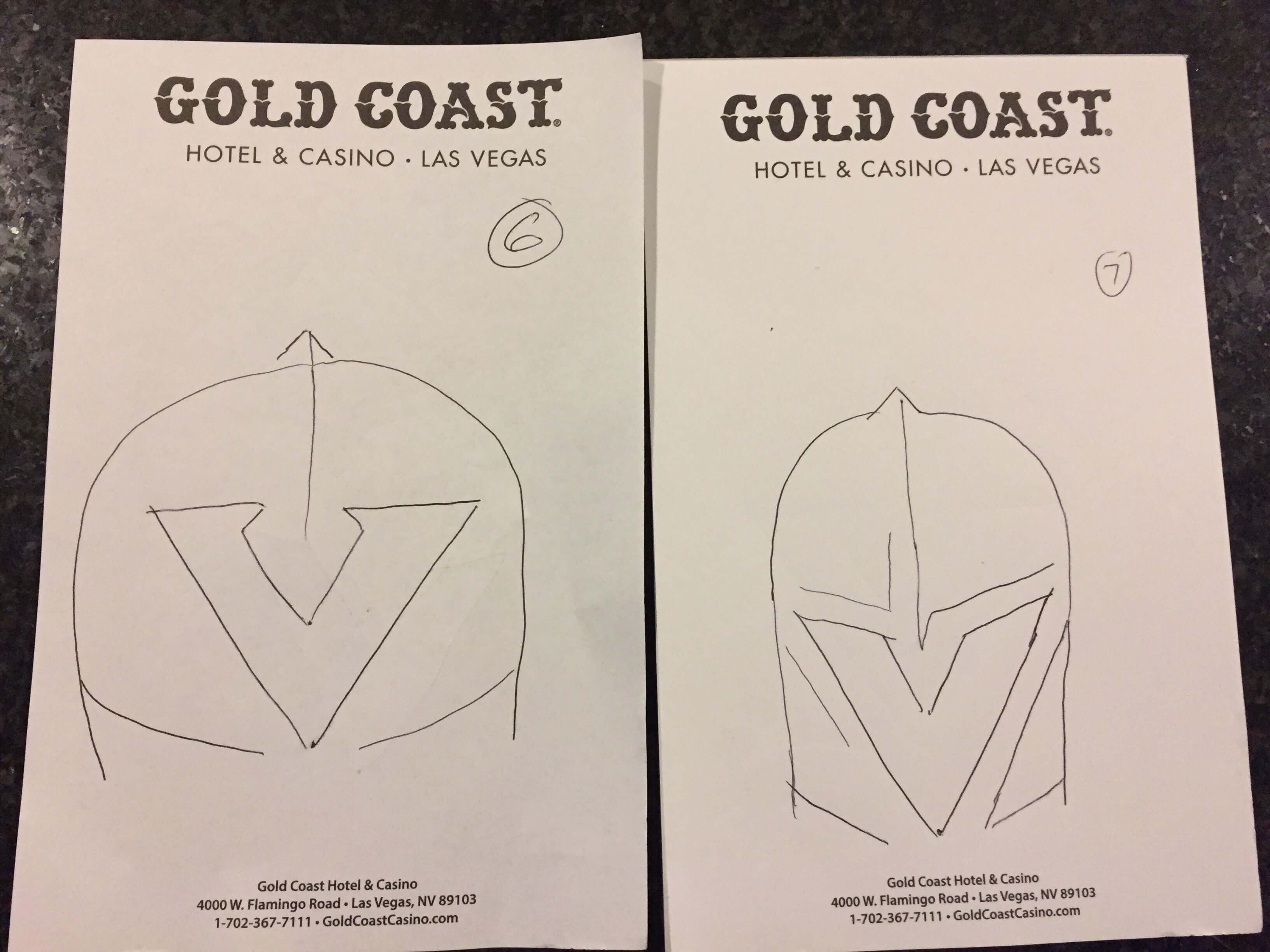 I eventually figured it out. Then it was time to bake, frost, and design. Again, I am a history teacher, not a baker, so I used a store-bought box mix: gluten-free Pillsbury Funfetti. Here's how the unfrosted cake turned out:
As you can see, the cake is oriented vertically. I made that choice because the Golden Knights' logo is taller than it is wide. When you think about it, most cakes are oriented horizontally, so I liked the uniqueness of this stylistic choice.
Next, I applied a base coat of white rainbow chip frosting and then used toothpicks to trace the logo:
Now it was time to add the logo. The Golden Knights' official team colors are steel grey and gold, but when I tried to achieve those colors by mixing food coloring into the white frosting, the results were disastrous. (Have I mentioned that I'm a history teacher, not a baker?) So I just used black and yellow — yellow first, because I figured it would be more forgiving if I messed up, and then the black:
Considering this was my first cake project, I'm satisfied with the results. The entire process took about three hours and it was an oddly calming experience that allowed me to reminisce about my childhood birthdays and how my parents always sacrificed to make it a special day. A sweet way to celebrate my 35th!
• • • • •
[adrotate group="2″]
• • • • •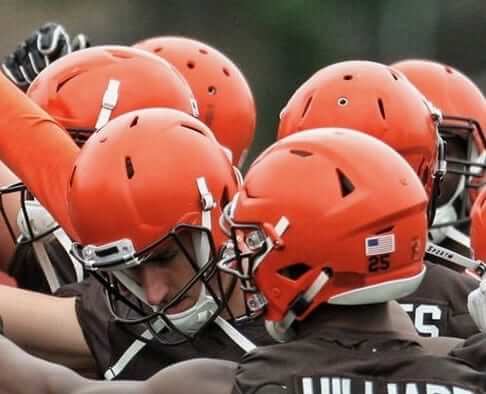 Browns find way to make helmets even plainer: For many years, there have been two pro sports teams that have a different look for the preseason (well, aside from MLB, which uses those ridiculous spring training unis): the Pittsburgh Steelers, who omit the front helmet numbers during the preseason, and the Detroit Red Wings, who use a block NOB font during the preseason.
Now there's the third team that will have a distinct preseason look: the Cleveland Browns, who announced yesterday that players will not wear stripes on their helmets until they've made the 53-man roster. That means their shells will be stripe-free during OTAs, minicamp, and the preseason, right up to the final roster cuts (which at the very least should make things easier for the equipment staff, which won't have to deal with striping tape).
With coach Hue Jackson saying that the players have to "earn their stripes," this feels like something that could have major copycat potential. Will other teams follow? Hmmmm.
(My thanks to Cleo Macin for letting me know about this one.)
• • • • •
[adrotate group="2″]
• • • • •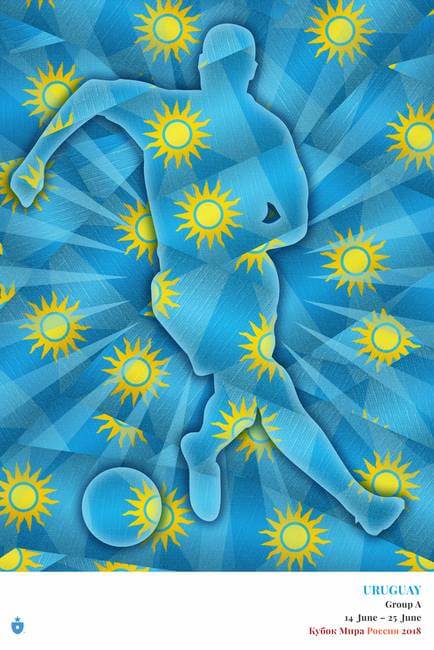 Getting ready for the World Cup: Designer Mark Willis, who's done a lot of really cool soccer-related work over the years (like the great Soccer Out of Context series), has a new project that I think you'll like. He's designed T-shirts and posters for every World Cup team (that's the Uruguay poster shown at right), with one unifying theme: Each design is based on a simple ribbon graphic that Mark has created for every nation.
To understand what I mean, check out Mark's explainer for the project here — good writing, excellent supporting graphics. Then you can check out his designs for Groups A, B, C, D, E, F, G, and H.
I strongly recommend reading the individual group links, where Mark explains his creative process and how he arrived at his various designs. But if you want to skip that and just see the finished work, here are all the T-shirts and all the posters.
• • • • •
[adrotate group="2″]
• • • • •
Click to enlarge
Raffle reminder: Illustrator Alex Bennett is currently raffling off two of his new "Football Mishmash" posters (shown above) to a pair of lucky Uni Watch readers. full details here.
• • • • •
[adrotate group="2″]
• • • • •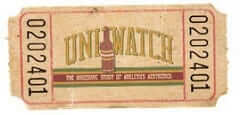 And wait — another raffle! You may have heard of Vintage Brand, which sells all sorts of products using vintage sports graphics. Their canvas prints are particularly nice, and would be ideal for Father's Day. Here are a few of their more than 3,000 canvases: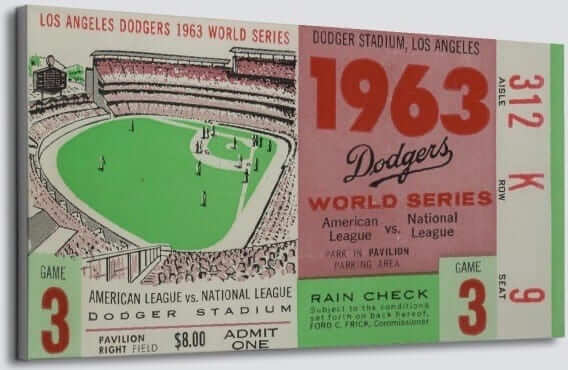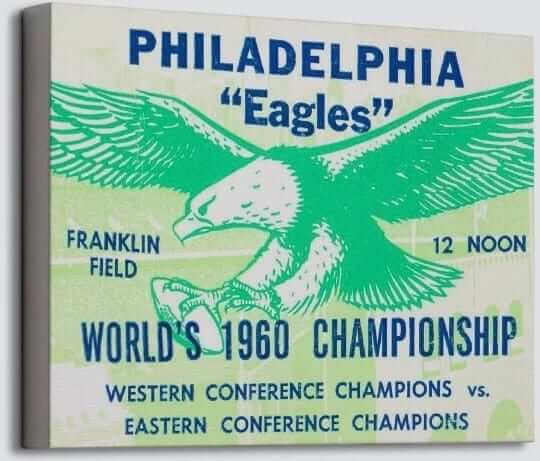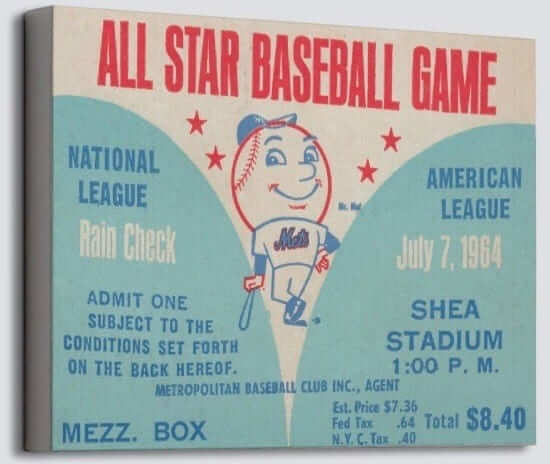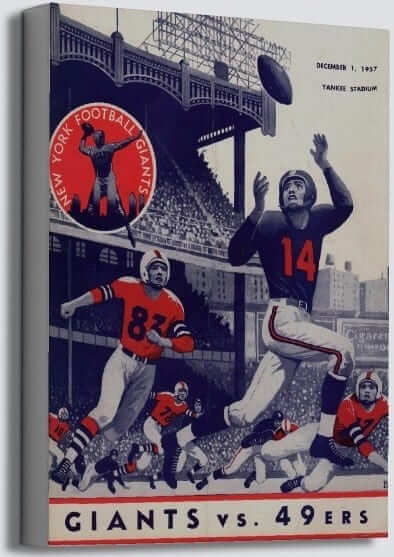 The good folks at Vintage Brand are letting me raffle off two of their canvas prints to a pair of lucky Uni Watch readers. To enter, send an email with your shipping address and your preferred canvas design (you can choose any design from their website) to this email address by 7pm Eastern this Sunday, June 10. Please note that this is NOT the same raffle address being used for the NFL Mishmash poster raffle — two raffles, two different email addresses.
Feel free to enter both raffles, but one entry per person per raffle. I'll announce the winners for both raffles on Monday.
• • • • •
[adrotate group="2″]
• • • • •
Membership update: A few more designs have been added to the membership gallery (including John-Peter Struzzieri's card, shown at right, which is based on the Knicks' early-'80s road jersey; too bad John-Peter went with a nickNOB instead of his full surname, since those Knicks jerseys had some serious vertical arching).
I have one slot left on the current sheet, which means the next person to sign up will get his or her card very quickly.
Remember, a Uni Watch membership card entitles you to a 15% discount on any of the merchandise in our Teespring shop. (If you're an existing member and would like to have the discount code, email me.) As always, you can sign up for your own custom-designed card here, you can see all the cards we've designed so far here, and you can see how we produce the cards here.
• • • • •
[adrotate group="2″]
• • • • •
The Ticker
By Alex Hider

Baseball News: The Twins and White Sox played their Jackie Day make-up game yesterday, with all players wearing No. 42. … Rawlings, the equipment manufacturer that makes MLB game balls, has been sold to a group that includes MLB (from  @mrmichael21). … When Giants P Derek Holland entered the game on Monday, ESPN forgot to input his last name onto an on-screen graphic (from Mike Chamernik). … Speaking of last names, reader Gordon Blau points out that if new Mets draft pick Simeon Woods-Richardson reaches the majors, he would set the record for the longest surname in MLB history, beating Jarrod Saltalamacchia by one letter (and two characters, if you count the hyphen). We may have to establish separate records for hyphenated and non-hyphenated names. … A fan at Monday's Giants/D-backs game switched jerseys between innings to try and get a baseball from players in the bullpen (from Brinke and Mike Chamernik). … The Chicago Dogs of the independent American Association will wear special uniforms for "Weiner Wednesday" today (from Steve Johnston). … There are plenty of well-dressed teams in the Cape Cod League this season (from Joe Giza). … Major League Lawn & Landscaping in Milwaukee uses a Jerry Dior-inspired logo (from a reader who did not give his name). … Westview High School in Oregon wears 1980s White Sox-inspired uniforms (from Kevin Soon). … Todd Radom was promoting his new book, Winning Ugly, on the MLB Network yesterday. Here's a great video clip of him being interviewed by Brian Kenny (from Daniel Trivinos). … Reds INF Alex Blandino has been experimenting with a variety of lower-leg stylings lately, from socks with Hunter Pence-level pants to low-cut stirruprs to spectacularly high-cut stirrups (from @bitterRedsfan).

NFL News: The 49ers will honor Dwight Clark on their uniforms in some way this season (from Phil). … Speaking of Clark, the Niners all wore No. 87 shirts at practice yesterday in his honor (from Brinke). … During his rookie year in 1975, Chargers DL Gary "Big Hands" Johnson went FIOB, with the initial following his last name (from David Steinle). …  Apparently, Nike messed up some of the early orders for the Steelers' new throwback jerseys and rendered the NOB in the team's current font, instead of the proper throwback font (from Patrick Moreland). … In 1979, the Los Angeles Coliseum grounds crew wrote "Good Bye" and "Good Luck" in the Rams end zones as they played their final game in the stadium before moving to Anaheim (from Pro Football Journal). … Looks like there were some kerning inconsistencies on the '80s Giants NOBs (also from Pro Football Journal).

College Football News: Iowa's Tigerhawk logo has been added to a water tower near Kinnick Stadium. … One observer has deemed Wyoming to bet be the worst-dressed team in college football (from Jason Hillyer). … The 1963 Indiana Hoosiers were wearing taped stripes on their facemasks long before Sean Taylor made it cool (from Bill Kellick). … Speaking of tape on the mask, Kenny Stabler apparently decorated his facemask while at Alabama (from Brett Baker). … Michigan is allowing students to vote on the design of the school's official fan football T-shirt (from Teddy Tran). … The city of Akron, Ohio, will tear down the Rubber Bowl, former home of the Akron Zips and former site of some high school football championship games (from Jim Vilk).

Hockey News: Capitals RW T.J. Oshie rode the subway home after the Caps won Games Three and Four of the Stanley Cup Finals. Yesterday, the Washington Metro tweeted it would feature him on an upcoming card design if the Caps close out the series (from William F. Yurasko and John Muir). … Rangers C Mika Zibanejad posted an Instagram photo of himself wearing a 1947 Prague game jersey yesterday (from Aaron Scholder). … 3 Stars Brewing Company in Washington worked their name into the Capitals logo for the Stanley Cup (from @bryanwdc). …Here's a good feature video about Sonia Scurfield, the only Canadian woman whose name is inscribed on the Stanley Cup (from Ted Arnold).

Basketball News: Mike Muir of the SoCal skate punk outfit Suicidal Tendencies, sported a Sydney Kings jersey in a recent photo shoot. The Kings compete in Australia's National Basketball League.

Soccer News: Reader Josh Hinton is back with a few notes: Arsenal has signed a new kit deal with Adidas for the 2019-20 season; Greek club AEK Athens has singed a kit deal with Capelli Sport (also from Ed Zelaski); Louisville City FC wore their road jerseys at home in a US Open Cup game against the New England Revolution; and here's a look at some Liga MX jerseys without advertisers. Finally, the 2018-19 jersey font for the EFL (England's Championship, League One and League Two), has been revealed. … Nike will boycott Iran's World Cup players, citing US sanctions against the country (from Phil). … FC Porto of Portugal's Primeira Liga has new first and third kits (from Jamie Rathjen). … Also from Jamie: New uniforms for Scottish League Two team Clyde. … One more from Jamie: The top three tiers of English women's soccer have new logos and the second and third tiers have new names. … Here's another article looking at every World Cup jersey (from Ted Arnold).

Grab Bag: The Huffington Post published a gallery of old flight attendant uniforms earlier this week (from Jason Hillyer). … In a related item, Delta's new preflight safety video shows the evolution of the airline's flight attendant uniforms. … New logos for Grace College, an NAIA school located in Indiana (from Phil). … "I Voted" stickers, like everything else, are flashier in Las Vegas (from Thomas Roddy). … A Chicago-area credit union is offering its customers the chance to get credit cards with a Moris High School (Illinois) design. Anyone else know of anywhere else where you can get a credit card with a high school design? (From Scott T. Holland.) … This listicle takes a look at some crazy vending machines (from David Firestone). … This story investigates the origins of the nicknames of a number of colleges in North Carolina (from James Gilbert).