Bryce Canyon National Park, May 26, 2018; click to enlarge
Today I want to go off-uni and tell you about my recent vacation, which was one of the best I've ever taken. (This travelogue is a longer scroll than most of the others I've presented here on the site, so if you want to skip the travel story and go to the next section, you can click here.)
So: There's a big cluster of national and state parks in southern Utah, and for years now I've been wanting to check them out. This is Utah's "red rock country" (the area that inspired the Jazz's alternate uniform design), and it's one of the few major pockets of America that I hadn't seen. Last month, accompanied by the Tugboat Captain, I finally crossed it off my list. And holy shit was it worth the wait.
From a logistical standpoint, the easiest way to visit southern Utah is to fly to and from Las Vegas. But we also wanted to check out an important northern-Utah spot, which is much more accessible by flying into Salt Lake City. We considered flying into SLC and then leaving from Vegas (or vice-versa), but that turned out to be too expensive and complicated, so we decided to fly to/from SLC, with the understanding that our last day on the road would mainly be spent driving back north.
Armed with a National Park Service annual pass (a tremendous bargain at $80), we left on Sunday, May 20, and returned on Tuesday, May 29 — a nice, long trip. In between, we drove 1665 miles and hiked about 45 more. We began by heading north from Salt Lake City to check out that one northern site — I'll get to that in a minute — and then doubled back, headed down toward the southeastern part of the state, and traced a wobbly clockwise path that looked roughly like this (click to enlarge; the green-boxed numbers show where we stayed at the conclusion of each day):


I normally like to travel without a set itinerary. I prefer to make things up as a I go, and I can usually find a cheap motel without any problem. But this trip was going to cover a lot of tourist-heavy areas and was also going to include the Memorial Day weekend. With those two factors in mind, we grudgingly decided to plot out a rough schedule ahead of time and make motel reservations in advance. As it turned out, that worked out fine. In fact, almost everything worked out fine — we had near-perfect weather for most of the trip, we lucked into some excellent unexpected diversions, and we met some great people. It was a win-win-win-win-win.
Here's a day-by-day account of how it went. Most of the photos that follow (all of which you can click to enlarge) were taken by me, but some — including, obviously, the ones that I appear in — were taken by the Captain. And the one at the top of the page was taken by a fellow hiker who offered to take our photo.
Day One — Sunday, May 20: We landed in Salt Lake City, rented an SUV (we planned to be on some roads where high-clearance vehicles were recommended), and began driving north. We were hungry, so we stopped at a roadside/mountainside joint in Ogden called the Oaks, which had a really nice sign and served a very solid burger:
In that last photo, the little condiment thingies — unopened on my plate, opened in the Captain's hand — are fry sauce, a Utah specialty that's similar to Russian dressing. I can't stand mayonnaise, so I didn't try it at any of our food stops, but the Captain liked it.
Our next stop was Golden Spike National Historic Site. It was here that the ceremonial "golden spike" was driven in 1869, connecting the first transcontinental railroad. Honestly, the site isn't much to look at and isn't even particularly authentic (the original track was torn up in the 1940s so the steel could be repurposed for the war effort, so the track on the site is just a replacement), but there's a nice commemorative railroad tie marking the spot, along with some cool reproduction locomotives that they periodically run back and forth along the replacement track. Definitely worth it for train enthusiasts, maybe not for anyone else.
From there we drove on toward something I've always wanted to see: Spiral Jetty, which is an earthwork created by the artist Robert Smithson in 1970. This is the northern-Utah attraction that led us to fly into Salt Lake City instead of Las Vegas. It's literally a spiral jetty that Smithson built on the shore of the Great Salt Lake.
But here's the thing: The Great Salt Lake has no natural outlet, so its level depends on rainfall and snow melt. When the lake's level is high, Spiral Jetty is submerged and invisible; when the level is medium, Spiral Jetty lives up to its name; and when the lake is low, as it currently is, Spiral Jetty is more of a rock formation than a jetty, with the lake's shoreline not quite reaching the earthwork. I would have preferred the true jetty effect, but it was still really cool to see, especially with a very dramatic-looking storm brewing on the other side of the lake:
One thing I really liked was seeing all the mini-Spiral Jettys and spiral-themed beach graffiti that people have left behind. It all felt nicely participatory and inspirational:
We high-tailed it to beat the storm and ended up spending the night in Provo.
Day Two — Monday, May 21: I've stayed at many a motel with many a make-your-own-waffle iron, but our motel in Provo had something I'd never seen before: In addition to a standard waffle iron, they had an iron that made four mini-waffles.
After waffling up, we walked over to the BYU Museum of Paleontology, which had the usual assortment of dinosaur skeletons. Nothing we hadn't seen before at other museums, but the Captain and I are both suckers for dinosaurs, so we enjoyed it.
Across the street from the museum, we saw the BYU football stadium, which has a pretty amazing mountain backdrop. Definitely a nicer setting than your average stadium — imagine playing football here:
Next, we made a stop at the BYU art museum, where, by incredible coincidence, a friend of ours from back home in Brooklyn was featured in a big exhibit. Unfortunately, no photos were allowed.
That was it for Provo. Driving south, we made a stop in the town of Helper, which has a lot of shuttered hotels — many of them with disused neon signs that must have looked great in the town's heyday:
Helper also has a very good local history museum. The exhibits include a lot of uniforms, many of them from teams associated with the area's old coal mining operations:
As we continued driving south, we began entering red rock country. The landscape was all buttes and bluffs, most of them spectacular, like this:
We eventually reached the town of Green River, where we checked out the strangest beach I've ever seen. Located on the banks of the town's titular river, it has sandstone hills in the background — amazing.
For dinner, we checked out a highly regarded taco truck that has set up permanent residence in a former gas station. Excellent tacos, and a fun setting — excellent.
Before settling in for the night at a local motel, we took an after-dinner stroll and discovered that Green River, much like Helper, has a lot of abandoned buildings with evocative signage, along with one excellent sign that's still very much in use:
Day Three — Tuesday, May 22: Today we began a series of visits to national parks, beginning with Arches National Park, named for its distinctive arches caused by sandstone erosion. We'd heard it can get crowded, so we woke up pretty early and got in a full day of hiking, including visits to many of the park's more notable arches.
The arches themselves were fantastic (duh), but a lot of the other rock formations were just as beautiful and mind-blowing:
The park's titular arches were also spectacular. Many of them were fairly easily accessible via short hikes from the park's scenic loop:
It took a much more arduous hike to reach the park's most famous feature, and one of the more famous spots in the entire National Park Service system — Delicate Arch. Totally worth the effort to reach it, though. The little white spot toward the bottom of the first photo is me:
We spent the night in the town of Moab, where we had dinner at a restaurant that had once been the home of a local uranium mining magnate. They had lots of cool atomic kitsch on display. Here's a small sampling:
Day Four — Wednesday, May 23: We started the day by shopping for provisions at a local supermarket, where a retired gentleman approached us, asked where we were from, and offered to take us out on some local slickrock trails in his ATV (a popular activity in Moab). He explained that his wife had recently passed away and that he made friends and kept busy by approaching tourists and inviting them to ride with him (something the local tour operators normally charge at least $150 for).
We looked at each other. The guy seemed extremely nice and sincere (I like to think that my radar can spot a con artist, a pervert, or a psycho, and this guy didn't check any of those boxes), but we had plans for the day and an itinerary to stick to. Also, the invitation had come so suddenly, without any getting-to-know-you phase, that it was a bit startling. What to do? We both sort of stammered that we appreciated the invitation but would have to decline.
By the time we finished our shopping and hit the parking lot, we agreed that we'd made a mistake. Fate had dumped an opportunity for adventure into our laps — exactly the sort of thing we love — and we had turned it down. Unfortunately, the guy had already left by that point. We promised ourselves not to make the same mistake again.
Although we didn't get to go ATVing, we did have a great day hiking at Dead Horse Point State Park and Canyonlands National Park, both of which feature stunning views of canyons carved by the Green and Colorado Rivers. Although these parks are located very close to Arches, they look and feel very different. While these photos aren't bad, they don't really do justice to the depth and texture of the canyons — it turns out that photographing things that are carved down is a lot harder than capturing things that rise up. Similarly, nothing I can imagine writing can capture the beauty of these vistas. Language isn't up to the task of describing something this magnificent. Let's just say that it was a long, very rewarding day of hiking. I'll let these pics speak for themselves:
Day Five — Thursday, May 24: One thing about spending only a day at a national park is that you end up feeling like you've only seen the tip of the iceberg. So I was excited about today's stop at Natural Bridges National Monument. National monuments (which can be established by presidential proclamation) tend to be smaller and more manageable than national parks (which can only be established by act of Congress). I figured we could get a pretty good grip on this place in one day.
What's the difference between a natural bridge and an arch? As a friendly ranger explained to us, arches form due to erosion caused by wind, rain, ice, and so on (and can therefore occur anywhere, at any elevation), while natural bridges form due to erosion from ancient rivers (and therefore tend to be located at the bottoms of canyons, spanning now-dry river beds). Natural Bridges National Monument has three of these bridges, and we hiked down to all three of them.
One of the hikes was pretty strenuous (it entailed a 500-foot elevation change in about a mile and a half, so there were lots of switchbacks and some primitive ladders), but it was totally worth it. The bridges were super-cool, and so were the surrounding canyons. A very good day!
We ended up in the town of Hanksville (population 214), which has a very cool Sinclair gas station. In addition to the standard Sinclair plastic dinosaur, there are some excellent metal dinosaur skeletons and a convenience store built into the side of a mountain — an endearing little tourist trap.
While walking around town, we spotted a little metal disc in the ground that looked like a surveyor's marker. But upon closer inspection, it had an odd inscription: "Arrive Here, Leave Here" (an apt summation of the road trip ethos, right?), along with "BC2016" and the letters "AGM."
I've been unable to figure out what this is about. Anyone..?
During dinner at a local restaurant, we made friends with people at a neighboring table. They turned out to be paleontologists who were in town to work at a local dinosaur dig site, and they invited us out for a tour the next morning. We had plans for the next day, but we weren't going to miss out on another chance for a spontaneous adventure, so we said yes.
Then we went back to our motel, where an odd scene was unfolding: The motel has a deck with a little shed, where a guy named Ron had set up shop and started playing music — blues and country covers, mostly. We talked to him later and learned that he does this almost every night. At first, nobody else sat down to watch him except us (a few other motel customers eventually wandered over to take a look), so for a while it felt like we were getting our own private performance in the middle of nowhere. It was all completely surreal, which felt Just Right.
Day Six — Friday, May 25: Our plan for this day had been to visit Capitol Reef National Park, but first we had to go visit our new friends at the dinosaur dig site. It was located at the end of a very rough eight-mile dirt road that was full of boulders and other rock formations. These shots should give you a sense of what it was like:
Before we got to the dig site, we passed the Mars Desert Research Station, where some crackpots space enthusiasts are training themselves for a manned mission to Mars. (I'll give them this much: The Utah desert does seem like a good simulation of the Red Planet.) Unfortunately, they don't offer tours, but we did get this shot of their facility:
We eventually reached the dig site, which is run by the Burpee Museum of Natural History in Rockford, Illinois. Their director of paleontology, a super-nice guy named Josh Mathews, showed us around. It was incredible! Over here was someone excavating a dinosaur leg; over there, someone else was working on a pelvis; and so on. So much cooler than the stuff we'd seen in the museum in Provo a few days earlier. And everyone was unfailingly friendly — just a great, great experience, and all because we'd made friends during dinner the previous night.
We did eventually get to Capitol Reef National Park, but we didn't have as much time as we had originally planned for. We were happy to see that Capitol Reef offered a hiking trail that ran along a river and led to a small waterfall — a welcome change after several days in the desert:
We did one other small hike before moving on, because we wanted to stop at Escalante Petrified Forest State Park, which offers some excellent fossilized wood. Check it out:
So we had three good experiences at three separate sites — the dinosaur dig, Capitol Reef, and the Petrified Forest. That's a pretty full day.
Day Seven — Saturday, May 26: Another day, another southern-Utah national park. This time it was Bryce Canyon National Park, which is known for its spectacular "hoodoos" — spires of eroded rock that rise up out of a deep canyon. Once again, language and photography aren't really up to the task, but this was probably my favorite park of the trip.
At one point I made friends with some of the wildlife:
After another day of hiking, we needed to find a place for dinner. While googling on my phone, I found a nearby bar that offered steaks sourced from a nearby ranch, but with an interesting wrinkle: You have to grill the meat yourself.
I'd done this once before at a steakhouse in Iowa, and it was fun and communal. Also, after a week of having other people cook our food (not always particularly well), we liked the idea of cooking for ourselves. So we had a few beers and then decided to split a 16-ounce ribeye. The grill was off in another room, and meal came with baked potatoes, a salad bar, dinner rolls, and a spice bar for seasoning the meat, all of which made for an excellent dinner. This was my favorite food experience of the trip.
Day Eight — Sunday, May 27: Our plan for today was to visit Zion National Park, but that turned out to be impossible. The place is just too damn popular. There's very little parking available in Zion, so we planned to park in the neighboring town of Springdale, which offers a shuttle into the park. But we couldn't even find parking in Springdale — the place was overrun and the line of cars and shuttles looking to enter the park was super-long. We quickly decided that it wasn't worth it and took a few minutes to come up with an alternate plan.

That plan turned out to be a visit to nearby Cedar Breaks National Monument, which we figured wouldn't be as crowded. Along the way, we stopped at some nice riverside spots for some light hiking and other fun outdoor activities:
And then something happened that we hadn't expected, or even considered. Cedar Breaks, where we were headed, is at a much higher elevation than Zion — so high that as we approached the park, it started snowing! On May 27! Just a few miles back we'd been hiking along a river in our shorts. And now it was snowing.
We eventually made it to Cedar Breaks, which is sort of like a mini version of Bryce Canyon. We changed into long pants, layered up as best we could (we hadn't really prepared for these conditions), and went off for another hike — which turned out to be pretty messy, because the trails were full of mud and snow (not so much from that day's snow but from previous snow). We ultimately reached a snow-rimmed pond, where we had a few beers while thinking about how the day had turned out very differently than we'd planned.
We left the park, descended down to a more reasonable (and warmer) altitude, and checked out the Parowan Gap Petroglyphs, which features a great assortment of ancient petroglyphs etched into the rocks that surround a two-lane highway:
We pushed on to the town of Cedar City, where we spent the night.
Day Nine — Monday, May 28: This was the day we had set aside for driving back to Salt Lake City, but first there was another important waffle development: Our motel — the very wonderful M-Star Cedar City, which was an absolute pleasure and whose owners were super-sweet — had little bits of (freeze-dried?) strawberries in the waffle batter:
Honestly, I couldn't really taste the strawberries, but it still felt like a really nice gesture and put me in a super-positive mood to start the day.
As we drove north, we passed a bunch of freight trains, one of which featured something I'd never seen before: a big "Lukas" graffiti tag. It's rare that I see my surname spelled the way my family spells it, with a "k," and rarer still that I see it spray-painted onto the side of a train car in Utah, so we got ahead of the train (it was moving way more slowly than we were), pulled into a turnout spot, and then waited for the train to catch up so I could get a good photo:
Now if I just knew the story behind the graffiti. Anyone..?
The Tugboat Captain is way into rocks and geology, so we stopped at a rock dealer and then went to a dig site for wonderstone, where she came away with some very nice treasures:
We continued on our way back to Salt Lake City, eventually arriving in the late afternoon, when we had planned to meet up with Steve Rosenbeck, the proprietor of the uniform company Garb Athletics. I've known him for years, and you may recall that he also manufactured the winning jersey for some of Phil's uniform contests, but I'd never met him in person — and now I still haven't, because his babysitter cancelled on him and we weren't able to meet up after all. Bummer. On the plus side, we were pretty exhausted from our travels, so we just got a bite at a local brewpub and called it a night.
Day 10 — Tuesday, May 29: Before flying home, we had one important stop to make: breakfast at Coachman's Dinner and Pancake House, whose exterior sign is all kinds of awesome.
I can't adequately express how many things about this place were Perfect, from the lighting to the menu text to the music, but it felt like a mix of Vegas and suburbia, and I mean that in the best way. Absolutely the bomb. Pretty swell blueberry pancakes, too — with three different syrup options (regular, blueberry, and peach):
And from there we went to the airport and flew home. All in all, a really good trip.
A few additional notes:
• You may have heard, as we had before embarking on this trip, that Utah only sells 3.2% beer. But this is misleading on several counts. First, Utah calculates alcohol percentage by weight, rather than by volume as other states do. When calculated by volume, Utah's 3.2% beer is actually 4.0% — just a bit below the alcohol percentage of most mainstream brews. Also, restaurants and state-licensed liquor stores can sell microbrews with much high alcohol percentages.
Utah's alcohol culture has several other quirks: You can't order a double shot of anything; anyone serving alcohol is required to wear a name tag (which led to some creative tag designs in a few of the places we visited); and then there's the Zion Curtain, although that has now been eliminated. It's not exactly the best state for barflies (like us), but it's all very interesting for fans of regional culture (like us).
• We walked past many hundreds, perhaps thousands of people in the various parks we visited, and many of them were wearing clothing featuring various sportswear logos. Judging by my very unscientific tally, the Under Armour logo showed up the most, with Nike a strong second, Adidas a distant third, and a bunch of also-rans. Make of this what you will. (Naturally, our own clothing was logo-free.)
• As for team apparel, the most-represented teams, as you'd expect, were the Utah Jazz and the University of Utah Utes. Aside from that, only one team moved the needle: the Yankees. Saw lots of people — many of them foreign-speaking — in Yanks caps. (There were also many, many teams and schools represented once or twice, including one guy in a Mets cap. I said, "Let's Go Mets" and he smiled.)
• We brought along our baseball gloves and a ball, so I could keep my arm in shape for throwing out the first pitch at Brannock Device Night. At various points we pulled off to the side of the road and had a catch right there in the desert, which was pretty cool. At one point we chose a spot with this incredible rock formation in the background — an unreal setting for tossing a ball around.
• Most of the parks we visited had these amazing super-twisty, super-beautiful trees — Utah junipers, I think, or maybe bristlecone pines. Many of them looked so gnarled, it was hard to believe they were alive. One of them, which we saw in Escalante Petrified Forest State Park, had a flat trunk that was almost two-dimensional!
• The signs and presentations at the parks talked a lot about ancient geological forces ("This layer of rock is 200 million years old, but that layer of sediment is 300 million years old"), all of which got me wondering: If you're a young-Earth creationist and believe the planet is only 6,000 years old, do you argue with the park rangers when they talk about how old the rocks are? Do you tell your kids that all the signs in the park are wrong? Or do you just avoid coming to these parks altogether?
• The overcrowding situation at Zion National Park was upsetting, and fits in with articles I've read about how we're basically loving our national parks to death. Like, on the one hand, it's great that so many people want to visit these wonderful places. But the sites, many of which were established prior to World War II, clearly weren't designed to accommodate as many people as they're now attracting. I'm assuming it's not just a coincidence that Zion also had the highest entrance fee ($30) of any park we visited. That might be make sense in terms of economic theory, but you don't want to price people out of a park, and you don't want a situation where only rich people can afford to experience these places. I'm not sure what the answer is. Maybe a lottery system..? In any case, the current situation seems unsustainable.
• Another thing I've read about in recent years is how black people don't visit national parks, and that certainly seemed to be the case in the Utah parks we visited. Granted, Utah doesn't have many black people to begin with, but it doesn't have many German, British, or French people either, and we saw (okay, heard) lots of people from those groups.
• I'm plenty familiar with the term "scenic byway," but Utah had something I'd never seen before — scenic backways:
• Speaking of road signs, Utah is the Beehive State, which results in some of America's best state highway route signage:
That's it. My thanks, as always, for your patience and indulgence. We'll get back to uni-related content tomorrow.
• • • • •
[adrotate group="2″]
• • • • •
Brannock epilogue: Thursday's Brannock Device Night in Syracuse was so great on so many levels. Here are a few follow-ups:
1. Game-used Syracuse Devices jerseys, with the proceeds going to charity, are available here.
2. In case you missed it in Friday's post, here's a video of my first pitch, as shot by Phil, plus the same thing from a different angle, shot by the Tugboat Captain:
3. Sportslogos.net poobah Chris Creamer, who came down from Toronto for the game, was also on the field when I threw my pitch, and he had a fancy-shmancy camera with an even fancier-looking lens. I do almost all my photography these days with my phone, so it's sort of startling to see how a real camera can produce such superior results. My thanks to Chris for making me look good in these two shots (click to enlarge):
4. The Chiefs set up a nice little party area for us and marked it with a very nice sign — a fun little surprise:
5. One of the highlights of the evening was meeting longtime reader Doug Brei, who drove over from Rochester, and his very charming stirrups-clad daughter, Maddie. Here they are with Chris Creamer and myself:
Doug had apparently told Maddie, "Don't worry, you won't be the only one there wearing stirrups, because I'm sure Paul will be wearing them." Oops. In retrospect, I really should have!
6. I got to do two half-innings on the radio with Chiefs play-by-play man Eric Gallanty, who's a real pro and was a pleasure to interact with. Unbeknownst to me, the Tugboat Captain shot several minutes' worth of video while I was on the air:
Unfortunately (or maybe fortunately), her phone ran out of memory at that point, so there's no video of the moment when Jarrod Saltalamacchia came up to bat for Toledo — a perfect Uni Watch moment that let me talk about the history of lengthy NOBs.
7. One last thing: The Chiefs had several custom Brannock Devices made, with event-specific graphics. They gave one to me, which led to the following exchange when I went through security at the Syracuse airport the following morning:
Screener (looking at X-ray scan of my bag on her monitor): Is that a foot measurer that you have in there?
Me: It sure is.
Screener: Wow, I didn't know they still made those.
Me: They make them right here in Syracuse!
Screener: Really? I didn't even know they still used them. But I recognize that shape!
———
So, clearly, we still have some more Brannock educating to do. Still, it was a tremendous night. Plus I also got to visit the Brannock factory earlier in the day. I'll have more to say about that shortly.
• • • • •
[adrotate group="2″]
• • • • •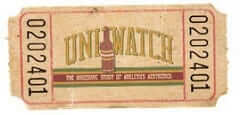 New raffle: Illustrator Alex Bennett specializes in sports "mishmashes" — large-scale illos comprised of lots of individual scenes. He's done these for soccer, rugby, pro wrestling, and lots more. Now he's done his first mishmash documenting the history of American football (click to enlarge):
Alex is generously raffling off two posters of this illustration to a pair of lucky Uni Watch readers. To enter, send an email with your shipping address to the raffle address by this Friday, June 8, 7pm Eastern. One entry per person. I'll announce the winner next Monday.
• • • • •
[adrotate group="2″]
• • • • •
The Ticker
By Jamie Rathjen

Baseball News: This year's MLB All-Star Game BP jersey designs haven't been officially released yet, but some retail T-shirts may have provided a look at the jersey scripts. … The Brewers and the White Sox wore Saturday's throwbacks, which you can read more about in yesterday's Uni Watch entry, for a second time yesterday (from multiple readers). … The Single-A Charleston RiverDogs and Delmarva Shorebirds wore Negro League throwbacks (except hats) as the Newark Eagles and Homestead Grays, respectively (from @brianspeaksnow). … Reader Chris Fox says he had Game Worn Guides author Bill Henderson make him a Phillies jersey for Orioles 3B Manny Machado out of a No. 31 game-worn jersey from former Phillies pitcher Brad Lincoln. … Peter Frederickson sent us pictures of a Brewers 25th-anniversary cap, which was a giveaway in 1994. "Remember Élan?" he asks. … Vintage baseball: the 1939 Anacostia (D.C.) HS team (from Mike Rosenberg). … Georgia is hosting an NCAA regional and wore white even though it was the designated away team against Troy (from Chris Mycoskie). … Indians INF Francisco Lindor had trouble removing the weighted donut from his bat last night (from Mike Chamernik).

Hockey News: Islanders winger Andrew Ladd gave his grandfather a No. 100 jersey for a 100th birthday present (from @WashedUpGoalie). … Reader Corey Zoldan sent us an article exploring the naming of the Stanley Cup Final (singular) and the NBA Finals (plural). It occurs to me that the singular/plural distinction extends to the conference final(s), while the NHL called its first two rounds the division semi-final and final (singular) from 1982-1993.

Basketball News: Also posted in hockey: Corey Zoldan sent us an article exploring the naming of the Stanley Cup Final (singular) and the NBA Finals (plural). It occurs to me that the singular/plural distinction extends to the conference final(s) as well.

Soccer News: New kit roundup: Danish team Odense (first kit), Dutch team Utrecht (first), Luxembourg (first and second), and Slovakia (first and second). … English Championship team Aston Villa had a white third shirt last season that was registered with the league, but was never worn or otherwise publicly released (thanks, Alex). … Scotland and South Korea both changed when they met at the Toulon Tournament, a competition for under-21 national teams in France. … I'm still calling it Dens Park. … You don't often see players receiving caps for playing for national teams anymore – though "cap" is common shorthand for a national team appearance – but that was Belgium center-back Jan Vertonghen's reward for becoming the first to reach 100 Belgium appearances. … Several readers noticed that the New England Revolution started Saturday's game wearing rainbow numbers, but some players switched to normal numbers in the second half. The reason why is likely that only one set of rainbow-numbered shirts was made and the players in question changed shirts at halftime. … Two World Cup groups this year, Group B and Group G, are to be entirely composed of red-vs.-white matchups.

Grab Bag: It was the Australian Football League's indigenous round this weekend. That means specially-designed looks for each team, including North Melbourne (right) and Brisbane, West Coast (left) and St. Kilda, and Richmond (left) and Essendon. The umpires were involved as well, and you can see the remaining teams here. … The Victoria Shamrocks of the Western Lacrosse Association, one of Canada's senior men's box lacrosse leagues, have new green uniforms with numbers trimmed in black and silver. Here's what they wore previously (from Wade Heidt). … A player at a charity lacrosse game in Raleigh was wearing a helmet based on Jazz, the stereotypically '90s cup pattern (from Dan Murtagh). … Staying in lacrosse, the Women's Pro Lacrosse League played its first game in Annapolis, Md. between the Philadelphia Fire and Baltimore Brave; in fact, all the league's teams have singular nicknames (from John Cannon). … Reader David Firestone sent us a collection of vintage giant business signs and other "attention-grabbing buildings." … Athletes are a superstitious lot: England women's field hockey forward Sophie Bray was part of the Rio Olympics gold-medal winning Great Britain team, who wore red in an opening victory over Australia. Bray neglected to wash her red shirt afterwards and intentionally wore the same unwashed shirt every time it was needed for the rest of the tournament, five more times in total.