The Nuggets unveiled a new uniform set last night — at about 10:30pm Eastern, ugh, when I was busy with other stuff. Okay, let's have a look, one uni at a time (as usual, we'll skip the embarrassing corporatespeak about "editions" and just describe the uniforms using, you know, English):
1. The new primary white uni: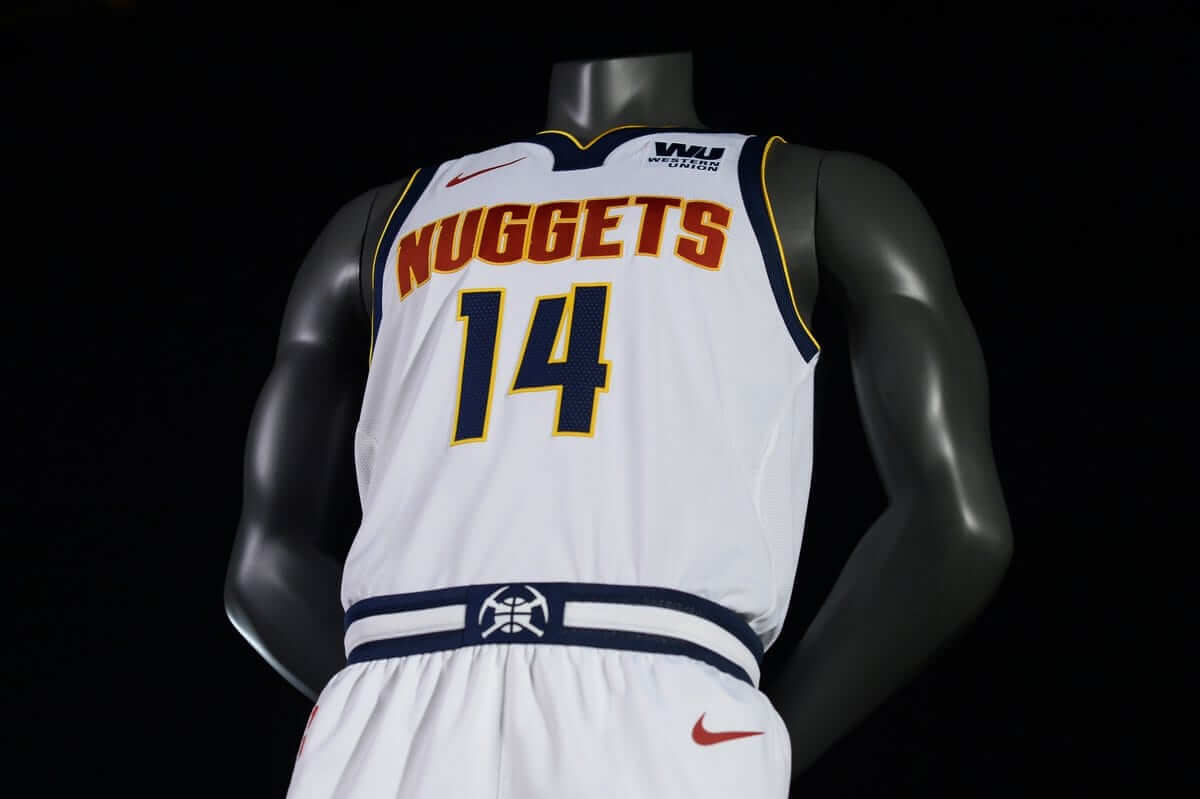 Association.#EVOLVE2018 pic.twitter.com/ktEQ21w9Qw

— Denver Nuggets (@nuggets) June 7, 2018
Comparison of Nuggets' white uniforms. Old version on left, new on right. pic.twitter.com/cvuTy8iTTc

— Paul Lukas (@UniWatch) June 7, 2018
Ugh — really don't like that shade of red (or, really, any shade of red) for the Nuggets, and it's a drag to see that powder blue has been completely excised from the design. I do like the separate colors of the NOB and the rear number, even if one of those colors is red. Hate the collar. The little mountainscape thingie on the shorts is nice. I like the new waistband striping. The ad still sucks.
2. The new primary blue uni: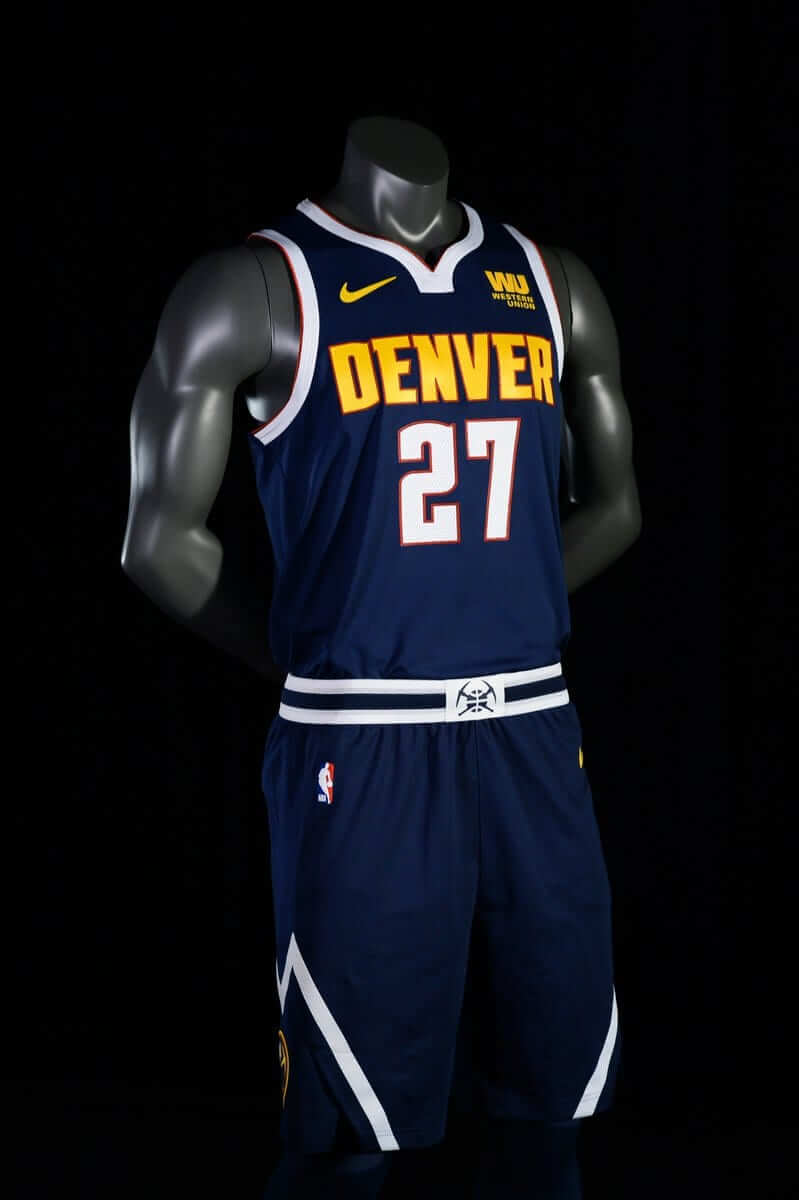 Icon.#EVOLVE2018 pic.twitter.com/3B6asIUvjZ

— Denver Nuggets (@nuggets) June 7, 2018
Comparison of Nuggets' blue uniforms. Old version on left, new on right. pic.twitter.com/vIhszj32a3

— Paul Lukas (@UniWatch) June 7, 2018
At least the red is just an outline color here, although it seems inconsistent that they used the red outlining on the collar and armholes but not anywhere on the shorts. Still hate the collar shape, still like the two-color treatment on the back, still like the mountainscape thingie and the waistband striping. The ad still sucks.
3. The new alternate blue uni: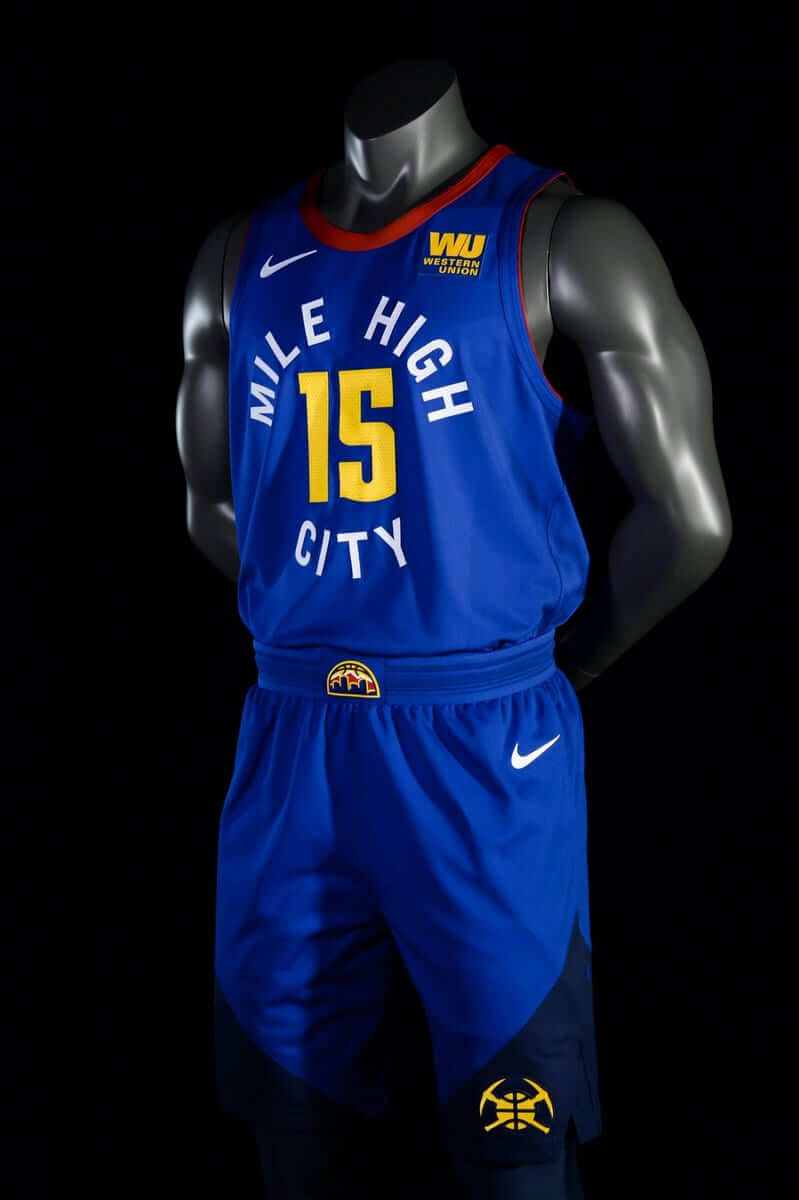 Statement.#EVOLVE2018 pic.twitter.com/vvkLLH7XEw

— Denver Nuggets (@nuggets) June 7, 2018
Comparison of Nuggets' alternate uniforms. Old version on left, new on right. pic.twitter.com/gBI767j57e

— Paul Lukas (@UniWatch) June 7, 2018
Now wait a minute — if you're going to include the word "City" on your alternate uniform, shouldn't that be reserved for the alternate whose embarrassing corporatespeak name is, you know, "City Edition" (aka the one that's released right before the holiday shopping season, what a coincidence), rather than the one with the even more embarrassing corporatespeak name that I'm not going to print here because it's just too tragic?
Such weighty issues notwithstanding: Love the color scheme — even the red works in this context. The circular type treatment would be awesome if the Pacers hadn't already done the same thing last season, so instead it just looks derivative. How soon before we see a bunch of other teams doing that? Much prefer this collar shape. Kinda like the two-tone shorts. Too bad about the loss of the skyline motif. The ad still sucks.
4. The new logos:
BEHOLD! OUR NEVER-BEFORE-SEEN NEW LOGOS ARE HERE!#EVOLVE2018 pic.twitter.com/xwJzl0FfOe

— Denver Nuggets (@nuggets) June 7, 2018
The semicircular one — the one that appears on the waistband of the alternate uni — isn't bad. And then there are two new roundelzzzzzzz….
Overall: A downgrade. But hey, at least they didn't make any players pose with pickaxes this time. Additional info here.
Finally: Does anyone else think it's a bit bizarre for an NBA team to unveil a new identity in the middle of a Finals game?
• • • • •
[adrotate group="2″]
• • • • •
Naming Wrongs update: It's been a long time since we had any new Naming Wrongs designs (and we may not have many more of them after this, because we're close to the end of our list of shirt-worthy stadiums and arenas), but we have three good ones today. One at a time:
The Georgia Dome: Nice job by designer Scott Turner with this one, referencing the building's distinctive roof design. It's available in red and black: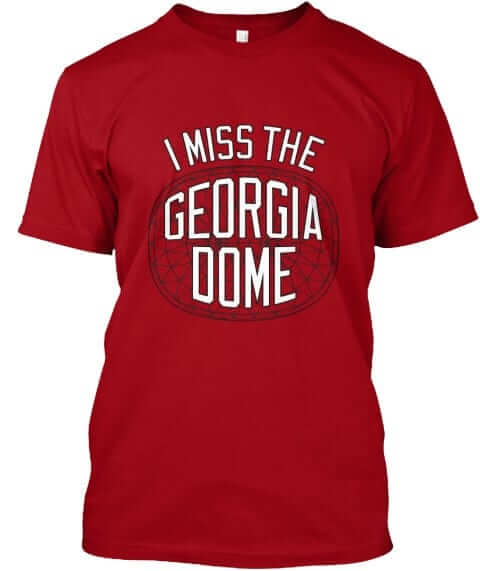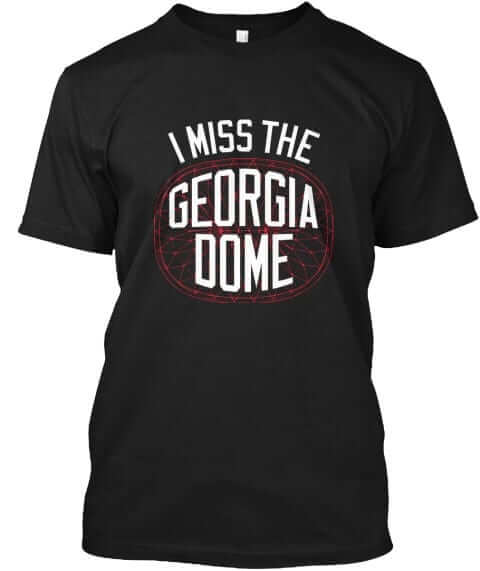 The Omni: Another Atlanta building with a distinctive roof. I really like this one, which is available in black, lime green, and red: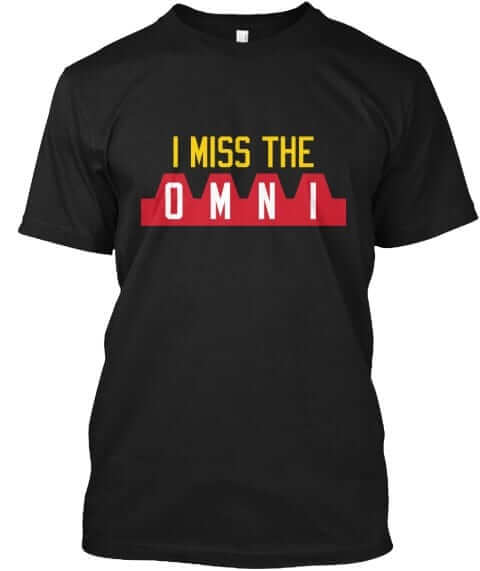 McNichols Arena: No roof-based design for this one. Perfect for anyone who thinks the Nuggets' new uniforms should have included the rainbow motif (among any number of other potential improvements). This one's available in royal blue and grey: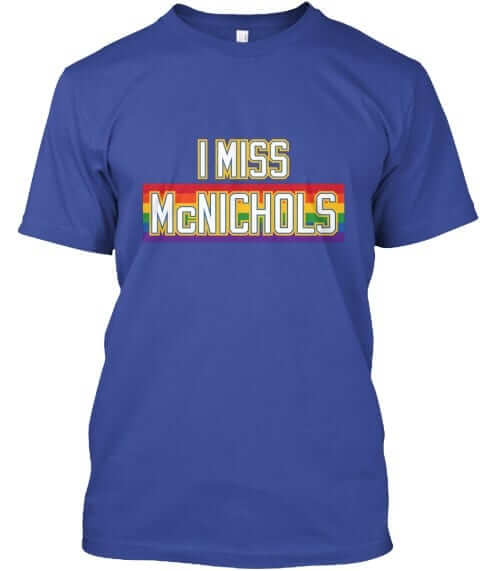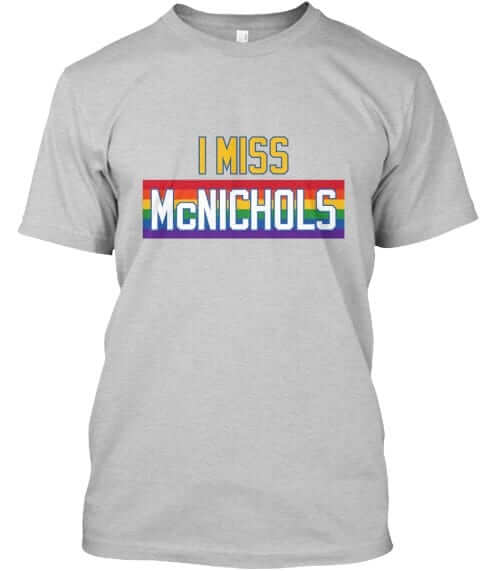 These designs are now available in the Naming Wrongs shop. They're also cross-listed in the Uni Watch shop, where card-carrying members can get 15% off. (If you're a member and need the discount code, send me a note and I'll hook you up.) My thanks, as always, for your consideration.
• • • • •
[adrotate group="2″]
• • • • •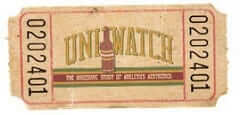 Raffle reminders: We currently have two raffles in progress. First, illustrator Alex Bennett is currently raffling off two of his new "Football Mishmash" posters (shown above) to a pair of lucky Uni Watch readers. full details here.
In addition, the good people at Vintage Brand are raffling off a pair of their vintage sports-themed canvas prints. Full details on that one here.
• • • • •
[adrotate group="2″]
• • • • •
The Ticker
By Paul

'Skins Watch: The baseball team at Bridgeport High School in West Virginia is working on a lose-lose-lose: The team is called the Indians, they poach Chief Wahoo for use as a sleeve patch, and they poach the KC Chiefs' arrowhead motif for their batting helmets. That logo is also used by the football team. If they're going to misappropriate Native iconography, can't they at least come up with their own instead of stealing it from pro teams? (From Brice Wallace.) … Following up on last week's Brannock Device Night promotion, I appeared yesterday on a Syracuse sports talk station. Nice interview.

Baseball News: The Northwestern football team is slated to play a game at Wrigley Field in 2020, so the school released a photo showing one of its helmets side by side with a Cubs football helmet (from Matthew Sampson). … Was Padres 3B Graig Nettles missing the "K" from his Ray Kroc sleeve memorial, or was it just the way the fabric was folded? (From Brian Wulff.) … Here are the hot dog-themed jerseys for the Chicago Dogs. … Celery-themed uniforms upcoming for the Wilmington Blue Rocks. … Orioles OF Adam Jones's bat went helicoptering after a swing during yesterday's game against the Mets, and SS Manny Machado, who was standing on deck, caught it (from Mike Chamernik). … Here are 50 years' worth of minor league caps from Omaha (from Fitteds and Flannels). … Nats OF Bryce Harper tripped over his own helmet, which had fallen off his head while he was legging out a double yesterday. … Speaking of the Nats, skipper Dave Martinez wore a Washington Capitals cap during yesterday's postgame interview. … Hartford Whalers-themed jerseys upcoming for the Hartford Yard Goats. … The Wisconsin Timber Rattlers will become the Wisconsin Brats, complete with lederhosen-style uniforms, this Saturday (from John Okray). … New caps for the Mexican League All-Star Game. "If you look closely, the Dbacks-style dots on the hats are actually mini versions of the main logos," says @cesarcu52. "Here's another view." … I would rank this ranking of baseball uni numbers as one of the better ranking-based pieces I've seen (from Mike Chamernik). … Excellent story on the Omaha Storm Chasers' radio broadcaster who's been waiting for that break (NYT link) to make it to the big leagues. … MLB recently banned Cubs catcher Wilson Contreras's Venezuelan flag-patterned compression sleeve, so now he's wearing the flag colors on his catcher's gear. He had previously worn a different color scheme (from Paul DeMay).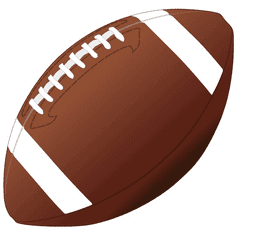 Football News: There's a new professional flag football league, which has released its four team logos. … Cross-listed from the baseball section: Northwestern is slated to play a game at Wrigley Field in 2020, so they released a photo showing one of their helmets side by side with a Chicago Cubs football helmet (from Matthew Sampson). … Colorado State's new stadium, which opened last year, now has a new corporate name (from Oscar Raab).

Hockey News: Cross-listed from the baseball section: Hockey/Whalers-themed jerseys upcoming for the minor league baseball team the Hartford Yard Goats. … Also from the baseball section: Washington Nationals manager Dave Martinez wore a Capitals cap during yesterday's postgame interview. … Speaking of the Caps, they were almost called the Metros at the inception of the franchise, and now a DC website is running a contest to create a "What if" Metros logo. … This piece on the Golden Knights may set the record for most uses of the term "branding" (from Dave Kottler). … Are the Sharks bringing back the chomp font? (From @tward44.) … The new junior team in New Brunswick will be called the Grand Falls Rapids, and their newly revealed logo features some of the most ridiculous "storytelling" you're ever likely to encounter. The first line of that explainer is particularly amusing (from Rob Lloyd).

NBA News: Younger NBA fans are more likely to favor brands that advertise with their favorite team (from @HitTheGlass). … NBA 2K19 is being marketed as the 20th anniversary of the game, even though it's only the 19th season. "After they got the 10 year anniversary right, no less," says Kevin Murphy. … Someone on eBay is selling a Cheeto that looks like the NBA logo! Well, sort of (from Mike Chamernik).

College Hoops News: For some reason — and it's really hard to imagine the thinking behind this one — UNC's athletics department posted two photos of freshman Coby White wearing No. 23 — which is, of course, retired (from Daniel Tarrant).

Soccer News: Nigeria's World Cup jersey, which has sold out at retail, is reselling for big bucks online. … New kits for Port Vale (from Ed Zelaski). … A Russian mineral water company has released a World Cup-themed and soccer ball-shaped bottle — which, unfortunately, turns out to be a spherical magnifying glass perfect for starting fires if left out in the sun for less than a minute (from Max Weintraub). … Here are some World Cup kit concepts based on the teams' national flags (from David Hirx). … Winnipeg's new team in the Canadian Premier League will be called Valour FC (from Ted Arnold).

Grab Bag: In what seems to be an annual June ritual, some high school students who are also enlisted in the armed forces have been chastised for wearing their military uniforms to graduation, instead of the required caps and gowns. … Speaking of Michigan, police there say some imposters donned police uniforms and impersonated cops. … Russell Athletic, which was getting out of the team uniform market, is getting back in, thanks to a new partnership with Augusta Sportswear (from Ron Alfieri). … Formula 1 has enacted new helmet safety standards. Additional info here. … Virgin Trains celebrated Pride Month in the UK by running rainbow-themed trains, which has led to some social media controversy. … A lacrosse team in Nova Scotia will wear a patch in honor of missing and murdered indigenous women. … IHOP is changing its name to IHOB, but its new logo looks a lot like a well-known tampon logo. … Plans to have the great abolitionist Harriet Tubman replace Andrew Jackson on the U.S. $20 bill appear to be stalled (NYT link). … Delta Airlines' new uniforms are causing skin rashes and irritation for some employees. American Airlines recently had the same problem with its new uniforms. … New uniforms for Syracuse men's rowing (from Elijah Newsome). … Interesting piece on clothing worn by college presidents, who are expected to wear their schools' colors (from Paul Friedmann). … An Australian rugby league team wore tighter-than-usual jerseys yesterday, to make it harder for opponents to grab them.
• • • • •
[adrotate group="2″]
• • • • •

What Paul did last night two nights ago: I'm not the least bit religious (well, unless you count eating matzos during Passover), but over the past week or so I've had lots of religious stuff to think about. First, on Saturday, This American Life reran Jonathan Goldstein's great interpretation of the story of Adam and Eve (which I'd heard several times before but this time I feel like I listened to it more intently). Then, on Monday, in response to a question I posed in my Utah travelogue, there was a very interesting discussion about Christianity in the Uni Watch comments section (all of it conducted very respectfully and without rancor — my thanks to everyone for that). And then two nights ago I saw First Reformed, the new movie written and directed by Paul Schrader, who among other things wrote Taxi Driver and Raging Bull.
The movie stars Ethan Hawke as the idealistic pastor of a small upstate New York church who begins to question his life choices — but not his faith — as several things around him begin to unravel. There's a lot of intense imagery, including barbed wire functioning as a surrogate crown of thorns, along with what you might call suicide vestments, but the overall mood of the movie is very, very quiet. Hawke is tremendous, and so is Cedric the Entertainer, who plays the head of a megachurch and is basically the counterpoint to Hawke's character. At one point he tells Hawke, "You need to live in the real world," a line freighted with all sorts of irony and nuance when spoken in a religious context.
The movie leaves some things unresolved and asks you to take certain things on faith. Sound familiar? I haven't been able to stop thinking about it since I saw it. Highly recommended.
• • • • •
I have an appointment in Manhattan this morning. Play nice while I'm away, yes? Thanks.