For all photos, click to enlarge
Let's start this off by saying that I'm hardly an unbiased observer when it comes to Todd Radom. I've known him for over a dozen years, we've become good friends, we occasionally hang out, we recently collaborated on that limited-edition print (still available!), and more. But believe me when I say his new book, Winning Ugly: A Visual History of the Most Bizarre Baseball Uniforms Ever Worn, is really, really good.
In fact, the worst thing about the book is its title (which was probably the publisher's idea, not Todd's). This isn't really a book about ugly uniforms; it's a book about uniforms that were different, that broke the mold, that pushed boundaries. Some of them were indeed ugly, but others — like the A's early-1970s look, or the Astros' tequila sunrise — are now recognized as classics of their era.
In fact, one of the best passages in the book comes when Todd quotes a 1908 item from Sporting Life, as follows: "Within the last few years there has been a tendency toward the garish in base ball uniforms. There's too much of this insignia and curlicue business. The only really artistic diamond apparel brought out in recent seasons was that of the Pittsburg club." In other words, tradition was going to hell and all these newfangled designs were ruining the look of the game. As Todd then notes, "Strip away some of the florid language and you essentially have an online comment that would not be unfamiliar today." Or to put it another way, "ugly" has always been a very relative concept.
Todd is mostly known as a graphic designer. But if you've read his work in The Sporting News or on his own website, you know he's a very good writer, and that definitely comes through in this book, which has lots of very solid text, good analysis, and insights from primary sources who Todd interviewed.
But as you'd expect from a Todd Radom production, there are lots of visual pleasures. The endpapers, for example, are decorated with lots of jerseys, and the chapter openers are designed like a 1970s scoreboard, complete with a few stray malfunctioning bulbs:
Although you might think the book is all about the 1970s and '80s, some of the early chapters focus on the baseball uni-verse's early days:
When documenting the doubleknit era, Todd had assistance from doubleknit collector/guru and fellow Uni Watch pal Bill Henderson, many of whose jerseys appear throughout the book:
Todd supplemented the photos with some illustrations, many of which have a touch of whimsy. Look how he hid his signature in the jock tag of this Seattle Pilots illo, for example:
There's a bit of coverage of throwbacks, and MLB's 1999 futuristic uniforms get their own chapter:
I wouldn't call the Expos' uniforms ugly (and I'm pretty sure Todd wouldn't either), but I'm glad they got some coverage in the book:
As many of you know, I love catalogs and catalog-like designs. So I was particularly pleased to see this page:
The book is a winner. It's available from Amazon (and all the other usual places), plus Todd is offering signed copies and a few bonus items on his website. Enjoy.
• • • • •
[adrotate group="2″]
• • • • •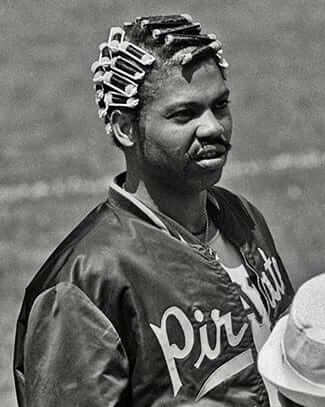 The gift who keeps on giving: To the casual baseball fan, Dock Ellis is that guy who threw a no-hitter while on acid. To the knowledgeable Uni Watch reader, he's the guy who wore curlers at the ballpark (as shown at right). But reader Jerry Wolper has found another uni-notable chapter from Ellis's storied career.
The incident in question comes from a Pittsburgh Post-Gazette recap of the Pirates' 9-8 victory over the Expos on May 15, 1973 (45 years ago yesterday). Here's the key passage:
Rare incident in the Buc sixth. Doc[k] Ellis, wearing a warmup jacket, was sent in to run for [catcher Milt] May. First base umpire Nick Colosi told Ellis to remove [the] jacket because only pitchers who are in [the] game can run with jackets. Ellis wasn't wearing a Pirate shirt underneath [the] jacket, so Bob Moose ran for him. A pinch-runner for a pinch-runner without a pitch being thrown.
Ah, Dock — you were the best.
• • • • •
[adrotate group="2″]
• • • • •
Sweaty business: Omo, a Brazilian laundry detergent, recently had an innovative sponsorship ad on the jerseys of the top Brazilian soccer team Corinthians. For the one-game promotion, the jerseys started out with a blank white panel on the chest, but an Omo ad was revealed as the players perspired. You can see it all unfold in the video clip shown above.
There's more info here, including this beauty of a quote from an Omo marketing exec: "The brand is constantly innovating and bringing remarkable moments to its consumers." Now wait a minute — we're talking about fucking laundry detergent here. Exactly what kind of "remarkable moments" can you be providing? You may have come up with an interesting ad campaign, but let's not confuse that with having an interesting product or changing anyone's life.
Twenty years ago, when I was the marketing columnist for Fortune magazine, I would've had a field day with this story. It's amazing what corporate marketers will say if you put a microphone in front of them.
Speaking of which, last week's New Yorker had a cartoon about corporate marketing. It pokes fun at the entire marketing/branding world, but I think it's particularly applicable to sports marketing, which it captures in a nutshell: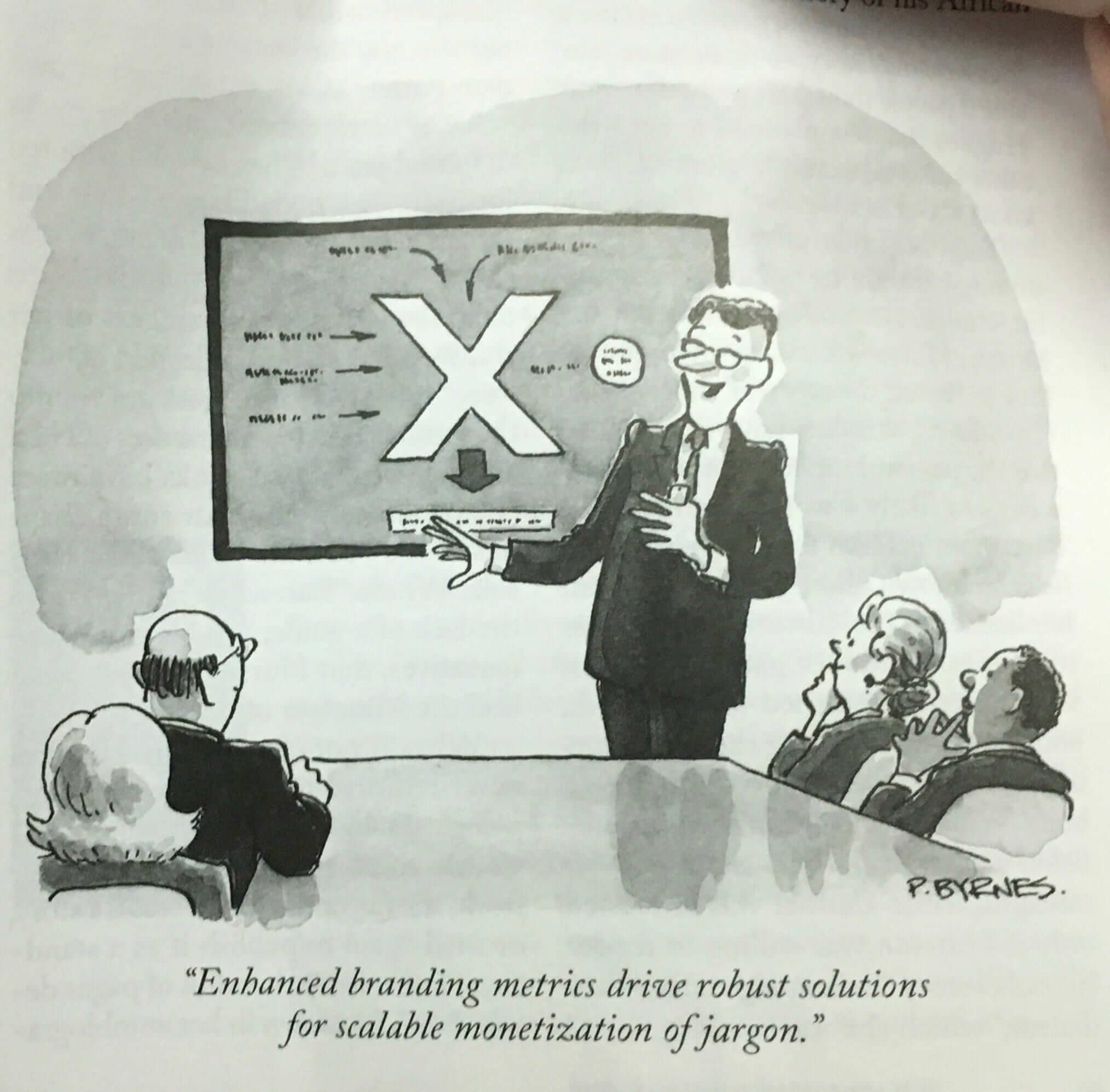 (My thanks to Phil for the Brazilian item.)
• • • • •
[adrotate group="2″]
• • • • •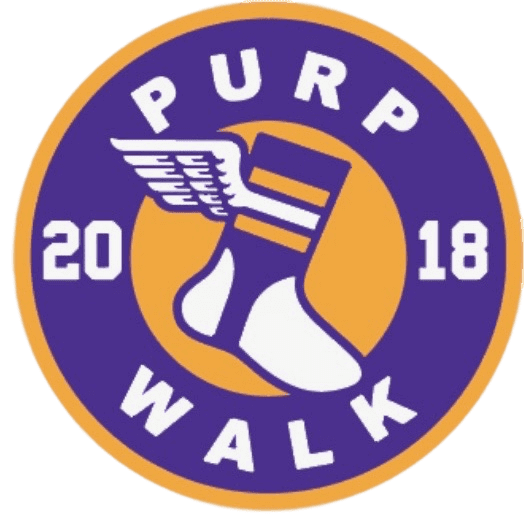 Purp Walk reminder: Tomorrow, May 17, is this website's 12th birthday. That means it will also be time for our annual Purple Amnesty Day celebration, when I grudgingly salute the world's most accursed color.
For 24 hours, I'll be accepting orders for purple-inclusive Uni Watch membership cards, and we'll also have a Purp Walk cap available. In case you missed it yesterday, full details on the cap are available here.
The 24-hour Purp Walk window will open at midnight Eastern tonight. Thursday's blog entry will be published at that hour (instead of our usual morning pub time), the cap will be available for ordering, and purple membership orders will be welcome. Then the window will close exactly 24 hours later and I can go back to hating purple for another year.
• • • • •
[adrotate group="2″]
• • • • •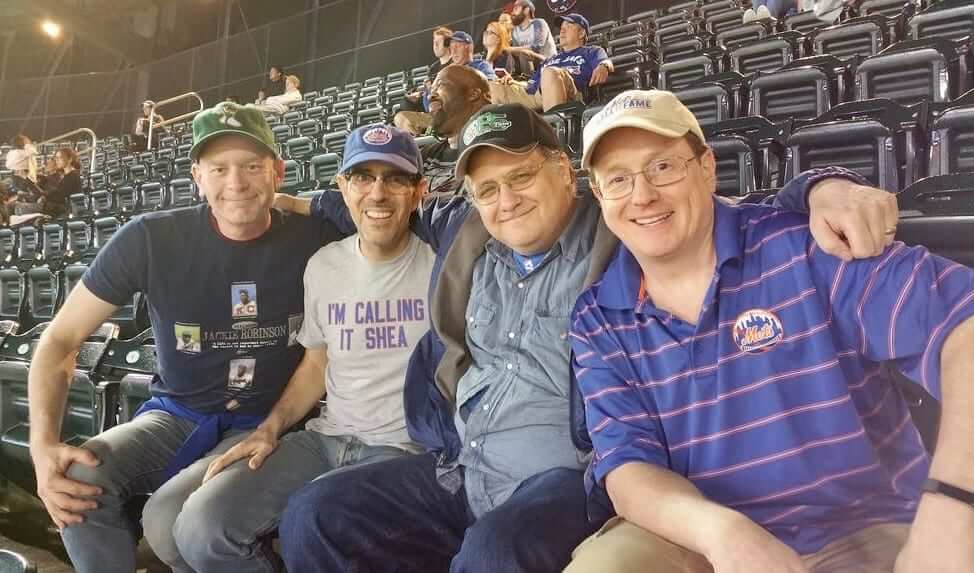 Click to enlarge
Four Metskateers: It was a rainy scene at Shea last night, but that didn't keep a bunch of us from attending the Mets/Jays game. From left, that's Uni Watch deputy editor Phil Hecken; yours truly; Faith and Fear in Flushing co-editor Greg Prince; and prolific Mets-centric author Matt Silverman.
As you can see, Phil was wearing his brand-new Uni Watch ballcap, which looked my-t-fine on his noggin. At one point we were walking through the concourse and someone recognized the cap and said, "Hey, wait, are you the Uni Watch guys?" That was pretty cool.
I had a bit of fun by suggesting that we see how the cap might look if it were available for sale at one of the ballpark's retail shops (click to enlarge):
Not bad — fits right in! (And yes, I digitally removed New Era logo from the sales display thingie. Didn't seem right to show it with our cap.) Now if my own cap would just show up in the mail already.
As you probably know, we're sold out of all the fitted sizes, but you can still get the adjustables, which come with a handsome brown leather strap and a burnished metal buckle, here.
• • • • •
[adrotate group="2″]
• • • • •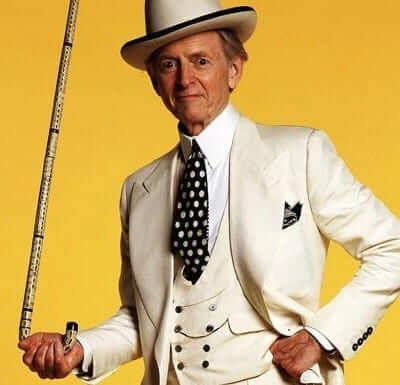 White privilege: I never got around to reading much work by Tom Wolfe, who died yesterday at the age of 88, but he's uni-notable because he wore a uniform of sorts: He usually appeared in public wearing a white suit (often with a double-breasted lapelled vest, like the one shown at right). The white suit became so closely associated with him that one prominent media outlet mentioned it in the headline of their Wolfe obituary yesterday.
Standard menswear protocol stipulates that white should only be worn in summer, but Wolfe wore the white suits year-'round.
According to Wikipedia:
Wolfe adopted wearing a white suit as a trademark in 1962. He bought his first white suit, planning to wear it in the summer, in the style of Southern gentlemen. He found that the suit he purchased was too heavy for summer use, so he wore it in winter, which created a sensation. At the time, white suits were supposed to be reserved for summer wear. Wolfe maintained this as a trademark. He sometimes accompanied it with a white tie, white homburg hat, and two-tone shoes. Wolfe said that the outfit disarmed the people he observed, making him, in their eyes, "a man from Mars, the man who didn't know anything and was eager to know."
All very interesting. R.I.P.
• • • • •
[adrotate group="2″]
• • • • •
The Ticker
By Alex Hider

Baseball News:  More uniform policing by MLB, which has told Cubs C Wilson Contreras that he can no longer wear his Venezuelan flag compression sleeve. … Nats OF Bryce Harper owns a glove with "Your Sister" stitched on it. Not sure if he's used it in a game or not (from Lemay Terry). … 10 MLB teams will give away rainbow caps to fans at LGBT pride events this season (from Jim Buzinski). … Speaking of giveaway caps, the Rangers will give away purple caps for Tarleton State University night on May 24 (from Ignacio). … The Onion has served up another classic about MLB merch for women (from Mike Chamernik and Brice Wallace). … This blog classifies all 160 minor league team names (from Phil). … The Toledo Mud Hens will dress up for Harry Potter Night on June 30. … Jack Krabbe found these old Padres cards, which show pitchers Ed Wojna and Lance McCullers wearing what appears to be practice uniforms under their game uniforms. … Kentucky baseball has been wearing merit decals on their batting helmets this season (from Austin Guill). … Some players for NCAA D-III Franklin College have been wearing some pretty spiffy striped stirrups (from Derek Linn). … Quite the contrast between Georgetown High School and Brenham High School in Texas: One in camo, the other in tequila sunrise (from ZJ Williams). … Mets C Devin Mesoraco was traded from the Reds over a week ago but is still using his old red-trimmed mitt. … University of Portland P Eli Morse wears a protective mask on the mound after having suffered a facial injury. … Kent State and Youngstown State went ketchup vs. mustard yesterday (from David Dermer).

NFL News: Texans WR Sammie Coates will be going JrOB this season — without punctuation (from Clint Richardson). … Speaking of the Texans, here's how DL JJ Watt's jersey will look with the Walter Payton Award patch, which he can now wear after having won the award back in February (from Ignacio Salazar).

College Football News: Iowa State will unveil new uniforms within the next couple of months (from Phil). … A football that President Trump signed during Alabama's visit to Washington last month created some drama in the White House. … If you were hoping to see Texas wear blackout uniforms this fall, AD Chris Del Conte says you should forget about it (from Griffin Smith).

Hockey News: Patches! Patches galore for the Blainville-Boisbriand Armada, a junior team in the Quebec Major Junior Hockey League (from Moe Khan). … New sweaters for the Minnesota Whitecaps of the NWHL (from Marc Viquez). … Mark Gillingham was at the IIHF World Championships on Sunday, and noticed that on skaters' jerseys, the TV number was placed above the ad patch. But for goalies, the TV number was placed below the ad patch. He said this was consistent for every team he saw.

Basketball News: Rockets owner Tilman Fertitta has told the Houston Chronicle that the team may tweak its uniforms for the 2019-20 season (from Steven). … This is what participants at next week's NBA Draft Combine will wear during their workouts. … New floor design for North Dakota (from Greg Enkers).

Soccer News: New first kit for Scottish Premiership team Aberdeen (from our own Jamie Rathjen). … Someone in Italy started a Change.org petition to clean up the ad on Juventus' new jerseys. Why stop there when you can just remove the entire ad? (From Tony). … Birmingham Legion FC, who will join USL in 2019, will be outfitted by Nike when they take the field (from Josh Hinton).

Grab Bag: ESPN is getting set to launch a new show called High Noon (9 AM Pacific) but as Greg Franklin points out, they've been inconsistent with their use of AM. FWIW, in AP Style, it is written a.m. … Ad creep is coming to Department of Veterans Affairs ID cards, as all new cards will have the Office Depot logo. … FIVB, the international governing body of volleyball, picked a strange font to use for on-air graphics for Volleyball Nations League broadcasts (from Jeremy Brahm). … Tarpon Springs High School in Florida has one hell of a nickname: the Spongers (from Russell Goutierez). …Staying in weird nicknames, Hickman High in Missouri goes by the Kewpies (from @pwilla). … Stars-and-stripes mania has extended to golf balls (from James Gilbert).