In our continuing saga of road teams wearing white when playing against the Kansas City A's in 1963 (for background, look here and here), today we have some new documentation courtesy of reader/researcher Greg Mays.
As you may recall, we had previously documented that the Indians and Tigers wore white in KC in '63. Now we can add a few more teams to that list:
1. The Orioles. First, take a look at the Orioles' 1963 uniform set. On May 28, 1963, Baltimore arrived for the start of a three-game series in KC. Robin Roberts pitched the series opener for the Orioles (here's the box score), and a photo in The Kansas City Times the next day showed him wearing the team's home uni: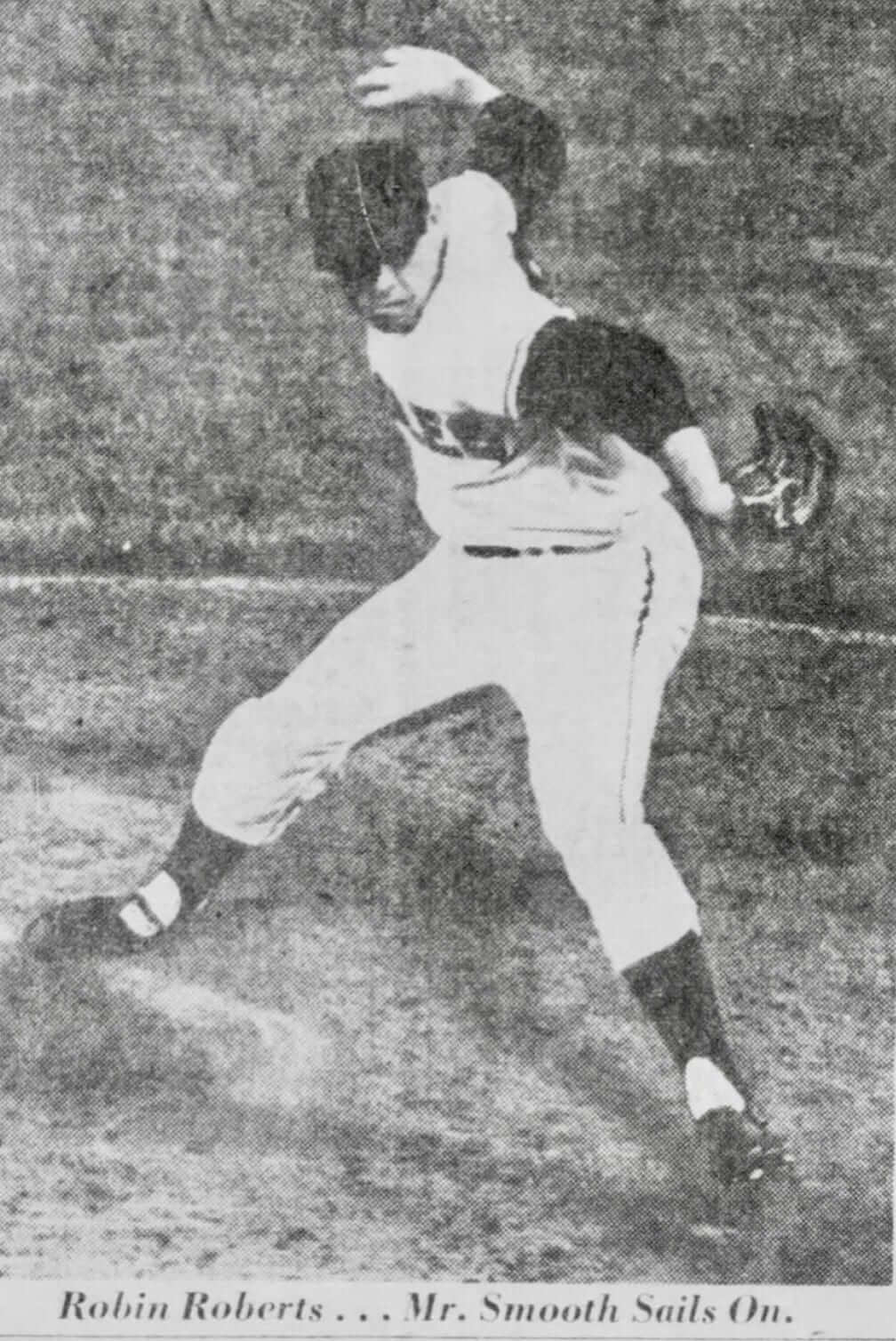 Two days later, the Times ran a photo from the third game of the series, which was played on May 30. The O's again wore their home whites (click to enlarge):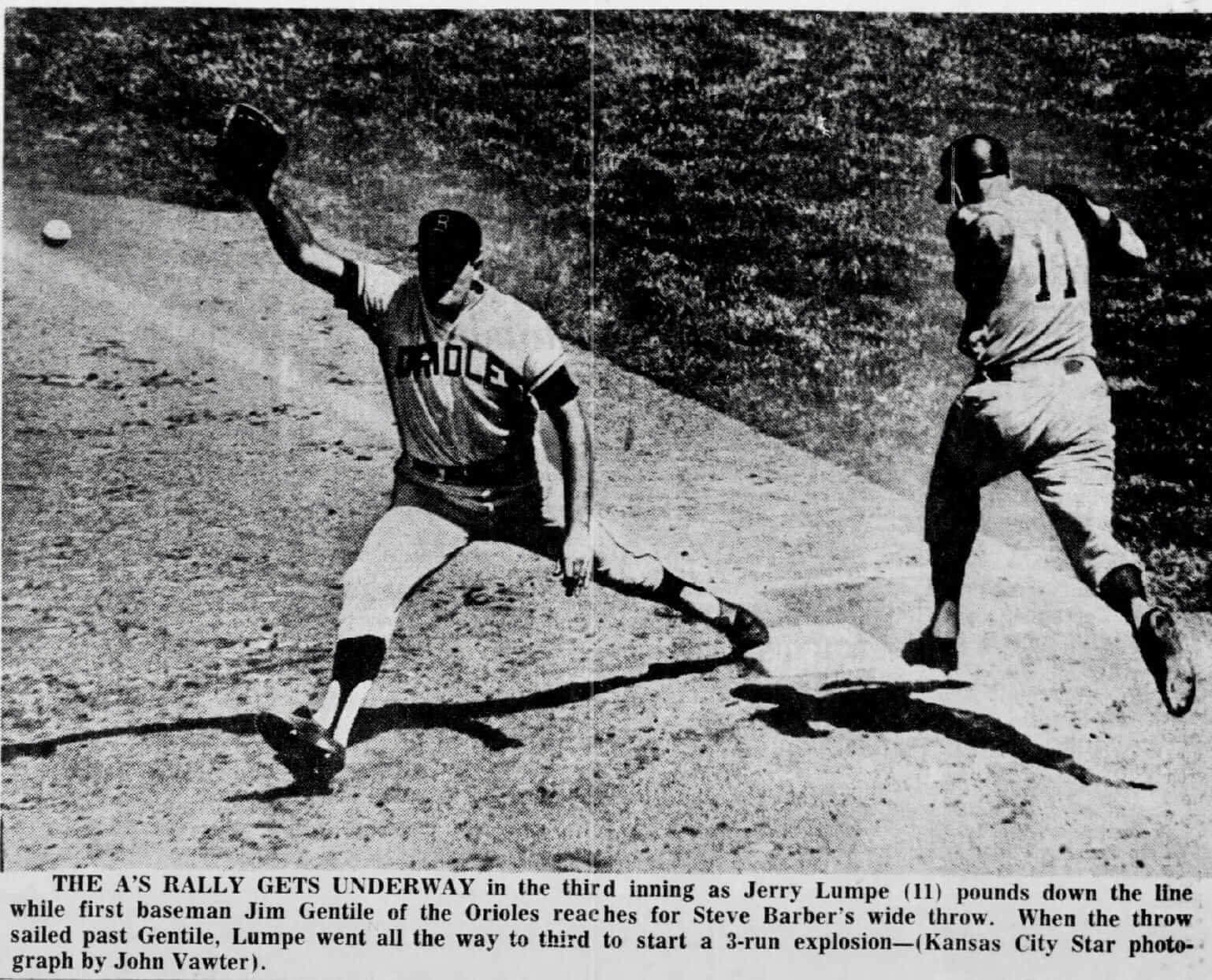 They presumably wore their whites for the middle game of the series as well, but we don't have a photo of that game.
While the O's wore white for their late-May visit to KC, it's worth noting that they wore their road greys when visiting KC at other times in the season, such as for this game in August.
2. The Senators. After the Orioles left KC, the Senators came to town. A Kansas City Times item from June 1, 1963, noted that the Sens would be wearing their home uniforms for the series: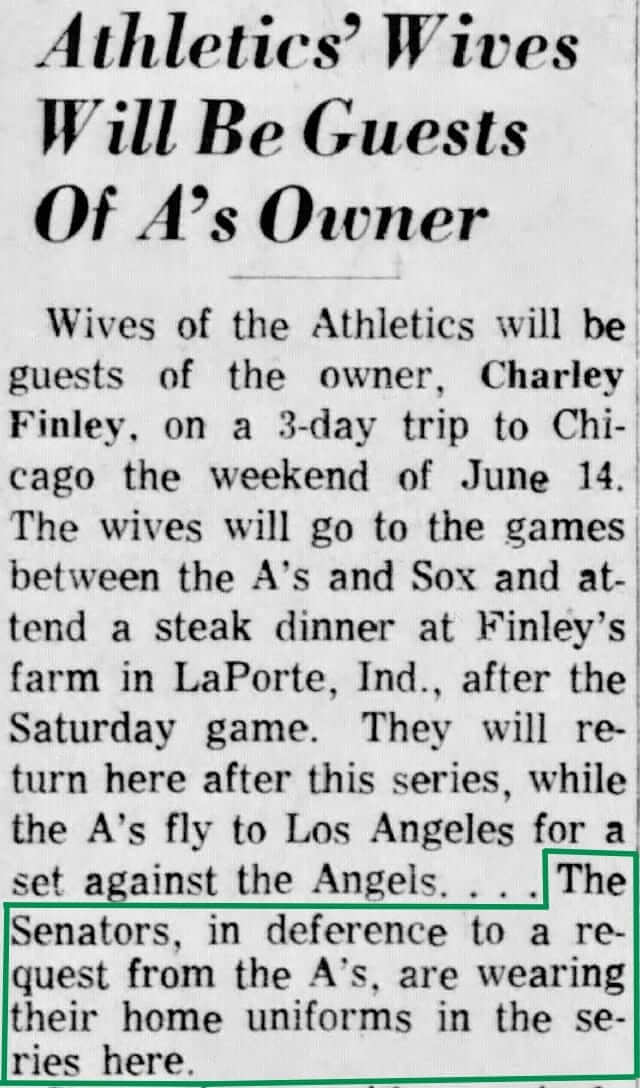 Photo evidence backs this up. The Sens' 1963 home uniforms were pinstriped, and two photos from the second game of the three-game series, played on June 2, 1963, clearly show pinstripes on the Washington players' uniforms (click to enlarge):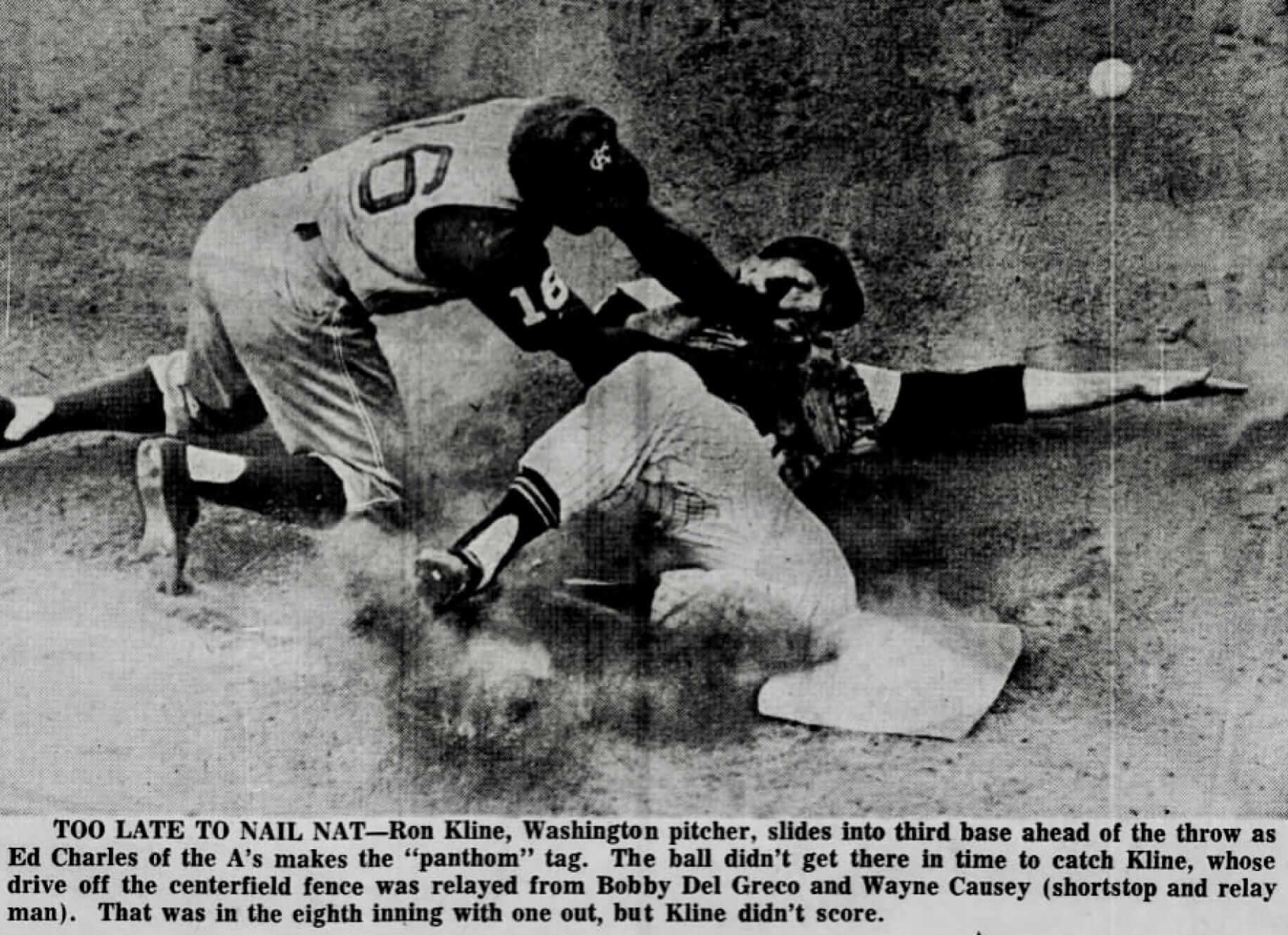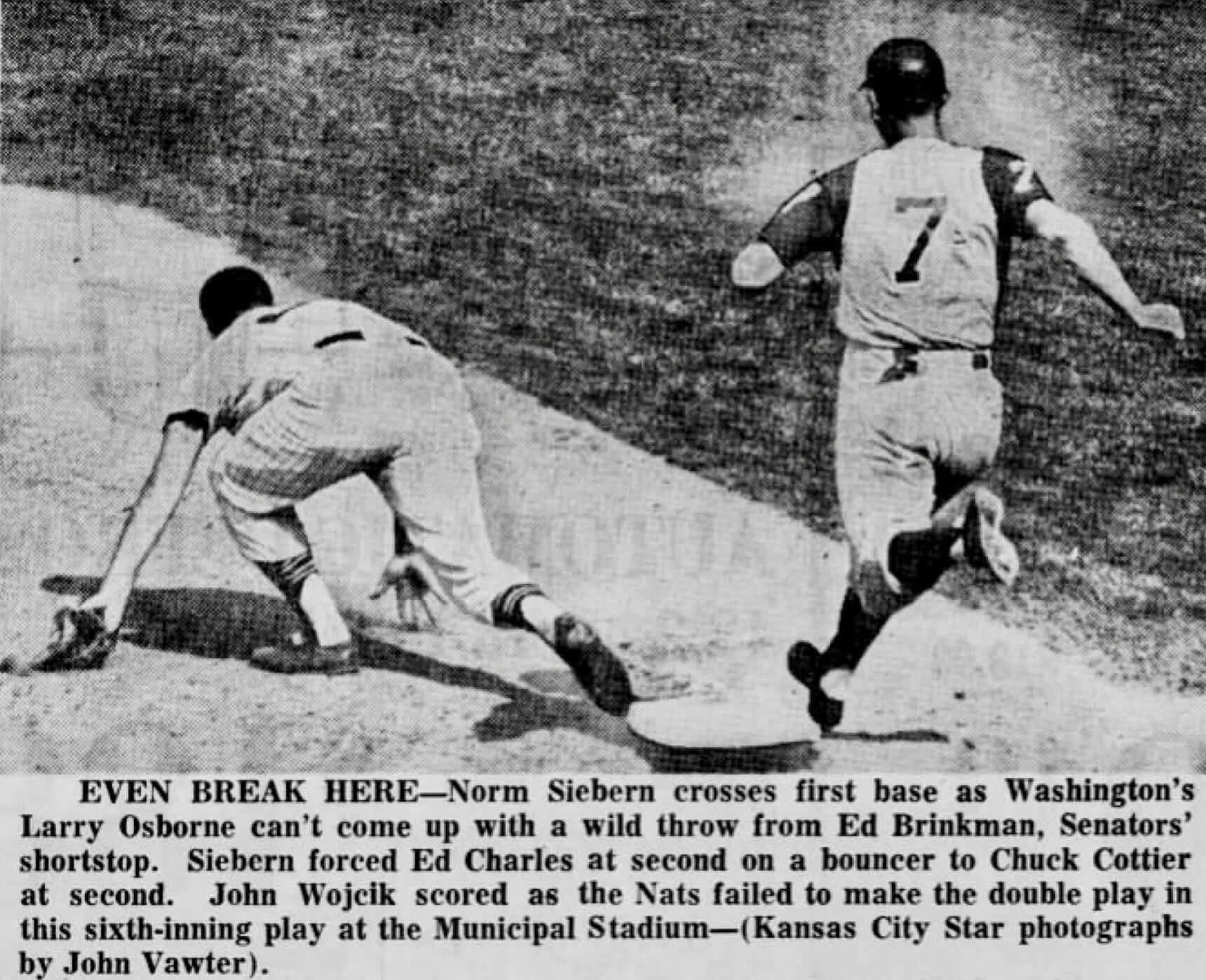 3. The Red Sox (probably). Boston's 1963 uni set featured red "Red Sox" lettering and headspoon piping on the home white, and navy "Boston" lettering with no headspoon on the road greys. So which uniform were they wearing in Kansas City on Sept. 13, 1963? Take a look: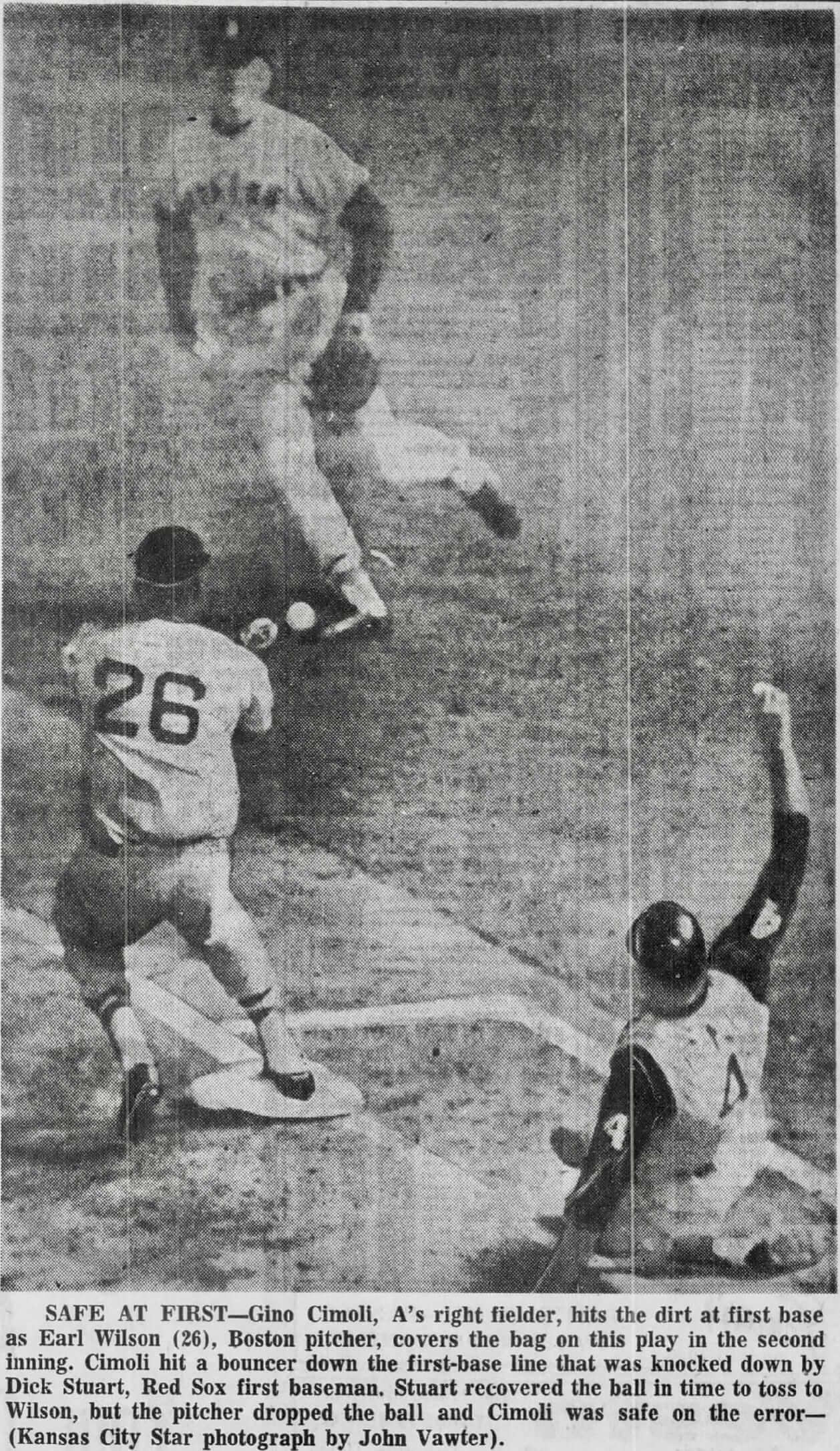 The lettering is indistinct, there's no apparent headspoon, and it's hard to tell if the fabric is white or grey. But if we blow it up, it looks more like "Red Sox" to me: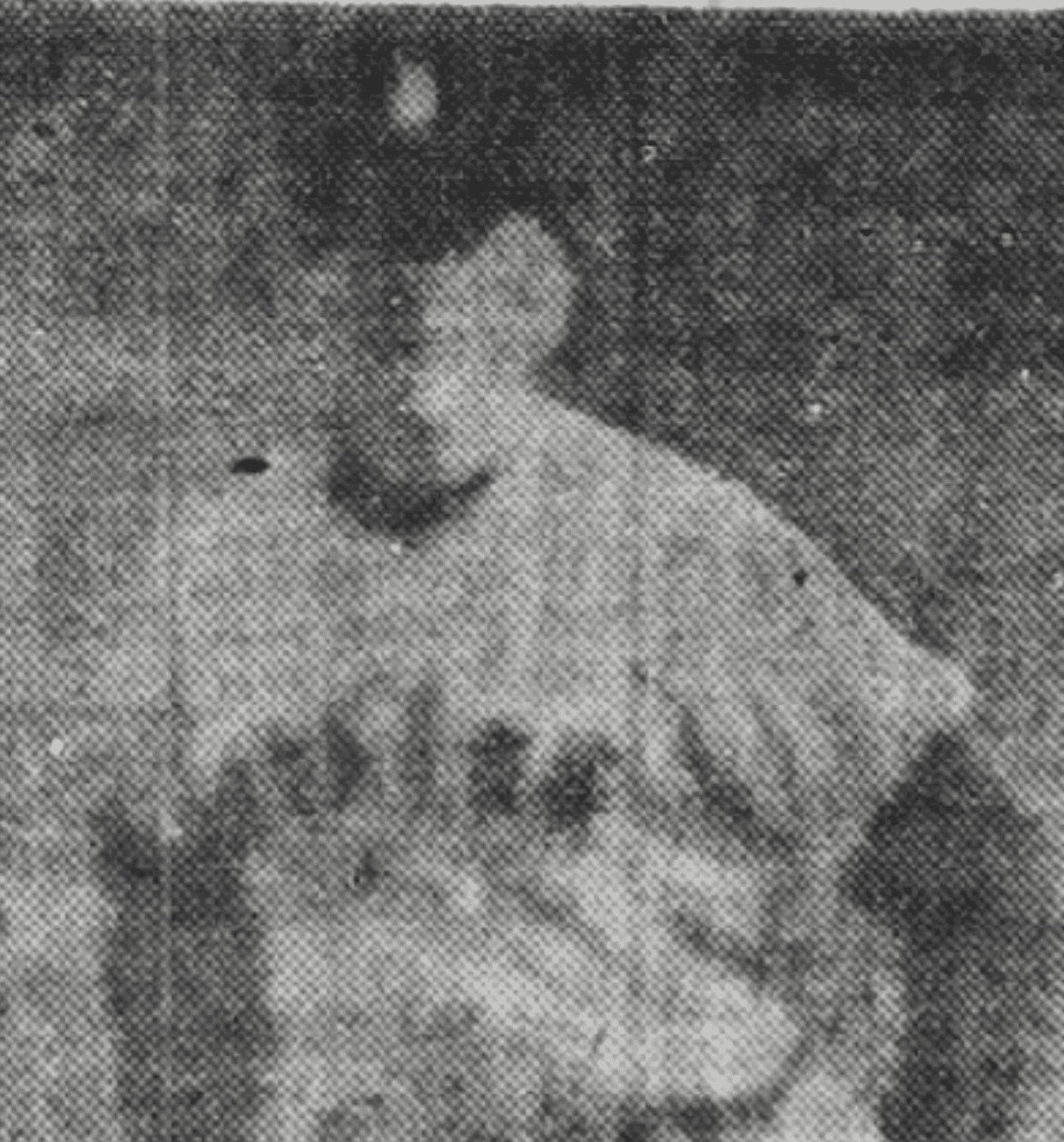 It's still hard to be sure. One thing's for certain: The Sox wore their road greys for an earlier visit in May.
4. The Tigers (again). We already knew that the Tigers wore their home whites in KC on April 22, 1963. Turns out they wore them again the following day. That's not really a surprise, but it's good to have confirmation (click to enlarge):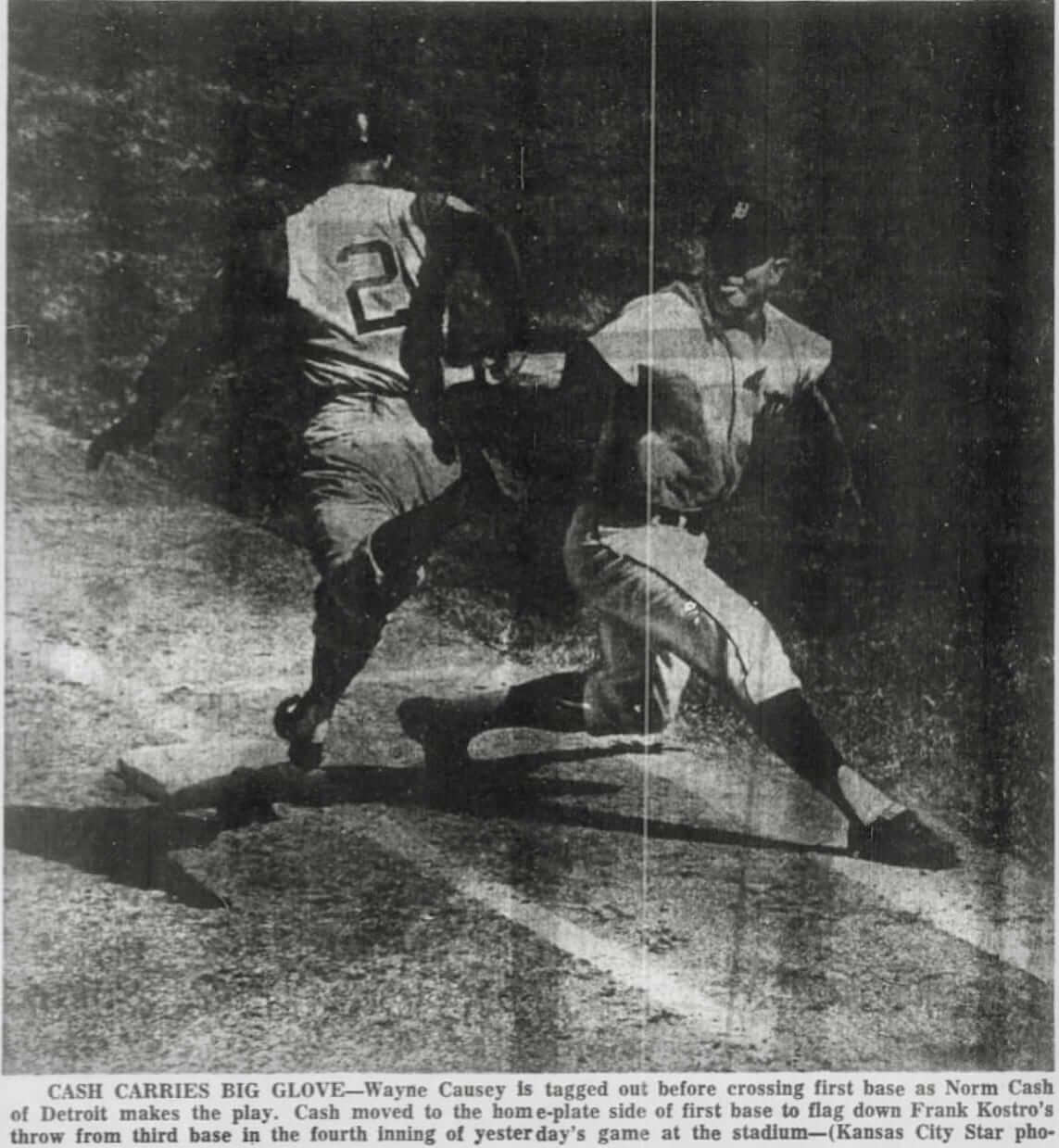 To be sure, there were also plenty of visiting teams that opted to wear grey in KC in '63, including the Yankees in April, the White Sox in June, and the Twins in June, although those teams might have worn white during other road trips to KC at other points in the season.
That's it for now. As you can probably tell, I am super geeked-out about this topic, so I'm hoping we'll have more historical nuggets to discuss soon.
Speaking of which: If we go back to a key moment in this investigation, reader Jim Wagner's father said that the A's invited road teams to wear their home whites "for a couple of years" — not just in '63. So for all you microfilm researchers out there, it might be worth taking a look at 1964 and '65 as well.
(My continued thanks to Greg Mays for sharing the fruits of his research.)
• • • • •
[adrotate group="2″]
• • • • •
Membership update: Several new designs have been added to the membership card gallery (including Collin Wright's 2003-04 Arsenal card, shown at right). I still have five slots open on the current sheet, so if you've been meaning to order a card, there's no time like the present.
Remember, a Uni Watch membership card entitles you to a 15% discount on any of the merchandise in our Teespring shop. (If you're an existing member and would like to have the discount code, email me.) As always, you can sign up for your own custom-designed card here, you can see all the cards we've designed so far here, and you can see how we produce the cards here.
• • • • •
[adrotate group="2″]
• • • • •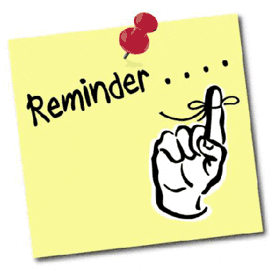 Assorted reminders: In case you haven't been keeping up with Uni Watch, here are some things you should be aware of:
• Our friends at Ebbets Field Flannels are currently raffling off a very cool-looking Fort Worth Cats T-shirt. Full details here.
• You can help to support Uni Watch by entering the auction for a full set of 2015 Uni Watch T-Shirt Club shirts in a custom-made pine box. The auction runs through this Friday evening. Full details here.
• Bobblehead doll restoration artist extraordinaire Chris Callan is willing to make custom Uni Watch bobbles for up to three customers. One customer has already placed an order, which leaves two slots remaining. Full details here.
• • • • •
[adrotate group="2″]
• • • • •
The Ticker
By Alex Hider

Baseball News: Dodgers OF Alex Verdugo has his nickname — Dugie — written on his shinguards in Dodgers-style script (from Joey E.). … Luis Yander La O, a pitcher in the Rangers' farm system, has a kerning issue on his NOB (from @thejohnnyfive). … One of the jockeys at this Saturday's Kentucky Derby will wear silks with a St. Louis Cardinals logo (from Kevin Hobster). … The Orioles will be giving away these T-shirts to fans on Memorial Day (from Andrew Cosentino). … Speaking of the Orioles, Andrew also notes that RAR Brewery in Cambridge, Maryland, has a new beer named after the Jeffrey Maier home run. … The Single-A Fort Wayne TinCaps have a new uniform set. …Here are the inaugural uniforms for the Chicago Dogs, a new independent minor league team that will begin play this season. … The Orix Buffaloes of Japan's NPB busted out their 1980s Hankyu Braves powder blue throwbacks last night (from Max G.). … A player for the Marion County (Kentucky) High School softball team wears No. 01 (from Josh Claywell). … Former MLBer Johnny Damon competed on Dancing with the Stars on Monday, and both he and his partner wore costumes inspired by baseball uniforms (from Chris Flinn). … Per Steve Saffel's 2007 book, Spider-Man: The Icon, Spidey got married at Shea Stadium on June 5, 1987. Check out the happy couple's wedding gallery here (from Ray Hund). … Jack White Gets It™. The rock star staged a charity baseball game with a Dallas sports radio station, and all players on his team suited up in real striped stirrups (from Ian Voorn). … Following up on the raffle for the Fort Worth Cats T-shirt, check out the Cats' uniforms from 1942 (from Kevin Vautour). … The Nationals wore Washington Capitals caps during BP — some navy and some red — prior to last night's game against the Pirates. Both DC teams were playing against Pittsburgh teams last night (from our own Jamie Rathjen)…. Royals baserunners were awarded an extra base last night because Red Sox C Christian Vasquez scooped up the ball with his mask (from Tris Wykes). … Teams in the independent Atlantic League now have front-facing logo creep and sleeve advertising (from Niko Goutakolis). … Mariners INF Jean Segura wore a teal undershirt last night (from Ryan Weetstein). … Cubs P Kyle Hendricks's cap didn't have the New Era maker's mark last night (from David Blackwell). … Harvard and Yale will play their annual college football game at Fenway Park this fall. At a press conference at Fenway yesterday, captains for both teams were given Red Sox jerseys with No. 18 — but in each case, the 8 was upside-down (great catch by Peter Fahey). … Here's a podcast interview with one of the Brandiose guys (from Steve Johnston).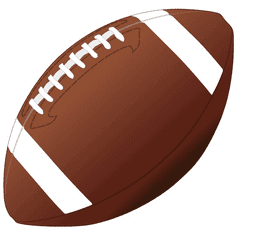 Football News: Sam Darnold will wear No. 14 with the Jets (from Mike Chamernik and @Needles56). … New Giants RB Saquon Barkley was presented with his new jerseys recently — though he likely won't ever wear that road white jersey. Notice the Flywire collar, which the Giants ditched last year (from Jamie Burditt). … This blog post wishes the 49ers a "Happy black alternate uniform anniversary!" "Happy" isn't the word I would have chosen (from Phil). … Overboard, a new movie in theaters now, features a character wearing a modern Seahawks jersey with Matt Hasselbeck's name and number. However, Hasselbeck never wore that jersey for Seattle — he left the team in 2010, and the Seahawks redesigned their jerseys in 2012 (from Chris Flinn). … These are presumably the game balls that Arkansas will use this upcoming season (from Matt Snyder). … Your Call Football is a startup football league that allows fans to call plays and manage games by voting in an app. It appears that the league's teams will be using Schutt F7 helmets, and the helmet's designer, Michael Princip, hopes the league gets creative by using contrasting colors for the replaceable panels and the main shell. … C. Todd Davis reports that the Raiders logo with the pickaxe and shovel that was mentioned in yesterday's Ticker is the logo for a Las Vegas construction union. There's a Los Angeles ironworkers union with a similar logo. … Cross-listed from the baseball section: Harvard and Yale will play their annual game at Fenway Park this fall. At a press conference at Fenway yesterday, captains for both teams were given Boston Red Sox jerseys with No. 18 — but in each case, the 8 was upside-down (great catch by Peter Fahey).

Hockey News: Cross-listed from the baseball section: MLB's Washington Nationals wore Capitals caps during batting practice — some navy and some red — prior to last night's game against the Pirates. Both DC teams were playing against Pittsburgh teams last night (from our own Jamie Rathjen). … DIY genius Wafflebored has created one of his best jerseys yet. Outstanding work!

NBA News: The colors on TNT's score bug during last night's Cavs/Raptors game didn't match the unis on the court (from @AlsoYes). … Here are the court designs for every team in the NBA 2K League (from Mike Chamernik). … NBA 2K League affiliates with the Cavaliers, Celtics and Sixers have also revealed their uniforms. … Reader Morgan Webster has been tracking the Pacers' uni colors throughout the 2017-18 season. Here's the final product.

Grab Bag: Golfer Adam Scott is reportedly set to sign multi-year clothing deal with Under Armour (from Lachlan McLean). … Cross-listed from the baseball section: These are the silks that the jockeys will be wearing this Saturday at the Kentucky Derby — including one that will be wearing a St. Louis Cardinals logo (from Kevin Hobster). … New kits for Australia's national rugby union team (from @tedkerwin). … The crawl outside of the sports book at the Palazzo Casino in Las Vegas uses some really outdated team logos (from Bryan Prouse). … Art Paul, Playboy's founding art director and the man who designed the magazine's bunny logo, has died (WaPo link) at the age of 93 (from Matt Schudel). … A Catholic high school in Michigan says it will force girls to wear "modesty ponchos" at the prom if chaperones deem them to be dressed inappropriately (from Brinke).
• • • • •
[adrotate group="2″]
• • • • •

What Paul did last night: Last night I went to my friend Carrie's birthday party and then went to see the new Wes Anderson movie, a black comedy called Isle of Dogs (which, when you say it out loud, comes out as "I love dogs" — clever). It's a stop-motion animation film about a Japanese city that exiles all of its dogs to an island that also serves as the municipal landfill, and about a boy who goes to the island in search of his lost dog. You can see the trailer above.
I really, really liked some aspects of the movie and am a bit uneasy about others. But what's particularly interesting about the movie from a Uni Watch standpoint is that one of the dog characters, named Boss, wears a baseball jersey. He explains that he used to be the mascot for a local team called the Dragons (for all of these photos, you can click to enlarge):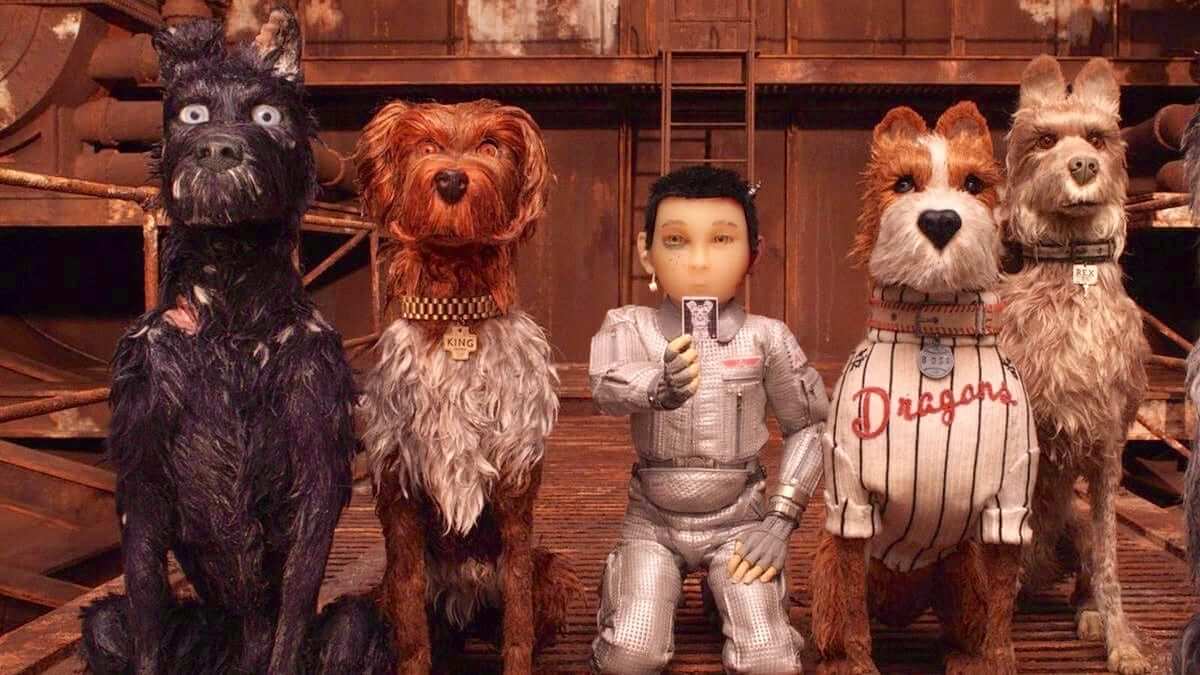 If you look more closely at the jersey, you can see that it's beautifully knit and embroidered, with lots of gorgeous texture: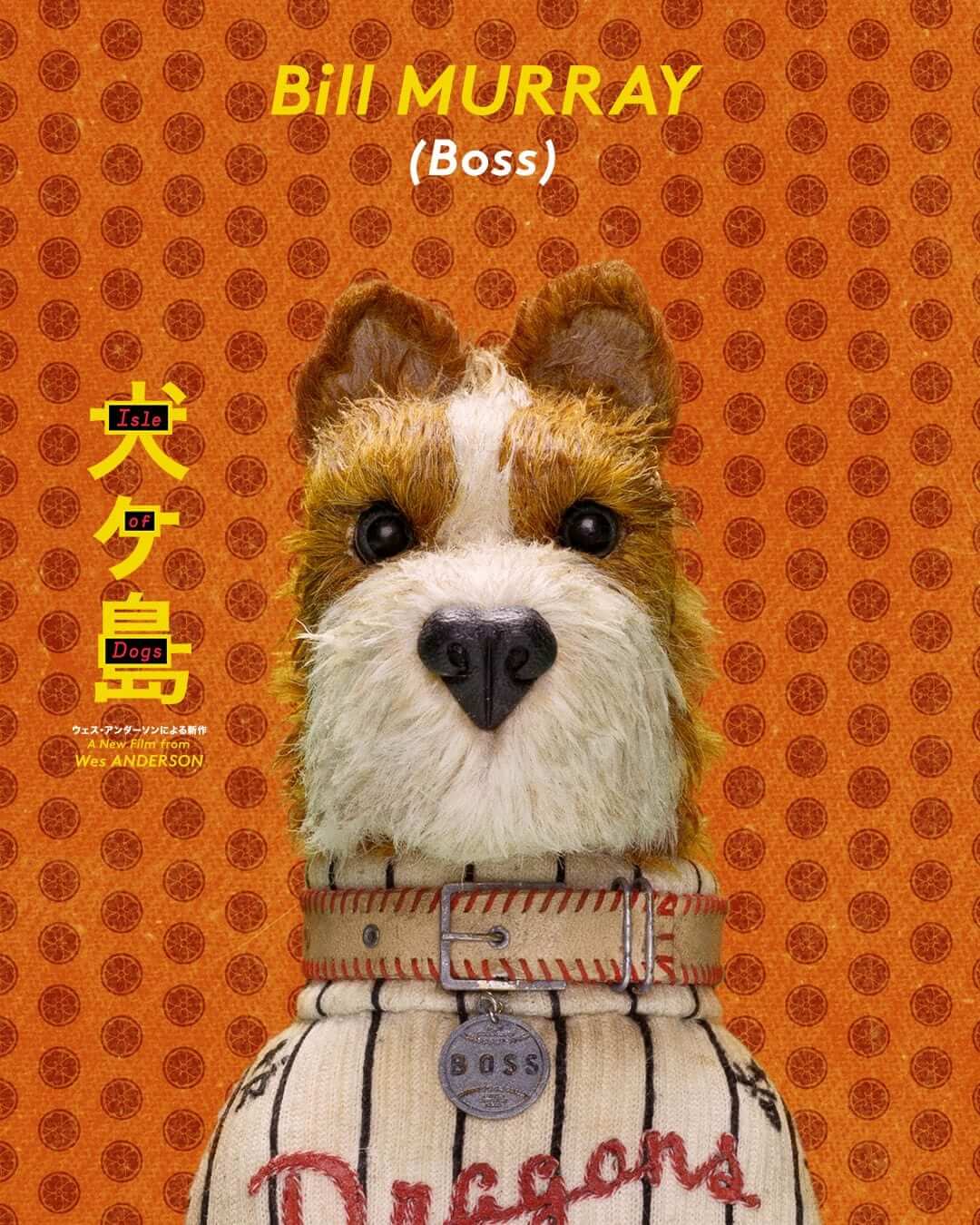 And a closer look at Boss's tag reveals that's baseball-themed! I didn't realize this while watching the movie and only discovered it while looking for photos after I got home: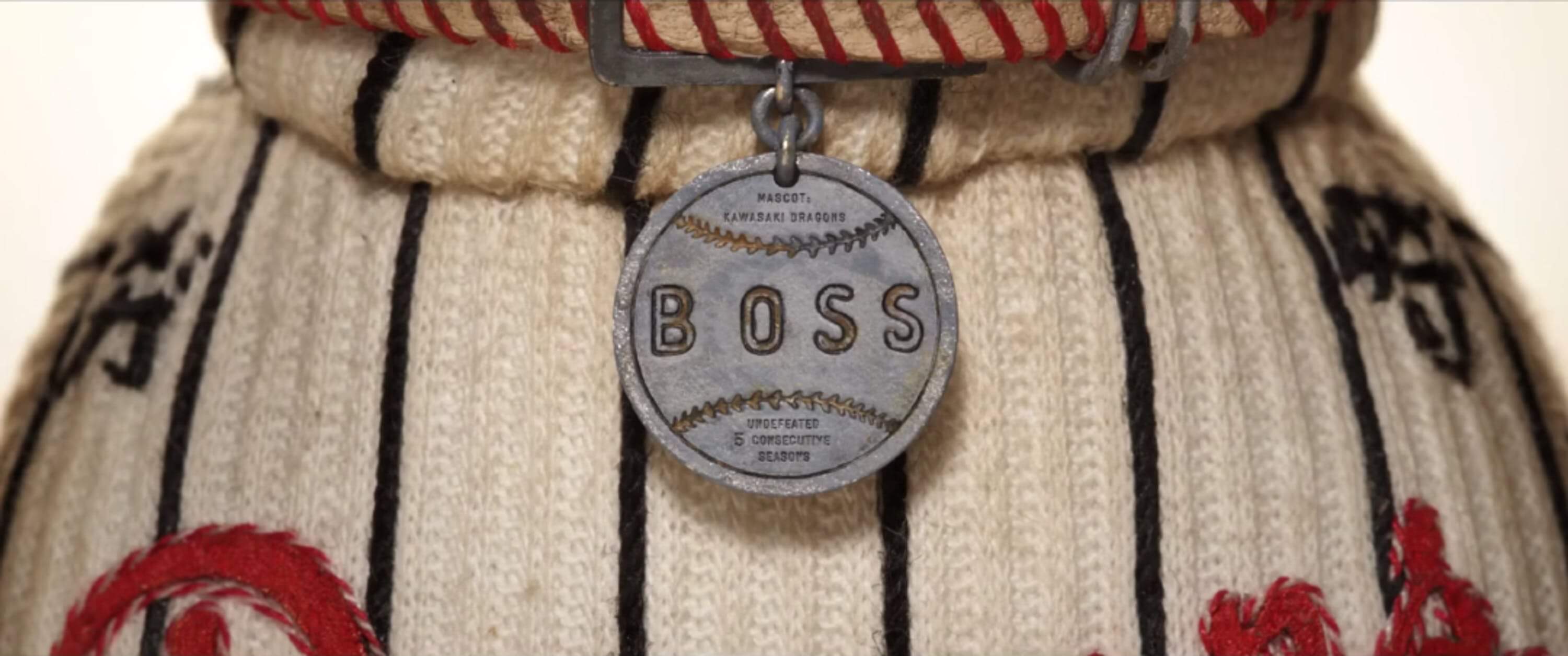 There are also a few scenes showing Boss with his team. Oddly, the players wear pinstriped jerseys but non-pinstriped pants: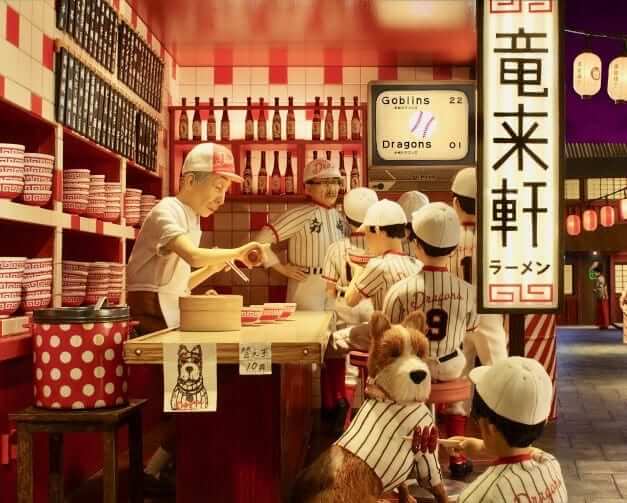 Anyway: Like all Wes Anderson movies, this one is very eccentric and, well, Andersonian. Personally, I count that as a positive. Recommended.