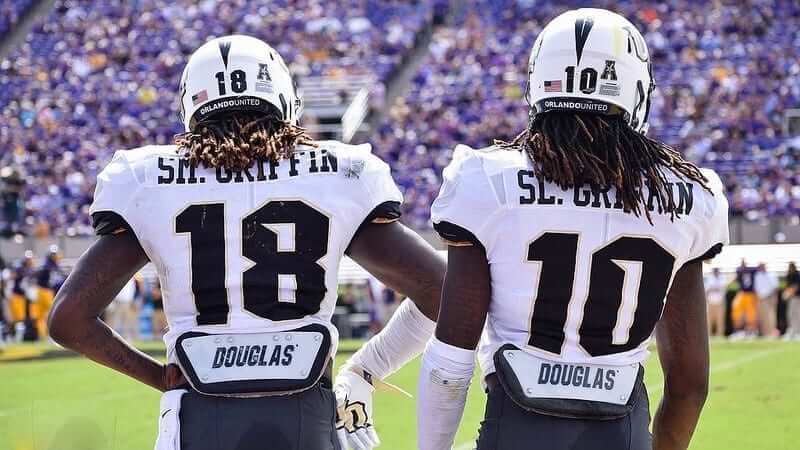 Click to enlarge
In case you hadn't heard, the Seahawks picked linebacker Shaquem Griffin in the fifth round of the NFL draft. That move will reunite him with his twin brother, cornerback Shaquill Griffin, who was drafted by Seattle a year earlier.

And that presents an interesting question that a bunch of people have asked me about: What will the Seahawks do about the Griffins' NOBs?
As I see it, they have four options:
1. They could use the first and last letters of the brothers' first names, which results in SM. GRIFFIN and SL. GRIFFIN. That's what UCF did when the brothers played together there (see above).
2. They could go with first initials and middle initials. For example, Shaquem's middle name is Alphonso, so he could wear S.A. GRIFFIN. (I haven't been able to determine what Shaquill's middle name is; if it starts with an A, this option wouldn't work.)
3. They could go FNOB. Given the number of letters involved, it would probably need to be double-decker, like the Youngbloods.
4. They could skip all of this hand-wringing and both just wear GRIFFIN. There's no rule against it. Given the trend toward personalization and individual expression, however, I'd say this is the least likely option.
I'll check in with the Seahawks today and see if I can find out more. Meanwhile, it's worth noting that the Griffins' hair appears to be even longer now that it was in that UCF photo at the top of the page, which means their NOBs will likely be covered up anyway.
(My thanks to Jon Solomonson for the UCF photo.)
• • • • •
[adrotate group="2″]
• • • • •
Click to enlarge
Collector's Corner
By Brinke Guthrie
The Chicago Bears have always tried to project a fierce image, which is totally appropriate given the rough and tumble nature of their city and the team's name. And it doesn't get much more fierce than the cover of this 1951 media guide. Interesting how it says "Thirty Second Year" (they used similar notations for other editions, too). Also shown, although not so fierce, is the 1967 guide, and the player looks a lot like Brian Piccolo (or Jimmy Caan) to me.
Now for the rest of this week's picks:
• Nice batch of 25 late-1970s NFL Fleer helmet stickers here.
• Terrific-looking artwork on the cover of this 1972 California Angels official scorebook magazine. Just 40¢! Plenty of money left for a hot dog and Coke, right? Leo Cardenas and his teammates took on the Chicago White Sox at the Big A.
• Here we go with a pair of 1980s "double" Saranac Green Bay Packers wristbands.
• Looks like Ray Guy, Eric Dickerson, and Lynn Swann (sort of) on this set of NFL bedsheets from Sears.
• This booklet is from the early-1970s game NFL Strategy. I loved this because it had CONFIDENTIAL stamped across the front.
• Here's the best price I've seen for the complete set off 1971 NFL Chiquita stickers. Boy, I once saw a set of these in a nice black frame. Missed opportunity for sure.
• Great YAZ baseball logo on this poster for Red Sox legend Carl Yastrzemski.
• Cheer on the World Champion Astros (well, they weren't back in '89) with this pair of 22-ounce plastic cups from Gatorade.
• Also from Gatorade, this plastic pitcher featuring the Chicago Cubs logo — year unknown.
• Here's a Kansas City Royals "prize pack," including a 1970 roster, stadium chart, sticker and schedule, and a 1972 yearbook.
• And longtime reader/commenter Rob S. is selling off a pair of hockey jerseys — one from the Detroit Vipers and one from the University of Michigan.
Seen an item on eBay that would be good for Collector's Corner? Send any submissions here. Also, if you're an employer who needs an experienced media and communications professional, Brinke is available. More info here.
• • • • •
[adrotate group="2″]
• • • • •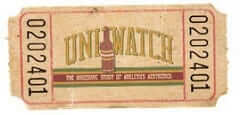 Yet another raffle: Another week, another giveaway from our friends at Ebbets Field Flannels. This time they're raffling off this excellent Fort Worth Cats T-shirt.
To enter, send an email with your preferred T-shirt size and your shipping address to the raffle address by 7pm Eastern this Sunday, May 6. One entry per person. I'll announce the winner next Monday.
Also, if you scroll down to the bottom of any Ebbets web page (including that one with the Cats shirt), there's a link where you can get on their email list. Feel free to sign up if you like.
• • • • •
[adrotate group="2″]
• • • • •
Some swell words from a swell guy: The podcast/radio show Bullseye with Jesse Thorn, which is a big deal in certain circles, usually devotes the last five minutes or so of each episode to what it calls the "Outshot," which is basically a recommendation of something cool.
Last night I was surprised and pleased to learn that the Outshot on the show's latest episode is a full-throated endorsement of Uni Watch. I had no idea this was coming, and I'm hoping it brings Uni Watch to the attention of a whole new audience.
If you want to listen to the Outshot, it's embedded below. And Jesse, if you're reading this, thanks for the plug!
• • • • •
[adrotate group="2″]
• • • • •
Reminders and such: In case you missed it last week, you can help to support Uni Watch by entering the auction for a full set of 2015 Uni Watch T-Shirt Club shirts in a custom-made box (shown at right). Full details here.
Also: Bobblehead doll restoration artist extraordinaire Chris Callan is willing to make custom Uni Watch bobbles for a limited number of customers. One customer has already placed an order, which leaves two slots remaining. Full details here.
• • • • •
[adrotate group="2″]
• • • • •
The Ticker
By Alex Hider

Baseball News: The Phillies have had so many issues with their 3D helmet logos that they've decided to scrap them altogether and go back to traditional decals. … Pirates OF Gregory Polanco was wearing Jackie Robinson Day socks last night (from Jared Grubbs). … The Indians paired their home whites with their red "Block C" cap and red accessories on Sunday. Is this the first time they've worn that combo? (From Ben Teaford.) … The Fenway Park scoreboard used "K-City" for Kansas City last night. That's apparently a first — they had previously used "KC" (from Joseph Butash). … The A's wore black shoes, instead of their usual white, in a June 15, 1969, game against the Red Sox. Anyone know why? (From Richard Paloma.) … The Charleston RiverDogs will wear Jamaican bobsled team-themed jerseys on Thursday. … The Aberdeen IronBirds will dress up as the "Anglers" on July 27 and 28 for Outdoor Weekend. … The Omaha Storm Chasers will wear Star Wars jerseys on Friday (from Jeff Funke). … The West Virginia Black Bears will become the West Virginia Moonshiners on July 17-19 (from @cDubya242). … The Chiba Lotte Marines of Japan's Pacific League wore "Sky Festa" jerseys recently (from Graveyard Baseball). … St. John's uniforms include the New York skyline sublimated in the wordmark and numbers (from Kevin Schultz). … Marshall players will wear camo caps with the seals of the branches of the military this weekend (from @RL_Ely). … An Oregon State baseball fan has worn Beavers apparel for more than 6,300 straight days (from Jeremy Brahm). … Alma College — which goes by the Scots — makes nice use of tartan in its letterings and numbers (from Fred Kreiger). … As a proud Ohio University alum I think I love these wild candy-striped uniforms. It doesn't look like they've worn them yet on the field — any Bobcats fans out there know what's going on with these? … New summer uniforms for the Hanshin Tigers (from Max G.). … Blue Jays P Aaron Loup had to trade in his light-colored glove for a darker model before beginning to pitch last night. Pitchers aren't allowed to have white or light-colored gloves because they could blend in with the ball (from Jimmy Lonetti).

NFL News: The Bengals are replacing the FieldTurf at Paul Brown Stadium and will be slightly tweaking the end zone design and midfield logo. … Staying in the jungle, former QB Ken Anderson wore a grey facemask, instead of black, in 1982. Looks like they either didn't repaint his mask or the paint chipped off (from Pro Football Journal). … Pro Football Journal also tweeted a nice progression of how of TV numbers took over the 49ers sleeves in the 1970s. … Speaking of the Niners and Bengals, Brent Light caught an old episode of Family Feud featuring a Super Bowl rematch from 1989, with Bengals and Niners players as contestants — in really lame replica jerseys.  …  NFL 2K5, a video game from 2004, includes the option to dress the Dolphins in a never-worn navy jersey (from Brad Belstock). … Raiders owner Mark Davis was in Las Vegas to visit the construction site of the team's new stadium. If you look closely at the guy on the left, you can see that his hard hat has a Raiders logo with the crossed swords replaced by a pickaxe and shovel (good spot by Moe Khan). … Grayson High School in Georgia manages to poach elements from the Rams and Packers on its uniform (from Keenan Soto). … 49ers QB Jimmy Garoppolo showed up at last night's San Jose Sharks NHL playoff game and wore a Sharks jersey (from Brinke).

College Football News: The NCAA is cracking down on jersey and equipment rules. Among the newly-banned looks: bicycle shorts, long undershirts and exposed backplates (from Matthew Althoff). … Virginia Tech freshman QB Quincy Patterson will wear No. 4 for the Hokies (from Andrew Cosentino).

Hockey News: Uniforms using imagery inspired by the Maryland flag aren't limited to recent history (or to Under Armour). Case in point: Back in 1940, there was a hockey team called the Baltimore Orioles, whose jersey crest was clearly flag-based (from Michael Reis and @NHLhistorygirl). … Cross-listed from the NFL section: San Francisco 49ers QB Jimmy Garoppolo wore a Sharks jersey for last night's playoff game in San Jose (from Brinke).

NBA News: The Warriors released more renderings of their new arena planned in the Mission Bay district of San Francisco. … He's no Rip Hamilton: Sixers star Joel Embiid can't wait to get rid of his protective mask (from Mike Chamernik). … The uni schedule for the Rockets/Jazz series has been set. More info on the NBA's LockerVision site. … Did the Celtics troll the Lakers with their T-shirt giveaway at last night's playoff game against Philadelphia? (From Dave Levy). … Grizz Gaming of the NBA 2K League have unveiled their home court (from Shlomo Sprung). … Celtics G Terry Rozier appeared to have a smudge on his NOB during last night's playoff game against the 76ers. Here's another view (from Nick Wiskirchen).

Soccer News: Everton have released their 2018-19 home jersey. They'll wear it for the first time this weekend (from Mark Coale). … Just like the MLS did on Earth Day, Tottenham wore black-and-white kits made of recycled materials last night. Fortunately, they only wore them during warmups (from our own Jamie Rathjen). … Nicolás Caprio, a goalkeeper for Ferro de General Pico in Argentina's third division, wears the "Homer Simpson backing into the bushes" meme on his goalkeepers kit (from Phil). … Rafa Marquez, one of the most decorated players in the history of Mexican soccer, played his final game for Atlas last weekend, and the club's supporters group raised a giant banner of him at the game (from Josh Hinton). … New kits for 2018-19 for Doncaster Rovers FC of English League One (from Ed Zelaski).

Grab Bag: Reader Pete Morelewicz is a graphic designer who's made some interesting prints based on fields, courts, and other sports surfaces. … The University of North Dakota is letting students vote on the school's new Fighting Hawk mascot. Polls close Wednesday (from Brandon Baumgartner). … The National Lacrosse League has a new championship trophy (from Wade Heidt). … Woodford Reserve bourbon is releasing a specially-labeled bottle in honor of this weekend's Kentucky Derby (from James Gilbert). … The San Francisco Municipal Transportation Agency is changing its logo from this to something a bit more traditional (from Manzell). … Dale Earnhardt Jr. had something to say about whether car numbers should slant forward or backward (from @squish78).