For all photos, click to enlarge
Last month I put out a call for a reader with woodworking skills. A few weeks after that I posted a teaser photo of a wooden box-in-progress with the Uni Watch script laser-etched into the lid. I'm happy to report that the box, which is shown above, is now finished.
And what's inside? T-shirts:
But not just any T-shirts. It's a full set of shirts from the 2015 Uni Watch T-Shirt Club. Here they are on their own, without the box:
I've been saving the full set of shirts for a few years now. At one point the Tugboat Captain talked about transforming them into a quilt, which she could then keep or sell on Etsy, but that turned out to be too big of a project for her. With the site's ad revenue down and Uni Watch needing new forms of financial support, I recently decided to auction off the whole set. But selling the shirts by themselves seemed kind of rote, so I got the idea of having a custom box made for them. A Uni Watch T-shirt box set!
Here are the particulars about the shirts and how I'll be auctioning them:
• All of the shirts are size Large. All include the monthly "sleeve patch" graphics, and all have never been worn.
• There's a total of 17 shirts here, including the designs that we originally ran for January (home white); February (batting practice); March (St. Paddy's Day); April (Jackie Robinson Day — this auction includes both the white and grey versions); May (Cinco de Mayo — this auction includes white, grey, and baseball shirt versions); June (BFBS); July (stars and stripes; this auction does not include the Canada Day shirt); August (green alternate); September (road grey); October (powder blue — the auction includes two different shirts in two different shades of blue, one bright and one with a more faded look); November (the original sublimated version of the tequila sunrise shirt); and December (ugly sweater — the auction includes a short-sleeved version and a long-sleeved version).
• The box is made of pine and measures 16″ long, 15″ wide, and 14″ high. It was made by Uni Watch reader Steve Dominick, who's a high school shop teacher. It has a bit of an odor from the coat of varnish that Steve gave it, but that will fade with time. (When I ship everything to the auction winner, I'll put the shirts in a plastic bag to protect them from the varnish smell.)
• I'll also provide the auction winner with one of the patches that we gave to the "Collect 'Em All!" people:
• In addition, I will give the winner a 30-minute phone call or Skype session with me to discuss uniforms, or anything else you'd like to talk about.
• These 17 shirts would have cost roughly $425 if they'd been purchased individually, so let's start the bidding at that figure. Yes, I realize that's a lot, but over 100 readers diligently "Collected 'em all" back in 2015, and it doesn't seem fair to that someone should be able to get all the shirts for less than those people paid, plus you're getting the custom box and the phone call.
• Depending on where you live, shipping charges will likely be somewhere between $18 and $52. I'll split that cost with the winner. (If you live in the NYC area, you're welcome to pick up the box from me in person.)
• This will be a blind auction, and it will run for one week. To enter, email your bid to me (it must be at least $425) by next Friday, May 4, 7pm Eastern. High bid wins — simple as that.
If you have any questions, want to see more photos, etc., feel free to be in touch.
Thanks for listening, thanks for your consideration, and thanks in advance to all bidders. As we seek out new sources of financial support, I greatly appreciate your help. And if you can't afford to bid on the box, I hope you'll consider other ways of supporting the site.
(Special thanks to Steve Dominick for doing such a great job with the box, and for charging me a very fair price for it.)
• • • • •
[adrotate group="2″]
• • • • •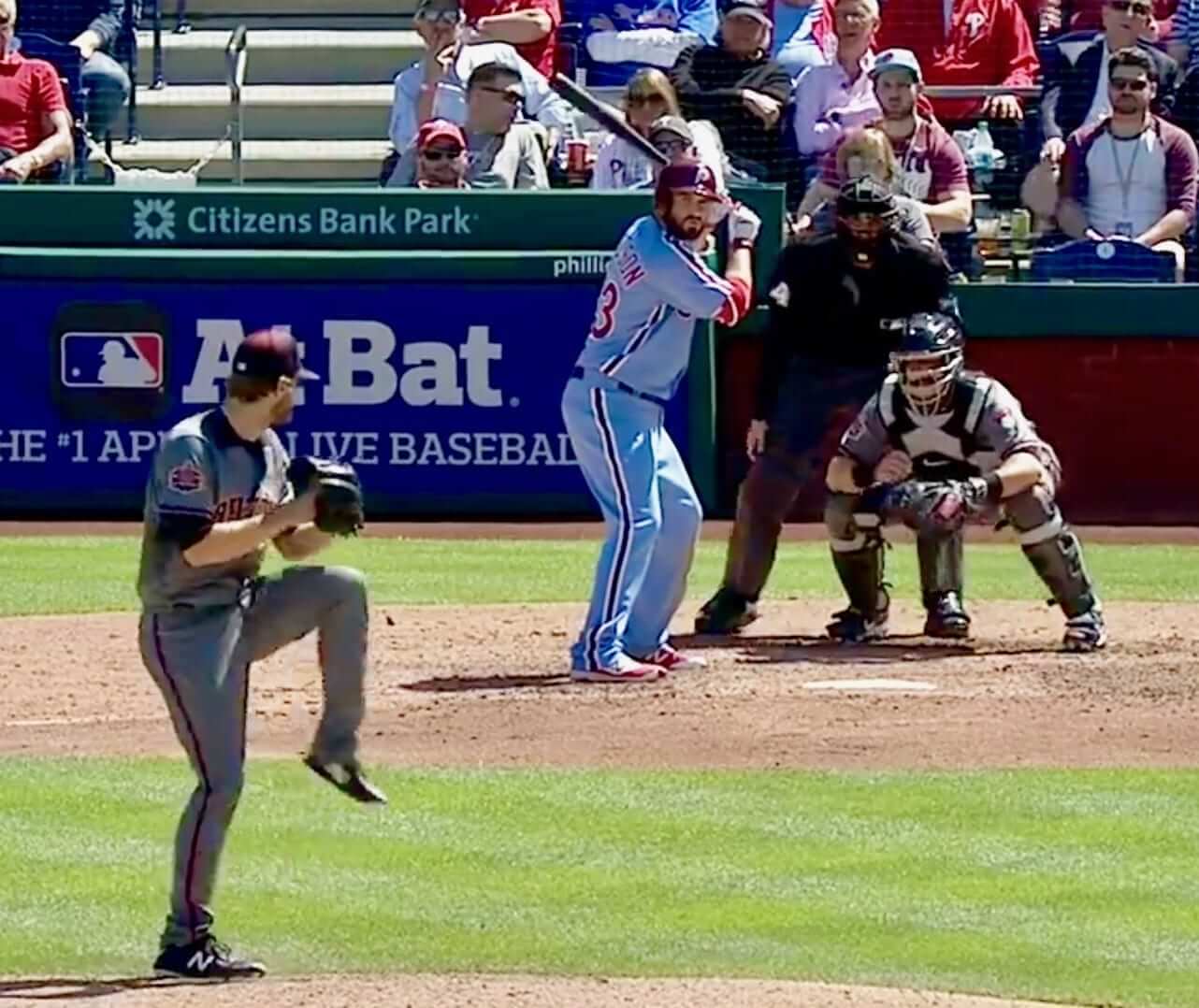 Click to enlarge
Throwback vs. throw-up: Unusual uni matchup yesterday in Philly, as the Phillies wore their road-at-home powder blue throwbacks and the Diamondbacks wore their road charcoals.
As you can see, the Phils still haven't sprung for proper maroon undershirts. But at least they now have maroon catcher's gear, which they didn't have last week.
In case you missed it last week, we had a Ticker item about how the Phils once wore the powder blues for a home game back in 1972 but never did it again because they lost the game (one of 97 games they dropped that season — and that was in a strike-shortened 156-game schedule). So there's some precedent for them wearing blue at home — but it still looks so weird.
(My thanks to Frank McGuigan and Shlomo Sprung for their contributions to this section.)
• • • • •
[adrotate group="2″]
• • • • •
Giving credit where it's due: I spend a lot of time complaining about advertising, so it's only fair that I should acknowledge one of the rare instances of a sports-related ad that's genuinely clever: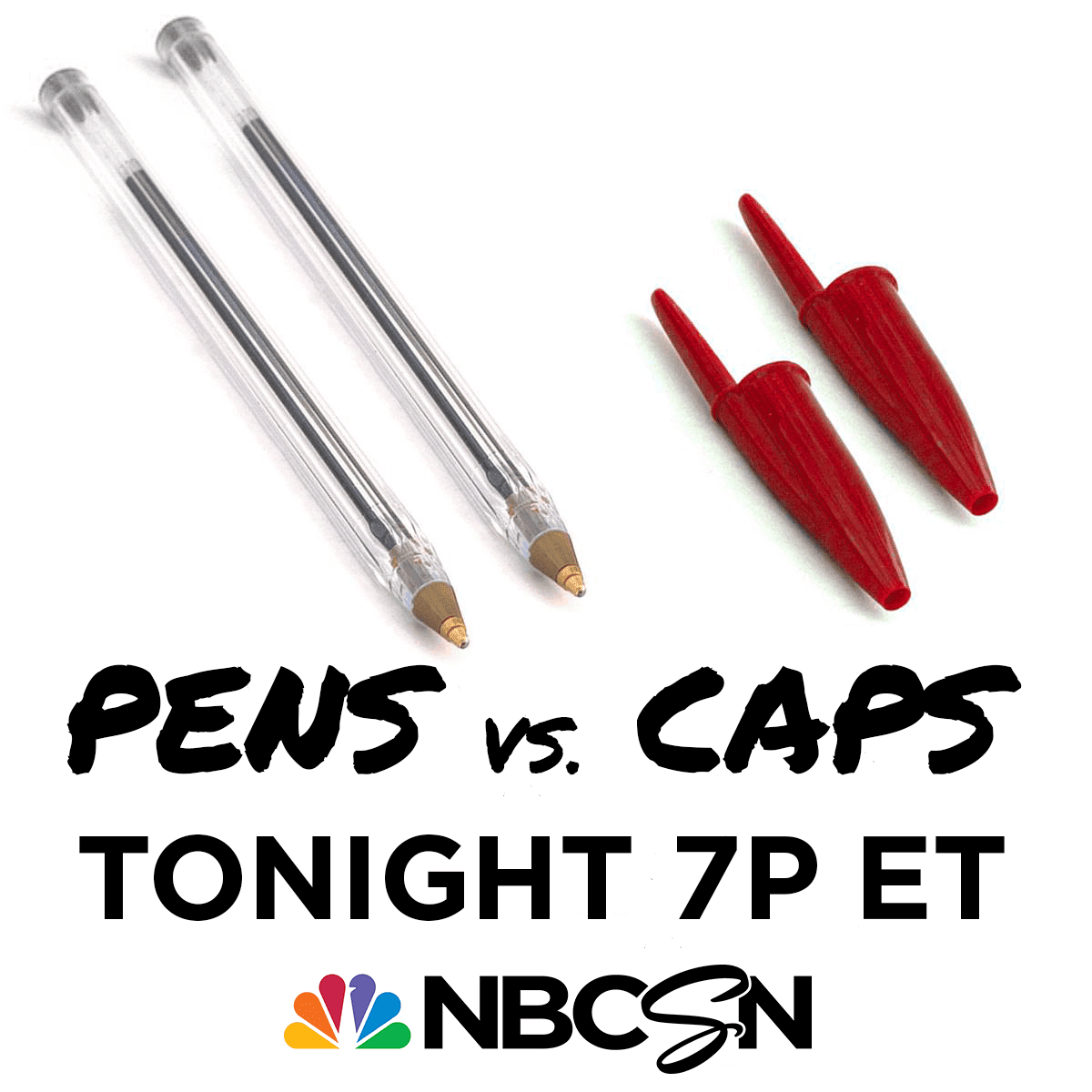 Nicely done, NBC, right down to the colors. The Penguins and Capitals have faced each other many times in previous postseasons (not to mention countless times in regular season games), which makes me wonder if this particular ad concept has ever been used before. Anyone..?
(My thanks to longtime Uni Watch reader/collaborator Rob Ullman for posting this ad yesterday in his Facebook feed, which is where I first saw it.)
• • • • •
[adrotate group="2″]
• • • • •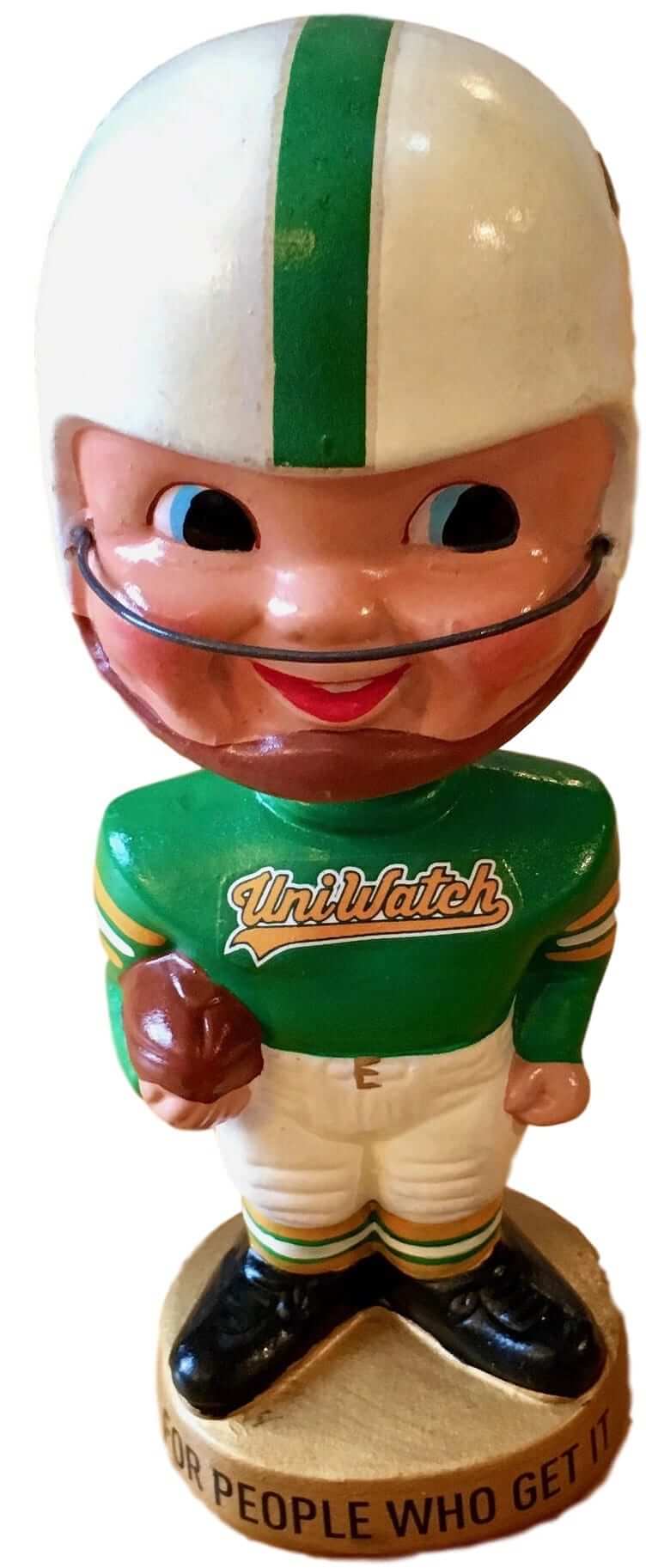 Bobblehead update: In case you missed it yesterday, we had a great guest entry by Chris Callan, who restores vintage bobblehead dolls and also transforms old bobbles into new custom designs — like the Uni Watch bobble shown at right, which he made for me.
A few readers got in touch to ask me if Chris could make a similar Uni Watch bobble for them. It's a trickier request than it probably seems — aside from the labor involved, Chris has to find the proper vintage bobbles that he can transform. (For the one he made for me, he already had a green-jerseyed football player to use.)
After talking with Chris, here's what we've decided: He is willing to make up to three more Uni Watch dolls. The price for each one will be $100 plus shipping. Chris will number and initial each doll on the underside of the base; if you want me to initial or sign the base, I'm happy to do so, but there will be an additional shipping charge for the doll to make the extra stop on its journey to you.
Since Chris can only accommodate three customers, move fast if you want to be one of them. You can contact him here.
• • • • •
[adrotate group="2″]
• • • • •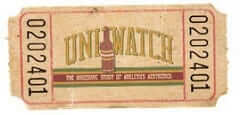 Raffle reminder: In case you missed it earlier this week, our friends at Ebbets Field Flannels are raffling off a super-cool Santurce Cangrejeros T-shirt. Full details here.
While we're at it: As you may have noticed, Ebbets is currently running an ad in our right-hand sidebar, and they're also partnering with us to create and sell the first Uni Watch cap, which should be available in mid-May. They have great stuff — please consider them, and the rest of our advertisers, for your shopping needs. Thanks.
• • • • •
[adrotate group="2″]
• • • • •
The Ticker
By Kris Gross

Baseball News: Reds 1B Joey Votto paid tribute to Ken Lam, the Toronto police officer who arrested the van attack suspect, on his shoes on Wednesday night (from Mike Styczen). … You've gotta see the NOB on Rangers rookie Isiah Kiner-Falefa (from Matt Shevin). … Officials in Boston have approved a name change to Yawkey Way, the street outside Fenway Park. There had been calls to change the name because of Tom Yawkey's racist past. The street will revert to its original name, Jersey Street. … All teams in the Atlantic League will wear memorial patches for Joe Klein, who was influential in the league's development (from John Cerone). … Great uniforms for the 1908 Reading Pretzels (from BSmile). … Purdue catcher Nick Dalesandro's helmet did not match the rest of his teams' (from Derek Linn). … New caps for NC State (from Kevin Parker).

NFL News: The No. 2 pick in last night's draft, Penn State RB Saquon Barkley, became a father earlier this week. He was still wearing his hospital bracelet when he was drafted (from @josh_claywell). … ESPN's graphics featured drafted players in black jerseys (from Nick Lineback). … NFL Network used an outdated Lions logo (from David Steinle). … Hopefully we don't see the Bengals wearing these bedazzled helmets next season (from Dustin Perez). … Amidst constant rumors of the Jags moving to London, Jags owner Shahid Khan has emerged as a prospective buyer of Wembley Stadium (from Alex Evans). … We're wading into dangerous territory here: Steelers WR JuJu Smith-Schuster's draft outfit was just a crummy ad (from Sean Patton). … The Ravens are having a huge sale, which includes player-issued helmets and other player-worn items (from Will Shoken). … Curley Culp was traded from the Chiefs to the Oilers during the 1974 season, and kept his helmet. @NFL_Journal spotted where you can see the red under his chipped helmet paint. … More old footage, here's a Tank Johnson FNOB from 2005 (from Jordan Casper). … Jerry Glanville is the new defensive coordinator with the Hamilton Tiger-Cats of the CFL, and he's bringing his fashion sense with him (from Wade Heidt).

College Football News: It looks like Virginia will unveil new uniforms later this morning (from Peyton Gravely). … Here's a look at Northwest Missouri State's new Vicis helmets. … Awesome letterhead on this 1983 letter from then-Iowa offensive coordinator Bill Snyder (from Jay Wright).

NBA News: According to Deadspin, there are too damn many NBA jerseys. Key passage: "Here's Sixers VP Chris Heck on the team's main playoff jerseys: 'With a design inspired by the Declaration of Independence and other historical notes, our City Edition jersey captures the essence of Philadelphia.' Shut up. No it doesn't. I know they're the 76ers, but things have happened in Philadelphia since 1776. It's just a jersey" (from Josh Claywell).

Soccer News: I hope you don't love uniforms as much as this guy (from @bryant_rf). … This story details Cork City and Dundalk, two of the top teams in Ireland, meeting on a night in 2012 with rain coming down so hard, the teams changed kits at halftime (from Denis Hurley). … Manchester United's 2018-19 third kit and Olympique Marseille's new Puma kit have leaked (from Charles George, Ed Żelaski). … The Guardian put together a slideshow of classic kits (from Mark Coale). … Newcastle United's new away kit has leaked (from Josh Hinton).