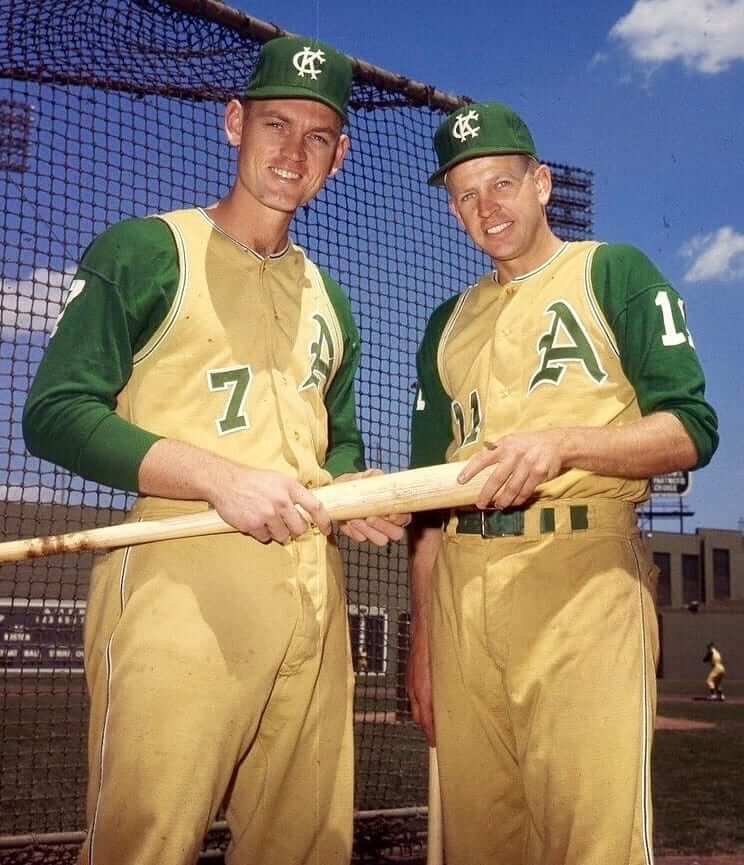 Today I have an update on a storyline that's been developing step by step. Here's a quick recap: A few weeks ago I posted an entry about some 1963 home movie footage that seemed to show the Indians wearing their home whites, instead of their road greys, for a game in Kansas City against the A's. The A's wore gold uniforms for all of their games that season, so having the road team wear white would have been fine from a visual standpoint, although it seemed odd that a team would pack its home uniforms for a road trip. Several readers insisted that the Indians' uniforms were actually grey and that they only appeared white because of the lighting and the limitations of home movie film.
A few days later I posted an update with info from reader Jim Wagner, whose father told him that the A's invited visiting teams to wear their home whites in 1963, and that teams often did so for one of their visits to KC. I had never heard that before, and I wondered if we could turn up any additional photographic confirmation.
Jim was so intrigued by all of this that he went to the library and began looking at microfilm of Kansas City newspapers from 1963 — and sure enough, he hit paydirt. Here's a photo that ran in The Kansas City Times on April 23, 1963. It's from this Tigers/A's game, which took place the previous day in Kansas City. Look what the Tigers were wearing: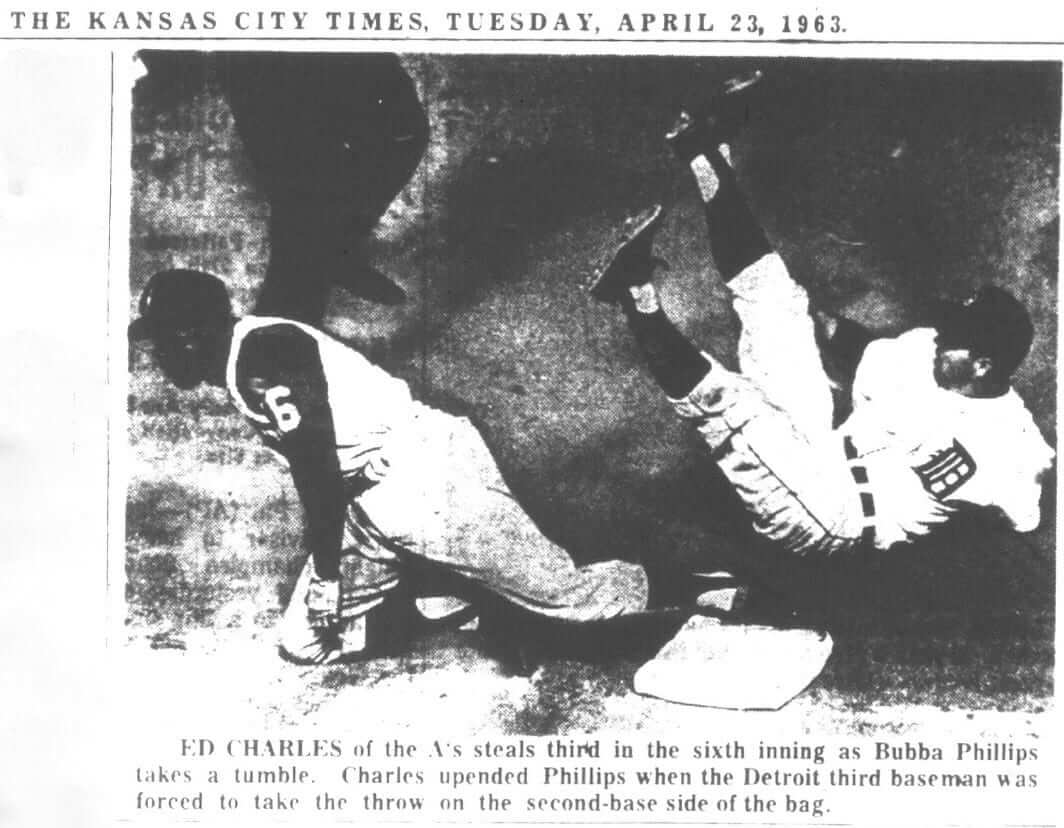 Although the image quality isn't ideal, that's definitely the Tigers' home uni, because they wore "Detroit" on their road greys in 1963. That's amazing! It confirms Jim's dad's recollection of visiting teams wearing their home whites in KC in '63. I've been writing about uniforms for almost 20 years now and had no idea.
And there's more. In 1963, the Angels wore "Angels" on their home whites and smaller "Los Angeles" lettering on their road greys. It's hard to be sure from this next photo, but the size of the lettering and the uniform color both suggest that the Angels were wearing their home whites for the first game of a doubleheader in Kansas City on April 19: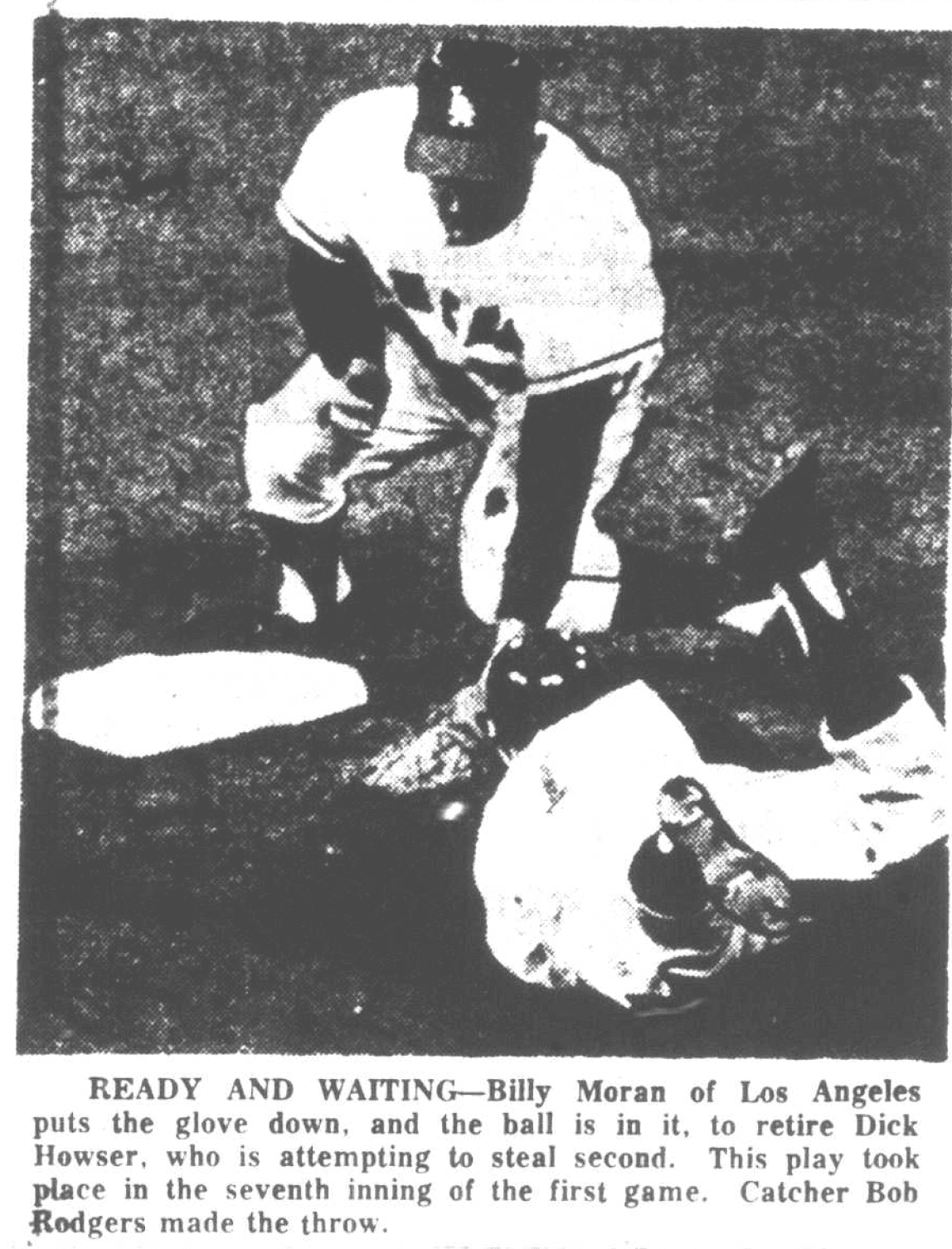 It also looks like the Angels wore their home whites the following day, April 20: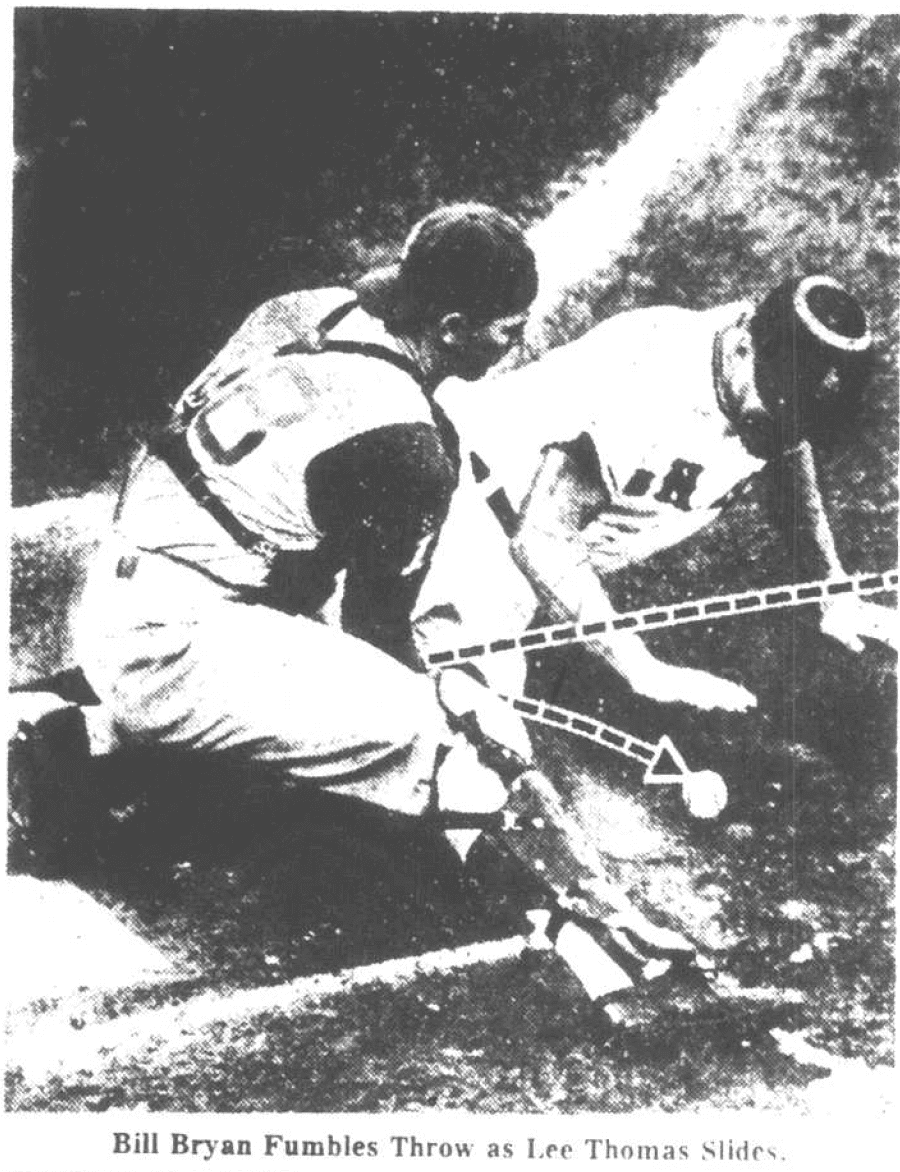 Jim says he'll go back to the library for additional microfilm research when he has time to do so. In the meantime, let's give him a standing O for his efforts in highlighting this previously unknown chapter in uniform history.
• • • • •
[adrotate group="2″]
• • • • •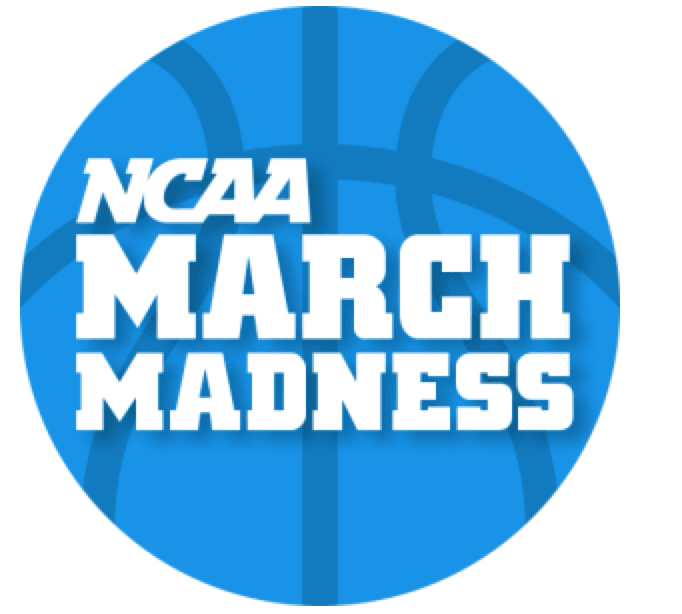 Sweet 16 uni rankings: With the NCAA tournament's Sweet 16 round due to tip off today, I have my annual Sweet 16 uniform rankings over on ESPN. Look here.
• • • • •
[adrotate group="2″]
• • • • •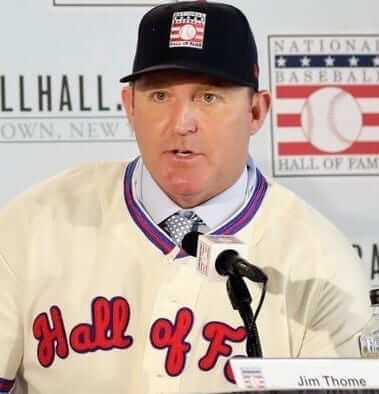 Hall of Fame puts kibosh on Wahoo: Newly elected Baseball Hall of Fame inductee Jim Thome said last month that he does not want Chief Wahoo on his Hall plaque. Now the Hall has confirmed that Wahoo will not be appearing on Thome's plaque — or on anyone else's.
A statement released yesterday by the Hall reads like so:
When Jim Thome's Hall of Fame plaque is unveiled in July, it will feature the "Block C" logo as opposed to the "Chief Wahoo" logo that the Cleveland Indians have displayed on team caps in many seasons since its introduction in 1947.

In January, Major League Baseball announced that the Indians will remove the "Chief Wahoo" logo from uniforms after the 2018 season, deeming it no longer appropriate for on-field use. As MLB Commissioner Rob Manfred explained, "Major League Baseball is committed to building a culture of diversity and inclusion throughout the game."

The National Baseball Hall of Fame and Museum concurs with the Commissioner's sentiment and acknowledges the shifting societal view of Native American logos in baseball.

Although examples of the "Chief Wahoo" logo can be found in our Museum exhibits, and on Early Wynn's 1972 Hall of Fame plaque, the Hall of Fame will no longer use the logo in the creation of new plaques.
There probably won't be any future Hall inductees who played for Cleveland during the Wahoo era (maybe Manny Ramirez, but I'd say he's now considered more Bosox-associated), so the "We won't use Wahoo again" part of the statement is largely moot. But still.
A Hall employee followed up by telling me the following:
It is also worth noting that the Hall of Fame Education Department has a lesson on Native Americans that it teaches to children when they visit the museum. There's also a Virtual Field Trip available on the same topic for those schools situated too far away to visit the museum. Both lessons are part of a larger unit that teaches the history of Native stick and ball games, Indian boarding schools and their sports teams, and Native pioneers in baseball, as well as the controversial use of native imagery today.

The program contrasts the ChangetheMascot.org approach to imagery with that of the Spokane Indians Baseball Club, who have partnered with the Spokane Tribe of Nations to use approved imagery, incorporated the Salish language into their uniforms and their stadium, and instituted the Red Band Rally program, which helped increase the population of red band trout.
Slowly but surely.
• • • • •
[adrotate group="2″]
• • • • •
The Ticker
By Kris Gross

Baseball News: South Korean baseball team LG Twins of the KBO have released a Black Panther-themed uniform (from Max G). … A great spot by Greg Ukman, who noticed some changes in the MLB Independence Day socks from 2017 to 2018. "The star placement moves from the inside of the right calf to the outside. There's also a subtle change with the leg stripes moving up," Greg adds. … The video game RBI Baseball 18 has apparently given us a look at this year's All-Star BP jerseys (from JK). … Rays catchers will use quarterback-style wristbands to help with pitch calling and situational planning — a response to the new rules that limit mound visits (thanks, Brinke). … Pirates OF Jordan Luplow uses teammate Jung-ho Kang's bat (from Jerry Wolper). … The Albuquerque Isotopes will play under under four different names this season (thanks, Phil). … Chipper Jones is celebrating Chipper Jones Day with a Chipper Jones suit jacket lining (from Chris Howell). … Here is the very loud Hawaiian shirt the Cubs are giving away on July 3 (from Phillip Santos). … It was a beautiful matchup between LSU and Tulane last night (from DG). … New road uniforms from Louisville last night (from Rich Calabrese). … BYU unveiled a new navy jersey (thanks, Phil). … Stirrups are looking good for Purdue softball and Wahoo High School in Wahoo, Nebraska (from @ssgmahoney, John Benal). … Reader Steve Johnston was browsing his son's high school (Lockport, IL) baseball website, and came across a collection of team photos dating back to 1926. … Georgia Tech coach Danny Hall got his 1,000th career win on Tuesday. Before Wednesday's game, he was presented with a jersey commemorating the milestone (from Michael Rich). … Rare shot of Bob Feller wearing No. 14 instead of his more familiar 19.

NFL News: In a video from his Packers days, new Cowboys LB Joe Thomas tackled the logo off a Bears player (from Frank McGuigan). … Pitt players wore modified NFL logos in school colors (from Robert Hayes). … As a follow up on yesterday's Ticker item about the Rams wearing red-striped pants in the 1978 movie Heaven Can Wait, Willie Gabel has solved the mystery. He emailed Todd Hewitt, the Rams equipment manager from those days, who said the "pants were from the movie prop department, but they wanted to use the Rams helmets and practice uniforms." Great work! … Good shot of Lions placekick holder Wayne Rasmussen going without a facemask in 1969 (screen shot by Tom Farley).

Hockey News: Here's a good article on the Penguins' equipment preferences. Among other revelations, it turns out that RW Patric Hornqvist uses a skate model that's more than a decade old (from Jerry Wolper).

Basketball News: Here's a history of players who write on their shoes (from Mike Chamernik). … Here's a good piece on how grey jerseys became a trend (from Iain Landon).

Soccer News: The Croatia, Poland and Greece team kits have officially been unveiled (from @DanGrimm3 and Ed Żelaski). … In case you missed any of them, you can see all of the 2018 World Cup kits here, and vote on your favorite (thanks, Phil). … Here's an article on the difference between the technology of Nike's authentic and replica jerseys (from Josh Hinton). … Also from Josh, the Pittsburgh Riverhounds of the USL unveiled their new badge and kits. … Not sure if we've seen this before, but just in case: Premier League-themed F1 livery concepts (from @waynetm41). … New kit for Costa Rica (from Mark Higgins).

Grab Bag: Yale lacrosse is using "head sleeves" as a way to block out peripheral vision (from Griffin Smith). … Canada goes BFBS at the World Women's Curling Championship (from Wade Heidt). … Here is an interesting piece on the connection between typography and the human anatomy (from Gil Neumann). … Cross-listed from the soccer section: Here are some Premier League-themed F1 livery concepts (from @waynetm41).
• • • • •
My thanks to everyone who sent me birthday greetings yesterday. It was a great day, in no small part because of all your kind words. — Paul