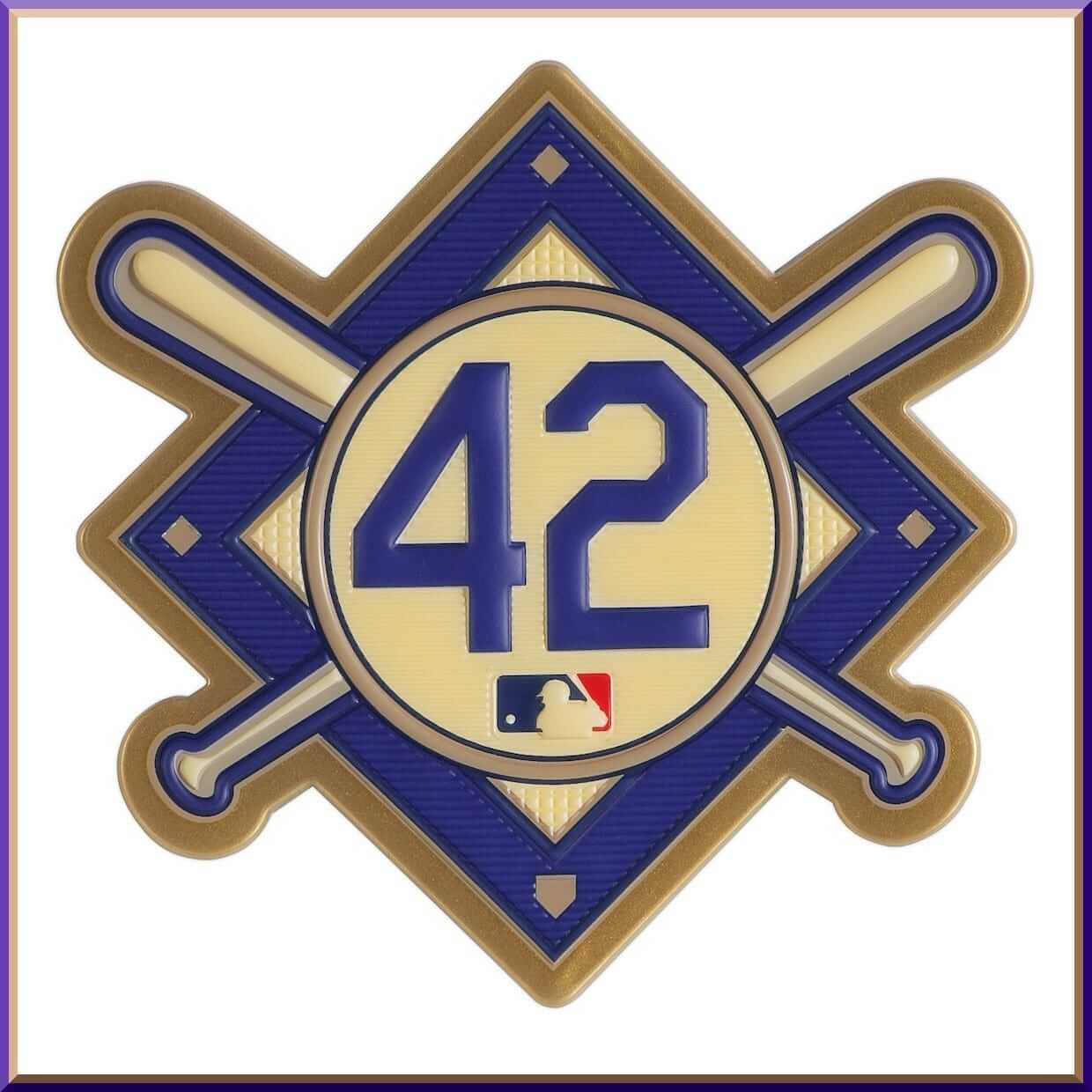 By Phil Hecken
Follow @PhilHecken

Today marks the 71st anniversary of the day baseball changed forever, when a 28 year old rookie named Jack Roosevelt Robinson took the field in Brooklyn at Ebbets Field, making him the first player to break the "color barrier" in modern baseball. As you're probably (and hopefully) all aware, all players on all teams will be wearing "42" on their uniforms today, with NNOB for all. The momentousness of Robinson's achievement all those years ago cannot be understated. It's right that we celebrate this achievement, as we have for more than decades, by honoring Robinson every April 15th.
MLB officially announced that Major League Baseball would honor Robinson on April 15 as "Jackie Robinson Day" in 2004, but the real event that began the celebration occurred on April 15, 1997, at Shea Stadium in New York. I was at that game with my pop. I'll keep my reminiscences brief, but it was an evening I'll never forget.
My dad, born and raised in Brooklyn until his parents (my grandparents) moved out to the Long Island suburbs, was a Dodgers fan growing up, and often regaled me with tales of the "Boys of Summer" and the exploits of Jackie Robinson. He saw Robinson play live dozens of times, and one of his favorite stories (which he must have told me a half-dozen times, always to my enjoyment) was how Jackie would end up on third base and from there, would play mind games with both pitcher and catcher by feigning stealing home on many pitches. "He'd come halfway, sometimes two-thirds of the way down the line," my dad would recall, "before putting on the brakes and running back to third. It drove the other team nuts!" Of course, there were times when he wouldn't stop and would end up with a theft of the plate.
So in 1997, we went on a cool April evening to Shea Stadium, the 50th anniversary of Robinson's breaking the color barrier, and we knew something special was in the air. I'd never seen security so tight (this was pre-9/11 remember), but that was because President Clinton was at the game. So were Robinson's widow, Rachel, and Bud Selig, the MLB Commissioner.
I don't remember too much of the game (though I do recall saying to my dad that "I'd love to have Piazza play for the Mets some day" — and indeed a year later he'd be on the team), but I'll never forget the festivities that took place after the 5th inning. Play was stopped as Clinton, Robinson and Selig all came out on the field, at home plate, to address the crowd (the place was packed!).
I'm not, and have never been a big fan of Bud Selig. I think that during his reign as Commissioner, he made a raft of bad decisions (including but not limited to moving the Brewers to the NL, the All Star game being for 'home field' advantage, interleague play, etc.), but the one he got right was the one announced on April 15, 1997, when he retired Robinson's #42 leaguewide. In announcing it, he made a quip about the Mets Butch Huskey (who wore #42) and Mo Vaughn being allowed to "keep wearing" their numbers until they retired, but no one would wear it after them. Then he made a comment that always stuck with me: "No man is bigger than baseball," Selig said, "except Jackie Robinson. Jackie Robinson is bigger than baseball." He was right. Retiring Robinson's number league-wide, in my opinion, was Selig's best decision in his entire tenure as Commish.
President Clinton (not ironically our 42nd President) spoke next and he too heaped deserved praise on Jackie and his achievements. I'll never forget that he was on crutches (or really, some kind of walking canes) that evening, having busted up his knee a few weeks earlier playing golf with Greg Norman. His speech was short but included this line: "It's hard to believe that it was 50 years ago that a 28-year-old rookie changed the face of baseball and the face of America forever. Jackie Robinson scored the go-ahead run that day; we've all been trying to catch up ever since." Truer words were never spoken. He added some thoughts about how Robinson's achievements transcended baseball, then turned the mic over to Rachel Robinson. A smattering of boos had greeted both Selig and Clinton, but Rachel received a tremendous ovation.
I remember seeing a banner in the stadium that night with the words "Jackie Robinson Stadium." The Mets future home Citi Field I'm Calling It Shea wouldn't be built for another 10 years, and many of us even back then thought if and when the Mets left Shea, the new park should be named for Robinson. It wasn't of course, but years later the club would name the rotunda of the new park after Robinson, and installed a giant "42" for all to see upon entering. I make a point to tap that 42 every time I get to a game.
After Rachel Robinson spoke, most of the crowd (to my dismay) departed. But they hadn't come to see the Mets and the Dodgers play an early season game — they'd come for the "retirement" of 42. The Mets won the game 5-0 (I had to look it up even though I was there) because my remembrance of that night wasn't contained in the box score. As it turned out, I'd see only one more Mets game with my dad (the infamous 1999 Turn Ahead The Clock game), but this one produced some of my finest memories of shared experiences with pop.
• • •
While 1997 marked the official retirement of "42" by all teams, it wasn't until 2004 that MLB officially declared April 15 to be "Jackie Robinson Day" throughout baseball. Selig said, at the time, "On that day (April 15, 1947), Jackie brought down the color barrier and ushered in the era in which baseball became the true national pastime. Fifty years after that historic event, in April 1997, I was proud to join Rachel Robinson and President Bill Clinton at Shea Stadium to honor Jackie by retiring his uniform number 42 in perpetuity. By establishing April 15 as 'Jackie Robinson Day' throughout Major League Baseball, we are further ensuring that the incredible contributions and sacrifices he made — for baseball and society — will not be forgotten." However, the day wasn't celebrated in every park.
The day would be made permanent in 2005 when Selig officially declared that "every April 15" would be designated as Jackie Robinson Day and it would be celebrated each year throughout Major League Baseball. In 2007, the 60th anniversary of Robinson breaking the color barrier, Ken Griffey, Jr. began the tradition of every player wearing "42" on this date when he had earlier placed a phone call to Commissioner Selig requesting permission to wear "42" on this date. The request was granted.
Selig recalled the call later on:
"It was a Sunday night call, I remember," Selig said. "I was just walking in the house, my phone was ringing. Ken called me, and it was his idea to wear No. 42 as a tribute to Jackie Robinson on the day commemorating his historic achievement.

"He asked my permission to do that, and I, of course, granted it. It told me a lot, however, about Ken, about how much he understood the history, how much he understood the impact of Jackie Robinson. So I've often gotten credit for something, but really he made a phone call to me on a Sunday night at home that I'll never forget.

"And with Ken leading the way, it began to catch on with other players. Eventually it led to all on-field personnel throughout baseball wearing No. 42 on Jackie Robinson Day, a tradition that continues to this day and will continue at least as long as I'm around."
More than 240 players joined Griffey in wearing #42 that year, and the number would increase to 330 in 2008. By 2009, every player was wearing 42.
Today, I had hoped to head out to the ballpark to see the game. Unfortunately, the weather gods did not cooperate, and it's supposed to be chilly with a good chance for rain. I've only been to one JRR Day since that 1997 announcement, and each year when the Mets are home I always say I will try to go. There's just something magical about seeing all those 42s on the field at once. It keeps Robinson's legacy and memory alive for the younger generations who may not know of Robinson, but will surely be informed when they ask, "Why is everyone wearing 42?" Bud Selig didn't do much good (IMO) in his tenure as Commissioner, but he hit a grand slam with this one.
• • •
Most of you know that I curl in a league in Brooklyn, and we play in Prospect Park. The route I travel to get there takes me on the Jackie Robinson Parkway (which will be getting some sweet new signage), past the cemetery where Robinson is interred, and my route to the park also passes directly in front of the Ebbets Field Apartments, which were constructed on the site of the old Ebbets Field.
Jackie Robinson remains my favorite ballplayer, as he was my dad's. If you ever click on my twitter home page, you know I have a quote from JRR as my banner. I'll certainly never forget his life and legacy (even though I was but 7 years old when he passed away at a much-too-young age), and certainly, hopefully, thanks to MLB and Bud Selig, countless baseball fans from now until the end of time won't either.
So for all you guys who *hate* everybody wearing 42 for one day a year (and I think it should ONLY be worn on April 15th — if a team doesn't have a game scheduled or the regularly scheduled game gets rained out, too bad), you need to get over it. Today is a day to remember arguably the most important and influential person in the game of modern baseball, and also in American history. You can feel free to argue, but you'd be wrong.
Thanks for indulging me today.
[adrotate group="2″]

Kreindler's Korner
I had the distinct pleasure of featuring the wonderful artwork of artist Graig Kriendler on two occasions over the summer and fall of 2017.
For those who don't wish to click the links, Graig paints baseball heroes (and regular guys) from the past, and is an immense talent.
Occasionally, I will be featuring his work on Uni Watch.
Here's today's offering (click to enlarge):
• • •
Title: "A Photo Finish"
Subject: Jackie Robinson and Yogi Berra, 1955
Medium: Oil on linen
Size: 30″ x 36″

There are few moments in Jackie Robinson's career that are more iconic than this one. Heck, there are few moments in baseball history that are more iconic than this one. You've seen photos of it. You've seen prose about it. You've seen the grainy kinescope footage. It still never ceases to amaze me how a call from almost 65 years ago can still be debated with as much fury and vitriol as whatever might have transpired the night before.

What was most important to me in this painting was getting Jackie's uniform right. Not in its style, as there's nothing too complicated about the Brooklyn togs from that era, but more so how it undulated through space. With Jackie in midair after a sprint, that baggy uniform was going to be completely at the mercy of that momentum. But as it fluttered in the wind, it also had to reveal the shape of Jackie's body. I can't take much credit for making that happen, as Mark Kauffman (the original photographer) was responsible for that. But through texture, edge and chroma control on the painting, the illusion is pulled off that much more (in my opinion).

But no matter what I tried to do in the painting, what Kauffman captured, or what we argue about regarding the play, what's most important is Jackie Robinson himself. The profundity of his person can never be overstated.
• • •
Thanks, Graig! You can (and should!) follow Graig on Twitter.
[adrotate group="2″]

Old Time Base Ball Photos
Readers will recall I featured Ronnie Bolton (who posts on Twitter as @OTBaseballPhoto and who you should definitely follow) earlier this year with some great football played on baseball field photos and writeups, and more recently with some MLB Opening Day specials. As his twitter handle implies, Ronnie's specialty is old baseball photos.
Although today's post is pretty much all about Jackie Robinson, Ronnie wanted to showcase some of those who followed in Jack Roosevelt Robinson's path — while he paved it, those who followed shortly after still faced much of the racism and other pitfalls Robinson tackled.
Enjoy. Here's Ronnie:
• • •
Larry Doby, Cleveland Municipal Stadium 1949
Overzealous Cleveland fans chase the Indians newest star Larry Doby through the parking lot of Cleveland Municipal Stadium, an experience that Doby probably never thought was possible just a few years before.
On July 5, 1947, Larry Doby became the first black player in the American League, with a game in Chicago at Comiskey Park. Before the game that day, Doby met his new teammates for the first time. "I walked down that line, stuck out my hand, and very few hands came back in return,' Doby later recalled. 'Most of the ones that did were cold-fish handshakes, along with a look that said, 'You don't belong here.'
Larry Doby with teammate Monte Irvin, when both played for the Newark Eagles, 1946
Jackie Robinson and Doby took the high road and were never deterred in their purpose. Thanks to Jackie, Doby was the first black to walk across those barriers of segregation and soon more would be inspired to follow.
++++++++++
Satchel Paige, Cleveland Municipal Stadium, July 9, 1948
Satchel Paige finally gets his well deserved and long over due chance as he makes his Major League debut on July 9th,1948. At the age of 42, playing for the Cleveland Indians in front of 34,780 Satchel came in as relief in the fifth-inning, he went two innings, giving no earned runs on two hits and a strikeout. Despite his debut the Indians lost 5-3 to the lowly St Louis Browns.
For the season Satchel made 21 appearances including seven starts, throwing 72.2 innings, while giving up 61 hits and just two home runs. He finished the season with a 6-1 record and a 2.48 ERA, only Gene Bearden(2.43) had a lower ERA on the Indians staff.
That season Satchel, along with Larry Doby, became the first African-Americans to win a World Series ring when the Indians defeated the Boston Braves in six games.
Cleveland Municipal Stadium, 7/21/49- Indians' Satchel Paige pitching against the Yankees in a 5-3 loss. Paige came in at top of the 8th to relieve Gene Bearden and finished the game
++++++++++
Luke Easter
When it came to pure power, few if any in the history of the game could match the brawn of Luke Easter's bat. That wasn't more evident than in 1948 while playing for the Homestead Grays, he would become the first player ever to hit a home run into the Polo Ground's center field bleachers.
It was that power along with a .363 batting average in 1948 that started attracting attention toward the first baseman's way and one in the form of Cleveland Indians owner Bill Veeck, who would purchase Easter's contract from the Grays. After tearing up the PCL in 1949 with the San Diego Padres hitting 25 home runs and batting .363, the 34-year-old rookie was ready and in 1950 Easter would become the tenth African-American to enter the Majors after Jackie Robinson became the first.
In his first three seasons with the Indians, Easter averaged 29 home runs and 102 runs batted in as well as hitting the longest home in the history of Cleveland's Municipal Stadium, the gargantuan blast traveled 477 feet and cleared the scoreboard in right field.
• • •
Thanks, Ronnie. He'll be back periodically with more wonderful old photos and the backstories that go with them.
[adrotate group="2″]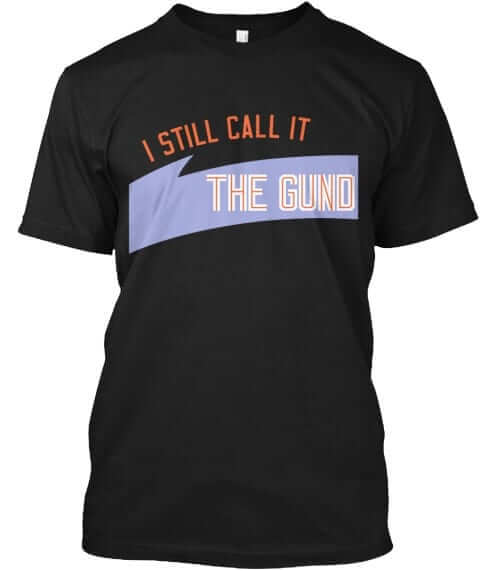 And now a few words from Paul: In case you missed it a few days ago, we have a bunch of new Naming Wrongs shirts that are now available for your consideration (including the Gund design shown at right, which you can click to enlarge). Check them out here.
And while we're at it, don't forget that our Cinco de Mayo shirt, featuring the Uni Watch script in Spanish, is also available. You'll need to order this one fairly soon in order to get it in time for the holiday (which is also Kentucky Derby Day this year). It's available here.
If you don't want to buy a shirt, that's fine. But Uni Watch could use your support, so it would be great if you'd please consider buying a membership card, or a limited-edition print. You could even make a donation — full details here.
Thanks for listening. We now return you to your regularly scheduled Phil-osophical treatise.
[adrotate group="2″]
Uni Watch News Ticker
By Phil

Baseball News: The great Shannon Shark, who runs the "Mets Police" blog, has put together a look at past Mets wearing 42 unis for JRR day. … Great spot by Robert Hayes who writes, "Looks like you two can add Lou Camilli to your list of baseball players who have worn pins! (That baseball card is from the 1972 Topps set, although it looks like the picture was taken during the 1970 season) he only played in MLB w/Cleveland from '69-'72." He adds it would also line up with this piece that Paul wrote back in February about Sam McDowell wearing an American Flag pin. … On Friday night, Nelson Cruz wore the 'wrong' cap (from Matt Gurnow). Here's him noticing (from John Scukanec). … Here's a couple nifty old (what look like newspaper clipping) photos, from Ray Hund, who captioned each one on his own: 1. The caption says Forbes Field but it looks like someone's backyard; 2. Nifty…I want one for the front of my house; and, 3. Funny as hell that this newspaper thought the poses would disguise these players. … Marshall Softball were wearing pink jerseys (with the Titans old font[!]) yesterday (from RL Ely). … "I saw the a photo in an article in SD (Software Development) Times," says Chris Bain. Being an Indians fan, I recognized it as clearly being the Tribe but with logos and names removed. With the postseason patch on Andrew Miller's hat and what appears to be a Blue Jays logo on a fan in the stands, I hypothesized is was from the Tribe-Blue Jays series in 2016. (and it is clearly not Jacobs Field). A quick google search turned up the original photo in article in the Boston Globe. I can't help but wonder why this photo was used – did they assume that there aren't too many nerds that are sports fans (and even more specifically, Tribe fans), and no one would notice? Did they have to get permission to use the photo? I'm very amused and curious about this!" … Blake Swihart's sergeant tattoo, in honor of his brother who is disabled after serving overseas in the Army (from Funhouse). … Ray Hund sent a second batch of cool stuff: 1. Youth's Companion April, 1929; 2. "Cubs" won the pennant in '29; 3. Waner brothers (Lloyd & Paul) merch; and, 4. 1940s Hal Newhouser. … Yoenis Cespedes is now using a C-Flap on his batting helmet (from Wes).

NFL News: WHOA. Check out this Davenport Athletic Club football sweater from 1914. – at Putnam Museum. Here's a bit of a writeup (from Nick Souza). … The Cowboys have released wide receiver Dez Bryant, weeks after signing wide receiver Allen Hurns. Hurns wore No. 88 in Jacksonville, the number Bryant wore in Dallas. But he won't take 88 with the 'boys, and thinks they should retire it for Dez (thanks, Brinke). … Check out this neat vintage NY Giants bag found by Jimmer Vilk in a "Thrift store right off the Tallmadge Circle, just over the Akron border." … "Then I went to Goodwill and got a blazer and a ball-in-glove shirt," he added, later.

College/High School Football News: Check out this Letterman jacket (from Josh Claywell). This is Lynch HS in Kentucky, a school that closed in 1981 and won the first official Kentucky High School AA state football title in 1959. … Yesterday, Temple football were wearing Twitter handle nameplates for their Cherry and White spring game (from bombo). … New FSU (and former Oregon) Coach Willie Taggert is already making full use of all the uniforms at his disposal. Look for mono-black, red hats, and red pants to make appearances this coming season (from Ovaltine Jenkins). … According to Oklahoma Crimson, these are new helmet logos for the Sooners. … Here's another look at the differences in the Sooner hats (from DoakBoyFresh).

Hockey News: "Quite surprisingly, the Tri-City Americans went 8-0 in the first two rounds of the WHL playoffs," says Wade Heidt. "They have swept the two best-of-sevens to advance to the Western Conference Championship. During this playoff run, their alternate red uniform has become their regular road uniform. We have not seen the usual navy road uniform and likely will not." … "The post is a little old, but I figured you might be interested in the work comic book artist Jason Fabok did a year ago," says Brian Daugherty. "He designed kits for the NHL teams in Metropolis and Gotham and he put a lot of work into it to make the kits look realistic." … For their playoff game last night, the Nashville Predators created a checkerboard effect with the seats (from Alex Hider). … CROSSOVER ALERT (also posted in NBA): Drake was spotted at a Raptors game yesterday wearing a Humboldt Broncos sweater (from Mike Chamernik).

NBA News: From the "FFS Files, Volume 732": This fan got a Franklin, the Sixer's mascot as a tattoo. However, he included the StubHub Patch. FFS (from Blake Fox). … CROSSOVER ALERT (also posted in Hockey): Drake was spotted at a Raptors game yesterday wearing a Humboldt Broncos sweater (from Mike Chamernik).

Soccer News: Chapecoense Real have revealed their new away kit, which incorporates the Colombian flag (from Josh Hartle). … In Belgrade Derby yesterday, FC Crvena zvezda was going with Cyrillic-alphabet NOBs while FK Partizan used Latin-alphabet NOBs (from Ed Żelaski). … Nagoya Grampus goalkeeper Seigo Nagasaki's 42nd birthday with pictures of him in his keeper kit every year in the JLeague (from Jeremy Brahm).

Grab Bag: The Vancouver Stealth wore this year's BC jersey Friday night at home against Saskatchewan, notes Wade Heidt. The jersey is meant to emulate the British Columbia provincial flag. … Navy Lacrosse had some new helmet decals for their 99th meeting vs. rival Army (fromLaxSportsNet). … Masters Champion Patrick Reed received a personalized No. 18 Astros jersey yesterday (from Ignacio Salazar).
[adrotate group="2″]