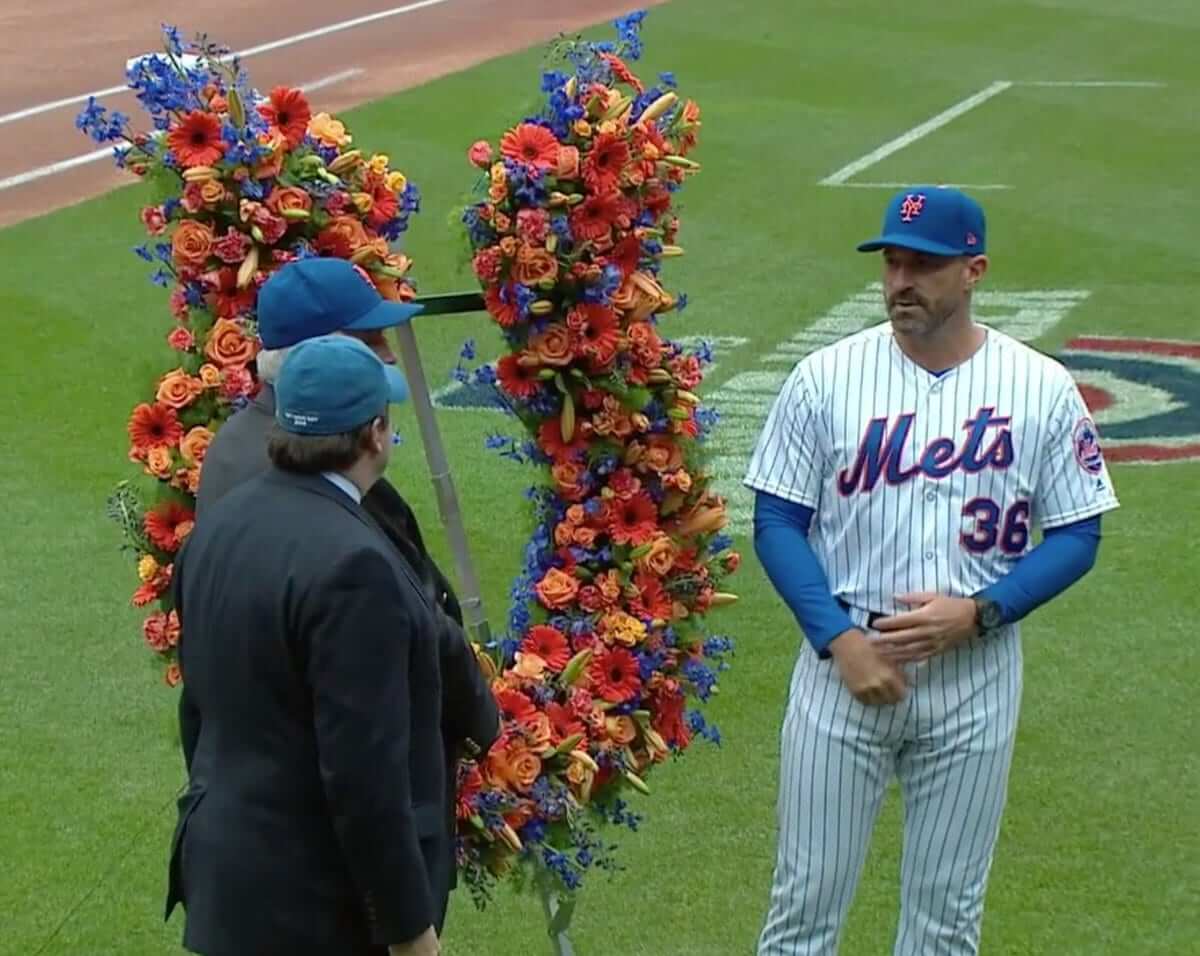 Back on Opening Day, Mets manager Mickey Callaway was presented with a horseshoe-shaped wreath of flowers — a gesture of good luck for the coming season (as shown at right; click to enlarge). This was the latest installment of a long-running Mets Opening Day tradition dating back to the opening of Shea Stadium in 1964. When that stadium's namesake, William Shea, was still alive, he would present the flowers to the manager. In the years following his 1991 death, the presentation has been made by members of the Shea family.
I was discussing all of this with the Tugboat Captain, because she grew up next door to William Shea's weekend bungalow (she even got candy from him on Halloween one year!). We decided to look up a few photos from previous Opening Days — and that sent me down a new rabbit hole that has resulted in some very interesting revelations. For instance:
1. The horseshoe used to point down! This really surprised me. Doesn't everyone know that the luck drains out of a downward-facing horseshoe? The prongs are supposed to point up! But when Mets skipper Casey Stengel was presented with the wreath prior to the very first game at Shea Stadium in 1964, the horseshoe pointed down: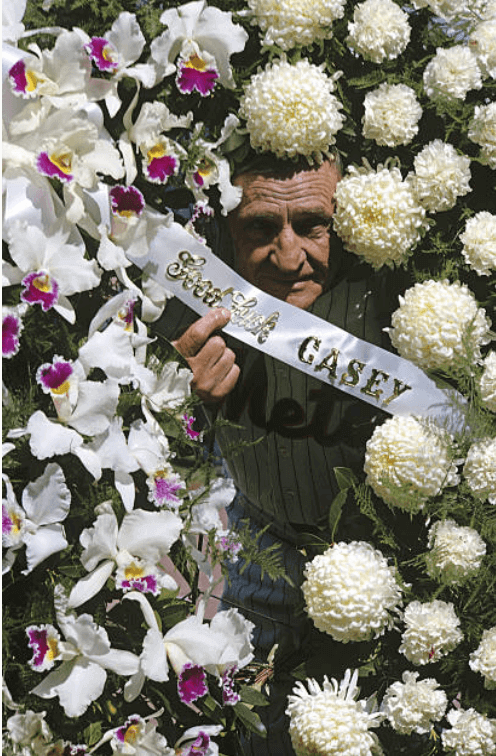 I wasn't able to find pics from every season, but the horseshoe continued to point downward for every year I could find up through 1980: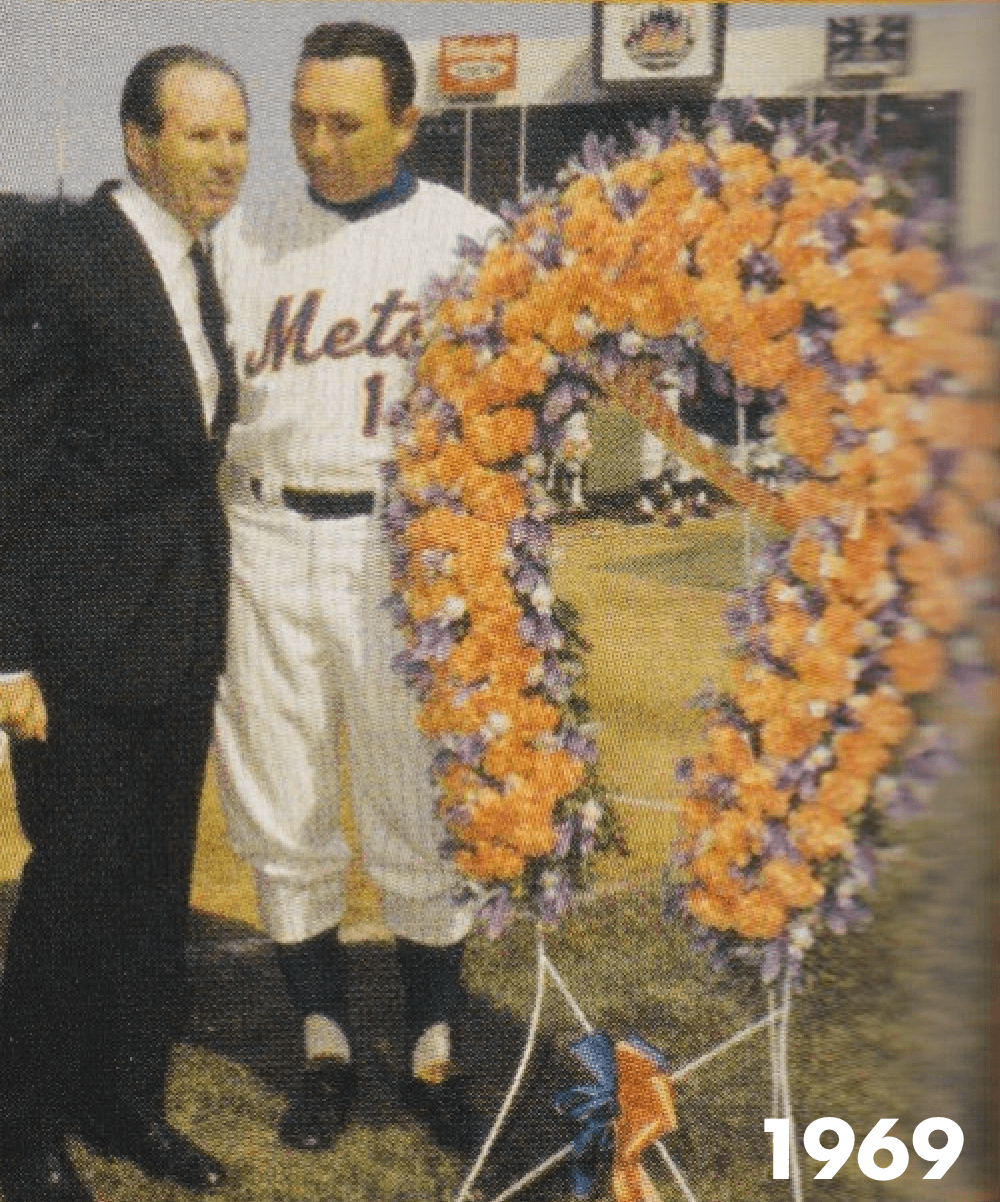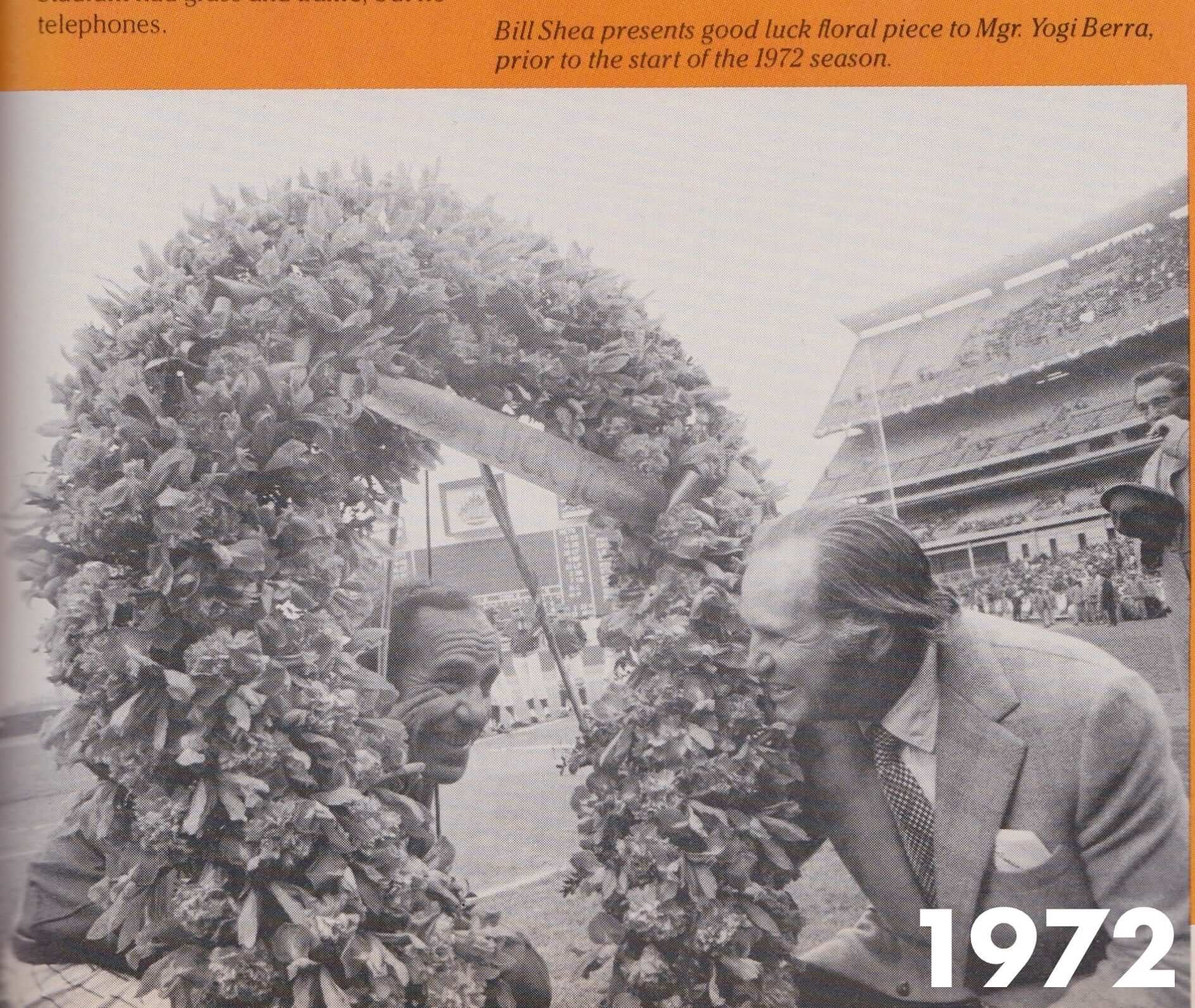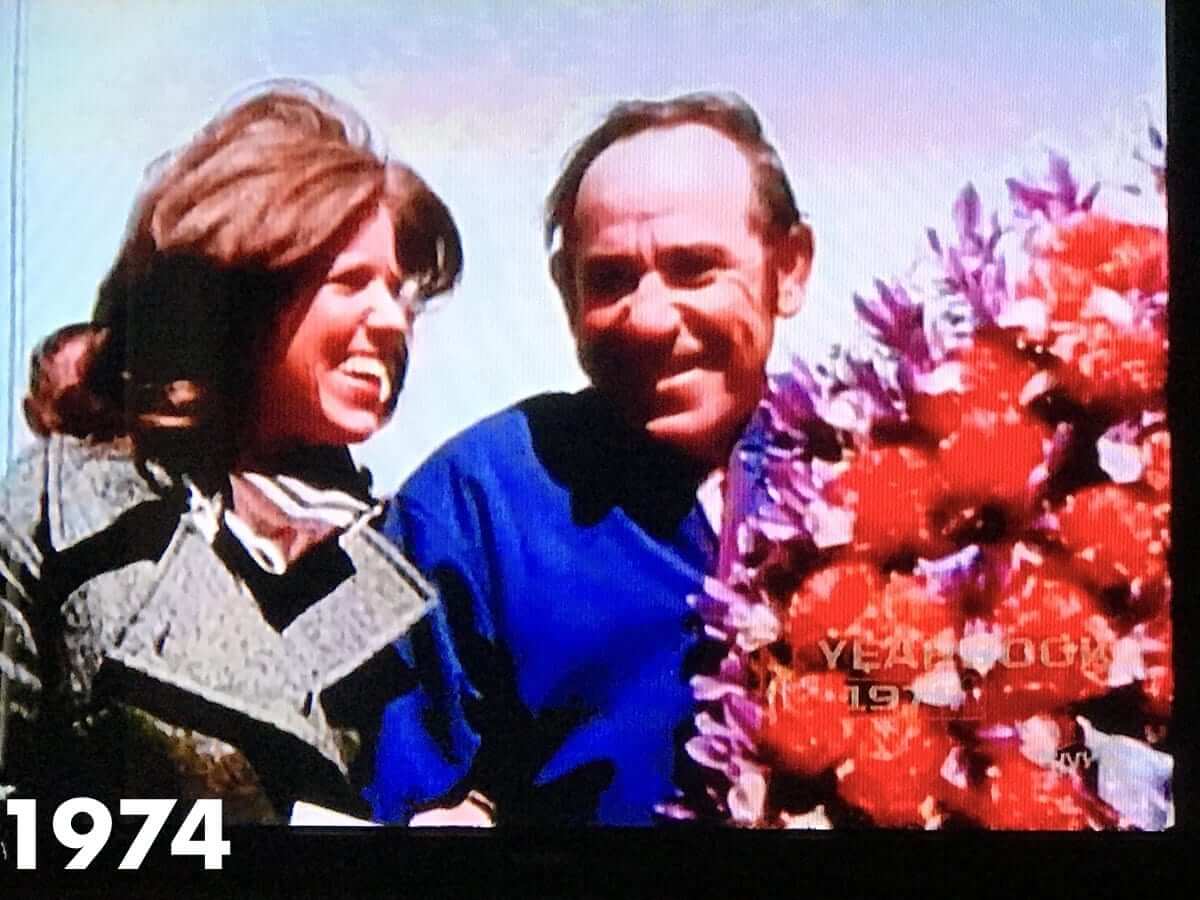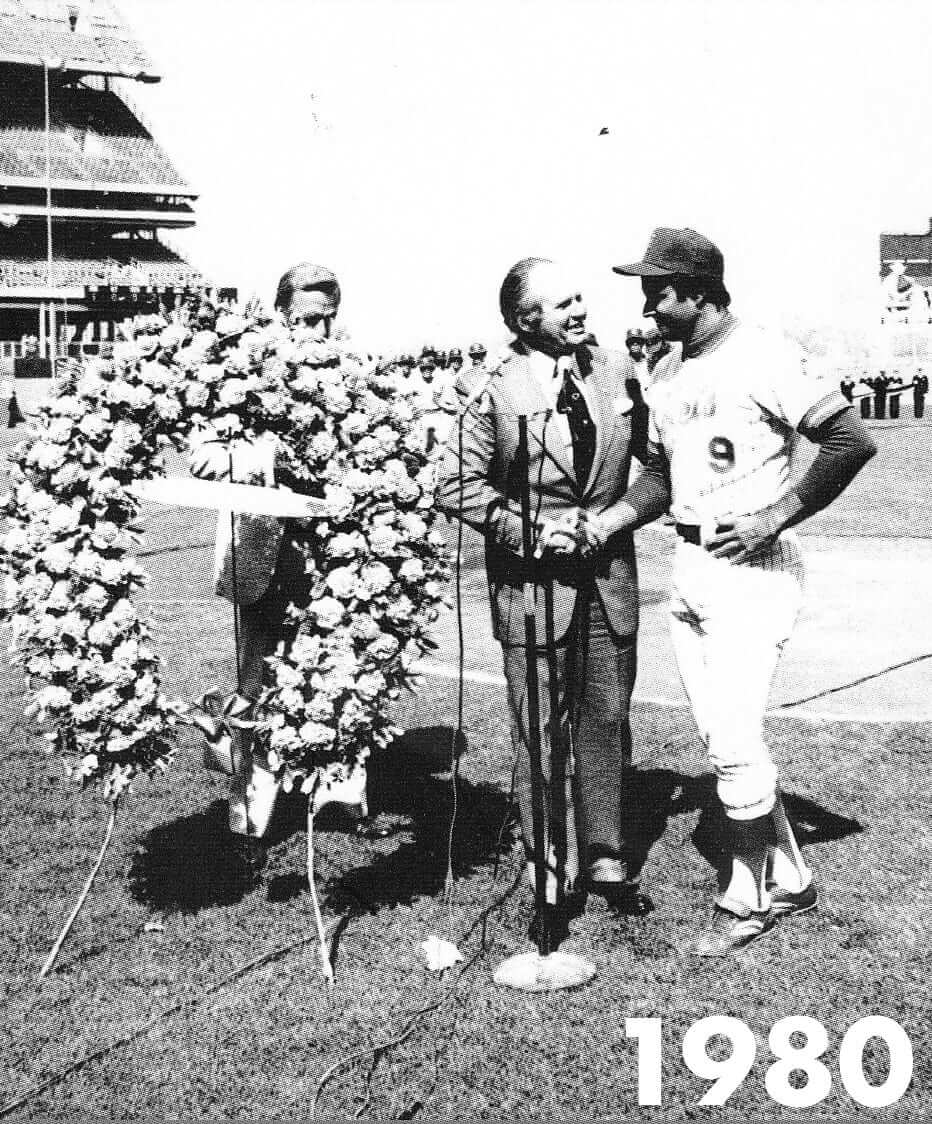 The next shot I have is from 1987 — and it shows that someone had wised up and turned the horseshoe so it was facing upward! Dig: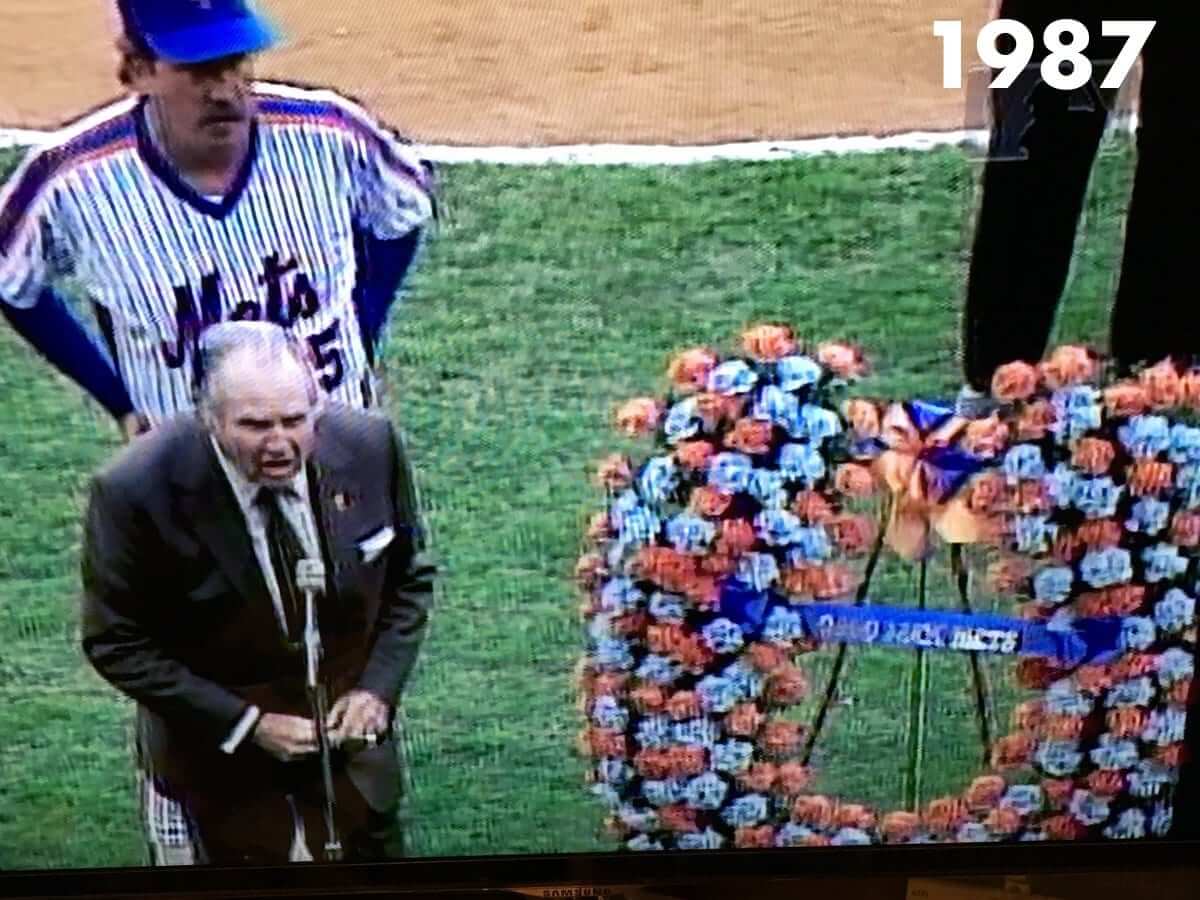 Unfortunately, there's a 20-year gap in my research timeline, so the next year represented is 2007. In that year, and for the next several subsequent years, the horseshoe was facing upward: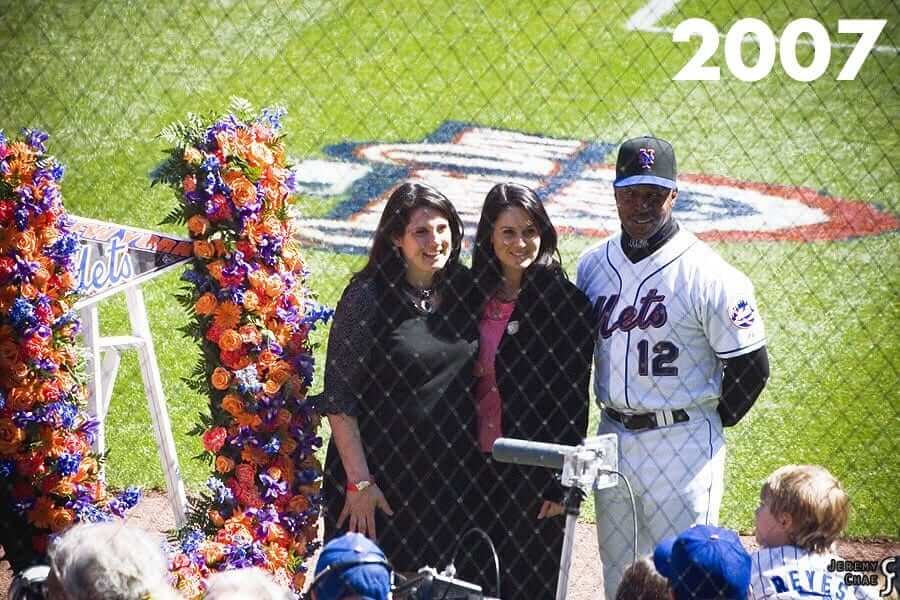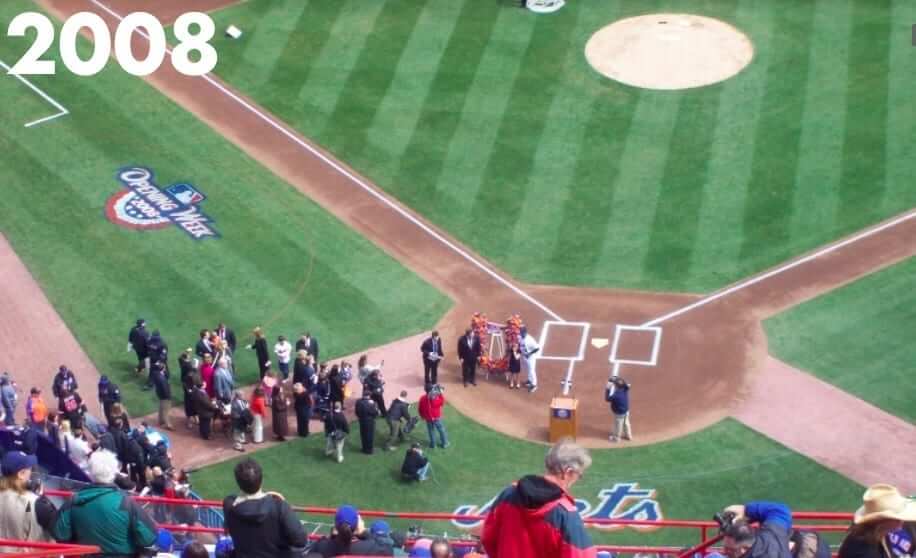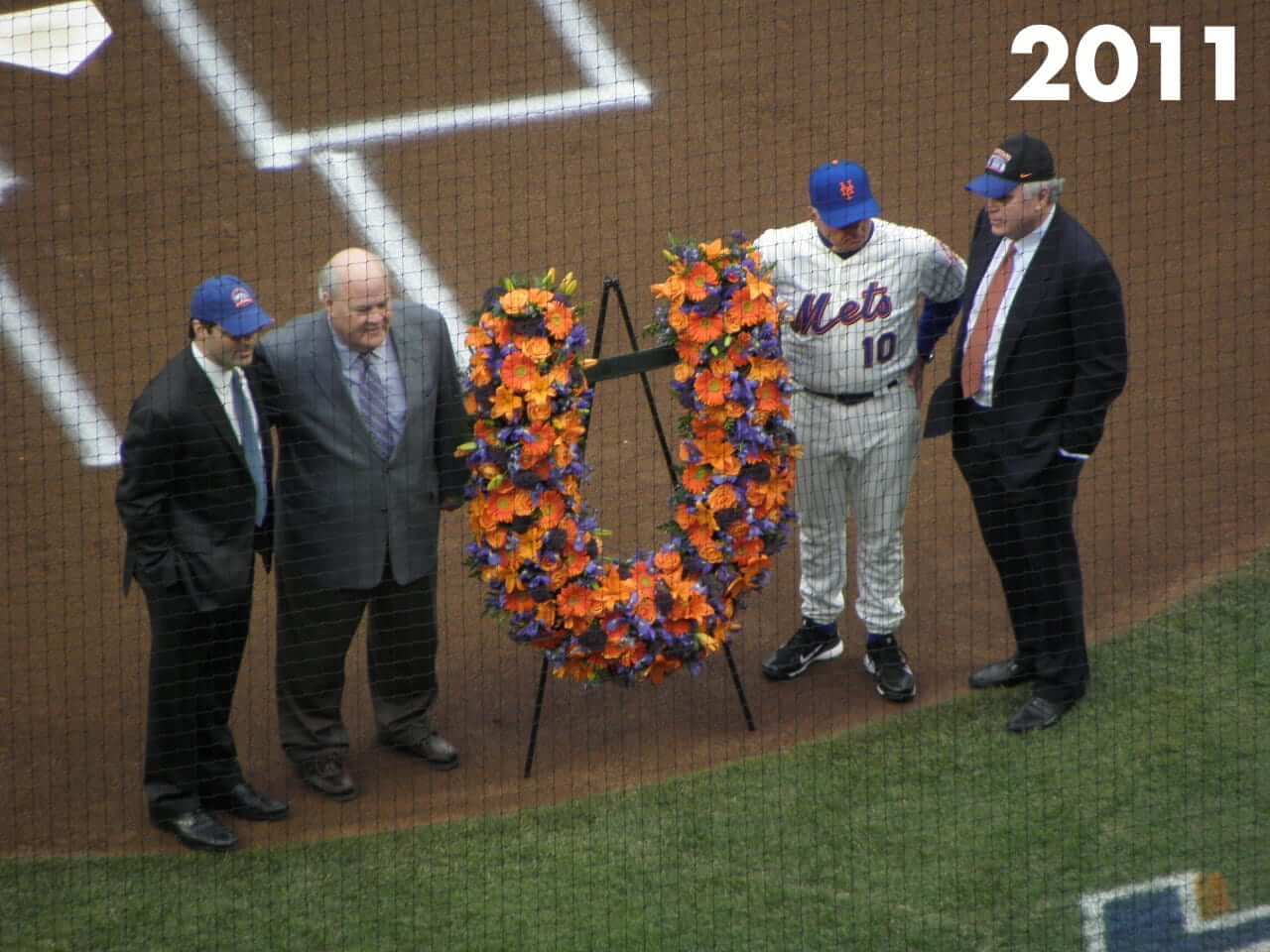 But for the next two years after that, the horseshoe was back to facing downward (plus it looks like they switched to a new florist):
Since then, the horseshoe has been facing upward again: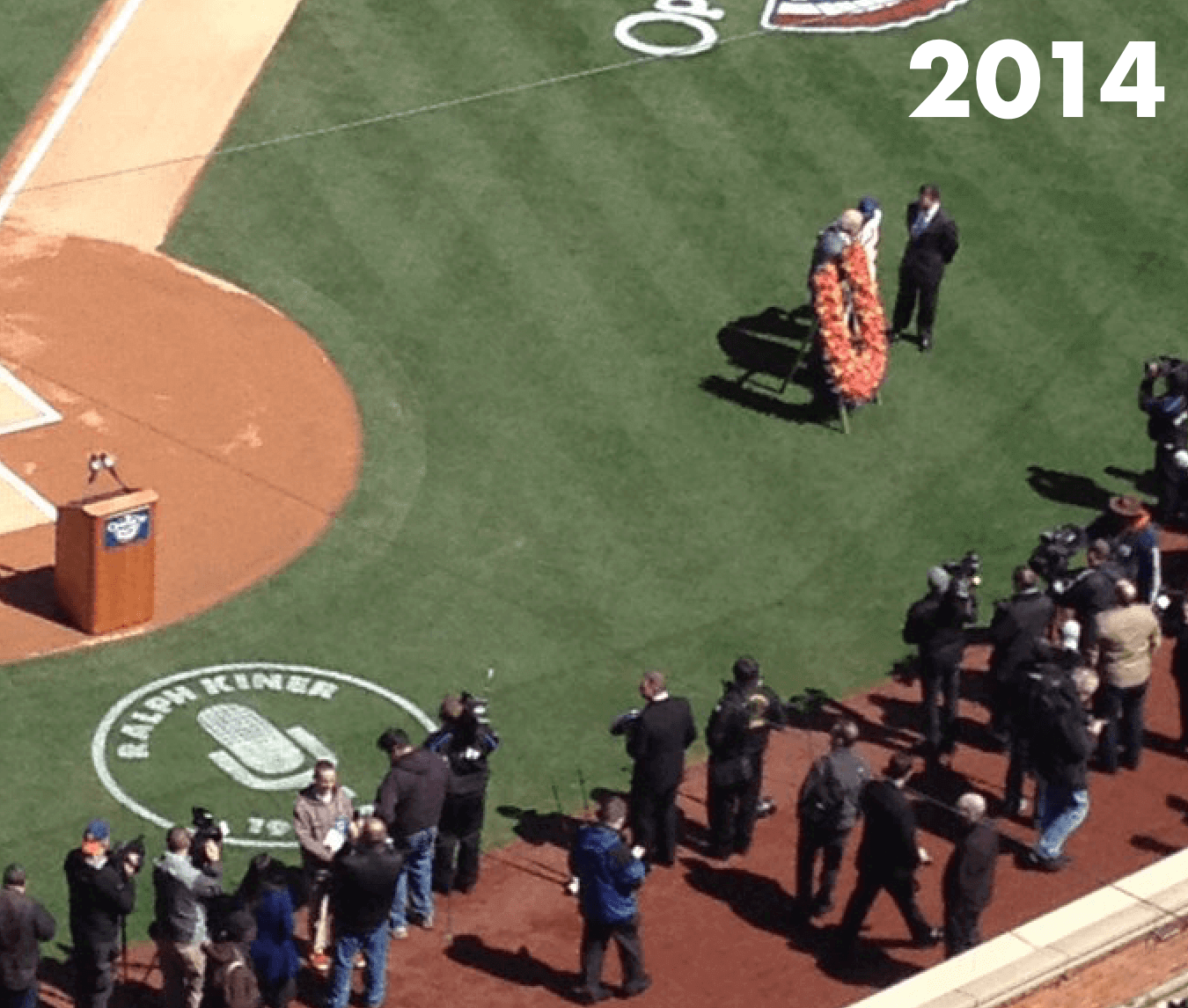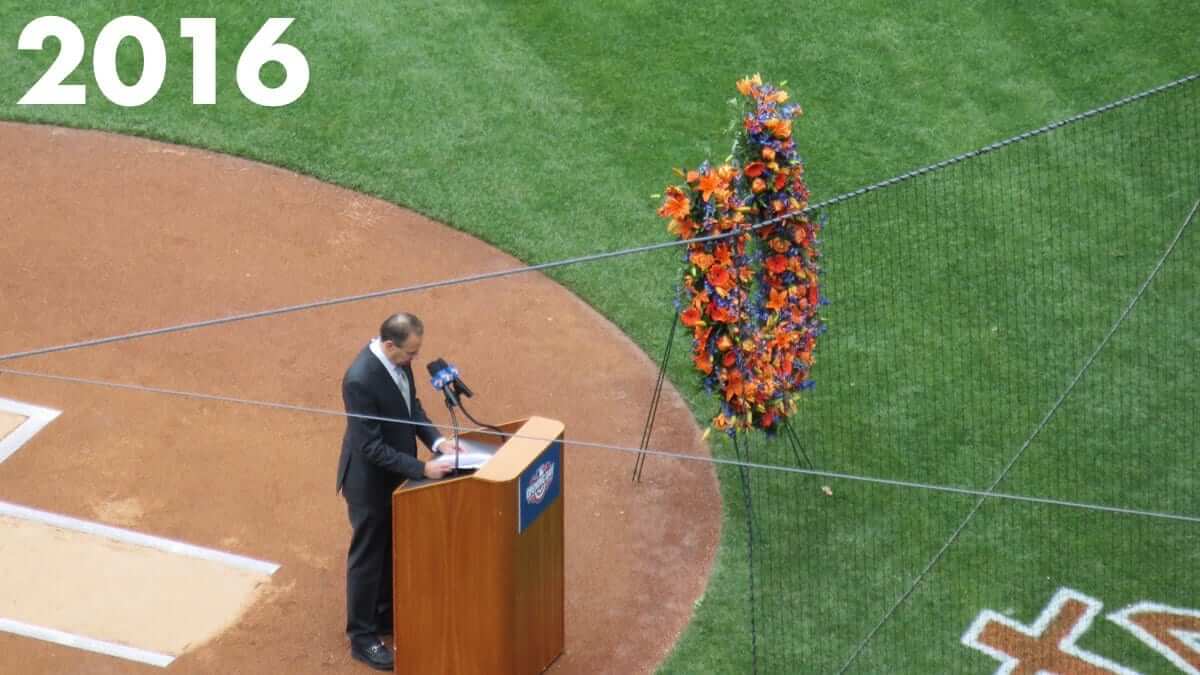 So that's the first thing I learned — that the horseshoe's orientation has changed several times. But it's not the only thing.
2. This Mets tradition predates Shea Stadium. I've heard Mets broadcasters say many times that the Opening Day ritual began when Shea Stadium opened. But it turns out that Casey Stengel was also presented with a (downward-facing) wreath of flowers in 1962 and '63, when the Mets played at the Polo Grounds. It's not clear if William Shea had anything to do with those two presentations.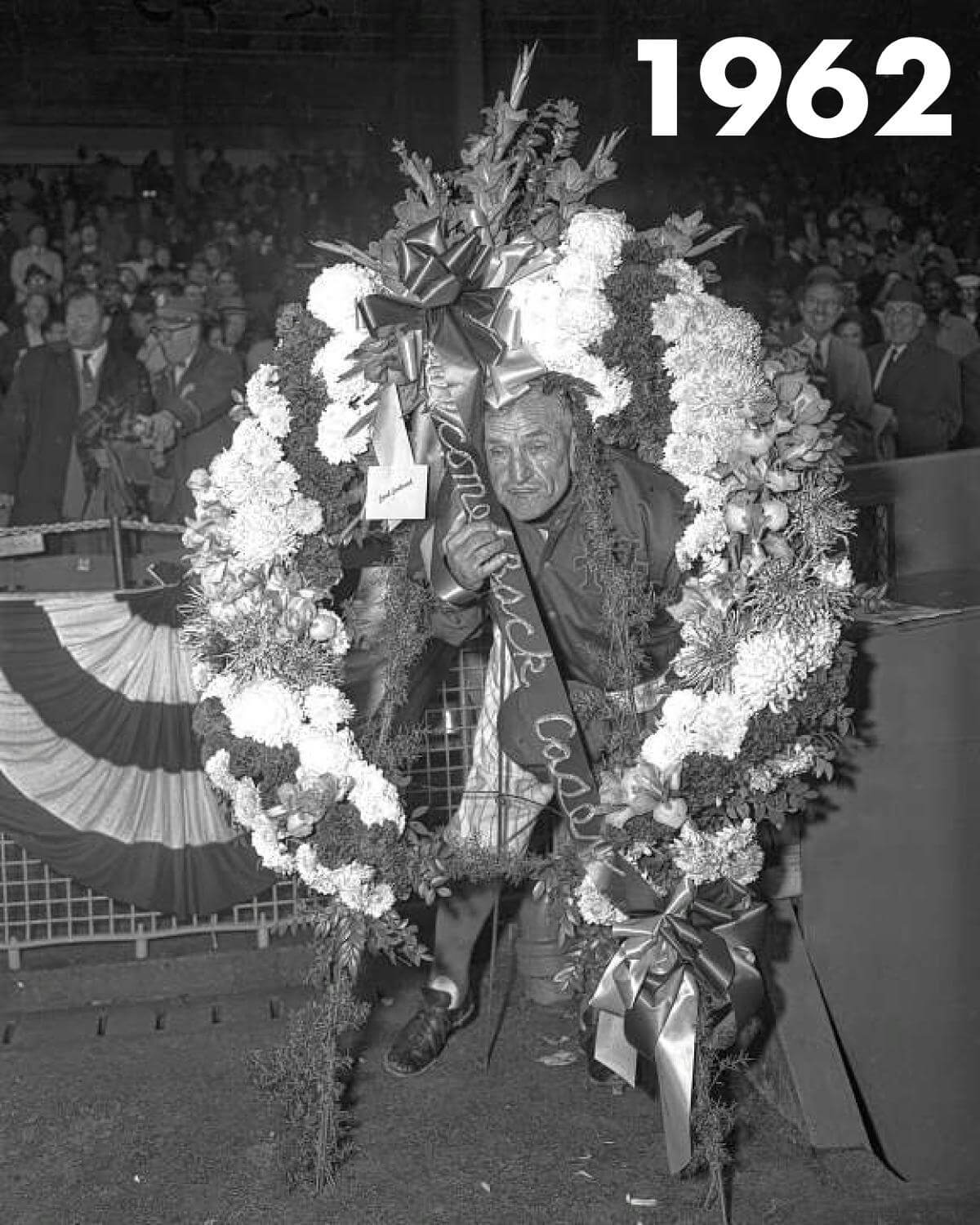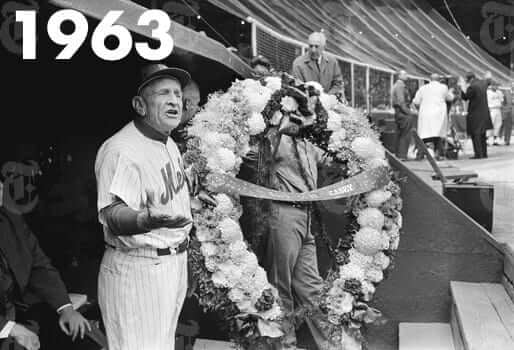 3. This New York tradition predates the Mets. I'd always been led to believe — or maybe just mistakenly inferred — that the horseshoe of flowers was a Mets thing. But it turns out that Yankees managers were given similar floral presentations (all downward-facing) back in the day. Here, for example, is Yankees manager Miller Huggins receiving the flowers in 1921 (click to enlarge):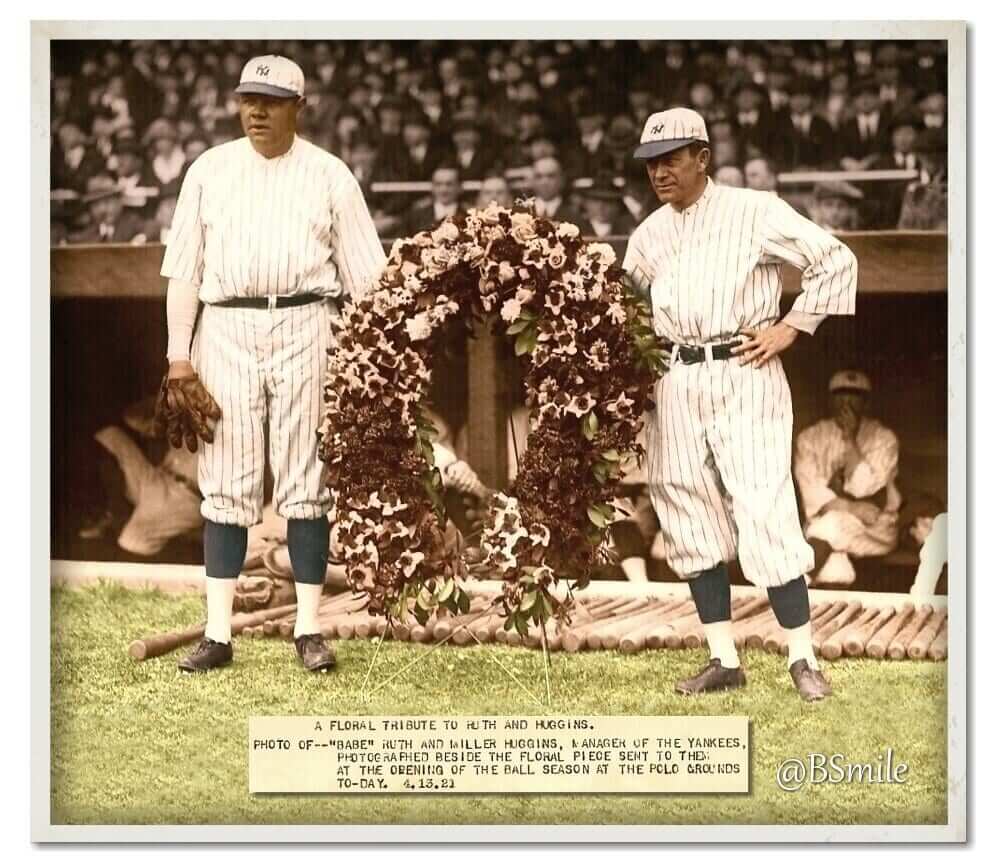 And here's a shot from Opening Day 1915. No manager in sight, but I think we can safely assume that skipper Bill Donovan wasn't far away (click to enlarge):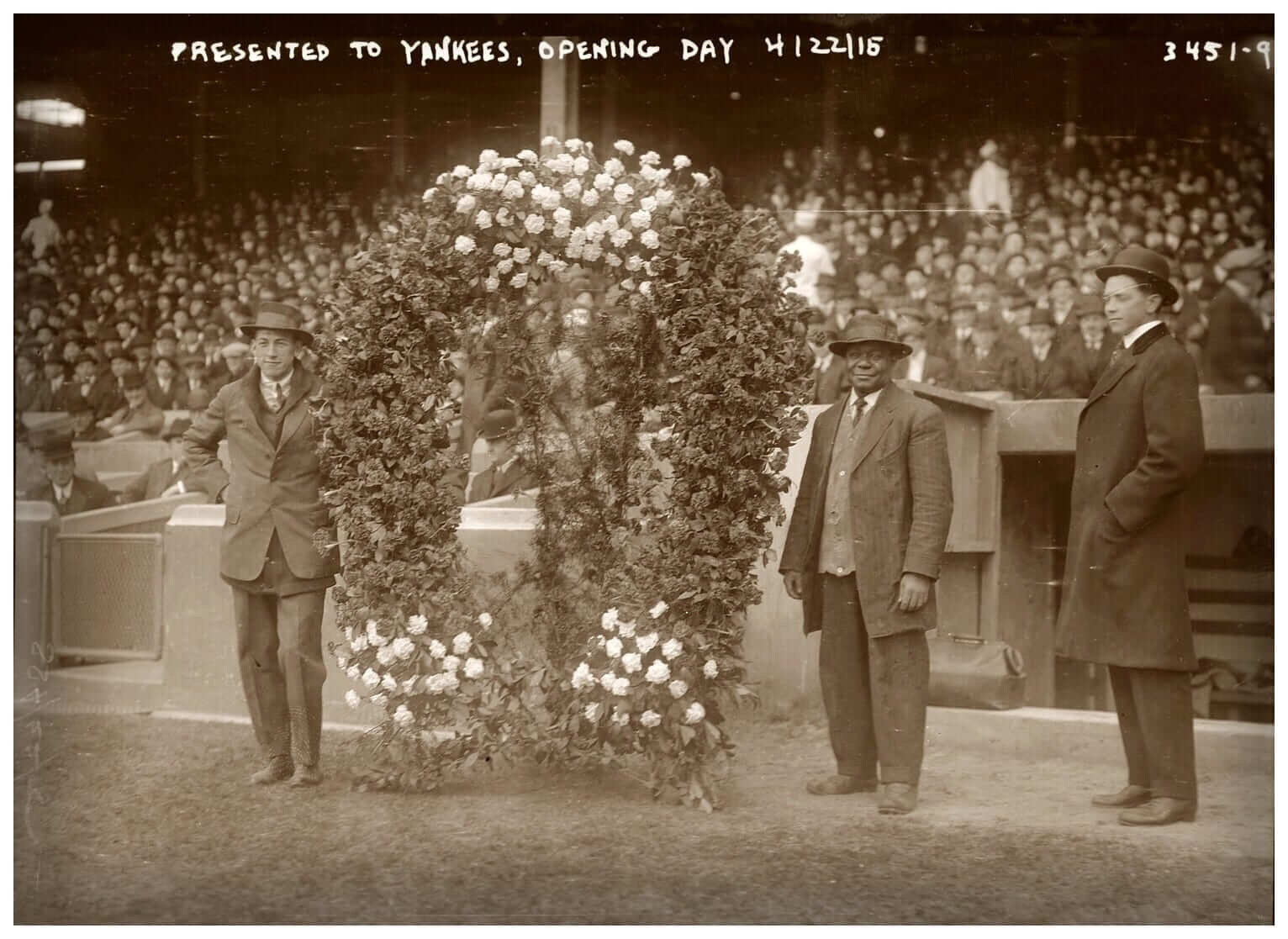 And here's a shot from two years earlier — Opening Day 1913. The wreath says the flowers are for Frank Chance, who was the Yankees' manager that year, although the wreath also says "New York Americans," which was a common nickname for the Yanks at the time (click to enlarge):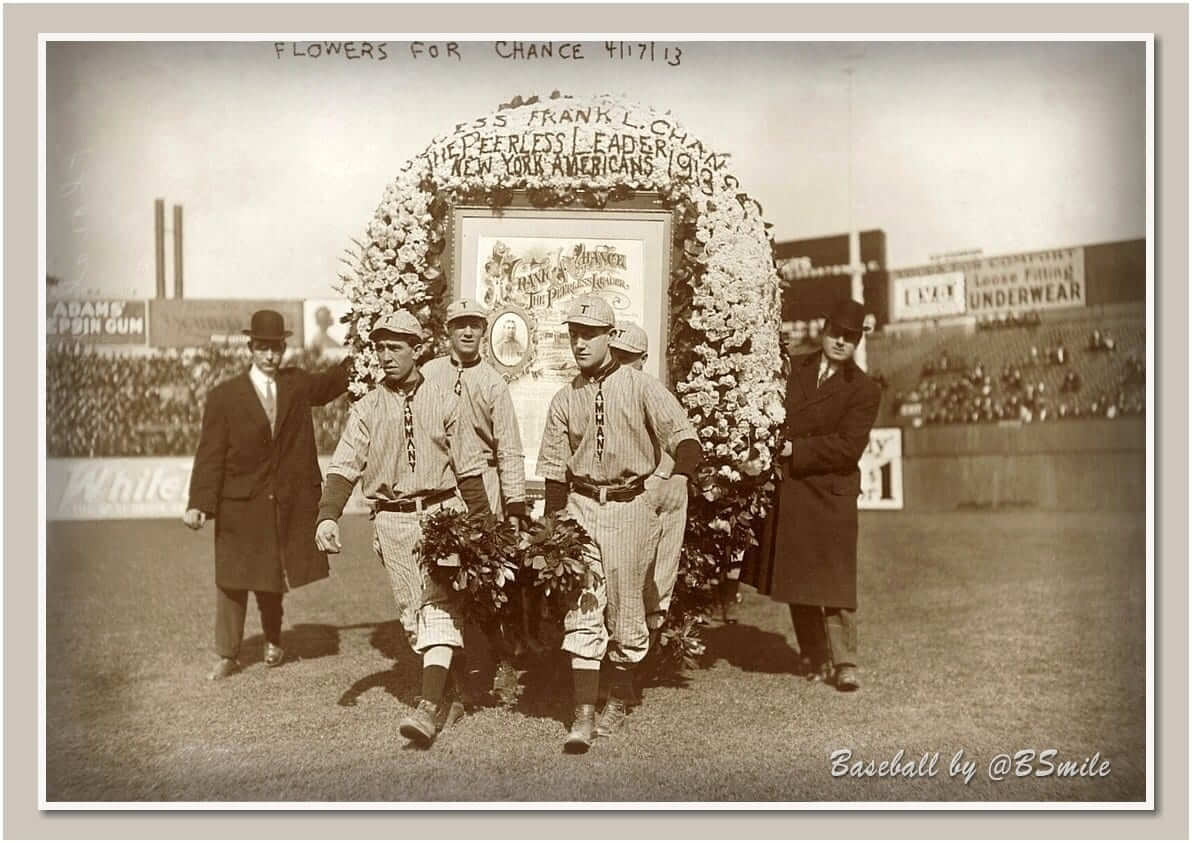 All three of those early Yankees photos were taken at the Polo Grounds (Yankee Stadium wouldn't open until 1923), which got me wondering: Since those first two Mets wreaths were presented at the Polo Grounds, were the floral horseshoes maybe a Polo Grounds thing? And that leads us to…
4. It wasn't just a Polo Grounds thing, or even just a New York thing, or even just an Opening Day thing, or even just a big league thing, or even just a managerial thing: It turns out that floral horseshoes were presented all over the place. Here's a shot of Red Sox manager Bucky Harris receiving the presentation on Opening Day 1934 at Fenway Park (click to enlarge):
Here's another Fenway shot, this one from 1935, with manager Joe Cronin receiving the flowers. Interestingly, although the arrangement says, "Good Luck," it doesn't appear to be horseshoe-shaped. Maybe it's supposed to be two socks (click to enlarge):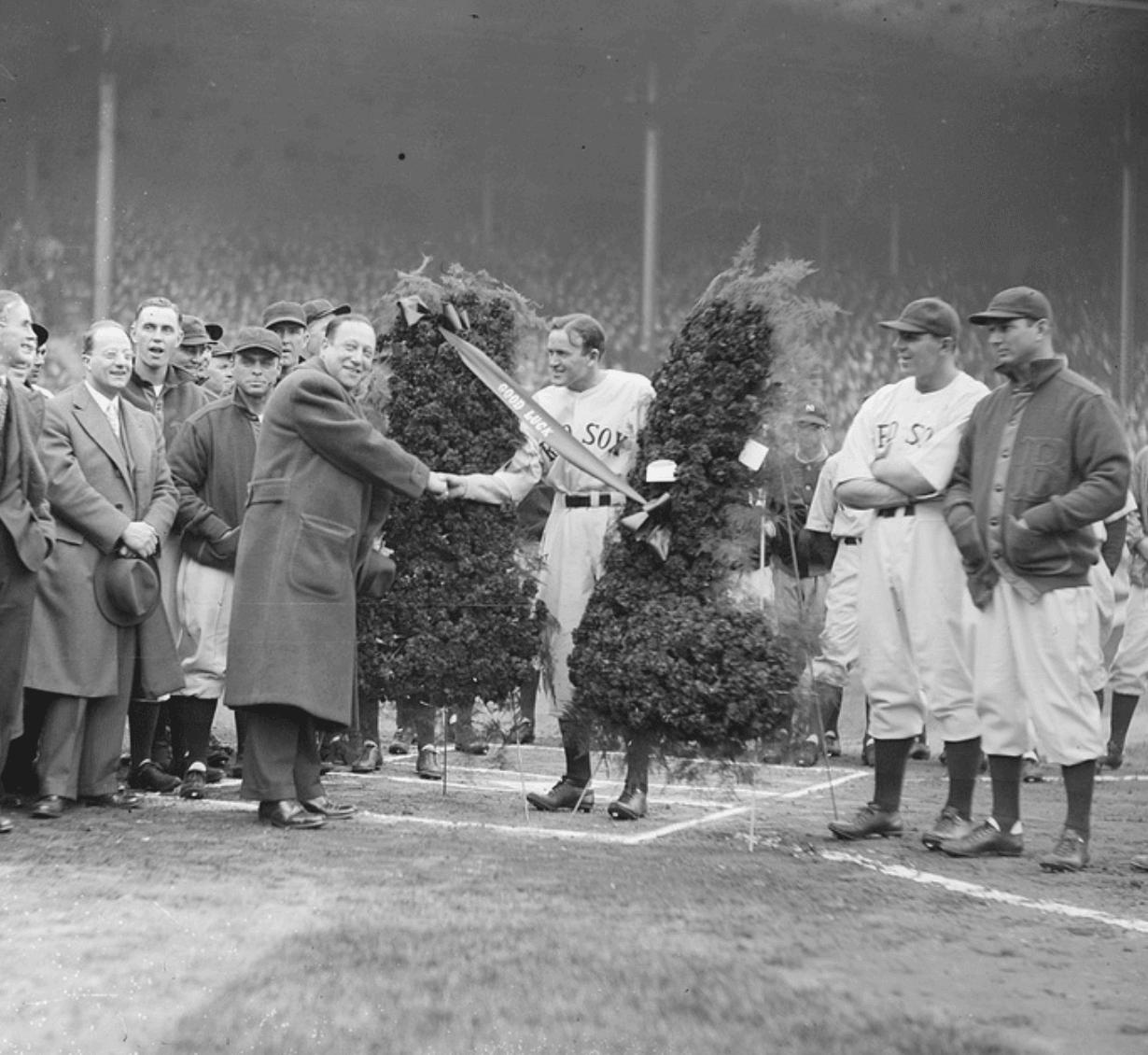 The ritual of the horseshoe of flowers on Opening Day was apparently so well established by 1916 that it was included in this cartoon that appeared as part of The Chicago Daily Tribune's report on the Cubs' home opener (click to enlarge):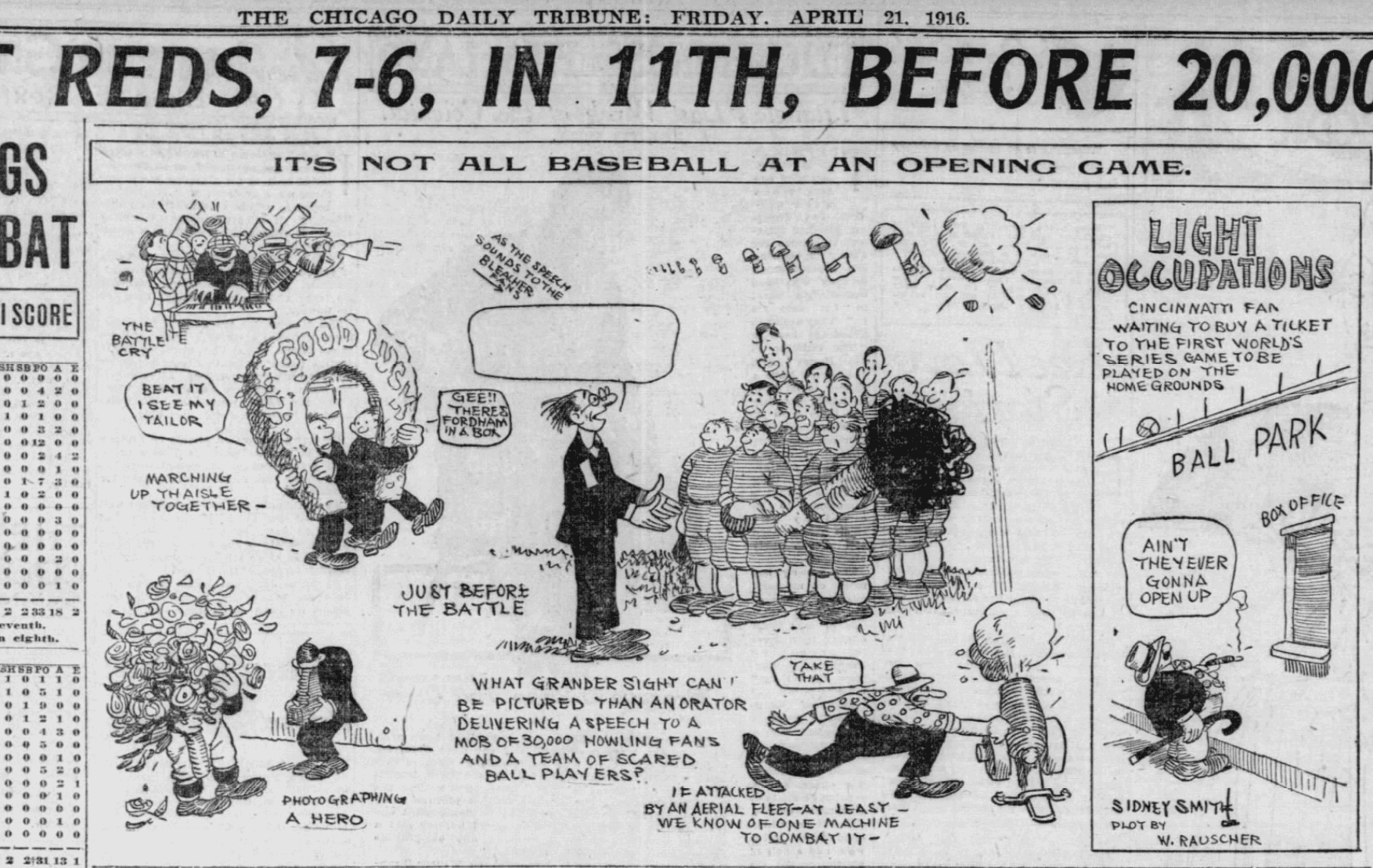 The flowers also appeared on occasions other than Opening Day. Here's New York Giants manager John McGraw receiving a horseshoe at the Polo Grounds on July 19, 1927, to celebrate his 25th anniversary with the team (click to enlarge):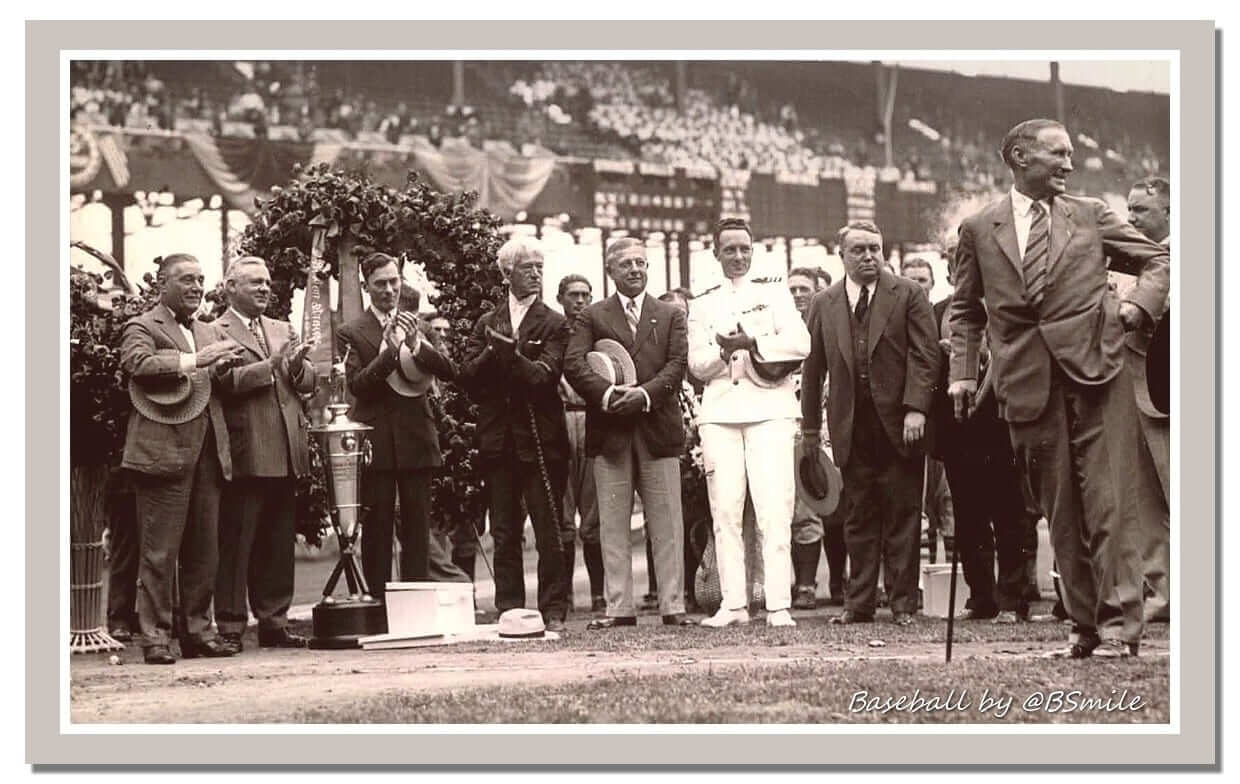 There's also this shot of Brooklyn Dodgers manager Charlie Dressen and Stengel (who at the time was managing the Yankees) posing under what appears to be a floral horseshoe prior to the start of the 1952 World Series (click to enlarge):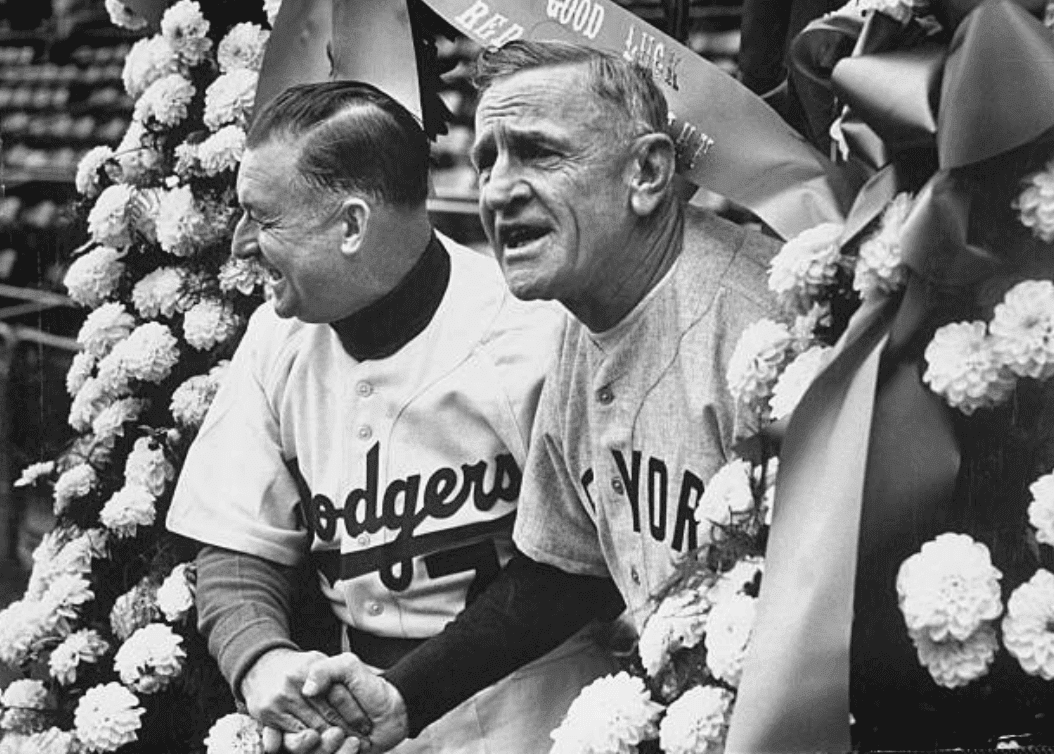 In addition, the ritual apparently wasn't restricted to managers — or to the home team. Here's a shot of Yankees rookies Phil Rizzuto and Gerry Priddy with a horseshoe wreath on Opening Day 1941 — at Griffith Stadium in Washington! They had previously played in nearby Norfolk during their time in the minors, so some local fans bestowed the flowers upon them (click to enlarge):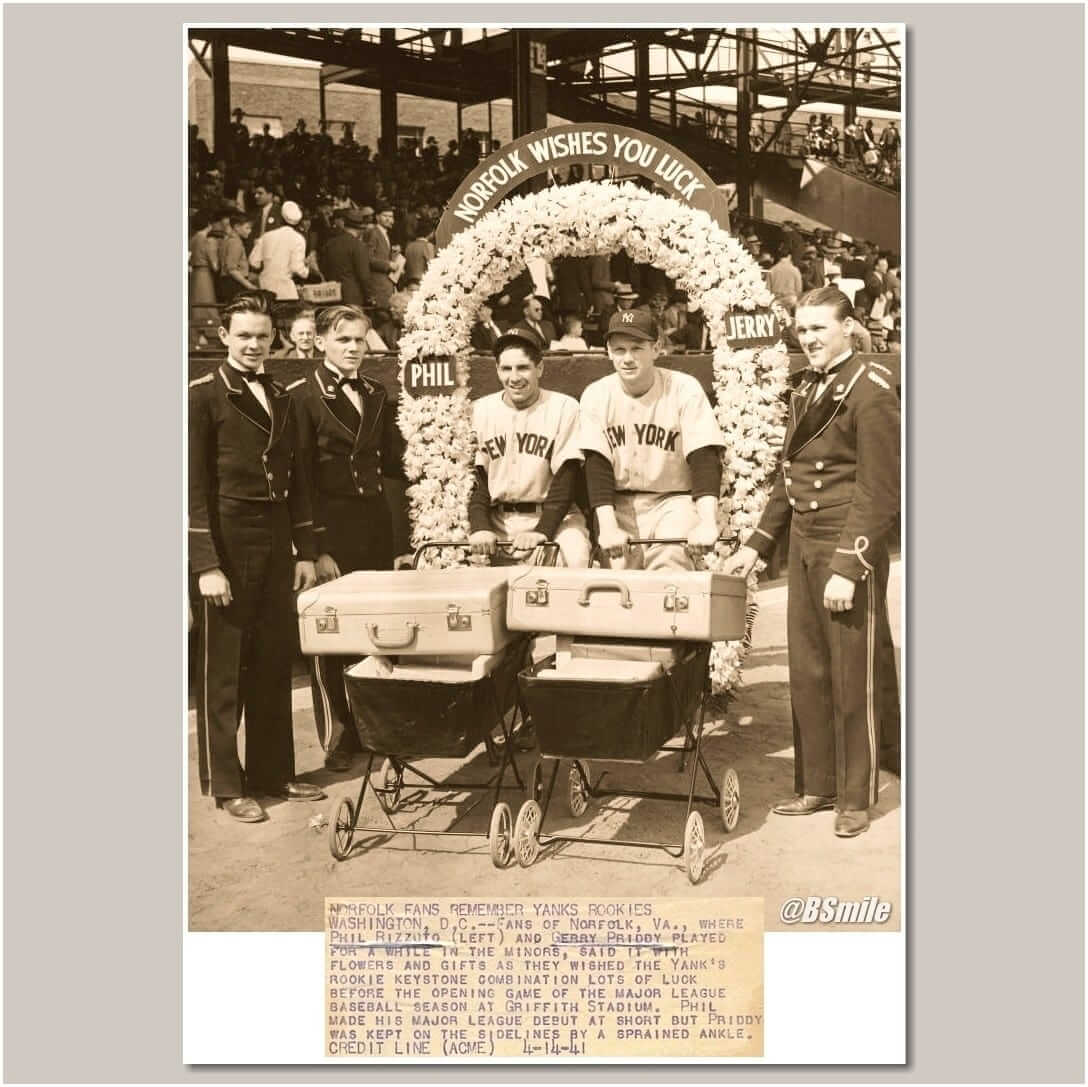 Finally, it's worth noting that minor league teams sometimes engaged in the floral ritual, as seen in this shot of the Sacramento Solons Baseball Club of the Pacific Coast League on Opening Day 1924. I like how the wreath says, "Success" instead of the boilerplate "Good Luck":
———
So, in short: Presentations of downward-facing floral horseshoes were fairly common (or at least not uncommon) on Opening Day, and sometimes for other special occasions, for many decades. The Mets appear to be the only team keeping this ritual alive, although it's not clear if the team's current management or its fan base even realizes that it was once a more widespread phenomenon. It's also not clear when or why other teams stopped doing the floral presentations.
I love this! For most of my life I've thought it was just a Mets thing, but it turns out to be much more interesting than that.
If anyone knows more about the origins of this tradition (which I suspect extend well beyond the world of sports), and/or if you have any additional photos that can add to the documentation I've presented here today, please get in touch. Thanks.
I have to say: This seems like the kind of story that could only appear on Uni Watch. I love that we have this platform to explore this type of story.
(Big thanks to everyone who helped out with research, including Benjamin Engle, Tom Kaszner, @Metstradamus, Nate Morrow, Todd Radom, Peter Rodriguez, Manuel Salazar, Will Scheibler, Matthew Schmidt, Shannon Shark, Jamal Wilburg, and especially Bruce "BSmile" Menard, who provided most of the pre-Mets shots.)
• • • • •
[adrotate group="2″]
• • • • •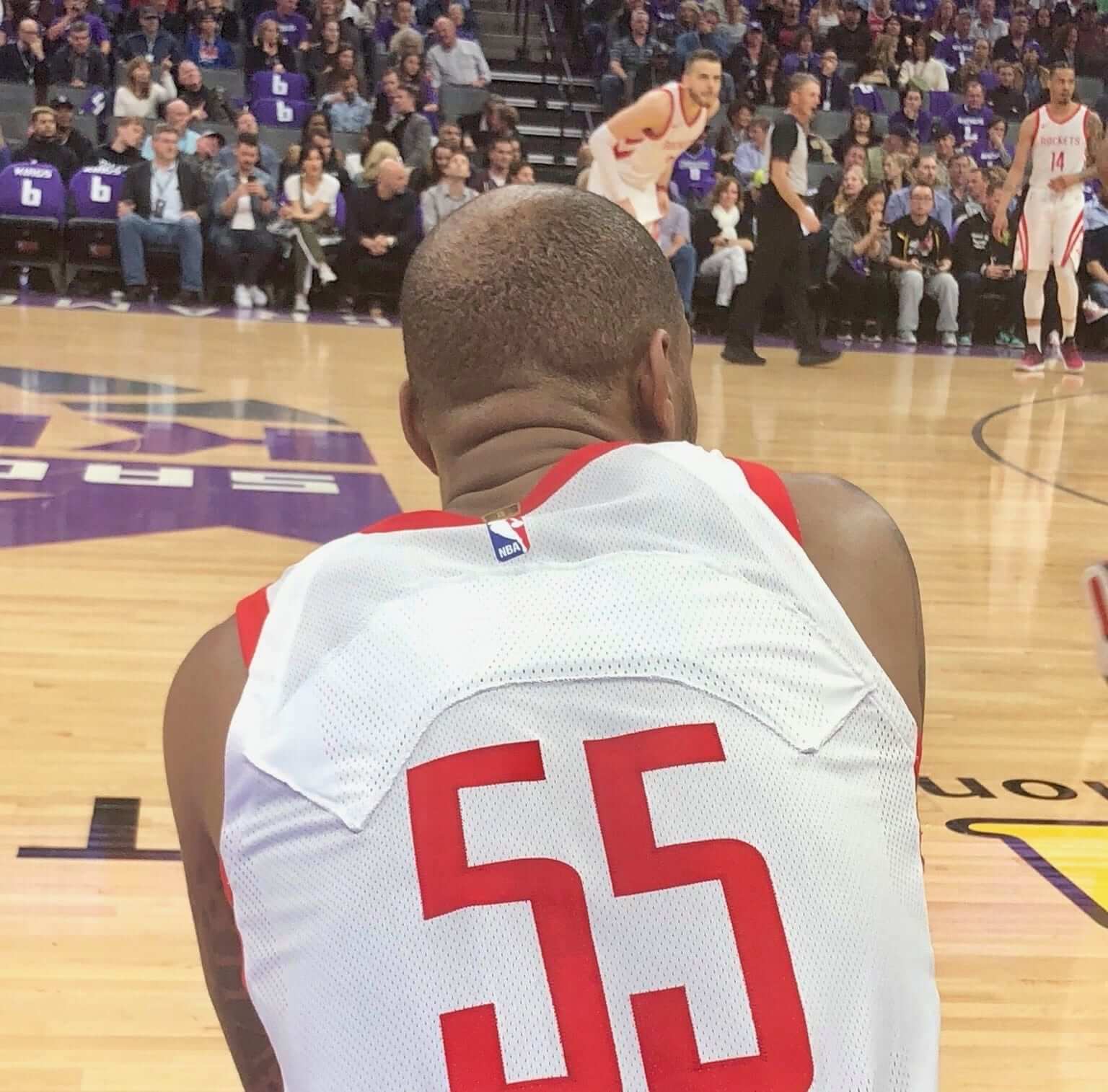 Click to enlarge
It's not the crime, it's the cover-up: It's one thing when you're so new to the team that they haven't had time to sew your name onto your jersey. It's something else when they give you someone else's jersey with a blank cover-up nameplate
That was the situation last night in Sacramento, as Rockets guard Aaron Jackson, who'd been signed earlier in the day, made his debut with the team. To make room for him on the roster, the Rockets released guard Tim Quarterman — and then gave Quarterman's No. 55 jersey to Jackson, with a blank strip of fabric added to obscure Quarterman's NOB.
The funny thing, of course, is that NBA jerseys usually don't include nameplates. This one does — but it's blank.
(Photo by Jason Jones, brought to my attention by @itsdtrain and @chriskingsfan.)
• • • • •
[adrotate group="2″]
• • • • •
Naming Wrongs update: It's been several months since we had any new Naming Wrongs designs, but we have a bunch of them today. Dig:
Silverdome: Nice job by designer Scott Turner with this one:
Shark Tank: Unfortunately, Teespring doesn't offer a teal shirt option, so we made up for it by doing two different black options: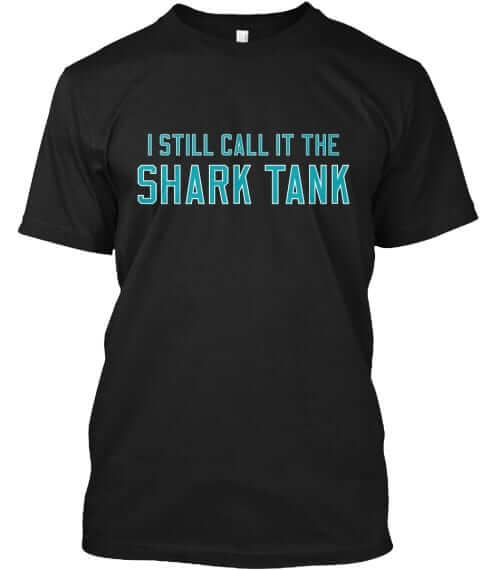 The Gund: Teespring also doesn't offer a true Vegas gold tee (does anyone?), but we have a tan version that's fairly close, plus a more standard gold, along with wine and black: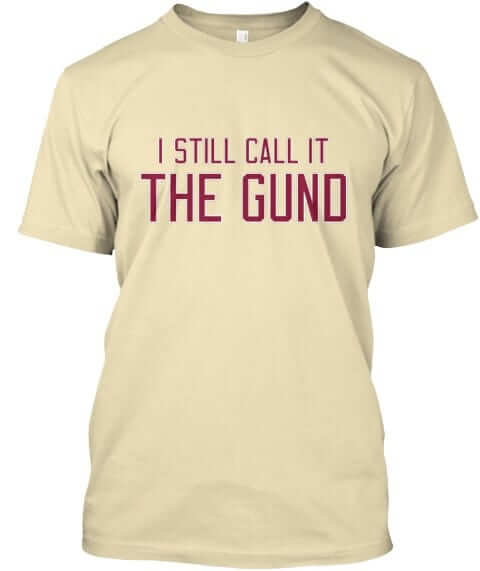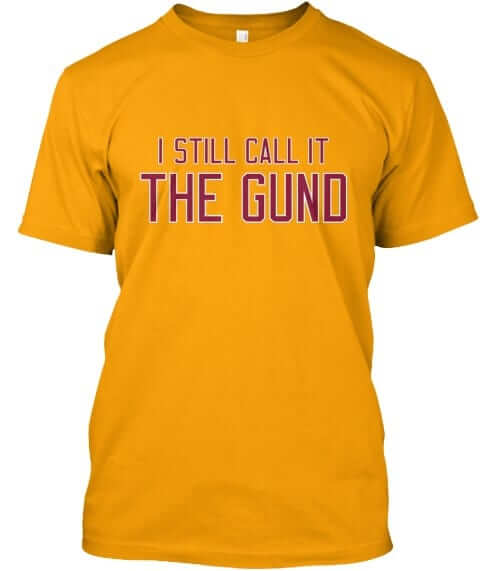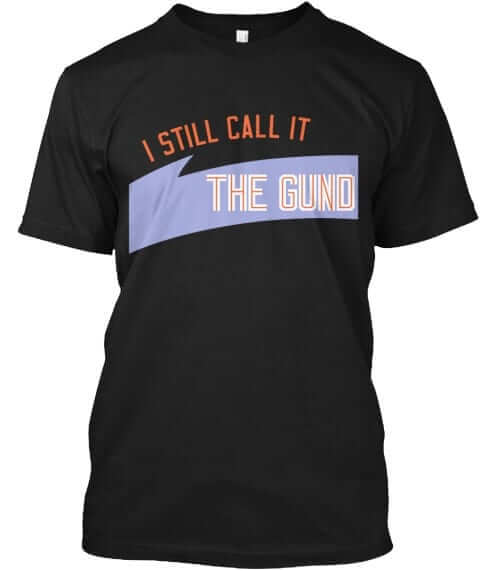 Sec Taylor: This is a first for us — a shirt devoted to a minor league ballpark (in this case, the home of the Iowa Cubs):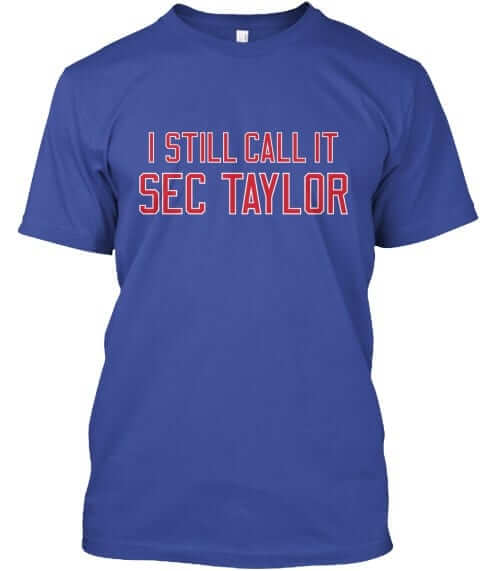 All of these designs are now available in the Naming Wrongs shop. They're also cross-listed in the Uni Watch shop, where card-carrying members can get 15% off. (If you're a member and need the discount code, send me a note and I'll hook you up.) My thanks, as always, for your consideration.
• • • • •
[adrotate group="2″]
• • • • •
The Ticker
By Paul

Baseball News: Lots of good stuff from Ray Hund, including a close-up of Mordecai "Three Finger" Brown's pitching hand (or as the photo says, his "twirling hand"); a shot of Wrigley Field usherettes from 1918, hired due to a "manpower shortage" during WWI; and Cubs manager Charlie Grimm and owner Philip K. Wrigley raising a Cubs flag in 1938. "The two stars in the diamond represent the Cubs' World Series victories, and the 14 other stars their NL pennants," says Ray. Great jacket on Wrigley, no? … Earlier this week we ran a photo of these awesome Gibson Partners uniforms. Now Marc Swanson has provided more background info: "Gibson was a realty company in Cleveland back in the '70s. Along with that awesome Tequila Sunrise roundel, their offices (at least the ones I can recall) were these great 'modern,' jagged-looking houses with a raw wood siding look and a big round bubble window in the foyer area that sometimes had the roundel painted around it. The offices looked really cool when they were built but didn't age well. By the mid-'80s, the style looked dated, and the bubble windows yellowed with age. They were bought out and the houses looked even sadder as folks tried to repurpose them. Then they all just sorta disappeared." … Yesterday we reported that the White Sox and A's would be wearing 1960s throwbacks next week. Now it turns out that the A's will be including white caps for the coaches — a nice touch. … I still call it the Park at Wrigley (from Andy Garms). … The Giants will be giving away a Giants-themed rugby ball to promote the 2019 Rugby Sevens World Cup, which will be held in San Francisco in July (from Eric Bangemann). … The Mets — and presumably all the other MLB teams — will have new dugout sweatshirts for Jackie Day, which is this Sunday. … The attendance at a recent White Sox game — the actual attendance, not the number of tickets sold — was reportedly less than 1,000. … A Pennsylvania school district is arming its teachers with small baseball bats. … The Lehigh Valley IronPigs — a Phillies affiliate — have new Sunday throwbacks based on the Phils' infamous 1979 "Saturday Night Special" design (from John Kelemen). … Let's hear it for Yanks P Masahiro Tanaka, who pitched last night with no New Era logo creep on his cap.

NFL News: The latest on the Rash is that it will likely be optional in 2018. … Here's a rarity: a shot of Washington RB John Riggins wearing No. 29. "That's from the 1976 preseason," says Jon Solomonson. "His familiar No. 44 was being worn by Moses Denson when Riggo arrived in DC, but Denson got injured and retired (or was cut?) before the season started."

College Football News: New uniforms for Virginia Tech. Additional photos in this slideshow (from Jonathan Sluss and Andrew Cosentino). … Speaking of the Hokies, here's the fan shirt for their whiteout game (Andrew Cosentino again). … Here's a good look at the "Beat Iowa" jersey that Iowa State wore for their 1977 rivalry game (from Thomas Norton). … The field for Oklahoma's spring game features a big graphic of former coach Bob Stoops's visor (from Sam McKinley).

Hockey News: The NHL has new playoff apparel for players, coaches, and staff (from Jerry Wolper). … The Toronto Transit Commission is allowing some of its employees to wear hockey jerseys today as part of Jersey Day, which is another response to the Humboldt bus crash. … In a related item, the NHL has sent Humboldt helmet decals to every team in the league. … And in still more Humboldt-related news, the Jets came up with a fairly lame-o playoff slogan, which some observers immediately thought come off as a bit insensitive given the Humboldt timing. Personally, I think the real problem is that the slogan, like most playoff slogans, sounds forced and contrived, not that it's insensitive. … And yet more Humboldt news: Tim Hortons apologized after a Halifax outlet sold Humboldt-themed donuts without intending to donate the proceeds to the team (from Brad Pramberg). … Making a suit with Don Cherry? Sure, why not (from Jeremy Brahm). … I confess that I had no idea that the Sabres' late-'90s jersey template was designed to create a silhouette of a buffalo's head. Did you? (From @Hashalanche).

Basketball News: Here's a look at every outfit that Thunder G Russell Westbrook wore to the arena this season (from Mike Chamernik). … Shai Gilgeous-Alexander is the latest Kentucky player to criticize the team's checkerboard uniforms (from Josh Hinton).

Soccer News: New jersey advertiser for Hertha Berlin (from Josh Hinton). … Ireland player Alan Browne donated a jersey that will be auctioned off to support a local teen who was injured in a recent storm. … New third kit for Atlético Tucumán (from Ed Zelaski). … New uniforms for Detroit City FC (from Ryan Keberly). … Huddersfield has signed a new kit deal with Umbro (from Ed Zelaski).

Grab Bag: Two Colorado Dept. of Corrections employees were cited for lewd behavior while in uniform. … Delta Airlines will get new uniforms on May 29. As it happens, I will be flying on Delta on that date (thanks, Phil). … Cross-listed from the baseball section: The San Francisco Giants will be giving away a Giants-themed rugby ball to promote the 2019 Rugby Sevens World Cup, which will be held in San Francisco in July (from Eric Bangemann). … There's a new study on the worldwide market for mountain bike jerseys. … South Carolina athletics may retire many jerseys across different sports over the next year or so. … New logo for the Chicago Tribune Guild, which is unionizing (from Steve Johnston). … Embattled EPA administrator Scott Pruitt wanted to eliminate the EPA logo from the agency's "challenge coin" and replace it with symbols of personal significance to him, like a Buffalo to represent his home state of Oklahoma and a Bible verse.