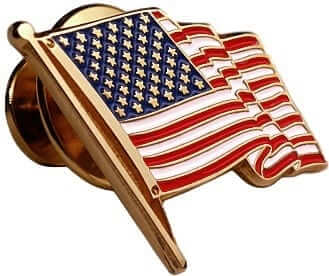 A few weeks ago I wrote about Lou Gehrig wearing a Eugene the Jeep pin on his Yankees jersey. Along the way, I mentioned the other MLBers who've worn pins on their uniforms. That prompted a note from reader Dennis D'Agostino, who emailed me to say, "If you dig deep, I think you'll find that Sam McDowell created quite a stir in 1970 by wearing an American flag pin on his black Indians cap. I remember it distinctly. This was during the Kent State era (5/4/70) and just before the debut of Archie Bunker."
I had never heard anything like that. I wrote back, "So you're saying McDowell wore the flag pin as a conservative response to the anti-war protests?" Dennis responded, "Not 100% sure of that. Hopefully there are quotes out there somewhere. But you have to remember what was going on in 1970."
I began by doing some newspaper archive searches. I couldn't find anything relating to McDowell wearing a flag pin. I did, however, find something about one of McDowell's teammates — Cleveland pitcher Dean Chance. According to this UPI wire squib that ran in numerous newspapers, Chance was ordered to remove an American flag pin from his cap during a game on July 3, 1970: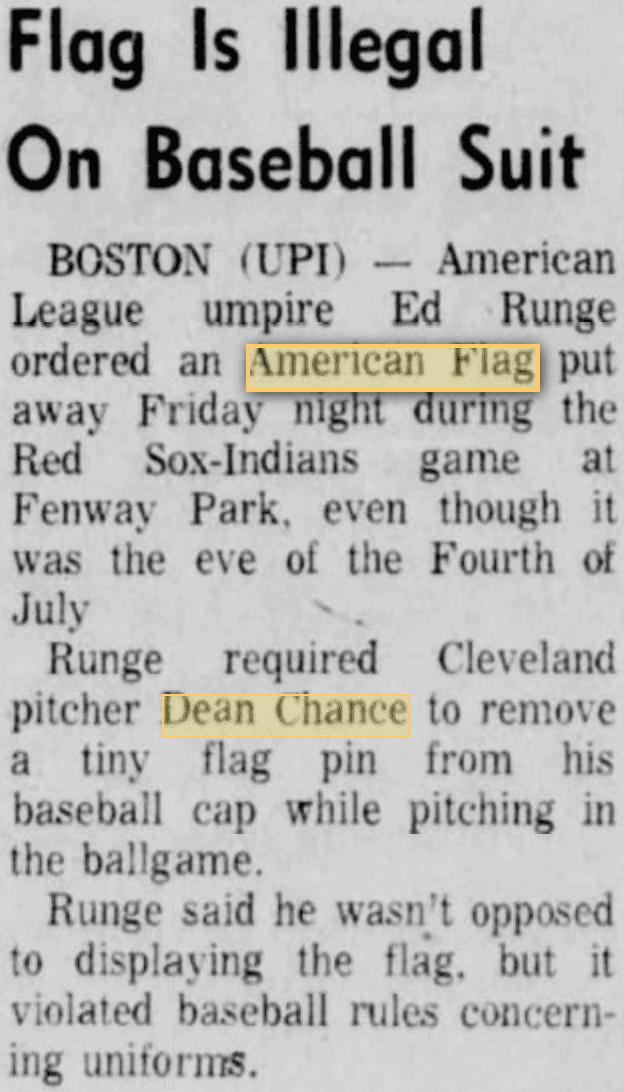 That would be this game. Chance pitched two innings in relief. It's not clear whether Chance wore the pin in any other games. He spent only one year with the Indians, and photos of him in a Cleveland uniform are scarce. I couldn't find any that show him wearing a flag pin.
But what about McDowell? Although I couldn't track down any newspaper accounts of him wearing a pin, I did find two game photos — one of which is from the 1970 All-Star Game — that appear to show something pinned in the center of his wishbone-C:
Could that have been an American flag? I decided to look at McDowell's 1971 baseball cards, hoping they might feature photos taken in 1970. That's where I hit paydirt (click to enlarge):
So that confirms that McDowell definitely wore an American flag pin in 1970. And Chance did as well, although we don't have a photo. Was this a coordinated effort between the two teammates? Was one of them copying the other? Did McDowell add the flag pin as a gesture of support after Chance was told to remove his pin? Did any other Cleveland players wear flag pins? Did this have anything to do with Kent State, as Dennis D'Agostino suggested in his original email to me?
Chance died in 2015, so we can't ask him those questions. But McDowell is still alive — he's now 75 years old — so I got in touch with him. Here's how our conversation went:
Uni Watch: Was there any connection between the flag pin that you wore and the pin that Dean Chance wore?
Sam McDowell: Not that I know of. I didn't even know that Dean had one. I started wearing mine because I was pretty close to the police department in Cleveland, and I used to do a lot of things for them. One of their policemen had passed away, and so I put the flag into my cap in honor of the policeman. It actually stayed there for about a year and a half, until Billy Martin — and of course he's the one who always starts all that bullshit — had one of his batters say that he couldn't see because the sun was reflecting off of the pin. So the umpire made me take it out.
UW: Sounds like a classic Billy Martin move.
SM: But what he didn't know was that I went ahead and put it on my sleeve and kept it there for the rest of my career. Nobody knew it.
UW: You mean it was on your undersleeve? On the shirt you wear under your jersey?
SM: No, it was outside, on the sleeve of my uniform. On my right arm. But nobody noticed.
UW: Oh, wow. And just to confirm, you did this as a gesture of support for a fallen Cleveland police officer.
SM: Yes.
UW: I had someone tell me that it might have had something to do with the events at Kent State, which took place that year. Did that have anything to do with it?
SM: No, that had nothing to do with it. It was for the fallen policeman. I originally wanted to wear a black armband. But when I mentioned that to the clubhouse guy, he informed me that nobody would allow that, because it would be changing the uniform. So I went and got the flag on my own and put it on my hat.
UW: Did you tell the police department that you were doing this for them?
SM: I told a couple of policemen who I was friends with, and they appreciated it, but that's it. I knew if I made a big deal out of it, the commissioner would make me remove it.
———
And there you have it. The big news, of course, is that he says he wore the pin on his right jersey sleeve for the rest of his career. But I could only find two 1970s photos with clear views of McDowell's right sleeve — this one from 1972 (which also shows him wearing stirrups with extra fabric sewn into the bottoms to make them longer) and this one from 1975 — and there's no flag pin in either of them. Hmmmmm.
All in all, a very interesting rabbit hole. Meanwhile, I've compiled a Flickr set showing all of our confirmed cases of MLBers wearing pins. You can check it out here.
(Special thanks to Todd Radom for helping me track down Sam McDowell.)
• • • • •
NBA Uni Tracking
By Collin Wright
For the first time all season, color-vs.-color games were the most frequent matchup last week (43% of all games). Traditional matchups were the least frequent (20%) — also a first. Here's our updated chart, which you can click to enlarge: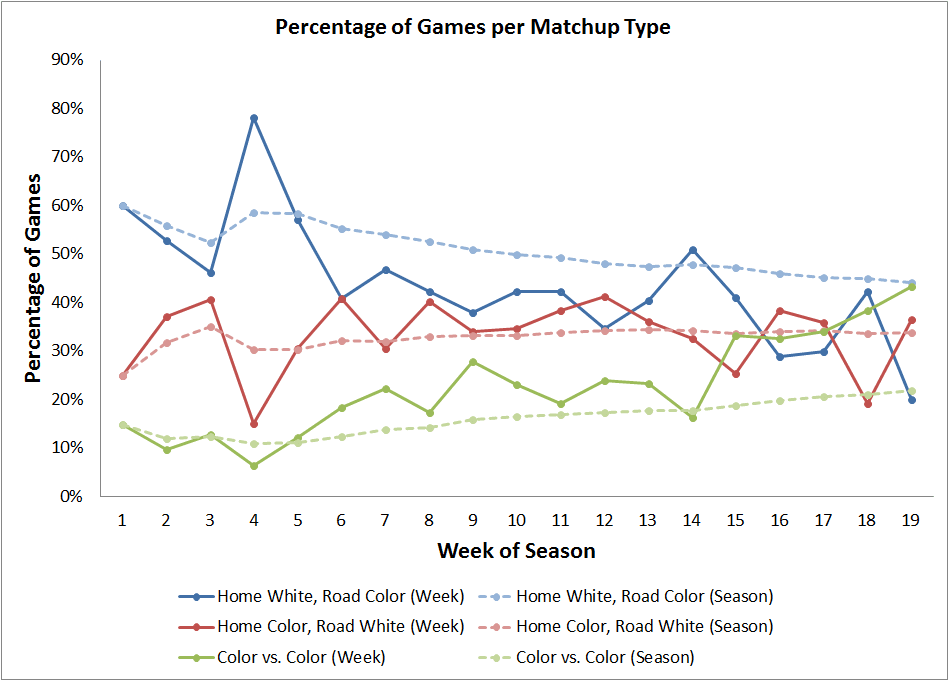 A few other observations from the past week:
• The Hornets wore black leggings and socks with their Buzz City set for the first time. They'd previously used either teal or purple accessories.
• The Hornets also became the first home team to wear purple against a road team (Pistons) wearing grey.
• Memphis fell to 0-7 in their light blue uniform with their loss in Miami on Saturday. That is a tie with the Lakers' purple uniform for the most losses without a win in any uniform this season.
• The Heat have continued to embrace their "Miami Vice"-themed set, wearing it in seven consecutive games and 10 of 13 since it was introduced.
• • • • •
KRC update: The latest installment of Key Ring Chronicles is about a doll's arm. It's one of my favorite entries of the entire project. Check it out here.
• • • • •
Photo taken yesterday, around the corner from Uni Watch HQ
"Inquire within": Some phrases just become ingrained in the culture. One of them is "Inquire within," which has been a staple of "Help Wanted" signs posted in storefront windows for my entire life and, I'm pretty sure, for several generations prior. If you do a Google image search on "Inquire within," you get an avalanche of hits.
It feels like an oddly stilted, outdated phrase — "Inquire within." In an era when so many things have become more casual, "Inquire within" seems so formal. Why not "Ask inside," or "Ask for manager"? For that matter, isn't it already self-evident that applicants should inquire within? Does it really need to be spelled out? Why does this phrase endure while others fall by the wayside?
Lately I've been seeing fliers that direct applicants to an email address, so "Inquire within" may eventually die out. For now, though, it's still with us.
• • • • •
The Ticker
By Jamie Rathjen

Baseball News: Two Braves items in this article from Michael Rich: SS Dansby Swanson will maintain a small memorial to a friend of his, former Vanderbilt basketball player Dai-Jon Parker, on his glove. He began wearing it last year. Also, P A.J. Minter is switching to a dark blue glove, ostensibly because it looks good with the team's road uniforms. … 1940s celebrities at a charity softball game? Sure, why not (from Charles Rogers). … Interesting story on why new Yankees skipper Aaron Boone's choice to wear No. 17 (NYT link), plus info on who's wearing No. 28 now that former manager Joe Girardi is gone. … Speaking of uni numbers: According to this item, when Bill Madlock was traded from the Giants to the Pirates in 1979, he offered OF Omar Moreno $3,000 for No. 18, but Moreno turned him down, so Madlock wore No. 5 (from Jerry Wolper).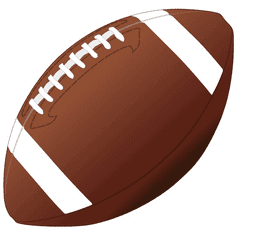 Football News: The Jaguars' two-toned helmet made one last (?) appearance when the team announced QB Blake Bortles's new contract (from Brian Speiss). … The Indoor Football League's Iowa Barnstormers appear to wear NFL captaincy patches (from @Rovitz). …. The ABC show The Goldbergs is doing an Eagles-themed episode this week that includes uniforms based on those of the William Penn Charter School, which show creator Adam F. Goldberg attended (from @PhillyPartTwo). … Reader Gene Sanny did a really nice painting of former Rams guard/tackle Tom Mack. … We've all heard of Frankejerseys, but how about a Clemson/South Carolina Frankenhelmet? (From Brad Darby.)

Hockey News: The Moose Jaw Warriors (WHL) wore special uniforms to commemorate the team's Hall of Fame weekend (from Wade Heidt). More pictures, including a special goalie mask featuring two of the new inductees, here. … Probably several dozen readers wondered how the Bruins would be handling the NOBs of forwards Rick Nash, who was traded to the team yesterday, and Riley Nash. Those hoping for some hot FNOB action were disappointed, as both players simply wore "Nash" for yesterday's game against the Sabres. … The Rangers retired No. 19 for former center Jean Ratelle and wore a patch as well. True to standard Rangers protocol, they wore the patch on the shoulder, not the chest (from @nycking). … Speaking of the Rangers, they also announced that No. 11, which is already retired for Mark Messier, will also be retired for Vic Hadfield, which means all three members of the gold GAG line — Hadfield, Ratelle, and Rod Gilbert — will be honored (from Jerry Wolper). … On Friday, two players from Denver and St. Cloud State got their facemasks stuck together (form Tony Tingwall). … College club teams, or at least Illinois's, appear to wear ad patches, which in the Illini's case even move to the rear when their space is taken up by a captaincy patch (from Noah Wolf). … The Green Bay Gamblers, a junior team in the USHL, are doing Heavy Metal Night March 3 (from Brian Kerhin).

Basketball News: Chelsea (Vt.) High is to close in the summer, and the school's final home basketball games this week featured a clothesline of old jerseys behind one of the baskets (from Tris Wykes). … Wisconsin G Brevin Pritzl, who normally wears No. 1, switched to a No. 51 blood jersey yesterday against Michigan State (from @mikeobs). … In the same game, some Michigan State NOBs seemed off-center (from Rob Ticktin).

Soccer News: In Saturday's Leicester City/Stoke City Premier League match, Stoke manager Paul Lambert began the game wearing a blue tracksuit, but after 67 minutes he changed at the request of Leicester goalie Kasper Schmeichel because the keeper kept mistaking the all-blue-clad Lambert for a teammate (from Thomas Courtman). … For the third consecutive week, a team somewhere in the UK wore black armbands: Scottish team Kilmarnock, in honor of their former chairman. … Two weeks ago, English League One team Scunthorpe United debuted a third kit at home in the orange and navy colors of the team's advertiser, British Steel.

Grab Bag: Two Saturday NLL games were color-on-color because both teams wore alternates: Calgary (black)/Saskatchewan (green) and Buffalo/Rochester (from Wade Heidt). … A nice touch: look closely and you'll see that the Wales rugby union team's match-information-on-sleeve in Saturday's Six Nations match in Ireland was in Welsh, as well as in their previous game against England. … Here's a great GIF showing how a curling stone is made (from @faithson77). … Pretty cool logo for the South American Men's Club Volleyball Championship (from Jeremy Brahm).
• • • • •

What Paul did last night on Thursday, Friday, and Saturday nights: This is not a great era for live music in New York, as a distressing number of "music" clubs have begun devoting more and more of their calendars to stand-up comedy, TV parties, live podcasts, bake-offs, and the like. So it's pretty heartening to have just completed a three-night run of excellent live shows.
On Thursday night, it was the mighty Susquehanna Industrial Tool & Die Co., performing their monthly residency at Otto's Shrunken head. And with the Olympics in full swing, the band arranged for the Kim Jong Un Dancers to provide red-ribbon support (for all photos, you can click to enlarge):
The following night there was a great double bill at Pianos. First up was the Ohio indie-rock band WV White, whose 2017 album, House of Spiritual Athletes, is well worth checking out.
Then came Scupper, the NYC indie band I can't stop talking about. Unfortunately, this was their final show for a while, as their drummer is leaving town. It was a great set, and their current album, Some Gauls, is still the hottest thing I've heard in recent months.
Saturday brought another great double bill, this time at El Cortez. First up was the legendary Lenny Kaye (former Nuggets compiler, former Patti Smith Group guitarist, etc.), who played a solo set. He's 71 now but looks and sounds great. I'd seen him join lots of other bands onstage over the years, but I think this was the first time I'd ever seen him solo. Talked with him a bit after his set, and he was a total peach — very sweet, very warm. It's always so gratifying when cool-seeming people turn out to be nice.
The headliner was the great singer-songwriter Amy Rigby (sister of Susquehanna Etc. frontman Michael McMahon), who was celebrating the release of her new album, The Old Guys. Her band included her husband, the 1970s new wave pioneer Wreckless Eric, on bass:
All the sets were good, and it was great to see so many good friends. Every now and then, NYC can still deliver the goods.
(For the Bandcamp embeds: If you like the music, please do the right thing and pay for the download. Thanks.)