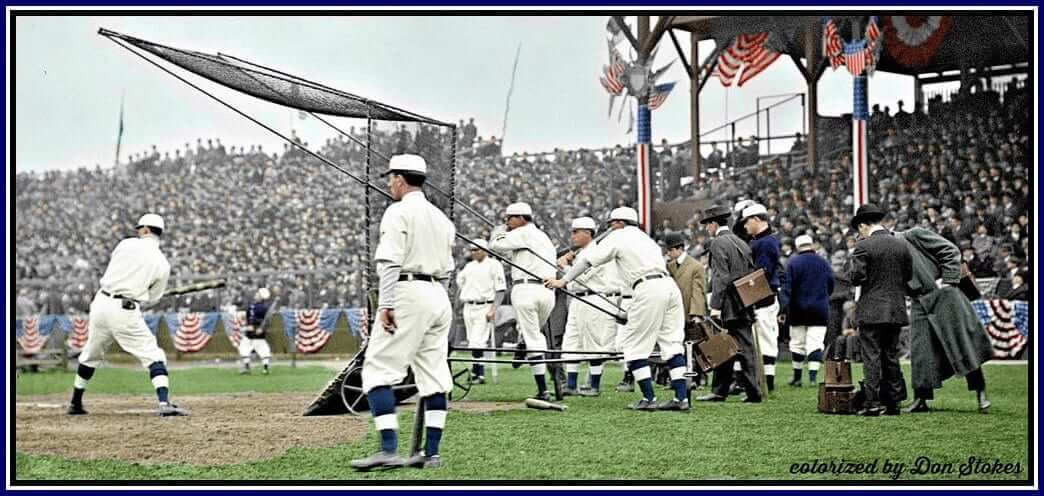 By Phil Hecken, with Ron Bolton
Follow @PhilHecken

There was once a time when Opening Day in baseball took place in mid-April, and the first pitch was always thrown in Cincinnati. It was, for as long as I could remember, on a Monday (though by the time I was old enough, MLB had moved to the traditional 162 game schedule, so it was the first Monday in April). However, over the years, MLB has gotten away from that formula, with games to open the season being played on Sunday night — or in another country — or, as has been the case since 2011, occasionally on a Thursday, so as to try to keep the World Series from extending into November. The Reds still play every opening day at home, but that's about all that exists from our once quaint opening day tradition. This year the season begins on Thursday, March 29th — the earliest a season has ever opened.
When I was growing up and we had the traditional Monday opener for most teams, I always said that "when I become president, I'm going to declare Opening Day a national holiday!" I'd still like to do that, but it'd be nice if we knew that holiday would always be the first Monday in April.
I'm pleased today to bring back Ron Bolton, who you guys know on twitter as @OTBaseballPhoto. I featured Ron a couple months back when he entertained us with various "football on a diamond" photographs and descriptions, and he also has a recurring sub-lede featuring a couple photos relating to current events from an historical perspective. I approached Ron a few weeks ago and asked if he'd mind putting together a full set of photos and writeups for Opening Days from MLB's past, and he didn't hesitate. Here, then, is Ron, with nine (the perfect number in baseball) Opening Days, plus a few additional photos relating to those. Enjoy!
• • • • • •
Seals Stadium, San Francisco, CA, April 15, 1958
With this first pitch delivered by Ruben Gomez to Gino Cimoli, Major League baseball has officially arrived to the rich baseball grounds of California in the forms of San Francisco Giants and Los Angeles Dodgers, two New York City transplants.
Both teams turned the baseball world upside down when they bolted Gotham for the West Coast after the 1957 season, and now they were together kicking off the 1958 season in front of 23,448 at Seals Stadium, home for many years to San Francisco's beloved Seals of the Pacific Coast League.
And it was the Giants winning over their new fans fast with a 8-0 trouncing behind Gomez's six-hit shutout and shortstop Daryl Spencer's solo home run off Don Drysdale in the fourth inning.
• • • • • •
Roosevelt Stadium, Jersey City, April 18, 1946
Jackie Robinson of the Montreal Royals crosses home plate after hitting a three-run home run in just his second minor league at-bat that not only signaled to the baseball world that this resolute rookie was the real deal but also the beginning of the end of segregated baseball was here.
Robinson would finish his debut in the International League opener with three more hits, four runs scored and flashed his speed and agility in swiping two bases in helping his Royals crush the Jersey City Giants 14-1. He would conclude his one year in minor league ball batting .349 and stealing 40 bases and forever winning the heart of Montreal and its people.
Jackie Robinson of the Montreal Royals, making his debut in organized baseball in a game with the Jersey City, N.J. team at Jersey City, April 18, 1946, slides into third base safely in the fifth inning on teammate George Shuba's long fly. Larry Miggins waits for the ball.
An aerial view of Roosevelt Stadium
• • • • • •
Baker Bowl, Philadelphia, PA, April 19, 1938: Dodgers 12, Phillies 5
A sad moment for baseball cathedrals – the final opening day at the Baker Bowl as the Philadelphia Phillies partake in a ceremony marking the occasion. And even so the ballpark sits battered and depleted, mostly from neglect, it was considered the crown jewel of baseball when it was first opened on April 30, 1887. At that time people were awed by the beauty of this state-of-the-art ballpark, even one Philadelphia newspaper declaring it was "Built to last forever"
The final baseball game at the Baker Bowl would be on June 30th, in front of just 1,500 rooters as the Sad Sack Phillies fittingly were routed by the New York Giants 14-1.
Baker Bowl on Opening Day, 1912
• • • • • •
Yankee Stadium, Bronx, April 18, 1923: Yankees 4, Red Sox 1
No better way for Yankee Stadium that lore claims is "The House That Ruth Built" to be christen in its inaugural game than a home run by that legend himself, Babe Ruth. The Sultan of Swat crosses home plate after his three-run blast capped a four-run fourth inning against Boston Red Sox starter Howard Ehmke in front of a sold out and chill boned crowd of 74,000-plus, at the time the largest crowd to ever see a Major League Game. The four runs in that inning would be all the runs New York would need in beating Boston 4-1.
Governor Alfred E. Smith (lower right) threw out the first pitch at the first game at original Yankee Stadium
Yankee Stadium, 1923
• • • • • •
Braves Field, Boston, April 15, 1952: Dodgers 3, Braves 2
Just as with the Phillies and their last Opening Day at the Baker Bowl, this photo showing the Braves with theirs at Braves Field is just as somber. In 1953 the Braves would bolt for Milwaukee as it was clear that as great of a baseball town Boston was, it just wasn't big enough for two teams, evidenced that only 4,694 showed up to see the Braves kickoff the 1952 season hosting the Brooklyn Dodgers. It also didn't help the Braves cause with attendance that in their last 50 years in Beantown, they finished in the second division of the National League 38 times and winning just two pennants.
September 1, 1933 – Happier times as more than 50,000 squeeze into Braves Field – and literally on the field – for a Friday doubleheader against the New York Giants
• • • • • •
Terrapin Park, Baltimore, April 13, 1914: Terrapins 3, Buffeds 2
Nearly 30,000 excited rooters are here to welcome big time baseball back to Baltimore and a hopeful return to the glory days they once experience with the likes of Keeler, McGraw and Kelley. Not only is it Opening Day but it's also the debut of the new Federal League, a challenger to the already established National and American League.
And the new Terrapins didn't disappoint beating Buffalo Buffeds (ouch on the team name) by a 3-2 score. But the fun would be short-lived for the Terrapins as it would become just a memory when the Federal League folds after the 1915 season, making Baltimore have to wait nearly 40 years for, once again, the return of big time baseball.
• • • • • •
Hilltop Park, Manhattan, April 21, 1911: Senators 1, Highlanders 0
Despite the cold and blustery weather that has accompanied the Opening Day contest, New York rooters are already in their seats to see their Highlanders take batting practice before taking on the Washington Senators. And from all accounts the batting practice did little good as New York could only muster six hits and nary a run against Senators' starter Bob Groom, loser of 43 games the previous two seasons.
Washington had less fortune with hits tallying only four, but they made their first two matter in the opening frame as it would lead to the game's lone run, aided by a throwing error by hurler Russ Ford, who would take the loss for the Highlanders.
(colorizations done by Don Stokes)
• • • • • •
Ebbets Field, Brooklyn, NY, April 15 11, 1947:
When we decided that one of the nine Opening Day pieces was going to be Jackie Robinson's first minor league game in Jersey City, Phil said it would be a good idea to also do Jackie's first MLB game, as that was on opening day as well. Only problem is I have not seen many if any photos of Jackie in action on that day, just photos of him taken before the game.
Then Phil remembered something pretty neat in reference to those photos of Jackie before his first game – those weren't even taken on that day! He sent me a link to Keith Olbermann's blog and what he found out is absolutely fascinating and some fine sleuthing by one of the best when it comes to baseball history.
[Please take a moment to read the link above, in which the great Keith Olbermann uncovers one of the best "set up" photos in history. Knowing Jack Roosevelt Robinson's MLB debut would be history making, Eddie Dweck staged one of the best photo ops in history and one for which many years we all took for granted as happening on that fateful day of April 15, 1947, when Robinson "broke" the color barrier. Thanks! — PH]
• • • • • •
Sportsman's Park, St Louis, April 17, 1951: White Sox 17, Browns 3
It's Opening Day for St Louis Browns as 5,660 fans and their new owner Bill Veeck are in attendance to see them get routed 17-3 by the Chicago White Sox, who scored six runs in the second inning and later topped that with seven runs in the eighth. And it wasn't all the fault of the Browns pitching….well, actually it was, in fact it might have been one of the worst displays of pitching by any team in Opening Day history, not only did five Browns pitchers combined to give up 19 hits, but they also walked 14 batters! It's a miracle that Chicago only scored 17 runs.
September 27, 1953 – A sparse crowd of just 3,174 are on hand to see the St Louis Browns final home game before they would ship off to Baltimore the following season.
June 7, 1941 – Only 2,394 fans showed up to watch the Browns take on the Yankees and Joe DiMaggio (up at-bat AND in the middle of his legendary 56-game hitting streak) on a Saturday.
• • • • • •
Thanks, Ron — great job as usual and as always. Love these opening day shots from the past.
I will still run on a platform of making Opening Day a national holiday, whenever I do get around to running for President. I hope I'll have your votes.
Click to enlarge
MLB Season Preview reminder: Paul here. In case you missed it on Friday, my 20th annual MLB Season Preview column, with all of the new designs for the coming season (including the patches shown above), is now available. Check it out here.
We now return you to your regularly scheduled Phil phantasmagoria.

Prime King
Got a note this week from old pal Jimmy Corcoran which includes some CLASSIC old YouTube footage I thought you guys would enjoy.
Here's Jimmy:
Hey Phil, I wanted you to see this, it was just posted on youtube a few weeks ago. It looks like coaches tape to me? I was only 5 years old in 1969 when my father joined Pottstown and didn't understand this whole farm team thing? I thought they were playing the Washington 'skins whenever they played the Buckskins, but I didn't know why Sonny Jurgensen wasn't playing?

This was the King's athletic prime, the feet and release were much quicker in his late 20's than when he played for the Bell four years later. By 1970 when this game was played the 'skins were already in their second season of the new Lombardi uniforms but these hand me down 'skins uniforms looked great!
And here's the video — ENJOY!
Uni Watch News Ticker
By Phil

Baseball News: "Saw your post on the Spring loaded (catcher's) mask," writes Justo Gutierrez (this was included in Paul's MLB uni preview). "This is not completely novel, although I suspect the springs can be adapted to any helmet. Wilson makes (or made because I think may have discontinued it) the ShockFX mask, which uses rubber isolators. My 13-year-old catches and uses this mask. He's taken foul balls to the face, and the mask absorbs the impact." … In a bit of sad news, we have this (from Megan Brown). Hopefully Big Sexy will catch on with another club. It's also a tremendous headline. … Josh Claywell notes it's "Weird to see some Baylor players with the American flag and others not" Clearly some of those Baylor players hate America! … The Mean Green of North Texas have new softball uniforms (from Mean Green Softball). … I don't play video games (and haven't since I retired as the Pac Man champ at my local mall in 1982), so I don't know whether the wrong socks on the ChiSox 83 throwbacks is a glitch…or a feature. But it's a good spot by Matt Bond. … Here's a look at a young Kirby Puckett, but what is more interesting is the obvious font differences between Puckett and his teammate Gary Gaetti in that photo (from Goat Jerseys). … Here's something you will (likely) only ever see in Spring Training: two players in navy blue jerseys both sporting #90 (from Ben Potter).

NFL News: "Recently you posted this photo with Gale Sayers missing the 4 in his #40 TV number," writes Ken Traisman. "I think I remember that Bears Coach George Halas would position Gale Sayers and another returner like Dick Gordon on kickoffs such that Gordon stood in front of Sayers, obscuring the #4 on the front of Gale's #40 jersey. Also, the 4 on the sleeves was just torn off." He adds, "This was done so that opponents would not know it was Sayers with Gordon returning kicks." … Apparently this is a look at the NFL shield on the jersey (as in, a "sneak peek" at this fall's Dolphin's tweaked uni). (From Bryce Starkey and David Hirschberg). … Speaking of "leaks," Tripp Ronon writes, "Not sure if you saw this yet, but as I was on the Titans website, I found this link. After you watch it, you may have heard the owner of the titans say "Is the pink good for you?"" I wouldn't read too much into that, but it's interesting.

Hockey News: The ECHL's Tulsa Oilers wore these European style jerseys last night against the Quad City Mallards. Most will be sold at post game auction (from Mike Iles). … Cornell hockey uses a font for their helmet stickers very similar, if not the same, as the Red Wings (from @TheBrokenTendy). … Here's a nice, old school Univeristy of Michigan hockey jersey. Check out the beautiful vertical arching (from Daryn Berger). … Oh, check out this sensational 24"x 36" screen goalie mask poster just framed and ready to hang (from Tom O'Grady). You can get one here. … Here's a look at the Autism Awareness sweaters worn by the Reading Royals last night (from Jeff Tasca). Also from Jeff, here's a look at the military appreciation sweaters worn by the Utah Grizzlies last night. … In last night's game between the San Diego Gulls vs Cleveland Monsters, it was Purple Night for cancer. The Monsters jerseys & all the dasher ads are purple (from Jimmer Vilk).

College Hoops News: Tweeter Casey McGirt notes the interesting NCAA path position for South Carolina's A'ja Wilson due to her sleeve rolling preference. … Interesting: Loyola's mascot wasn't always a wolf — it used to be a hobo (from Douglas Ford). … Speaking of our surprise Final Four-ist, Loyola-Chicago looks like a mashup of Lipscomb University's "L" and the Chicago Wolves Hockey Logo, according to Matthew Blinco. … They're so "new" to this tourney thing that Loyola Chicago Freshman F Dylan Boehm was playing with NNOB last night (from Charlie Welling). … It seems like they were taken care of in the footwear department, though, which is clearly more important to Nike (from Griffin Smith)

Soccer News: Here's a pretty good look back on the history of Juventus' black and white stripes. … Fresno FC's (USL) mascot has put a USL patch on his jersey; he previously didn't have one even though the match jerseys do. Replica jerseys don't have the league patch (from Josh Hinton). … Also from Josh, here's a look at how the Portuguese National Team's home kit would look with green shorts, instead of red. … The NC Courage of the NWSL debuted their new mascot, Roary, in Saturday's season opener against Portland Thorns FC. … Here's a pretty cool illustration of an MLS player personally altering his own jersey with a message (from Eli Swanson).

Grab Bag: The New England Black Wolves honoured local first responders and military personnel during their Hometown Heroes game on Friday versus Buffalo. They wore orange camouflage uniforms that will be auctioned off (from Wade Heidt). … Cool patch! "My daughter just earned this badge at Rainbows, UK equivalent of Daisy Girl Scouts in the US. Alongside UK female police officer hat there is a purple American football helmet. Hats all symbolise different jobs they learned about," from Ben Isaacs. … The Colorado Mammoth (Lax) retired John Grant Jr's number last night. Players all wore 24 for warmups and the team store had uni-themed items of the game (from Zeke Perez, Jr.). … Tweeter Vin Reddy noticed the Marjorie Stoneman Douglas logo looks like the Philadelphia Eagles logo.