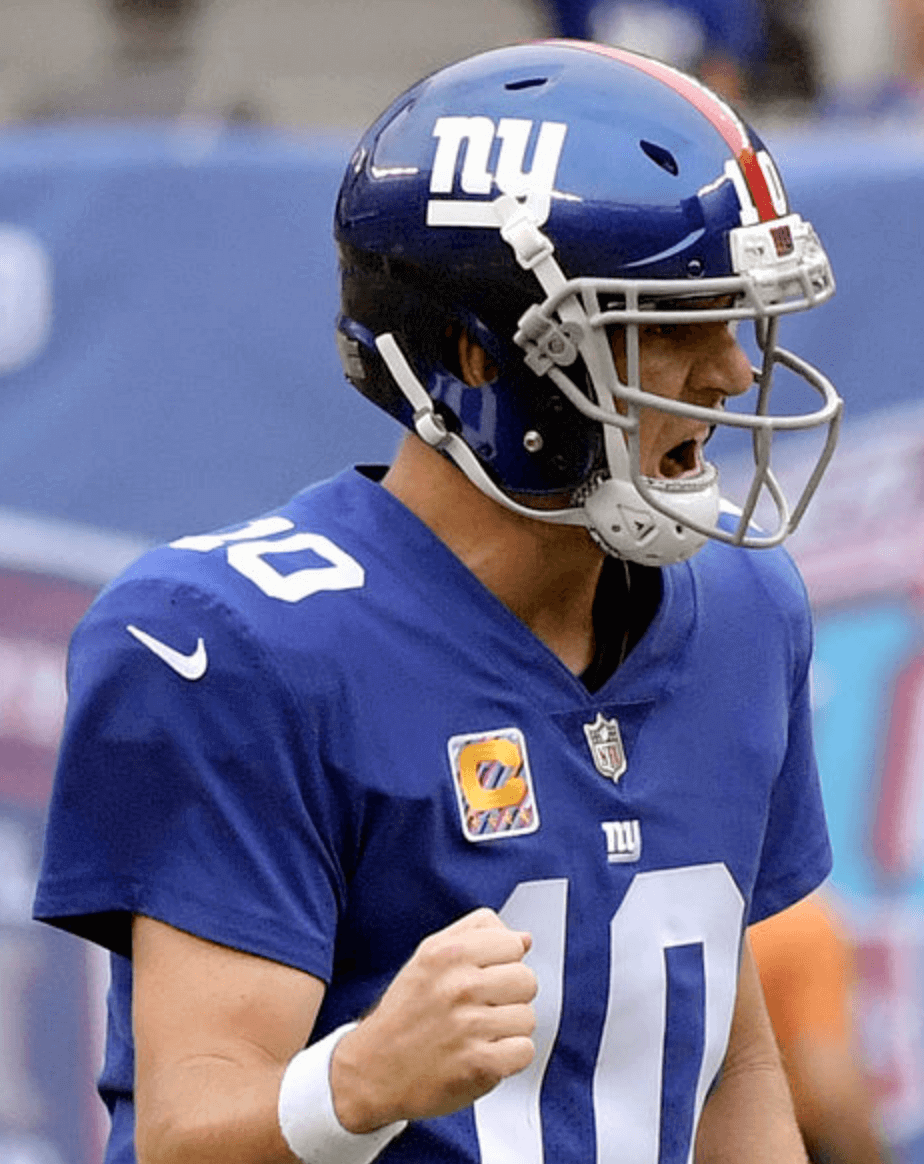 Bye-bye, Pinktober. Hello, Rainbowtober. That was the news around the NFL yesterday, as several teams wore rainbow-patterned captaincy patches (including Giants quarterback Eli Manning, shown at right; click to enlarge) as part of the league's "A Crucial Catch" cancer-awareness program. Instead of focusing on breast cancer, as had been the case in past seasons, the league is now trying to tackle all cancers, each of which has its own color — hence the multi-colored captain's patches, officiating caps, waistband towels, goalposts, and of course footwear.
Oddly, there was zero advance promotion for the rainbow graphics, prompting many confused fans to contact me, asking, "What's up with that captain's patch?" Hard to raise awareness when you don't bother to make people aware of what you're doing.
In other news from around the league yesterday:
• The Rams wore their royal/yellow throwbacks at home against the Seahawks (click to enlarge; additional photos here):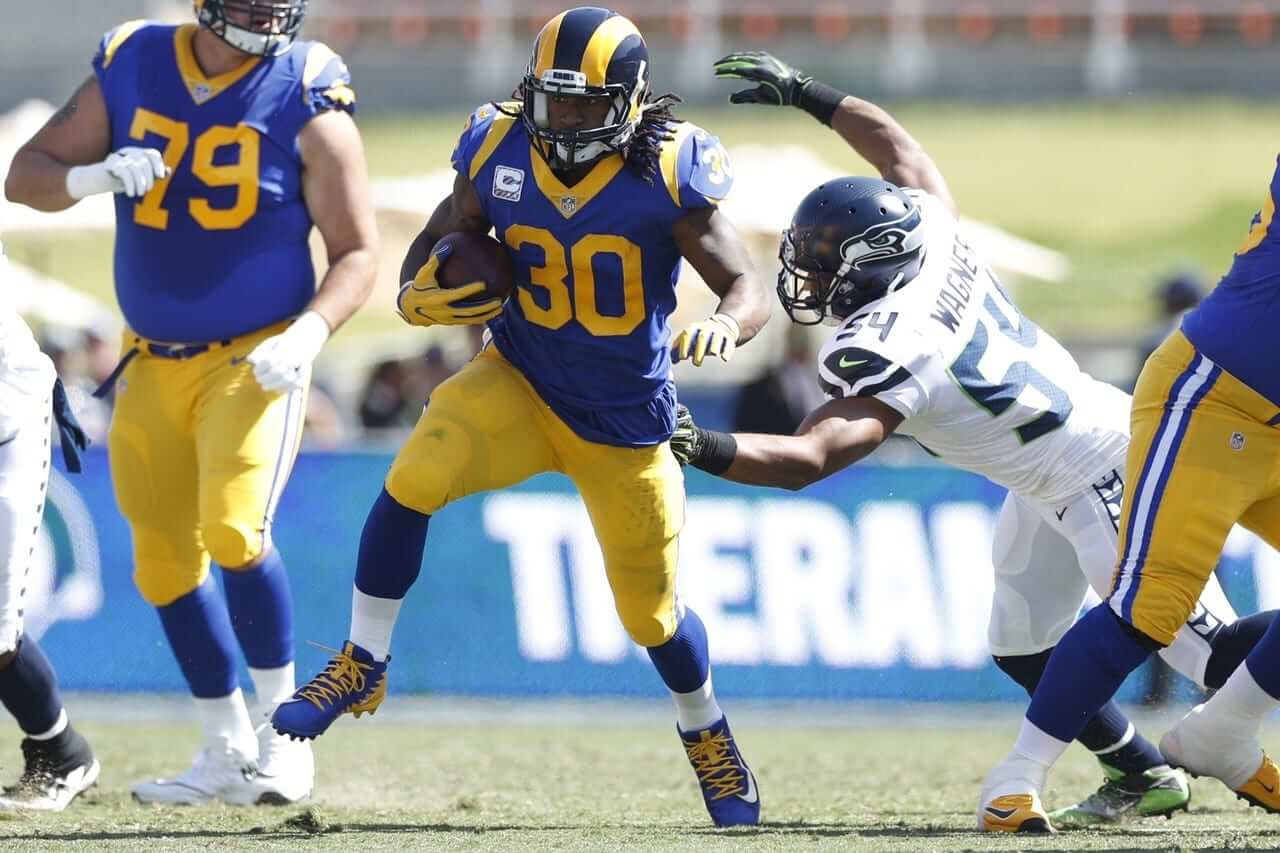 As you can see, this version of the throwback design no longer has the annoying neck roll collar.
• The Bengals wore their orange alternate jerseys (click to enlarge; additional photos here):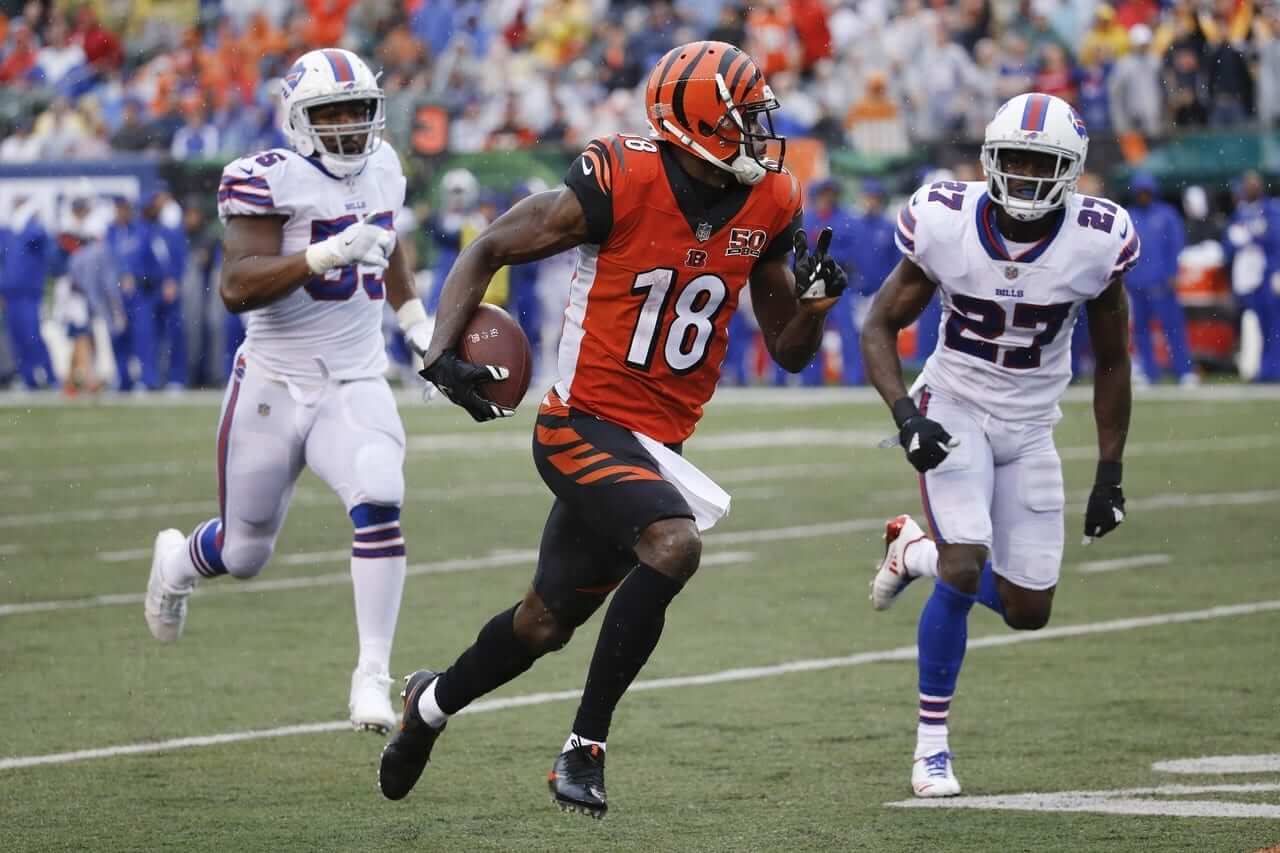 • The Jets went mono-green. Additional photos here.
• Speaking of the Jets, it looks like linebacker Darron Lee had his nose bumper logo torn off: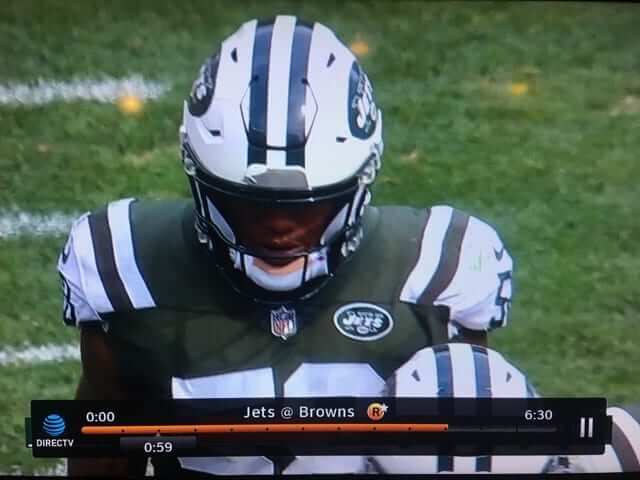 • Here's an interesting development: The Raiders don't yet play in Las Vegas, but they'll be playing there eventually, so they've added a "Vegas Strong" helmet decal in the wake of last week's massacre. This shot also shows the "Crucial Catch" decal that replaced the usual NFL logo yesterday (click to enlarge):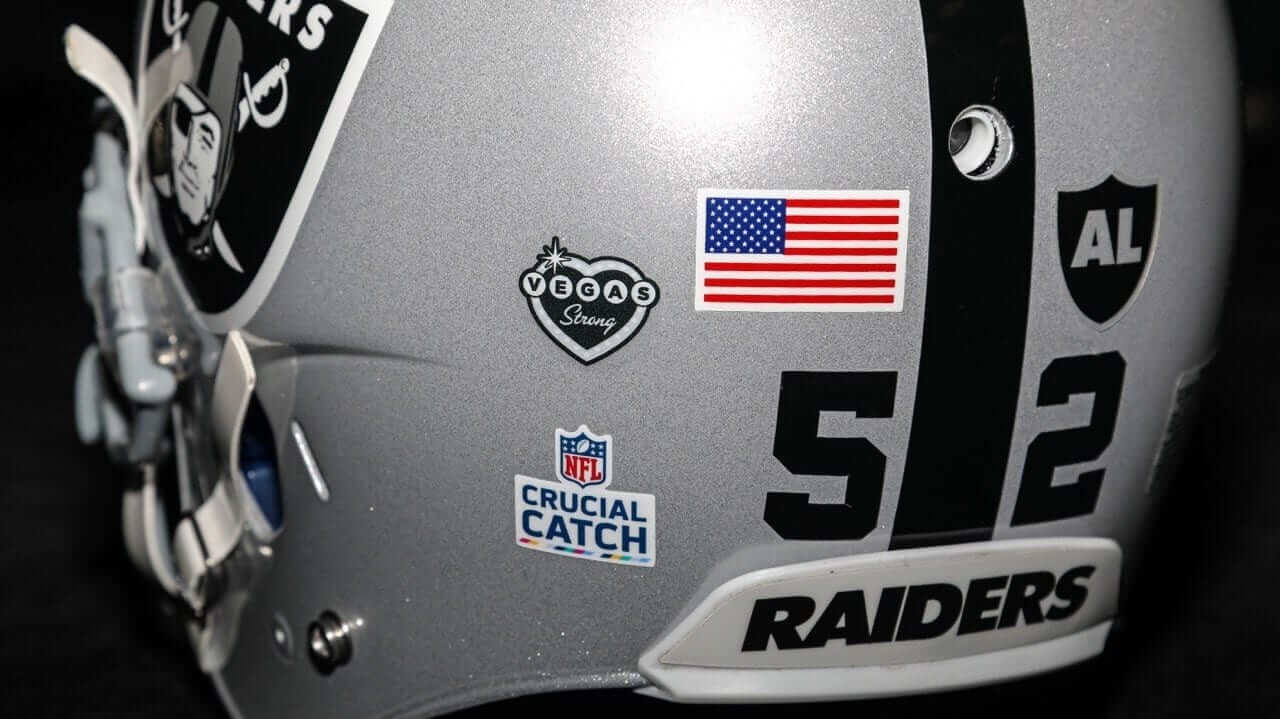 It's unclear, at least to me, if the Vegas decal was a one-game thing or if the team will wear it throughout the rest of the season.
• Speaking of Vegas, several players wore shout-outs to Vegas on their shoes, including Raiders wide receiver Cordarrelle Patterson, Panthers quarterback Cam Newton, and Bengals cornerback Dre Kirkpatrick.
• If you look at this next video, you can see that the Browns don't have a midfield logo. When's the last time a team went that route?
.@DukeJohnson_8 turns on the jets #NYJvsCLE pic.twitter.com/y7g7fQQfSj

— Cleveland Browns (@Browns) October 8, 2017
• Speaking of the Browns, several readers noted that cornerback Jason McCourty appeared to be wearing a matte-finish helmet (click to enlarge):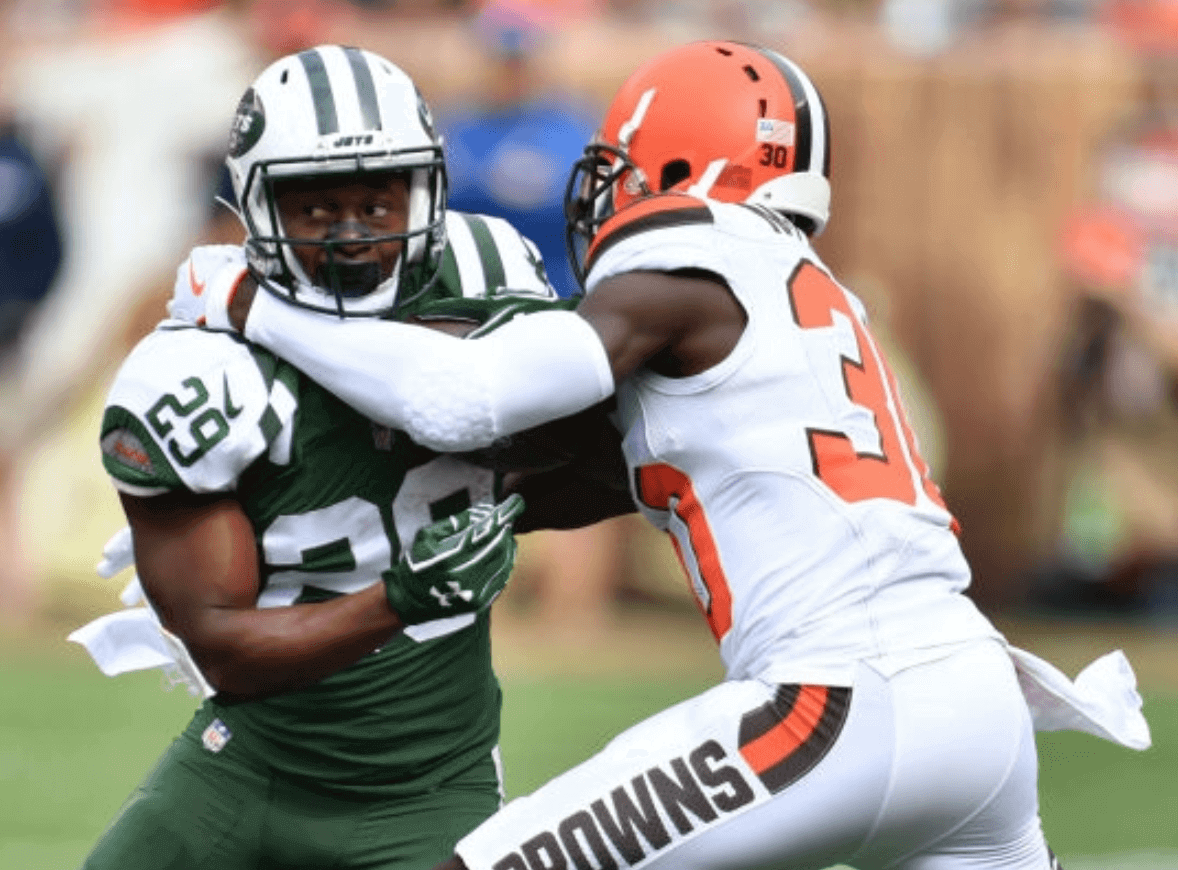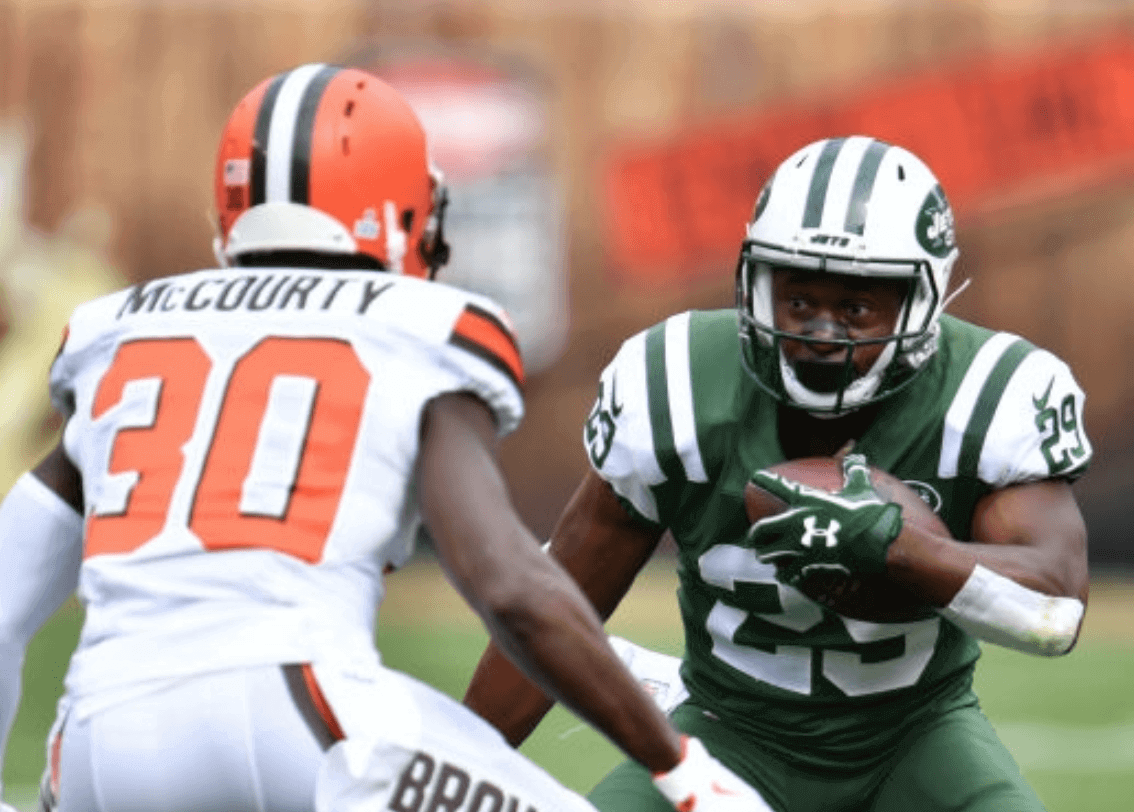 @UniWatch Matte finish helmet for Jason McCourty #Browns pic.twitter.com/9QWQTVfh5W

— Beau Parsons ⚾️ (@bparsons22) October 8, 2017
@UniWatch McCourty from Browns has a flat orange helmet. Picture may not do it justice but noticed it a few times today. pic.twitter.com/SzlQCp7wCs

— Jim Parry (@coachparry1) October 8, 2017
• In the wake of the kerfuffle over Panthers quarterback Cam Newton insulting a female reporter, Newton arrived for yesterday's game wearing a Rosie the Riveter pin.
• Three teams wore white at home: the Dolphins, Browns, and, of course, the Cowboys.
• Here's a list of players who protested during the national anthem yesterday. In a related item, Vice President Mike Pence attended yesterday's 49ers/Colts game in Indianapolis but left the stadium after numerous Niners took a knee during the national anthem. He then issued this tweet:
I left today's Colts game because @POTUS and I will not dignify any event that disrespects our soldiers, our Flag, or our National Anthem.

— Vice President Pence (@VP) October 8, 2017
I fully support Pence's (or anyone's) right to boycott over the anthem protests. But his tweet is an unfortunate example of bad civics. Suggesting that protesting during the anthem "disrespects our soldiers" is demagogic nonsense, because the anthem is not for soldiers; it's for all of us. Reasonable people can disagree on the merits of the anthem protests, but Pence's statement is the latest example of conflating support for the military with patriotism — a faulty and dangerous point of view, and one that that is rampant throughout the sports world. (As a footnote, Cowboys owner Jerry Jones announced yesterday that any Dallas player who is "disrespectful to the flag" will not be permitted to play. Of course, the protests have been directed at the anthem, not at the flag, but it's unclear whether Jones grasps that distinction.)
(My thanks to Mike Chamernik, JJ Johnson, K.C. Kless, and Scott McMichael, Jim Parry, and Beau Parsons for their contributions to this section.)
• • • • •
Click to enlarge
Cue the Great Gazoo jokes: LSU offensive lineman Toby Weathersby was wearing an extra layer of protection on his helmet during Saturday's game against Florida. Not sure how long he's been wearing it, but he didn't have it on Sept. 23 or Sept. 9.
For longtime football fans, this accessory brings back memories of the ProCap, famously worn in the NFL more than 20 years ago by Bills safety Mark Kelso and 49ers offensive lineman Steve Wallace. Is the ProCap making a comeback? I'll contact LSU today and try to learn more about what Weathersby was wearing.
(Weathersby screen shot by Jeff Waddelow).
• • • • •
Membership update: Six new designs have been added to the membership card gallery, including Judy Adams's card (shown at right), which is based on the logo that Roger Federer wears on his sneakers at Wimbledon. This past summer he wore No. 7, for the seven Wimbledon titles he had won up until that point. But he won the 2017 title, so Judy is going with No. 8, which is what he'll wear on his sneakers next year.
I have two open slots in the current batch of cards, which means the next two people who sign up will get their cards very soon, without much of a wait.
Remember, a Uni Watch membership card now entitles you to a 15% discount on any of the merchandise in our Teespring shop. (If you're an existing member and would like to have the discount code, email me.) As always, you can sign up for your own custom-designed card here, you can see all the cards we've designed so far here, and you can see how we produce the cards here.
• • • • •
A very vanilla story: My friends Rob Walker and Josh Glenn have been running a series of short essays about four categories of objects: talismanic objects, political objects, illicit objects, and lost objects. As you may recall from a few months ago, I contributed to the illicit series, writing about a corkscrew that I stole from some friends.
I also have an entry in the series on lost objects — a story about a vanilla bean that figured prominently in my youth. It's one of my favorite stories about myself and my mom, and it's now been published. Check it out here.
• • • • •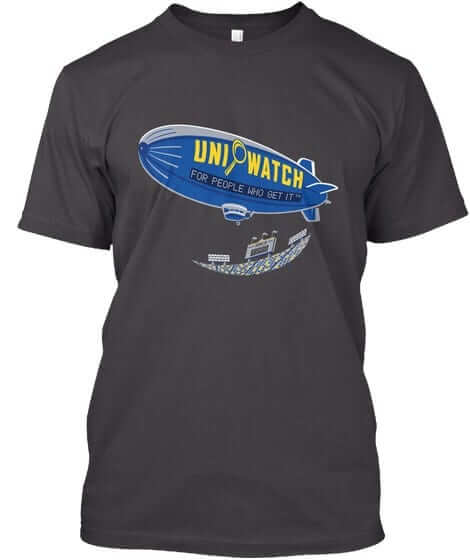 LAST CALL for the blimp shirt: Today is the final day to order our latest limited-edition shirt from the Uni Watch Artist's Series, designed by the great Sean Kane (shown at right; click to enlarge). It's available here until 11pm Eastern tonight. Additional info here.
• • • • •
The Ticker
By Jamie Rathjen

Baseball News: Two fun items involving former Reds SS Barry Larkin: First, check out this No. 11 basketball jersey that Larkin wore for a high school fundraiser game in 1989. And then dig this shot of Larkin being "tagged out" by his brother, Xavier basketball standout Byron Larkin (from Nick Hinds and @LargeTimHortons).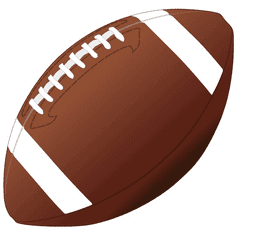 Football News: Left over from Saturday: Hawai'i TE Kade Greeley has FNOB. "Twin brother Karson Greeley is also on the team. No idea what's on his jersey," says Nik Streng. … New white helmets for Dickinson College, a D-3 school. "It's the first time they've worn white helmets since 1980," says John Philips. "While the last white helmet featured a large block 'D,' the new one uses the Arizona State pitchfork logo. The old 'D' helmet had been worn since the early 1960s but was replaced by then-head coach Ray Erney (father of former Rutgers QB Scott Erney) with red for the 1981 season — a disastrous affair that saw Dickinson go 0-9 and score 23 points for the entire campaign."

Hockey News: The Devils have added 35th-anniversary helmet decals (from Dan Grimm). … So do the Lightning for their 25th anniversary, but only on their away helmets. That same logo is a patch on their home jerseys (from Mario Vasquez). … Penguins winger Ryan Reaves wore a Steelers helmet, which is the team's player-of-the-game award for this season, for his postgame interview on Saturday. It has No. 17 on the back and No. 18 on the front, for the 2017-18 season (from John Kobler and Jerry Wolper). … "I noticed a few funny instances of NHL teams using old Reebok jerseys for promos," says Ryan Robey. "The Blue Jackets gave an old jersey to Ed Sheeran for his concert at their arena on Oct. 3, and the Blackhawks gave a old jersey to Bryan Bickell for his 'One More Shift' event."

Basketball News: The Heat's 30th-anniversary logo was spotted by @KurtCobae, who notes that many of their anniversary logos have had a hoop around the number (or the phrase "X years of Heat"). … Cross-listed from the baseball section: This Cincinnati No. 11 jersey was actually worn by Reds SS Barry Larkin for a high school fundraiser game in 1989 (from Nick Hinds).

Soccer News: I don't imagine that Shakespeare shows up on Uni Watch often, but the Portland Thorns' pregame display before Saturday's NWSL semi-final quoted Ophelia from act IV of Hamlet. … From World Cup qualifying: The officials in the Slovenia/Scotland match wore pink socks to provide some contrast with Scotland (again in pink themselves). To be clear, Scotland's pink shirts are not for Pinktober; the color is borrowed from the horse racing colors of Lord Rosebery, UK prime minister in the 1890s and supporter of soccer in Scotland. … Two examples of Pinktober shirts, though: West Virginia's women's soccer team against Oklahoma with white shorts and socks (from Kris Blanton). … Saint Louis FC (USL) against the Richmond Kickers, with their usual dark blue shorts/socks (from Brian Henke).

Grab Bag: A Gaelic Games note from Denis Hurley: In the County Cork club hurling championship, Blackrock (green and gold hoops) and Na Piarsaigh (black and gold hoops) didn't change against each other despite having near-identical shirts and white shorts. Both teams are in that picture if you look carefully. … Here's an article wondering if the trademark for Ugg boots should be owned by an Australian company and whether they can become a cultural symbol of the country like champagne with France or feta with Greece (thanks, Paul).