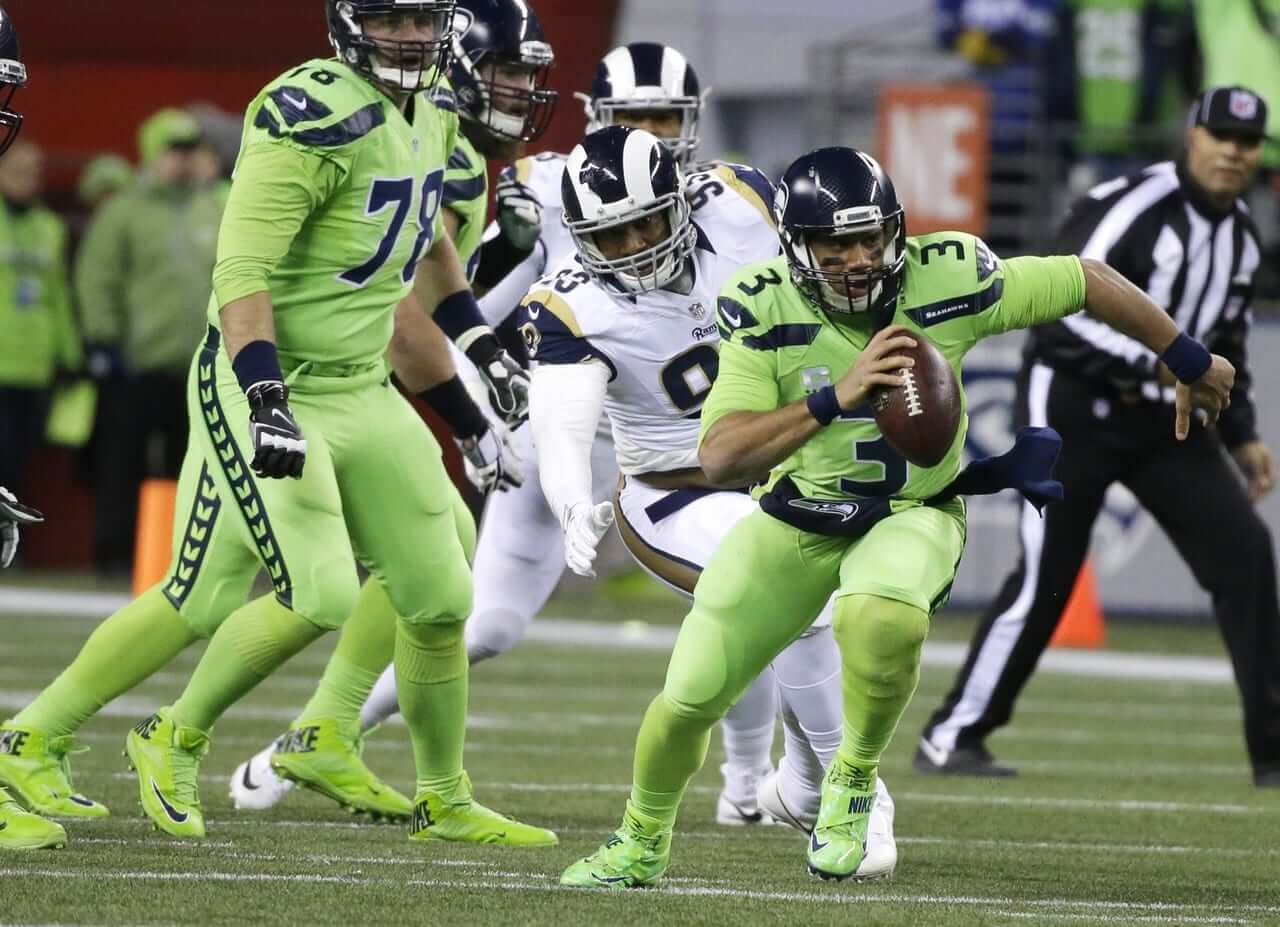 Click to enlarge
Okay, so that happened.
I'll get to last night's game in a minute, but first I want to take a look back. Most of you probably know that the Seahawks wore neon-green jerseys (without the matching pants) on one previous occasion in 2009. That game had some extra resonance here at Uni Watch HQ because, as longtime readers may recall, we had run an April Fool's prank six months earlier, about the Seahawks adding a neon alternate jersey.
I actually had very little to do with that prank (in part because my father had been ill in late March and I'd been busy dealing with that). Most of the groundwork had been laid by Phil, who privately solicited prank ideas from a small group of steady readers. Once he chose the Seahawks prank idea, he got reader Paul Soto to execute a very official-looking phony mock-up, and then we arranged for Michael Princip host the mock-up on his now-defunct Seahawks uniform blog, Greenglare, making it look like the design had leaked. My job was to sell the prank, and I guess I did a decent job of it, because a bunch of media outlets swallowed it whole.
But it turned out that we outsmarted ourselves. Unbeknownst to us at the time — but as we all found out soon enough — the Seahawks really did have a neon jersey in the works, which they wore for that one game later in the year. Now they've taken the idea to its logical conclusion and gone mono-neon. The joke's on us.
As I mentioned, Phil had solicited ideas for the hoax. The guy who submitted the Seahawks idea was longtime reader Jeremy Brahm (shown there at a 2008 Uni Watch gathering in Portland, Oregon). You may know Jeremy as "the only guy who submits volleyball items for the Ticker," but he's also a lifelong Seahawks fan. With the team wearing neon again last night for the first time since 2009, I thought it would be fun to have Jeremy weigh in on the proceedings. Here's his report.
The Seahawks, Neon Green, and Me
By Jeremy Brahm
As a child, I grew up watching the Seattle Seahawks on television. I had a Seahawks coin bank and taped a "10" on the back of it for my favorite player, quarterback Jim Zorn. Although I now live in Cincinnati, the Seahawks are still my favorite team.
In March of 2009, Phil Hecken asked for some ideas for an April Fool's story on Uni Watch. I sent him the following suggestion: "The Seattle Seahawks will wear green uniforms to see the receivers better in the rain." I never heard back from Phil, so I figured they weren't going to use my idea. On April 1, Paul published the entry about the Seahawks wearing neon green, which included a link to a mock-up. It looked real. I emailed Phil and said, "Wow, that's just like the idea I submitted." He said, "No, that is your idea!" The prank was executed so effectively that it even fooled the person whose idea it was.
Prank or no prank, The Seattle Times ran a poll asking readers what they thought. Seventy percent of respondents favored the green. Those fans got what they wanted six months later, when the Seahawks wore green jerseys for one game. As a lifelong fan of the team, I enjoyed feeling like maybe my little joke might have pushed them in that direction. Sadly, they lost to the Bears that day and never wore green again — until last night.
Last night's green was a more intense neon tone than what they wore in 2009. It may not be something that you'd want to see every week, but in the Northwest green is a way of life. From the trees and moss to grapes and apples, or just being eco-friendly, we see it in all its shades.
But everyone's been so busy talking about the green that they haven't noticed the uniform's other color. One thing that drove me crazy with this uniform last night was the two different shades of blue — a lighter shade for the chest numbers (which works really well with the green) and a darker shade for the TV numbers and stripes on the chest (which doesn't work as well).
Overall: I like the uniforms — but once a year seems like enough.
———
Thanks, Jeremy — good stuff.
My own take: The Seahawks looked ridiculous, but that's the whole point of the Thursday-night uniform program, so I guess you could say the uniform was a success. Trying to critique it in rational terms doesn't work, because the design is intentionally irrational. It's like critiquing a French speaker for not speaking Spanish.
There was lots of fairly predictable social media chatter about the uniforms. But leave it to a Uni Watch reader to come up with the best commentary of all, with an NOB reference to boot:
@PhilHecken @UniWatch considering the color of these jerseys, I'd say he wins best name of the night. pic.twitter.com/juRAJ8ZswC

— Karl Greenfield (@KarlGreenfield) December 16, 2016
As for the Rams: It was nice to see the white ram horns again, but the helmet made no sense with the gold-accented jersey and pants. The visual effect was sort of like watching the helmets on a black-and-white TV while the rest of the uniform was in color (click to enlarge):
In terms of raw aesthetics, the Rams were still the better-looking team last night, because Seattle's look was so godawful. But the Seahawks actually had the better-executed, more fully integrated design.
A few other notes from last night's game:
•  Several Rams suffered torn horns:
@PhilHecken @UniWatch Rams having a little issue with the white horns on their helmets pic.twitter.com/xcyaGmveYS

— DJD (@datdamndj) December 16, 2016
The trouble with changing helmet stickers on a weekly basis @UniWatch pic.twitter.com/bv94OkQlrh

— Mike Barnes (@MikeB_KVUE) December 16, 2016
•  The Rams normally wear their primary logo on their nose bumpers. But if you look again at those last two embedded tweets, you'll see that last night's bumpers were blank — apparently another retro move to go with the white horns and grey masks.
•  Rams wideout Kenny Britt wore a "We Still Fishing" shout-out to fired coach Jeff Fisher on his towel, which from certain angles looked more like "We Still Fisting":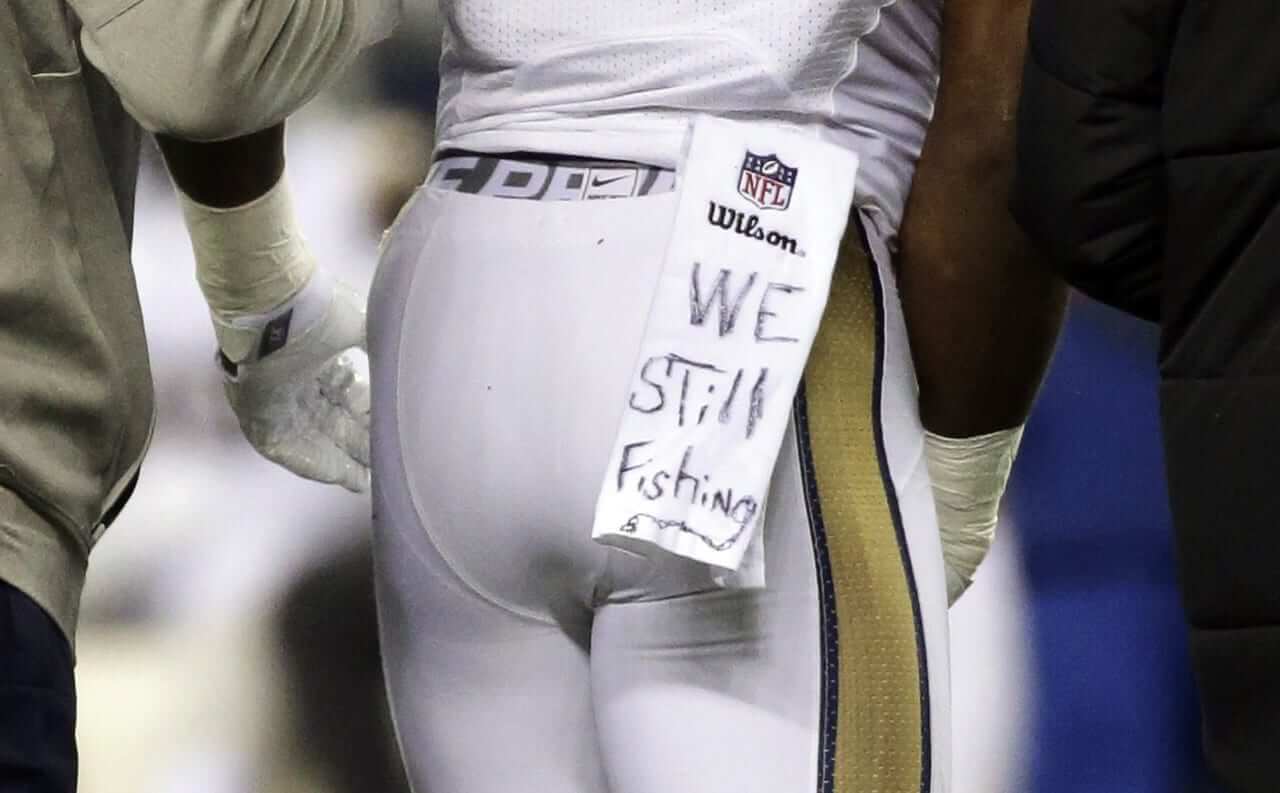 •  I noticed during the game that Rams punter Johnny Hekker wears a captaincy patch, which is unusual for a punter. (That photo is actually from Nov. 13, but I couldn't find an action photo of Hekker from last night.)
Finally, I've written an ESPN piece that takes a broader view of how these uniforms fits into the Seahawks' and Rams' respective pasts — and possibly their futures. Check it out here.
• •  •  •  •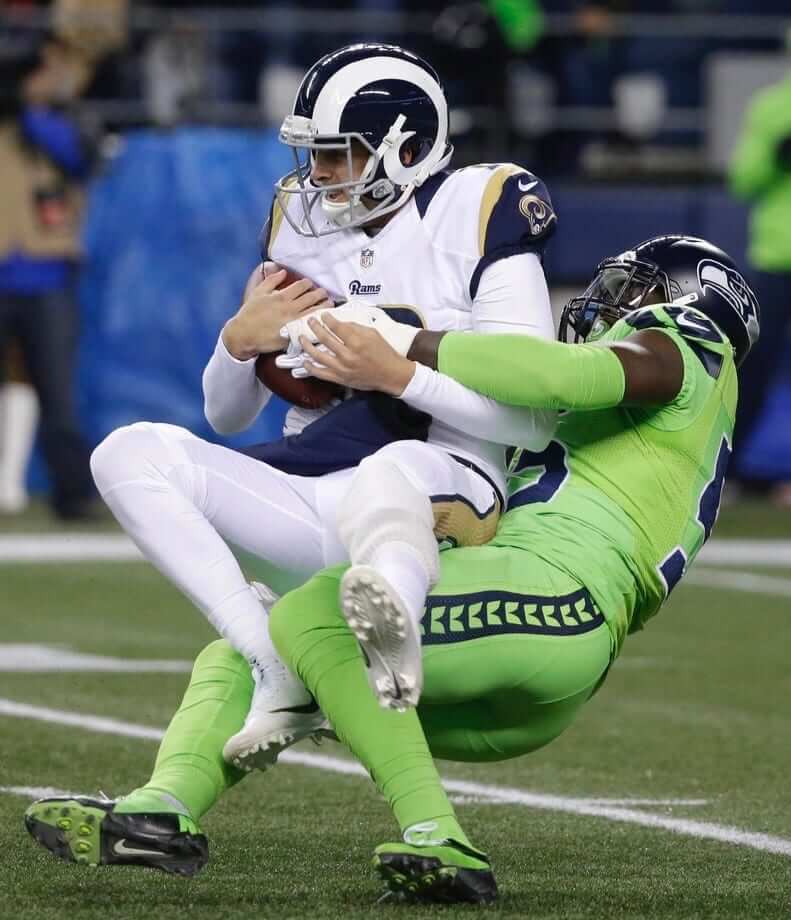 Impede this: Another interesting detail from last night's game was that NBC commentor Chris Collinsworth and referee Brad Allen both used the phrase "unimpeded to the quarterback."
I don't recall exactly when that rule was added (anyone..?), but I do recall that broadcasters initially used the term "unimpeded," and I always thought that was the correct term. Then someone — I think it was John Madden — began saying "unabated" instead, and soon everyone, including refs, were saying, "unabated to the quarterback." That version has become so standardized, at least in my mind, that it was almost startling to hear "unimpeded" last night.
"Unimpeded" is the more accurate term. It refers to a clear path with no obstructions, which is the issue that the rule is meant to address. "Unabated" refers to something of unwavering intensity, which is sorta/kinda related to the issue at hand but not as appropriate as "unimpeded."
"¨So which version is in the rulebook? I never looked it up until last night. The answer can be found in rule 7.4.a, which states, "It is a neutral zone infraction when a defender moves beyond the neutral zone prior to the snap and is parallel to or beyond an offensive lineman, with an unimpeded path to the quarterback or kicker, even though no contact is made by a blocker" (emphasis mine).
So there you go — unimpeded, not unabated. Say it right!
•  •  •  •  •
Raffle reminder: In case you missed it yesterday, the annual Uni Watch year-end reader-appreciation raffle is now underway. Enjoy.
•  •  •  •  •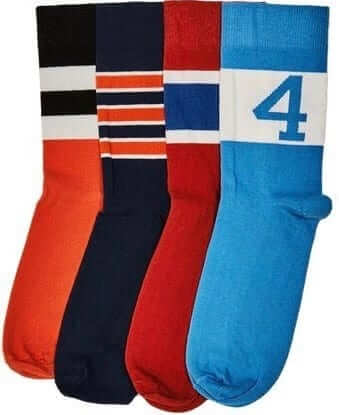 Holiday shopping reminders: A few things to keep in mind for you last-minute holiday shoppers:
•  All colors of the latest StripeRite socks are finally in stock and all our back-orders are now shipping (we got seriously screwed over by the mill, which kept bumping us and dealing with larger clients, despite having promised to have everything ready by late November). If you haven't ordered yet but have been thinking about it, you can do so here.
• If you want to get someone a Uni Watch membership card but don't know which design the lucky recipient wants, you can purchase a gift membership, which the recipient can then redeem at his or her convenience.
•  Just speaking hypothetically here, but if you're interested in discussing any of these shirt designs, just from a theoretical standpoint, we can talk about that.
•  Please consider supporting our advertisers, including the Pillbox Bat Company, which makes wonderful painted baseball bats; There Used to Be a Ballpark, which offers spectacular prints showing overhead views of baseball stadiums; SportsTemplates.net, which offers sharp-looking 3-D templates for your uniform concepts; and Rob Ullman, who specializes in pinup-style illustrations of women wearing jerseys.
Thanks, and ho-ho-ho to one and all.
• • • • •
The Ticker
By Paul

Baseball News: Here's something I've never seen before: At the 1993 MLB All-Star Game, Mariners P Randy Johnson posed next to NBA star Patrick Ewing — who was wearing a Mets uniform! (Thanks, Mike.) … New camouflage cap for Creighton (from @Padsker). … Here's a clip from the old TV show Mr. Ed, showing Ed batting against Koufax, Leo Durocher, Johnny Roseboro, Willie Davis, and Moose Skowron. Skowron, interestingly, is wearing the wrong number font on his jersey (from Ferdinand Cesarano). … Hazing rookies by making them dress up as women, which is now banned, once saved a Cleveland rookie from serious injury (thanks, Mike). … People often forget — or maybe just never realized — that Babe Ruth was once a pretty lean machine. That shot's from his pre-Yanks days with the Red Sox.

NFL News: The Jets are playing at home on Saturday, and then the Giants — who play in the same stadium — have a home game on Sunday. That's not enough time to swap out the end zones, so both teams will go with neutral end zones this weekend, and the NFL logo at midfield. … Here's a look at the throwback helmet that the Giants will be wearing next Thursday night (thanks, Phil). … The Falcons will wear their black fauxbacks this Sunday against the 49ers. That's the design that debuted earlier this season for a game against the Chargers. … Pats TE Martellus Bennett says players wear less clothing in the cold, instead of bundling up, because it's sexier (blame Mike). … The Bills are going mono-blue this weekend (from Kenny Saidah).

College Football News: Ohio State's Fiesta Bowl uniforms will be the same ones they wore in the 2015 Sugar Bowl (thanks, Phil). … Appalachian State will wear mono-white for the Camellia Bowl (from @Jon_Ed). … Utah will be going mono-red for the San Francisco Bowl (from Landon Freter). … Eastern Michigan, which is playing in the Bahamas Bowl, is adding a Bahamian flag decal (thanks, Phil).

Hockey News: Lots of good stuff in this 1963 Stanley Cup video footage, including scenes of the Leafs and Habs packing up their uniforms, a cool shot of the Detroit Olympia, and a maskless Leafs goalie (from Eli Ganias). … Rocky Balboa tribute jerseys upcoming for the Toledo Walleye. … Fan-designed ugly sweater jerseys tonight for the Sioux Falls Stampede. … No photo, but this story says the ECHL's Missouri Mavericks will wear "special cancer fighter jerseys" tonight. … Blues D Alex Pietrangelo was wearing teammate Jake Allen's undershirt in last night's postgame presser. "Darren Pang asked him about it and he said 'I think it just ended up in my laundry bag and I kept it ever since. Fits well though and that's all that matters,'" says Thomas Qualls.

NBA/D-League/WNBA News: Here's an an NBA uniform quiz (from Britton Thomas). … Star Wars jerseys tomorrow for the D-League's Windy City Bulls (from Steve Johnston). … Here's something I didn't know: The New York Liberty's dancers are all over 40 years old. According to entry No. 16 on this list of reasons to love NYC, the current lineup "is made up of 13 members ranging in age from 40 to 76 and includes a legal assistant, an accountant, a Vietnam veteran, and an IT guy (yes, they take dancers of all genders)." That's a refreshing change from the usual approach — good for them. … The Bucks wore Craig Sager warm-ups last night. R.I.P.

College Hoops News: UIC and DePaul had a candy-striped showdown last night (from Adam Foxman). … UVA will retire Malcolm Brogdon's number in February. … South Carolina wore red at home last night (from @willchitty4).

Soccer News: Southampton will wear a new third kit on Sunday. "This is because they're playing AFC Bournemouth, whose home shirt is black with red stripes, meaning neither Southampton's red/white striped home shirt nor their black/grey away kit would be suitable," says Mark Higgins. "This isn't the first time Southampton has had to bring out a special third kit due to a kit clash. Also happened against Newcastle in 2015." … Barcelona's new home kit has leaked.

Grab Bag: When the Dow Jones Industrial Average hit 10,000 for the first time in 1999, there were lots of "Dow 10,000" caps. But with the Dow now flirting with 20,000, caps are in short supply. … New 70th-anniversary logo for Martinsville Speedway (from David Firestone).