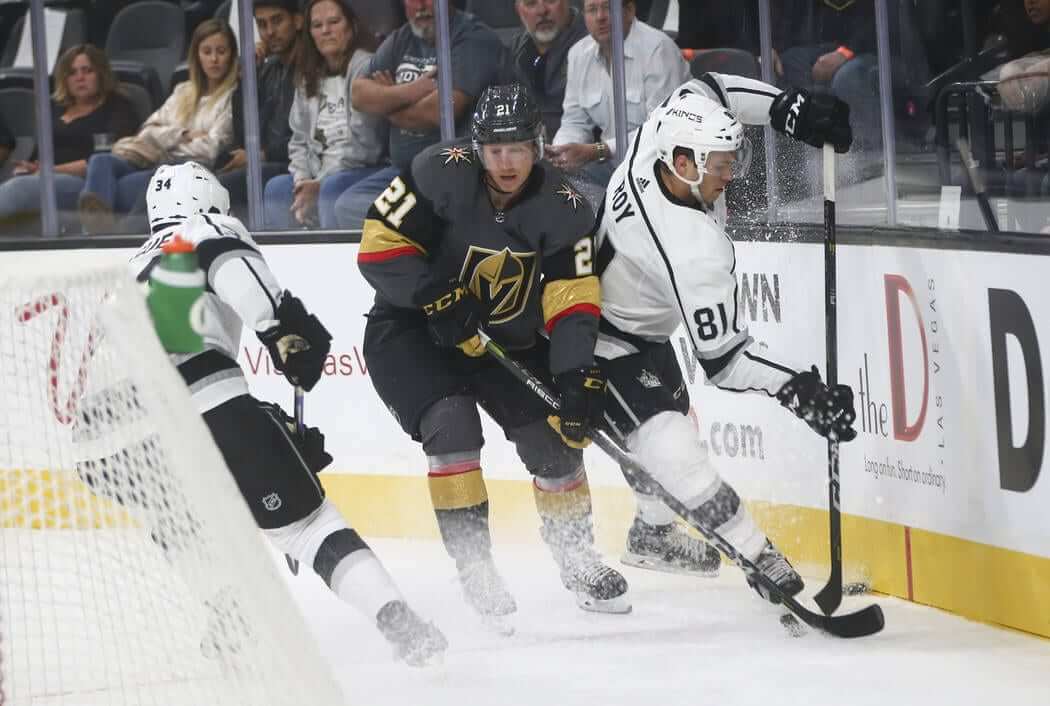 Click to enlarge
The NHL's regular season begins next Wednesday, which means it's time for my annual Uni Watch NHL Season Preview over on ESPN. With the league changing over from Reebok to Adidas, I've gone over each team's changes, plus we have a new uniform set in the league this year — the Golden Knights (shown above). Check it out here.
• • • • •
Very official: We rarely see good compendiums of officiating uniforms, so I was happy yesterday when a source at the NBA provided me with this diagram of NBA refs' uniforms, going all the way back to the league's founding in 1946 (click to enlarge):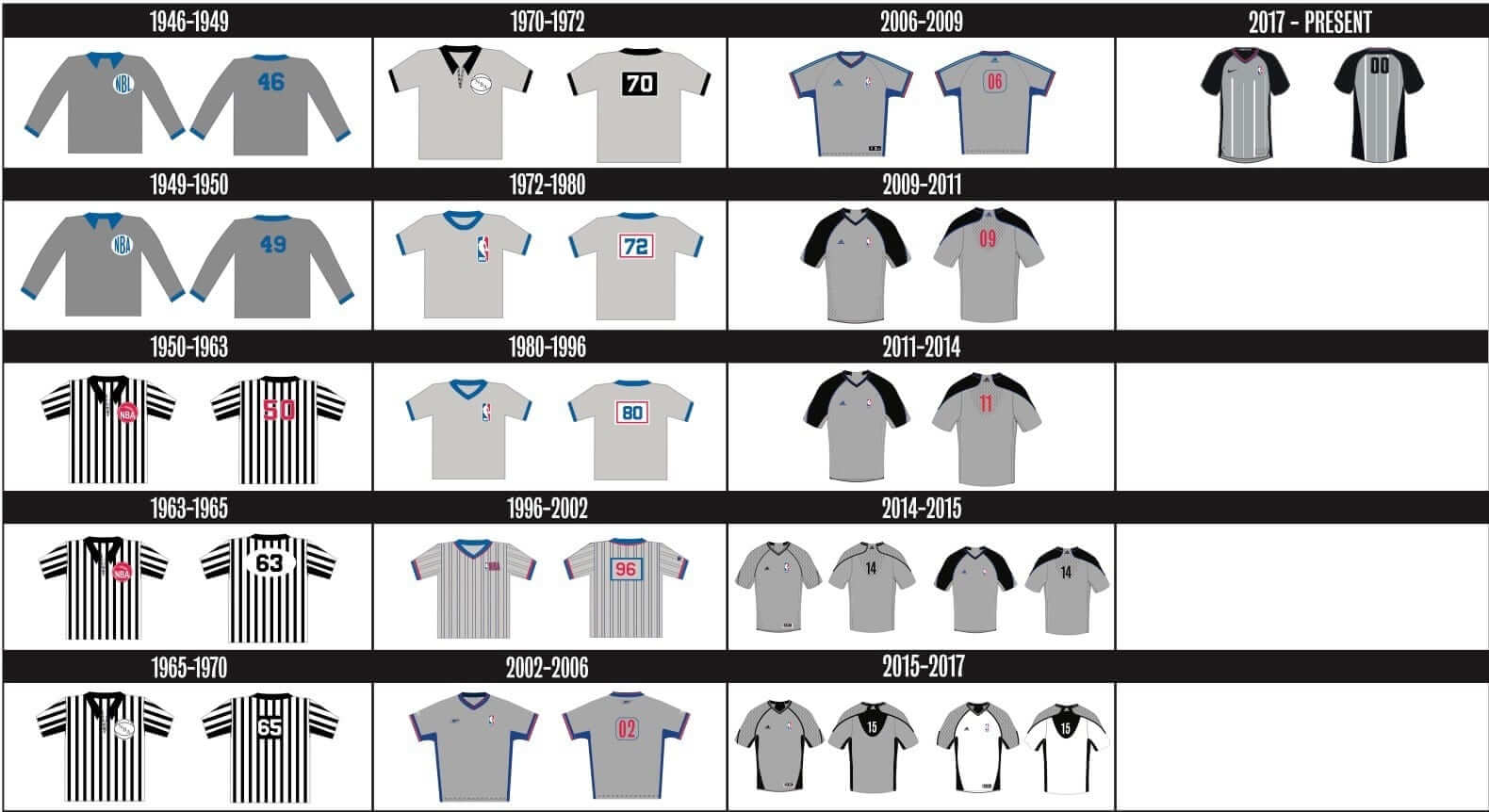 Some interesting stuff there, most notably the use of zebra stripes for two full decades. Also, note that the manufacturers' logo creep began appearing in 2002. Prior to that, according to my source, the manufacturers were Champion (1990-2002), Sand-Knit/MacGregor (1982-1990), and a hodgepodge of other suppliers (pre-1982).
As for the new jerseys being produced by Nike, let's zoom in for a closer look (click to enlarge):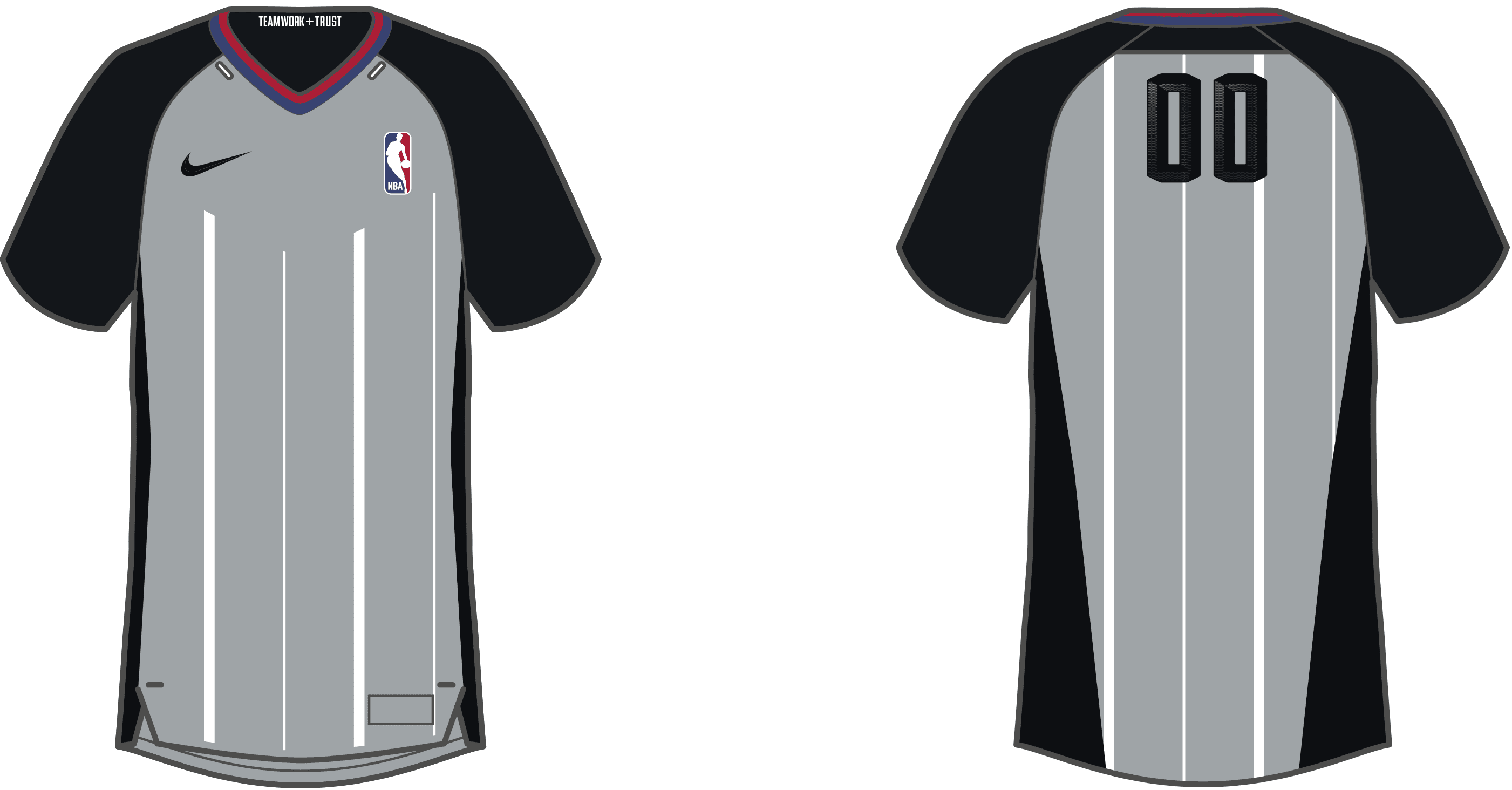 That's right — the inner-collar slogan has now made its way to officiating attire. Also of note: It appears that they're scrapping the white alternate jerseys, which had been worn in recent years when one team was wearing grey, to avoid confusion.
And how will these jerseys look on the court? Here's a hint, from a video game screen shot that someone recently sent me (click to enlarge):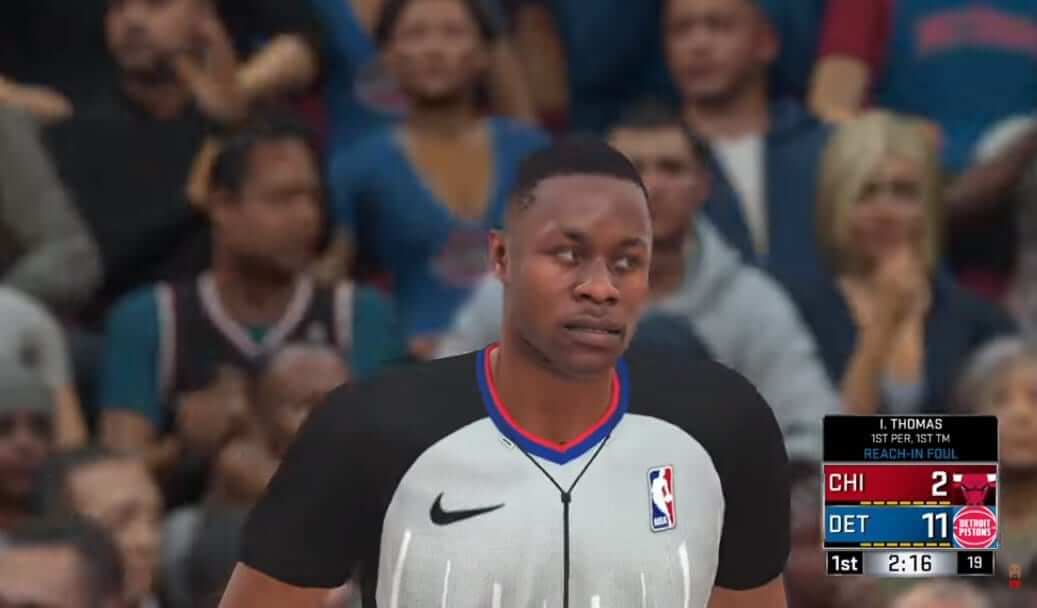 NBA preseason games begin this weekend, so we'll get to see the full view of the new uniforms then.
Speaking of officials' uniforms, the mighty Gridiron Uniform Database shows what pro football officials wore going all the way back to 1920. Aside from that, I'm not aware of any other sites with good documentation of refs and umps.
• • • • •
Artist's Series update: I'm very excited to show you our latest T-shirt from the Uni Watch Artist's Series. This one is by the great Sean Kane. If his name sounds familiar, it's because I've often written about his awesome painted baseball gloves. I figured he was probably a solid graphic designer in addition to being a fine artist, and I was right. Here's the T-shirt design he came up with (click to enlarge):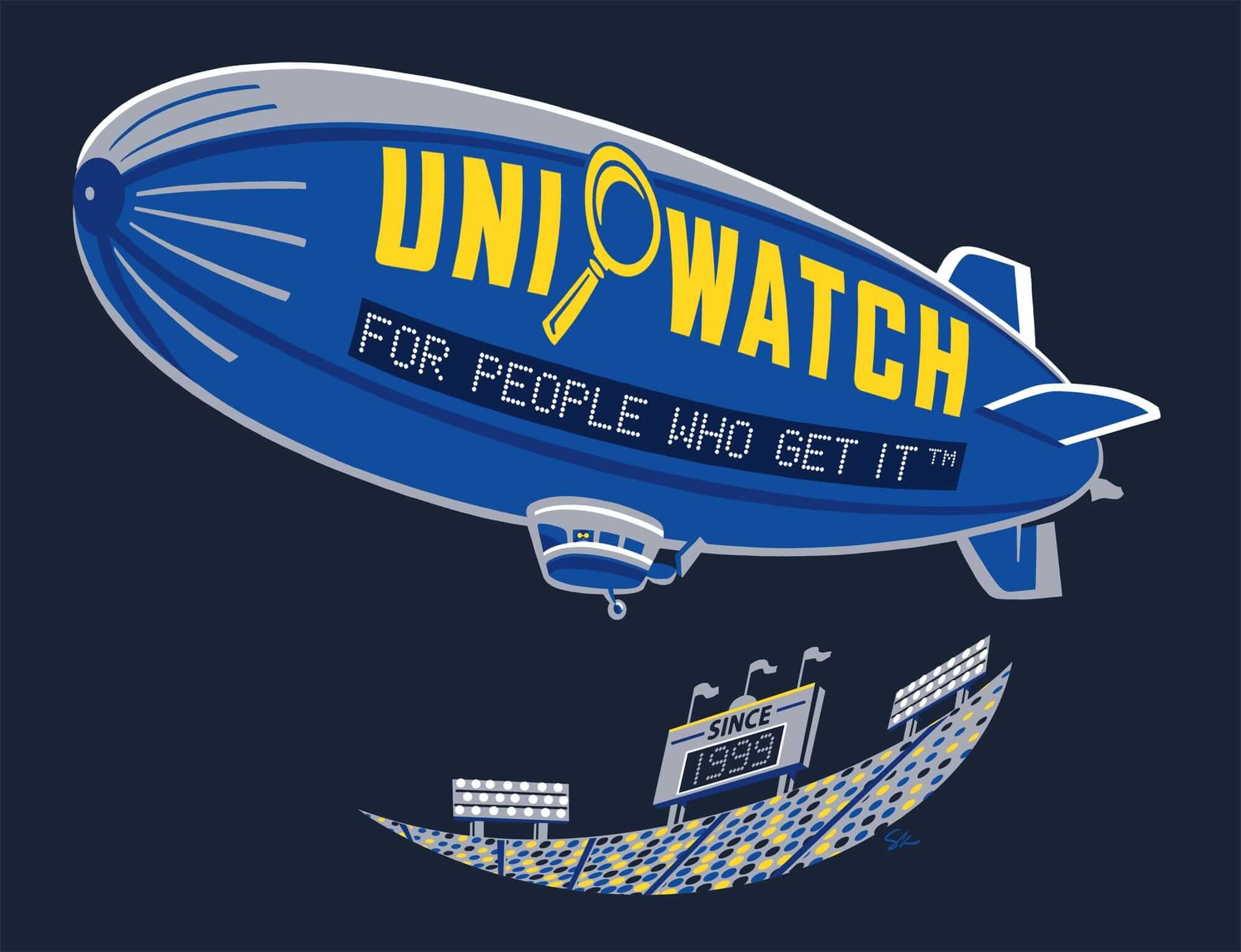 Pretty cool, right? I've been a fan of Sean's work for many years, so it was a treat to work with him on this. The design is pretty self-explanatory, but there are some small details worth noting. First, see those two little yellow dots on the gondola? That's a little guy looking out with binoculars. Here's a closer look: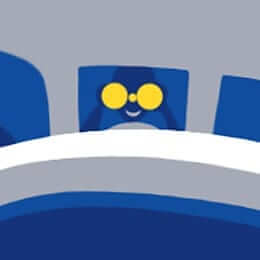 Also, see the dots that represent the crowd? Sean has arranged some of them to spell out "No Purple" in Braille:

We're offering this one in a variety of colors, most of which are dark (click to enlarge):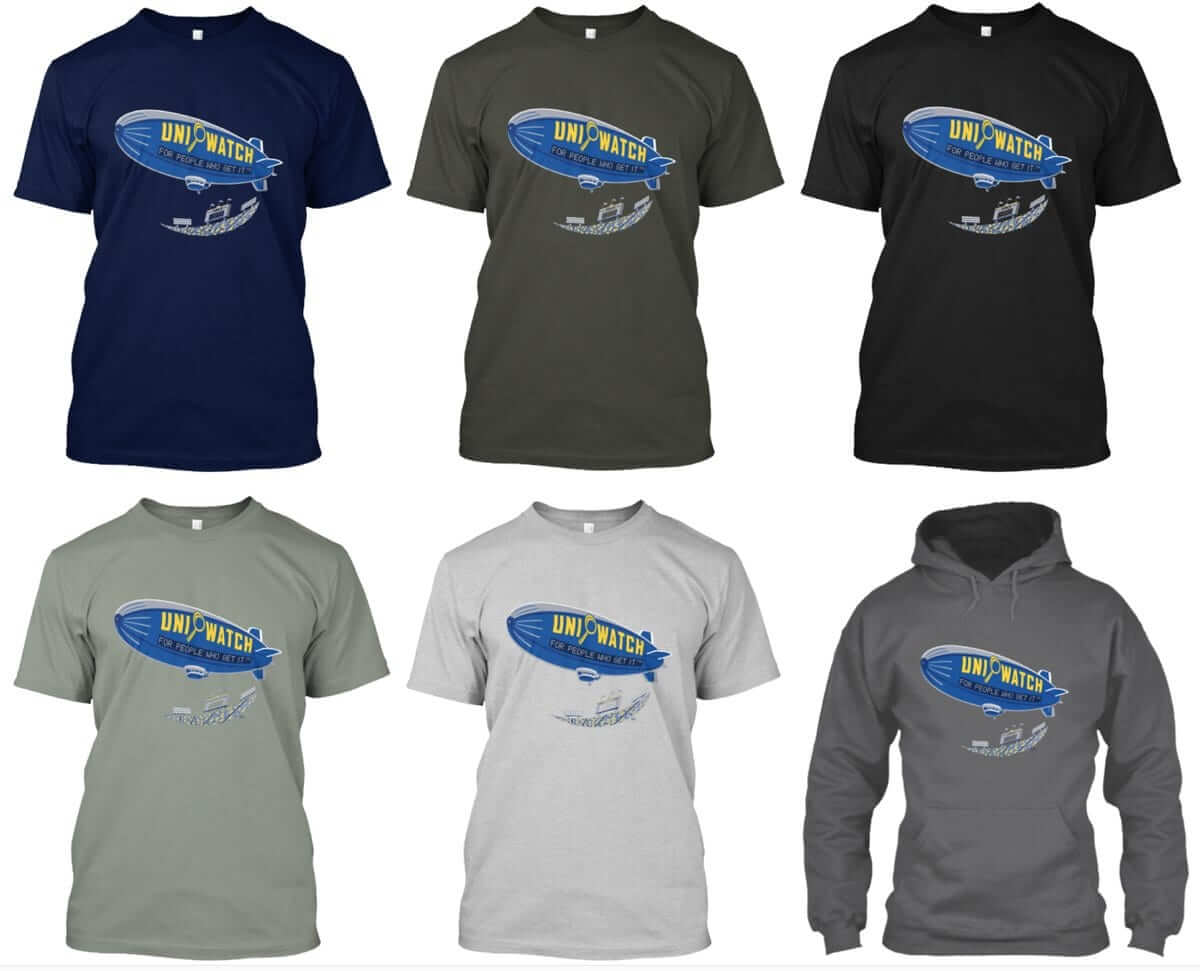 If you want the shirt in another color, I can do that for you. Just ask.
The shirt is available here through the end of Monday, Oct. 9. My thanks, as always, for your consideration (and doubleplusthanks to Sean for coming up with such a great design).
• • • • •
Naming Wrongs update: We also have a bunch of new Naming Wrongs shirts. One at a time:
1. Texas Stadium. Got a lot of requests for this one. It's available in royal, navy, white, and grey (for all images, you can click to enlarge):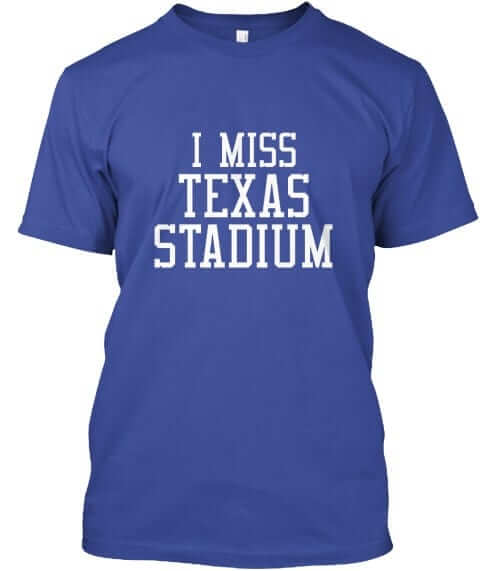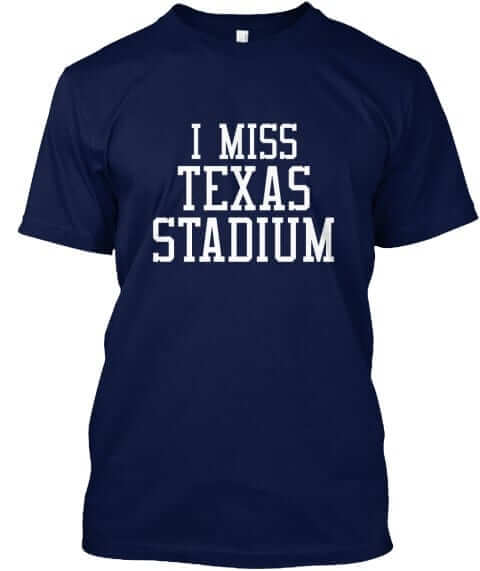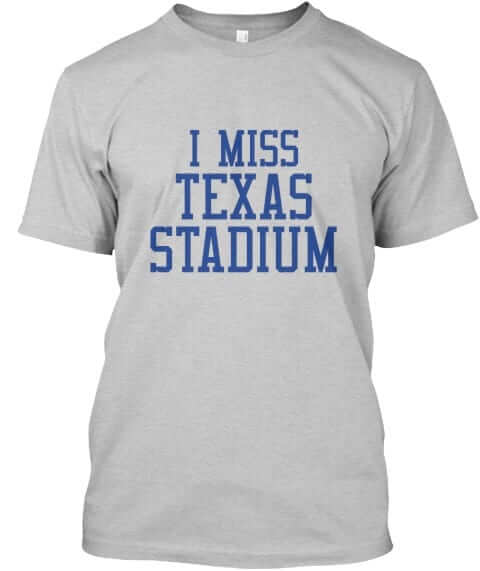 2. The O.B. At one point we had some "I Still Call It Joe Robbie" in Miami Hurricanes colors. But as several people pointed out, the 'Canes never played in that stadium when it had that name, so we've scrapped those shirts and replaced them with these, which are available in green, orange, white, and grey: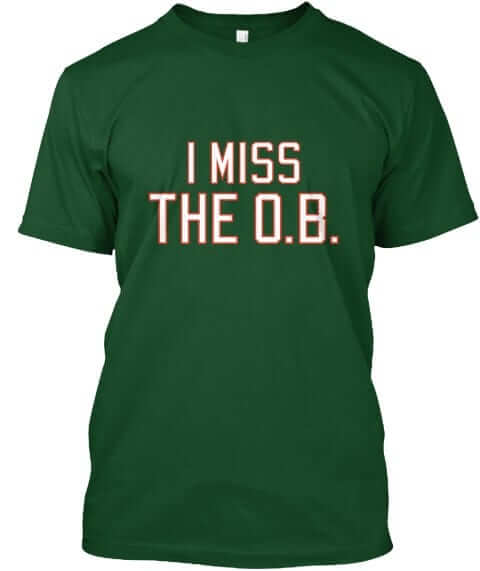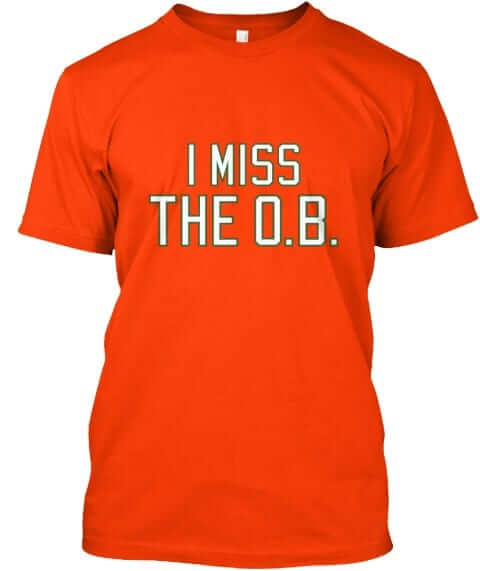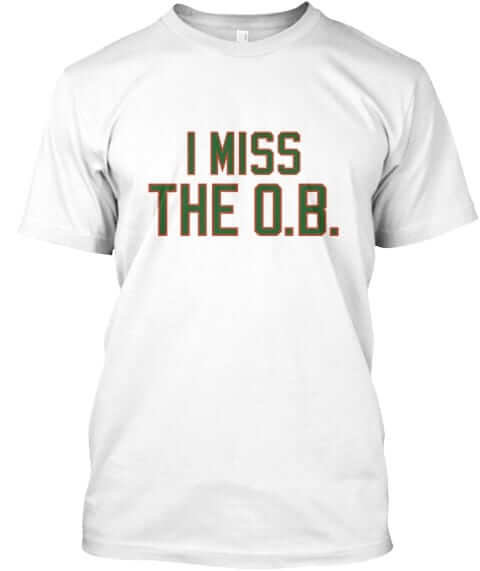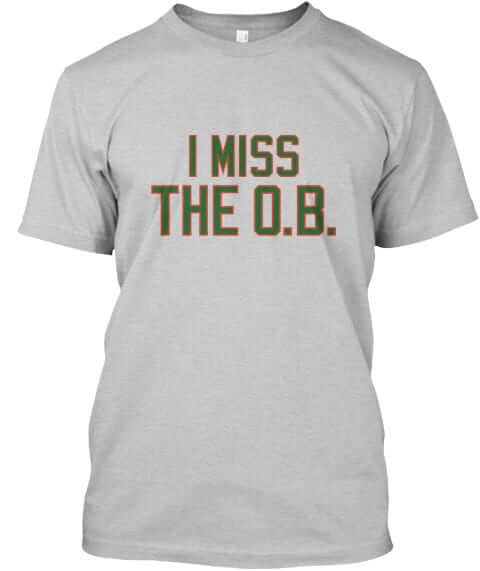 3. County Stadium. Got a groundswell of requests for this one, which is available in blue, grey, and gold: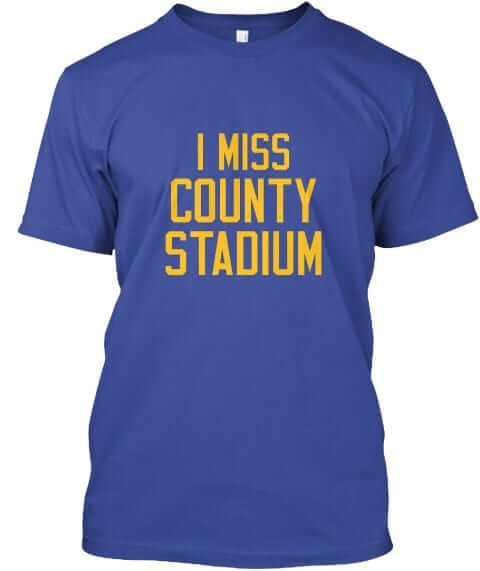 4. The Spectrum. Philly fans, this one's for you. It's available in orange, black, grey with black/orange type, white, blue, red, and grey with blue/red type):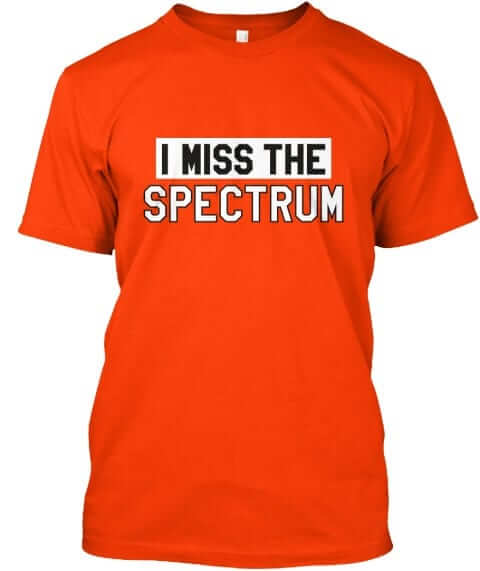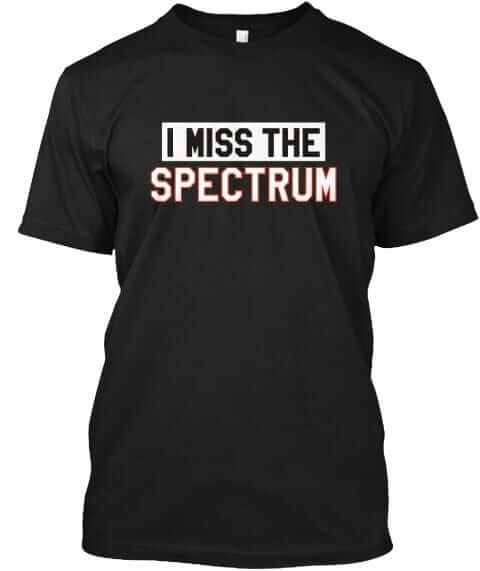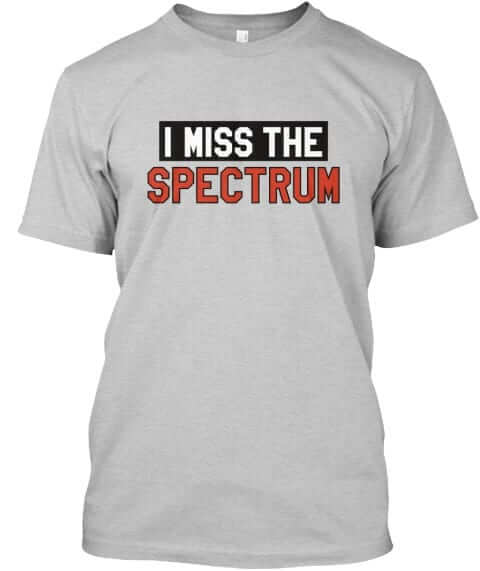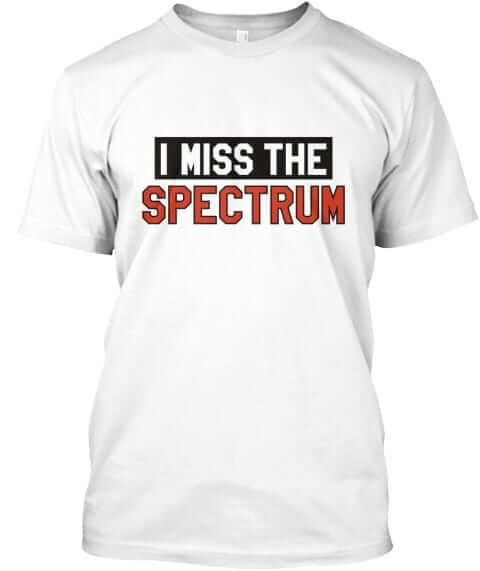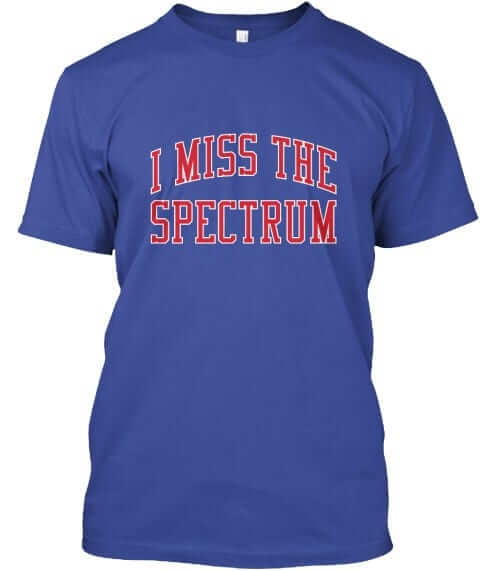 5. Mariucci. This one's for Minnesota hockey fans, available in maroon with gold/white lettering, maroon with gold lettering, gold with maroon/white lettering, gold with maroon lettering, and grey: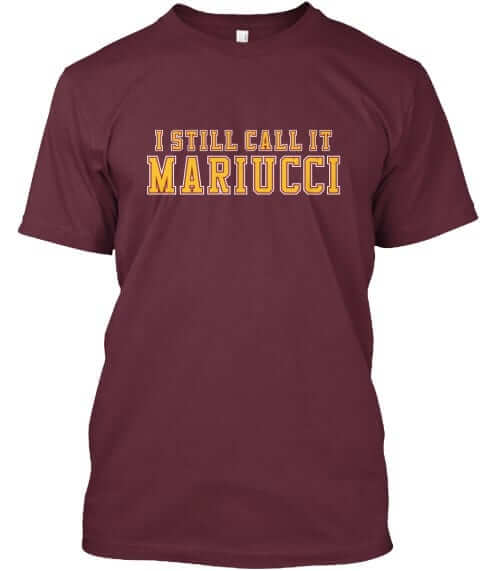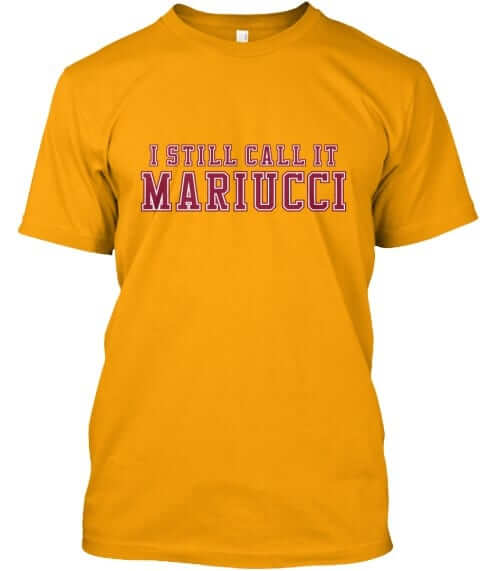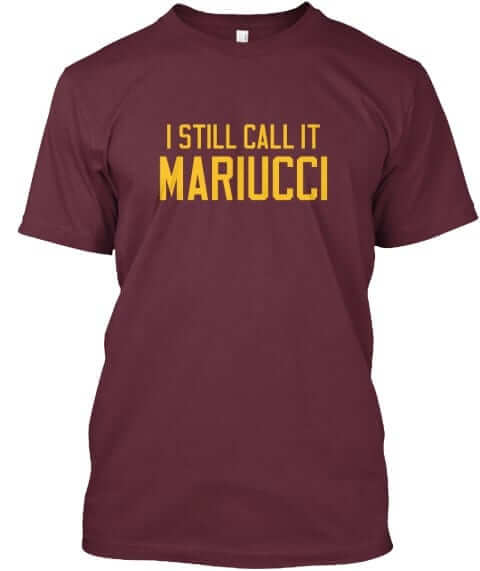 All of these designs are now available in the Naming Wrongs shop. They're also cross-listed in the Uni Watch shop, where card-carrying members can get 15% off. (If you're a member and need the discount code, send me a note and I'll hook you up.) Again, my thanks for your consideration.
• • • • •
The Ticker
By Kris Gross

Baseball News: Officials broke ground on the new Rangers' stadium yesterday. … Celtics F Gordon Hayward wore a personalized Red Sox jersey at Fenway last night (from Paul Friedmann). … Here is a look at all of the uniforms for the newly created Macon Bacon team (from Jim Vilk). … The US Naval War College will celebrate 100 years of baseball in the military by hosting a game that will pit Army versus Navy. They will play by century-old rules, and wear historically accurate uniforms (from Matthew Algeo). … Comedian Sarah Silverman shared this throwback photo of herself wearing a full 1980s-style White Sox uniform, stirrups included! (From Lucas Stoller.) … It's a little hard to see, but Peter Parker was apparently a Mets fan in Spider-Man: Homecoming (from Shasta). … BSmile passed along this "Go Yankees Go Pabst" beer sign from the 1950s. … Also from BSmile, check out Jay Johnstone's "Budweiser Brockabrella" on his 1984 Fleer card. … Ebbets Field Flannels has a new line of college baseball jerseys and caps.

NFL News: Here was your Thursday-night uniform matchup between the Packers and Bears. Additional photos here. … Also from last night, both teams locked arms during the National Anthem. … Bears head coach John Fox had a oversized bear-head logo on his jacket. Will every coach be wearing something like that this weekend? (From Blake Fox.) … The Jets are going all-white on Sunday (from WB Young). … The Bucs will also wear white. They'll be at home, which means their opponents, the Giants, will wear their seldom-used uni combo of blue jerseys with the grey road pants (from Kenny Saidah). … A Missouri bar used Colin Kaepernick and Marshawn Lynch jerseys as doormats, and he originally had them positioned so that the NOBs read "Lynch Kaepernick." The owner, who says "there was no ill intent," later reversed the positioning (thanks Brinke). … Christian Homay came across a Reggie White wall display. Except, this isn't Reggie White. … A funny note pointed out by Scott Mason: Every player active in the Lions/Falcons matchup with a single-digit number was named Matt.

College Football News: Iowa State unveiled their new cyclone helmet logo yesterday. They debuted the new helmets and wore grey pants against Texas last night. … Minnesota will have an American-flag themed helmet stripe this weekend (from @siebc1). … Did merit stickers start at Rutgers, not Ohio State? This article says yes (from Steve Woj). … North Carolina will go mono-blue on Saturday. As James Gilbert points out, the Tar Heels first went all-blue in 1988. … Here are this week's uniform combos for LSU (a rare sighting of the purple jersey) and NC State. … UMass will honor the 1972 Boardwalk Bowl team with throwback helmets this weekend (from Timothy Silvernail). … In light of the current college basketball scandal, Georgia Tech coach Paul Johnson finally appreciates being with Russell Athletic (from James Gilbert). … Virginia Tech S Terrell Edmunds will wear the No. 25 jersey to honor Frank Beamer this weekend (from Andrew Cosentino). … Great look for Georgetown marketing (from Josh Pate). … Western Michigan coach Tim Lester's son, Quinn Lester, is on the Ball State volleyball team. When WMU hosts Ball State this weekend, Quinn and the rest of the Ball State volleyball team will be in attendance — but they'll be wearing WMU colors. The elder Lester provided free tickets, but only if the volleyballers wore the home team's colors (from Jim Vilk). … If you go to the 55:25 mark of this podcast, you'll hear a lengthy discussion of the GFGS uniforms that Duke will be wearing this weekend (from Justo Gutierrez).

Hockey News: The fashion label Versace appears to have poached the old Canucks's spaghetti-skate logo. … The Huntsville Havoc of the SPHL unveiled their jersey designs for the 2017-18 season (from Mike Campos). … New jerseys for Robert Morris and Quinnipiac this season (from Alan Saunders, Josh). … Chris Mizzoni passed along these mugs for the 45th anniversary of the 1972 Summit Series between Canada and the USSR. … The Northeastern University hockey team will wear "JPG" patches this season to honor their former athletic director, Jack Grinold, who passed away in April (from Danny). … The logo for the 2018 AHL All-Star Game has been released. … New uniforms for the U. of Arizona club team (from Dane Drutis).

Basketball News: Cross-listed from the MLB section: Celtics forward Gordon Hayward wore a personalized Red Sox jersey at Fenway last night (from Paul Friedmann). … New home uniforms for Xavier this season. Here are the details for the new threads (from Kevin). … VCU has new home whites as well. … Nike's Elite Youth Basketball League is now part of the FBI investigation (thanks Paul). … The Baltimore Sun posted images from the Baltimore Playboy Club in the 1960s and '70s in remembrance of Hugh Hefner. One of the images was of then-Baltimore Bullets coach Buddy Jeannette, who is wearing a sweater with an old Bullets logo (from Will Shoken).

Soccer News: Hertha BSC had their advertising patch covered for their UEFA Europa League match. Teams aren't allowed to advertise betting or alcohol during UEFA tournaments, which conflicts with their current deal (from Ed Zelaski). … Here is a list of the best crests in North American soccer (from Ryan Keberly).

Grab Bag: Russell Athletic is getting out of the uniform business. … Dale Earnhardt Jr. had a black stripe under his left headlight at Richmond in 2002 in remembrance of R&B star Lisa "Left Eye" Lopes. Junior shared this article yesterday, which offers more information (from Scott). … Golfer Emiliano Grillo wore a Yankees cap as part of his Presidents Cup uniform (from Andy Garms). … I still call it PIR (from Mark Murray). … The James City County Police will wear pink badges for Breast Cancer Awareness Month (from Stephen Campbell).