Looks like Chief Wahoo is on the way out — although not right away. Cleveland Jewish News reported yesterday that Indians owner Paul Dolan addressed a Jewish group in Cleveland about a week ago and discussed the Wahoo situation:
[Dolan said,] "We were on some path towards a middle ground [regarding Wahoo], I don't know what that path was, and that's still where we're headed, but we're headed there faster than we've ever liked because the commissioner of baseball weighed in on this." Dolan said Manfred had reached out to the franchise about its logo, particularly after a Canadian lawsuit was filed against the team and MLB for using the logo during the playoffs against the Toronto Blue Jays in October. Dolan said he favors a reduced use of Wahoo without eliminating the logo, but he suspects the logo will be resolved one way or the other within a couple of years.
A few thoughts:
•  When Dolan talks about the situation being "resolved one way or the other," there's really only one possible outcome there: Wahoo getting the heave-ho. Any other situation would essentially be the status quo and wouldn't "resolve" anything.
•  Dolan's mention of Manfred is consistent with reports that emerged in January regarding Wahoo-centric discussions between the two men during the off-season.
•  Shortly after Manfred and Dolan met, Cleveland was named as the site of the 2019 MLB All-Star Game. Given that Manfred has been fairly explicit in stating that he'd like to see Wahoo be mothballed, the All-Star announcement led to widespread speculation that Manfred offered Dolan a deal (or, if you prefer, an ultimatum): "If you want the All-Star Game, get rid of that logo." I have no idea if that's true, and I'm generally disinclined toward conspiracy theorizing, but it does fit with Dolan's newly reported statement that the situation will be resolved "in a couple of years" — like, say, in 2019. Hmmmm.
•  •  •  •  •
Concepts by Angus O'Keefe and Cody Whitmore; click to enlarge
Helmets of the future? With the Braves having recently introduced MLB's first hydro dipped helmet, I was wondering how things might look if that trend spread to other teams. So I recently enlisted the help of Angus O'Keefe — the guy who recently did that project in which he reimagined all 32 NFL franchises as soccer teams — to create a bunch of MLB helmet concepts. A few of the results are shown above, and there are more in my latest ESPN column, which you can check out here.
•  •  •  •  •

Discount reminder: In case you missed it earlier this week, all Uni Watch membership cardholders are now entitled to a 15% discount on any of the merchandise listed in our Teespring store.
The discount code will be provided to new enrollees when they place their card orders. Existing enrollees can obtain the discount code by contacting me. Once I confirm that you are indeed a card-carrying Uni Watch member, I'll email the discount code to you. (If you want to include a photo or screen shot of your card, that would be helpful, but it's not required. I can look you up in my records.)
As always, you can sign up for your own custom-designed membership card here, you can see all the designs we've done so far here, and you can see how we produce the cards here.
• •  •  •  •
Click to enlarge
Henderson update: As I mentioned last Friday, Bill Henderson has released the latest updated edition of his essential MLB jersey guide. Here's Bill's rundown of what he's put in the new edition:
•  600+ new pages, with more than 650 others updated with new facts, better photographs and corrected information.

•  Every home/road/alternate team uniform change for every team since the 2015 edition.

•  Every new patch worn by each team, including all one-day memorials.

•  A photo-record of every St. Patrick's Day, throwback, and ethnic heritage jersey.

•  All of the new 2017 batting practice jerseys.

•  All of the 2016 and '17 spring training jerseys.

•  A new chapter covering the 1970 and '71 Washington Senators.

•  All of the Memorial Day, Independence Day, Mother's Day, and Father's Day uniforms for every year they've been worn, plus a preview of the 2017 designs.

•  The chapters for the Expos, Padres, and Royals have been extended back into the flannel era to reach back to 1969, so all of the uniforms from these teams' start in MLB are included. (The Brewers chapter also includes the 1969 Pilots.)

•  A new chapter with "Stitchers' Stories," featuring candid memories from a half dozen people on the inside who design and sew player uniforms.

•  Lots of newly discovered oddballs, prototypes and arcane details that we are known for in our obsessive quest for completeness.
Bill also provided me with about 75 assorted pages from the new edition, which I've uploaded into this document. If you've never seen Bill's guide before, it's a good primer; if you're already a fan, this will give a you a good sense of some of the new content.
As I've said many times before, I refer to Bill's guide almost daily "" not just for work, but because it's fun and fascinating. Brimming with info on patches, NOB styles, makers' marks, jock tags, throwbacks, one-off designs, prototypes, and lot more, it's an invaluable reference for anyone who cares about MLB uniforms. Since it's entirely digital, you can download it and start enjoying it immediately upon purchase. Even better, Bill is generously offering a 25% discount to Uni Watch readers "" use the code "LogoCreep" at checkout, which knocks the price down to $30. Get it here.
•  •  •  •  •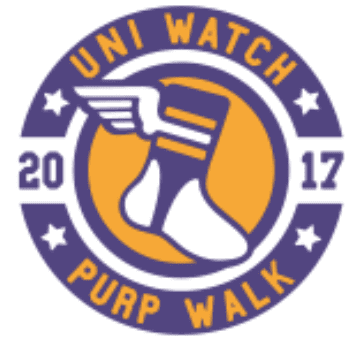 Purp Walk preview: Next Wednesday is May 17. That's the 11th anniversary of the site's first entry, which means it's also Purple Amnesty Day — the one day of the year that we accept orders for membership card designs that include purple. So if you're a Ravens, Vikings, Rockies, LSU, or Northwestern fan, get those membership orders ready! Once the 24-hour window closes, it will remain shut for another year.
And for the third consecutive year, we'll also have a purple shirt for sale. This one, like the ones from 2015 and '16, has been designed by Bryan Molloy. It's his entry in our 2017 Uni Watch Artist's Series, and it's a beauty. Dig (for all of the photos in this section, you can click to enlarge):
Nice, right? There are a lot of elements to this one, people, so bear with me here. One thing at a time:
•  The shirt, as you can see, is a raglan-sleeved baseball shirt. The torso color is a light heather grey, not white.
•  The logo on the shirt was inspired by the New York Athletic Club logo, but with purple lilacs instead of laurel wreath:
•  The shirt itself is super-duper-soft. Seriously, it's about the softest cotton shirt I've ever felt. I'd love to wear it 24/7 except for, well, you know.
•  Unlike our other shirts, this one will not be sold via Teespring. It will be sold via a page on Bryan's website. That's because…
•  Each shirt will include a hang tag, which will be attached to the shirt with a loop of purple-striped baker's twine. Bryan designed the hang tag and will be personally hole-punching all of them, threading the string through the holes, and attaching the strings to the shirts with little safety pins. Here's a closer look at the front and back:
•  Each order will also come with a Purp Walk sticker (quarter shown for scale):
•  Bryan will be personally packing each shirt in a purple bubble mailer with a purple Uni Watch sticker on the outside:
•  Because of all the extra bells and whistles, the price point is a bit higher than on most of our other shirts: $29.99. I realize that probably seems like a lot, but it actually leaves less of a profit than we make on most of our other merchandise. Basically, we really wanted to create a fun project (ideally one that's fun for you, not just for us), and extra fun sometimes costs a bit more.
•  Speaking of the price: Because this shirt is not being sold on Teespring, it does not qualify for the 15% discount that card-carrying Uni Watch members can get on our Teespring product. HOWEVER, we may offer a membership discount on this shirt, but only for people with purple membership cards. Still finalizing the details on that. Stay tuned.
•  As usual, the shirt will only be available for 24 hours — from midnight to midnight, Eastern time, next Wednesday. No exceptions!
I think that's it. Oh, and although I said "we" a lot, Bryan deserves most of the credit for this one. It was his concept, his design, his idea to add all the extra elements, and he nailed all of them. I needed to do less art direction on this project than I've done for just about any other shirt. Great job, Bry!
Oh, and just to complicate things, I have to run to Manhattan on Wednesday afternoon and get my head scanned for a custom-fitted football helmet (more on that later), but I'll do my best to stay on top of purple membership orders. Should be the best Purp Walk yet!
•  •  •  •  •
The Ticker
By Mike Chamernik

Baseball News: The Cubs and Rockies wore their alternates yesterday for a blue-vs.-purple matchup. … Pirates players, coaches and staff are wearing JAMO #50 wristbands for pitcher Jameson Taillon, who underwent surgery for suspected testicular cancer (from Jerry Wolper). … In 1995, the Tigers introduced a NNOB dark blue alternate for Sunday home games. The jersey was only worn once, though, in a game in May against Boston. David Bailey found a news clipping and a rare game photo. … The Blue Jays' Kevin Pillar, known as "Superman" for his full-extension diving catches, has a Superman-Blue Jays logo combo T-shirt (from Jerry Wolper again). … The Orioles will give out Manny Machado Starting Lineup figurines on June 3 (from Andrew Cosentino). … There had previously been word of a New York city councilman sponsoring a bill that would extend the netting to the far end of the dugouts and NYC ballparks. But now the proposed legislation calls for the netting going all the way to each foul pole. … Here's an article about Leatherhead, the New Jersey company that makes handcrafted vintage leather baseballs, basketballs, footballs, and soccer balls (from David Goodfriend). … Lawrence University in Wisconsin wears Nike jerseys and Under Armour caps (from Steven Gates). … The Blue Jays used to have team-branded snacks for sale at Dominion, a Canadian supermarket chain (from @BSmile). … The Orioles will be wearing a cap with a Maryland flag-patterned brim on May 20. According to their promotional schedule, they're doing a giveaway of a Maryland flag script jersey on that date, so maybe they'll be wearing that as well (from Ben Matukewicz).


NFL and College Football News: The Rams will wear their blue-and-yellow throwbacks on Dec. 31 against the 49ers (from Phil). … The Jaguars and Texans have switched to the new Nike jersey collar template. (from Alex Lawler and Patrick Evans). … The NFL seems to be relaxing its anti-gambling stance, as a casino, Gila River Gaming Enterprises, will meet with the Cardinals to discuss naming rights for their stadium (from Brinke). … To build team chemistry, the new 49ers coach and GM reorganized locker assignments and commissioned a painted mural of 49ers legends in the hallway outside the locker room (from Brinke). … Big Ten officiating crews wore nifty white jackets and pants back in the 1960s (from Adam Kneisler). … The website for the French clothing brand Unkut has, at the bottom of the page, a photo of a guy wearing a hat with what appears to be the Raiders' logo, but with the leatherhead raider replaced by a skull and crossbones. The company also sells a sweatshirt featuring their own brand-adapted version of the NFL logo (from Gabe Oppenheim).

Hockey News: A grain producer in Alberta cut a "Let's Go Oilers" message in his fields. … Russia president Vladimir Putin was in full uniform when asked about the FBI shakeup before he took the ice for a rec league game the other night (from Mark Johnson).

NBA News: Here's what might be a sneak peak of the new NBA replica jerseys (from Conrad Burry). … An Italian chef makes sushi, or Shoe-shi, versions of NBA sneakers.

Soccer News: A bunch of items from Patrick Thomas: Manchester United has a new away jersey, and a new block font for Cup competitions. New home and road unis for Lyon. And, the new FC Bayern home kit may have been leaked. … New home, away, and third kit for Mainz, a German club (from Ed Å»elaski). … Also from Ed: The German club 1. FC Lokomotive Leipzig will wear a special yellow kit, with a graphic of the Sachsenpokal trophy on it, for the 2017 Sachsenpokal final against Chemnitzer FC. … An amateur team in the US Open Cup has a logo that blends Aztec and Colorado visual motifs (from Drew Steinhart).

Grab Bag: From Reddit yesterday: a look at how the donut hole had shrunk between the 1920s and 1940s. … PGA golfer Billy Hurley III has a new bag that is designed like the USS Chung Hoon. He served a tour of duty on the destroyer when he was in the Navy last decade (from Jeremy Fallis). … Formula 1 teams are now required to have some form of driver ID on the shark fins and larger numbers on the car's nose starting this weekend with the Spanish Grand Prix. The Haas and Mercedes teams showed their updated designs (from Omar Jalife). … Adidas has agreed to sell off its golf brands, TaylorMade, Adams Golf and Ashworth, to KPS Capital Partners for $425 million. Adidas golf revenue dropped to $500 million last year from $1.7 billion in 2012 (from Brinke). … New logo for US Sailing. … New jersey advertiser for the rugby union team Northampton Saints (from @stumpy7780).
•  •  •  •  •

What Paul did last night: There's a new documentary about Bert Berns, one of the great music hitmakers of the 1960s, who wrote and/or produced a ton of great songs during an extraordinarily prolific five-year burst, including "Twist and Shout," "Piece of My Heart," "Hang on Sloopy," "Under the Boardwalk," "Brown-Eyed Girl," and a bunch more. I saw it yesterday and am happy to report that it's one of the most enjoyable documentaries I've seen in a long time.
The trailer, embedded above, does the fairly obvious thing by showcasing the movie's talking-head interviews with Paul McCartney (who actually gets very little screen time), Keith Richards (even less), and Van Morrison (a bit more, but still not much). I understand why they wanted some star power, but those are easily the least interesting parts of the film. Like a lot of the great New York-based writer-producers of that era, Berns was an outer-borough Jew who had (a) a surprising affinity for working with black singers and (b) Mob connections, both of which make for some compelling storylines. Toss in an extremely brassy widow, some less-than-fully-scrupulous record execs, and some of the greatest R&B talent that ever lived and you have all the characters you need for a highly entertaining biography. Great soundtrack, too. To see if the film will be playing soon in your town, look here.