Click to enlarge
It's always a great day when Bill Henderson unleashes a new edition of his awesome MLB jersey guide. Today is one of those days.
I'll have more to say about the new edition of Bill's guide soon — probably next week. For now, I'll just say this:  If you care about MLB uniforms, the guide is absolutely essential. I refer to it almost daily — not just for work, but because it's fun and fascinating. It isn't perfect (only covers the polyester era, no coverage of caps/pants/socks), but it's absolutely encyclopedic in its coverage of post-1970 jerseys, with detailed information on patches, NOB styles, makers' marks, jock tags, throwbacks, one-off designs, prototypes, and lot more. Although Bill conceived of it as a guide for collectors, it's really an invaluable reference for anyone who cares about MLB uniforms.
The guide comes as a downloadable PDF, so you can start using it right away. Even better, Bill is generously offering a 25% discount to Uni Watch readers — use the code "LogoCreep" at checkout, which knocks the price down to $30. Trust me, that's a bargain. Get it here.
•  •  •  •  •
Click to enlarge
Friday Flashback: I have a Friday Flashback piece today that looks back at NBA players who've worn the captain's "C" (including the 10 players who've done so for the Bucks, by far the most of any team). Check it out here.
•  •  •  •  •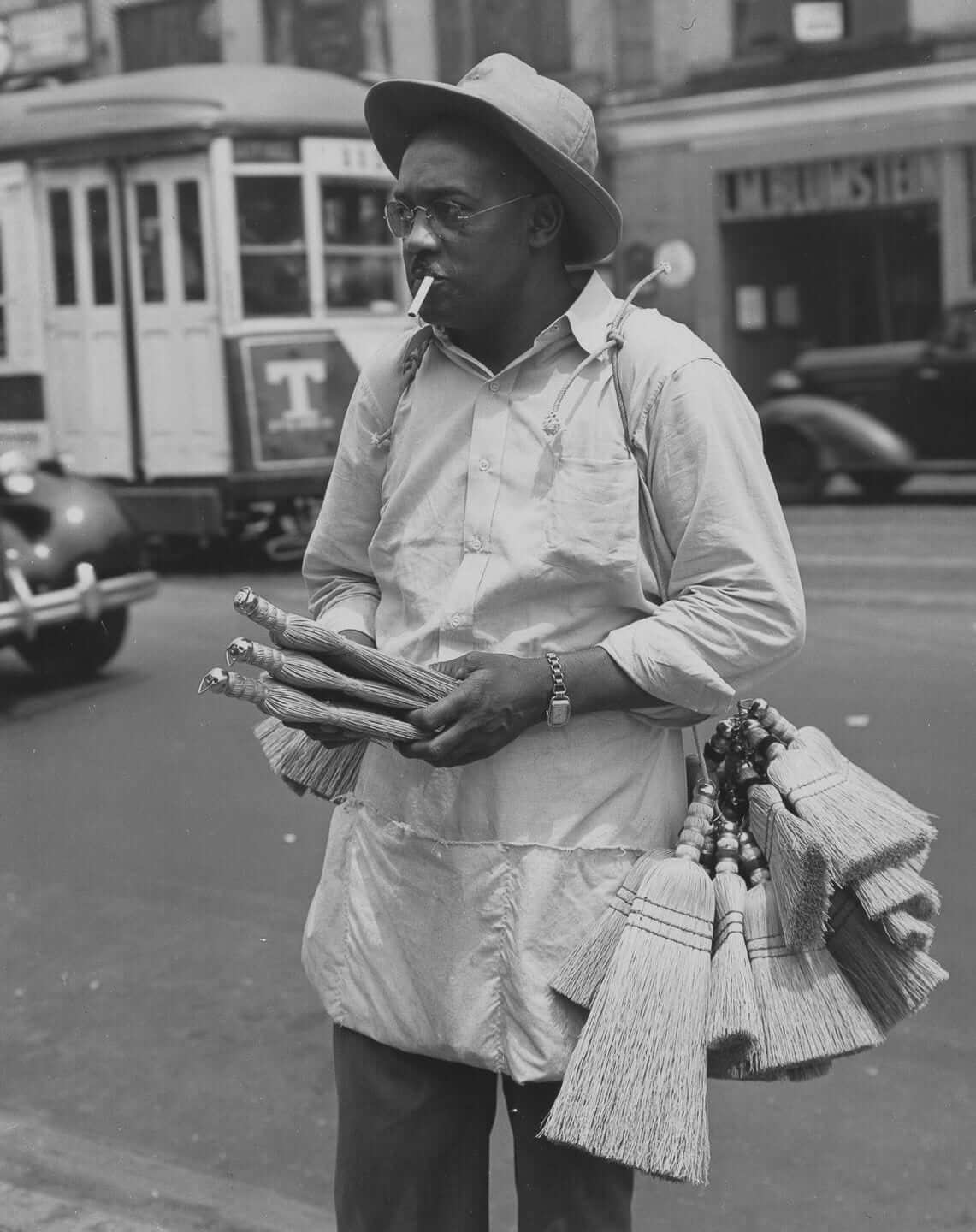 Click to enlarge
Best click you'll make all day: There are dozens of "photos of old New York" slideshows out there, but I've rarely seen any as good as this one, featuring lots of spectacularly good shots taken by photographer Todd Webb in the 1940s (including the shot of a whisk broom peddler shown above). Sooooo much great stuff, including beautiful business storefronts, a peanut vendor, a "fat men's shop" advertisement, a window sign that says, "Tailor is dead, but business will be carried on as usual by son," and a lot more.
If you like these shots and are in the NYC area, there's a new exhibit of Webb's work at the Museum of the City of New York. I plan to check it out soon.
(Big thanks to Patrick O'Neill for the tip.)
•  •  •  •  •
Culinary Corner: Tomorrow is the first Saturday of May, which means it's time for the Kentucky Derby. And that means I'll be making the dish I always make for the Derby: a derby pie.
Technically speaking, you're not supposed to use the term "derby pie," because that's a registered trademark of some annoying people in Kentucky who insist that they own the name and love to send their lawyers after anyone who thinks otherwise. (They even sued their own chocolate chip supplier, Nestlé, for printing a "Tollhouse Derby Pie" recipe on the chip package.) So you'll often see wink-wink names like Triple Crown pie, race day pie, winner's circle pie, and so on. But screw all of that — derby pie belongs to the people. It's also really easy to make. Here's how to do it:
If you know how to make pie crust, make some dough and use it to line a 9-inch pie pan; if you don't know how or just can't be bothered, get yourself a frozen 9-inch pie shell.
Set your oven to 350 degrees. While it's heating up, get a big mixing bowl and beat together four eggs, a cup of light corn syrup, 3/4 cup of light brown sugar, and 1/3 cup of melted butter. Then add 3 tablespoons of decent bourbon (or maybe a smidge more than that, if you're so inclined), a tablespoon of vanilla extract, a tablespoon of flour, 6 ounces of chocolate chips, and a cup of chopped walnuts.
Mix all of that together, pour it into the pie dough or frozen shell, and pop it into the oven for an hour. It'll puff up high like a soufflé, but it'll settle back down while it cools, which you should allow it to do for at least another hour.
It's standard to serve each slice with a dollop of whipped cream, although I frankly think that's unnecessary — the pie is rich enough on its own. Less traditional and even less necessary, but nonetheless delicious: this bourbon sauce, which is pretty much the bomb.
I assure you there won't be any leftovers.
•  •  •  •  •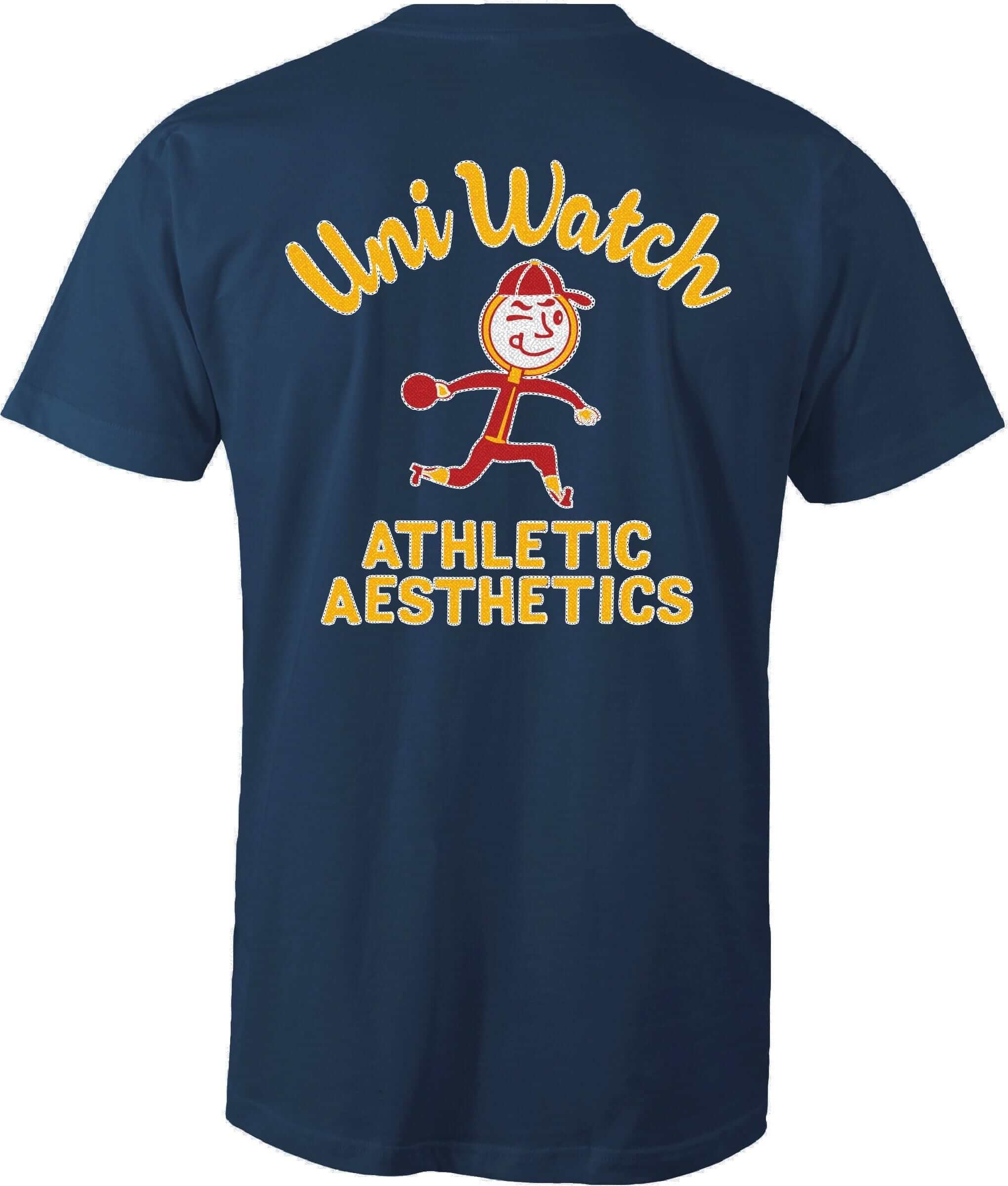 Merch update: My thanks to everyone who ordered the bowling shirt tee. We sold 97 of them, the highest total for any of our Artist's Series designs so far. They should start shipping next week.
Meanwhile:
•  Designer Bryan Molloy and I have something very special planned for Purple Amnesty Day, which is coming up on May 17. I hope to be able to give you a sneak peek before then. As always, the shirt we're offering will only be available for 24 hours. More details soon.
•  Yesterday I saw samples of our next set of StripeRite sock designs, and they look really good. We're at the mercy of the mill regarding the time frame, but we hope to have this batch available by the end of June. We will not be doing pre-orders this time — we'll just take orders when the socks are in stock. I'll provide a sneak peek soon (probably next week) and keep you posted. Meanwhile, the first two batches are still available here and here.
•  In case you missed it earlier this week, a bunch of our old T-shirt designs, along with some cool coffee mugs and other items, are now available in this online shop. Most of the shirts come in a range of colors and styles (long-sleeved, hoodies, etc.), and almost all of the mugs come with a lot of color options, so don't be fooled by the thumbnail photos "" click around and explore to see the full range of possibilities.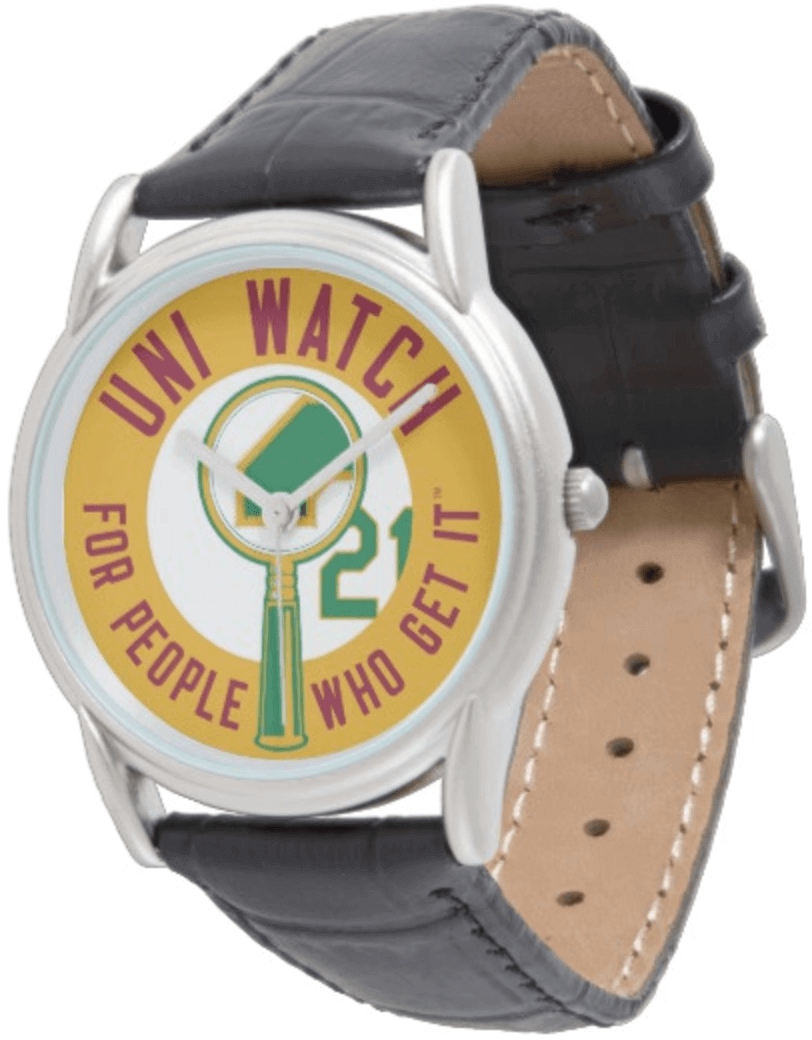 •  I had previously made a Uni Watch wristwatch available (mainly because I think it's fun to say, "Uni Watch watch"), but the hands on the watch face were kind of stubby and over-stylized. I'm happy to report that there's now a new version with more conventional hands, and you can also get it with our caricature logo.
My thanks, as always, for your consideration.
•  •  •  •  •
The Ticker
By Paul

'Skins Watch: Back in the 1920s, there was a high school in Renton, Wash., whose basketball team included a Native American player named Henry Moses. Rival schools teased the team and derisively called them the Indians — so the school, in a show of support for Henry, officially adopted that name for its teams. The team name has become increasingly loaded over the years, especially as the school has used various cartoon mascots. At one point, back in the 1970s, there was some talk of changing the team name, but Henry's widow requested that they keep it. It's a really interesting, complicated story, nicely told in this radio report (big thanks to Markus Kamp).

Baseball News: Looks like Yankees P CC Sabathia was wearing no-show socks two nights ago (good spot by Scott Morell). … I already have a copy of the 2001 MLB Style Guide. But if you want one, there's a copy available for sale on eBay. The same seller also has a 1997 World Series style guide (don't have, don't want), a 1996 spring training style guide (don't have, don't want), and, most intriguingly, a 1999 MLB mascot style guide, which I'd totally buy if the price were more reasonable. Here's hoping these all end up in the hands of Uni Watch readers (thanks to @DisMagicBands for the tip). … The Yankees will be retiring Derek Jeter's number on Mother's Day, which means they'll be wearing a pink-trimmed cap with a Jeter side patch (from Steven Hom). … Yesterday's Ticker included a mention of the Yankees using little uni-number stickers on their underbrims. That prompted commenter "Random Reader" to say that the Mets had been doing the same thing. I expressed surprise, because I watch a lot of Mets games and hadn't noticed this, but sure enough, it looks like they are (big thanks to Steve Dodell and Paul Deaver).

NFL News: A wrestling club in Georgia has adopted the Patriots' Flying Elvis logo (from Austin Gillis). … Dog bites man: Nike's latest football cleat features neon trim and an embarrassing name. … Here are the uni number assignments for the Bears' and Ravens' draftees (from Rahul Chatterjee and Will Shoken, respectively). … You can see some of the Pats' new numbers, too (from Robert Hayes).

College Football News: A long time ago — maybe in the '60s? — a Florida State player created a makeshift helmet by bolting a facemask to his motorcycle helmet, which he spray-painted gold (rare non-UNC item from James Gilbert).

Hockey News: Buried within this article is the following story: " When [the Devils' colors] went from red and green to red and black, in July, on the cement floor at the Meadowlands, Lou Lamoriello put the prototype jerseys on some of the office staff and some of his lieutenants went up on the second tier. He had them walk around on the cement floor. He wanted to see whether they could read them" (from Jerry Wolper). … If you heard any rumors about the Norfolk Admirals changing their name, those rumors are false (thanks, Mike). … Check out Rangers C Oscar Lindberg wearing a postgame cap with his number, 24, inside the outline of the Stanley Cup (from Alan Kreit).

College Hoops News: Pieces of the old New Mexico State parquet court are being auctioned off tomorrow, with proceeds going to benefit the school's men's basketball and volleyball teams (from Kenny Ocker).

Soccer News: The Champions League could end up with two teams with Red Bull-advertised jerseys. … New uniforms for Celtic FC (from Ed Å»elaski").

Grab Bag: Here's an interview with a photographer who's been documenting old drive-in movie theaters — some active, some abandoned. Great stuff. … One of the all-time great style guides, the 1977 EPA Graphic Standards Manual, is being reissued. … Did you know there's a website devoted to tracking player injuries in the various sports? There is! … Clickbait: Here's a TV station's list of the 10 worst uniforms in Arizona sports history (from Mark Firkus). … Some amazing posters and graphics from the Russian revolution in this blog post. Don't miss the little slideshow at the bottom — tremendous stuff. … Here's a look at McDonald's uniforms through the years (from Bud Hardcastle). … "Fernando Alonso, McLaren's F1 driver who will be running this year in the Indy 500, changed his helmet for his Indy test on Wednesday, from this to this," says Omar Jalife. … New logo for the upcoming Aquaman movie. … The World Trade Organization has upheld Australia's right to mandate that tobacco products be packaged without any logos or branding. … Adidas shares hit a record high yesterday (thanks, Brinke). … Football Canada — that's the country's national governing body of amateur football — has a new logo. … The Arizona Board of Regents is suing a company that makes Arizona State-bashing apparel. … Caps without the New Era logo creep continue to appear here and there in various dugouts (from Ryan Wetstein). … South Korean political rallies feature dancing teens wearing varsity jackets. Sure sounds better than our political scene! (From @GKG_77.)
•  •  •  •  •
Happy Cinco de Mayo to all who are celebrating today.