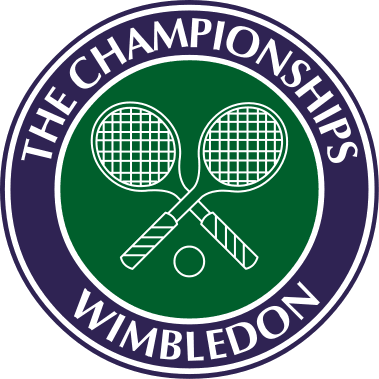 Last Friday I had an ESPN column about Wimbledon's dress code. Once the column was published, I posted the link to it on Twitter.
About 20 minutes later, someone named Lucas Cayce responded to my tweet by saying, "You know, it's Wimbledon, not WimbleTon." For a second I panicked, thinking there'd been a typo in my tweet, or in the headline of the story, or in the text. But I checked all of those, and the spellings were all correct. So I wrote back to him, asking what he was referring to. He said, "No, it's not a typo. But you're pronouncing it wrong in your video."
About two dozen similar comments came in via Twitter and email over the next day or so. Everyone agreed: I'm so fucking stupid, I don't even know how to pronounce the name of the world's most prestigious tennis tournament.
And guess what: They're right.
First, some quick context: I don't follow pro tennis like I once did, but I watched a lot of televised tennis from about 1975 through 1990. Like, a lot. I think it's fair to say that I've heard the word "Wimbledon" spoken by professional broadcasters many thousands of times. I've also typed it countless times, and I certainly know how it's spelled. In short, it is not an unfamiliar word to me.
But somewhere along the line — I don't know when or why — I internalized the notion that the last syllable is more "ton" than "don." That's how I say it — not with a super-hard "t" sound, but definitely with more of a "t" than a "d." When I type the word, I even instinctively note that it isn't spelled the way it sounds — or at least not the way it sounds when I say it.
After being ridiculed for the mispronunciation in my ESPN video, I turned on the TV and watched some Wimbledon coverage. Sure enough: "don." Oddly, it was like I was hearing it for the first time. How had I not noticed that everyone was pronouncing this word differently than I was? It's almost like my brain just filled in the last syllable for all these years, making it sound the way I think it's supposed to sound.
Of course, I'm not the only person who's ever mispronounced something. In fact, there are certain words that lots of people mispronounce. But "Wimbledon" is my personal glitch, a word that everyone else seems to get right but that I get wrong.
Or at least most other people get it right. Once I started looking, I discovered I'm not alone. Deadspin did a piece on Wimbledon (mis)pronunciation in 2012, and I also found several message board threads devoted to the topic. This one provides a useful mnemonic: "A simpleton says Wimbleton."
It's all a bit embarrassing, but other people have their own glitches. Small example: WFAN sports talk radio guy Mike Francesa has the longstanding habit of pronouncing the word "worry" as "werry" (as in "I wouldn't werry about that" or "The Mets have to be werried about the way Matt Harvey's been pitching"). He also has a thick New Yawk accent that's become almost a self-parody, but the "werry" thing is different — it's not accent-driven and seems to be its own little quirk, distinct from his other spoken mannerisms. Francesa is a successful professional (and, for all his bluster, is a very skilled and nuanced vocalist), and I'm sure he's been made aware of this odd vocal tic that he has, but for whatever reason he keeps doing it. When he hears other people say, "worry," does he mistakenly hear it as "werry"? Or, conversely, when he says, "werry," does he mistakenly hear it coming out of his mouth as "worry"?
(As an aside, Francesa also consistently mispronounces Giants pitcher Madison Bumgarner's surname as "Baumgarner." That's particularly interesting because I'm pretty sure that "Baumgarner," spelled with the "a," is a more common surname than "Bumgarner." So it's almost like Francesa's mind's eye is adding the "a" that he thinks should be there, and then he's pronouncing it the way he thinks it should be spelled.)
But while Francesa seems unwilling or unable to stop saying, "werry," I'm going to do my best to start pronouncing Wimbledon correctly. Here's hoping I can do it without needing my own personal Professor Higgins.
Incidentally, I mentioned all of this to the Tugboat Captain, who was in the next room when I recorded that ESPN video. She said, "Oh, yeah, I heard you doing that, and I thought it sounded kinda funny. But I didn't say anything because I figured, you know, you're the sportswriter."
•  •  •  •  •
Drip … drip … drip: Two months ago I wrote about how MLB game recaps often substitute fantasy for reality by reporting the number of tickets sold as the number of people who were actually in the ballpark. A few weeks after that we discussed how the Padres are substituting fantasy for reality by having the national anthem performed by lip synchers instead of real singers.
Now comes word that PBS substituted fantasy for reality two nights ago during its "live" broadcast of Fourth of July fireworks from Washington, DC. It was an overcast night in Washington, which would have made the pyrotechnics spectacle a bit less spectacular, so PBS swapped in some old stock footage and didn't tell anyone, but viewers in DC figured it out immediately, leading to a shitstorm on social media. (PBS promptly owned up to the bogus footage but made things worse by saying that fudging reality "was the patriotic thing to do" — a breathtakingly cynical excuse for an ethical lapse, and a handy confirmation of Samuel Johnson's old line about patriotism being the last refuge of a scoundrel.)
Is any of these incidents, taken in isolation, a big deal? Probably not. Taken together, though, they constitute a trend of institutions substituting fantasy for reality. And the trend goes way, way beyond these three examples. About 10 days ago, a surrogate for a presidential candidate referred to fact-checking as an "out of touch, elitist media-type thing," as if facts and truth were fanciful notions. Meanwhile, studies show an increasing tendency for people to believe in conspiracy theories, to discount scientific evidence that doesn't suit them, and so on.
As a journalist — someone who works in the information business, the facts business, the truth business — I find all of this extremely disturbing.
•  •  •  •  •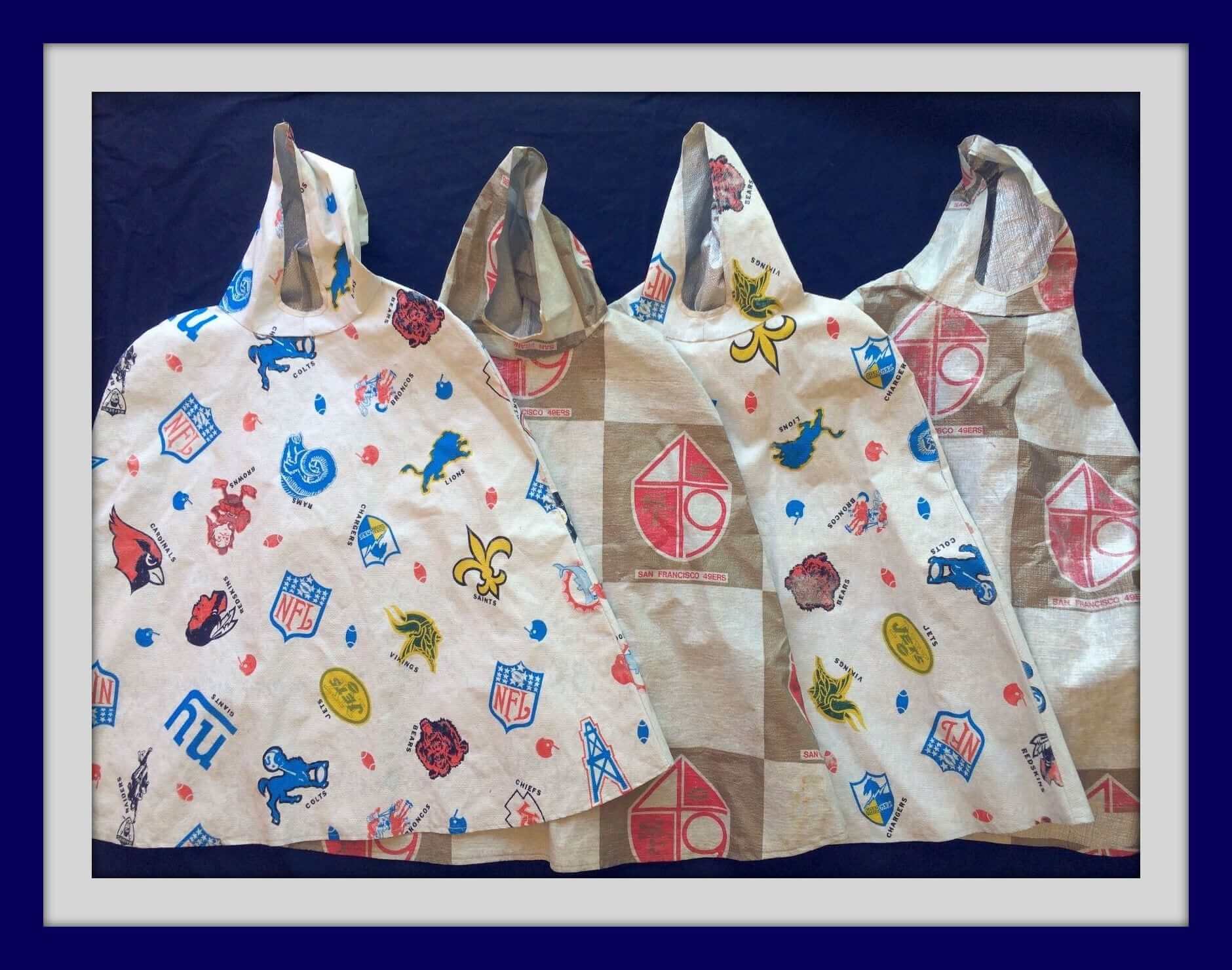 Click to enlarge
Collector's Corner
By Brinke Guthrie
We have a Collector's Corner double feature to lead things off! First, you know how much I love vintage NFL poster art, so check this out: a batch of 26 vintage NFL posters from 1968-1972!
And second, I finally found 'em: a big ol' floppy NFL rain poncho, made out of some poly-nylon-water-resistant who knows what. I had one of these in 1970. The big selling point is the reflective shiny material on the inside, which was meant to reflect your body heat and keep you warm. This set has two league team versions (which I had), and two from the Niners. Been a long time since I've seen one of these!
Now for the rest of this week's stuff:
•  Some great cover art on this selection of older Super Bowl publications.
•  Back in the day, if you were good enough to score runner-up status in the NFL's Punt, Pass, and Kick contest, they gave you one of these trophies.
•  Check out this Young, Old & Bold NFL Quarterbacks laserdisc, from NFL "DiscoVision." DiscoVision? The listing says this is from 1969, but they didn't have laserdiscs back then, right?
•  Check out this retro 1970s NHL K.C. Scouts jersey. Liked that color scheme, and the team name always appealed to me, too.
•  They took some artistic license with the Baltimore Colts helmet on this 1967 National Beer-sponsored schedule.
•  Sticking with 1967, nice cover art on this Rams/Vikings game program. And more terrific cover art on this Eagles media guide. Browns/Eagles, old school.
•  The Fleer Big Sign seller has some more terrific stuff. Here's a mini-lot of Big Signs/posters for the L.A. Rams 1.0, and a 1969 Fleer 3D L.A. Dodgers hat plaque, still in the package. I never saw these!
•  See what the scouts saw with this 1970s Philadelphia Phillies scouting notebook.
•  Nice graphics on this 1970s NHL lunchbox.
•  Cavs fans, celebrate your NBA title with this 1970s "Cavaliers Cleveland" logo coffee mug.
•  •  •  •  •
Membership update: Several more designs have been added to the membership card gallery (including Willys DeVoll's early-'70s Knicks treatment, shown at right). We have two slots open in the current sheet, so the next two people to enroll will get their cards fairly quickly.
As always, you can sign up for your own custom-designed membership card here, you can see all the cards we've designed so far here, and you can see how we produce the cards here.
• • • • •
The Ticker
By Paul

Baseball News: The Cubs and Reds will wear 1916 throwbacks today at Wrigley (from Steve Hemsath). … Speaking of the Cubs, someone in Chicago has featured Cubs players Anthony Rizzo and Kris Bryant on a political campaign-style T-shirt (from Brian Crago). … Here's a Q&A column that addresses MLB's Father's Day uniforms and the history of organ music at the ballpark (thanks, Phil). … One of the Cubs' batboys was missing his helmet logo yesterday (from Doug McBurney). … 1966 championship throwbacks this Friday for the Orioles. Further info here. And the O's are already wearing this championship-anniversary sleeve patch on their non-throwback jerseys. Here's a look from last night's game (from Andrew Cosentino and Phil). … Feline-themed "Caturday" jerseys on tap this weekend for the Lakewood BlueClaws. … One of the many problems with two-in-ones is that the vertical stripes don't go all the way down into the shoe. That's because of the pattern used to knit socks — there's the equivalent of a seam that blocks the continuation of the stripe. Usually, though, the stripe at least goes almost all the way down. Compare that to this — yikes. That's a player from the North Adams Steeplecats, a collegiate summer league team (from Tris Wykes). … Yesterday's Ticker mentioned that Mets C Travis d'Arnaud would be giving up his No. 7 for Jose Reyes, but we didn't yet know what d'Ardnaud's new number would be. Turns out he'll wear No. 18 — his third number in less than four seasons with the Mets. Why 18? As a salute to Peyton Manning, of course. … Meanwhile, The New York Daily News's story on d'Arnaud's number change begins with the words, "Travis d'Arnaud fans need to update their wardrobe." What an asinine way to report on a number change. What if you're a d'Arnaud fan who doesn't happen to spend money on overpriced polyester shirts? What if you can't afford jerseys? What if you don't mind wearing the old number? Consumerist bullshit. … We've seen separate shots of the All-Star Game BP caps and jerseys, but I'm not sure we've seen them together until now. I like it. … Yesterday was Venezuela's independence day (man, a whole lot of countries do that in early July, right?), so several MLBers wore Venezuelan flag-patterned shoes, including Victor Martinez (from David Hamen). … Whoa, check out the ball for the home run derby. … The Pirates recently DFA'd C Jacob Stallings, but his replacement, Eric Fryer, is using Stallings's helmet. … The San Francisco Opera has been trying to expand its audience by staging simulcasts on the big scoreboard at AT&T Park. Key uni-related passage: "Escamillo, Don Jose and a resuscitated Carmen, now wearing Giants caps and jerseys, bowed, as did a large cast of singers, dancers and musicians." … This article about Mets players venting their frustrations includes an interesting tidbit: The dugout tunnels in Milwaukee and Atlanta are equipped with boxing heavy bags, so frustrated players can punch those instead of taking a bat to the water cooler or whatever.


Pro and College Football News: Good info on how the Saints got their colors. … Someone has chosen to rank the ACC's uniforms. … Boston College will have separate number-retirement events this fall for Matt Ryan and Luke Kuechly. … New uniforms for New Mexico State (thanks, Phil).

Hockey News: New pads for Canadiens G Carey Price. … Limited-edition prints of Anthony Zych's fantastic Blue Jackets gameday posters are now available for sale. You know what to do. … The Maple Leafs will announce their centennial season plans tomorrow. … Whoa, check out this 1977 footage showing a Nordiques player wearing a bizarre helmet/mask hybrid.

NBA News: If you're interested in corporate theater, at least one business observer thinks Kevin Durant's move to Golden State could be good news for Nike and Under Armour. … A guy in Idaho played a pickup game in a full Michael Jordan uniform, and I do mean full (thanks, Mike). … Looks like the Pelicans will be adding a Bryce Dejean-Jones memorial patch (from Zach). … Dwight Howard, now with the Hawks, is still wearing Rockets shorts during workouts (from Manzell B). … Wait, don't burn those Kevin Durant jerseys! An Oklahoma City man wants fans to donate their Durant jerseys for local youth organizations. … In a related item, Maeser Anderson whipped up a graphic showing Durant's uniform history. "If anything, this has made me wish Seattle still had the Sonics!," he says. … Two of the Heat's summer league players are wearing caps with personalized messages (thanks, Mike).

Soccer News: New jerseys for KAA Gent (from Ed Å»elaski). … New uniforms for Southampton FC. … New away jersey for Celtic. … The French national team has a communal dinner table with jersey-themed seats. … New away kit for Juventus.

Grab Bag: Contestants at this year's Nathan's hot dog eating contest at Coney Island on July 4 wore sports-style jerseys. As you can see in that photo, Joey Chestnut's uni number honored his world record. "No photo, but Crazy Legs Conti wore the infinity symbol," says P. Costello. … Another new hot dog eating contest wrinkle in recent years: a separate women's category. … Here's the latest article on runner Boris Berian's dispute with Nike. … American flag patches are being added to prisoners' uniforms in one Arizona county. … McDonald's has won a trademark dispute over the use of "Mc" or "Mac" in food/beverage names. .. A Colorado mom is upset because her seven-year-old son's Cub Scouts group got a visit from a bunch of Hooters waitresses, who appeared in their Hooters uniforms. … Nearly 10 years ago I did an ESPN column about a guy named Bill Jones, the self-styled king of custom-painted gumball helmets. Bill is now turning his attention to Starting Lineup figurines, which he's custom-painting to honor teams and leagues of the past. He doing lots of different sports — check out his work here and here. … Here's a look at what's being described as "Under Armour's lifestyle sneaker." UA is a lifestyle brand, so it seems like all of their sneakers would be lifestyle sneakers, but whatever (from Paul Lee). … There's a bit of a controversy in Columbus, Ohio, over the contract to launder the local sheriff department's uniforms. … Here's a really cool infographic of Europe's many alliances, reimagined as the DC Metro system (big thanks to Andrew Hoenig). … Great Britain is now doing something that Australia's been doing since 2012: Cigarette package designs must be unbranded. … Dominika Cibulkova, who made it to the Wimbledon quarterfinals, can tell which tournament a tennis ball is from by smelling it (thanks, Phil). … A legislator in the Philippines is seeking harsher penalties for civilians who wear police or military uniforms.