Click to enlarge
As you may have heard yesterday, MLB now has an official sock provider: Stance, the same company that supplies socks for the NBA. My ESPN colleague Darren Rovell broke the basics of the deal yesterday morning, and then I followed up with my own ESPN piece — an FAQ-style explainer breaking down down what the deal will (and won't) mean for MLB's on-field look. I suggest reading both pieces — especially mine, which addresses most of the questions you're likely to have — before going further or commenting.
A few things that I didn't mention in my ESPN piece:
•  The appearance of the Stance logo on the company's new socks will constitute the first officially sanctioned logo creep on MLB hosiery. But there has been unsanctioned logo creep in the past. Most notably, back in 2008 and '09, several players wore Phitan-branded socks, including Miguel Cabrera (here's another view), Torii Hunter, and Martin Prado (hard to see, but it's there). Also in 2008, Ronnie Belliard wore socks with Nike logo creep. I'm sure there are other examples.
• While we're at it, Stance logo creep has already appeared in the bigs this season, as worn by Khris Davis and a few others.
•  This seems like a pretty obvious attempt by MLB to overlap its on-field program with the retail/fashion world. That's annoying, but at least nobody's required to wear the new socks. The whole thing feels like mostly a wash to me.
•  •  •  •  •
Oh say can you see their lips moving?: One of the odder stories to emerge this past weekend came out of San Diego, where the Padres had arranged for the San Diego Gay Men's Chorus to sing the national anthem prior to Saturday's game. Unbeknownst to most fans in attendance, the singers were only going to lip-synch to one of their recordings — a common practice for the Padres, as it turns out. But when their cue came, the stadium's staff mistakenly played a recording of a young woman singing the anthem, leaving fans confused and the chorus members humiliated.
I'm not going to get into the issue of the staff's incompetence and the steps taken by the team to address the issue (you can read about that here and here, among many other places). Instead, I want to pose a simple question: Why are the Padres using lip-synchers for the national anthem?
Yes, I realize lip-synching to a prerecorded soundtrack offers more control over the audio outcome (well, except when some staffer plays the wrong recording). But that's part of why live performance is exciting and worthwhile in the first place — because something can go wrong, because you have to nail it, because you're up there without a net. If you're going to play a recording, why bother to have the singers there in the first place?
If you're as old as I am, you may recall that there was a mini-scandal when Toni Tenille (of the Captain and Tenille) sang the anthem at the 1980 MLB All-Star Game, and the words were coming through the P.A. system a second or so before she sang them (instead of a second or so after, which was standard). That's how the world learned that she was lip-synching, which everyone at the time agreed was a bogus move. Three and a half decades later, it still seems plenty bogus to me.
It's not like I'd demand my money back. But much like our recent discussion of MLB game recaps erroneously reporting the number of tickets sold instead of the actual number of fans in attendance, the lip-synching thing seems like an attempt to substitute fantasy for reality, which I find both distasteful and troubling. If you're gonna have singers, let them sing. And if you insist on having them lip-synch, then don't put a message on the scoreboard that says, "The national anthem is being performed today by [whomever]" — be honest enough to admit that you're presenting a lip-synched recording. Just gimme some truth, not truthiness.
Two questions:
1. If anyone out there works in stadium/arena operations, can you tell us whether this Padres policy is more the rule or the exception? Is lip-synching common for anthem singers at pro sporting events?
2. For you musicians out there, how would would you feel about being asked to do the anthem at your favorite team's venue but then being told that you'd have to lip-synch? Would that be problematic for you, or would you not care?
•  •  •  •  •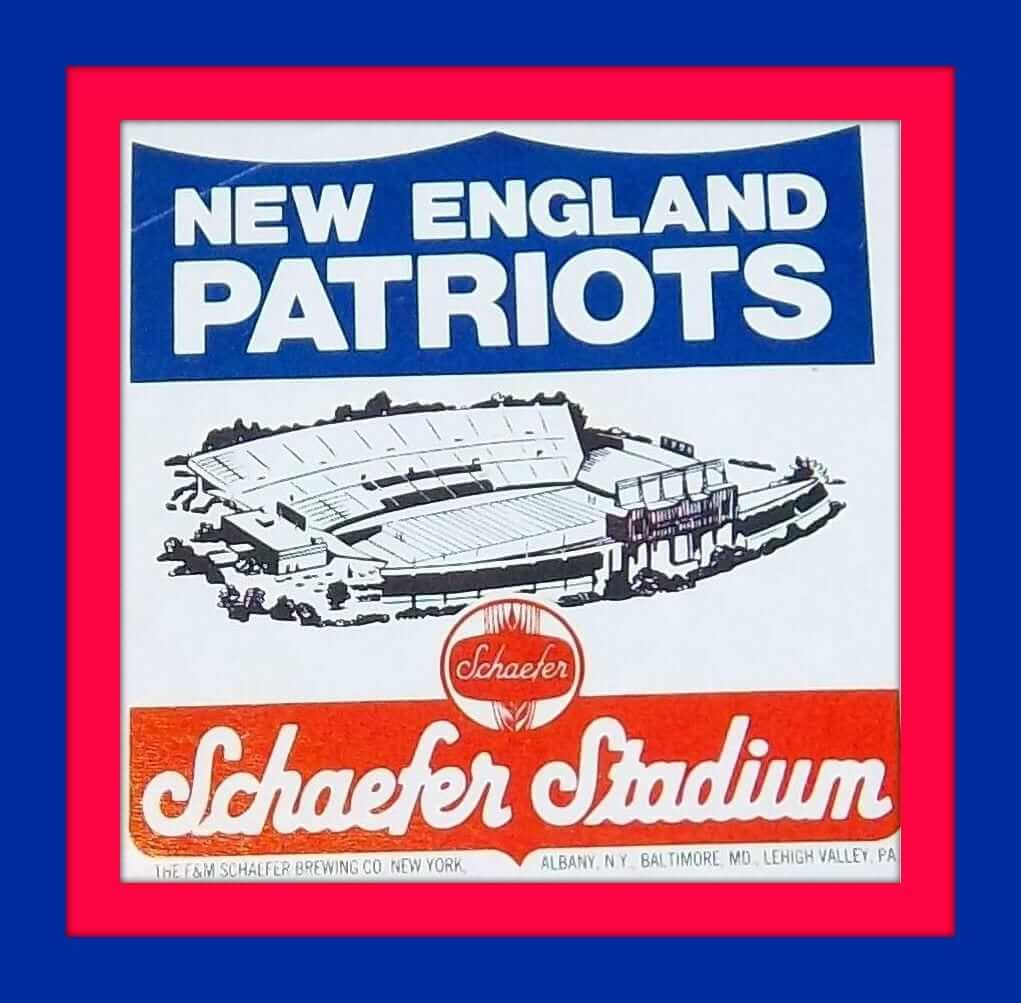 Click to enlarge
Collector's Corner
By Brinke Guthrie
Check out this Schaefer Stadium/Patriots sticker. That was Foxboro Stadium's original name. Until this very moment, I didn't know "Schaefer" stood for a beer. (I don't drink, that might be part of the reason.) This brings up an interesting point: Stadium naming rights are now the accepted practice, but back in the early 1970s, not so much. I also didn't know that Rich Stadium (Buffalo) was named for a local food company. It took awhile for me to know that Ericsson Stadium was named for a cell phone (late 1990s, cell phones in their infancy), or that the Staples Center referred to the office supply chain. We know the huge marketing monoliths like AT&T Park and Stadium, Levi's Stadium in Santa Clara, or MetLife in New Jersey. But when the naming sponsor advertiser is more regional, it can get confusing. How many of you would know what Lucas Oil Stadium was named for if they just called it Lucas Stadium? There's no Lucas Oil in San Francisco, I can tell you that! (Insert obvious Lucas/Lukas joke here. "" PL)
OK, on to the rest of this week's stuff:
•  From reader Jimmy Lonetti, we have the first vintage jai alai jersey ever seen on Collector's Corner. "Great colors, cool patch," he notes.
•  Featured these before: You simply cannot find cooler hockey graphics than on this this 1970s Montreal Canadiens poster. The seller has several other teams available, too.
•  Learn your football facts on this 1970s Manwich "Time Out For Football" plastic tumbler.
•  Look how simple these 1970s NFL player Pizza Hut glasses are — just the faces of the players, Hornung and Nitschke, and their signatures. Discreet Pizza Hut and NFLPA logos on the sides, too.
•  From glasses to mugs: Here's a 1970s Padres thermal mug from 7-Up.
•  Terrific artwork on this 1960s-1970s Baltimore Orioles popcorn holder/megaphone.
•  Here's a nice-looking 1970s Broncos helmet radio. The seller says, "It works but doesn't pick up a signal." Er, if it doesn't pick up a signal, how can it work?
•  Speaking of radios: Oh my goodness, check out this Sears ad. Some amazing vintage NFL stuff is here.
•  "Yea, team!" That's the concept behind the wild-eyed New York (football) Giants player on this button (done in the "1950s style," don't you know).
•  If the Falcons have any good sense, they'll go back to the 1970s red helmets, like the one shown on this plaque, full-time.
• • • • •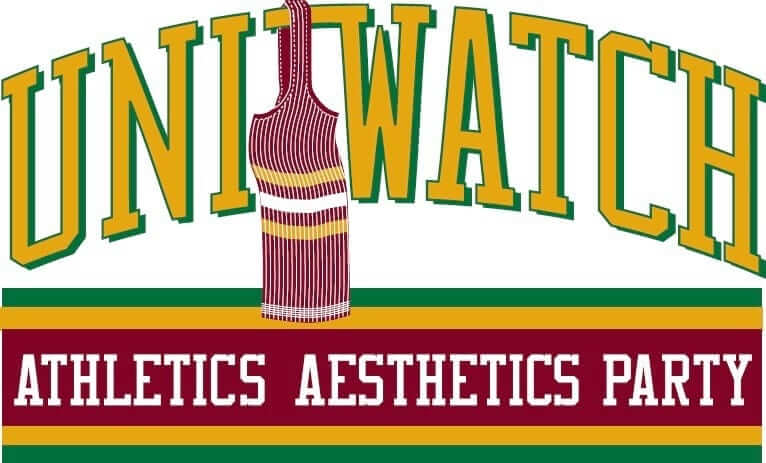 Party reminder: Uni Watch party tomorrow, May 25, 7pm, in the backyard of the Fourth Avenue Pub in Brooklyn, with special guest Chris Creamer of SportsLogos.net. Chris is inviting his readers to join us, so maybe we'll have some sort of smackdown between his crew and my crew — come out and make me proud, people!
And while we're at it: The following night — Thursday, May 26, 7pm — I'll be a featured guest at this live "Talk Show" event, where the host will be interviewing me on the finer points of what it's like to be a uniform reporter. It's free — you should come.
Thursday is also the 17th anniversary of the first Uni Watch column being published in The Village Voice. Happy almost-birthday to Uni Watch!
• • • • •
The Ticker
By Mike Chamernik

Baseball News: The Lake Elsinore Storm will wear green digital camo jerseys for Sunday home games. … Mets OF Yoenis Céspedes has "714" written on the inside of his batting helmet. Not clear if it's his headwear size (7-1/4), a Babe Ruth reference, or something else (from @vemonator). … The Lafayette Aviators, a summer collegiate team, revealed what they would wear for their upcoming inaugural season. The Aviators are still taking suggestions for their mascot's name (from @BLRMKRdave). … The Brewers' wives held a softball game with some clever jerseys in 1975 (from Matthew Prigge). … One of Iowa's baseball logos shows Herky the Hawk wearing one stirrup correctly and one backwards (from Noah Wolf). … A bunch of fans at Saturday's Yankees-A's game dressed up as old-timey base ball players. … The Giants and Padres wore red ribbons last night for the Giants' annual "Until There's a Cure" Night, a promotion to help find a cure for AIDS.

Pro Football News: Lots of people sent this in: The Dolphins announced their home uniform schedule. Miami will wear white at home four times, mono-aqua twice, and 1966 throwbacks twice. Also, the Dolphins will reportedly wear all-orange Color Rash jerseys in Cincinnati in Week 4. … Cam Newton is a fashionable fella, at least in the eye of the beholder. … New uniforms for Tubaroes do Cerrado, an American football team in Brazil (from Rafael Nakamura). … John Vogrin found these artistic NFL masks and mini-boards in Cancún, Mexico. … The Raiders played the 49ers in basketball over the weekend. More photos can be seen towards the bottom of this post. The teams held a Battle of the Bay hoops game in 2014, too (from Mako Mameli). … The sites for Super Bowls LIII, LIV, and LV will be awarded today. This season's Super Bowl LI will be in Houston and Super Bowl LII will be held at the Vikings' new stadium in Minneapolis.

Hockey News: This weekend a video surfaced showing an American hockey fan apparently urinating in Russian C/F Pavel Datsyuk's skate. Some research shows that the video was probably a fake (from Ted Arnold). … A men's league player installed a GoPro into his helmet. … Patrick Walsh's buddy saw this customized jersey at last night's Sharks/Blues Western Conference Finals game. "Hopefully he gets the chance to swap that 3 for a 4!" he says.

Basketball News: Here are a dozen of the most notable NBA sneakers this year (from Brinke). … Not uniform-related, but Kentucky coach Adolph Rupp and Colonel Sanders celebrated radio station WJMM's first anniversary in 1974, resulting in this great photo (from @KYPhotoArchive, via Josh Claywell). … Nice collection of NBA player portraits.

Soccer News: New home jerseys for Newcastle (from Patrick Thomas). … After winning the Euro 96 tournament, Germany players wore T-shirts with "Thanks everyone for a great tournament" on the front. "The Germans are so polite," says Lucas Stoller. … The Premier League will not change number fonts next year (from Tim Cross). … Here's Arsenal's new keeper kit.

Grab Bag: Fashion designer Paul Smith is infatuated with cycling jerseys, and its easy to see why (from Rob Walker). … New logo for Portland State athletics. … This blog examines the correct "I" logo for the University of Illinois. … The Coast Guard is celebrating 100 years of aviation with throwback livery on some of its aircraft. … "I was watching some of the shows from last year's Drum Corps finals to amp up for the upcoming season and noticed something during the Cadets' show," says Dustin Semore. "The finals took place at Lucas Oil Stadium, and they converted all of the yard-line markers to '10.' It matched their show theme, 'The Power of Ten.' They even retained the gold for the midfield 10." … As we all know, Paul doesn't like purple. He feels it's tacky, and has said, "Like, seriously, have you ever seen a purple car? A total nightmare." Well, my brother, this weekend I saw the purple car to end all purple cars. It's brash, but I'm not opposed to it.