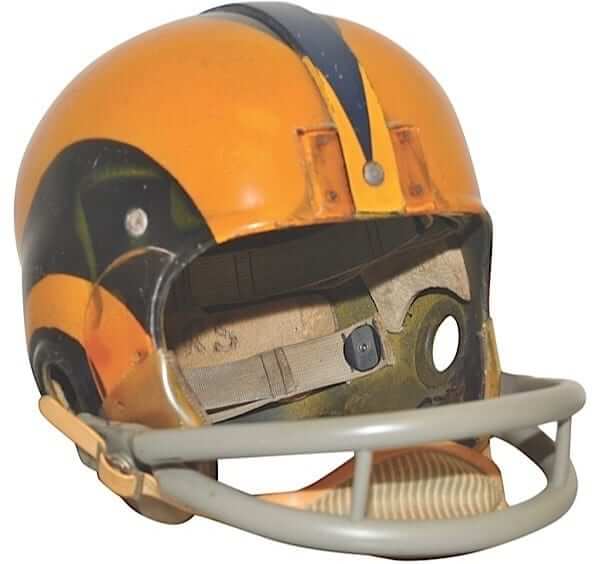 As you may have noticed in the left-hand sidebar, our friends at Grey Flannel Auctions are running another catalog auction. Here are some of the listings that caught my eye:
•  Here's something fascinating: This 1957 Willie Mays jersey has smaller, snugger-fitting buttonholes, because, according to the auction house, "Mays preferred a tighter-fitting shirt." Never seen or heard that before.
•  Whoa, check out this full-length Milwaukee Braves satin jacket!
•  Nearly two decades on, that inaugural Devil Rays design still sends shivers down my spine.
•  This is interesting: We're all familiar with the star-spangled top hat in the Yankees' logo, but I don't think I've ever seen that hat used in any other Yankees-related context — until now. That's Yanks then-manager Bucky Harris in that ad.
•  Oooh, you don't often see one of the Cowboys' early "star" jerseys. Look closely and you can see that it has a crossover collar seam, which was standard for Cowboys jerseys at that time.
•  Remember when the Colts added grey to their color scheme in the early 1980s? You can see that reflected in the sleeve stripes of this coach's sideline sweater.
•  Check out the extra bit of paint on the raised center ridge of this old Rams helmet. Love how they tried to get the full extent of the horns in there, even though the colors don't match (or maybe they just didn't fade at the same rate over the years).
•  I've written several times over the years about the All-American Redheads. Very cool to see one of their beautiful uniforms, complete with shorts and stirrups.
•  Everyone knows Ichiro Suzuki has worn his first name as his NOB during his MLB career (except when he played for the Yankees, obviously). But not everyone knows he also wore his first name while playing in Japan. (The full story: While he was in the Japanese minors, he was on a team with two other players named Suzuki. They all wore their first names. Ichiro was the only one to make it to the Japanese majors, where he continued to wear his first name. When he joined the Mariners, he requested and received permission from MLB to keep wearing his first name.)
•  Love this: Moses Malone's high school letterman sweater!
•  Oh baby, check out this 1952 warm-up jacket, worn by Tommy Heinsohn, featuring a spectacular chain-stitched chest patch and the always-awesome Butwin label.
•  Speaking of chain-stitching, dig this magnificent Syracuse Nationals jersey. The script and numbers are densely chain-stitched, as you can see here.
•  And we wrap up with this really nice Celtics shooting shirt. Love that format — Durene fabric, zip-polo collar, horizontal stripe on hem panel. Sweet!
Want to see more? You can browse through the entire auction catalog here.
• • • • •
Click to enlarge
Fantasy sports: The two screen shots shown above are from yesterday's Mets/Braves game. As you can see, there were a lot of empty seats. That's not surprising — it was a weekday afternoon game in cold, drizzly weather. I was watching the game, and they showed enough full-stadium views to make it clear that the crowd was very small.
As we all know, teams now list their attendance in terms of tickets sold, not turnstile counts, so the box score from this game shows an "attendance" of 31,783. That is, of course, utter fiction, and it would be nice if box scores listed these numbers as "Tickets Sold" instead of "Attendance," but whatever — that's not what I want to talk about here.
What I want to talk about is that this game recap includes the following sentence:
On Wednesday, [Mets starter Steven Matz] threw 7.2 scoreless innings as the Mets beat the Atlanta Braves 8-0 before 31,783 fans in a cold drizzle at Citi Field.
That too is utter fiction. It's not a rejiggering, or a reinterpretation, or an expansive view of how to define the word "attendance" — it's just factually inaccurate. The crowd wasn't anywhere close to 31,783. Less than half of that, I'd be willing to wager.
MLB can inflate its attendance figures however it wants, but that doesn't mean reporters have to play along with that fantasy world. Reporters are supposed to be in the facts business. That's particularly true of sportswriters, whose lifeblood consists of statistics and number crunching.
Look at that sentence again. What's so hard about replacing "31,783 fans" with "a sparse crowd"? If anything, the sentence would make more sense that way, since it goes on to mention the unpleasant weather. If you need to mention the ticket sales (which, frankly, seems like a much less important bit of info to report than an accurate description of the crowd that actually bothered to show up), mention it somewhere else in the story.
I don't mean to single out Roger Rubin, the guy who wrote that article. Most MLB game recaps do the exact same thing. It's one of those quiet little examples of systemic bullshit that has somehow become the industry standard, even though everyone involved should know better. It would be nice if it could stop, and if reporters could stick to reporting reality, not fantasy or propaganda.
• • • • •
T-Shirt Club reminder: The Uni Watch T-Shirt Club's second release of 2016 — the hockey design — is now available. Here's the base design (which you can click to enlarge), followed by the three shirt color offerings: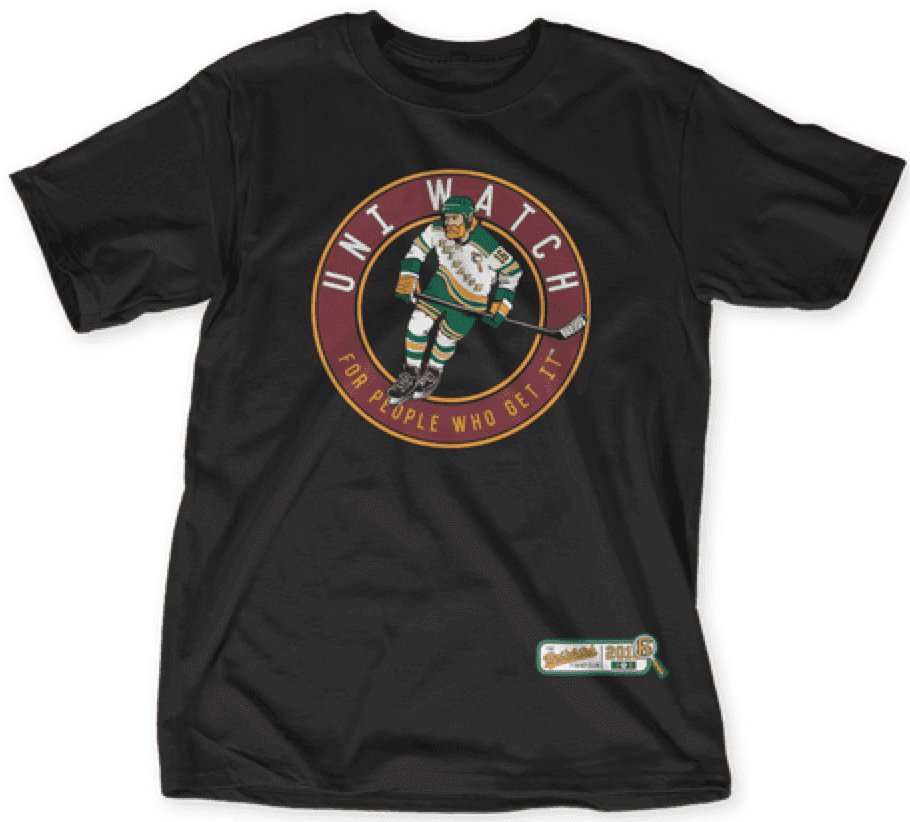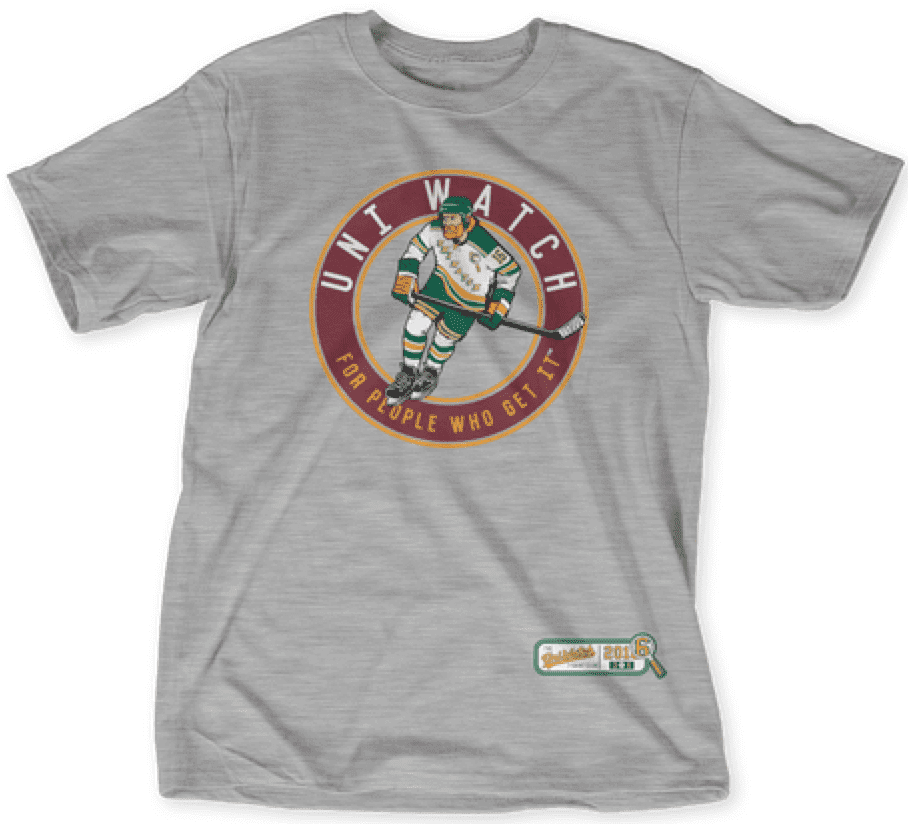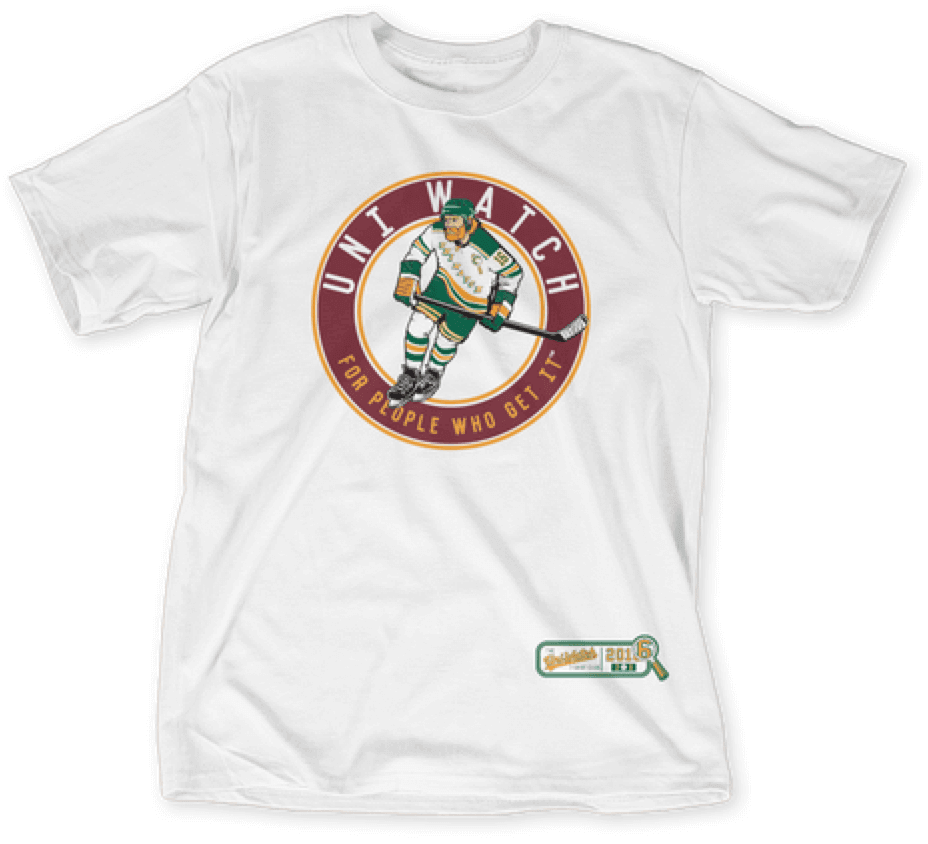 The shirt is available here from now through next Tuesday.
Also: Yesterday I showed you a goalie design that we'd been tinkering with, and a bunch of you said you wanted to see that on a T-shirt — done and done.
Here's the base design, and the three color options: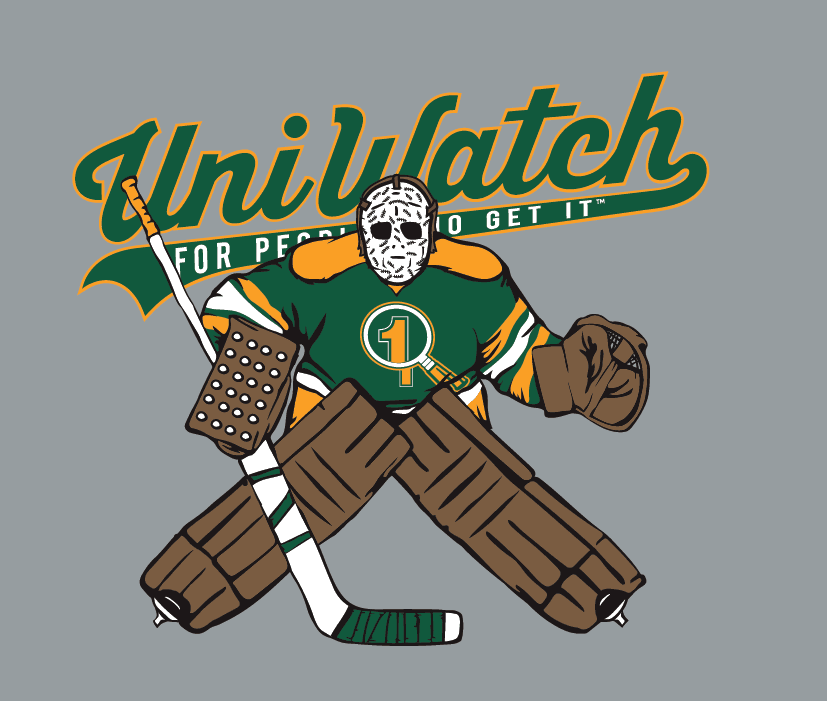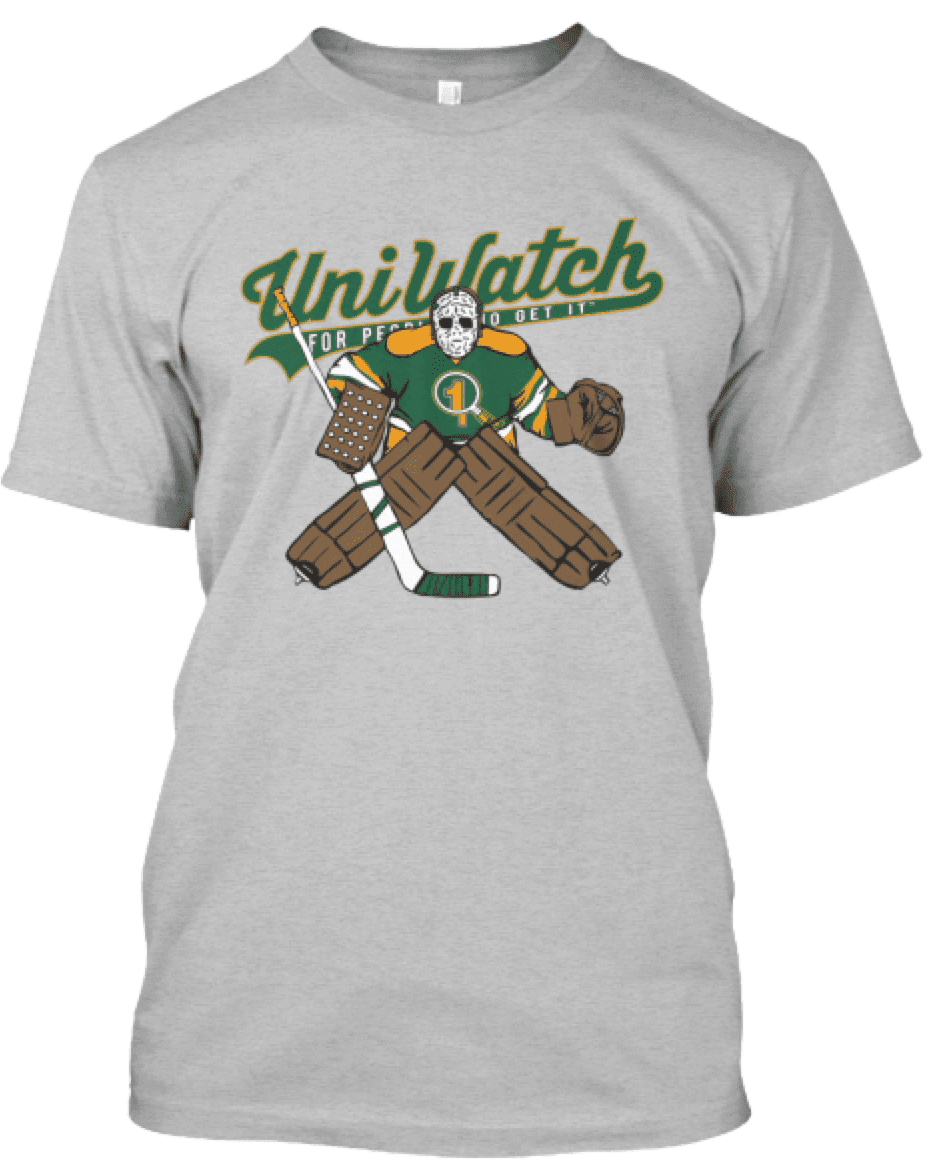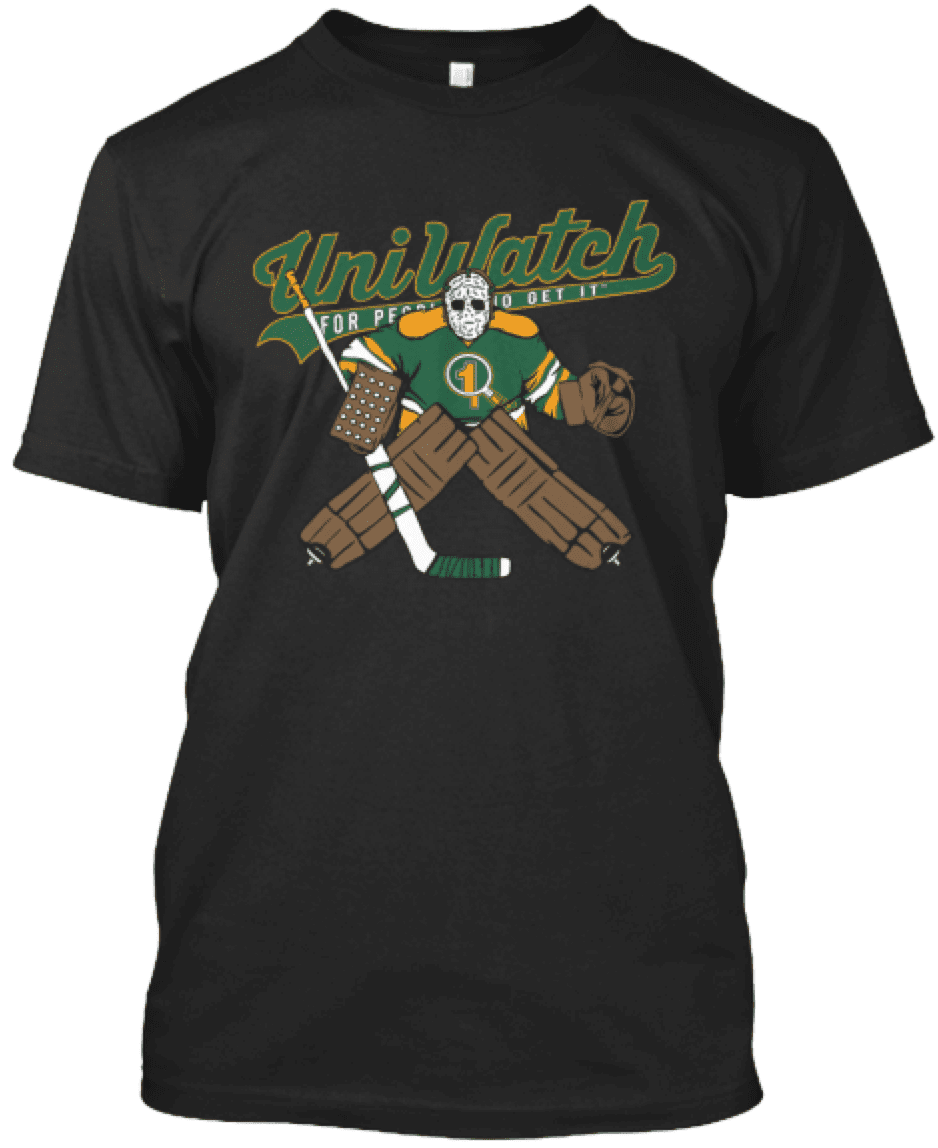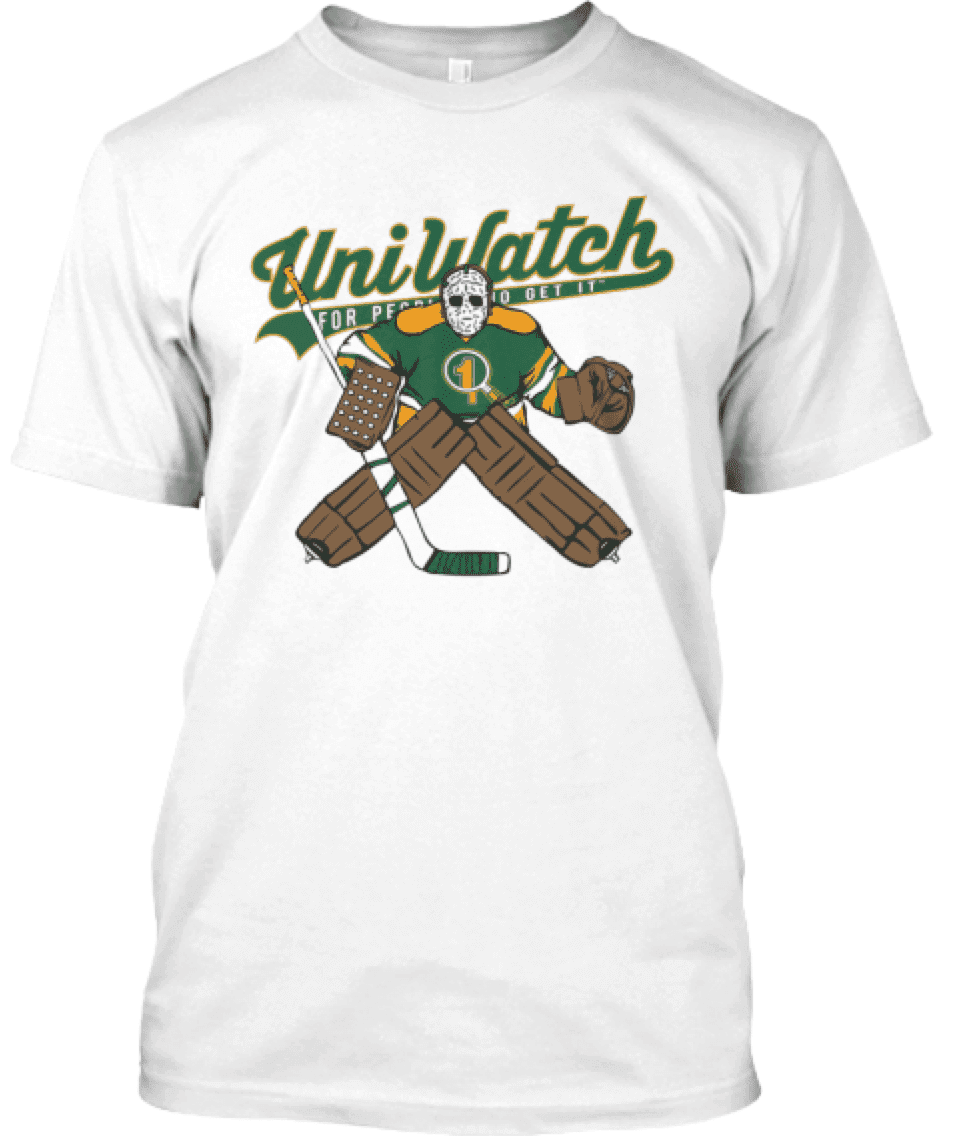 This shirt is not part of the T-Shirt Club, does not have Club's jock tag graphic, and neither counts toward nor is required for 2016 "Collect 'Em All" eligibility. It's just a bonus design that we're offering for those who want it. You can get it here for the next week.
• • • • •
Never a dull moment: I have an annoying medical condition (not life-threatening, just annoying), and yesterday I began treating it with a fancy-shmancy drug that I'm administering to myself via an injection pen.
This means, among other things, I've had to get a sharps container (see above), learn about sharps-disposal procedures, and so on, all of which is kind of fascinating. A whole world of laws and protocols that I'd been sort of dimly aware of but had never really thought about.
I realize this is nothing new to those of you who have diabetes and give yourselves insulin, or to the countless people with other conditions that require home injection. To me, though, it's a whole new world of functional specificity — and I sure do like functional specificity. Even when it comes packaged as part of an annoying medical condition.
Incidentally, after I posted this same photo/info on Facebook yesterday, longtime Uni Watch reader/pal Joe Hilseberg left the following comment:
I used to work for BD, the company that makes your sharps container. The one-color logo used on it is actually the wrong version. There was a second version that was supposed to be used for one-color applications. The package/labeling guys were not under the marketing/design teams for some reason, and this error constantly occurred. They also have recently rebranded and it doesn't look like the new logo has made its way to containers either.
Faaaascinating. Everything comes back to uni watching, eh?
• • • • •
Membership update: A few new designs have been added to the membership card gallery (including Michael Blomquist's late-'70s Twins throwback design, shown at right). I have a few slots open on the current sheet, so people who sign up now will get their cards with a very short wait.
Also, keep in mind that Purple Amnesty Day — the only day of the year when I'll accept orders for purple-inclusive card designs — is coming up on May 17. Get ready, all you Vikings, Ravens, Rockies, and Northwestern fans!
As always, you can sign up for your own custom-designed card here, you can see all the cards we've designed so far here, and you can see how we make the cards here.
• • • • •
The Ticker
By Mike Chamernik

Baseball News: Cubs P Jon Lester has famously had problems throwing to first, but he didn't have an issue yesterday. A Pirate hit a comebacker that got stuck in his webbing, so he tossed the entire glove over. First baseman Anthony Rizzo made a heads-up play by dropping his own mitt to catch Lester's toss. … Also from that game, Pirates P Juan Nicasio wears one batting glove, on his top hand (from Nick Orban). … The White Sox cut long-time P John Danks on Tuesday. Carlos Rodon wrote Danks's No. 50 into the back of the mound last night (from John Chase, via Phil). … There's a lot going on with this Norfolk State uniform, what with the bold jersey design and the pants that are almost at biker shorts height (from Tris Wykes). … Nice striped stirrups for the Montgomery Biscuits last night. The Biscuits tweeted that pic to Paul and Phil, and the Bowling Green Hot Rods saw it and one-upped them. Additional photos and info about the Biscuits' stirrups here … Here's an early photo of Ted Williams batting while wearing a shinguard. He's said to be one of the first to wear one (from Peyton Cooper). "¦ The other day Paul wondered if Steve Cishek was purposely undoing his left stirrup. Tim Dunn notes that the Mariners closer made it through a save opportunity yesterday without popping his stirrup. … Some Mets players practice with weighted balls and softballs. Think of the concept of using a batting donut, but for baseballs. OF Alejandro De Aza said it's a popular training method for Dominican-born players (from Tommy Turner). … The Mets just finished a nine-game homestand without wearing their blue alternates, which is unusual for them. … The Salt Lake Bees will wear Star Wars jerseys in July (from Paul Cherrington).

NFL News: Washington team President Bruce Allen talked about how the team no longer wears white or burgundy pants (from Tommy Turner). … Also, Washington announced its rookies' uniform numbers (from Andrew Cosentino). … Former S Tyrone Carter played ball at the University of Minnesota and with the Vikings. A UMN restaurant has his Vikings jersey on display, but he never wore No. 23 with the Vikes. He wore 37 and 22, wearing 23 only with the Steelers from 2004 to 2009. He wore 22 in college, too (from Tony Sullivan).

College Football News: New uniforms for the College of Idaho (from @SodaPopinskiCU). … New white jerseys for Juniata College (from Clay Reichart).

Hockey News: Check out the star-spangled uniform worn by the U18 Affton Americans club hockey team in St. Louis. "Yowzers!" says Jeff Whitener. … Prototype alert: R.J. Liebe, an athletic lettering company located outside of St. Louis, mocked up this jersey for the Blues in the 1970s, but it was never used on the ice (from Ross Augustin).

NBA News: Unsurprisingly, the NBA has spelled out some limitations on which types of companies can advertise on its jerseys in a few years. … A young Brooklyn intellectual has an extensive Air Jordan collection (from Tommy Turner).

Soccer News: New jerseys for Leicester City, the EPL's longshot champion, have leaked (from Tim Cross). … New home kit for Chelsea. … The Taliban is intimidating the family of a kid in Afghanistan who received a jersey from Lionel Messi (from Rob Yasinsac). … Two items of note for the new uniforms for Bristol City FC, a club in the second tier of English soccer: The Robins chose a smaller uni manufacturer, Bristol Sport, and the jerseys will have two hashtags on them (from Michael Mrozinski). … FC Dallas's Tesho Akindele says the MLS won't let him have his first name as part of his NOB (from Will Pry). … Stockade FC of the National Premier Soccer League unveiled what the club will wear for its inaugural season. … Did a new jersey for Manchester United leak? (From Graig Sakuma). … New home kit for Celtic (from Rob McLeod).

Grab Bag: Great collection here of the best neon signs in Chicago (from Thomas Juettner). … U.S. Olympian Nick Symmonds is selling advertising space with temporary tattoos on his body as a protest of athlete exploitation. Symmonds, who said he wants "to look like NASCAR out there," once made $11K from an ad deal. He has to cover up during U.S. Olympic trials and the Summer Games (from Markus Kamp). "¦ Adidas is selling off parts of its golf division, including TaylorMade (from Brinke). "¦ You can now design your own swim trunks using your favorite Instagram photos (from Jason Hillyer).