The defending World Series champions, the Astros, held a media event yesterday to  outline their promotional plans for the coming season, including the announcement that an energy/petrochemical company will be their jersey partner uniform advertiser for the next seven years.
Houston thus becomes the fifth MLB team to announce a uni advertisement for 2023, following the Padres, Red Sox, D-backs, and Angels. The Astros' ad deal had previously been reported by Sports Business Journal, but the team hadn't confirmed it, nor had we seen a visual, until yesterday. (That same SBJ article also reported that the Reds will be whoring out their uniform to a supermarket chain, but so far there's been no confirmation on that.)
As we've seen with other teams, the Astros released photos showing the advertisement on each sleeve, because its position will be based on the player's handedness, to maximize TV exposure (also, note that the Photoshopped ad on the left is markedly smaller than the real-life ad on the right):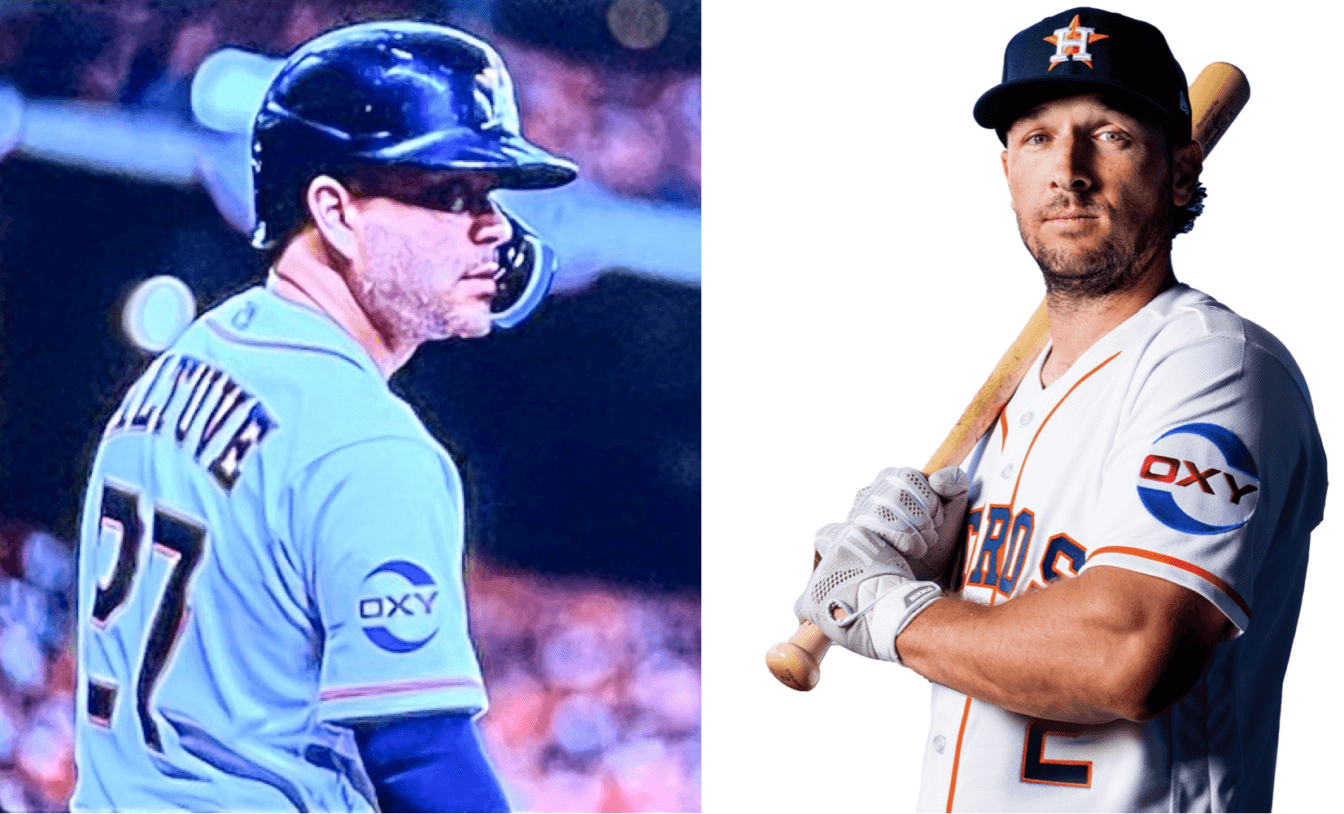 All in all: Gross. As you know, the Astros have a wonderful track record when selling prominent ad space to energy companies, so one can only hope this deal works out every bit as well as that last one did. (It's also worth noting that I saw many people on social media who mistakenly thought that the ad is for a laundry detergent, or a zit cream, or an opioid — great branding, energy company!)
In an interesting wrinkle, reporter Jose de Jesus Ortiz said that the advertisement will appear in gold on the team's gold championship jersey (although, sadly, he parroted the "patch partner" nonsense):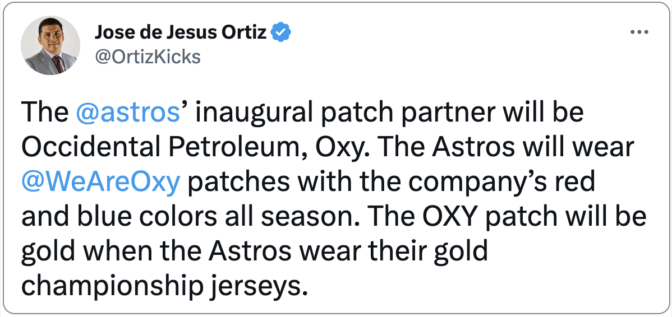 So that confirms that the 'Stros will indeed go gold — not a surprise, but I believe it's the first official confirmation of it (and a very early confirmation too, as most recent defending champs haven't officially announced their gold designs until just before Opening Day). Per reporter Brian McTaggart, the gold design will be worn for the first two games of the season:
Some Astros notes:
◾️ Astros will wear gold-themed jerseys first two regular-season games.
◾️ The 2023 World Series banner will be unveiled Opening Day.
◾️ Players & coaches will receive their rings before second game of season.
◾️ Astros will give away replica rings Wednesdays.

— Brian McTaggart (@brianmctaggart) February 9, 2023
A few notes about that:
Although Ortiz's and McTaggart's tweets refer strictly to gold-themed jerseys, history suggests that there will also be gold-themed caps.
No indication yet of the gold uni's design.
I'm assuming that the gold design will not count agains the team's "four plus one" quota.
This will be the Astros' second gold-trimmed championship uniform. Here's a look at the first one, which they wore at the start of the 2018 season after winning the 2017 World Series: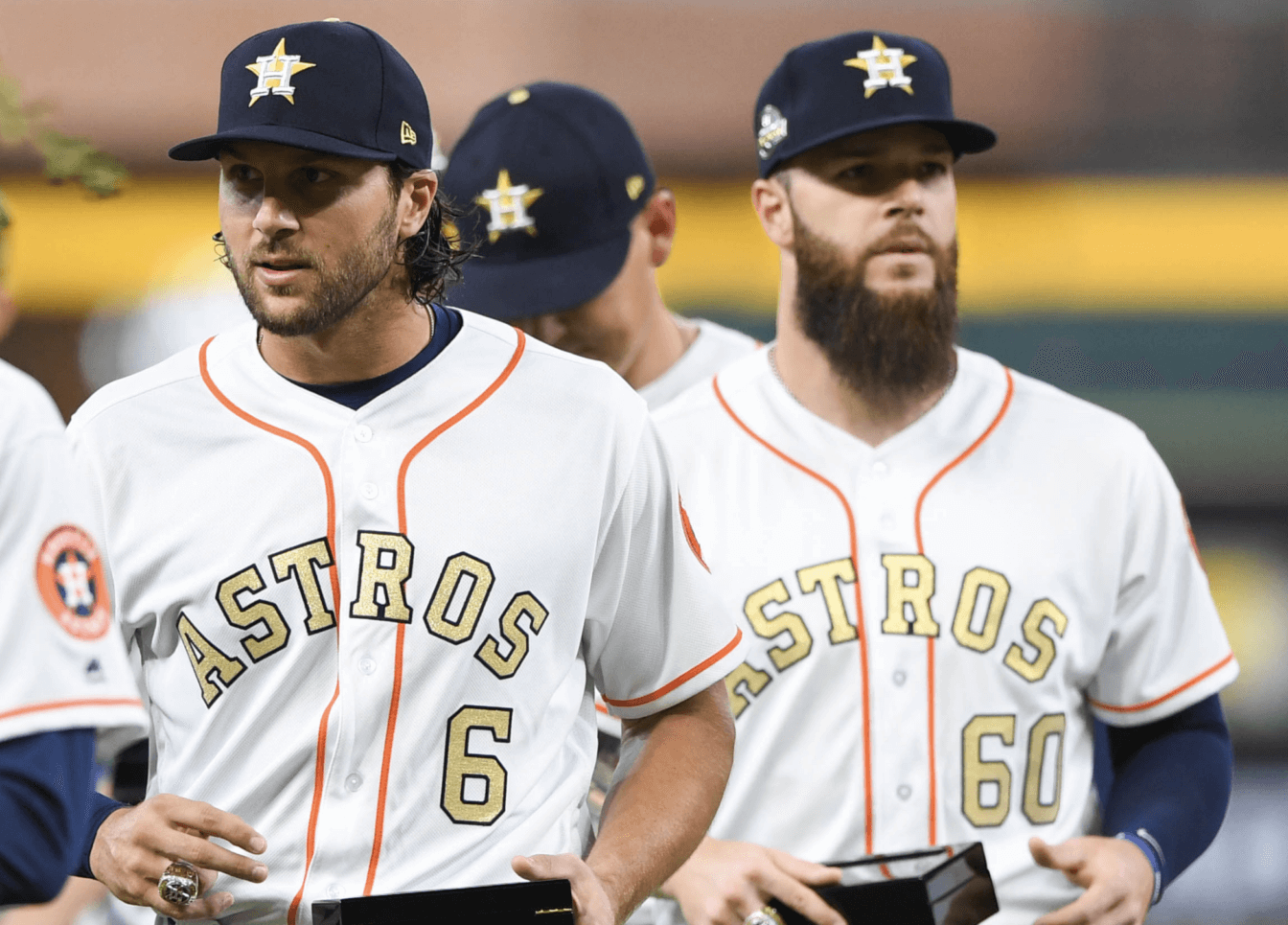 I know, I know: The uni should have a golden trash can, and the ad patch should be for Waste Management, blah-blah-blah. Let's please skip all of those played-out tropes, okay? Thanks!
I'll have an additional post about a specific aspect of this later this morning.