Back in late July, it was reported that the Red Sox would sell advertising space on their uniform to an insurance company in 2023. Today, more than four months later, they finally made that move official and let us see how the insurance company's ad patch will look on their uniform.
The Red Sox are the second MLB team to reveal their advertising patch, following the Padres, who showed us their patch back in April.
These deals are all part of MLB's current collective bargaining agreement, which went into effect earlier this year and allows teams to begin selling ad space on their jerseys beginning in 2023. It's expected that most teams will participate.
Reports have indicated that the patches will be positioned on a player's left or right sleeve depending on whether he hits left- or right-handed, thereby maximizing TV exposure. (It's not yet clear how things will be handled for switch-hitters and pitchers.) This appears to have been confirmed by today's Red Sox announcement, which featured the patch appearing on the right sleeve of the "Boston Strong" jersey (as seen at the top of this page) and on the left sleeve of the road jersey: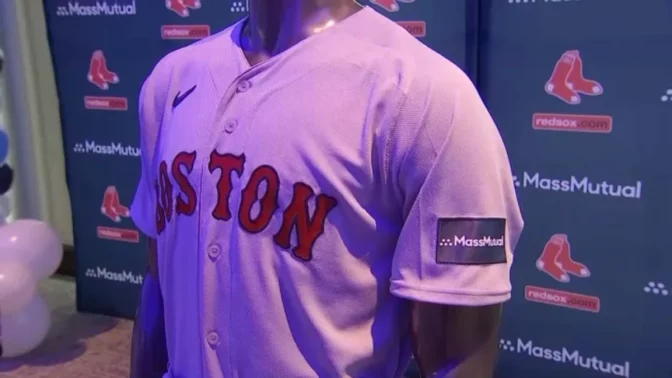 The insurance company's deal with the Sox goes beyond uni advertising and will also include a large in-stadium ad:
The #RedSox officially announce their new 10-year partnership with MassMutual, which will include uniform patches and a new 80-foot sign in center field atop the Jumbotron. The patches will adorn all uniforms starting in spring training.

— Mac Cerullo (@MacCerullo) November 30, 2022