Good morning, Uni Watchers, and welcome to Week Five of your Sunday Morning Uni Watch.
Yesterday, Air Force took on Navy and broke out their special "Space Force" uniforms for the occasion. For all the details on the USSF uniforms, please check out this detailed article I wrote back in August. As everything "special" about the uniforms is contained in that piece, I won't delve into tremendous detail here.
Perhaps it was the overcast day, but I wasn't really in love with the special uniforms — which as you can see from today's splash featured blue (fading to black) helmets, and black uniforms with a NOB of "Semper Supra" for all players, and "USSF" (standing for "United States Space Force") lettering running down the pants legs.
The Air Force Blue helmets featured a white decal, which I guess resembles jet plane contrails, with each player's name on a patch on his right chest.
You can see the blue helmet with a fairly solid black fade here: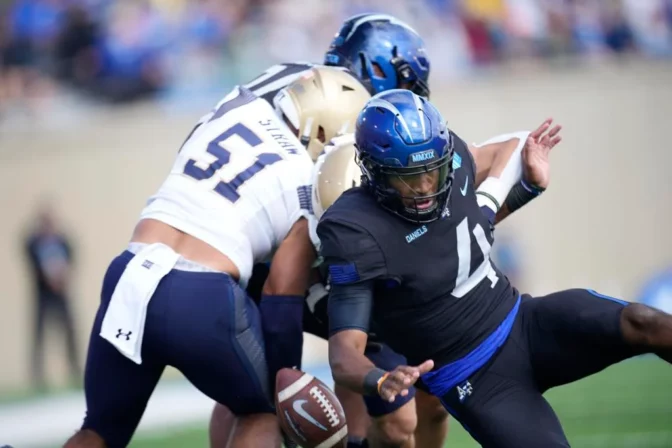 Because the helmet had a shiny metallic finish, the fade effect wasn't really apparent on the field, although the helmets took on a much brighter blue hue when the sun did peek through the clouds. Other times the blue appeared much darker.
The one other feature of these uniforms that stood out (to me, anyway) was the GIANT number font (which evidently could be seen from space). They reminded me of similarly yuge numbers sported by Army for the Army/Navy game several years ago.
I don't normally like it when teams play dressup, but I always make exceptions for the service academies. Unfortunately, this one didn't move me the way previous AF, Navy and Army specialty uniforms have.
But now that we've moved into the second quarter of the NCAAFB season, teams are busting out special and alternate uniforms at a good clip. For that, and much more, I'll turn the rest of this section to Terry Duroncelet, Jr. for the NCAAFB wrap, to be followed by Wade Heidt and a new-for-'22 Canadian University Uni Watch (CUUW). Here's TJ with your…
• • • • •
Sunday Morning Uni Watch
by Terry Duroncelet
I'm just gonna link the image, because you already know what time it is. Happy Halloween month, everyone! I think I mentioned this last year, but during the month of October, I give the pass to a lot of wild one-off unis that you'll find on the collegiate gridiron (yes, including BFBS), as opposed to the usual scorn. So to all the college teams out there reading this (???): DO YOUR WORST. You have ONE MONTH. Make it count. Anywho, on to Week 5.
From Thursday:
• South Carolina/SC State: South Carolina wore a simplified 'C' in their game against SC State. The helmets –along with the garnet facemasks and single stripe– are meant to be a bit of a tribute to the lids worn in 1968.
From Friday:
• Houston/Tulane: Houston wore mono-black against Tulane. This year's offering features that neat "Cougars" script that they've been using a lot as of late. Too bad that they (once again) didn't follow up with black helmets.
• Boise State/SDSU: Boise State wore throwback helmet decals against San Diego State.
From Saturday:
• Ole Miss/Kentucky: Alright, it's time for a good ol' fashioned ROAST. Ole Miss wore these helmets in their game against Kentucky. Normally, this would be fine during the month of October, but given how these helmets came to be, this is nothing but bad news. Ads look like hot(ty toddy) garbage on ANY uniform, but they ESPECIALLY have no place whatsoever in college football. I don't give two flying squirts of Fighting Duck shit if this was done out of the goodness of Realtree's CEO. A uniform advertisement under the guise of giving back to your alma mater IS STILL A UNIFORM ADVERTISEMENT. Their endzones were FIRE, tho, I hope they keep those for a long time.
• Baylor/Oklahoma State: Contrast Matters: Banana Peppers and Mozzarella Cheese Edition. This game would've benefited SO MUCH from being color-vs-color.
• Iowa/Michigan: Navy trou for Michigan on Saturday. Given that this was against yellow-pantalooned Iowa, this may be the one time in which the navy pants actually make sense.
• Nebraska/Indiana: White throwbacks for Indiana.
• TCU/Oklahoma: TCU starting off October right in their victory against Oklahoma. Closer look at the helmets (thanks, Blaise)
• Minnesota/Purdue: Minnesota actually looked like Minnesota, at least given their current uniform set.
• Maryland/Michigan State: Maryland wore their throwbacks against Michigan State, who themselves wore all-white (still one of the better all-white looks in the country).
• Arkansas State/UL Monroe: Season's Greetings from Arkansas State, a team that I rarely get to talk about.
• WKU/Troy: White-at-home for Western Kentucky.
• Pitt/Georgia Tech: Pitt Redshirt Junior OL Ryan Jacoby normally wears #61, but was spotted on Saturday night wearing a #84 jersey, with his #61 helmet (h/t to DaveGH2P on Twitter). It's hard to see, but I think I see his surname on the back, so this could be for field eligibility reasons.
• Illinois State/Southern Illinois: I normally don't cover much FCS football, but HOLY SHIT, Illinois State's really going for the gold here. Or should I say "going for the black"? Pretty sure those numbers are illegal, tho.
• Clemson/NC State: I know a lot of us want to go back to anytime before 2020, but one referee took that one step further by wearing a college football 150 shirt, which hasn't been seen since 2019 (h/t to Jim Pericotti and Wilds_Lee on Twitter).
• Mizzou/Georgia: gotta love SECC football.
And THAT'LL DO IT for Week 5. I totally didn't fall asleep for a bit after getting my booster earlier on Saturday and got this to Phil late, what are you talking about?? As always, a HUGE shoutout to Blaise D'Sylva for his tireless efforts on helmet coverage, including Old Dominion's Hudson Blue helmets, North Texas's black-and-green State helmets, Rice being one month late AND one month early to the S&S party, and plenty more. You can check his Twitter and website out for more. Hope your October is full of fright and fun, enjoy today's London game between the Saints and Vikings (finally, my dad's dreams of the Saints wearing a black helmet in the regular season will be realized), and I'll see you all next week.
• • • • •
Thanks, TJ! Great wrap as always. In the next section, Wade will take us through the Canadian University Uni Watch.
______________________________________________