After a series of leaks and teases, MLB finally revealed the full set of All-Star Game jerseys yesterday. (The caps, as you may recall, came out about two weeks earlier). The game is being played in Los Angeles this year, which means the National League is the home team, so they're wearing white: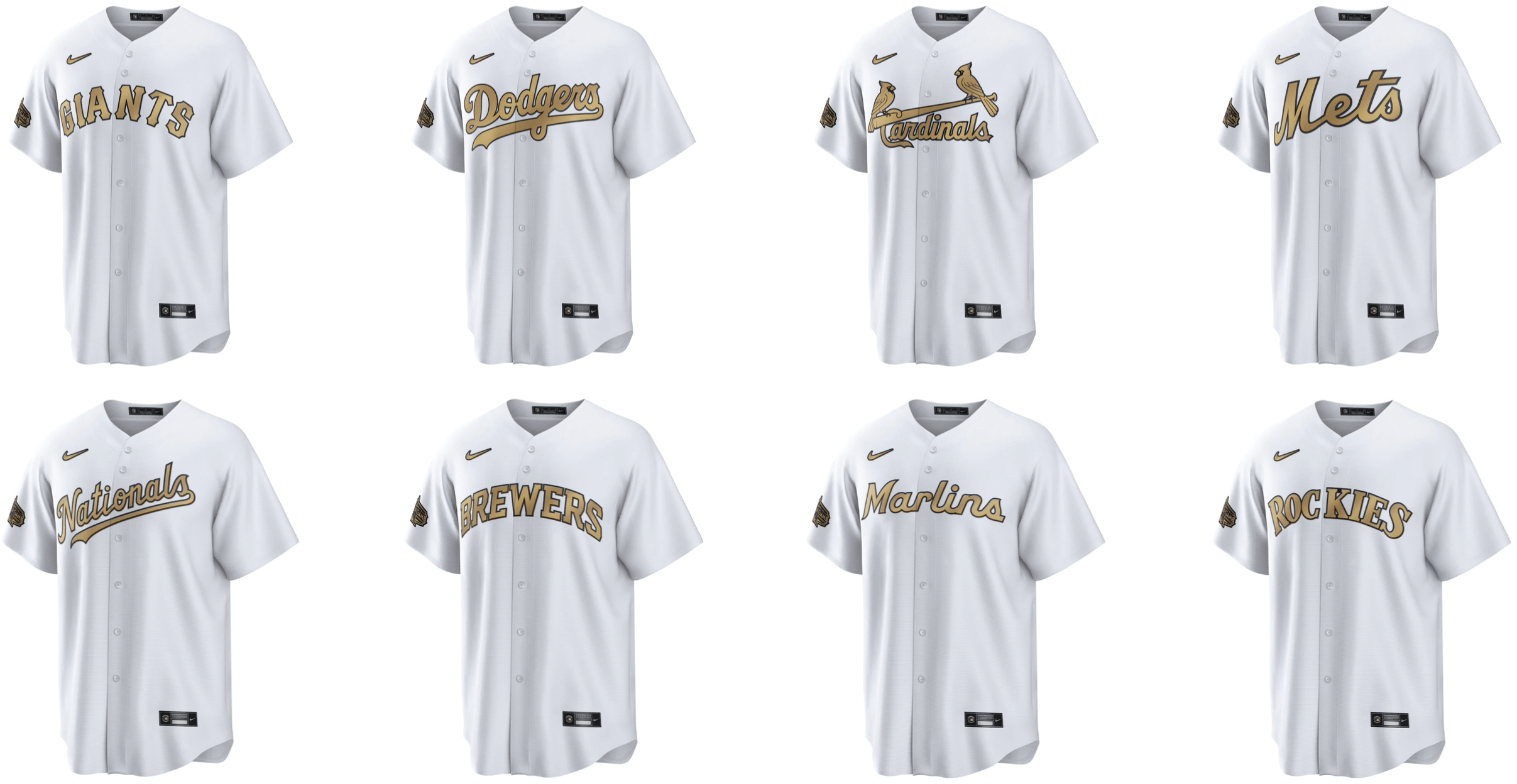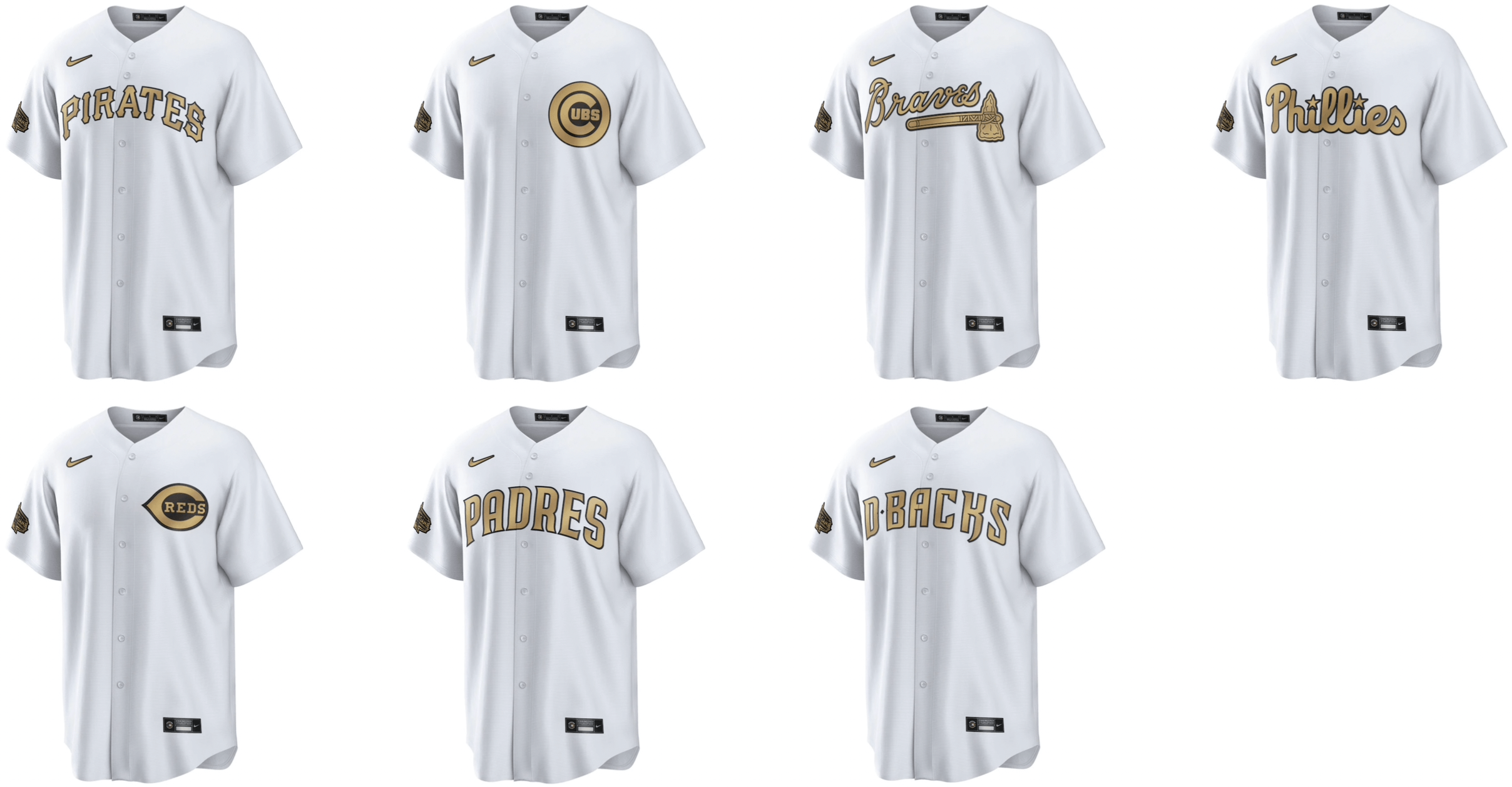 As the visiting team, the American League is wearing grey BFBS: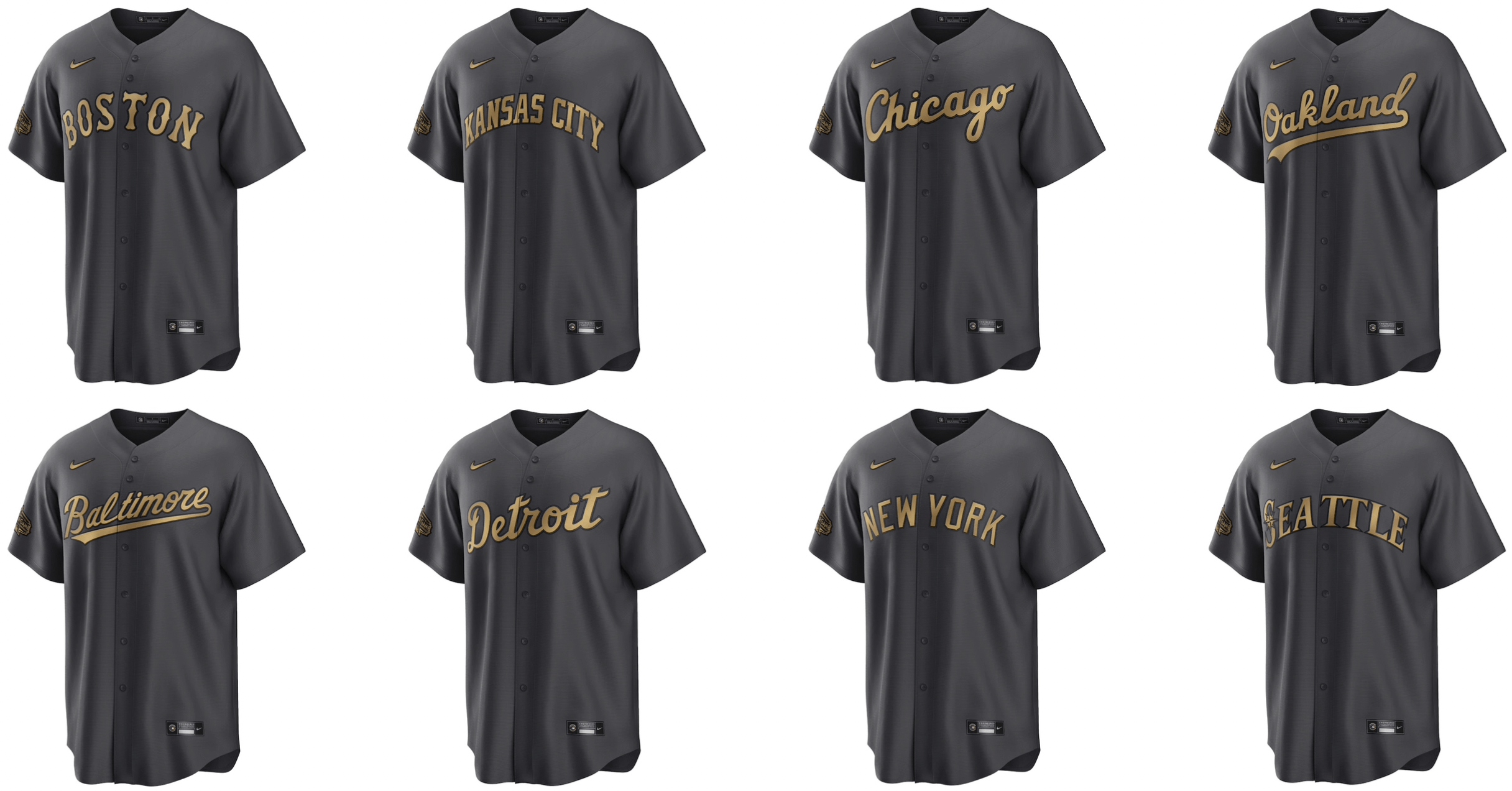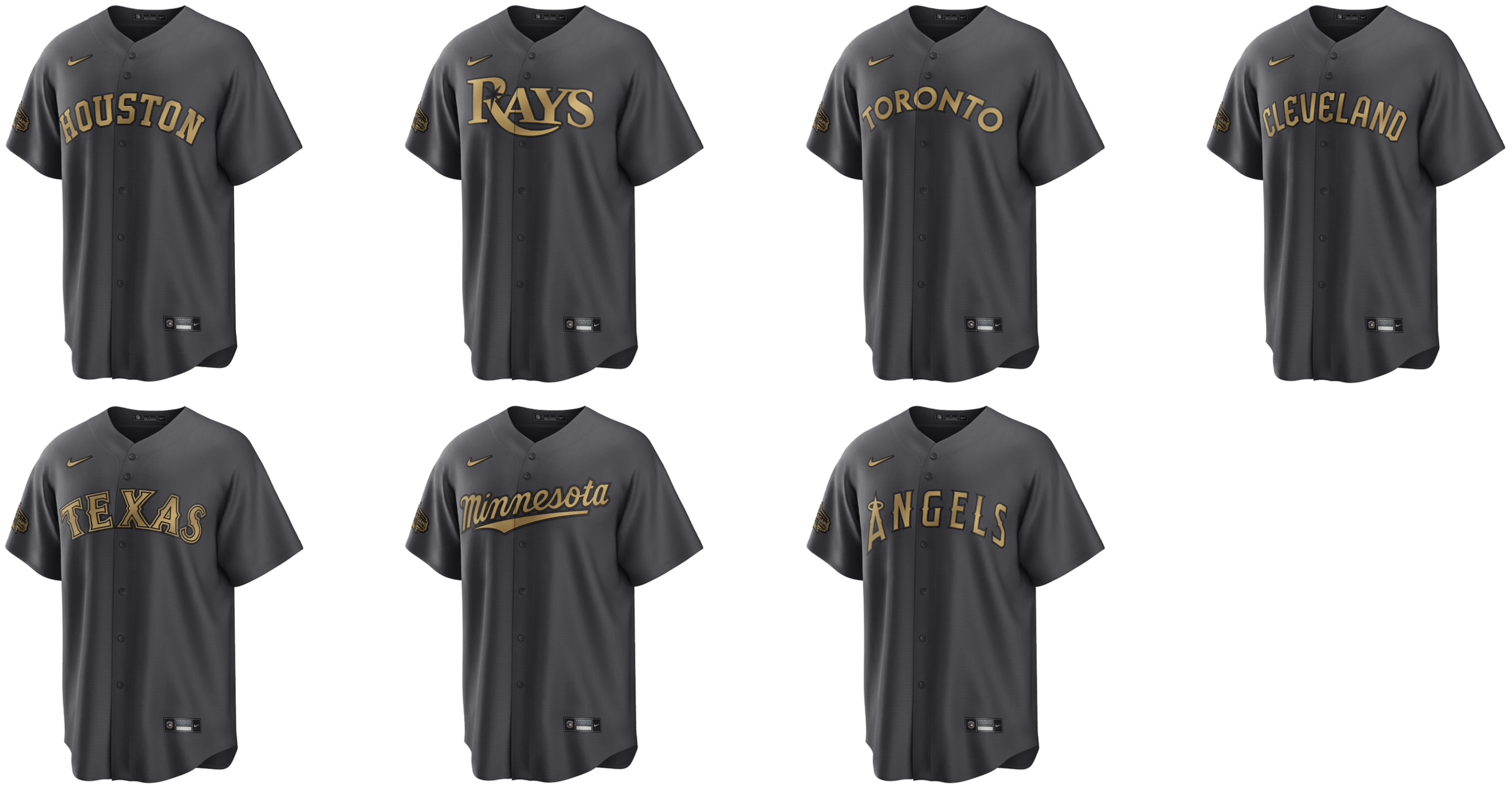 Is this better than last year's costumes? Sure, but that's really just another way of asking, "Are they total shit?" The more relevant question is: Are they good? Personally, I don't think so. Here are some reasons why, along with a few other observations:
• I hate, hate the AL's BFBS jerseys. Even worse, SportsLogos.net says the pants will match the jerseys, so this will be a mono-BFBS uniform. Woof!
• As I mentioned last week when the Marlins' All-Star jersey leaked, I don't like the use of gold here, because it's too close to the gold-trimmed jerseys that defending World Series champs wear. Here, for example, is a comparison between the Giants' 2011 championship jersey (on the left) and their new All-Star jersey (on the right):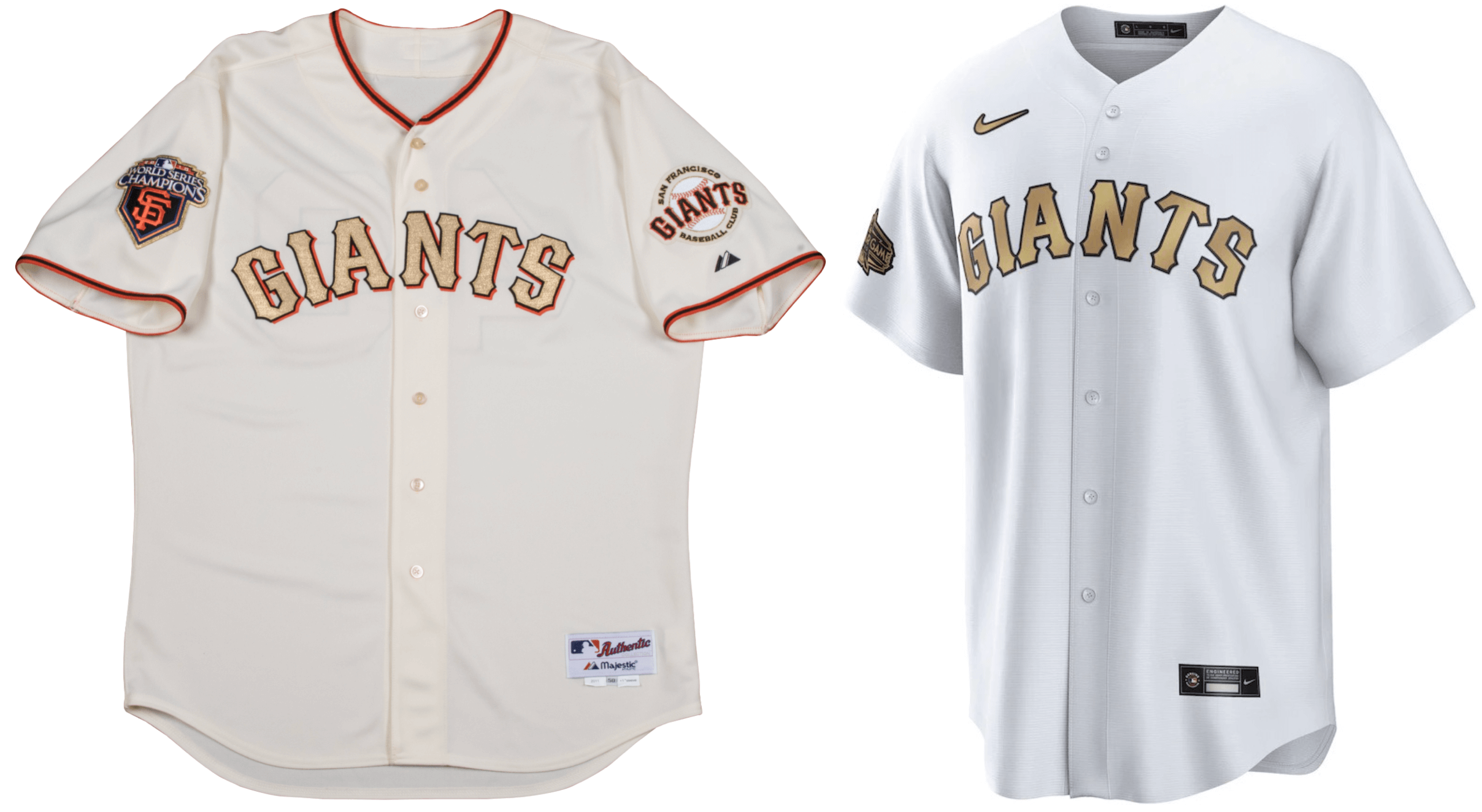 Obviously, they're not exactly the same, especially to people with practiced eyes like ours. But they're way too close, because the concept is way too close. Save gold for the World Series champs.
• No pinstripes, even for NL teams that normally wear them (Mets, Cubs, etc.).
• The Blue Jays' distinctive split lettering isn't split.
• The Rays' sunburst is now more of a black hole.
• Little contrasting details, like the stars on the Phillies' script, are no longer contrasting.
• St. Louis's gold cardinals look ridiculous, like a bronzed statue or something.
• The mock-up images don't include front numbers (grrrrr), but I think it's safe to assume that the Dodgers' front number won't be red, which will look really weird.
• Will the Yankees' All-Star jerseys have NOBs? this replica jersey has one, but so do some regular Yanks replica jerseys, so it's hard to be sure. (If we could look at an All-Star retail authentic, that would be more definitive, but they don't appear to be selling those, or at least I couldn't find one.)
• Similarly, all the jerseys are shown with the same rear-number and NOB default fonts, instead of the team-specific fonts — but again, maybe that's just a replica thing: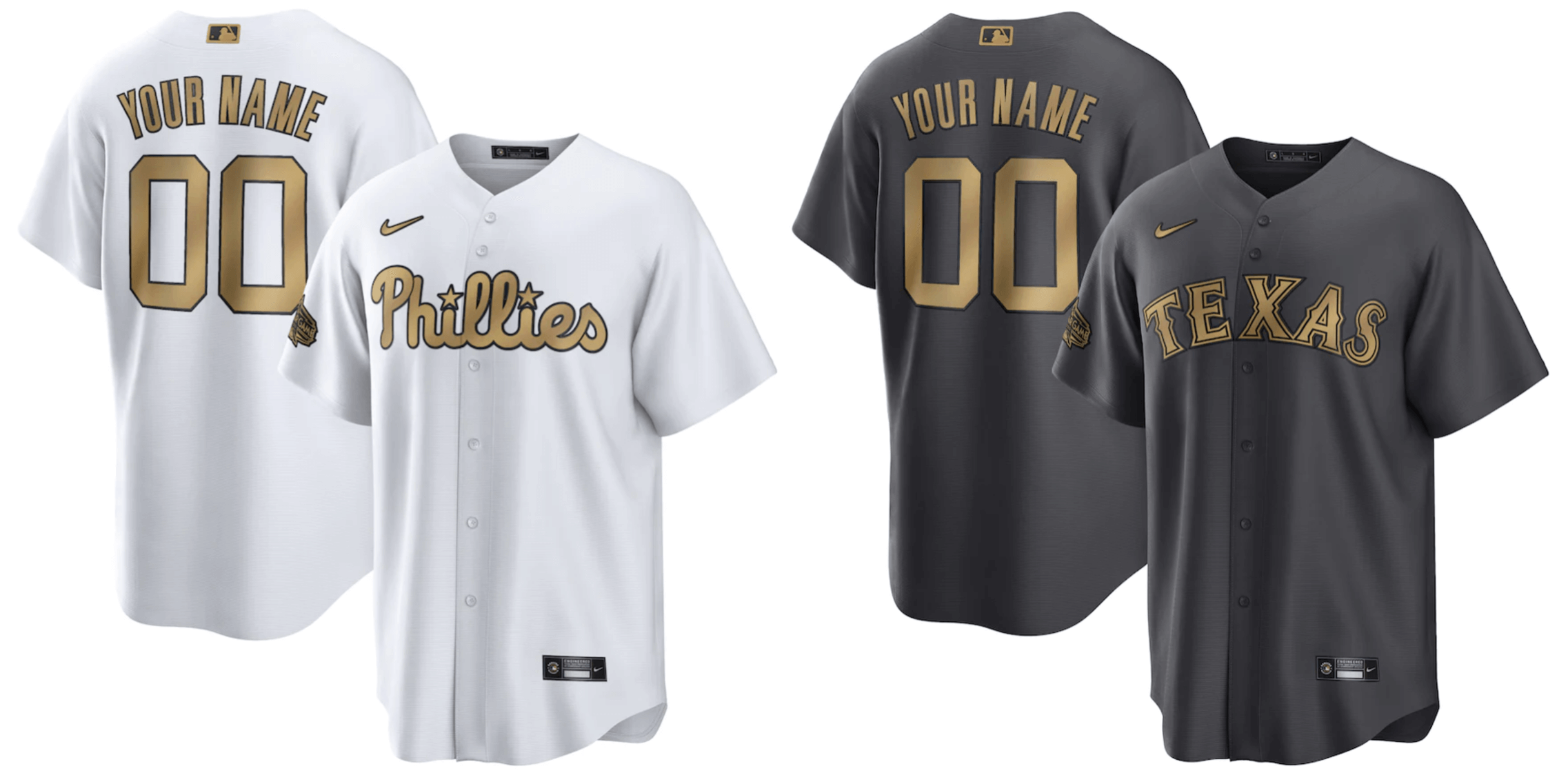 ———
So, all in all: An upgrade from last year, but still nowhere near as good as just letting the players wear their regular team uniforms.
• • • • •
• • • • •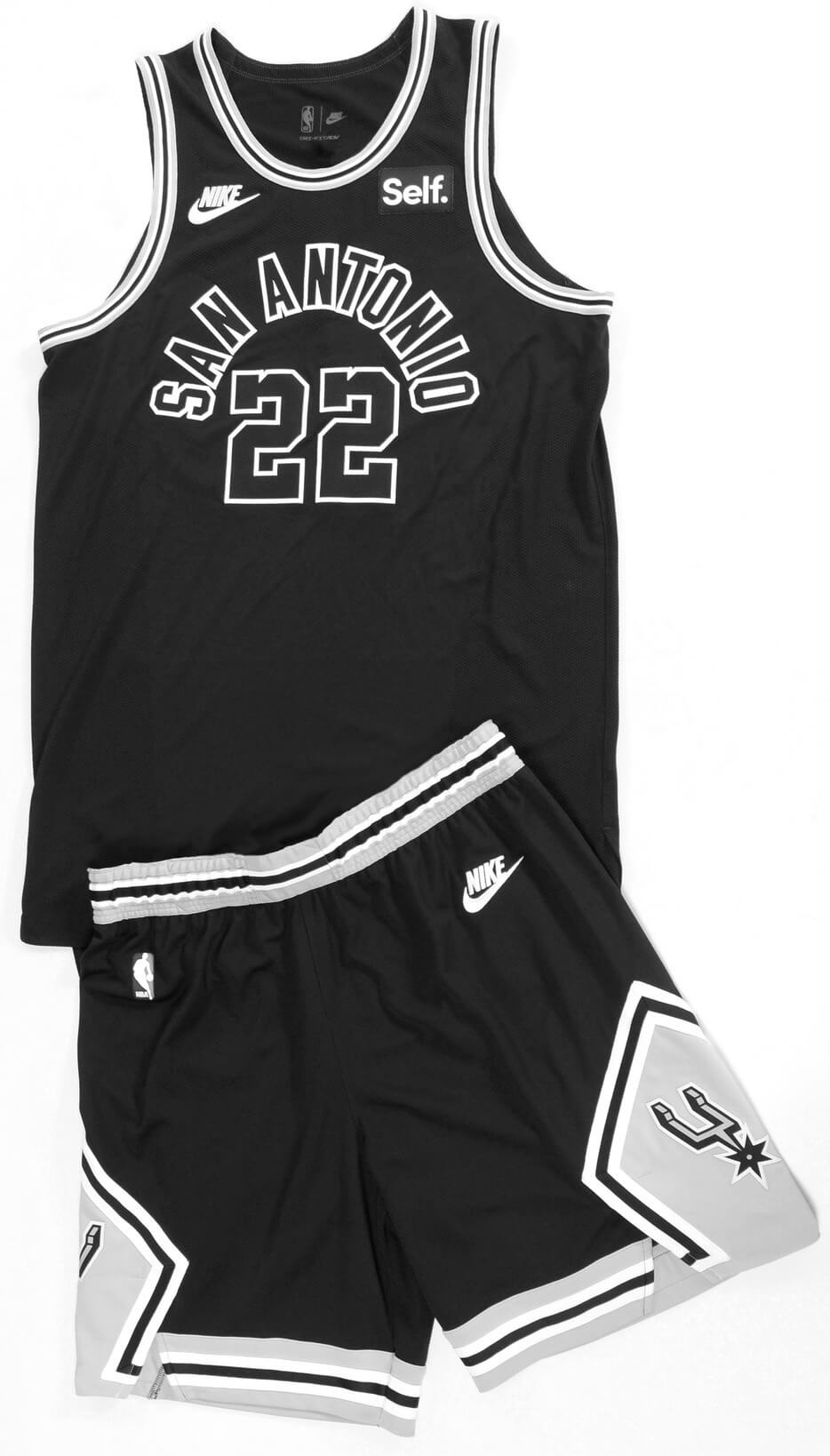 Click to enlarge
New Spurs throwback: One of the NBA's worst-kept secrets became official yesterday, as the Spurs announced that they're adding a new throwback this fall as part of their 50th-season commemoration.
Interestingly, the Spurs didn't wear this design for their 1973-74 debut season (back when they were still in the ABA and had just moved to San Antonio after playing the franchise's first six seasons as the Dallas Chaparrals). For that first season as the Spurs, their road jerseys had white lettering: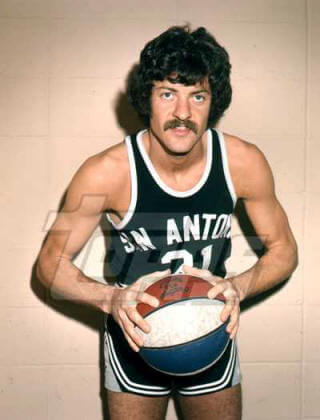 They didn't move to the black-on-black lettering until the 1974-75 season, but they kept that design for eight seasons, including the George Gervin glory days, so it tends to be more fondly recalled than the inaugural white-lettered version. That's presumably why the black/black version is getting the throwback treatment.
• • • • •
• • • • •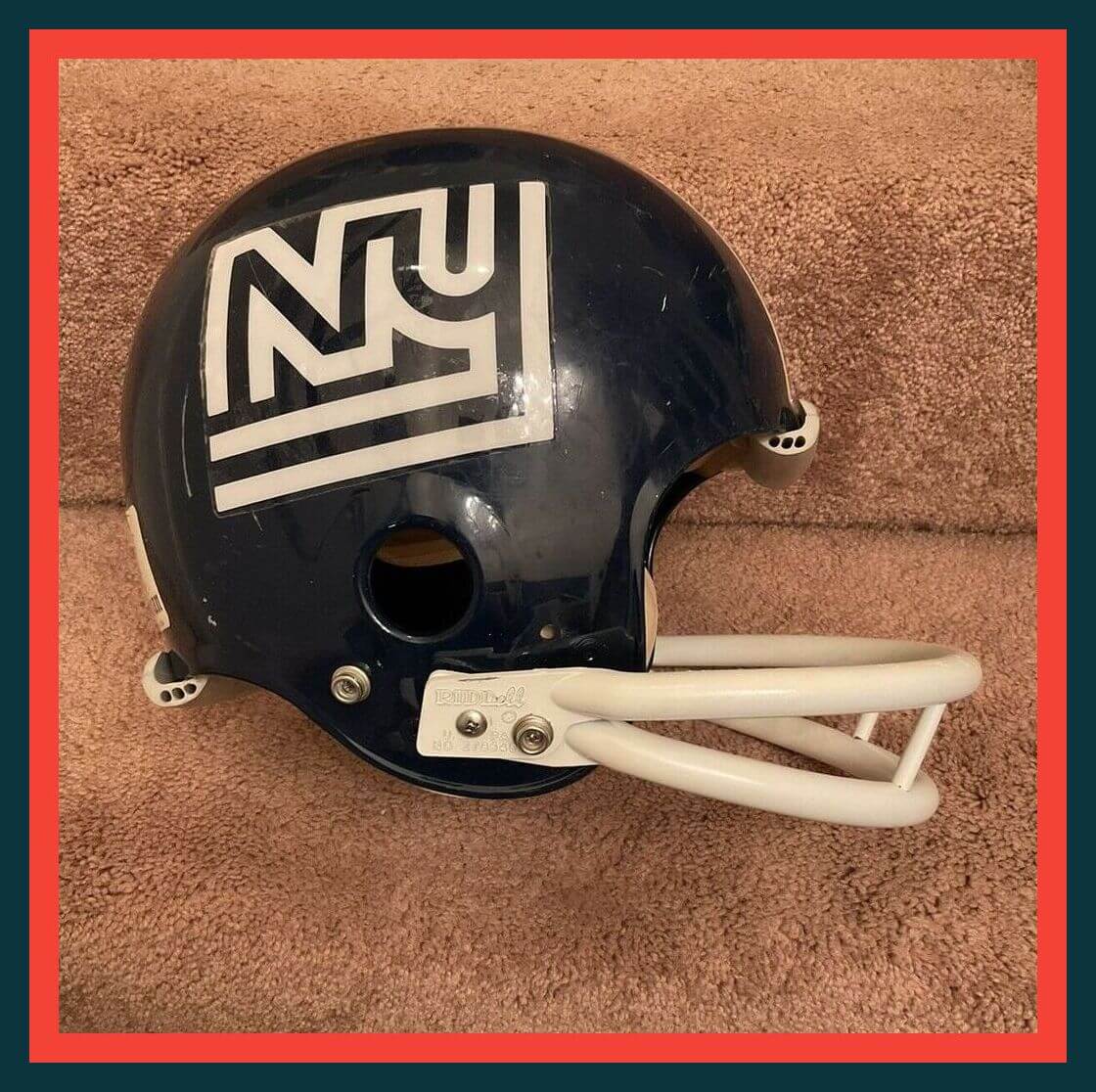 Click to enlarge
Collector's Corner
By Brinke Guthrie
As we edge closer to the start of NFL training camps, it's a good time to revisit the New York Football Giants' "disco logo," as seen on this vintage Trojan helmet. They wore this logo for only one season — 1975 — before switching to the better-known "Giants" logo the following year.
Now for the rest of this week's picks:
• Is this cover art for the 1995 New York Jets media guide really the best they could do? Seriously? I'd love to see the art that didn't make the final cut!
• Hey, Jets, here's how it's done: Great artwork on these Atlanta Falcons guides from 1982 and 1977.
• Another Jets-related item here: Franklin was the maker of this 1970s Joe Namath T-shirt "shirsey"/helmet set. 
• The great Mickey Mantle and fitness expert Bonnie Prudden endorsed the Isometric Minute a Day Gym. "Just one minute a day will give you the muscles and physique of an athlete!" Sure, sounds reputable.
• Herbert Garrett Jester was a "Bona-Fide White Sox Rooter" for the 1951 Go! Go! White Sox! club, as shown on this membership card. 
• Bonilla, Mattingly, Ripken, and Biggio are the players featured on this set of 1992 plastic baseballs. For Mattingly, that means you get a Donnie Baseball baseball!
• Moxie soda (not root beer, as the seller mistakenly claims) sponsored this 1920s baseball scorecard.
• This 1938 tin of Sport-Grip contains "hardened pine tar-like contents." Seems like the kinda sticky stuff that MLB umps currently check for!
• Check out this set of National League Green Books from 1977, 1978, 1979, 1980, and 1983.
• From 1970, this Dunkin' Donuts bumper sticker features Cubs catcher Randy Hundley.
• • • • •
• • • • •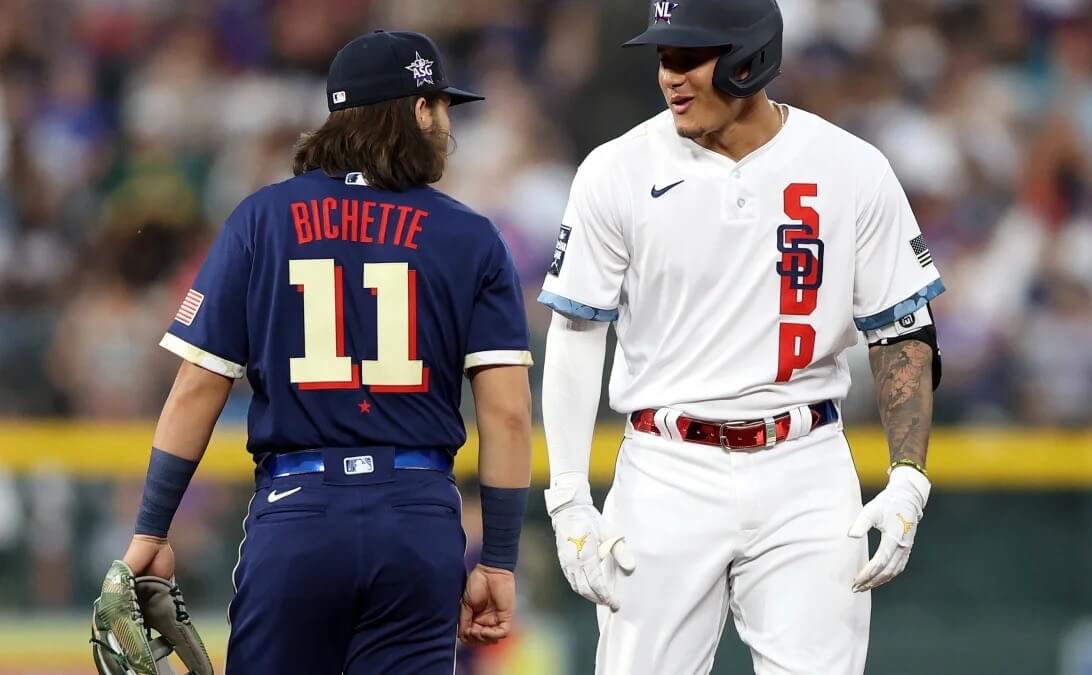 Next-to-last day: The deadline to enter our latest design contest (to create MLB All-Star uniforms that don't suck) is tomorrow, so get those entries in while you still can! Full details here.
• • • • •
• • • • •
The Ticker
By Alex Hider

Baseball News: Atlanta was doing another World Series replica ring giveaway last night, so they once again wore their gold-trimmed uniforms. … Miami is one of four cities that will host the 2023 World Baseball Classic, so the Marlins celebrated by putting the WBC logo on the mound for last night's game (from @nrkastroll). … The New Jersey Jackals of the Frontier League are giving away a bobblehead of team mascot Jack the Jackal on Saturday. The mascot is wearing five rings to celebrate the Jackals' five championships in their 25-year history (from John Cerone). … Good work by reader Christopher Geis, who designed the uniforms and came up with the nicknames for a North Carolina T-ball league. … Here's a profile of a man who's donating what he believes to be the world's largest collection of Nolan Ryan memorabilia to Stockton University in New Jersey (from Andrew Franklin). … Johnny Garfield spotted at least one member of the 1979 Phillies wearing a jersey without the usual piping running down the sides. … Jordan Mayblum was watching highlights of the 2001 All-Star Game and noted that Yankees OF Bernie Williams appeared to be wearing an autographed jersey. Anyone know who may have signed his jersey? … Spotted on eBay: A cap celebrating the Mariners' phantom ALCS win in 2000 (from @brennanbobpaul).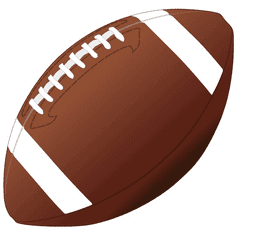 Football News: Following up on an item from yesterday, the Steelers have made it official and announced their new stadium-name advertiser (thanks to all who shared). … This fun 1972 film shows Cowboys players — including QB Roger Staubach — playing a flag football game, sans helmets and shoulder pads in Texas Stadium. Bonus: The classic blue jerseys making an appearance! (From Clay Hervey.) … This 1910 photo of Minnesota high schoolers shows a great look at early football shoulder pads (from @FoFStrife). … One of the largest brewers in the U.S. will pay Texas for the right to serve its drinks at Longhorns games for the next five years. The deal means that folks in Texas will soon see "UT-branded packaging in 16-ounce aluminum bottles and 12-ounce cans" starting this fall (from @PhillyPartTwo).

Hockey News: Over the weekend, the Canucks drafted D Elias Pettersson in the NHL Draft, which made headlines because the team already had an Elias Pettersson on their roster. Development camp opened yesterday, and the newest Elias Pettersson debuted wearing No. 32 and FIOB (from Patrick Johnston and Wade Heidt). … Brothers Brett and Brady Berard are both currently in the Rangers' system and are wearing FNOB during offseason camp (from @brianspeaksnow).

Basketball News: For the first time ever, the NBA says it will give away championship rings to players on the team that wins the off-season Summer League. … Speaking of the Summer League, Pistons summer coach Jordan Brink has taken to wearing shirts with the team's '90s-era colors and logos (from @JGbaseball98). … Veteran boy band-ers New Kids On The Block took the stage in bedazzled Celtics jerseys on Sunday — but reader Derek Reese noted one member was wearing an older jersey with an outdated ad patch. … A high school court in Indiana was converted into a house, which is now for sale (from Jason Collins).

Soccer News: Liverpool and Manchester United's men's teams will square off in a friendly in Thailand later this week. One Liverpool fan in Bangkok was spotted wearing a custom jersey that commemorates Liverpool's two big wins over Man U last season (from Steve Kriske). … New home shirts for Polish clubs Piast Gliwice and Zagłębie Lubin (from Ed Żelaski). … Also from Ed: New kits for third-tier English side Sheffield Wednesday

Grab Bag: A Milwaukee news site profiled a local resident nicknamed "Orange Mike," who wears orange every day of the year except St. Patrick's Day, when he wears green (from Trevor Williams). … A group of men in India managed to swindle a few thousand dollars from Russian gamblers by livestreaming cricket games under the guise that they were Indian Premier League matches. The scheme included having "laborers pose as players, sporting jerseys of real IPL teams, with a bogus umpire instructed to signal a boundary or wicket" (from Greg Franklin). … The iconic Hollywood Bowl in Los Angeles celebrated the 100th anniversary of its opening yesterday and debuted a new logo to commemorate the occasion (from John Cerone).