A photo of what's purported to be a Marlins All-Star replica jersey began circulating yesterday afternoon. I contacted the guy who tweeted it to learn more about the photo and the "sources" referred to in his tweet. He was able to convince me that this leak is probably legitimate.
A few thoughts:
• The gold script with black trim makes sense given that they're going with black All-Star caps with gold logos. Here's how this jersey would look with the Marlins' cap: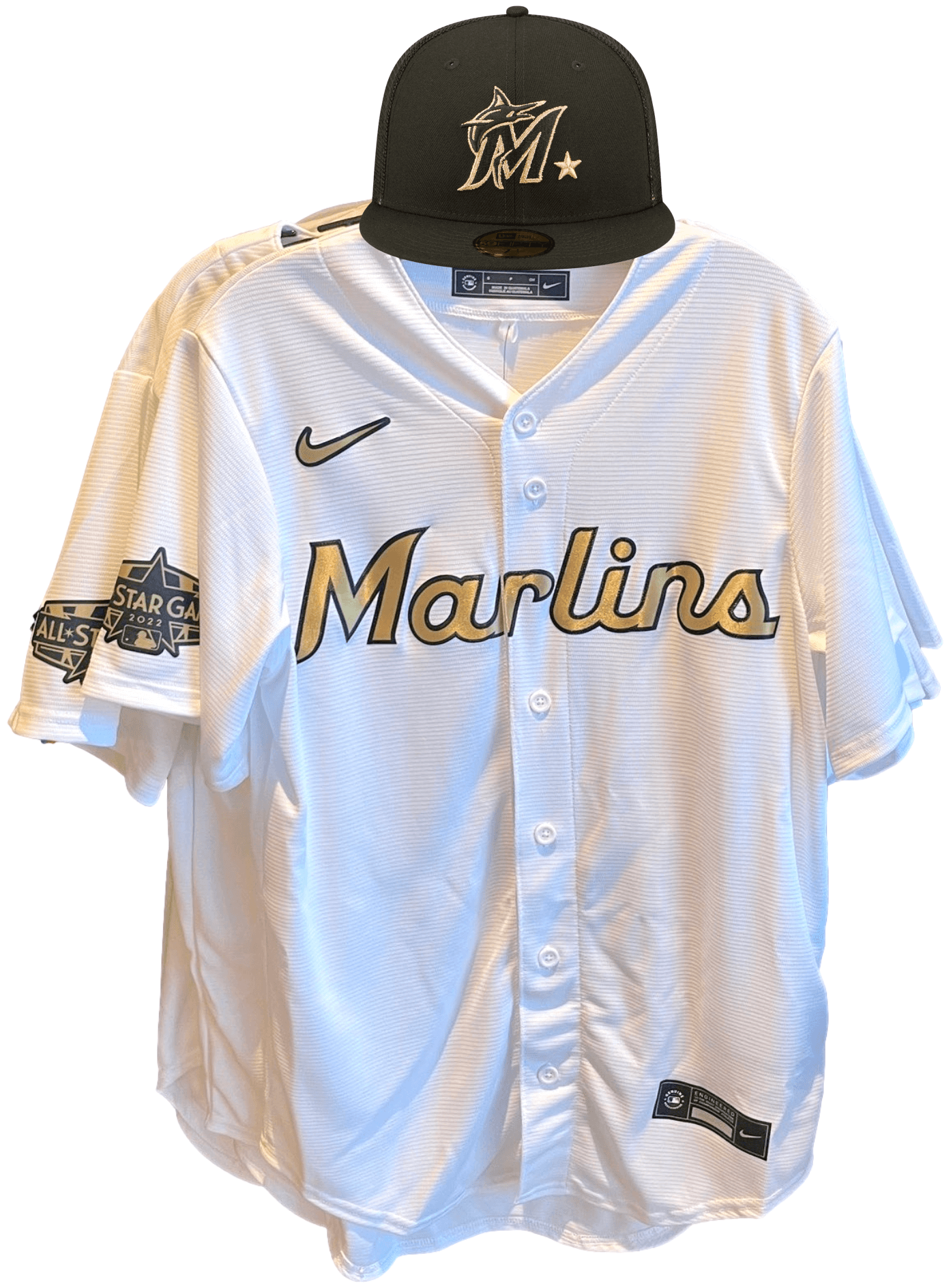 • Here's a closer look at the sleeve patch: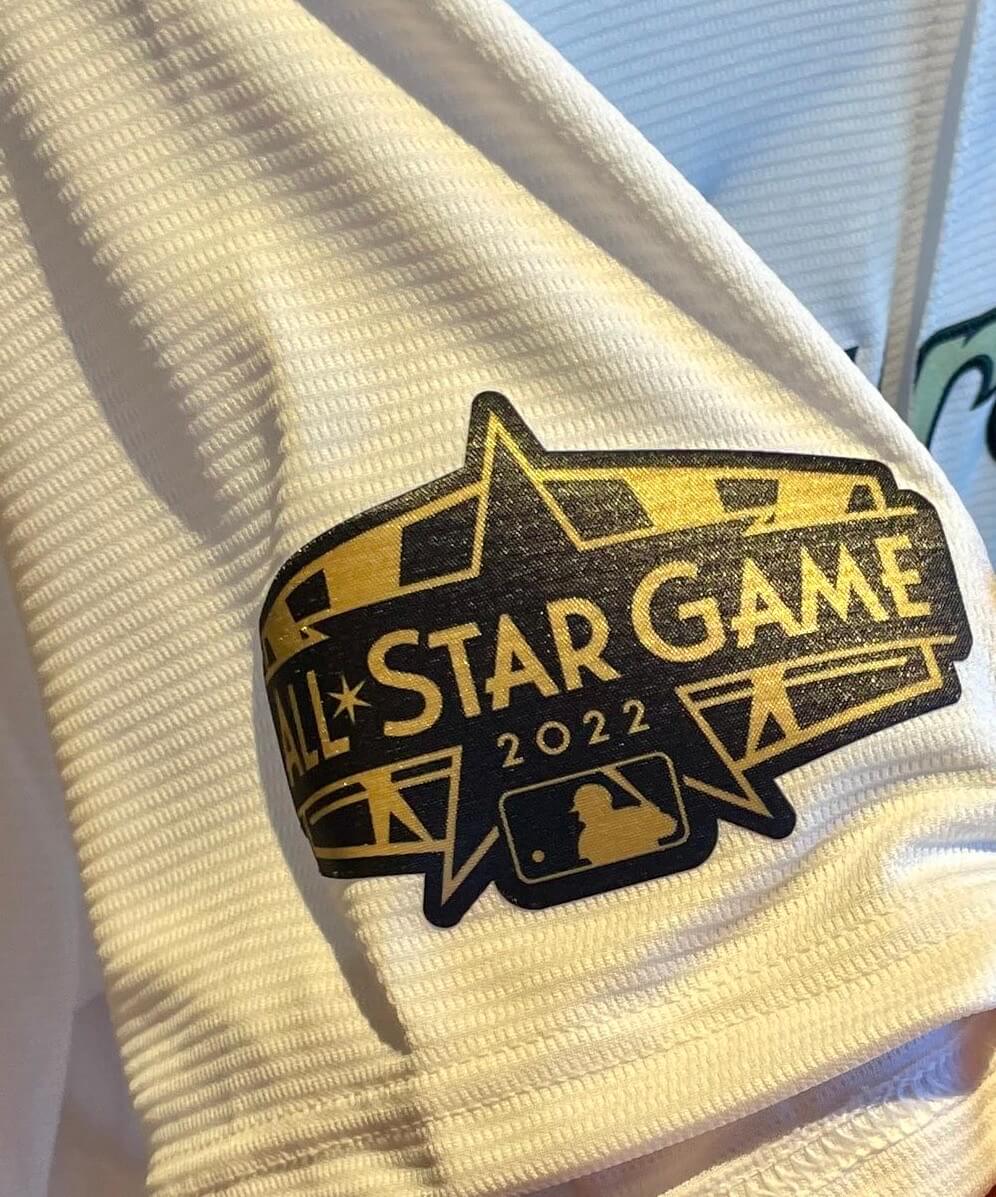 • The National League is the home team this year, so it makes sense that this jersey is white. The weird thing, though, is that the Marlins
don't wear "Marlins" on their home whites
(or on their
road greys
, for that matter) — the team name appears only on their
black alternates
. I guess they really wanted to feature the team name (which really ought to be on the home whites anyway).
———
While we can't say this with 100% certainty, it seems highly likely that the other teams' All-Star jerseys will also feature gold chest lettering. If that turns out to be the case, would it be an improvement over last year's All-Star costumes? Definitely. But is it the right approach? I don't think so. Fifteen of the last 18 World Series champions have celebrated their titles by wearing gold-trimmed uniforms to open the following season. Bringing that same basic design style to the All-Star Game cheapens the championship uniforms a bit, at least to me. (I know, I know — "But this is the only way the Marlins will ever get to wear a gold jersey!" Ha-ha. Okay, now we got that joke out of the way.)
The gold All-Star approach may also lead to some difficult choices. The Giants, for example, have worn three different gold-trimmed championship jersey designs, so how will MLB handle their new All-Star jersey? They have a choice of repeating something that the team has already worn or scraping the bottom of the creative barrel.
Also, why does everything have to be gold? I get that it's the color of champions (gold medals, gold trophies, etc.), but is it really the color of All-Stars to boot? Seems like a lazy choice. So yeah, this is a step up from last year, but it's still a long way from the top of the ladder. Just go back to having the players wear their regular team uniforms already.
• • • • •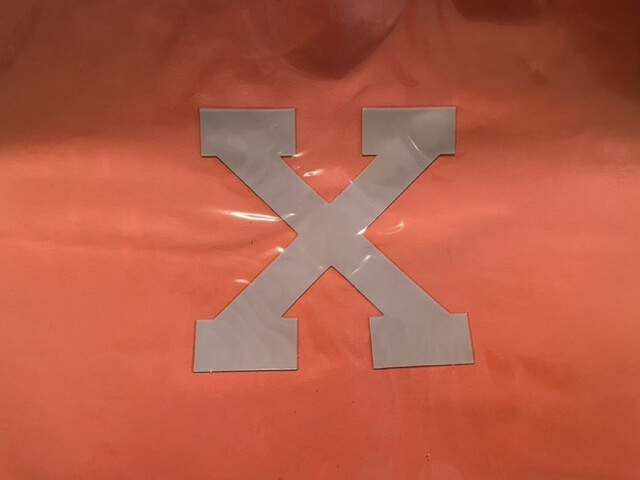 • • • • •
Click to enlarge
"X" files: On Oct. 25, 1997, Boston University's board of trustees voted to terminate the school's football program at the conclusion of that season. Players protested by removing the numbers from the sides of their helmets for the final two games of the year, leaving them with blank shells. But they originally planned for a different protest gesture, as reader and BU alum Bill Abbate explains:
I recently found this "X" helmet decal that I purchased at the final Boston University football game back in 1997. The players had planned to wear the "X" on their helmets for the final two games, but once the administration got wind of this, the rumor was that the players would lose their scholarships, so they chose not to go through with it. The decals were then sold for charity at the final BU home game.
Faaaascinating. Never heard that before!
• • • • •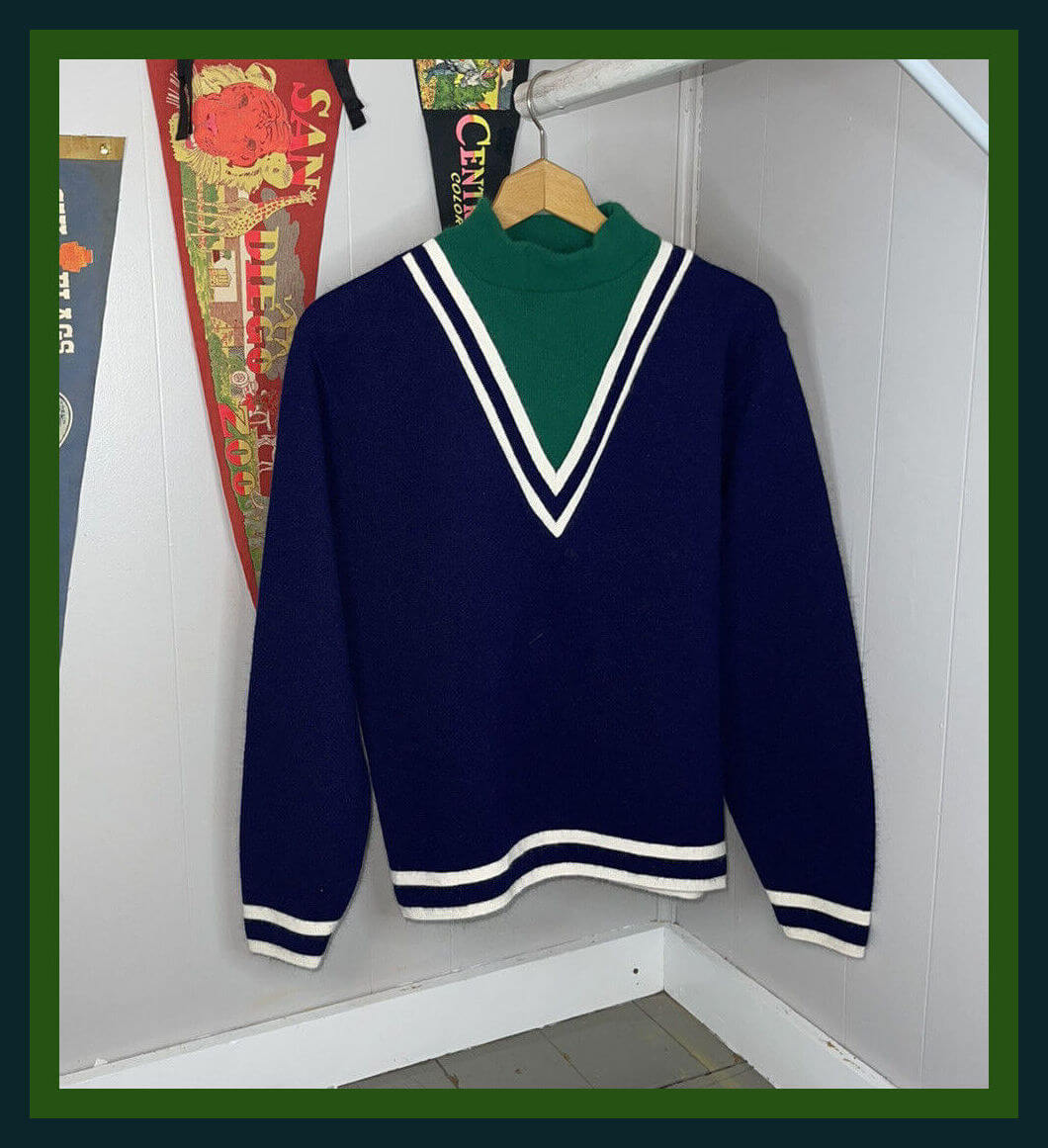 • • • • •
Click to enlarge
Collector's Corner
By Brinke Guthrie
Follow @brinkeguthrie
Check out this 1960s blue/green Jantzen sweater, "officially endorsed by the National Football League." (Jantzen had some type of marketing deal with the league.) It's from an apparel line called "the eXpandables." The seller says it's a Seahawks sweater from the 1960s — obviously those two things can't both be true. In any case, no Seahawks branding but still a very nice sweater!
Now for the rest of this week's picks:
• Believe it or not, we're less than two weeks away from the start of NFL training camp. With that in mind, check out this NFL gumball helmet standings board set. The seller calls this "1980," but if you scroll through the photos, "Kick-off Bubble gum — 1982" is written on the back, so let's just say early 1980s. Nice-looking set!
• Here's an item from 1990 called Major League Baseball in Stamps. This 65-page stamp album contains "9 Sheetlets of Postage Stamps." A "sheetlet"?
• From 1992-93 comes this binder featuring full-color NFL player bios. I like how the cover has helmets of the various players, with their name and uniform number.
• Gotta like the design of this 1953 World Series ticket stub between the Dodgers and the Yankees.
• Los Angeles Lakers star Jerry West ("L.A. 44") is looking rather slender on this 1969 growth chart (not a ruler as the seller suggests).
• Milwaukee Braves second baseman Red Schoendienst offers tips on the "Fine Points of Infield Play" in this 1958 Union 76 sports booklet. Teammate Warren Spahn does the same thing for pitching in this 1962 booklet from Rawlings.
• Also from 1958, this Topps baseball card trade magazine ad is described as "Another Profit Maker from … Topps Chewing Gum Inc., Bklyn. 32, N.Y."
• This 1937 Wheaties cereal bowl includes silhouettes of the great athletes of the time, including Bob Feller and Red Grange.
• You simply will not find a vintage New York Mets bobblehead in better condition than this one. Would look great at Uni Watch HQ!
• • • • •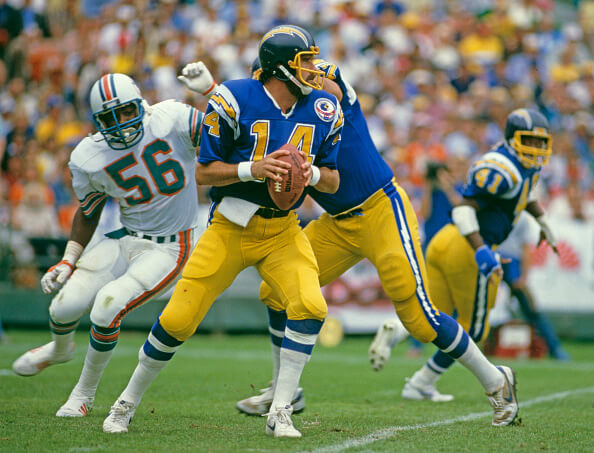 • • • • •
Bulletin preview: For last week's Bulletin column, I looked at the best throwback uni option with a non-primary helmet color for each NFC team. This week I'll be turning my attention to the AFC.
My premium subscribers will receive this article in their in-boxes tomorrow morning. If you haven't yet subscribed, you can do that here (you'll need a Facebook account in order to pay). Don't have or want a Facebook account? Email me for workaround info. Thanks!
• • • • •
• • • • •
The Ticker
By Lloyd Alaban

Baseball News: Guardians OF Myles Straw, who's been in a huge slump, tried using teammate Jose Ramirez's bat on Monday (from Andy Zare). … White Sox P Dylan Cease wore a disc golf-themed T-shirt based on the Dodgers' primary logo when arriving at the ballpark the other day (from Julie Streeter). … The grounds crew at Riverfront Stadium in Wichita, Kansas, mowed an airplane pattern into the outfield. Wichita is known as the Air Capital of the World (from @PhillyPartTwo). … The Dayton Dragons, affiliate of the Reds, will wear Captain America-themed jerseys this weekend. … New mono-black unis for the Yomiuri Giants of Nippon Professional Baseball (from Jeremy Brahm). … New unis for the Boulder Collegians of the Mile High Collegiate Baseball League (from Paul Warne). … Blue Jays C Danny Jansen, who's on a rehab stint with the the Triple-A Buffalo Bisons, wore his striped Blue Jays pants instead of the Bisons' non-striped pants on Monday. You can see Jansen's striped pants at approximately the 30-second mark in this video. Reader Patrick McQuillen, who was at the game, says Blue Jays P Yimi Garcia, who is also on a rehab stint with the Bisons, also wore his Toronto pants. … Speaking of the Bisons, their first base coach, Devon White, has a mispositioned "9" on his uni number. … The Nippon-Ham Fighters' new stadium, set to open next year, will include Japan's largest playground.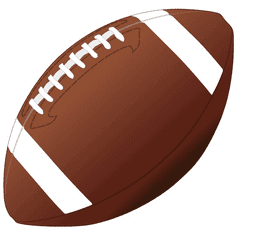 Football News: The Cowboys are taking some criticism after announcing a promotional partnership with a gun-themed coffee company a day after Monday's mass shooting in Illinois (from our own Brinke Guthrie). … Arkansas is changing the midfield Razorback logo on its practice field from red to white. Old logo on the left, new logo on the right (from Taylor Crabtree).

Hockey News: The Oilers could be bringing back their McFarlane "oil drop" logo (from Moe Khan). … Here's the story behind Wayne Gretzky's rookie card (from Andreas Papadopoulos). … Here's a look at the WHL's Moose Jaw Warriors' new logo and new sweaters (from multiple readers). … New 10th-anniversary logo for the AHL's Iowa Wild (from Anthony Scandiffio). … Penguins equipment manager Dana Heinze is retiring after 33 years with the team (from our own Jerry Wolper).

Basketball News: The standard cover for the video game NBA2K23 has leaked, and it looks like Suns SG Devin Booker will be on the cover (from our own Anthony Emerson). … Here's the court design for the NBA's Salt Lake City Summer League (from Adam Rainbolt).

Soccer News: The NWSL's Washington Spirit wore a new second shirt on Saturday. It looks really similar to the previous one but there is a pattern on the sides that is also used on some of the other NWSL shirts (from our own Jamie Rathjen). … Also from Jamie: The Premier League wants its clubs to vote on banning gambling shirt ads to avoid them being banned through legislation. That would require some teams that currently have gambling ads to vote for banning them. … Speaking of the Premier League, Everton is on schedule to move into its new stadium for the 2024-25 season. … Philadelphia mayor Jim Kenney wore last season's Real Madrid away shirt on Monday night while standing outside the hospital where two police officers were treated for gunshot injuries (from Trevor Williams). … New shirts for Bochum of the Bundesliga and Paderborn of the 2. Bundesliga (from Ed Zelaski). … Also from Ed: New shirts for Bologna of Serie A. … New corporate name for the home arena of the San Diego Sockers of the Major Arena Soccer League (from John Flory).

Grab Bag: Here's a ranking of all the shirts at the ongoing Women's Hockey World Cup field hockey tournament. Of note is that Australia brought a new version of their Indigenous design, which is primarily red, as a second choice (from our own Jamie Rathjen). … New athletic logo for Hillsdale College (from @stadium_fire). … Yikes: RFK Stadium in Washington caught fire yesterday (from our own Anthony Emerson). … Pro golfer Ian Poulter appears to be cutting down on the number of ad patches on his shirt (from @burkeman78).