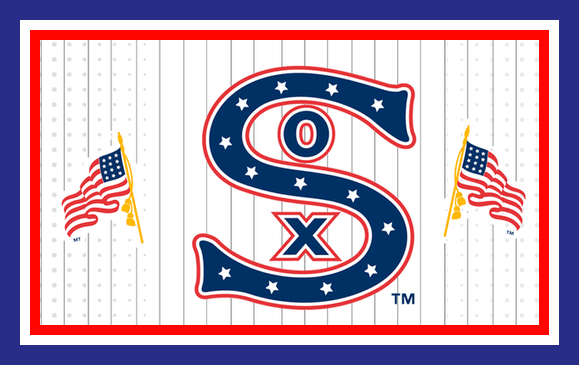 By Phil Hecken
Follow @PhilHecken

Good Sunday morning, Uni Watchers, and welcome to the day before American Independence Day. I hope everyone had a pleasant (long) weekend so far, and the remainder will be great as well. For those not celebrating the Fourth of July, I hope you are having a swell weekend.
Now then.
Back in the day, long before the US major sports leagues sought to profit from Independence Day by outfitting teams in ridiculous apparel, teams still had a tendency to go patriotic. It wasn't done in a contrived way, and was often, if not spontaneous, organic. There may be no "right" way to celebrate the Fourth of July uni-wise, but there was a time when teams could break out the red, white, and blue without the thought of how well the gear would sell to their target demographic.
So that got me to thinking: which team in each of the four major sports wore the "most" patriotic uniform — whether it was something added for whatever reason, or just the uniform itself. Now, this is entirely subjective, and I welcome your own suggestions, but here's what I came up with. Feel free to tell me I'm wrong.
• • •
Baseball
1917 Chicago White Sox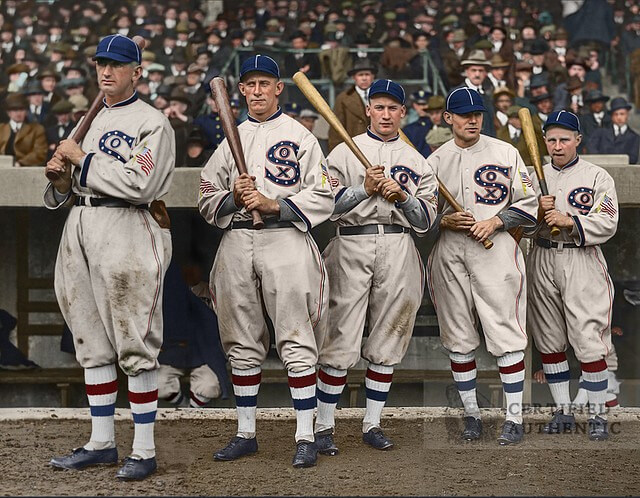 That wonderful colorization, by Chris Whitehouse, was actually featured on Uni Watch a few years ago. Unfortunately, all the images were stored in my deleted Flickr account, but there's still some good history in there. But long story short: the US entered the Great War in 1917, and by the fall, Americans were in an all-out fight against the Hun. When the White Sox won the American League Pennant, they got special uniforms, featuring American Flag patches on both sleeves and also wore a special cap (white with red and blue soutache!), for the Fall Classic. Both the cap and the chest insignia featured a blue "S" with white stars inside.
In what is believed to be one of the first appearances of the American Flag (or facsimile) on a uniform, the World Series showcased the Sox' new-found patriotism. And it was one of the greatest uniform in MLB history to boot!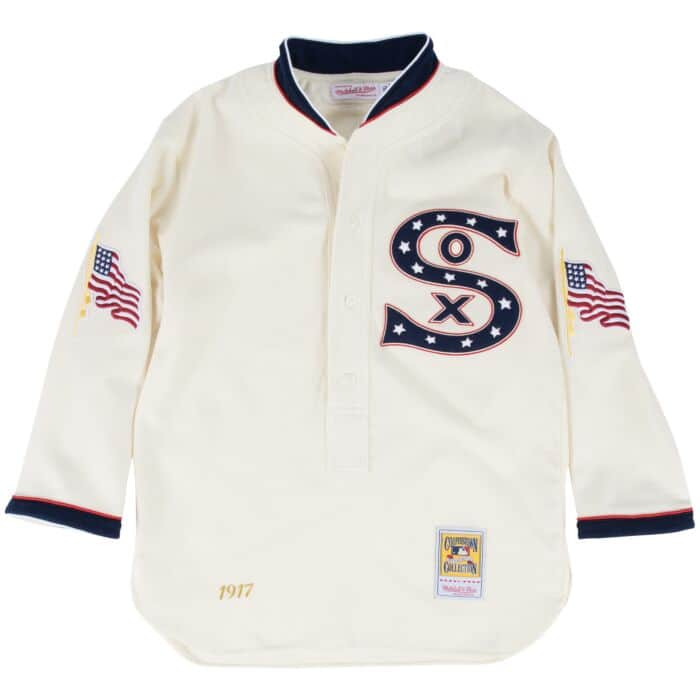 I've opined before this is one of the greatest uniforms, and it was also a great throwback — I'm still holding out hope the team will re-revive these and make them their Sunday home alt.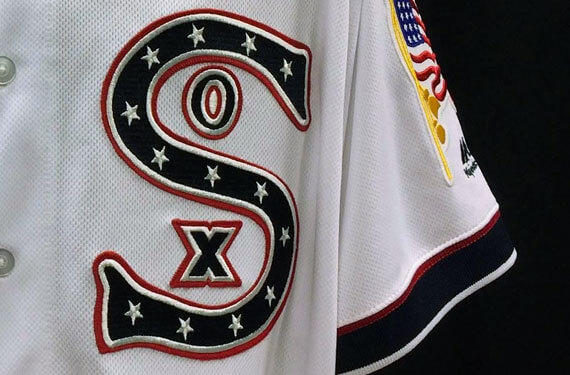 • • •
Football
1976 Dallas Cowboys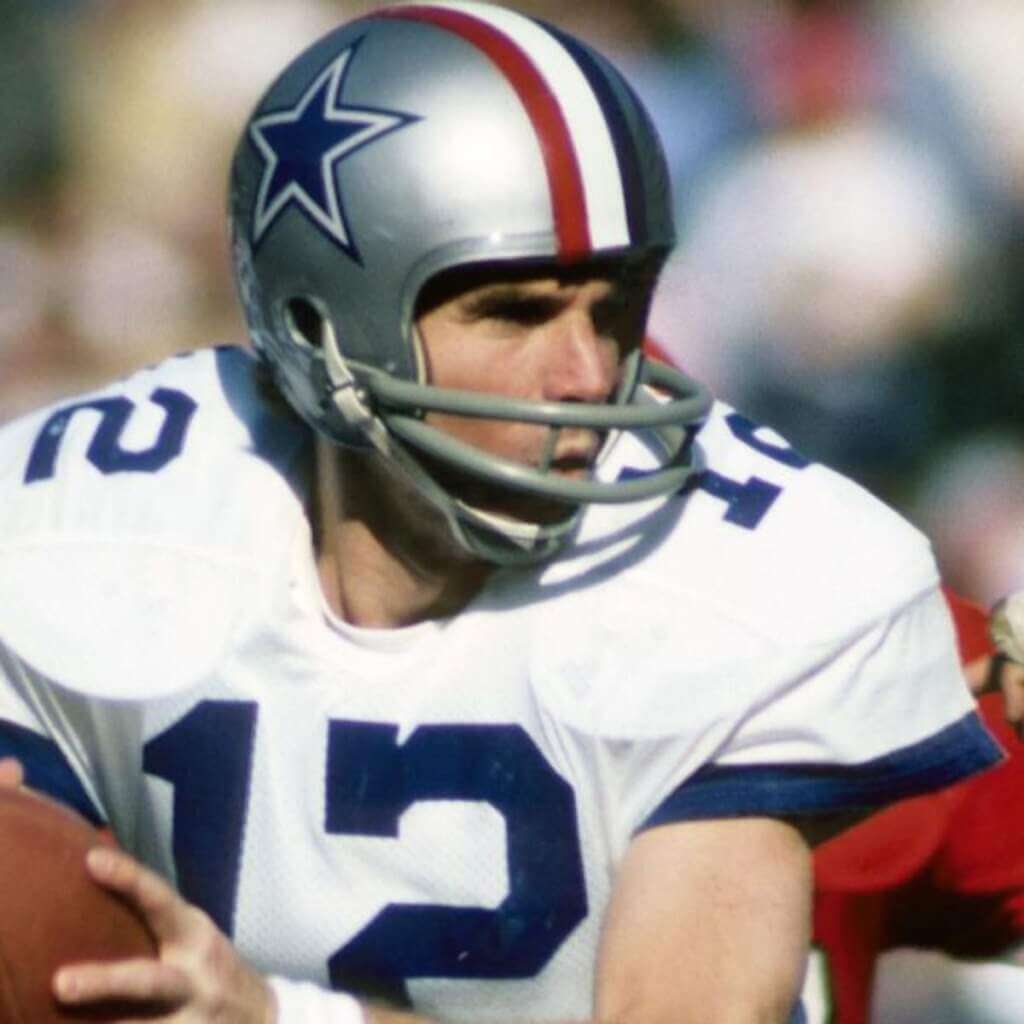 It seems like forever ago (forty-six years, actually) that the Dallas Cowboys made one of the greatest uniform alterations in history, and it simply consisted of replacing one royal blue helmet stripe with a single red one…creating a red/white/blue striping pattern to help celebrate America's bicentennial. The team by then was on its way to becoming "America's Team," and no doubt this simple alteration helped cement that nickname amongst fans of the team.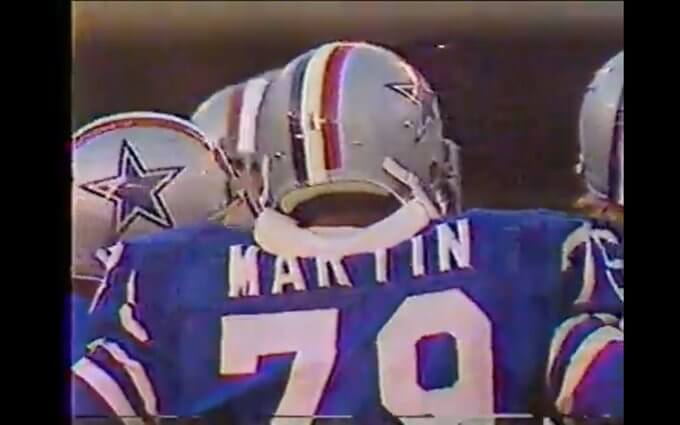 As a nascent uni watcher back then (I was 10 years old), I remember first seeing the "new" helmet and thinking it was one of the greatest things ever. Forty-plus years later, I still love it. I was not then, nor am I now, a Cowboys fan, but I always had a deep affection for the special helmet with its patriotic flavor.
In a somewhat surprising move, the Cowboys actually broke out the red/white/blue helmet stripe for one game last season, against the Denver Broncos, and it looked great — although I'm kind of surprised they didn't wait until 2026 (the 50th Anniversary) to do so. Maybe they will for the full season then.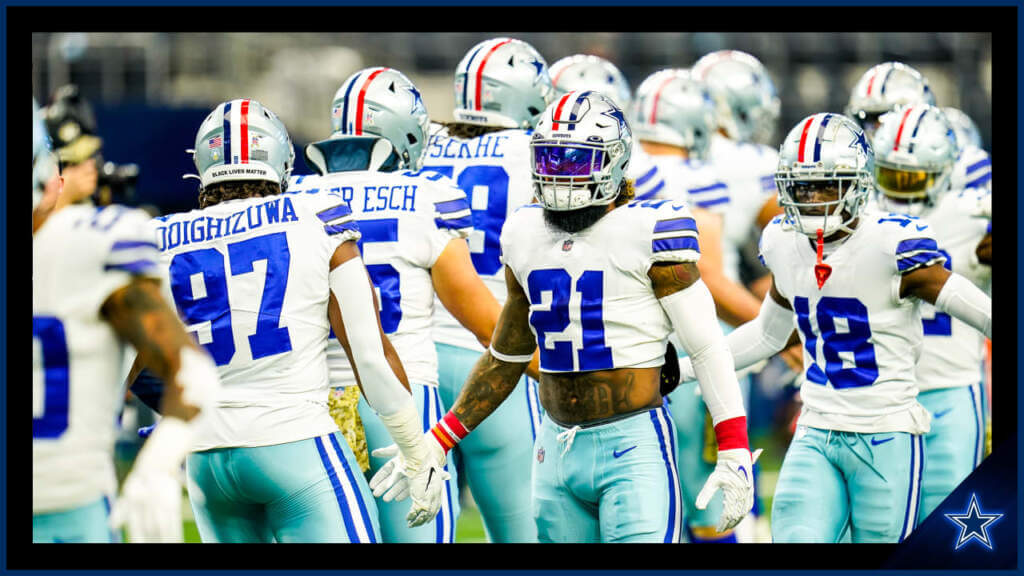 You can read more about the 1976 helmet story here.
• • •
Basketball
1972 New York Nets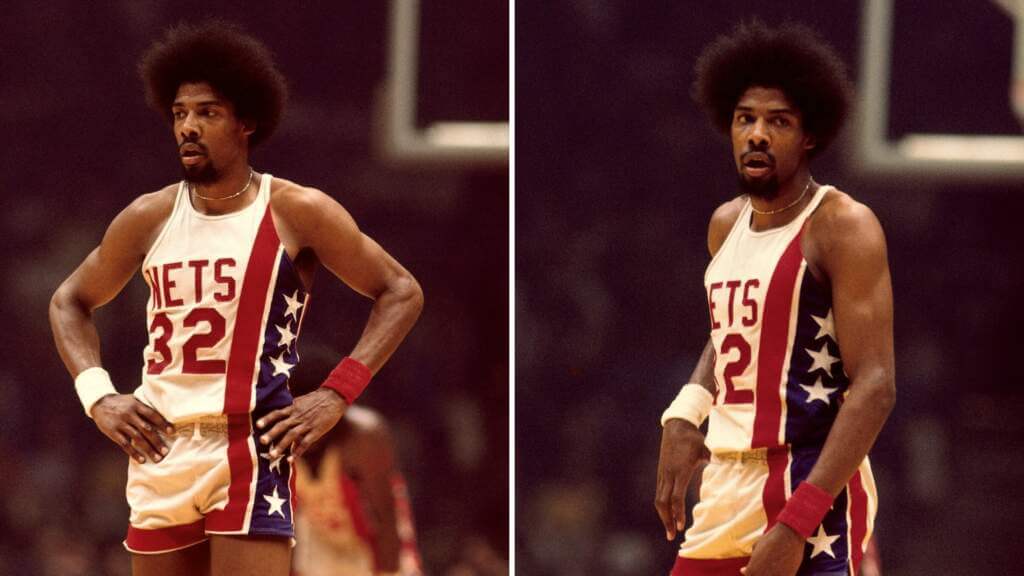 There are probably a few contenders in the basketball category for "most" patriotic uniform, but I remember this one fondly — I grew up less than 10 minutes away from the Nassau Coliseum, home to the Islanders and the (then) ABA New York Nets, and was absolutely enthralled by the play of the team and its most famous player (still): Julius Erving. I can remember creating a faux court (complete with a nerf hoop and cardboard backboard, plus a key) in my parents basement. I even "created" a Nets "uniform" (which consisted of a white undershirt and underpants) to go with it. I loved everything about that team and that uniform — somewhere there actually exists a picture of a seven-year-old me wearing it (I'm pretty sure it's framed) — but I'm at the summer place now, so I couldn't take a photo of it if I wanted to…but trust me, it exists (if anyone is really interested, I can try to get a hold of it for another weekend).
The uniform was of course worn most famously by Dr. J, but there was always something about that funky asymmetrical red stripe/blue stripe with white stars. Easily my favorite basketball uniform of all time…and it didn't hurt that I got to see it worn by one of the NBA's greatest players while he was still in the ABA — and even BETTER then than he was after he was traded to the 76ers.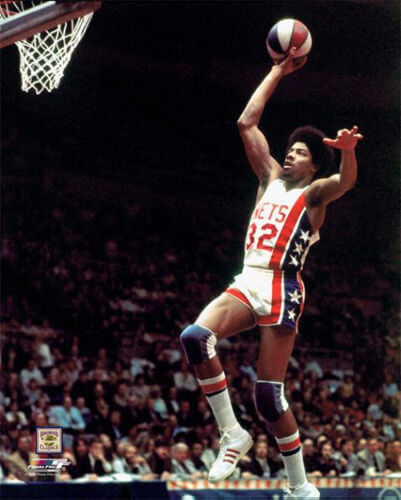 I was never as big a fan of the blue road uniform, but it was still a beaut.
The Nets have worn it as a throwback before, and I wouldn't complain if they decided to do so on a permanent basis (or as "permanent" as a uniform can be in today's Nikefied-NBA).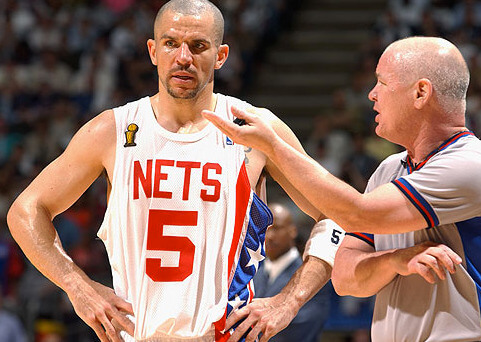 • • •
Hockey
1935 New York Americans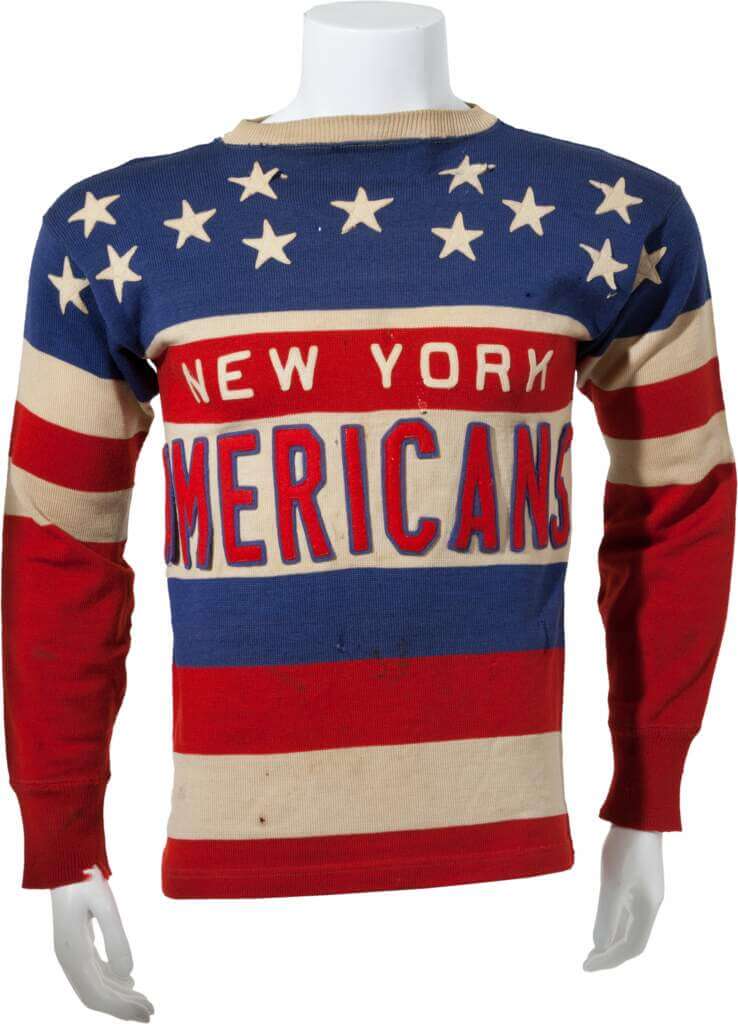 When your team's name is "Americans," you have to have a patriotic uniform right? This gorgeous sweater epitomizes that.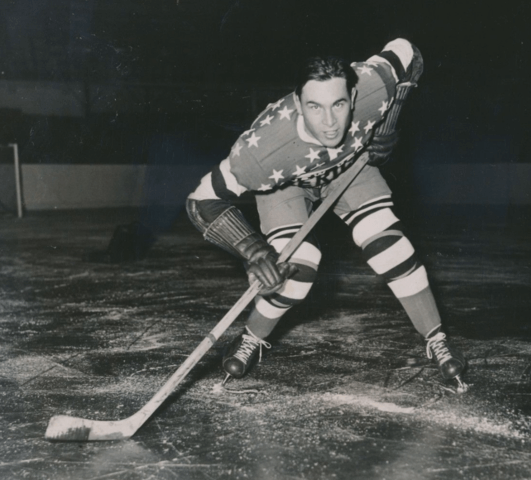 The Americans actually entered the league about a decade earlier, and their sweater went through a few changes before reaching patriotic uni-nirvana in the mid 1930s. If some team (other than perhaps Team USA) came out wearing something like this today, we'd probably pan it as pandering, but back then? I'm pretty sure they were just taking the name "Americans" to its logical red, white and blue conclusion.
I mean…you can't get much more 'murica than this!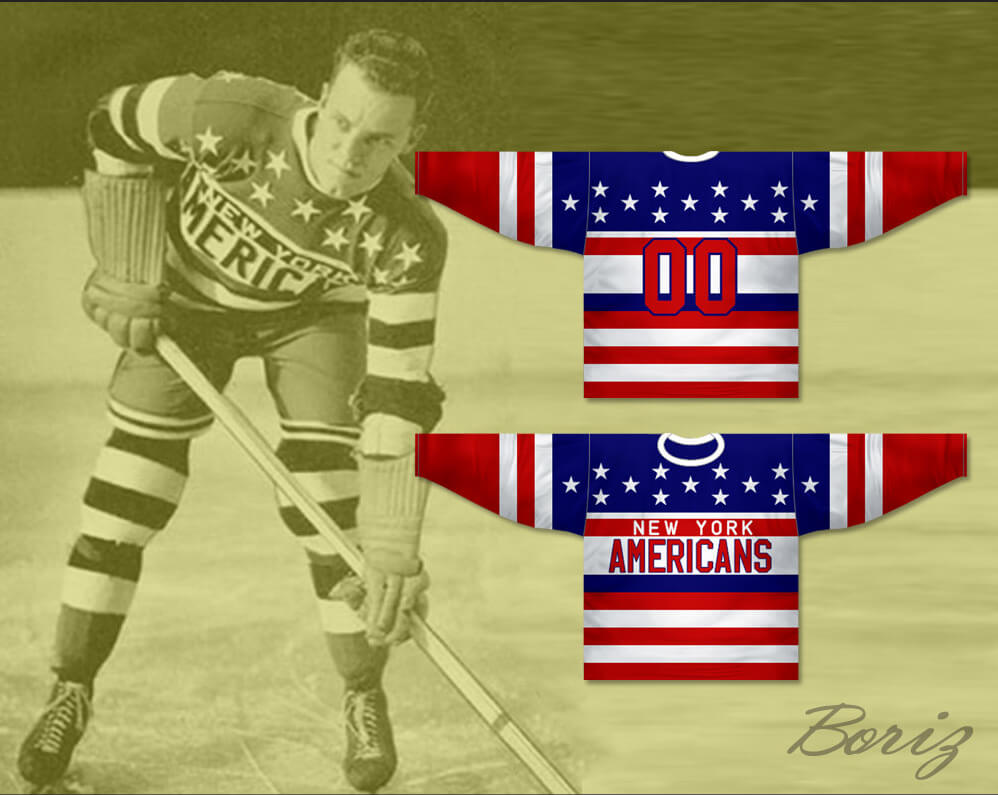 If there's a more patriotic hockey sweater/uni out there, I've yet to see it!
• • •
And there you have it. My nominations for the most patriotic uniforms in the four major sports. Feel free to agree/disagree (and please link to any alternate suggestions you might have). If you want to nominate a patriotic uniform for any other sport, feel free to do so in the comments below.
A Happy early Independence Day to all Americans.


America At Bat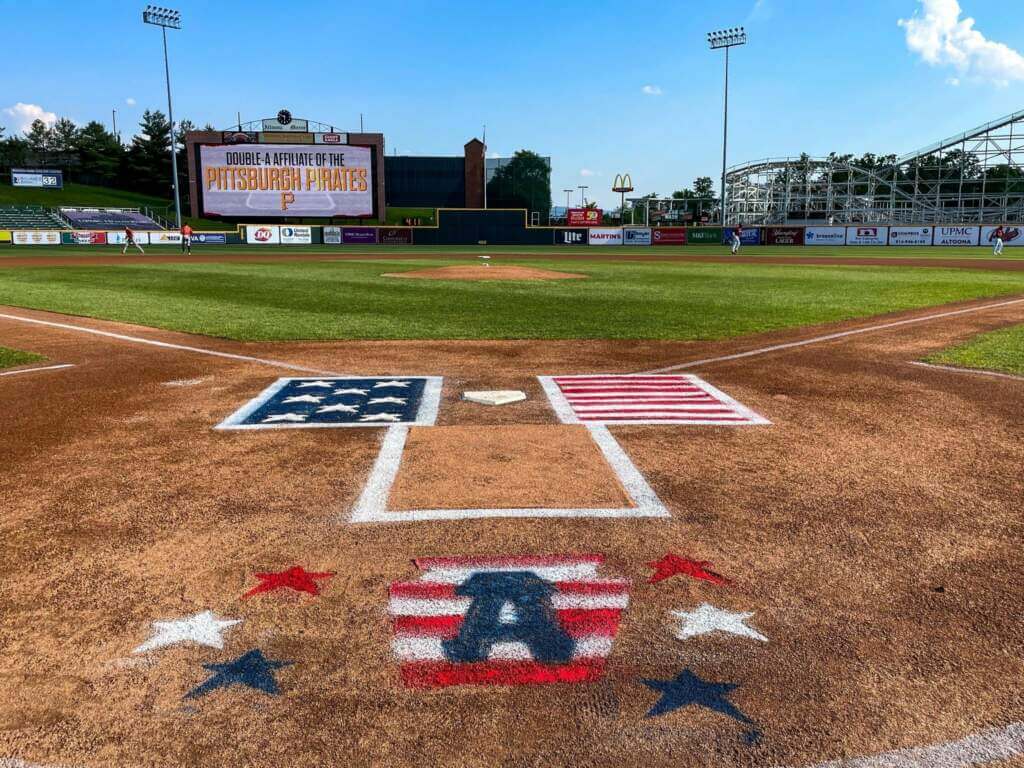 Reader Zane Heiple sent along this photograph of the batters box from the Altoona Curve, Pittsburgh Pirates AA affiliate.
The team is using this motif for the entire Independence Day weekend. How great is that! I'd much rather see this on the field than any of this crap.
Yeah, I'm sure it won't even last the first half of the first inning before it just resembles dark dirt, but that batters box art is just amazing. Thanks for sharing Zane!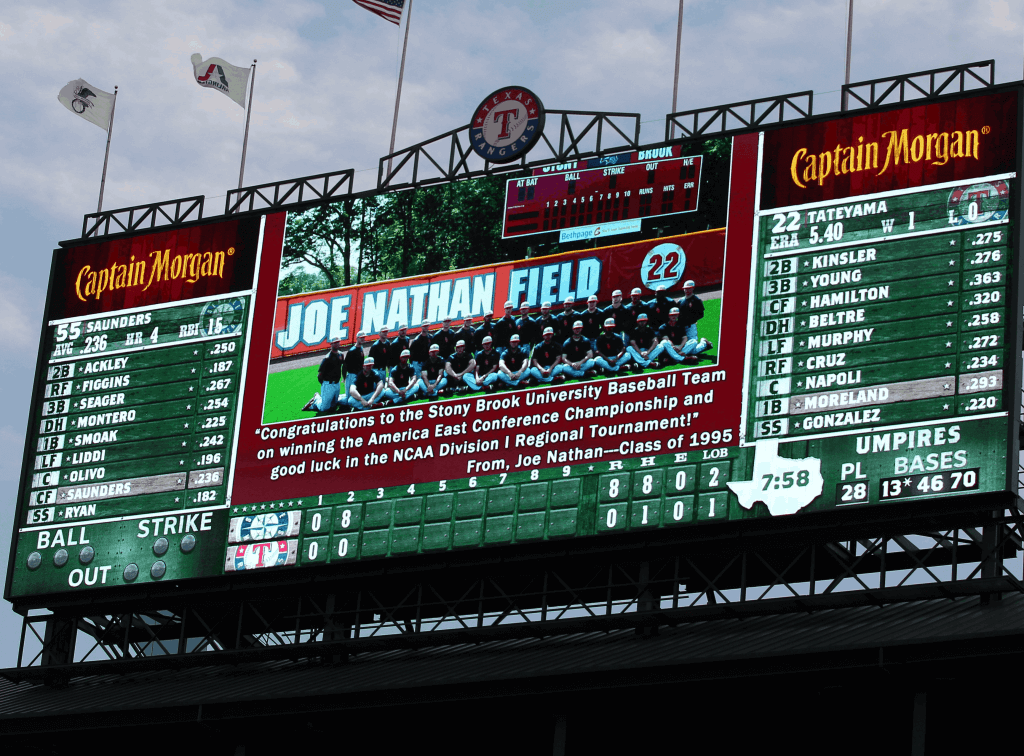 Guess The Game…
from the scoreboard
Today's scoreboard comes from Chris Taylor.
The premise of the game (GTGFTS) is simple: I'll post a scoreboard and you guys simply identify the game depicted. In the past, I don't know if I've ever completely stumped you (some are easier than others).
Here's the Scoreboard. In the comments below, try to identify the game (date & location, as well as final score). If anything noteworthy occurred during the game, please add that in (and if you were AT the game, well bonus points for you!):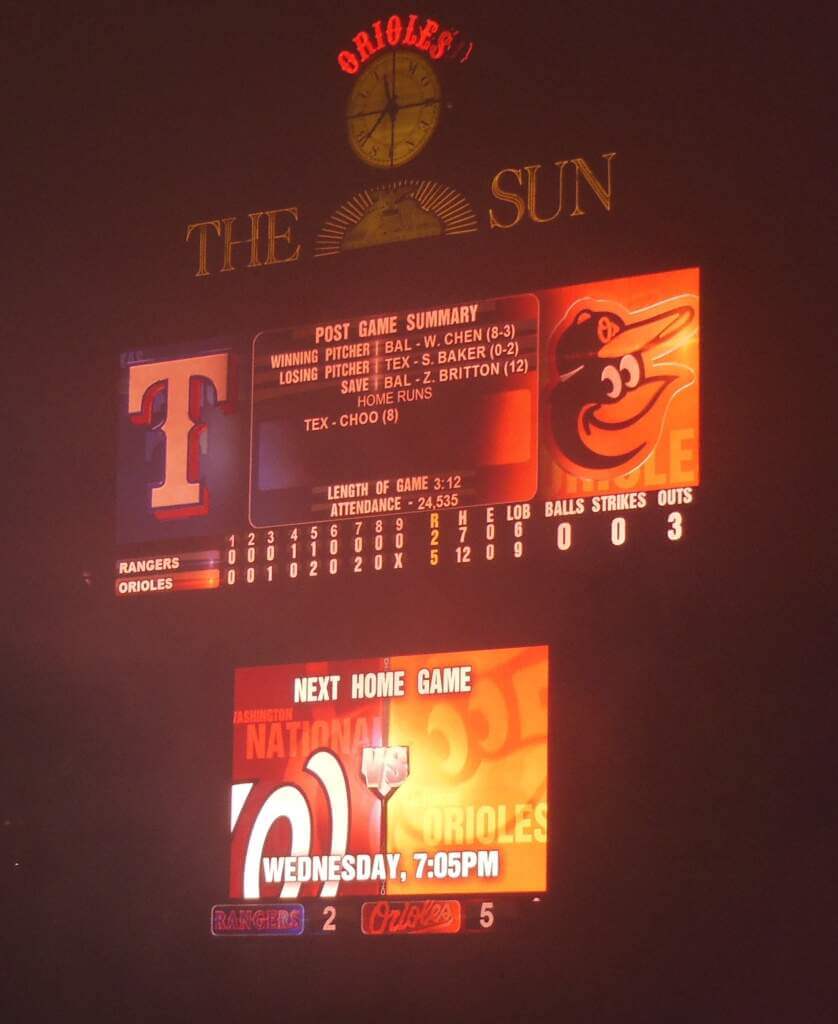 Please continue sending these in! You're welcome to send me any scoreboard photos (with answers please), and I'll keep running them.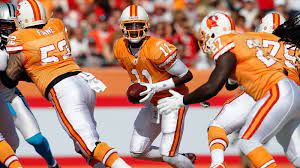 And now a few words from Paul: Hi there. I have a few items I want you know about:
1. My Bulletin column this week looks at the best throwback options for each NFC team, now that the one-shell rule has been lifted. (My picks for the AFC will follow next week.) My premium subscribers can read the NFC piece here. If you haven't yet subscribed, you can do that here (you'll need a Facebook account in order to pay). Don't have or want a Facebook account? Email me for workaround info.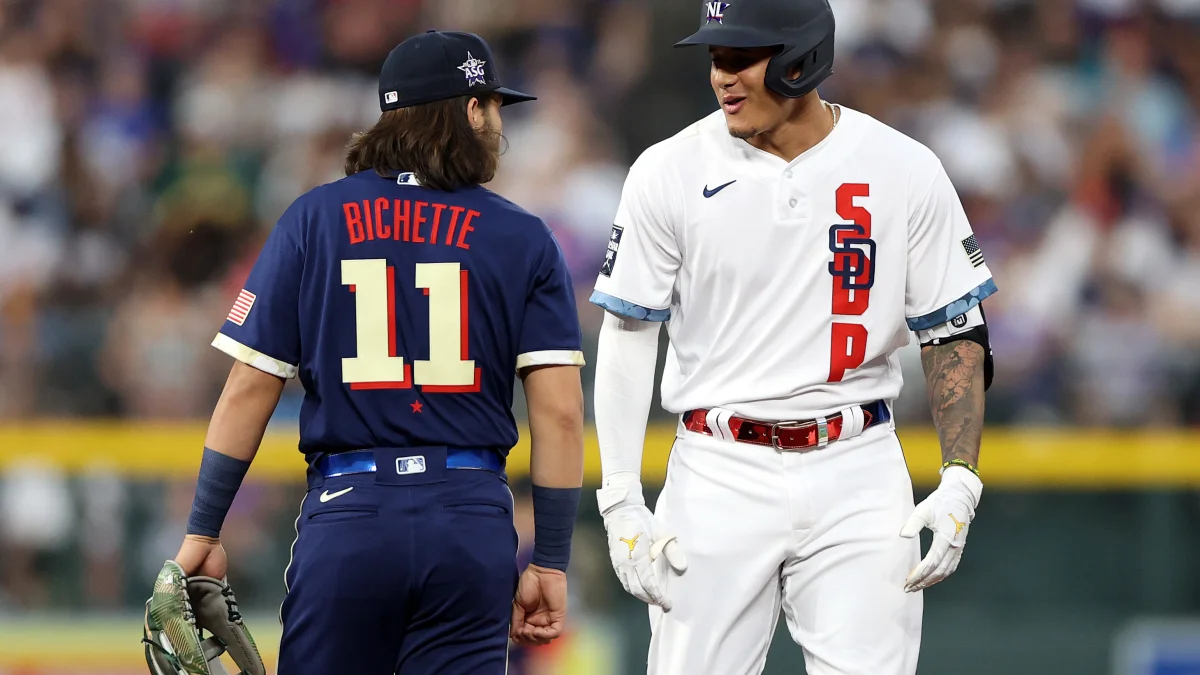 2. Last year's MLB All-Star Game uniforms were a bad joke, and the early hints are that this year's won't be much better. Obviously, the best solution would be to go back to having the All-Stars wear their regular team uniforms, but MLB and Nike have apparently turned their backs on that option. So our latest Uni Watch design contest challenge is to come up with some MLB All-Star unis that, you know, don't suck. Full details here.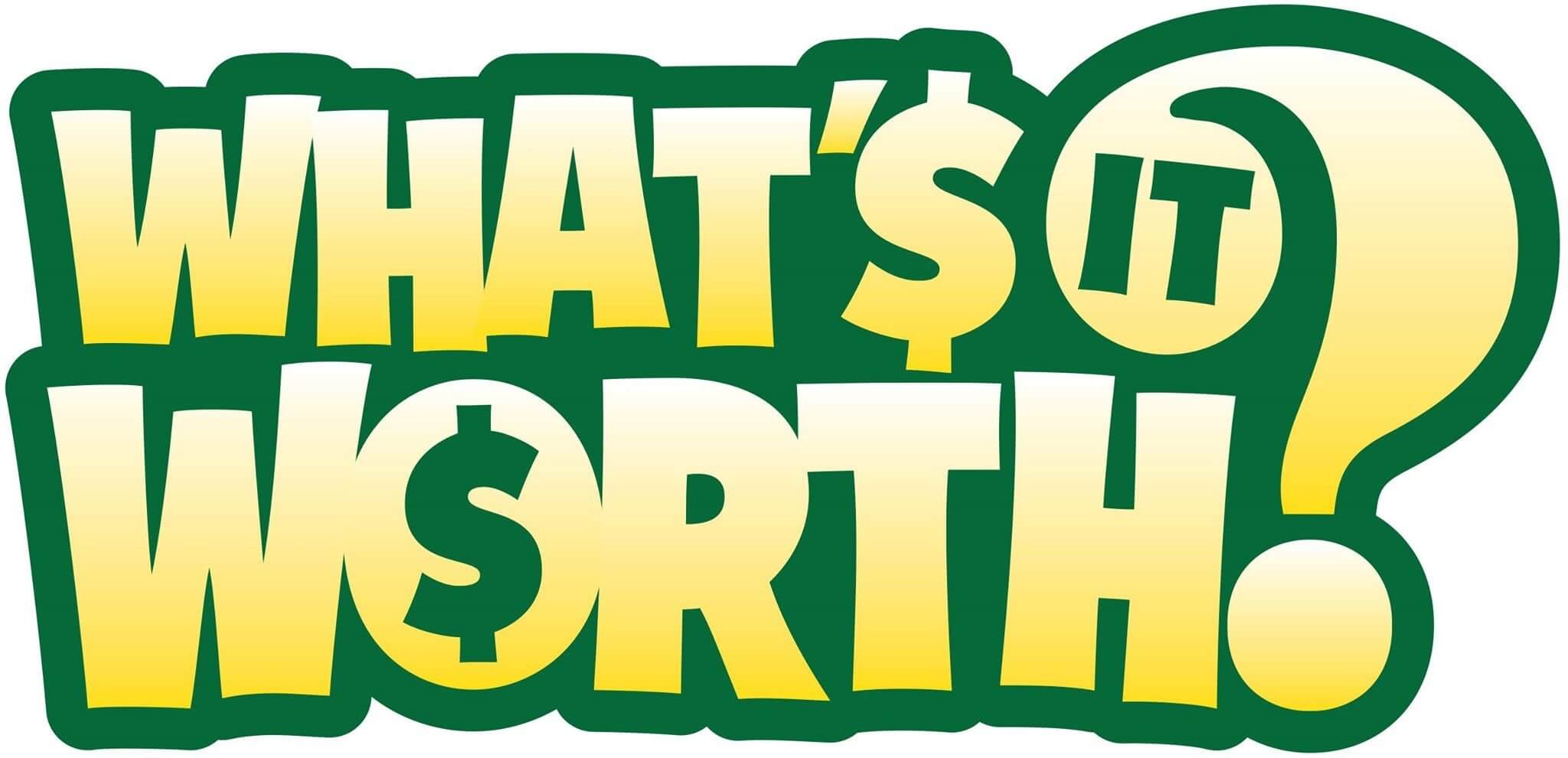 3. In case you missed it on Monday, we're once again partnering with Grey Flannel Auctions to offer free, no-obligations appraisals of your sports memorabilia items. If you end up wanting to consign your items with GFA, you can do that as well, but that's totally up to you. Full details here.
Okay — now back to Phil!


Uni Tweet of the Day
I still kinda like what the introduced on Friday, but this is nice too…
After thinking about the Padres City Connect uniforms…I thought I would add an idea coming from an actual San Diegan and not someone from Portland.

Taking from a traditional Mexican blanket pattern and including all of the colors the franchise have used in their history. pic.twitter.com/ucRYFTrt2m

— Dennis Kennedy (@CraftyCreative) July 1, 2022


And Finally… that's all for today (Sorry there's no ticker) and for me for this weekend. For all those of us celebrating, my best wishes for a safe and happy Independence Day. Everyone have a good week and I'll see you back here next Saturday.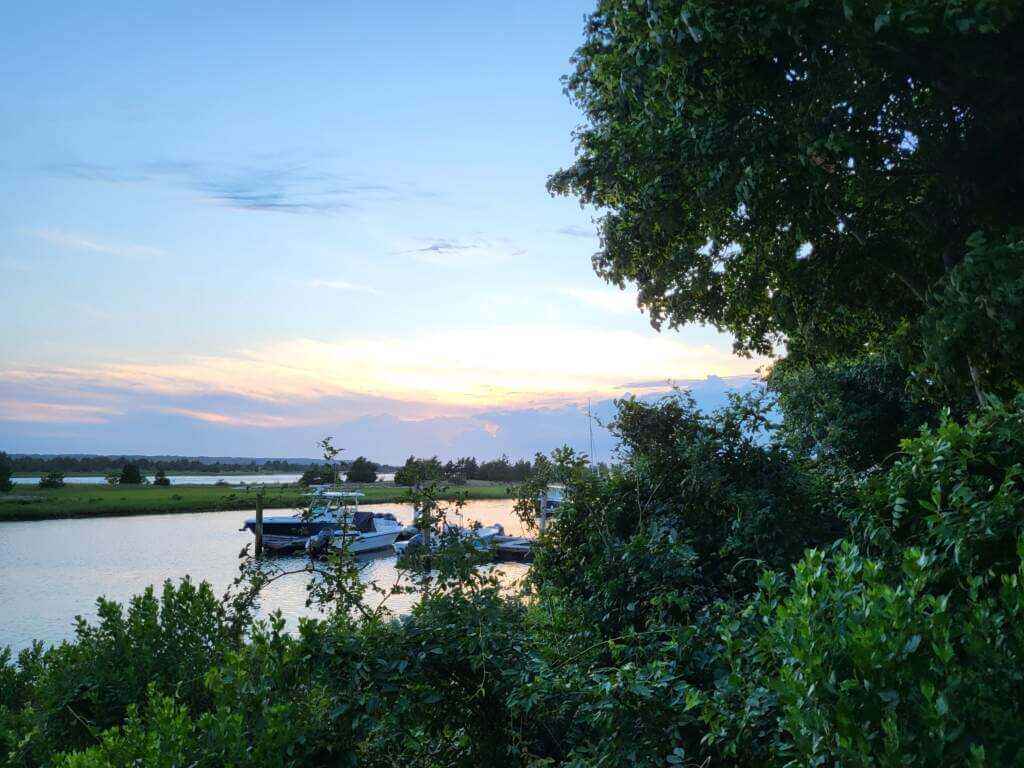 Peace,
PH