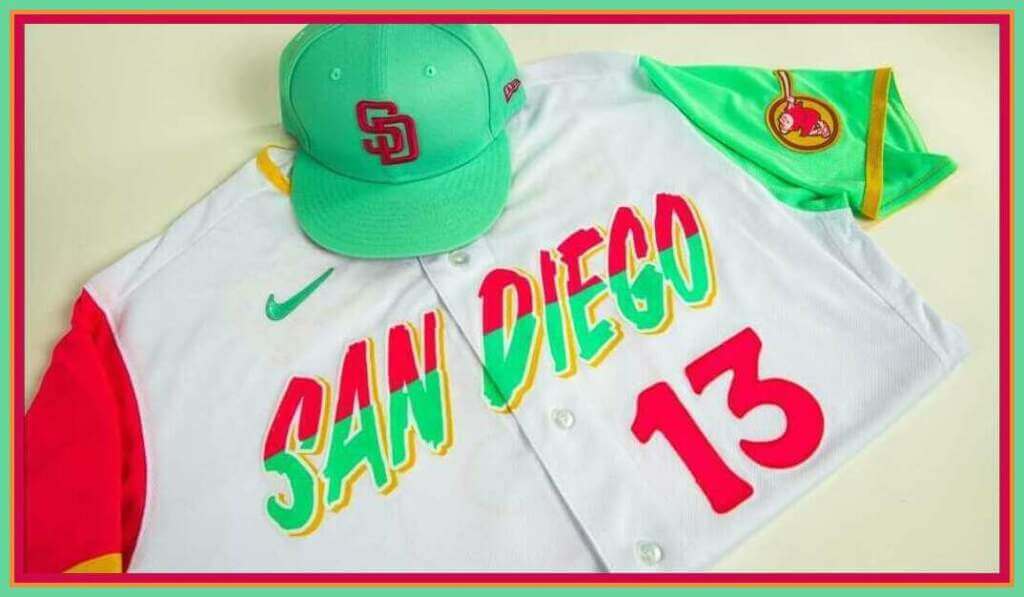 By Phil Hecken
Follow @PhilHecken

Good Saturday morning, UWers — I hope everyone had a good week. It's Independence Day weekend (usually short on uni news), but not today, as the San Diego Padres made a "vibrant" splash yesterday as they unveiled their "City Connect" (CC) uniforms. They are the seventh, and final, team to introduce a CC this season. Mercifully.
As you can see from today's splash photo, the jersey (a white base with bright fuchsia, seafoam green and gold colors) and cap contain colors heretofore not seen on a Major League jersey. I can already tell this is going to be one folks either love or hate — and I don't see much "in between."
Normally, when I review a new uniform, I load you up with photos and details and then conclude with the "hype" video. Not today. I'm actually going to start with the team's promotional video, so that you can get a good chunk of the storytelling out of the way. Get ready to get your Santana on!
Skateboard legend and native San Diegan Tony Hawk intones, "Oye cómo va: listen to the rhythm. That's what San Diego is all about … and, of course, the Padres. It's about the vibrant sunsets, the cresting waves, the colors of our combined cultures and the best street tacos you'll ever eat."
The "binational" or "combined cultures" Hawk is referring to are of course San Diego and Tijuana — two diverse cultures with residents from both cities daily trekking across the border to work and play.
Let's take a closer look at the elements of the uniform.
CAP: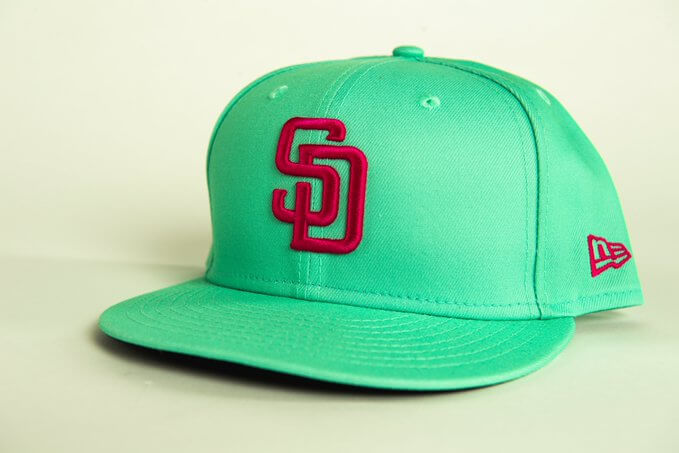 It's seafoam green, with the team's interlocking "SD" logo rendered in fuchsia. For a set of uniforms (CC in general), I'm wondering how "hot" a seller the cap will be. It's certainly unique. And they have a matching helmet.
__________
JERSEY: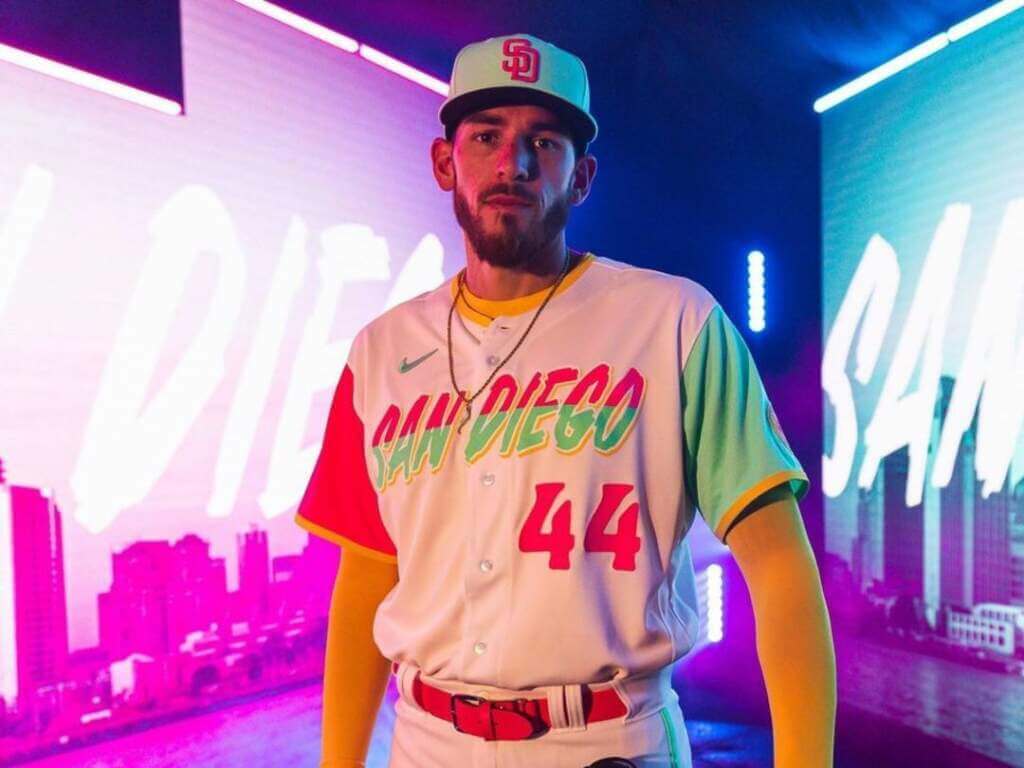 The jersey is white, with the right sleeve in fuchsia and the left sleeve in seafoam green. The sleeve also features the team's "Swinging Friar" logo patch, with the friar rendered in gold and fushcia.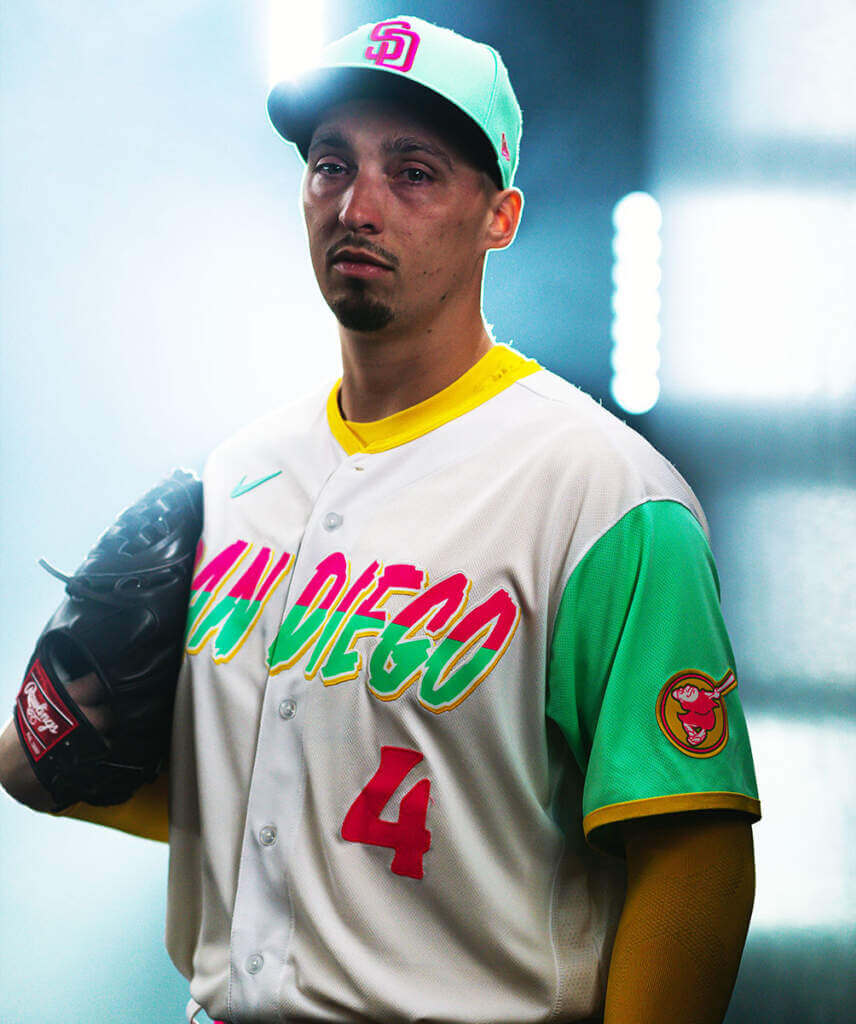 Here's a closer look at the patch.
As you can see, both sleeve ends are trimmed in gold, and there is also gold around the collar.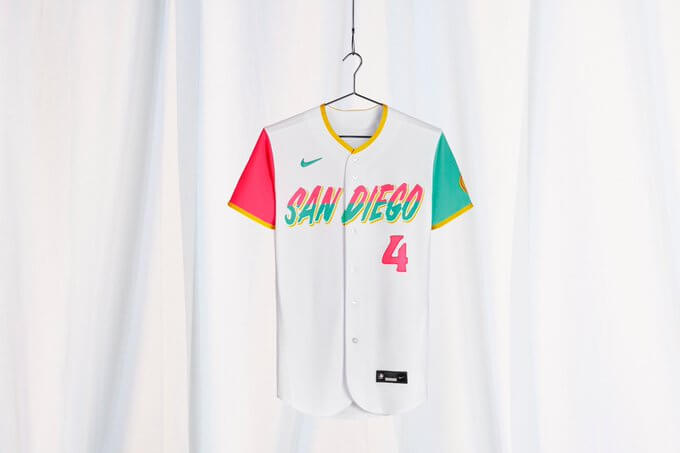 The words "San Diego" are in a bespoke font face, and rendered in fuchsia and seafoam, with a gold block shadow around a white outline. There is a front uni number, also in a custom typeface, on the lower left side of the jersey, and it is fuchsia as well.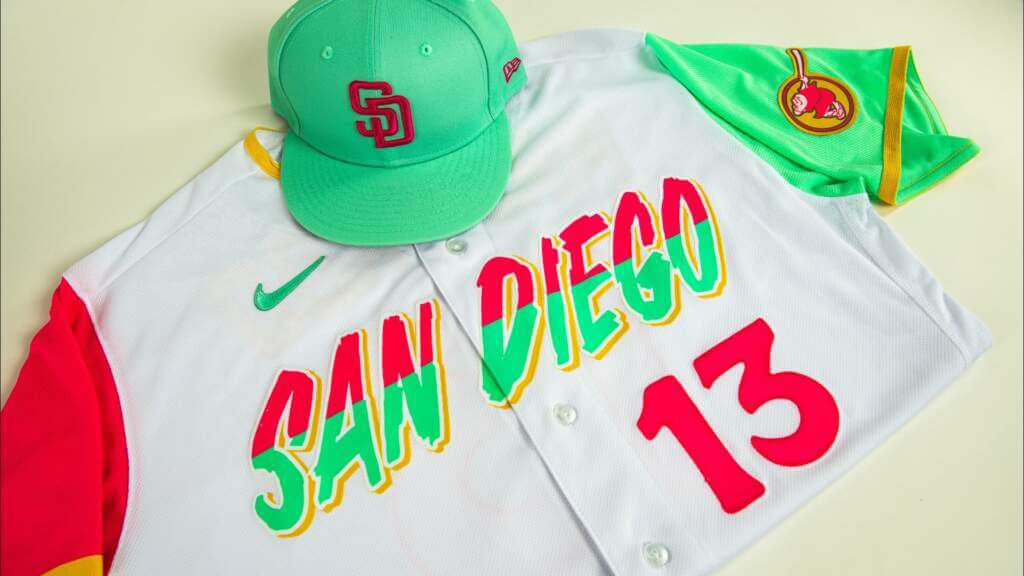 If you're curious about that "San Diego" font, the typography is intended to remind fans of "weathered beach signs," the team said in a news release.
The back of the jersey features player NOB in gold, with the same fuchsia numbers as found on the front of the jersey.
__________
PANTS:
In what is a MLB first (at least as far as I can tell), the pants feature different color striping: fuchsia running down the right side, with seafoam green down the left: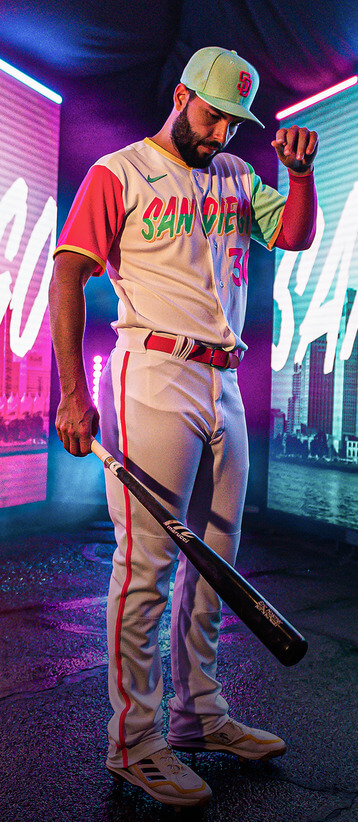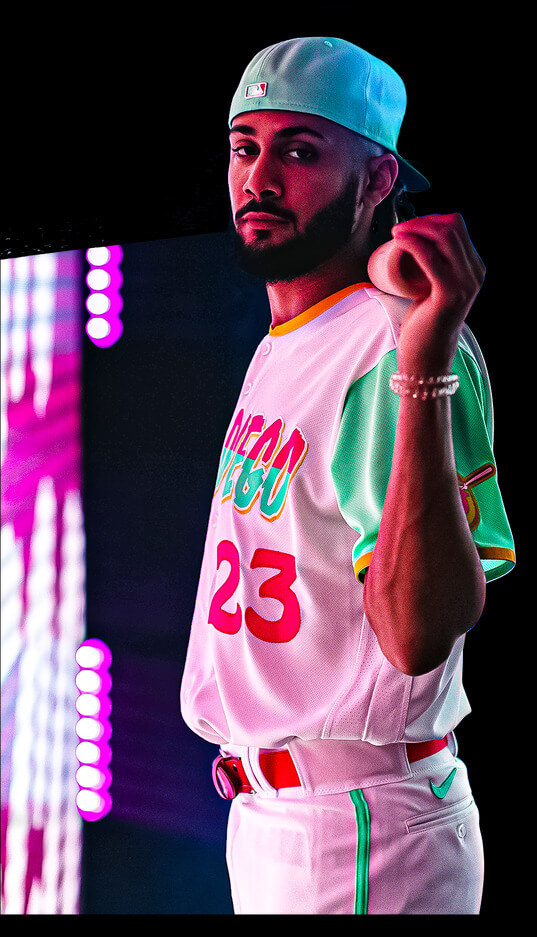 Players are pictured wearing fuchsia belts.
__________
SOCKS: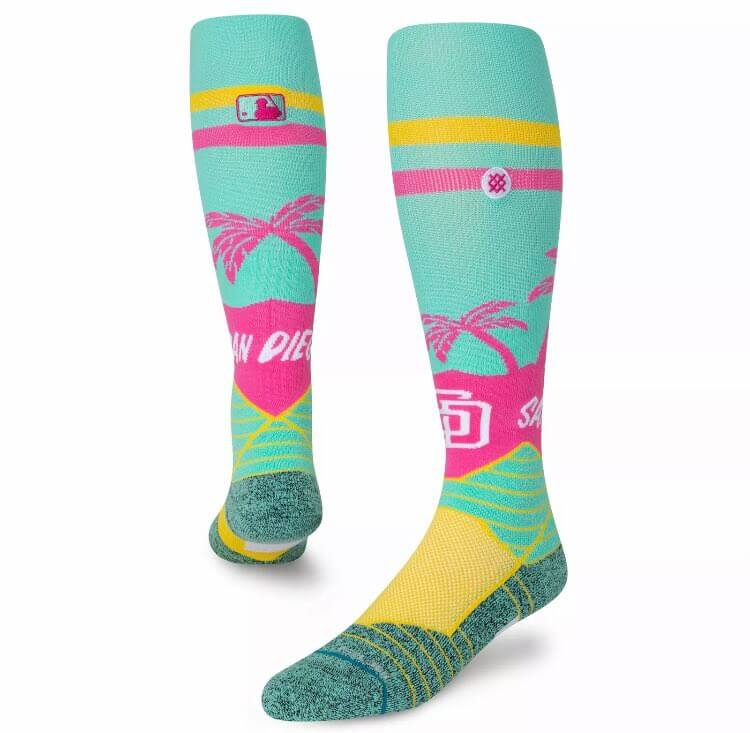 These were leaked back in March, and have been confirmed as legit now.
__________
At the top, I mentioned that folks are probably going to either love or hate these uniforms. I'll reserve final judgment until I see them on the field, but I fall into the former camp — I love these. But there's also a lot not to like.
Throwing out the storytelling (which is nigh on impossible when dealing with CC uniforms, as they're basically built on that entire premise), I try to judge the CC's strictly as a uniform. What I like about these is simple — and it's my primary driver when evaluating almost any uniform: the colors. Yes, good design is important, and if the colors are great but the design sucks, that won't sway me towards liking a uniform. Conversely, if the colors are "bad," but the design is good, that won't consign my opinion to disliking it.
When dealing with CC uniforms, we have to scrap the concept of "team colors" completely. So, while a brown/gold uniform might have been a good way to go, it doesn't matter here. What I love about the uniform IS the "vibrant" colors — and their uniqueness on a baseball uniform. I happen to LOVE fuchsia, and think it is a sorely underused color in all sports. Pair it with gold and seafoam green, and you have a fun-looking uniform.
Now for the dislikes — I'm not a big fan of the "weathered beach sign" font, and even less enamored with the top half in fuchsia and the bottom half in seafoam. The gold drop shadow isn't really visible unless one is up close. Normally I would HATE HATE HATE the fact that the sleeves (and pants stripes) are rendered in different colors, but here (especially with the bi-color word mark) it works. I'm surprised the cap didn't have either a fuchsia brim or crown to match. Maybe the powers-that-be thought that would be "overkill." The whimsical number fonts actually look pretty good.
I'm also not a fan of the NOB rendered in gold, but only because I'm not sure it will be all that legible from the stands.
Here's a couple more views of the uniform: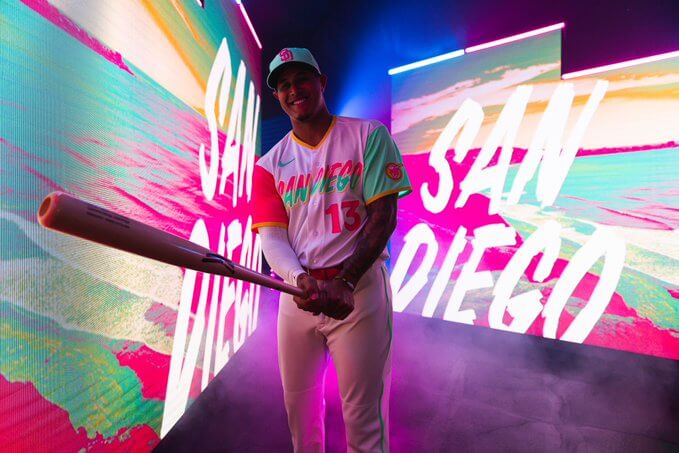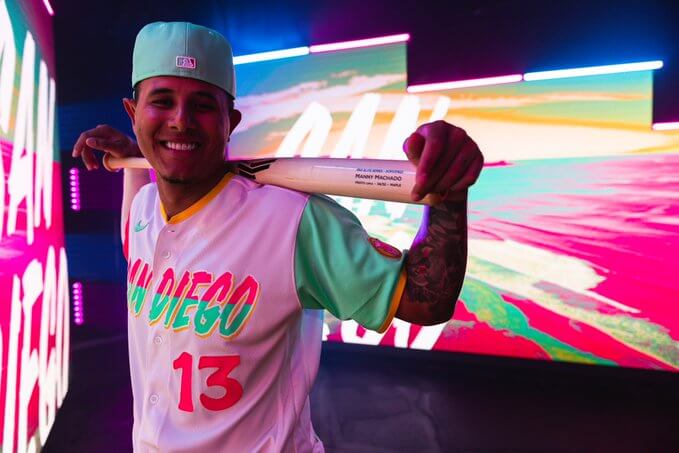 The team will debut these uniform on field next Friday (July 8), and will be wearing them every home Friday game for the remainder of the season.
And here's one more video showing additional views of the uniform:
Blake's on the bump today, so we had to show off him rockin' the new City Connect threads.@snellzilla4 x @nikediamond pic.twitter.com/Xq5DRcFGyG

— San Diego Padres (@Padres) July 1, 2022
Mercifully, the CC program has completed its run for 2022. So far, 14 teams have been outfitted, which means that — if all goes according to the timeframe announced by Nike and MLB — next season sixteen teams will be getting new CC uniforms, so this is really just getting started.
Of all the CC uniforms unveiled so far, I won't say this one is my favorite, but I can appreciate it as a uniform. While it "helps" that the team explained where the colors come from, it can still be enjoyed even if that were unknown. It's certainly more "out of the box" than most (all?) of the other unis — whether or not that portends even more ridiculous far-out uniforms for the remaining 16 teams remains to be seen.
What do you guys and ladies think?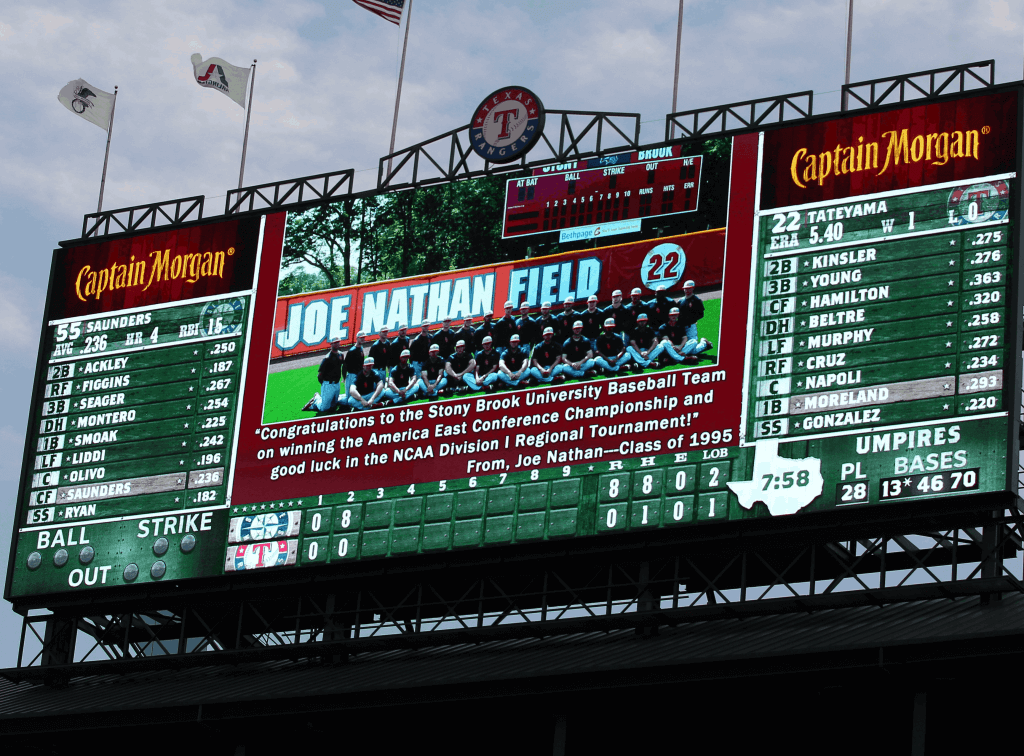 Guess The Game…
from the scoreboard
Today's scoreboard comes from Christopher Snizik.
The premise of the game (GTGFTS) is simple: I'll post a scoreboard and you guys simply identify the game depicted. In the past, I don't know if I've ever completely stumped you (some are easier than others).
Here's the Scoreboard. In the comments below, try to identify the game (date & location, as well as final score). If anything noteworthy occurred during the game, please add that in (and if you were AT the game, well bonus points for you!):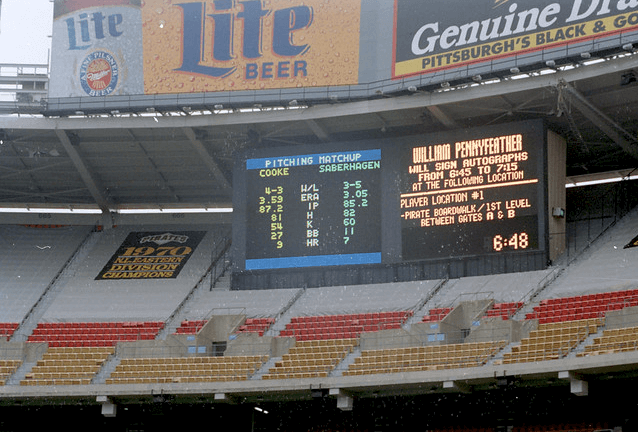 Please continue sending these in! You're welcome to send me any scoreboard photos (with answers please), and I'll keep running them.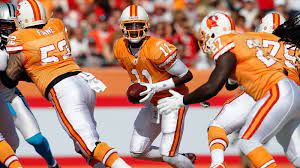 And now a few words from Paul: Hi there. I have a few items I want you know about:
1. My Bulletin column this week looks at the best throwback options for each NFC team, now that the one-shell rule has been lifted. (My picks for the AFC will follow next week.) My premium subscribers can read the NFC piece here. If you haven't yet subscribed, you can do that here (you'll need a Facebook account in order to pay). Don't have or want a Facebook account? Email me for workaround info.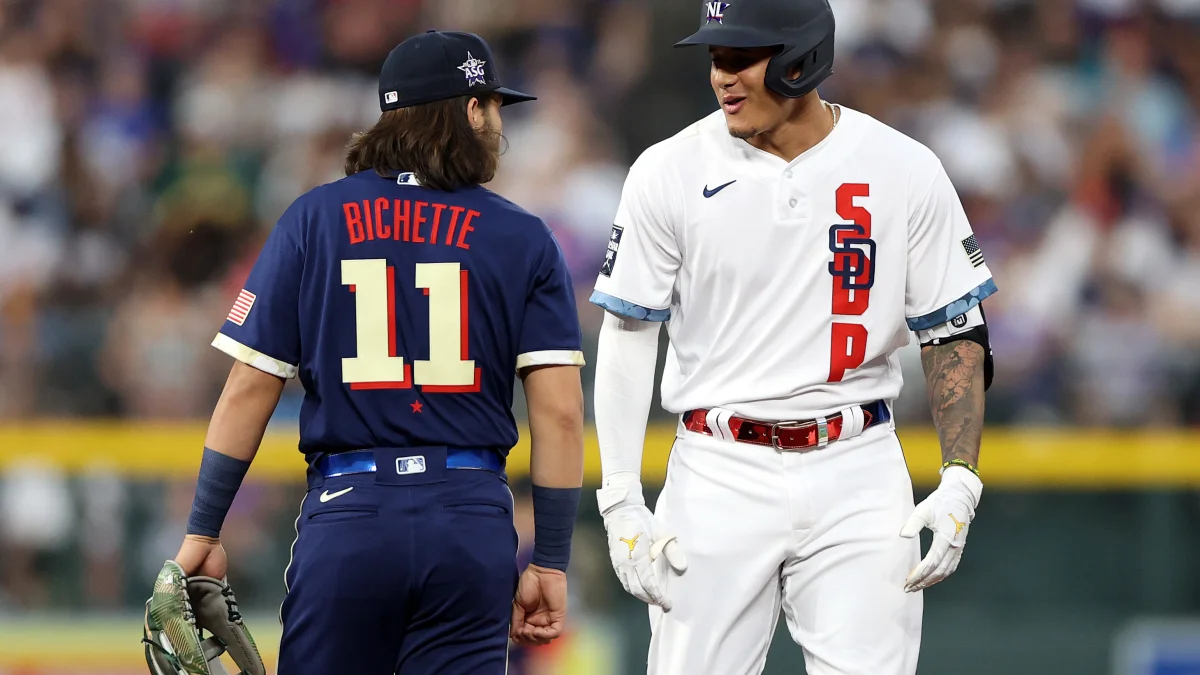 2. Last year's MLB All-Star Game uniforms were a bad joke, and the early hints are that this year's won't be much better. Obviously, the best solution would be to go back to having the All-Stars wear their regular team uniforms, but MLB and Nike have apparently turned their backs on that option. So our latest Uni Watch design contest challenge is to come up with some MLB All-Star unis that, you know, don't suck. Full details here.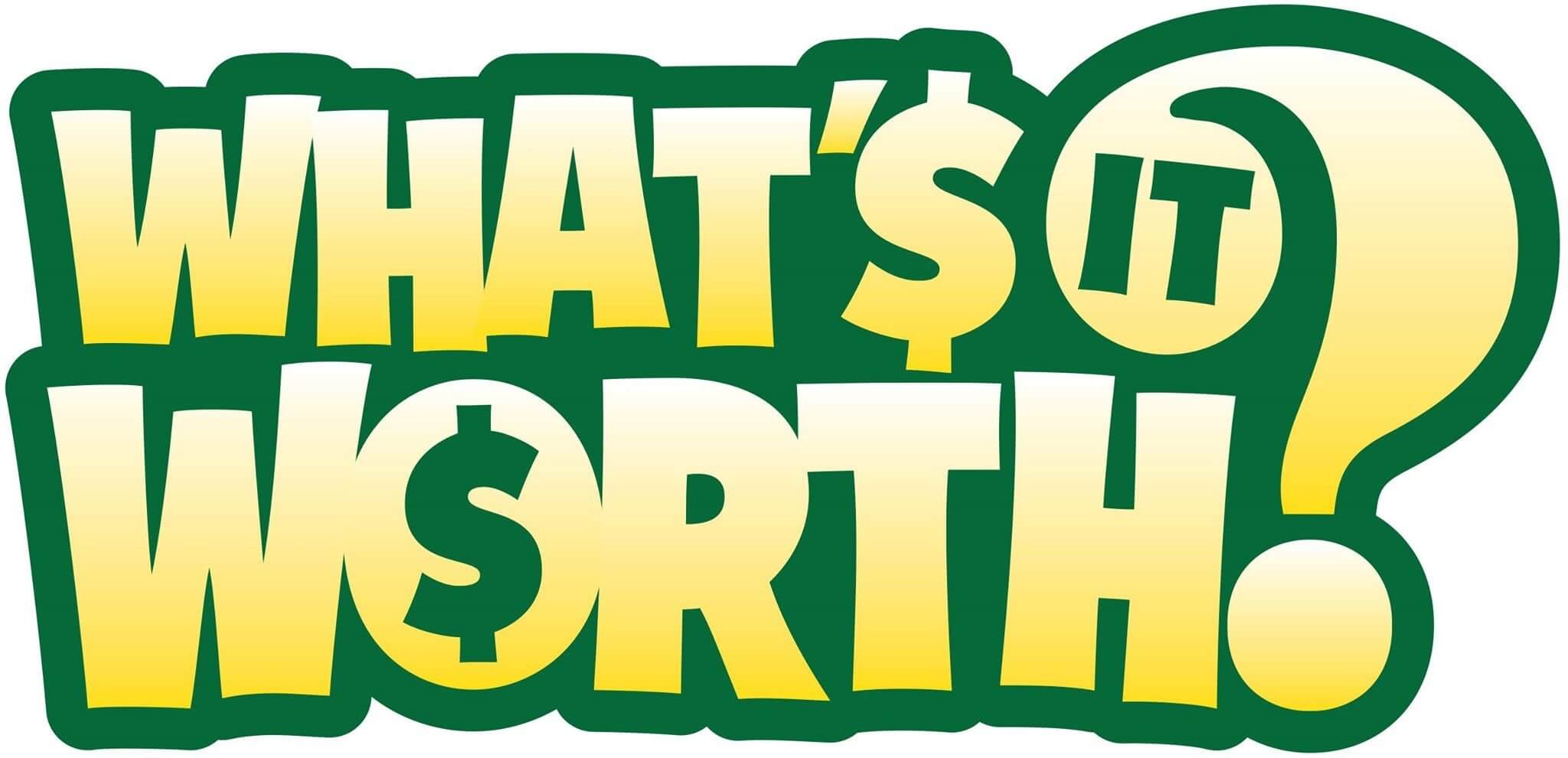 3. In case you missed it on Monday, we're once again partnering with Grey Flannel Auctions to offer free, no-obligations appraisals of your sports memorabilia items. If you end up wanting to consign your items with GFA, you can do that as well, but that's totally up to you. Full details here.
Okay — now onto the Ticker!


Uni Watch News Ticker
By Anthony Emerson

Baseball News: The Phillies honored the retiring Albert Pujols the other night, with former Phillie Ryan Howard part of the festivities, wearing an old Majestic jersey. Maybe it's one from his playing days! (from Bob Novotny). … Root Sports depicted the Mariners scorebug logo in pride colors on Friday (from Nick Mueller). … First time ticker-submitter Simon writes, "my good friend Jorge Vargas just opened his own private counseling practice. In addition to being a therapist, he's a talented poet and visual artist, and he designed his own logo, with obvious inspiration" (from the Dodgers).

Hockey News: A mechanical engineer has developed a new design for a goalie cage, inspired by bulletproof vests (from @wafflebored). … The WHL's Everett Silvertips have unveiled a 20th anniversary logo (from Wade Heidt).

Soccer News: Here's a fascinating story about how soccer shirt advertisements can chart the rise and fall of tech companies (from Jake Kessler). … Bundesliga side Werder Bremen have revealed their new home kit (from Mark Dziak). … The following are all from Ed Zelaski: New home and away for Polish side Raków Częstochowa new away kit for Sporting CP Feminino, and new home kits for Olympique de Marseille, West Bromwich Albion and Everton. … New home kit for Nottingham Forest (from @rindle247). … Manchester United were scheduled to unveil their new kits yesterday, but the unveiling has been delayed to next Friday. … Venezia, an Italian club known for their high-fashion-inspired kits, have a new club crest (from @texastrevor and Sy Hart).

Ukraine News: Ukrainian tennis player Lesia Tsurenko was allowed to break Wimbledon's strict dress code with a blue-and-yellow ribbon in support of Ukraine (thanks, Brinke).


Uni Tweet of the Day
Just cuz they bolted (in 2024) to the B1G…Don't hate…
I would like to remind you that USC and UCLA been wearing color vs color for their football rivalry games.

Their insistence on bringing this tradition back to the field in 2008 is what caused the NCAA rule to change.

So, again, all rivalries should be color vs color. pic.twitter.com/fZFk71hOxy

— Boiler Uniforms 🚂 (@BoilerUniforms) July 1, 2022


And finally… that's it for today. Everyone have a good Saturday and I'll be back (with a shorter post) tomorrow.
Till then,
Peace
PH