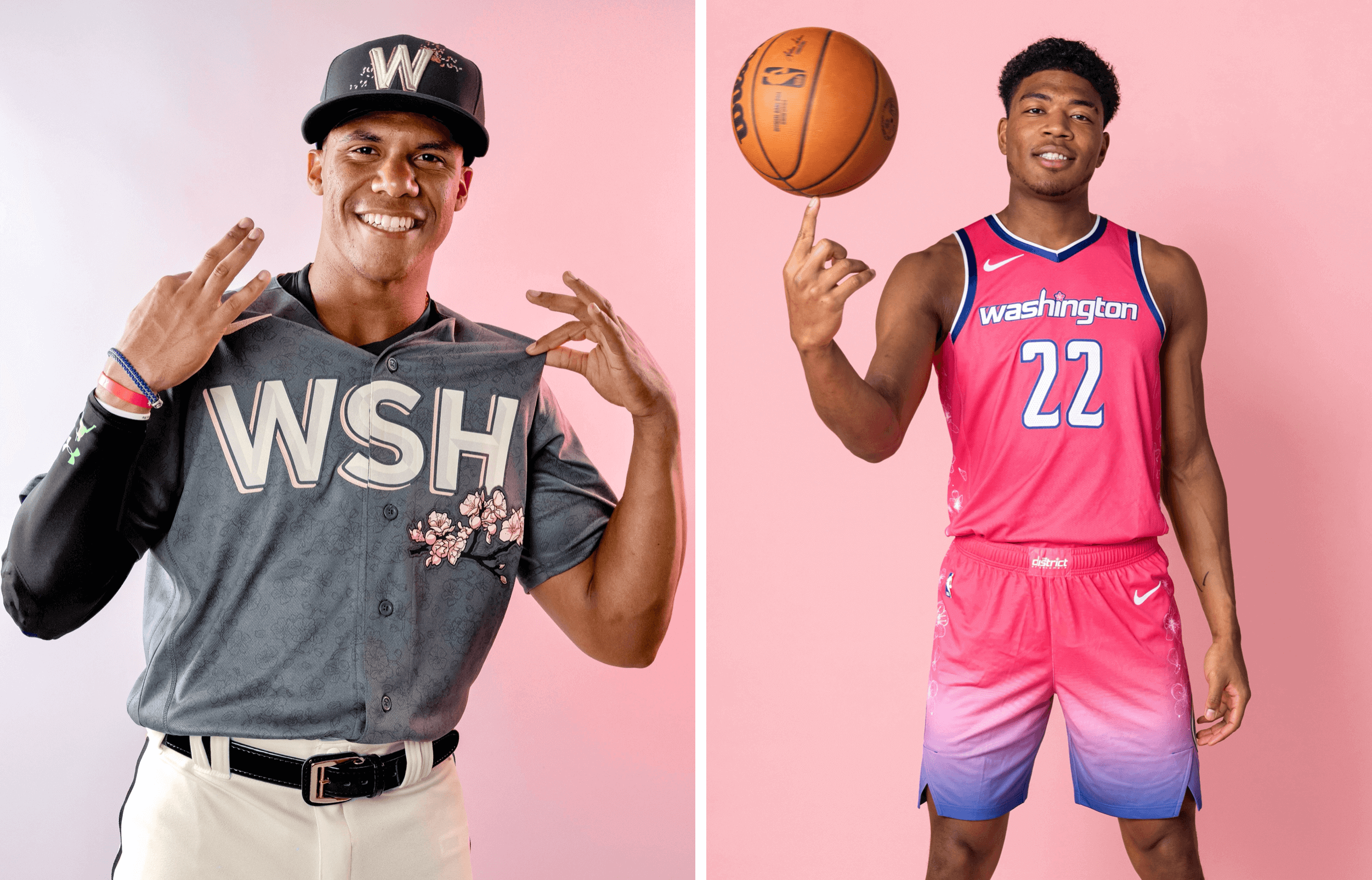 Click to enlarge
In an unusual cross-sport move, two of Washington's pro sports teams — the Nationals and the Wizards — took advantage of the city's annual cherry blossom season, which is currently in full swing, to release blossom-themed alternate uniforms yesterday.
Let's start with the Nationals. This uni, which is their new City Connect design, will make its on-field debut on April 9 and be worn about twice per month. Here are some pics that provide a better view of the sleeve patches, which feature recolored versions of the team's logo and the DC flag: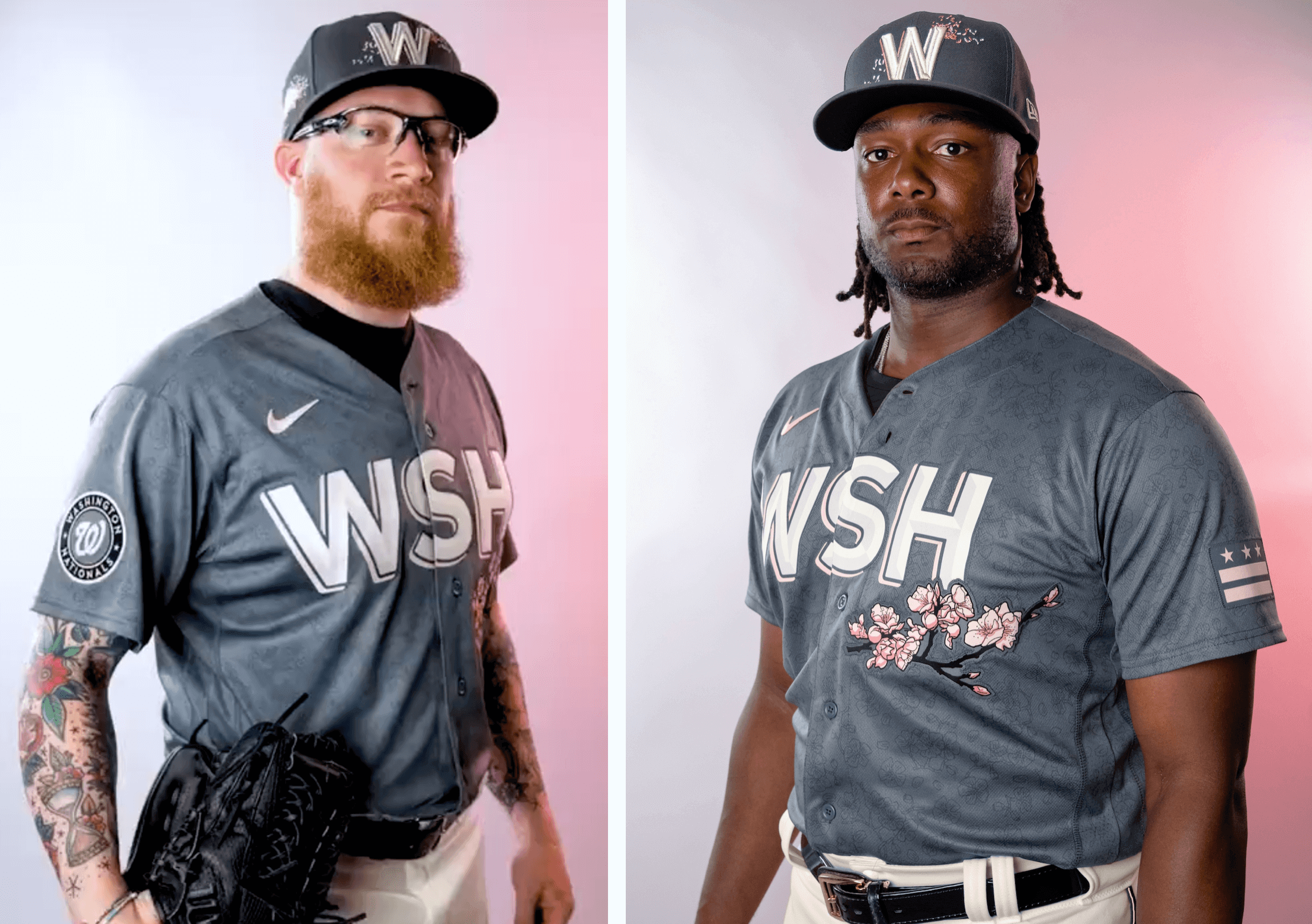 And here are some closer looks at the cap and sock designs, as well as the sublimated floral pattern on the jersey: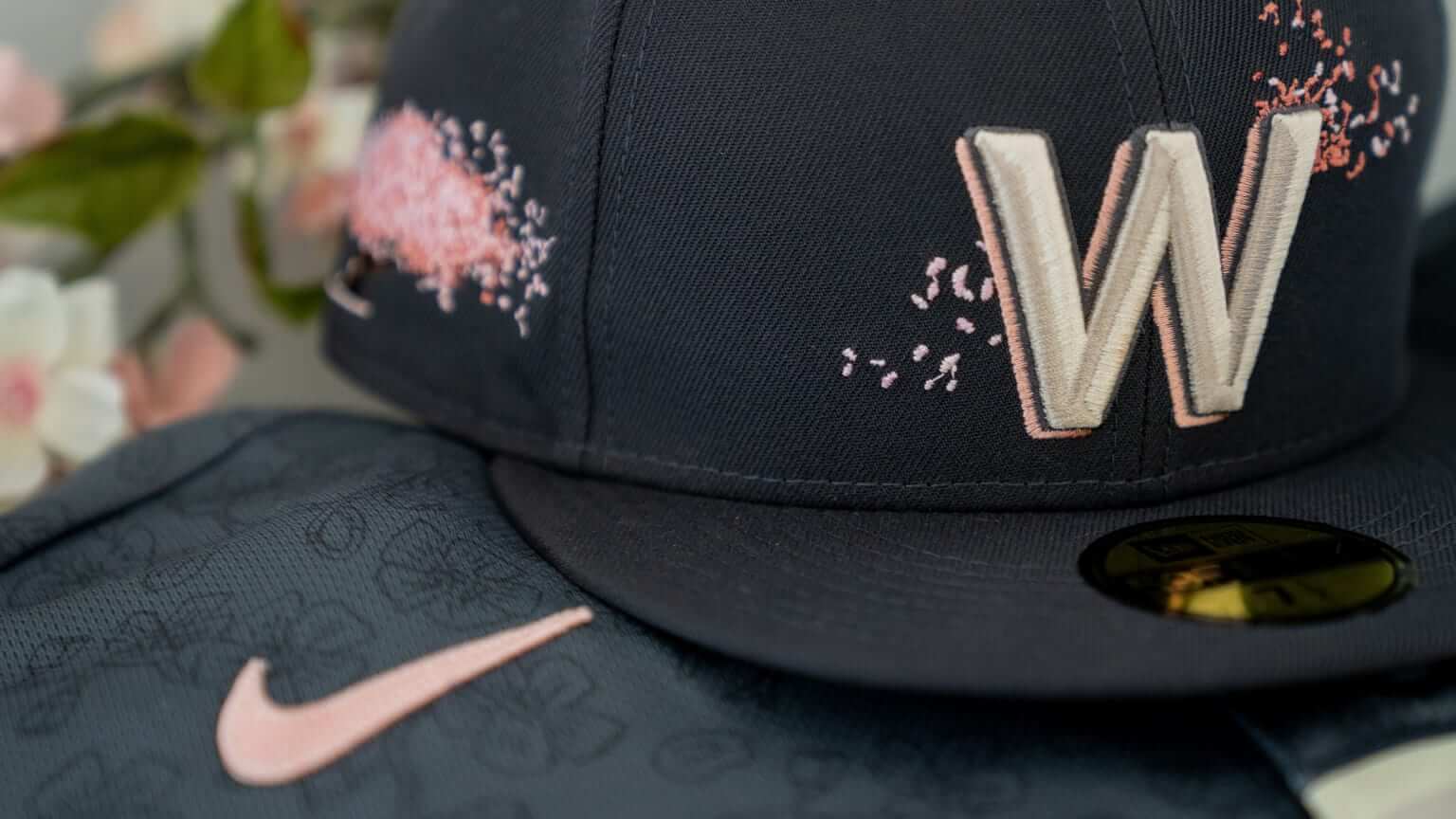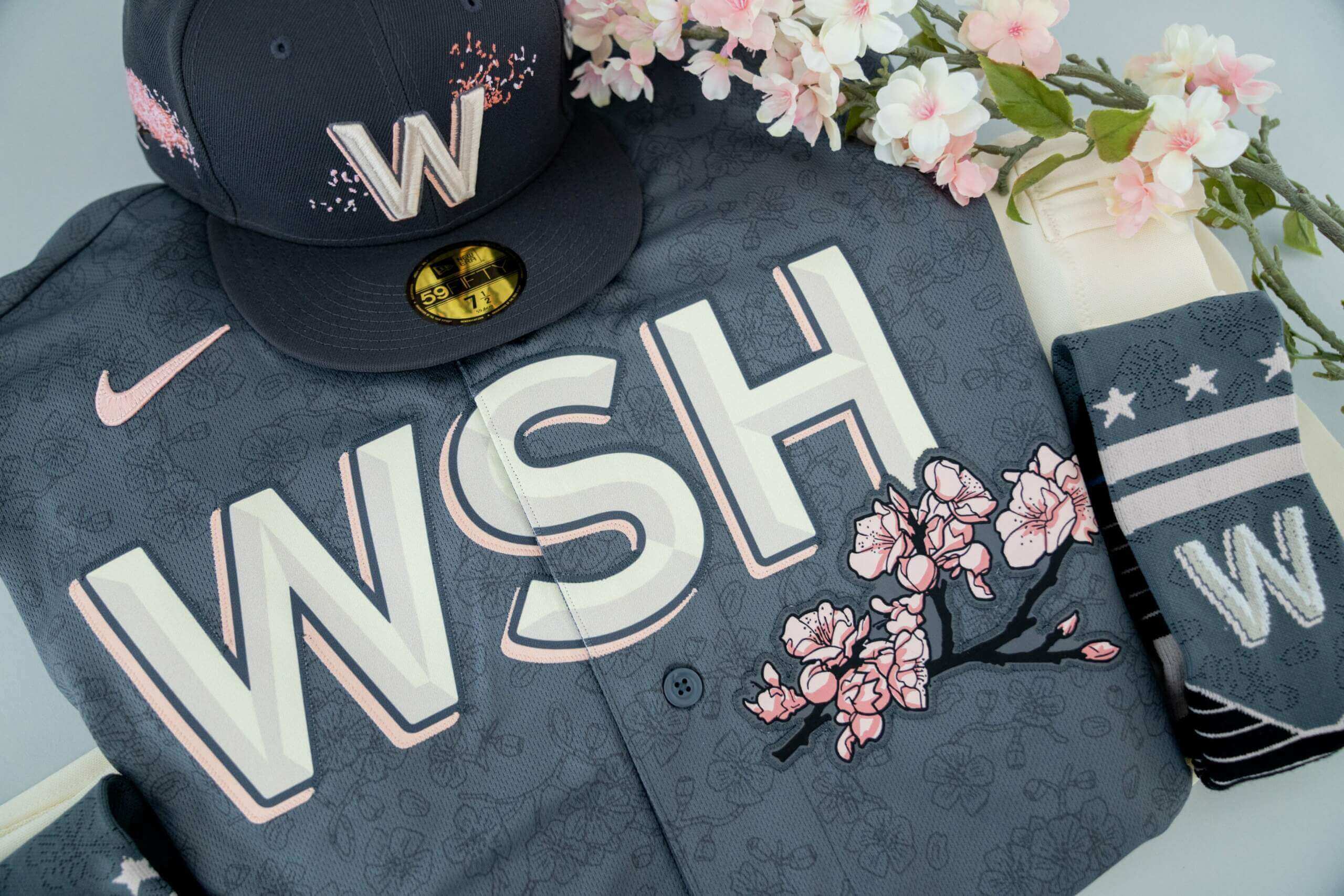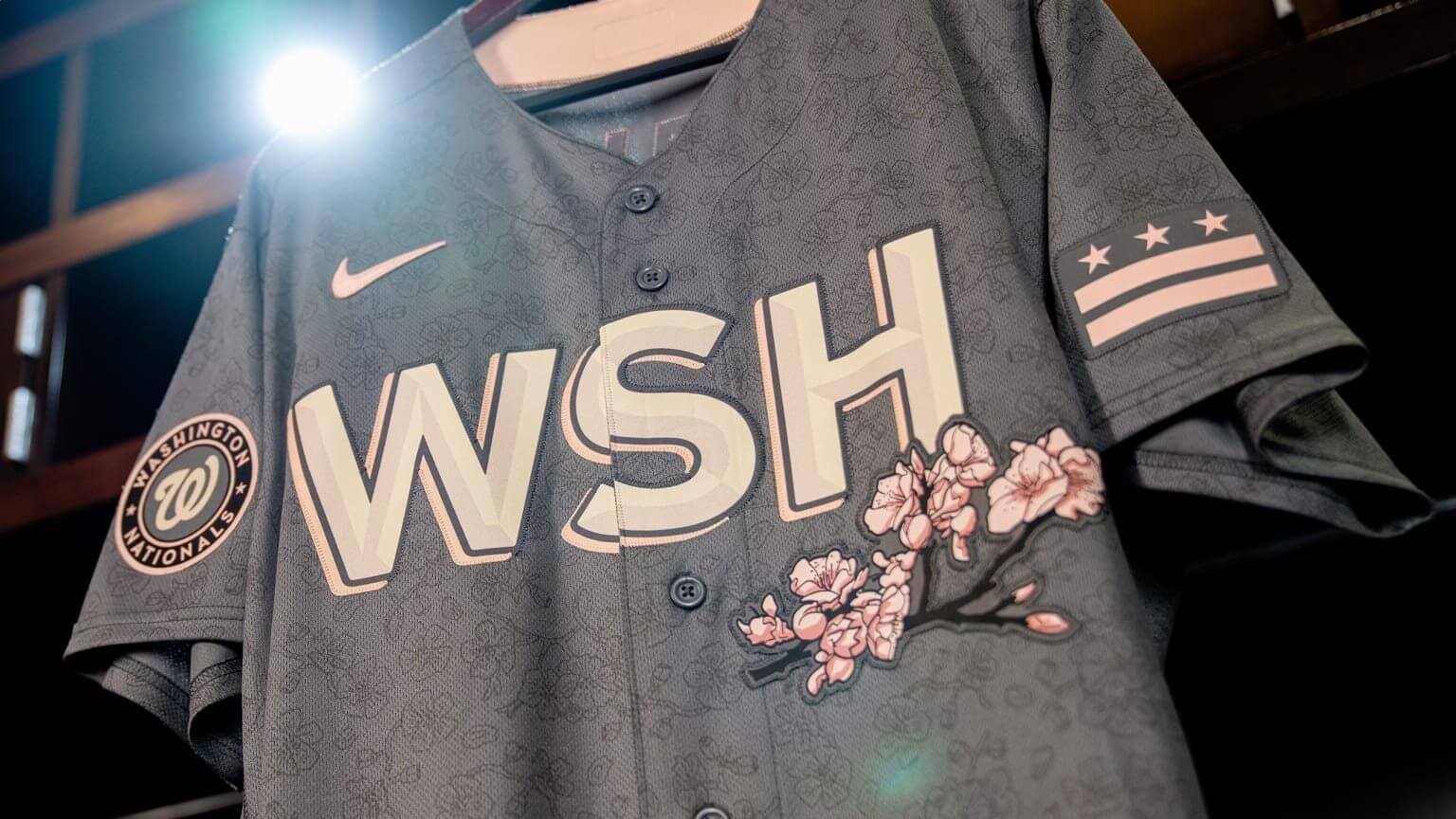 Some quick thoughts:
• I like the cherry blossom concept, along with the tree sprig on the jersey and the petals on the cap. Nicely done.
• I hate the dark-grey base color, however. It's drab, not at all spring-like (they're not even going through the motions of calling it "bark" or something ridiculous like that) and looks even worse with the pink accents.
• I also hate the sublimated floral pattern. I don't often refer to colored baseball jerseys as "pajama tops," but this one really earns that label because of the underlying pattern.
• I'm not a big fan of three-letter city abbreviations, but I do really like that font. Looks particularly good on the cap.
• Cream pants are an interesting choice.
• Not a fan of this trend of recoloring city flags for sleeve patches. Just use the real colors!
Overall: Some good ideas and elements, but the overall effect is ruined by the dark grey. Pfeh.
The unveiling also brought an announcement of this season's other City Connect teams. Here they are, along with the dates of the uniforms' on-field debuts (the unveilings will presumably be shortly before the on-field dates):
• Astros: April 20
• Royals: April 30
• Rockies: June 4
• Angels: June 11
• Brewers: June 24
• Padres: July 8
That list, of course, lends further legitimacy to the recent purported Rockies and Padres sock leaks.
With seven teams participating in the City Connect program last season and another seven this year, that leaves 16 teams that will presumably get on board in 2023: the A's, Blue Jays, Braves, Cardinals, Guardians, Mariners, Mets, Orioles, Pirates, Phillies, Rangers, Rays, Reds, Tigers, Twins, and Yankees.
As for the Wizards, here's their cherry blossom uni: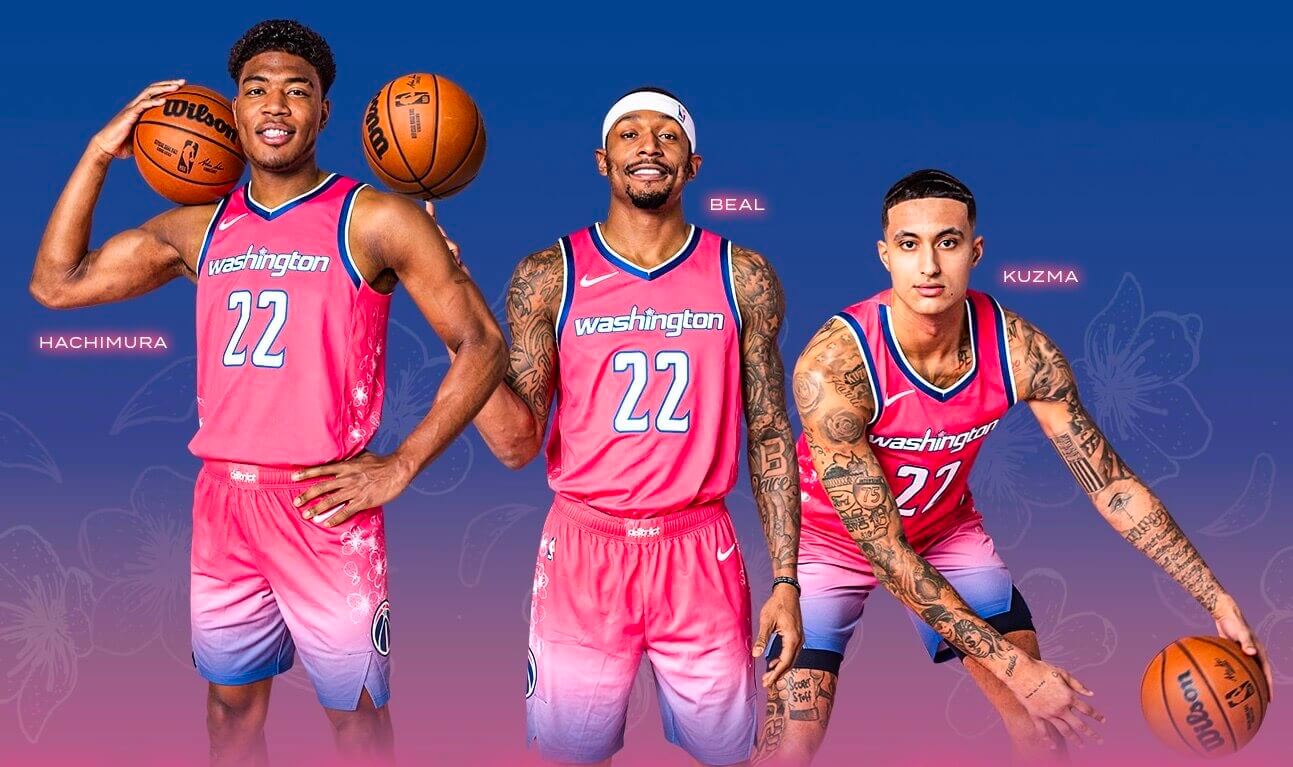 I could live without the gradation on the shorts, but overall it's fine. It's a little hard to see in that first photo, but the "i" in the chest lettering is dotted with a cherry blossom. Ditto for the waistband logo, and there are additional blossoms scattered on the side panels: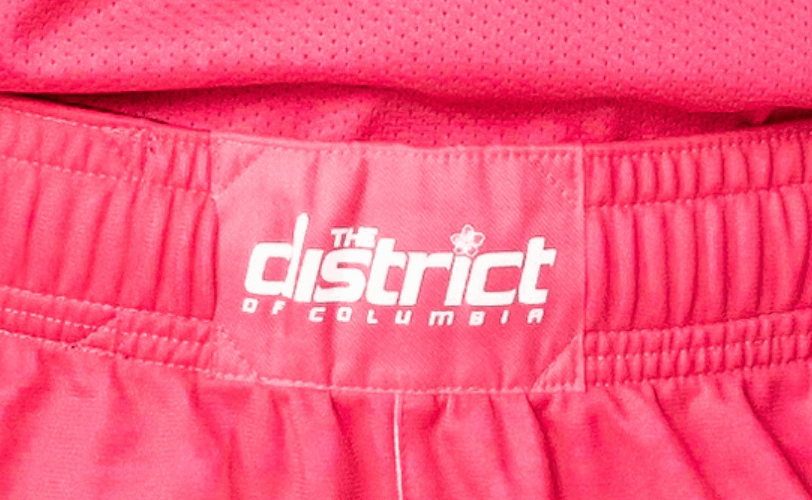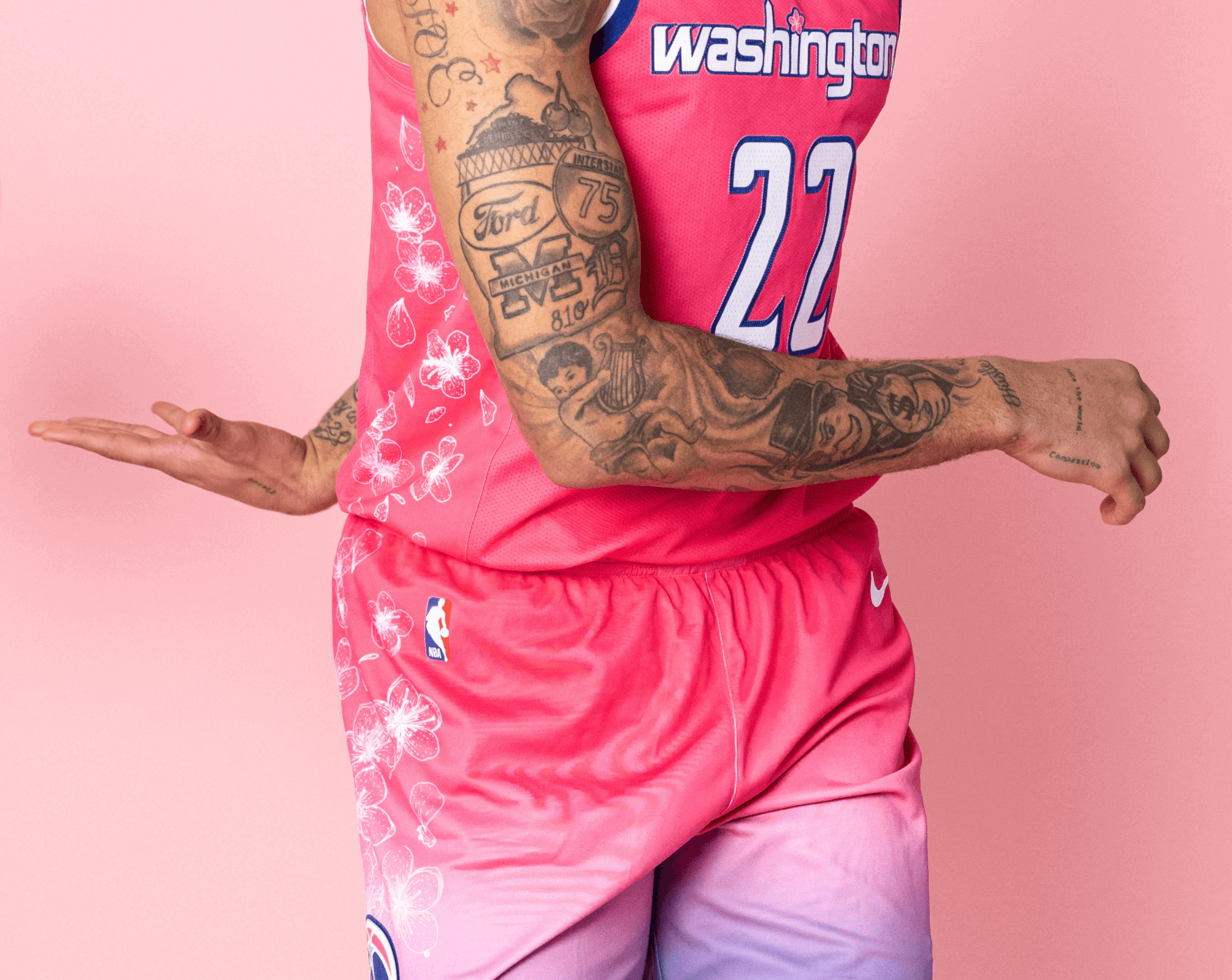 Not bad at all (here are some additional photos and info). But here's the catch: This is the Wizards' City uniform for next season, which means they won't start wearing it until this fall and winter — when the only thing on the cherry tree branches will be snow. Even the merch won't be available until November! Coordinating the unveiling with the Nats for a spring release makes for a fun season-appropriate announcement, but the design doesn't make much sense in terms of when it will actually be worn. Still: Could've been worse!
• • • • •
• • • • •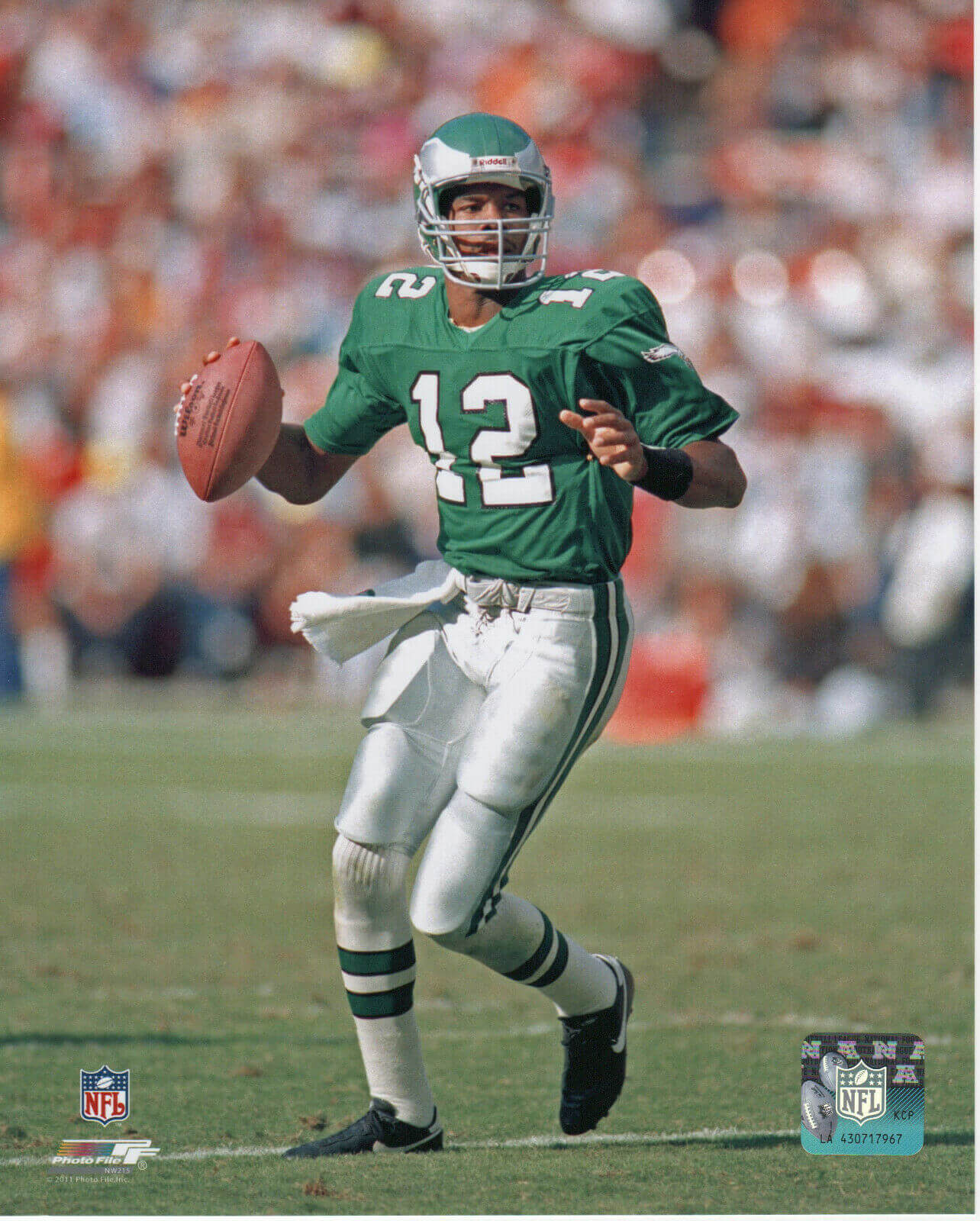 Meanwhile, over on the gridiron: Eagles owner Jeff Lurie announced two major pieces of uni-related news yesterday. First, the team will (finally!) have Kelly green throwbacks — but not until 2023. The Iggles thus join the Seahawks and Bucs in the "eventually, in '23" throwback category.
Here's Lurie talking about how the new throwbacks will be based on the Randall Cunningham-era uniforms:
Chairman and CEO Jeffrey Lurie announces that our classic green alternate uniforms will return in 2023! pic.twitter.com/UCHecvzIqx

— Philadelphia Eagles (@Eagles) March 29, 2022
But while we wait for the Kellys, Philly will have a new black helmet this season to go along with the longstanding black jerseys and pants. Here's Lurie talking about that:
Chairman and CEO Jeffrey Lurie also announces that we will wear a black helmet to match our black uniforms in 2022! pic.twitter.com/AaoQSYvtU2

— Philadelphia Eagles (@Eagles) March 29, 2022
If I'm understanding Lurie properly, the black helmet will be just a one-season thing — a placeholder until the throwbacks can be rolled out in 2023. But here's the thing: Depending on the lighting, the Eagles' primary dark-green helmet already looks nearly black anyway when worn with the black uni, so adding a truly black helmet to that combo may not make much of a visual difference.
• • • • •
• • • • •
Membership update: Five new designs have been added to the membership card gallery. That includes Colt Foutz's card, shown at right, which is based on the 1946 Browns.
Ordering a membership card is a good way to support Uni Watch, and fun to boot. And remember, a Uni Watch membership card entitles you to a 15% discount on any of the merchandise in the Uni Watch, Uni Rock, and Naming Wrongs shops. (If you're an existing member and would like to have the discount code, email me and I'll hook you up.)
As always, you can sign up for your own custom-designed card here, you can see all the cards we've designed so far here (now more than 3,200 of them!), and you can see how we produce the cards here.
• • • • •
• • • • •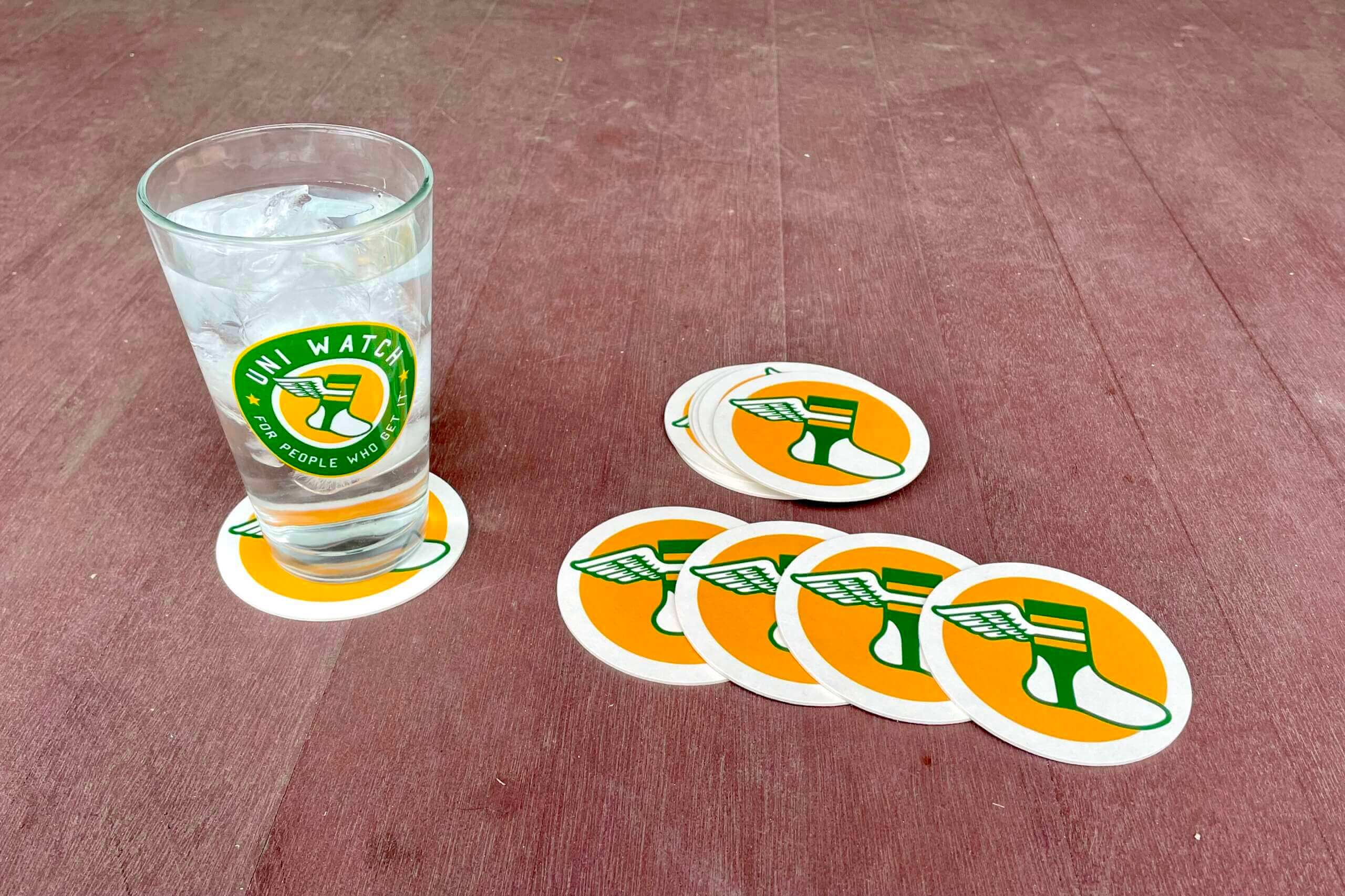 Click to enlarge
Coaster reminder: I have a very limited (and dwindling!) supply of these great Uni Watch coasters — a set of three for $9. Full details here.
• • • • •
• • • • •
The Ticker
By Lloyd Alaban

Baseball News: A Reds employee who's also a friend of our own Brinke Guthrie received a Louisville Slugger engraved with his name for his 15th anniversary working with the team and a Reds home jersey with his FNOB for the 20th anniversary. … Steve Robinson spotted this unusual circa-1970s Cardinals jacket. Interesting look!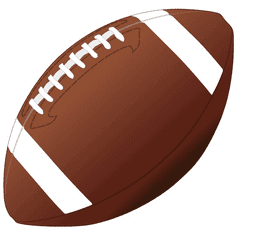 Football News: With Steelers QB Ben Roethlisberger recently announcing his retirement, the NHL's Pittsburgh Penguins honored him with pregame jerseys last night (from L.J. Sparvero). … The logo for Touchdown Atlantic, the Canadian football League's annual game in the Maritimes, has been released (from Wade Heidt). … Here's a brief history of Oklahoma State's Boone Pickens Stadium (from Kary Klismet).

Hockey News: The Jets and their AHL affiliate, the Manitoba Moose, have released Indigenous-themed "Follow Your Dreams" jerseys — a pregame version for the Jets and a game version for the Moose (from @jayappletree). … Rangers D Braden Schneider still wears an undershirt of the Hartford Wolfpack, his former AHL team (from Chuck Graves). … The Senators added memorial helmet decals last night for owner Eugene Melnyk, whose death was announced on Monday (from Wade Heidt). … Canine collaboration: The Capitals' live mascot and service dog-in-training, Biscuit, had a photo-op with Georgetown University's live bulldog mascot, Jack (from Kary Klismet). … Cross-listed from the football section: The Penguins wore warm-ups last night with the NOB and number of Pittsburgh Steelers QB Ben Roethlisberger, who recently announced his retirement (from L.J. Sparvero).

Basketball News: The Cavs announced that they will have a new jersey advertiser next season (from multiple readers). … Players in the McDonald's All American girls' game last night wore their jerseys untucked (from Chris Wellbaum).

Soccer News: New kits for the Chattanooga Red Wolves of USL League One (from Ed Zelaski). … Here's a fun thread of F1 liveries reimagined as soccer shirts (from Ephraim Vorzman). … Here's a map of Japan showing all the J-League teams by prefecture. "The completely black locations have no team, and the two pop-outs are Kanagawa and Tokyo," explains Jeremy Brahm. … Here's the official match ball for the 2022 World Cup (from Ed Zelaski). … The rest of these are from Kary Klismet: Footy Headlines ran a piece on what it considers the disturbing trend of clubs changing their crests and what it says about branding over team tradition. … Here's a detailed look at Keyworth Stadium, the home grounds of the USL Championship's Detroit City FC. … New away shirts for Norway's Valerenga IF. … New home shirts for Brazilian side Ceará. … New away shirts for Argentine side Unión de Santa Fe.

Grab Bag: New on-car ad for the McLaren F1 team (from @noles4kiffin). … The next few items are from Kary Klismet: The State University of New York system [of which I am a proud graduate — Paul] is holding a March Madness-style bracket competition to choose the best mascot from among its schools. … Lynx Air, a new Canadian low-cost carrier, has unveiled its crew uniforms. … Very subtle logo adjustment for Google Chrome (from our own Brinke Guthrie).