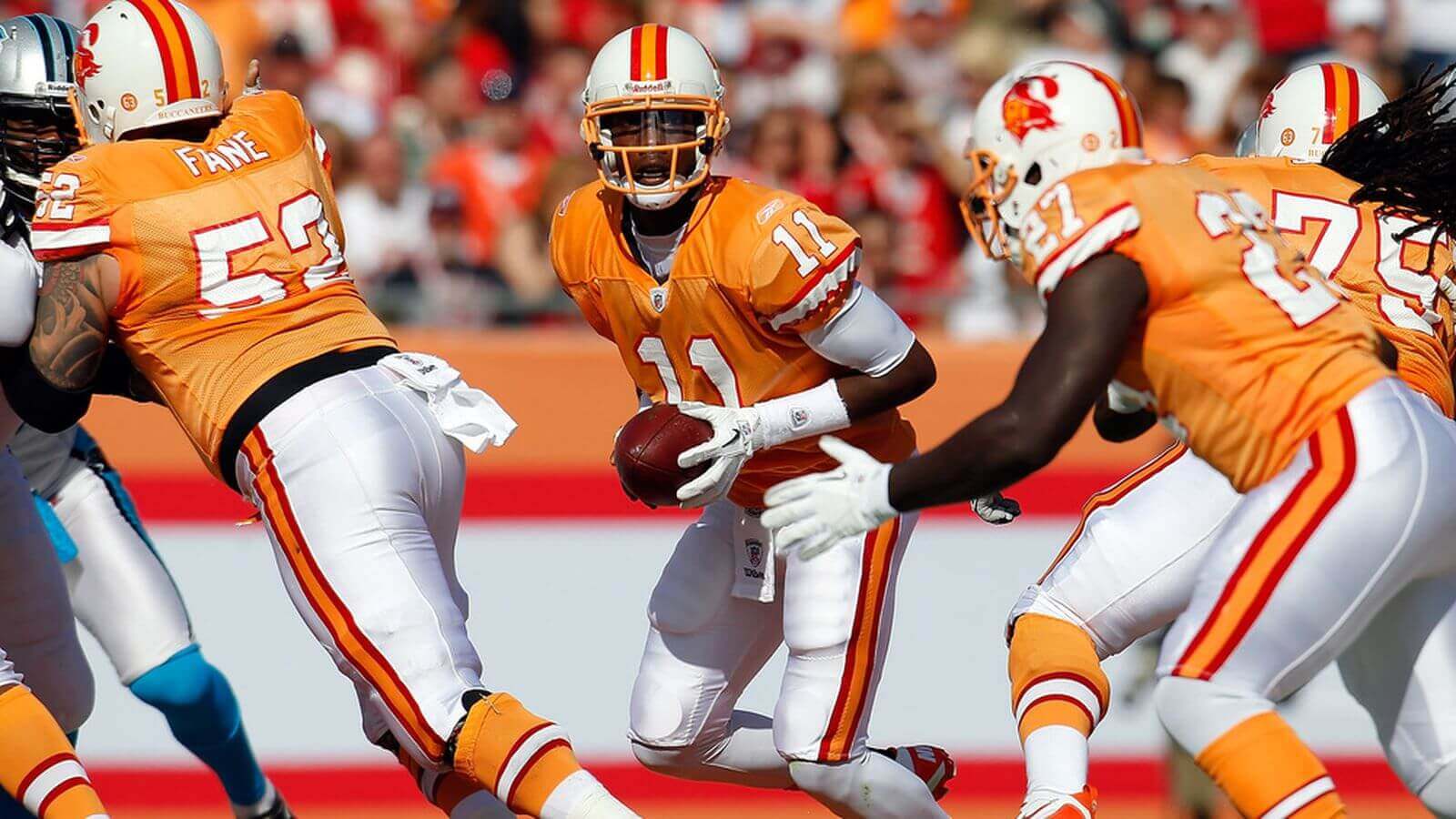 When the NFL announced last June that the one-shell rule was being scrapped after 2021 and that teams would once again be able to have multiple helmet shell colors beginning in 2022, just about everyone's initial reaction (including mine) was, "Good — now we can finally see Bucco Bruce back on the field!"
Similarly, when I reported three months ago that 15 NFL teams would be adding a second helmet in 2022, just about everyone's initial reaction (including mine) was, "Well, we know the Bucs will definitely be one of those 15 teams!"
But now it turns out that they won't. The Bucs yesterday announced that they are indeed bringing back Bucco Bruce and the Creamsicle throwbacks — but in 2023, not 2022.
Why the delay? "Due to global supply chain challenges, we will have to wait one more year than hoped," the team said. "This is the earliest that Nike can finish production of the orange uniforms."
This marks the second time in a week that an NFL team has announced a delay in its throwback plans due to production/supply issues. The first such club was the Seahawks:
Arnold says one reason it won't happen next season is production issues for the throwback uniforms for retail.

— Bob Condotta (@bcondotta) February 21, 2022
A few thoughts on this:
• The Seahawks specifically said that their production/supply issues were related to retail product. Yesterday's announcement from the Bucs was more ambiguously worded, saying that 2023 "is the earliest that Nike can finish production of the orange uniforms," but I assume that they too are referring to retail product. I mean, you figure Nike could easily whip up a set of on-field uniforms for the players, right? (I've contacted the Bucs to confirm this. No response yet.)
• Assuming that assumption is correct, then this is a particularly annoying case of the merch tail wagging the on-field dog. We've seen plenty of situations in which teams have worn certain designs on-field mainly as an excuse to sell them at retail, but this appears to be the inverse of that — teams are not wearing a design because they can't sell it at retail! It's all so stupid. Which leads me to…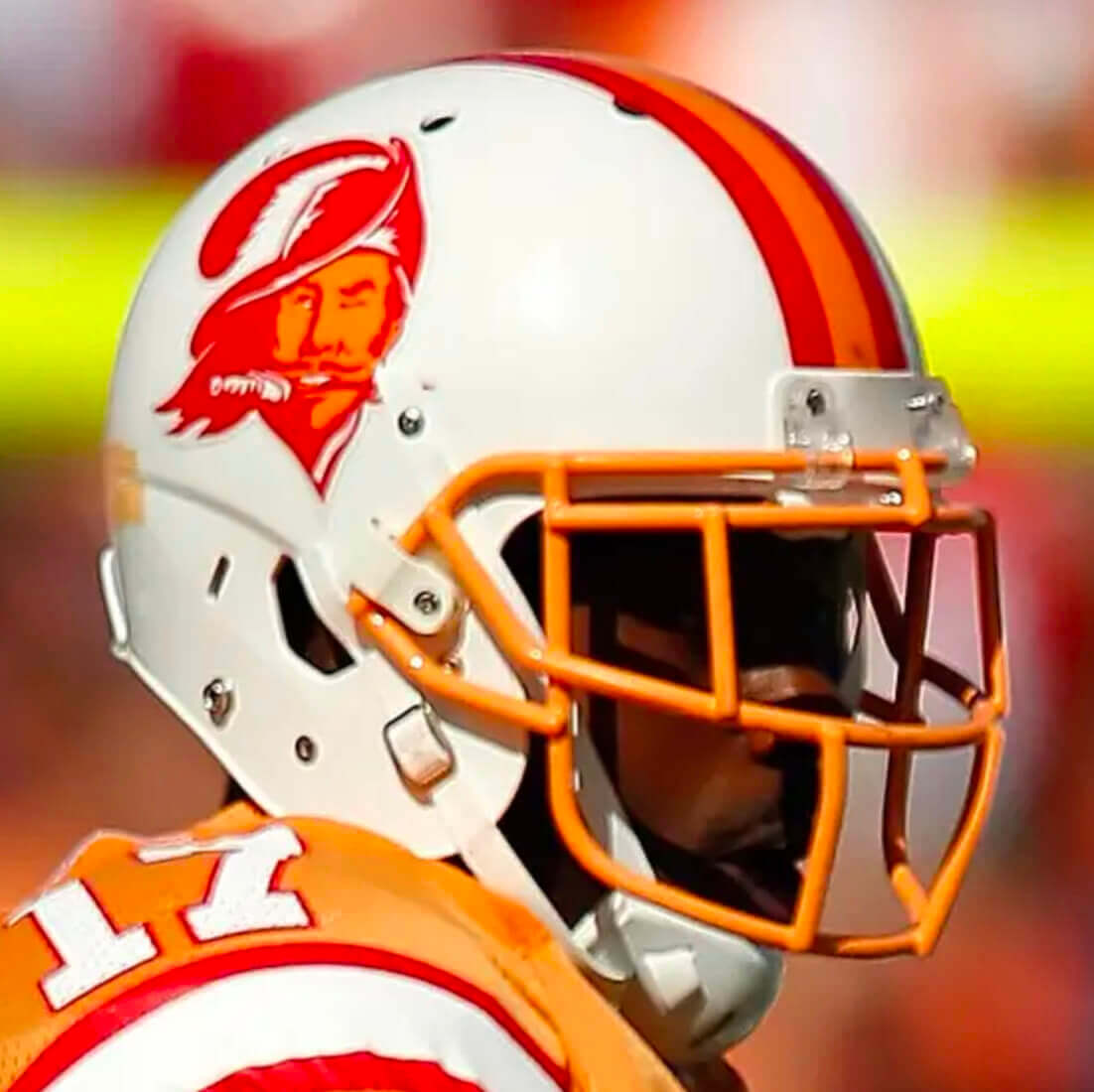 • Why not just wear the throwbacks anyway? Prior to the one-shell rule, the Bucs would wear Bucco Bruce for only one game per season, so why not go ahead and do that, even if you don't have any product to sell? (I asked the Bucs about this as well. Again, no response yet.) You can still sell the product the following year, or whenever it's available, but in the meantime why deprive fans from seeing a popular on-field look? That's what the Mets did when they brought back their BFBS jerseys — they just went ahead and wore them, even though the retail versions weren't available until several months later. Why can't the Bucs and Seahawks do the same?
• One possible answer to that question: Maybe they're afraid that if they wore the throwbacks in 2022 without any official retail merch, fans would buy bootleg/knock-off jerseys instead. And then when the official merch became available in '23, sales would be lower because some fans would be happy to stick with the bootleg gear.
Ugh. I can't even describe how much this all makes my head hurt. The team wants to wear the throwbacks, the fans want them to wear the throwbacks, so just wear the fucking throwbacks already! It's so ridiculous that the situation is essentially being held hostage by a merch-production issue.
Meanwhile, here's a thought: We don't yet know if these production issues will impact any other teams' alternate/throwback plans for 2022. But we do know that this isn't just an isolated thing affecting one team, so it seems plausible that other teams might soon be making announcements similar to Seattle's and Tampa Bay's. Or to put it another way, if you were planning a trip to Foxborough this fall to see Pat Patriot, maybe don't book that flight just yet.
• • • • •
• • • • •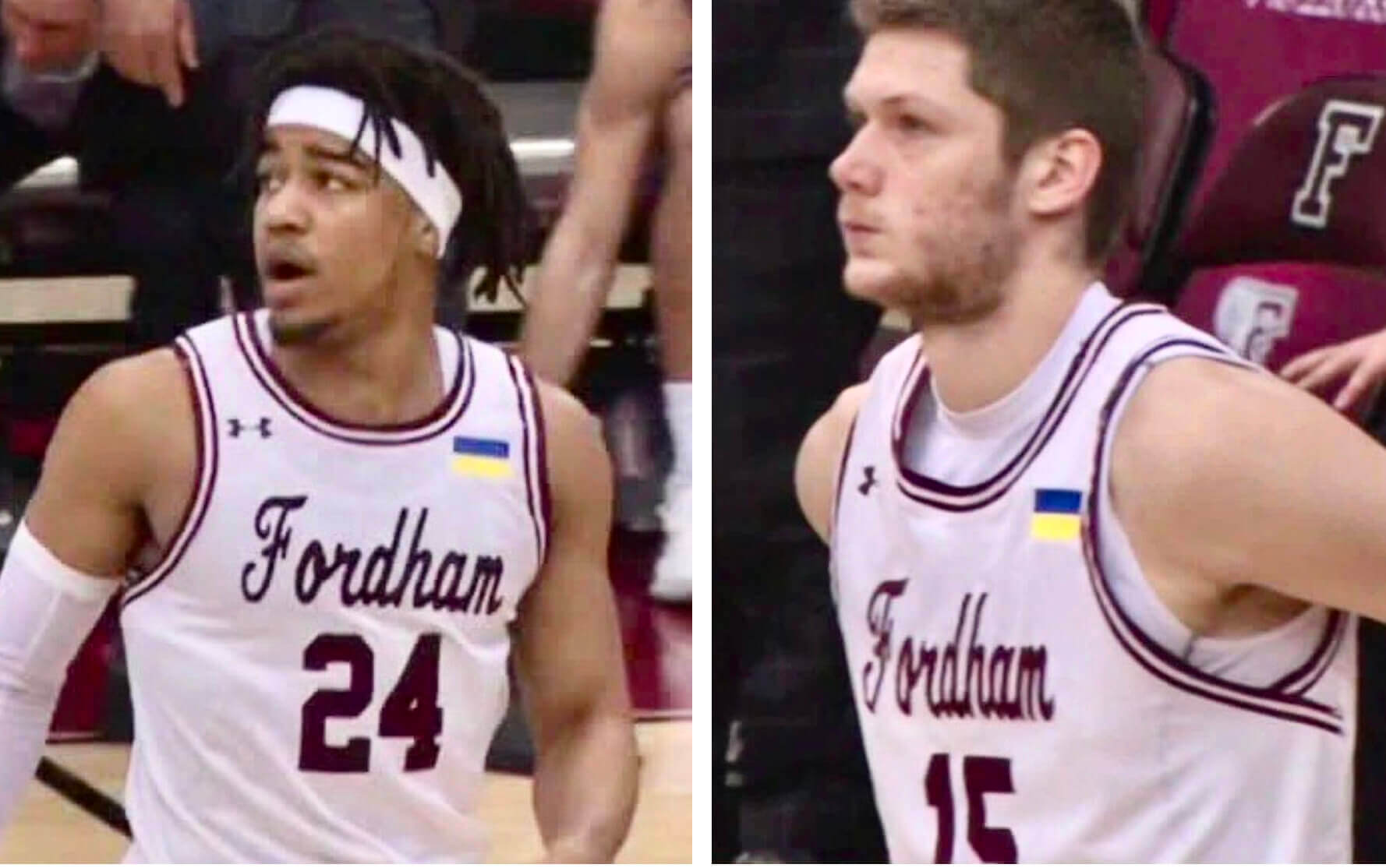 Screen shots by Timothy Burke

Ukraine update: The Fordham men's hoops roster includes sophomore center Rostyslav Novitskyi (No. 15 above), who's Ukrainian. Last night was their first home game since the Russian invasion of Novitskyi's country, so they added Ukrainian flag patches to their jerseys. Pretty rare to see a non-USA flag on an NCAA uniform!
Speaking of Ukraine-related shout-outs, Danish soccer powerhouse Brøndby IF, which usually wears yellow shirts over blue shorts, reversed that combo yesterday to match the Ukrainian flag: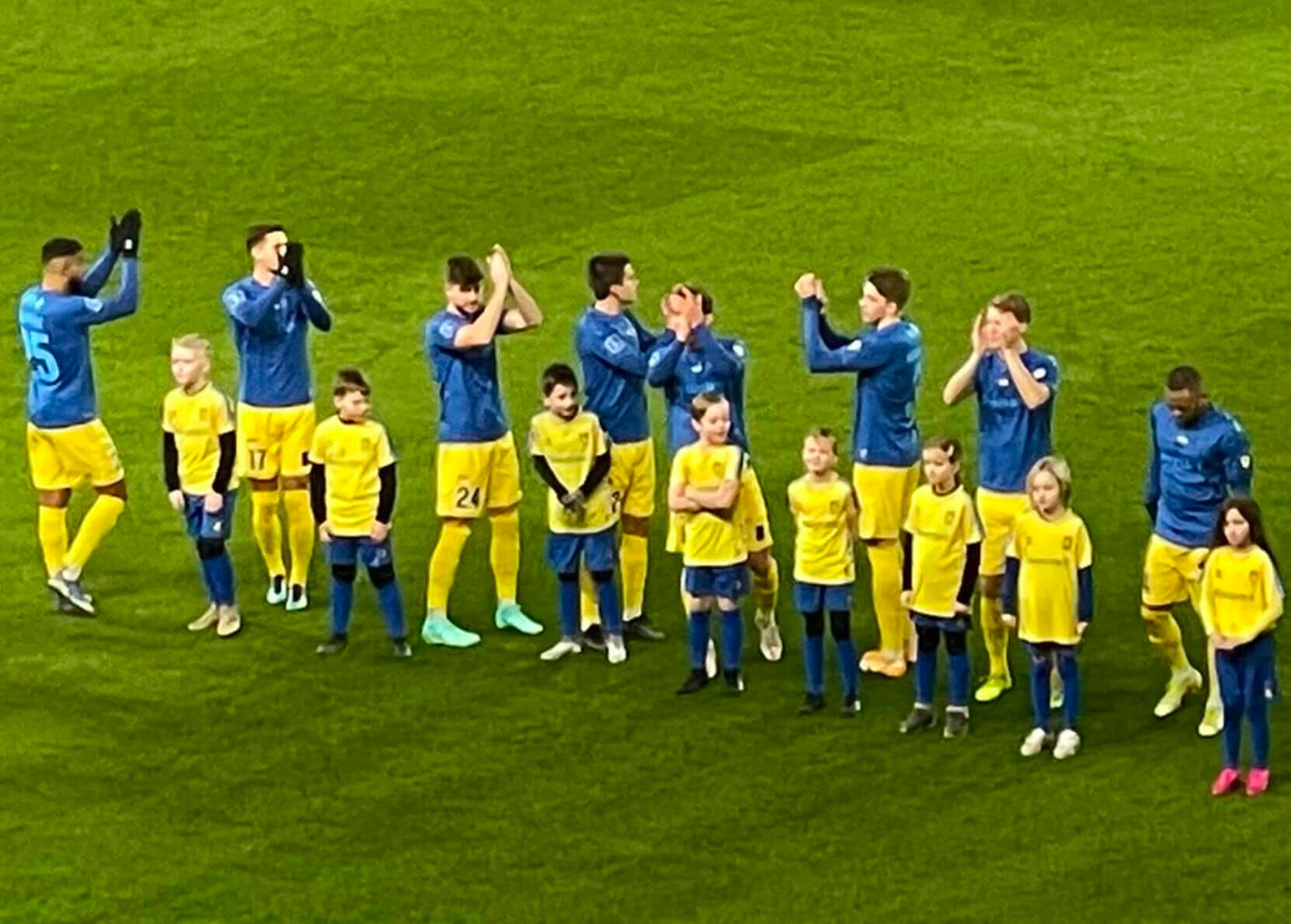 (My thanks to Eric Dean for alerting me to the Fordham situation, and to Nick Kahn for the Brøndby IF item.)
• • • • •
• • • • •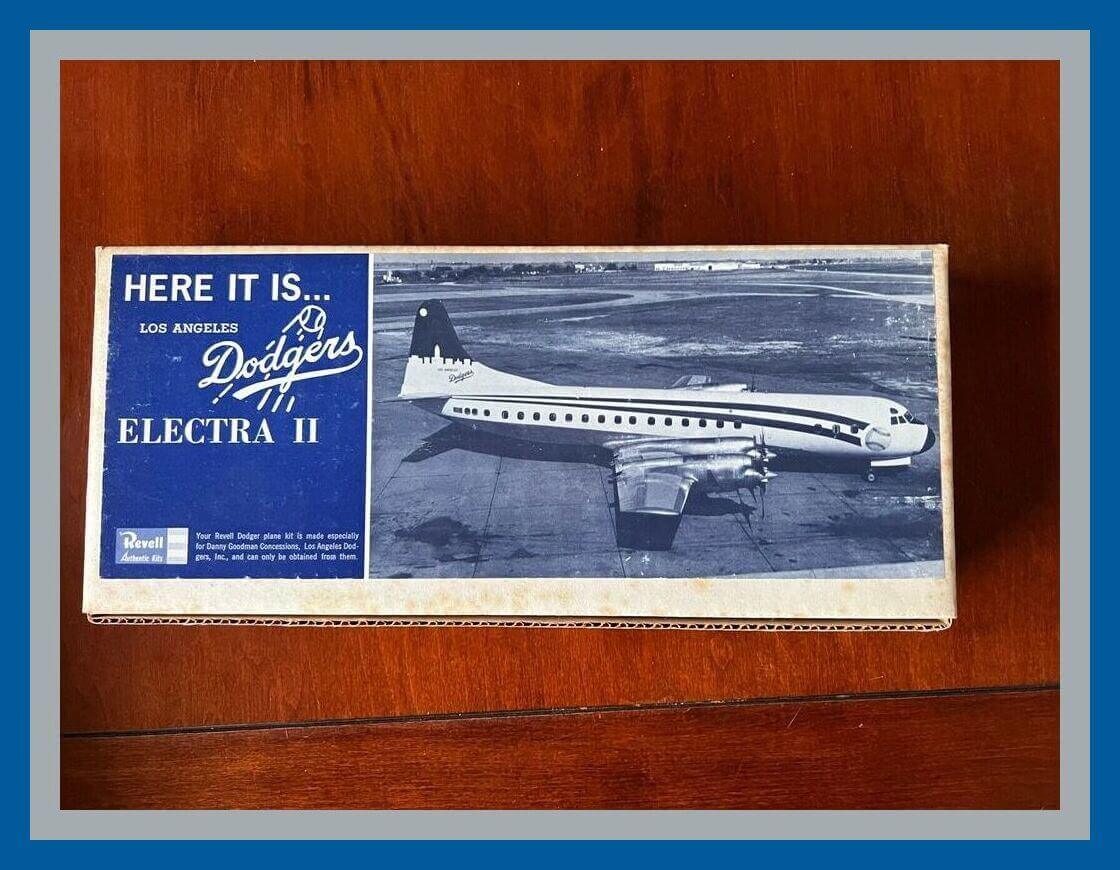 Click to enlarge
Collector's Corner
By Brinke Guthrie
Follow @brinkeguthrie    
Look, up in the sky! It's a bird … it's a plane … well, in this case, it really is a plane — a 1962 model kit of the Dodgers' team plane, to be precise. The instructions note that the plane "will carry the team to all its scheduled games and will also visit farm teams of the ball club." (More on the team's history in the friendly skies can be found here.)
Now for the rest of this week's picks:
• I must admit I'd not heard of Joe Lapchick before; turns out he played for the New York Original Celtics, an early barnstorming basketball team, in the 1920s and '30s. In any case, here's a pair of his signature "Play-Maker" sneakers. Not quite Air Jordans, eh?
• Always liked the old (and new again for 2022) USFL Boston/New Orleans/Portland Breakers helmet design. Here it is on a 1980s wall plaque.
• Learn from the pros! This 1971 cassette/booklet features Pete Rose and is called Championship Baseball Hitting Fundamentals. A season later, Willie Mays taught us how to play in the outfield with this record/booklet set, appropriately entitled Outfielding.
• Take a look at this 1982 Steve Garvey print ad! He'd just landed with the Padres, and this ad says "Out of the Blue!" (Get it?) "Garvey's With the Padres, and This Year We're Madder Than Ever!" But why were they mad in the first place? Maybe it was all that "cleat-digging, hard-driving, dust-flying heads-up baseball."
• This large plastic football was endorsed by NFL Hall of Fame quarterback "Slingin'" Sammy Baugh. The yellow ball with all those holes looks a bit like Swiss cheese!
• Harry Kalas narrated this record called The Phantastic Phillies, an LP commemorating the team's 1980 World Series win.
• One of the greatest team logos ever is shown on the cover of this 1980-81 Hartford Whalers yearbook. 
• This listing is for a pair of Montreal Expos items: a Youppi! pin, and a jersey-themed keychain.
• I'm including this early-1970s NFL football bank for one reason: Since these items were white plastic and are now about half a century old, they're usually quite dingy and yellowed. But this one looks pristine!
• Here's an art print designed to look like a comic book about Babe Ruth's famous called shot in the 1932 World Series.
• And from reader Will Scheibler, here's a seller with lots of NFL helmet matchbooks.
• • • • •
• • • • •
The Ticker
By Alex Hider

Baseball News: The Guardians' new uniforms haven't made their on-field debut yet, but Topps is already using them in their 2022 set (from Dave Landesberg). …  A music store in Catonsville, Md., is using a version of the O's "Swinging Oriole" logo, except they replaced the baseball bat with a guitar (from Stephen Murphy). … Here's a rare look at Negro Leaguer and civil rights activist Earl Brown in his Harvard baseball uniform in 1924 (from Stephen Eschenbach, who further requests that we credit UD 9000 Box 3 [1924], Harvard University Archives).. … Musical artist Petey wore a Moisés Alou Cubs jersey onstage during a recent concert (from @PootPoot).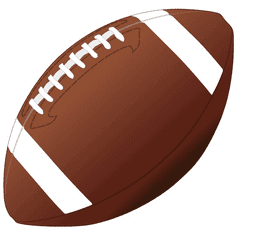 Football News: Somebody Somewhere is an HBO series set in Manhattan, Kan., home of Kansas State. Max Weintraub notes that one of the show's characters, Professor Fred Rococo, has both a framed personalized Wildcats jersey and two crops team championship banners hanging in his home. … The Bills are reportedly about to announce plans for a new stadium, while the Commies are eyeing three potential stadium sites in Virginia.

Hockey News: The Capitals added a helmet decal last night for Neal Henderson, a DC-area youth coach and U.S. Hockey Hall of Fame inductee who helped spread the game to inner-city youth in the region. The decal was part of the team's Black History Month program (from William F. Yurasko). … One of the club suites at the Devils' arena has signed sticks displayed prominently at the buffet line. Though it's unclear if the gesture was intentional, the sticks happen to have been made in Ukraine (from @_RF30). … The Mississauga Steelheads wore blue checkered uniforms with neon green striping on Sunday (from Wade Heidt). … NCAA D2 school St. Michael's College tapped an alumnus to design the school's uniforms after the coach came across his concepts on social media (from Ike Bendavid).

Soccer News: Atlético Madrid F Antoine Griezmann was recently spotted wearing a backpack covered in NFL team patches (from @odamakuley). … For an FA Cup game between Everton and men's fifth-tier Boreham Wood on Thursday, Boreham Wood will avoid a color clash by debuting a mono-black third kit (thanks, Jamie). … The next three items are from Kary Klismet: The Premier League has introduced a new ball design that will be used for the rest of the season. … This is a comprehensive look at England's uniform history. … New uniforms for the El Paso Locomotive of the USL Championship.

Grab Bag: Trinidad and Tobago Rugby Union has for (from Sy Hart). … New logo for the NCAA D2 Rocky Mountain Athletic Conference (from @roblmo). … New helmets for Formula 1 drivers Valtteri Bottas and Guanyu Zhou (from Kary Klismet).