For the win!!! On to the next! pic.twitter.com/rd2oJ24fpi

— Robbie Gould (@RobbieGould09) January 23, 2022
If you watch this video of the final play of Saturday's 49ers/Packers playoff game, in which Niners kicker Robbie Gould kicked a game-winning field goal to send the team to the NFC Championship Game, you'll see something very strange: 49ers tight end Ross Dwelley, who's celebrating the win along with his teammates, appears to have No. 02, instead of his usual No. 82, on the back of his jersey. Here's a screen shot from the video: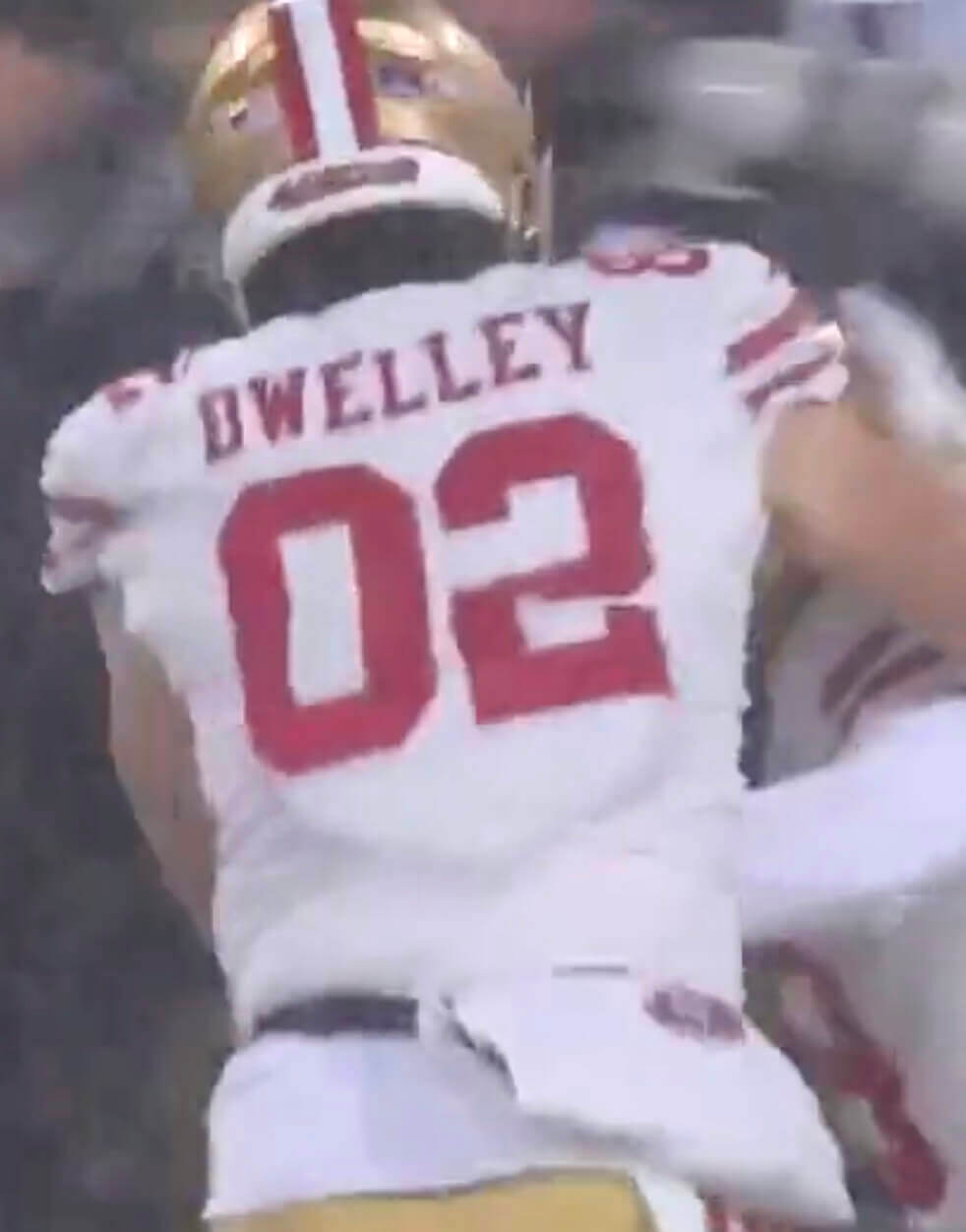 This wasn't the first time that Dwelley's unusual-seeming number appeared onscreen during the game, but it's the one that most people noticed. I received approximately eleventeen bizillion inquiries about it on Saturday night and Sunday, some of them postulating various grassy knoll theories. Let's handle this one in FAQ mode:
Is 02 even a legal number in the NFL?
No.
But the 49ers assigned him that number anyway? Won't they be fined?
They did not assign him that number. His roster number is 82. If you look again at that screen shot, you can clearly the 8 on his right-shoulder TV number.
Oh, so the horizontal line at the center of the 8 must have fallen off or gotten torn or something.
Nope. The 8 has two little crimps on the sides as you can see from this photo from an earlier game (for this and most of the rest of the photos in this section, you can click to enlarge):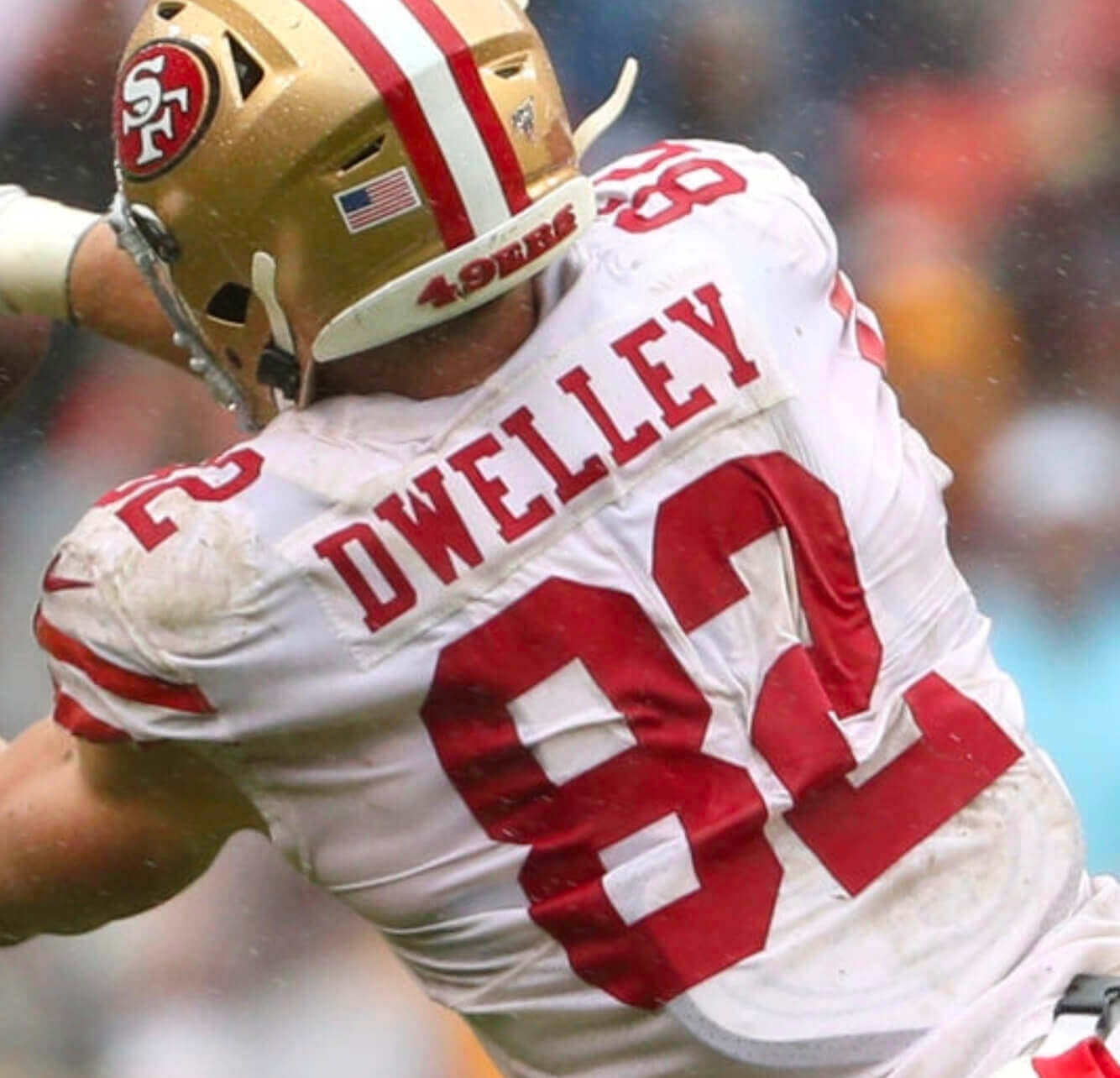 So even if the horizontal stroke somehow fell off, the crimps would still be there. But they're not. So that's not what happened.
That leaves only one explanation: His jersey was misprinted with a zero instead of an 8. Someone at Nike is gonna lose their job over this!
No, that's not what happened either.
So what's your explanation, smart guy?
The fabric of his jersey was folded in, which swallowed part of the 8 (and also part of the 2).
I keep staring at that screen shot, but I don't see any fold. It just looks like a zero.
True enough — for that particular screen shot. But let's look at a few others, taken from the same video: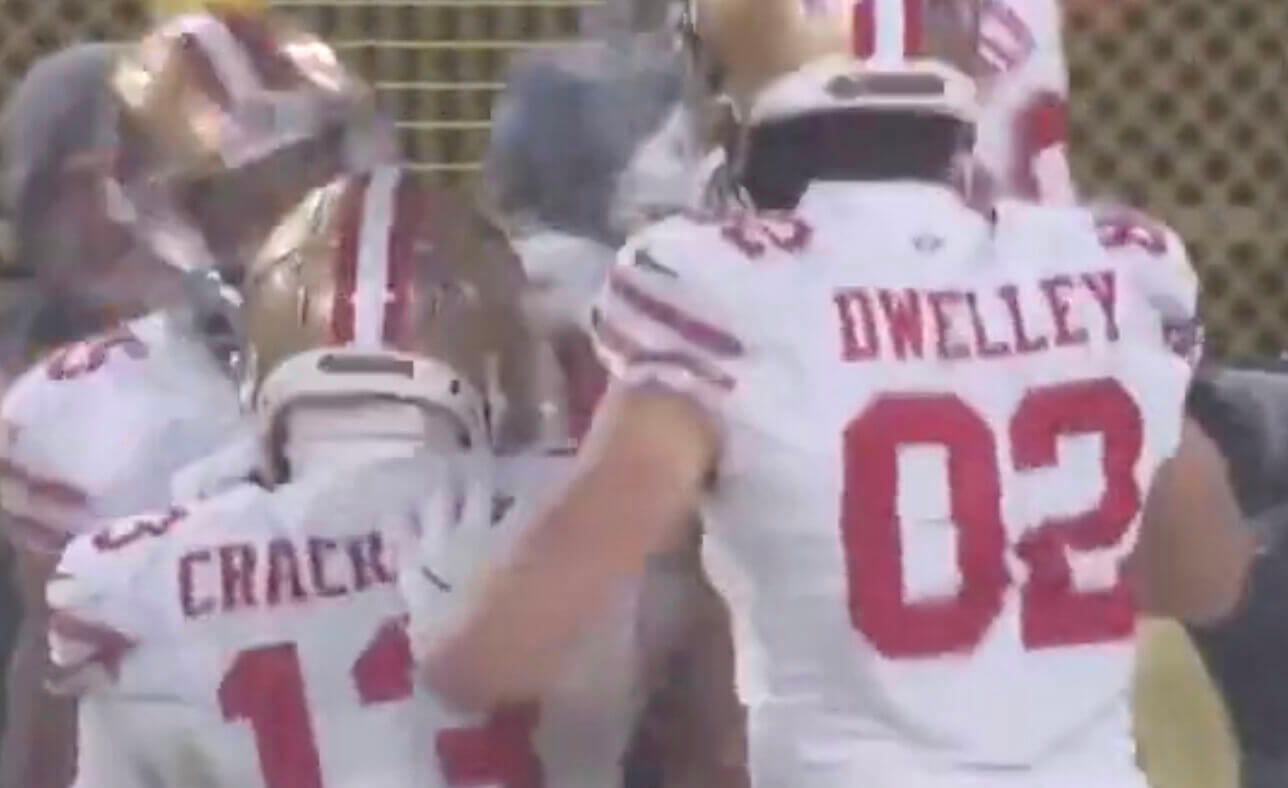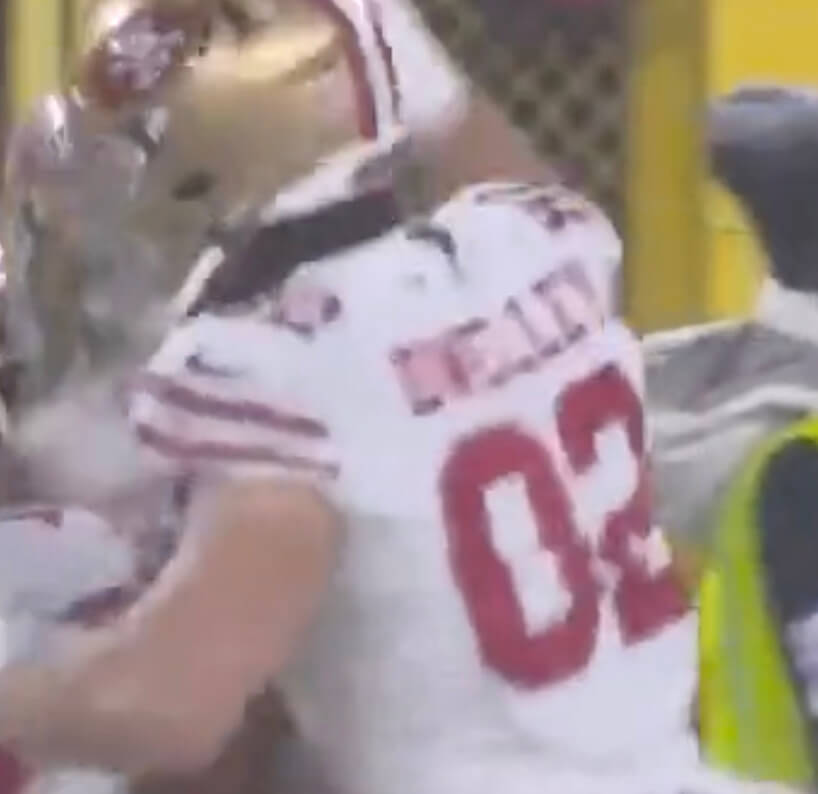 In those shots, it's evident that something funky is going on with Dwelley's jersey — you can definitely see a fold there.
Yeah, but how could the fold make the entire center of the 8 disappear and make it look like a zero? It would have to be the most perfect fold ever!
I agree that it seems pretty miraculous. But this has actually happened to Dwelley before. On Nov. 17, 2019, he had a very similar jersey fold, with similar visual effect, during a game against the Cardinals. You can see the fold much more clearly in these photos: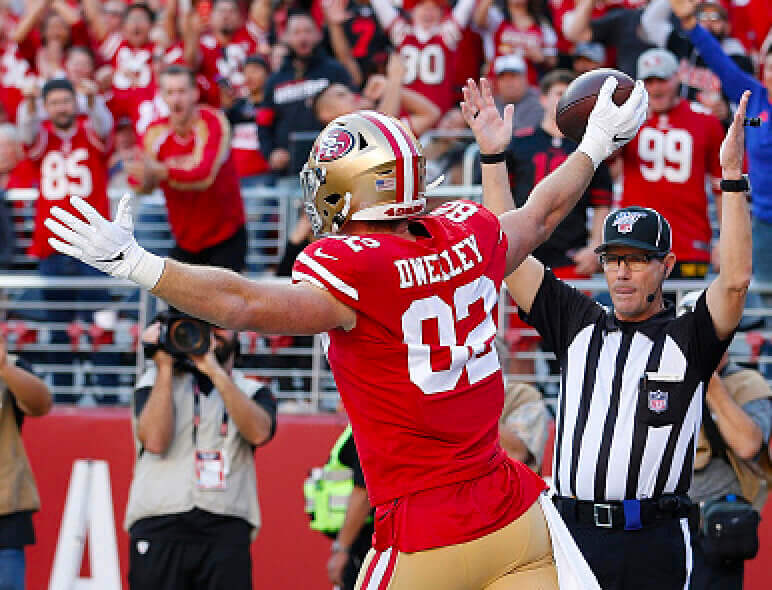 Okay, that was definitely a jersey fold. But the one on Saturday night was different — it stayed that way all game long and didn't change when he ran or moved. It must have been a misprint!
Let's compare one of those 2019 photos with another screen shot from Saturday night: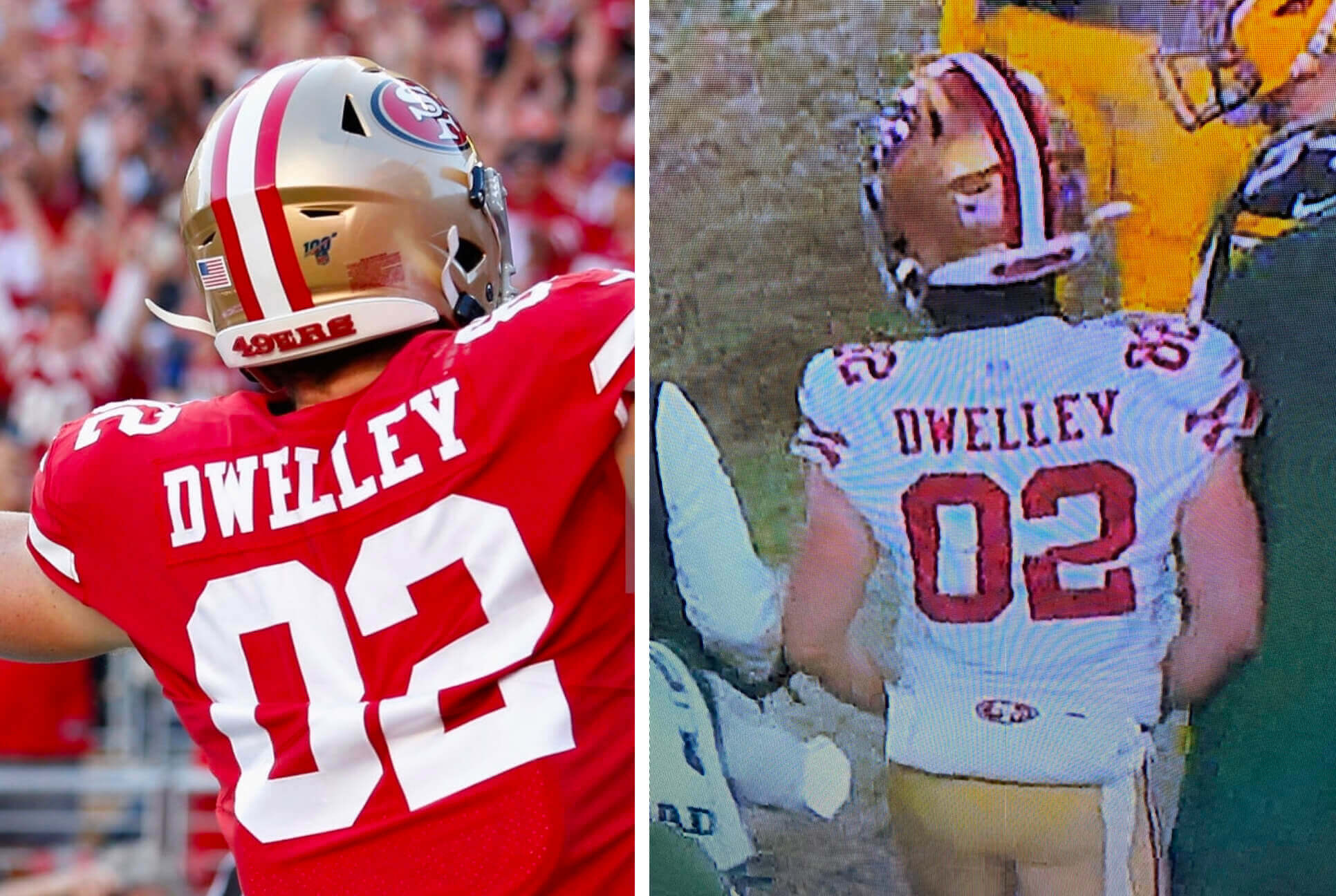 When you look at them side by side, the similarities in the folds become pretty obvious. Even the 2s got distorted in nearly identical ways. You can also see that in both cases, the fold runs along Dwelley's back plate. The jersey may even be adhered to his pads with double-sided tape (as is pretty standard these days).
Conclusion: Ross Dwelley had a highly unusual but not unprecedented jersey fold on Saturday night. He is apparently the king of this particular uni phenomenon!
You're no fun! Why do you have to ruin everything?
Believe me, I wish he'd been wearing No. 02 — it would be an amazing story! Unfortunately, though, that's not what happened.
In other news from Saturday's and Sunday's NFL playoff games:
• 49ers defensive lineman Nick Bosa, who sustained a concussion during the Wild Card game against the Cowboys, returned to action this week with a new helmet — the Vicis Zero2 Trench. Here's a comparison: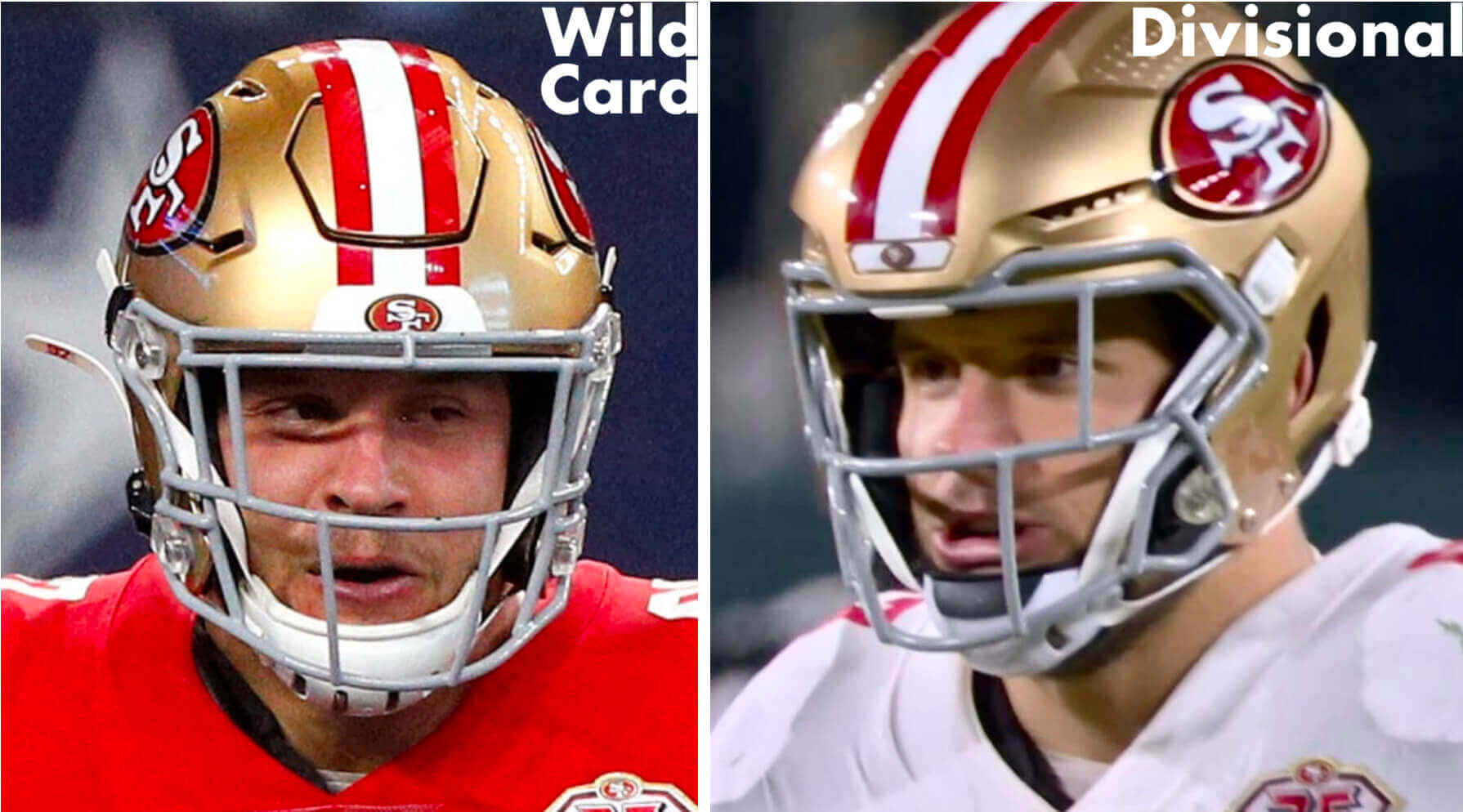 • Packers tight end Marcedes Lewis wore one green shoe and one yellow shoe: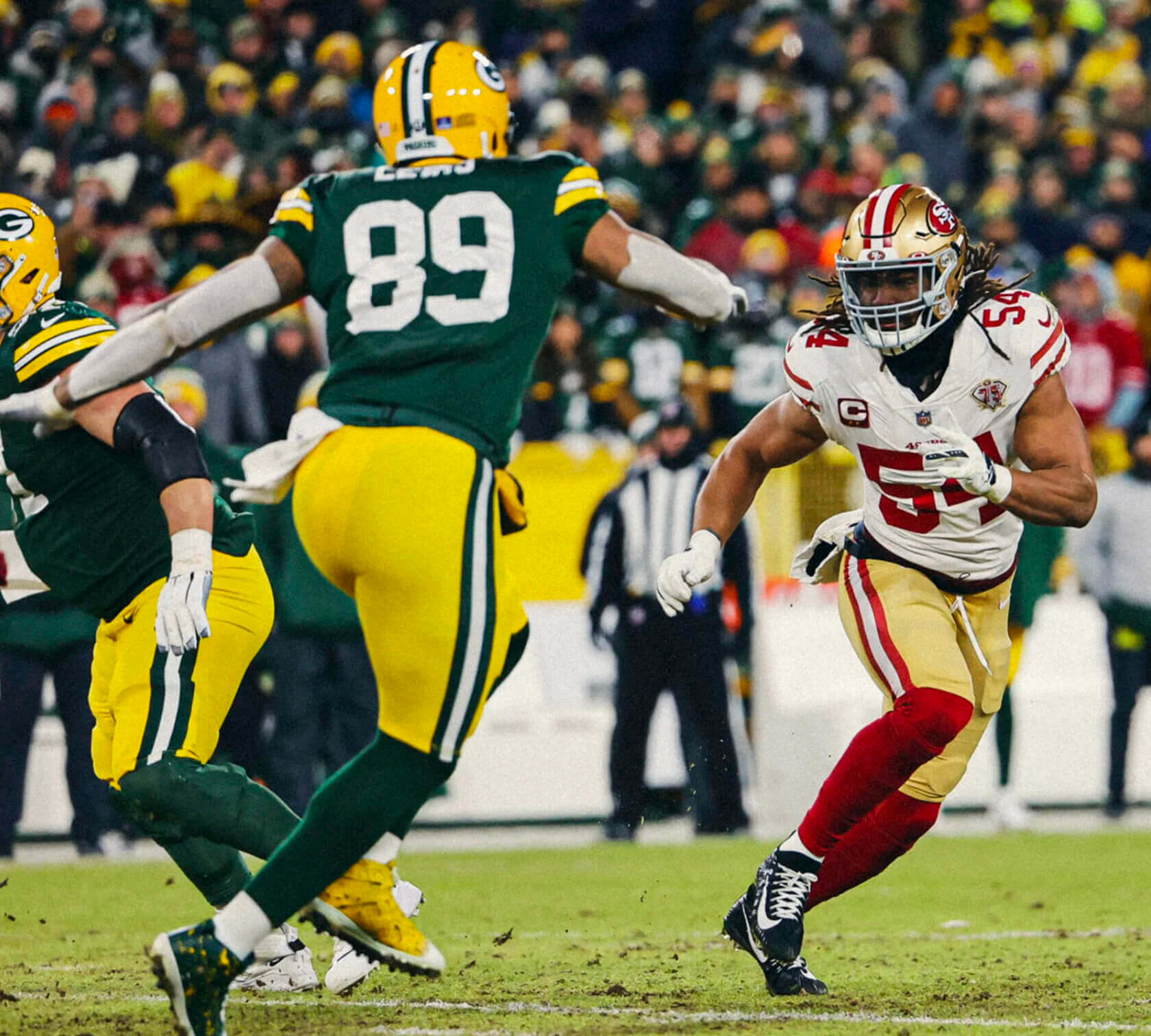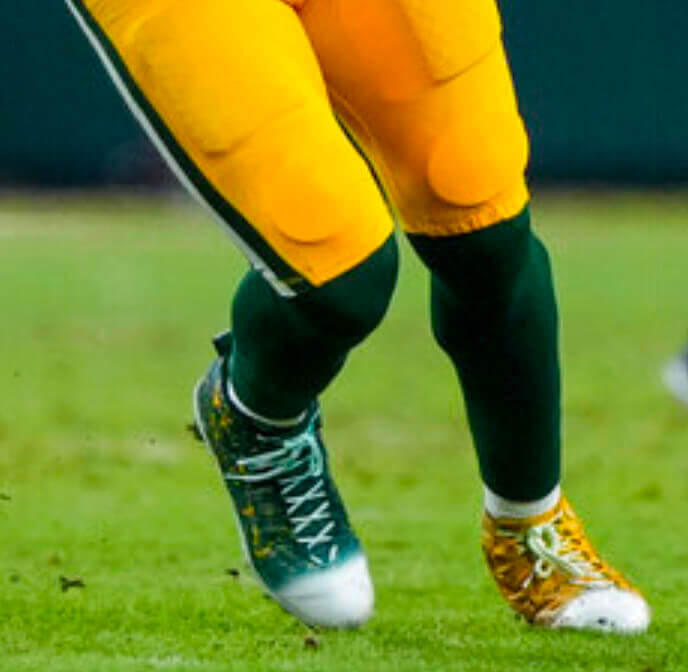 • Bengals quarterback Joe Burrow wore a purple "LSU Football" wristband: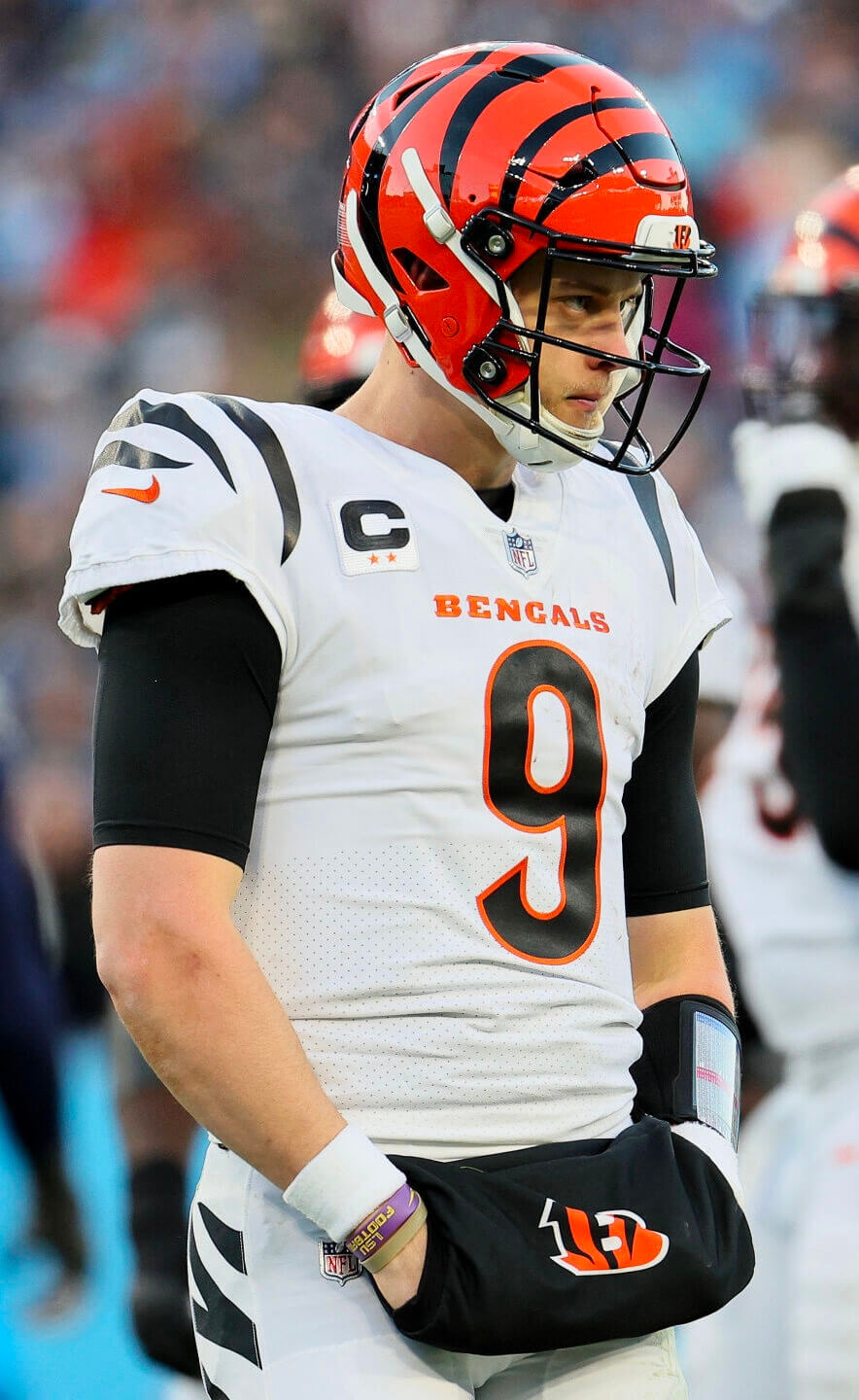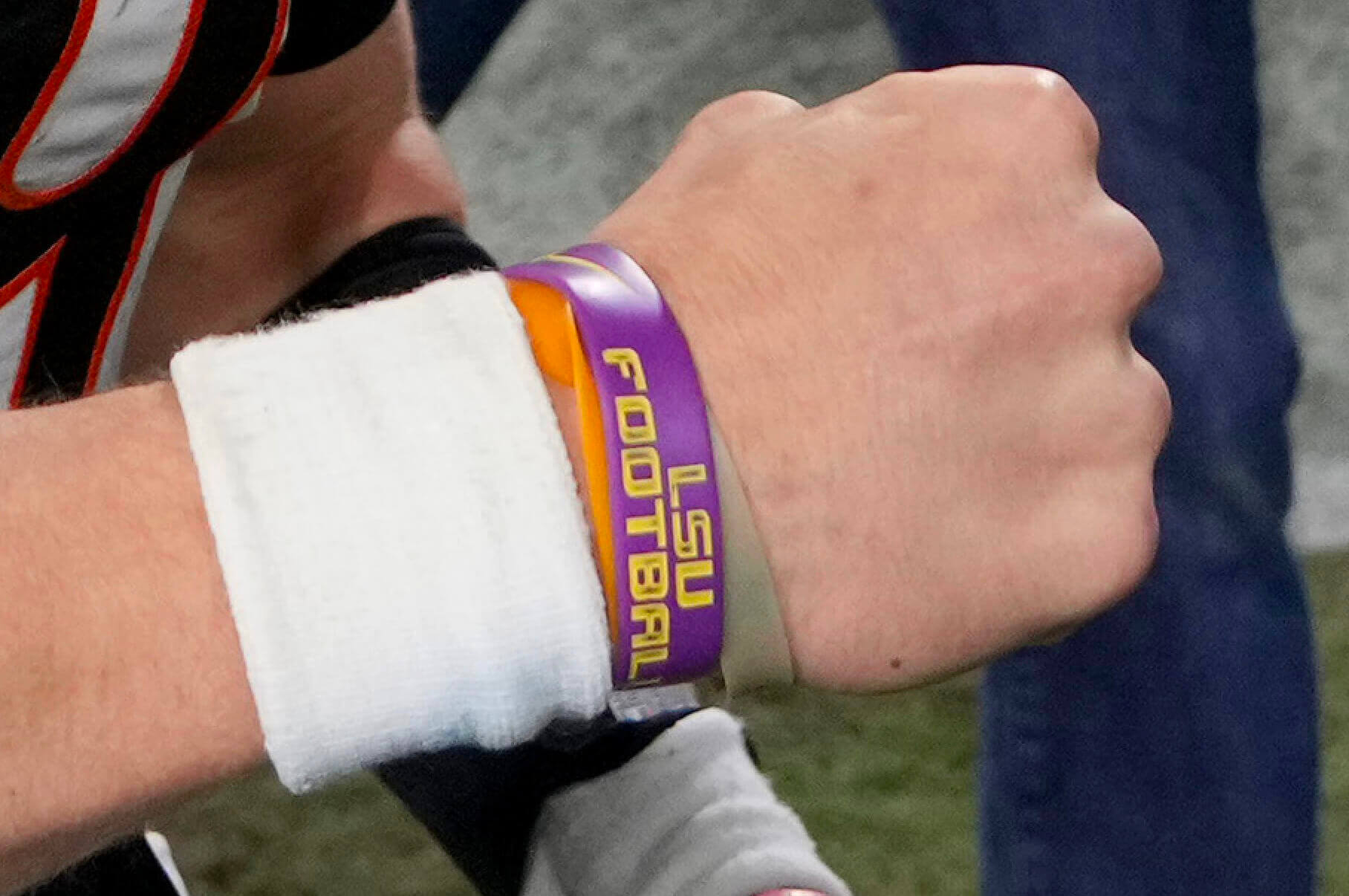 It turns out that this is not a new thing for him, but I hadn't been aware of it until now.
• The Bucs once again wore white at home.
———
Now that we're down to four teams, let's look at the potential Super Bowl uni matchups:
• Bengals vs. 49ers: The AFC is the home team this year, so the Bengals would presumably wear black, creating an approximate visual reprise of Super Bowl XVI. If Cincy opted to wear white for some reason, we'd see a modern update of Super Bowl XXIII. Either way, it would be fun 1980s nostalgia but not such a great visual pairing because the Bengals still look pretty bad.
• Bengals vs. Rams: Ugh — Cincy vs. dishwater. Probably best to find something else to do on Super Bowl Sunday, because this would be a visual train wreck, and one of the worst-looking Supes ever.
• KC vs. 49ers: We just saw this matchup two Supes ago. Sadly, it's probably the best remaining option from a visual standpoint.
• KC vs. Rams: An ugly team vs. a Native American-themed team — not ideal.
Personally, I was hoping for Bills vs. Niners, or even Bills vs. Packers, either of which would've qualified as eye candy. Dang.
(My thanks to all contributors, including Brandon Smith, John Turney, and the Tugboat Captain.)
• • • • •
• • • • •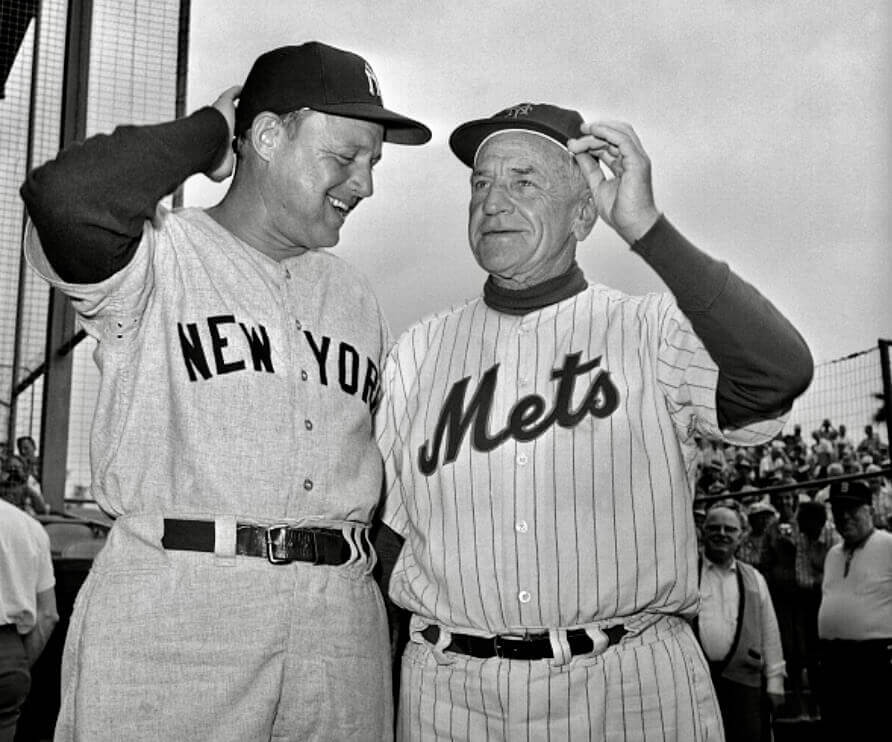 Click to enlarge
Pocketed proceedings: This 1962 spring training photo of Yanks manager Ralph Houk and Mets skipper Casey Stengel is uni-notable for two reasons. For starters, it's our first look at Houk wearing the front pants pocket, so we can add him to our roster of pocketed MLBers. And second, I believe this is our first photo showing two opposing skippers who are both wearing the pocket — a special meeting of the managerial minds!
(My thanks to Matthew Houk — no relation to Ralph — for this one.)
• • • • •
• • • • •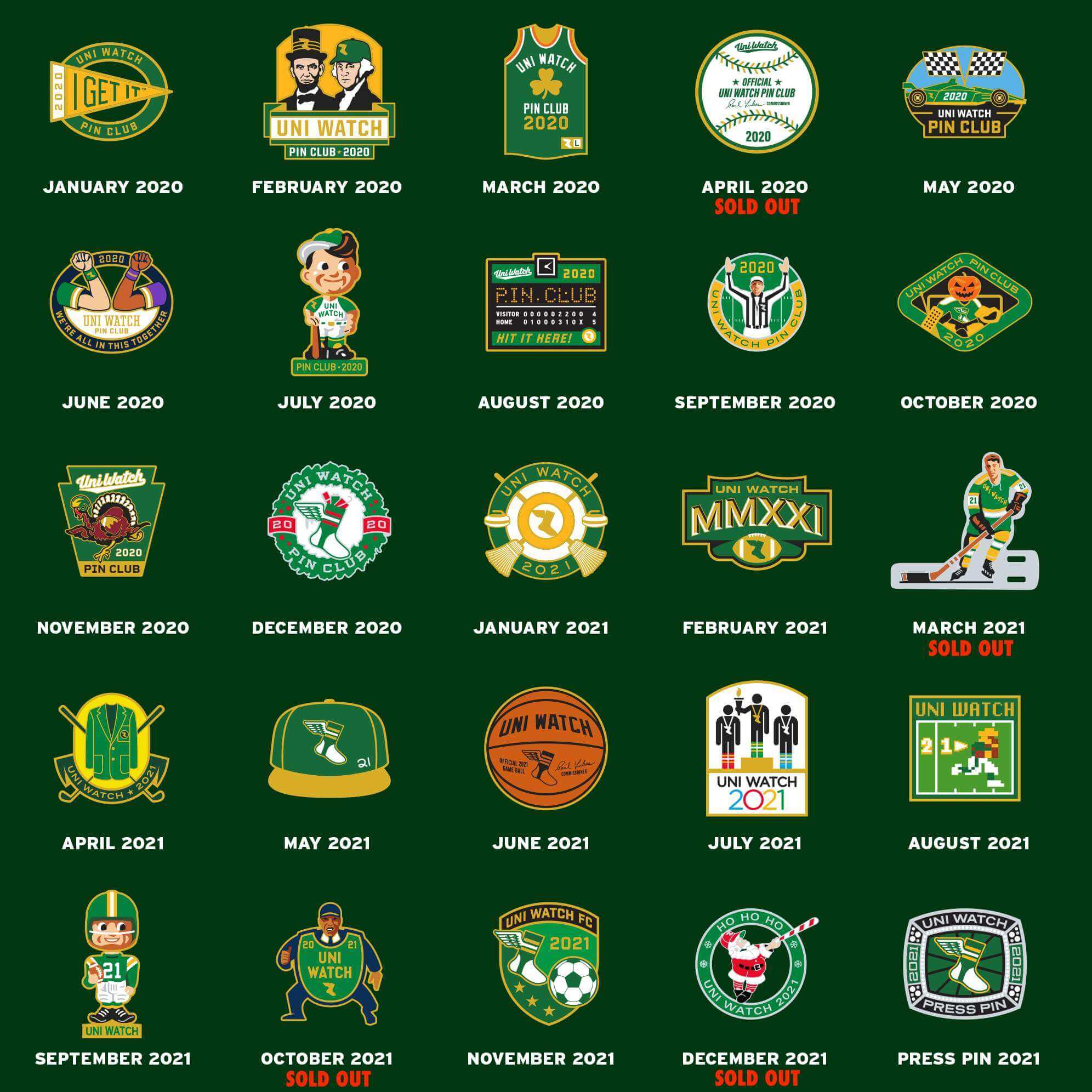 Click to enlarge
Pin reminder: In case you missed it last week, all of our remaining Uni Watch pin inventory is now available at a discounted price, with bigger discounts for multi-pin bundles. Full details here.
• • • • •
• • • • •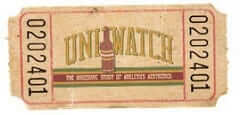 ITEM! Pennant raffle: We produced these awesome pennants in conjunction with the great folks at Oxford Pennant in 2019. There are exactly five of these beauties left, and we're going to raffle them off this week. Once they're gone, they're gone for good!
This will be a two-day raffle. USA mailing addresses only. To enter, send an email with your mailing address to the raffle in-box by 8pm Eastern tomorrow, Jan. 24. One entry per person. I'll announce the five winners on Wednesday. Big, big props to Oxford Pennant for collaborating with Uni Watch on this product and for shipping out the five pennant prizes!
• • • • •
• • • • •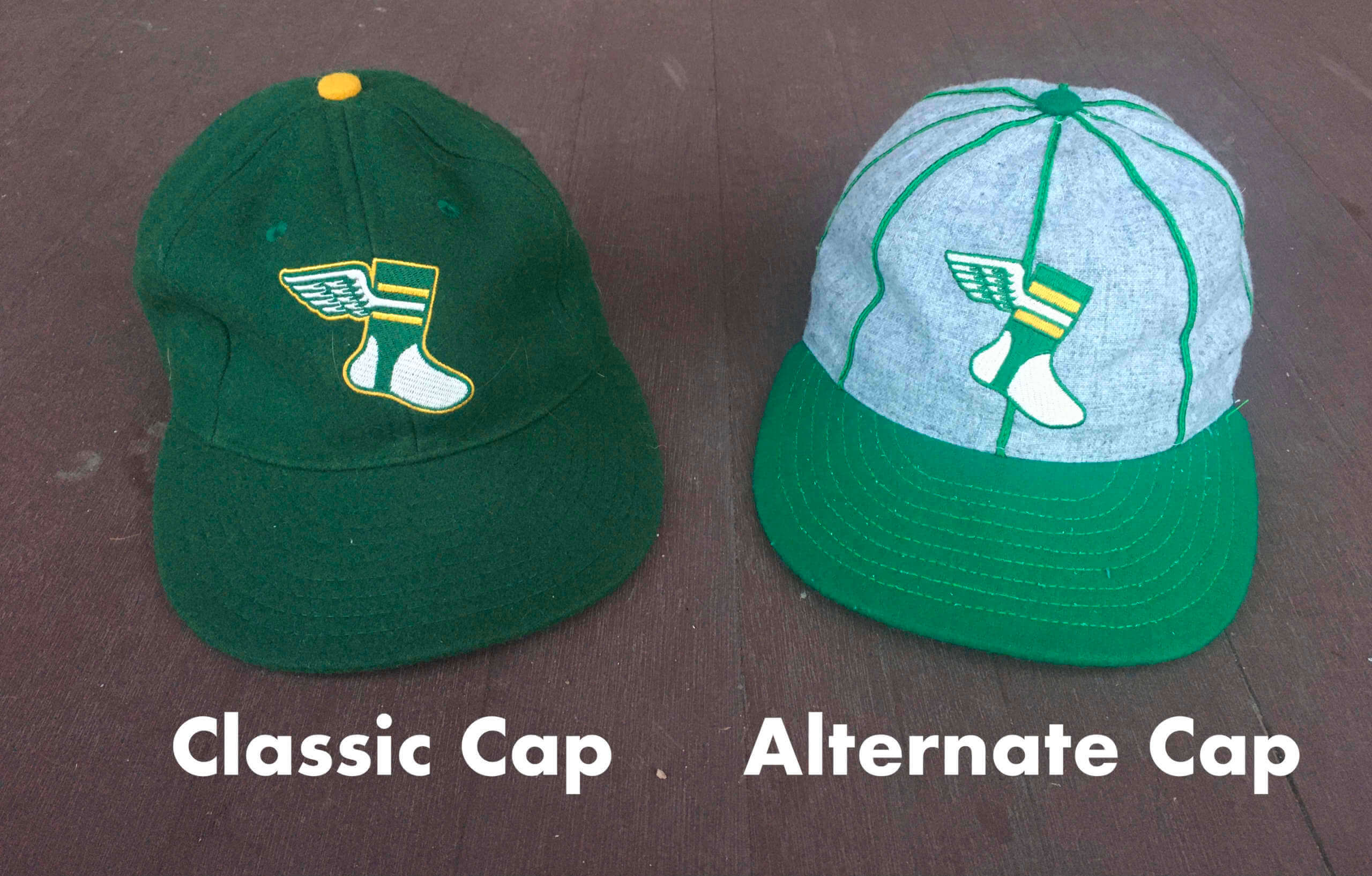 Click to enlarge
ITEM! Your input needed: Our Uni Watch Classic Cap and Alternate Cap are both now sold out, and I'm considering whether to put them back into production. Ebbets Field Flannels no longer has access to the darker green fabric that was used to make the Classic Cap, so here are my options:
• I could just order more of the Alternate Cap.
• I could do the Classic Cap in the lighter green fabric. Here's a Photoshop that gives you an idea of how that would look (click to enlarge):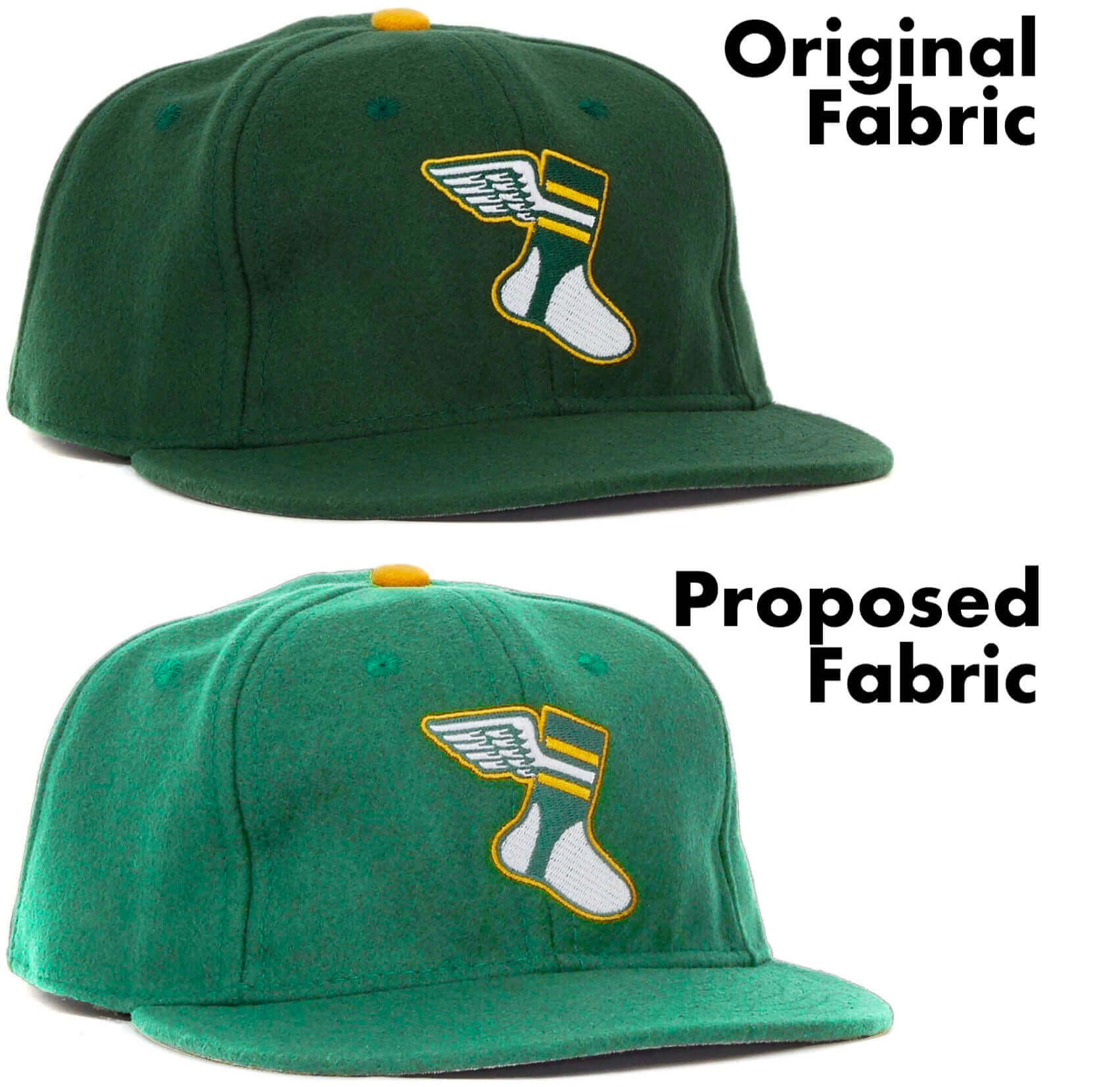 • Or I could do both.
The route I take here will largely depend on you folks, because the caps require large advance orders that will put me close to a thousand bucks in the hole, so I'll only go ahead with them if I'm sure there's enough demand. If you're interested in either cap, please email me and let me know (a) which cap(s) you're interested in, and (b) your preferred fitted size, or adjustable/strapback.
This is not a formal pre-order commitment — that will come later. For now, I'm just trying to gauge the rough level of demand. Thanks!
(Special thanks to Scott M.X. Turner for the Photoshoppery.)
• • • • •
• • • • •
\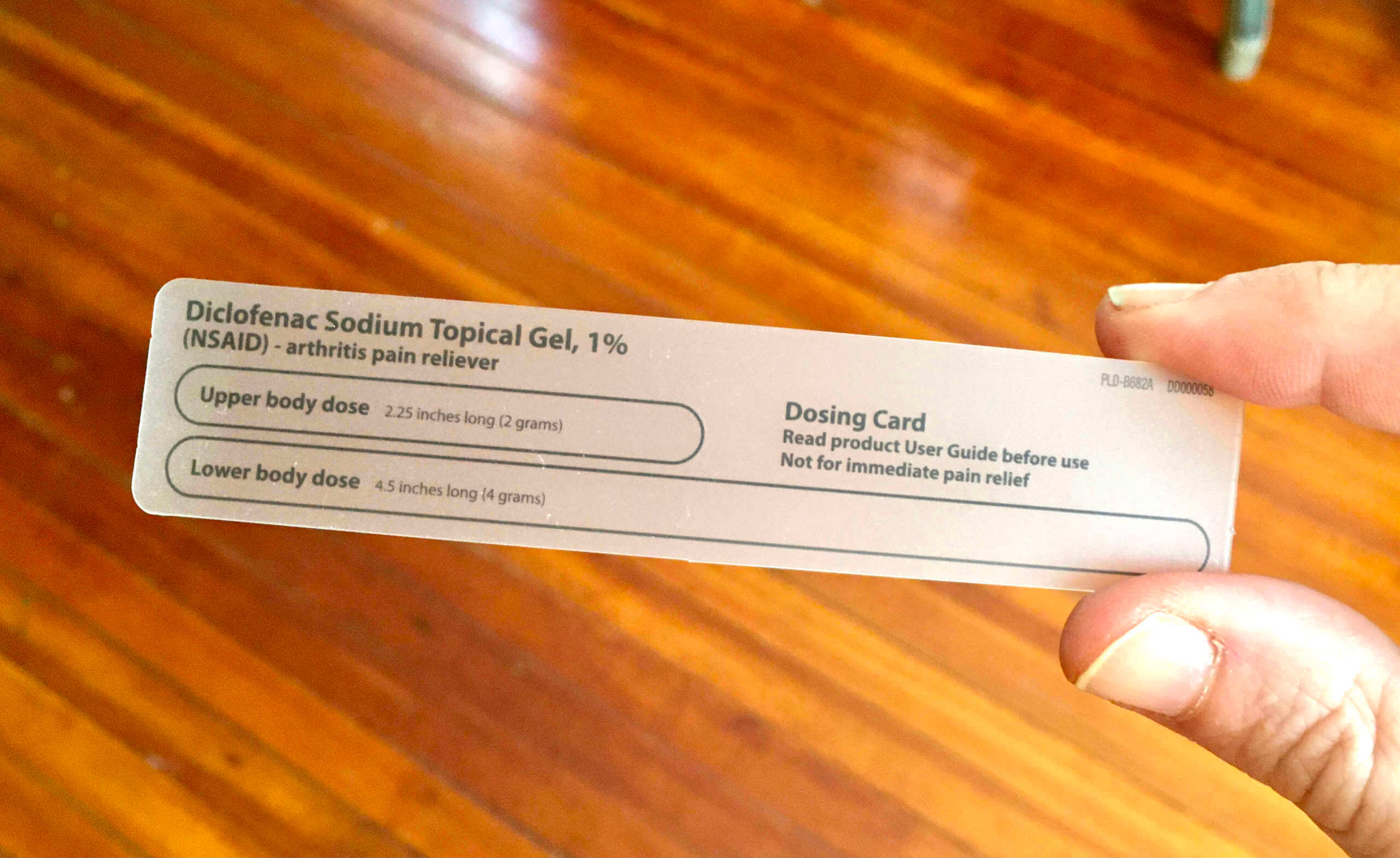 Click to enlarge
Very satisfying: The Tugboat Captain recently sprained her wrist, so her doctor recommended a pain-relieving cream that's usually used for arthritis. The cream came with this "dosing card" — basically a little gauge to measure the proper amount of the cream to squeeze out of the tube.
When she saw that, she said, "Oh, Paul's gonna love this!" She was right. It seems to fit into the world of uniforms, catalogs, and so on, wouldn't you agree?
• • • • •
• • • • •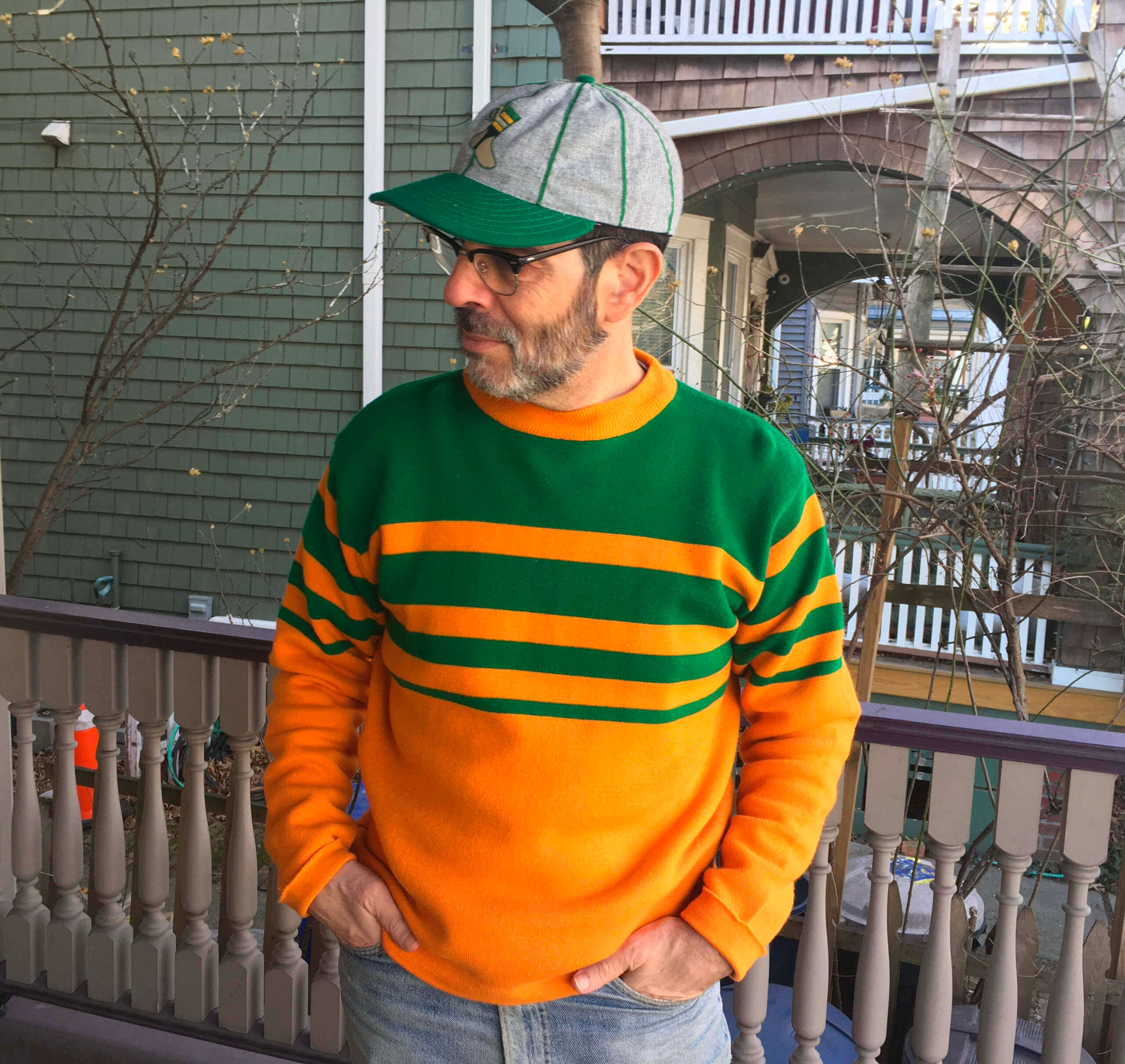 Click to enlarge
Latest vintage score: I found this vintage sweater on eBay. It's not exactly a uniform, but the design definitely feels uni-inspired, at least to me. After I tweeted a photo of it, Jordan Owen pointed out that it's similar to an old America's Cup jersey, so there you go.
• • • • •
• • • • •
The Ticker
By Jamie Rathjen

Baseball and Softball News: The Guardians posted several cap-related teasers on social media yesterday implying something will be happening today (from multiple readers). … West Texas A&M softball revealed championship rings for their 2021 Division II championship (from Kary Klismet).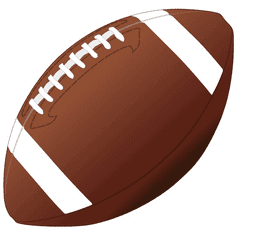 Football News: A Canadian sports website ranked the nine CFL stadiums (from Wade Heidt).


Hockey News: Sabres players arrived to Saturday's game wearing jerseys of local youth teams (from Stephen Langdon). … The Devils wore pride warm-up jerseys on Saturday (from Wade Heidt). … The PHF's Buffalo Beauts also wore pride jerseys on Saturday, and the Connecticut Whale were supposed to do likewise before their game was postponed. … Huntington Crescent Club on Long Island, a golf club that was a favorite of former Islanders captain Clark Gillies, is flying an Islanders flag and a No. 9 flag in Gilles's memory (from John Muir).

Basketball News: Some really interesting NBA history lessons and uni photos in this WaPo column about the league's 75th anniversary (from Tom Turner). … The jerseys for the new Athletes Unlimited basketball league were revealed on Friday. Unlike other AU sports, the four colors are also all different designs (also from Antonio Losada). … Saturday's Iowa/Penn State men's game was color vs. color. A live hawk mascot also appeared, thanks to Iowa's Raptor Ambassador Program (from Kary Klismet). … "Ran across this jersey in an antique store in Jacksonville, Fla., today," says Raymond Neal. "The seller thinks it's from the '20s but I'm not so sure. That looks more like a '50s tag to my uneducated eye." … Utah men's retired Wat Misaka's No. 20 on Saturday night. Misaka, who was Japanese-American, was the first non-White player in the NBA (from Trent Lowe). … Texas's arena has some major orange-inconsistency issues (from @sultan_of_snark).

Soccer News: Germany's Bundesliga and 2. Bundesliga annually commemorate the Jan. 27 anniversary of the liberation of Auschwitz in 1945, collectively given the slogan "Nie wieder" ("never again"), though not all of it is uni-related. Greuther Fürth wore a message saying "Vielfalt gewinnt" ("diversity wins") and Freiburg wore warm-up shirts for the occasion. … Inter Milan wore Chinese-script NOBs in their Serie A game on Saturday, one of several clubs that usually does so around Lunar New Year (also from Kary Klismet). … Another from Kary: Mexico's Monterrey have a new shirt for the upcoming Club World Cup. … The new USL W League team run by USL League One's South Georgia Tormenta said they'll keep the Tormenta name after considering a different one. They'll be distinguished by adding which league each plays in. … New Bob Marley-themed away shirt for Irish side Bohemians (from Ed Zelaski).

Grab Bag: Besides the AFL Women's pride designs that we've covered, teams still wore rainbow-trimmed socks, which is what many of them did before introducing their own designs. Melbourne, but nobody else, also wore rainbow numbers. … "Cool find by the excellent College Sports Logos Twitter page, which uncovered basketball- and football-specific versions of Wichita State's WuShock mascot from the mid-1960s," says Kary Klismet.