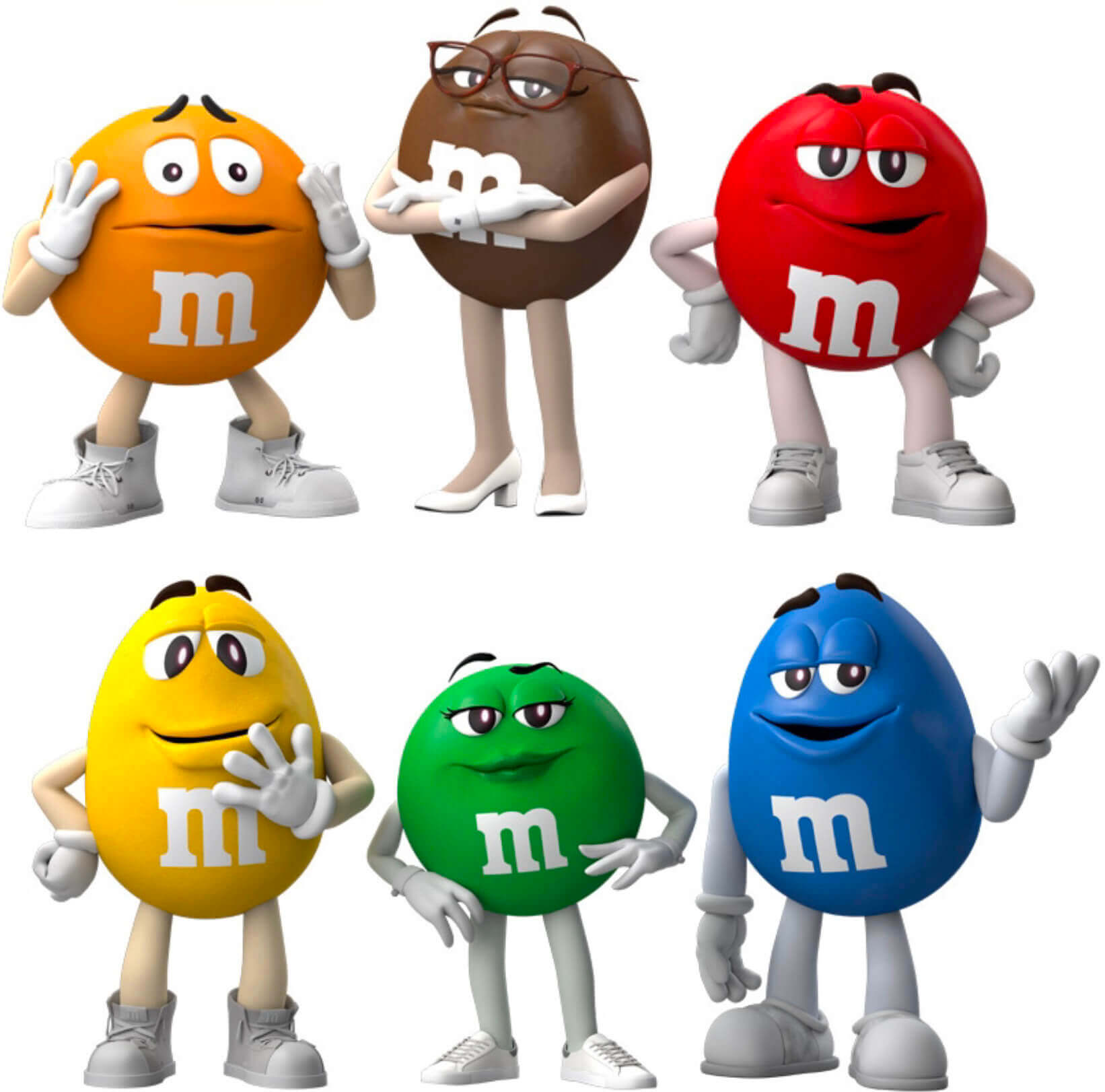 For all images, click to enlarge
Major uni news yesterday on the confectionary front, as candy giant Mars Wrigley announced that the anthropomorphized M&M's characters will be getting new shoes.
Let's go one character at a time:
• The biggest change is for Green, who's trading in her old go-go boots for sneakers (for all of these, I'm showing the old version on the left, new on the right):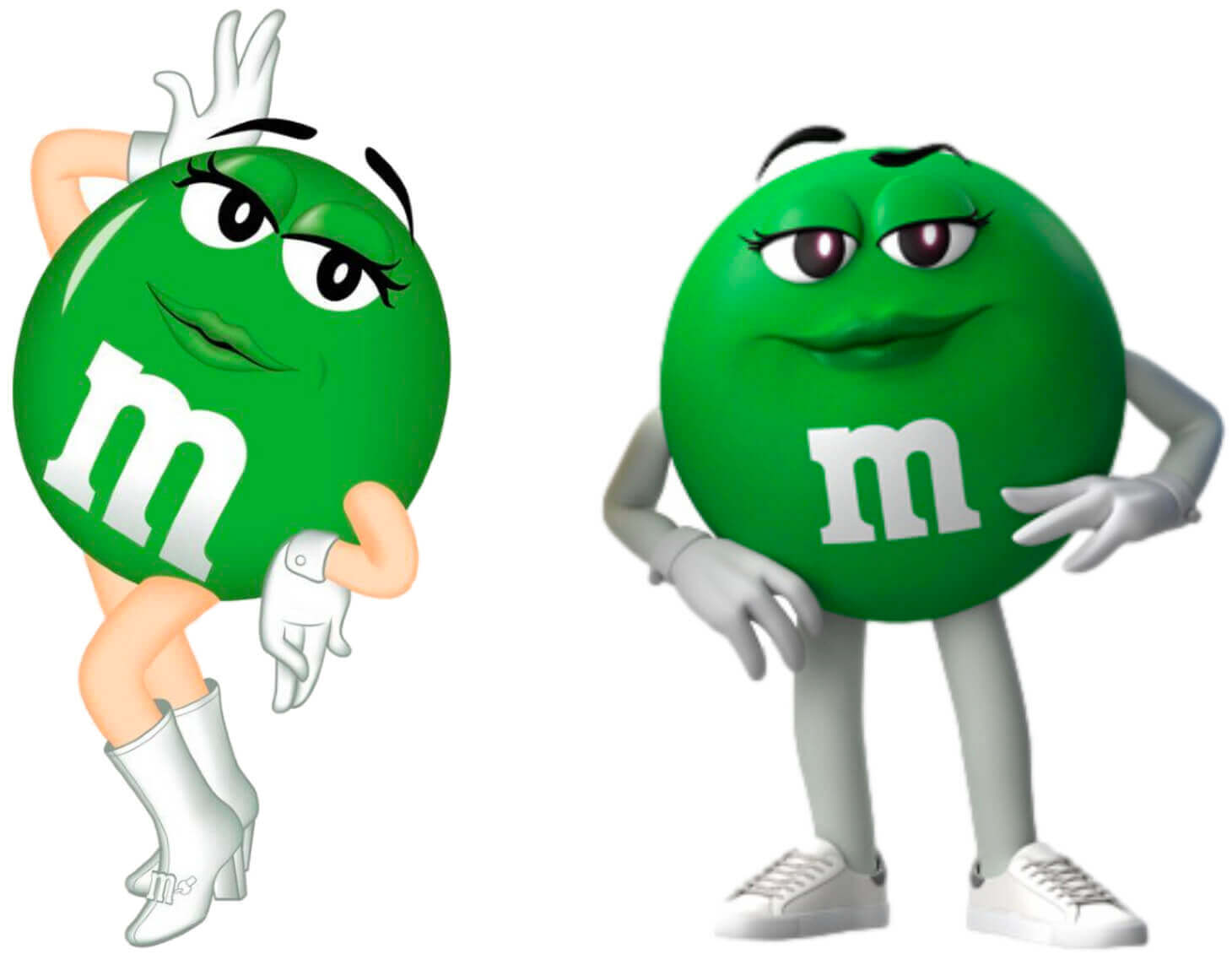 • The other female character, Brown, is still wearing heels, but they're no longer stiletto-y. She also has a new pair of eyeglass frames: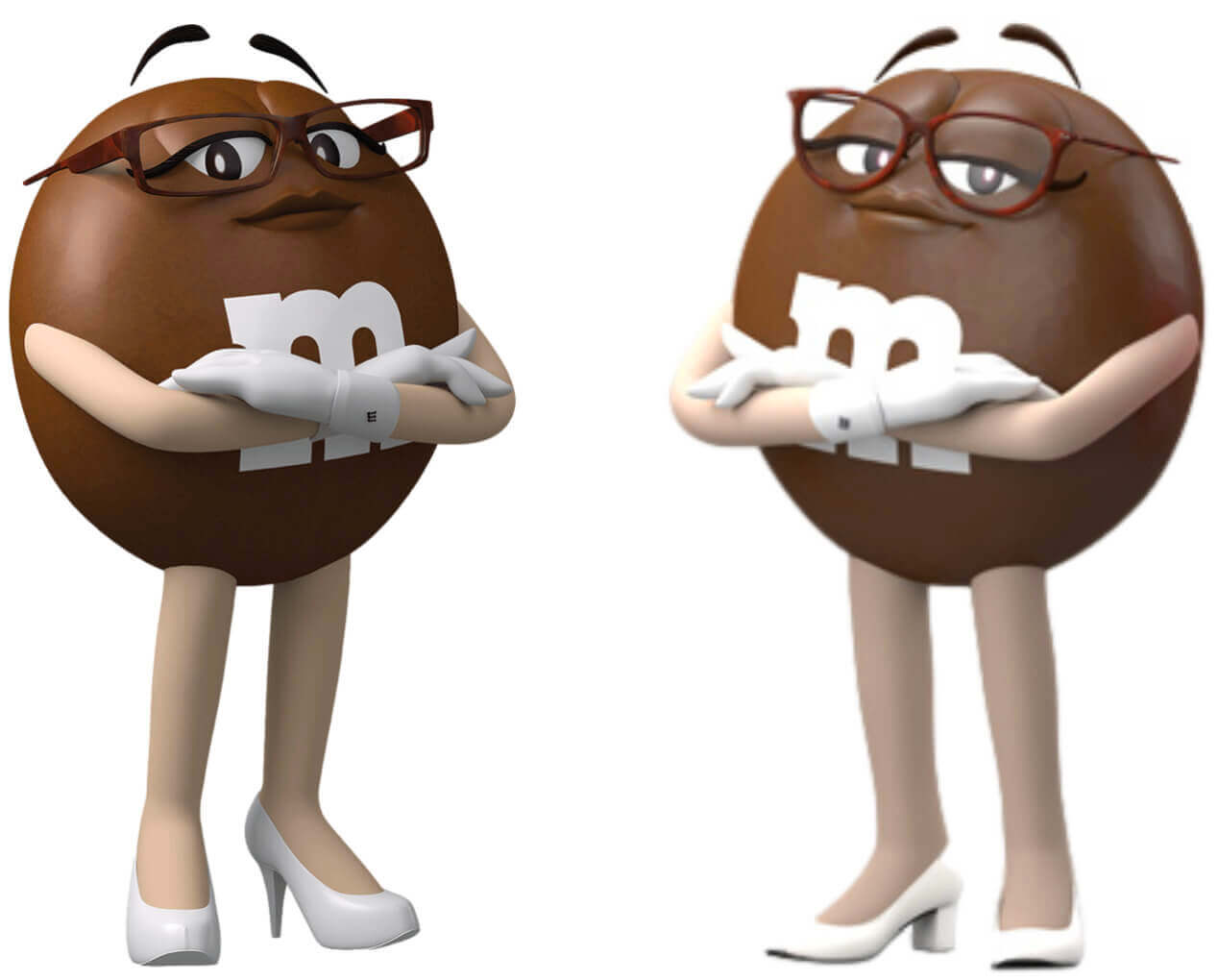 • Red's shoes now look a bit less cartoony and more realistic, thanks to the addition of shoelaces: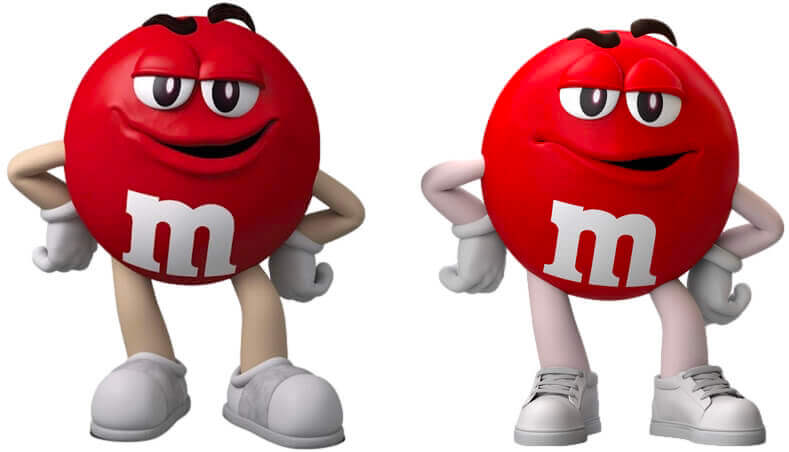 • Yellow's shoes, which used to look like Red's, are now high-tops and have also been given laces — which appear to be untied: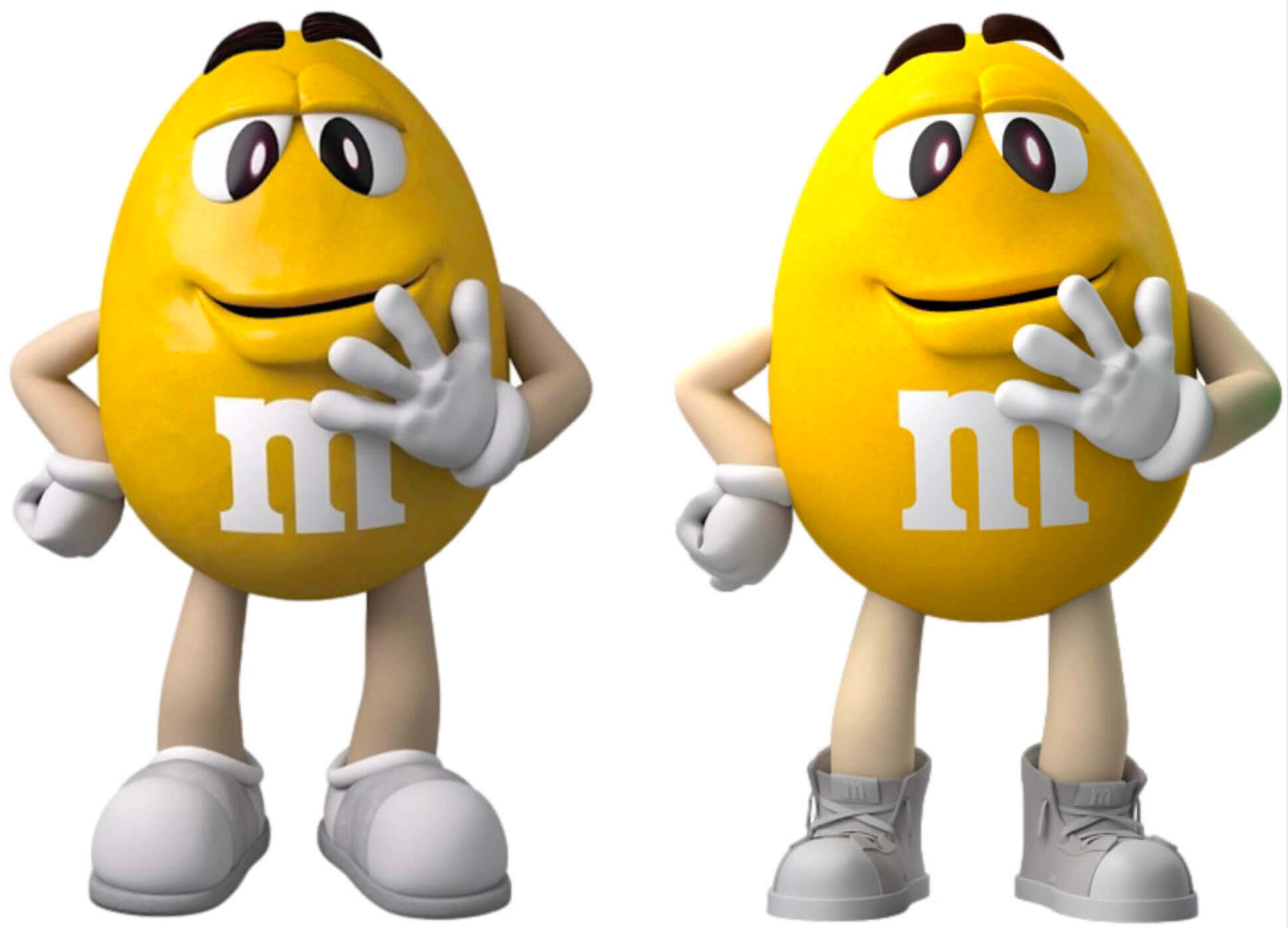 • As for orange, he has the same shoes as before, but now he's tied his laces: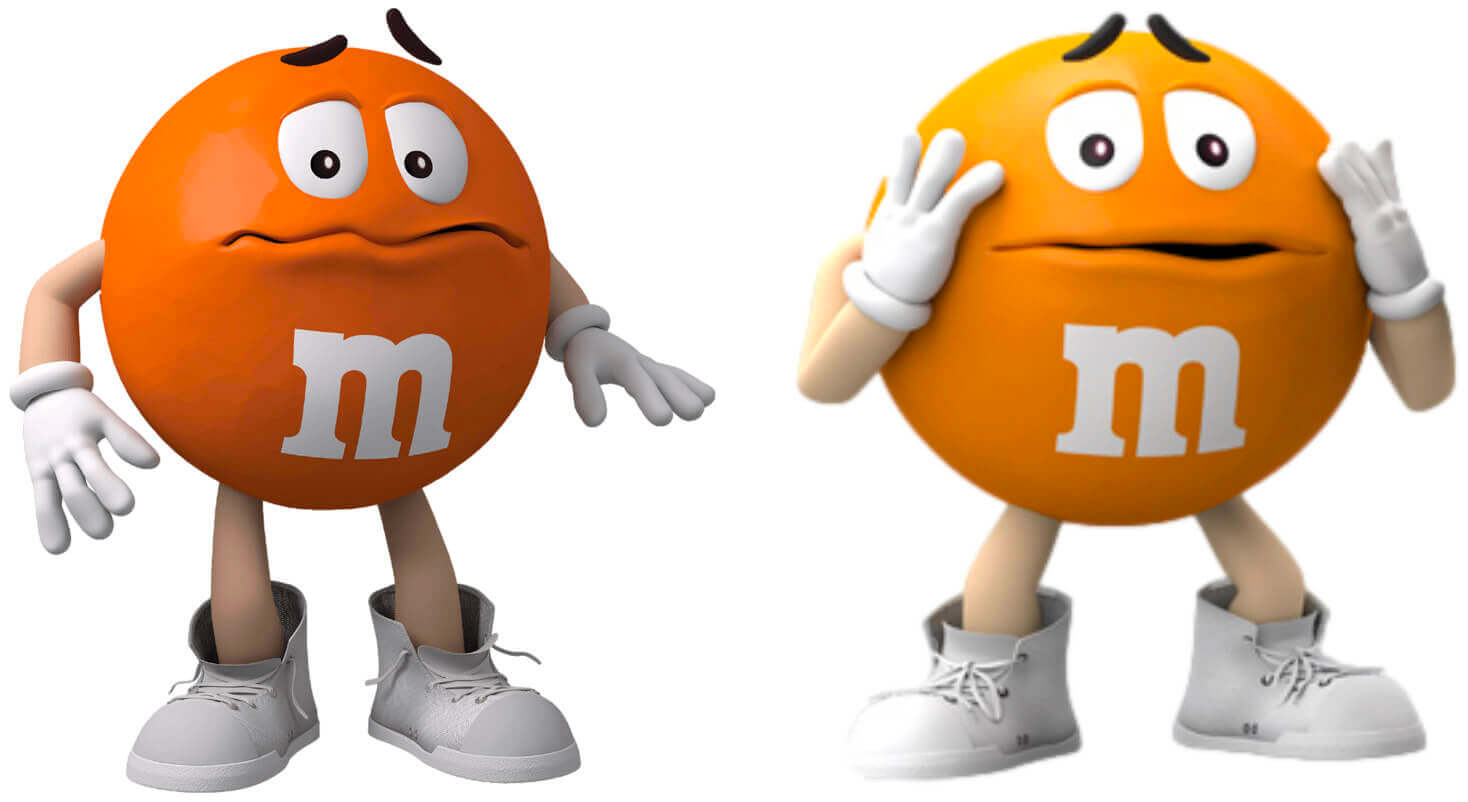 They claim to have made some subtle changes to Blue's shoes as well, but I'm calling bullshit on that — they appear to be unchanged: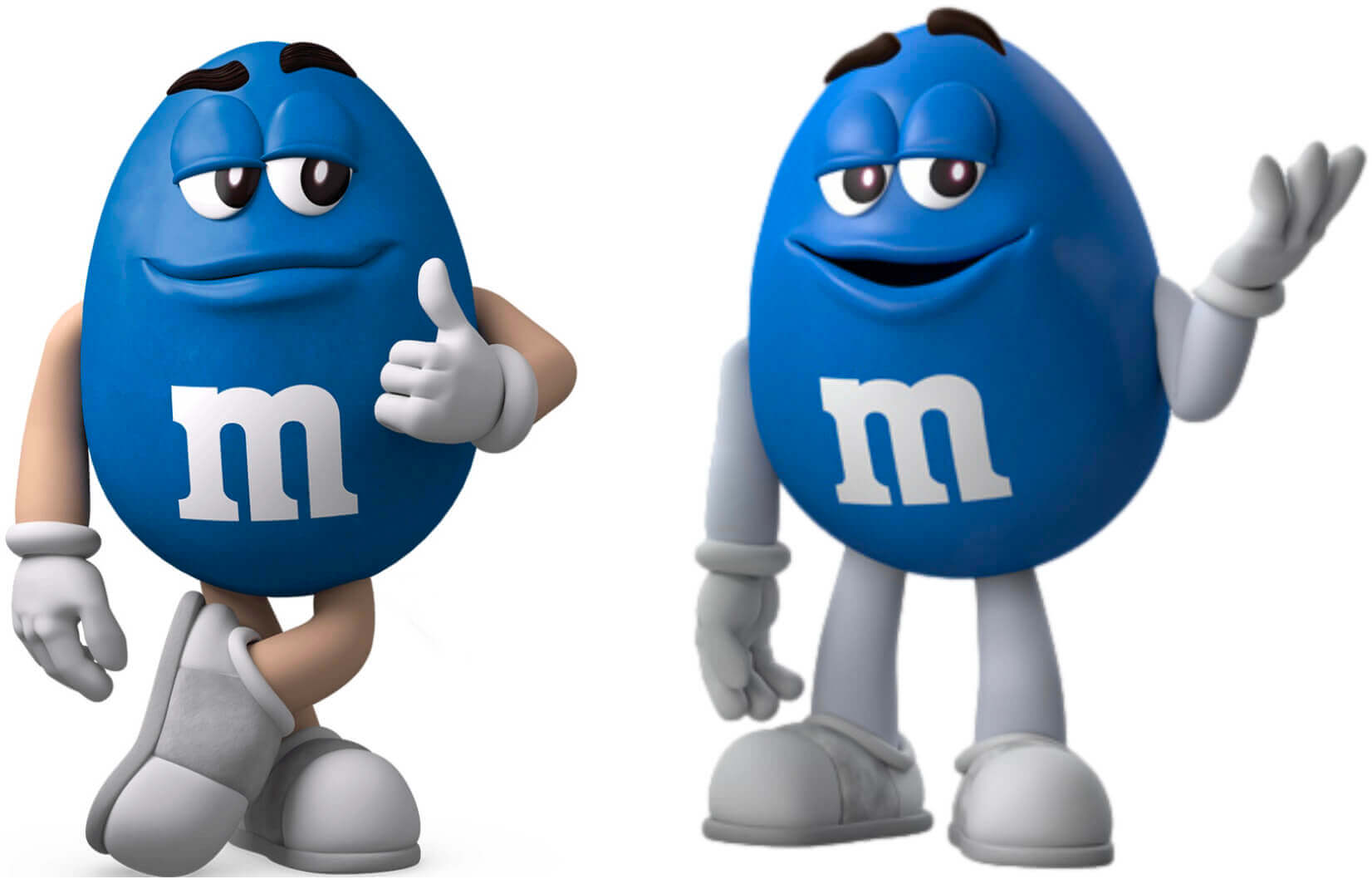 Note that there's no branding on any of the footwear. Nike could not be reached for comment.
The changes to Green and Brown are obviously intended to make them less gender-stereotyped, while the other changes are, uh, beats me. I guess to give them a bit more street cred..? (The characters will also reportedly be nicer to each other and more welcoming.)
They've also changed the M&M's logo, which was previously diagonal but is now straight:

This change restores the logo to the simple horizontal orientation that it's had for most of the brand's history: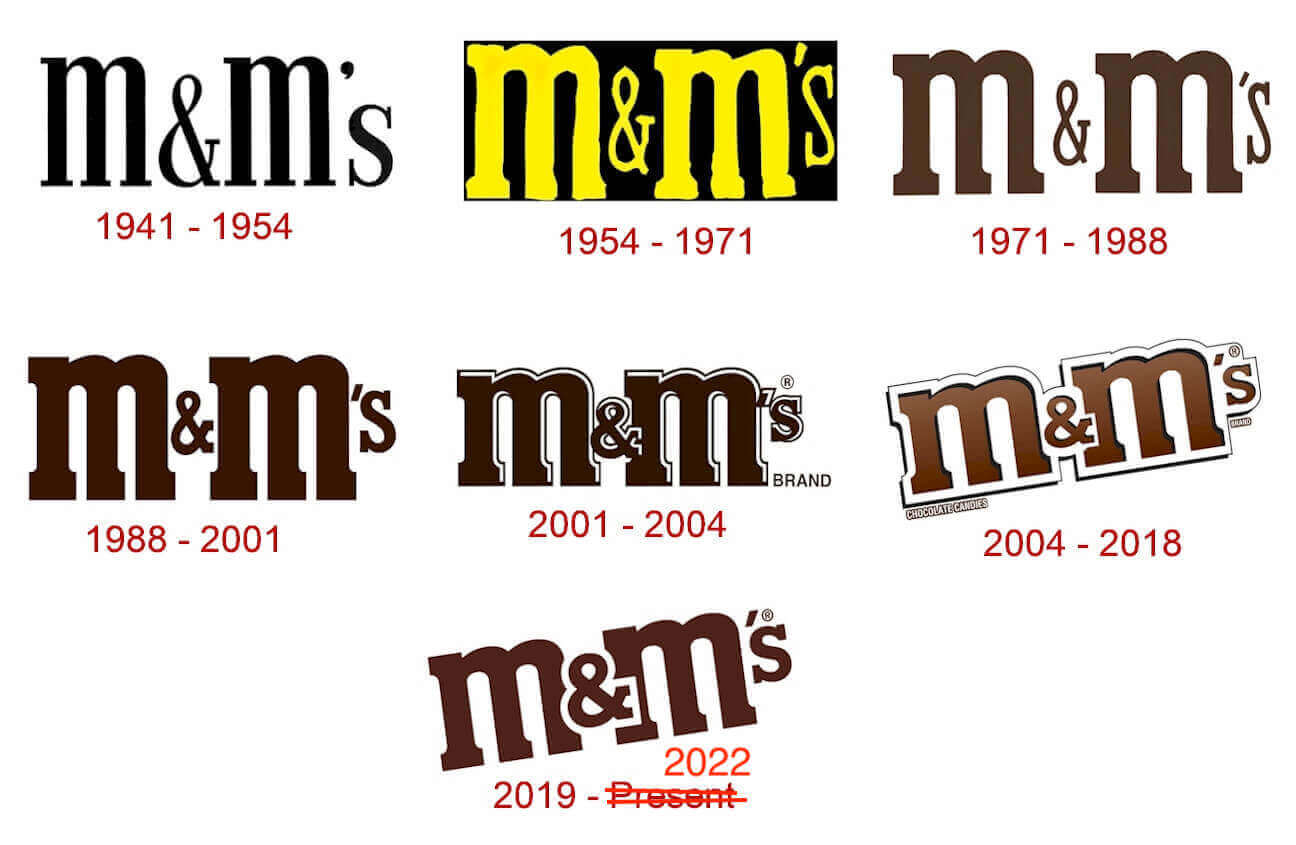 In case you're wondering: Yes, I still totally love M&M's. I usually go for the Peanut variety, but occasionally I'll find myself in the mood for Plain (even though I still miss the tan ones, which got kicked to the curb in 1995). Almond should be good, but the candy:nut ratio never feels quite right (plus they don't put enough of them in the pack). Never liked the Peanut Butter option. A few years back I was mildly (read: completely) obsessed with the new English Toffee Peanut flavor, but I kinda maxed out on it after a while and went back to the regular Peanut.
If you've interested in candy history, I super-strongly recommend the book The Emperors of Chocolate by Joël Glenn Brenner, which tells the faaaascinating story of how Hershey and Mars became the industry giants they are today. Tasty!
• • • • •
• • • • •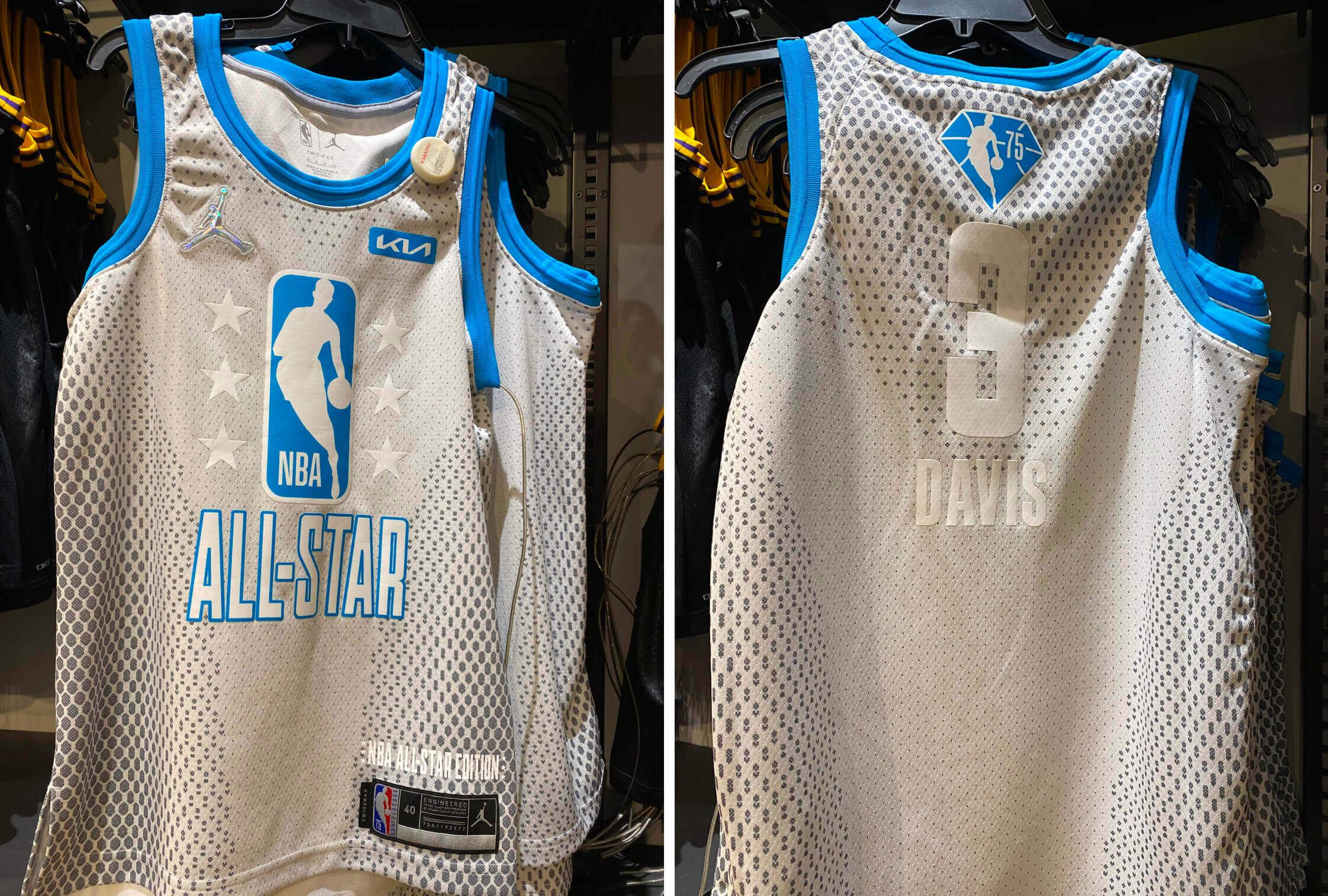 Photos by Matt Moreno; click to enlarge
Possible NBA All-Star leak: The NBA All-Star Game is now less than a month away, and we still haven't heard anything official about the uniforms. But Matt Moreno, an L.A.-based Lakers and Dodgers writer, spotted the jersey shown above at a local shop yesterday.
Obviously, it's a terrible design. The more interesting thing, at least to me, is that it has no apparent connection to the Cavs, who are this year's host team. That's weird, because the NBA usually tries to connect the ASG uni design to the host club. Could this be a practice jersey instead of the game jersey? Stay tuned.
• • • • •
• • • • •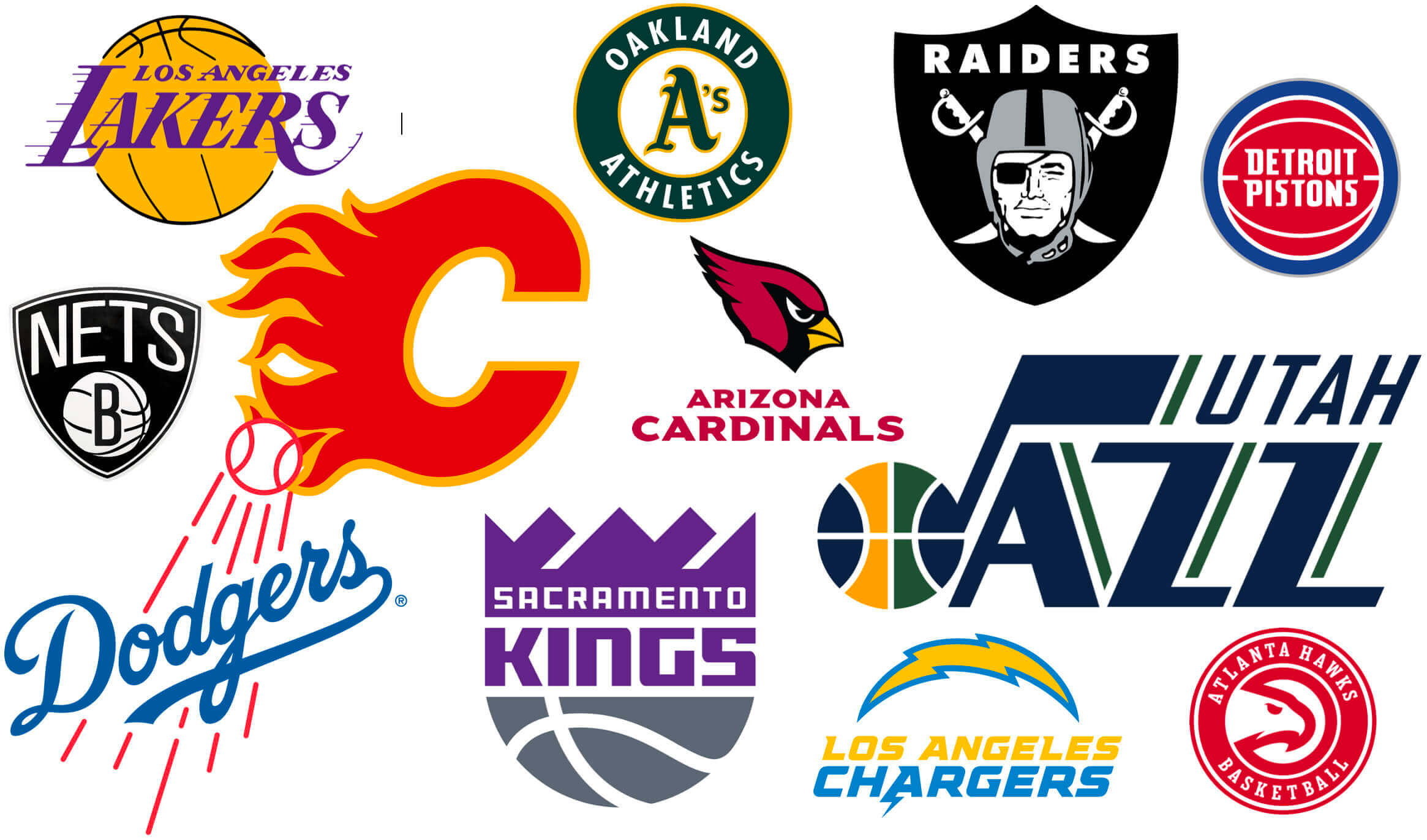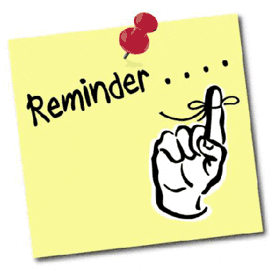 A bunch of reminders: It's been a busy week here on Uni Watch. Here are some things you might have missed:
• Last week on Bulletin, I assigned letter grades to teams that changed their names while remaining in the same city. This week I looked at the inverse of that situation — teams that kept their names even when moving to a new city, like the ones shown above. Which ones should have changed their names? You can check my assessments over on Bulletin.
• Speaking of Bulletin, there are some major changes coming over there, including the arrival of my annual season preview columns and the start of a modest paywall. Full details here.
• The remaining Uni Watch Pin Club inventory is now available at lower pricing, with big discounts for multi-pin bundles. Full details here, or just click on this graphic: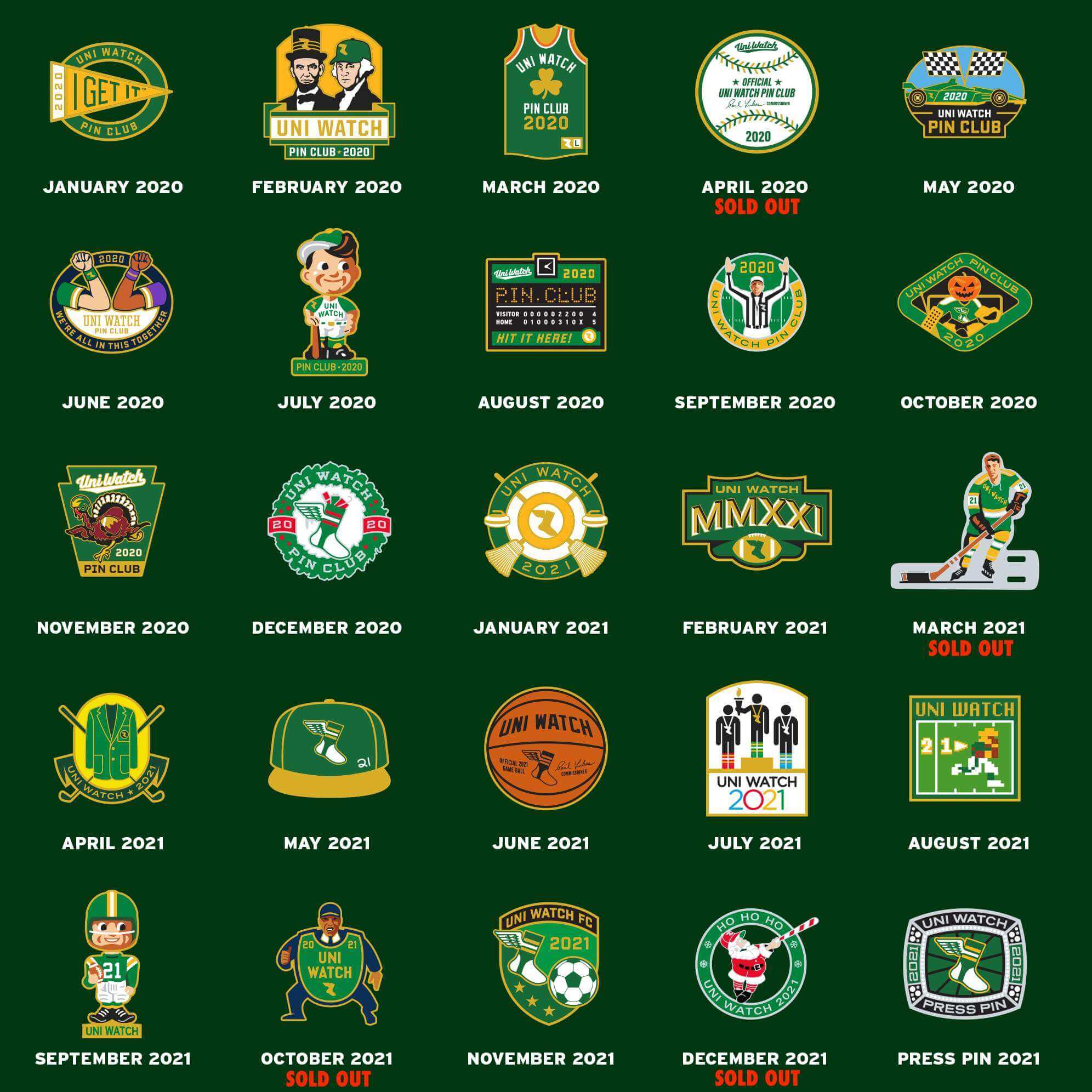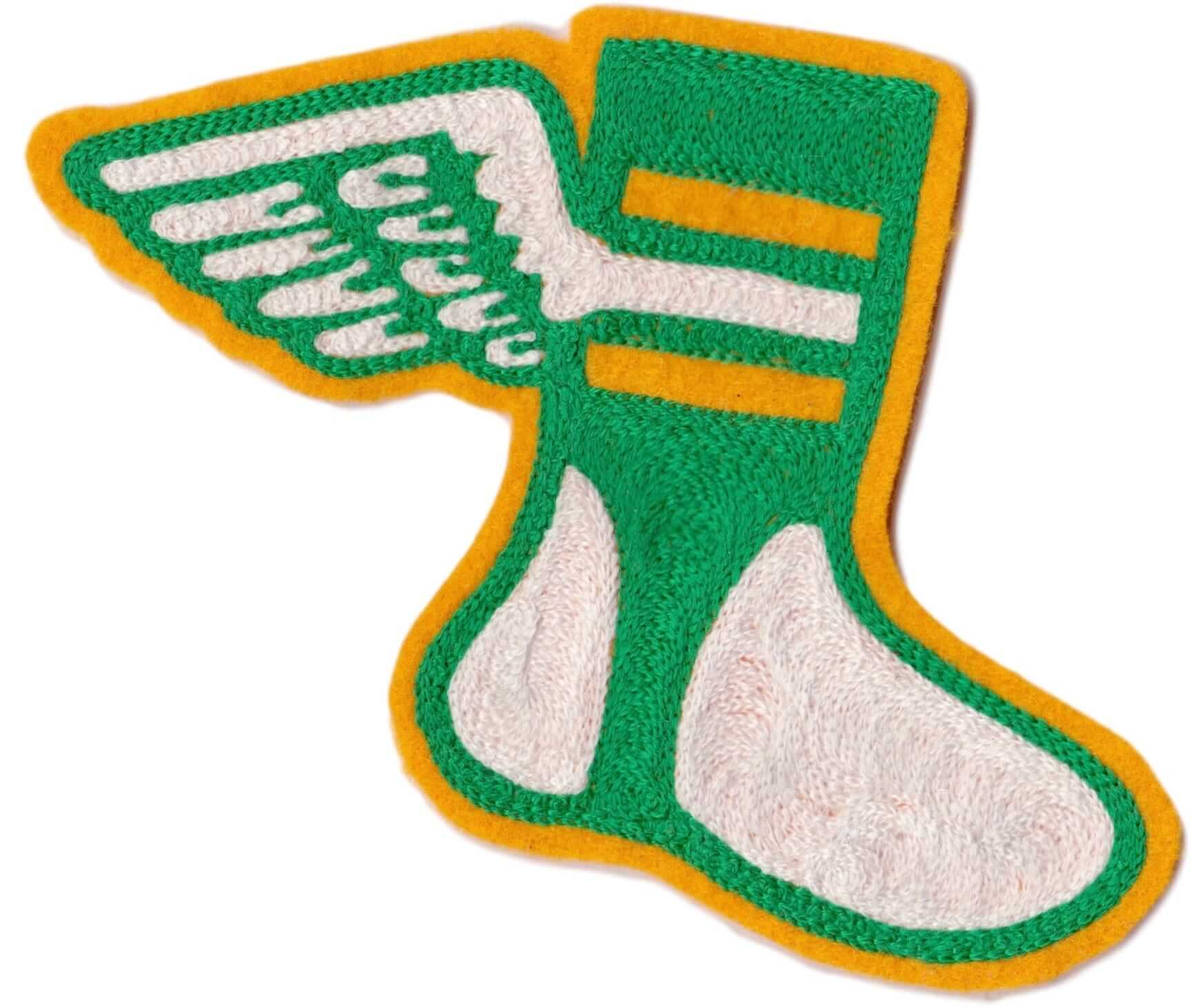 • Our Uni Watch Chain-Stitched Patch (shown at left; click to see it in its full-size highly textured glory) is now sold out. I'm willing to restock them, but my cost on these is nearly $30 a pop, so I'll only order more if there's enough demand for them. The patches are roughly 6″ by 6″, and the retail price will be $35 plus $2 for shipping. If you're interested, let me know. Thanks!
• Prices have been cut on lots of other Uni Watch products, including koozies, trading cards, seam rippers, magnets, and memberships.
• • • • •
• • • • •
Uni Watch Hit Parade: If you watched the amazing 2021 music documentary Summer of Soul, which is about a series of R&B concerts that took place in Harlem during the summer of 1969, you may recall a sequence in which many of the Black concert attendees said they didn't care much about the Apollo moon landing because they had bigger things to worry about down on Earth.
I thought about that the other day when I heard this hilarious 1969 track by Clay Tyson, called "Man on the Moon." It's not the only song to look at the U.S. space program through a racial lens (there's also Gil Scott-Heron's "Whitey on the Moon" and Howlin' Wolf's "Coon on the Moon," among others), but it's definitely the funniest and most infectious, at least that I've heard. Don't miss.
• • • • •
• • • • •
The Ticker
By Anthony Emerson

Baseball News: A Philadelphia sports blog says the Phillies need a uniform revamp (thanks, Phil). … Yesterday we Ticker-linked the name and logo for the Pioneer League's newest team, the Glacier Ridge Rangers. Kary Klismet has sent along info about their new stadium as well. … The Scranton/Wilkes Barre Rail Riders, Triple-A affiliates of the Yankees, are bringing back the interlocking SWB logo for this season (thanks, Phil).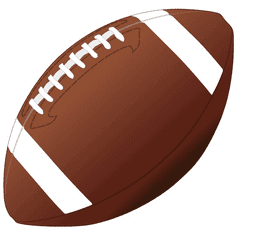 Football News: It may not be the most comfortable thing in the world, but if you stumbled across this 1970s Dolphins helmet chair at a garage sale, you'd have to pick it up, right? (From John Muir). … All games for the relaunched USFL will evidently be played in Birmingham. As several observers have pointed out, this is likely because the league is more of a platform to encourage gambling than to engage with local fans (thanks, Phil). … Pats coach Bill Belichick's infamous hoodies were actually worn only five times this season, including three of the team's losses (from @quinncer412). … New helmets apparently in the works for Houston (from Scott Whitt).

Hockey News: Icethetics has confirmed that the Sabres will indeed have a "Goat's Head" throwback alternate next season. … Journalist Gillian Kemmerer wrote about the significance of SKA St. Petersburg wearing "Leningrad" jerseys annually to honor the one million Leningrad (now St. Petersburg) citizens and soldiers who died during WWII's Siege of Leningrad (from Ed Zelaski). … I hope the players on Team USA's National Team Development Program like Mark Hamill, because they'll be playing with his face on their chest for Star Wars Night tonight (from multiple readers).

Basketball News: ESPN had a fun feature about the original Hornets uniforms, featuring an interview with designer Alexander Julian (from multiple readers). … Pelicans G Josh Hart tore his jersey out of frustration during last night's game against the Knicks. But the best part about this clip is the legendary Walt Frazier describing how when he played, the Knicks only gave him two road jerseys for the entire season, and he had to clean them himself. … Marquette's men's and women's teams will wear gold on Sunday to support cancer research, and are encouraging those attending to wear gold as well (thanks, Phil).

Soccer News: The USL has extended its deal with ball supplier Select through 2025. The extension includes the introduction of a new ball for the USL's women's league (from Ed Zelaski).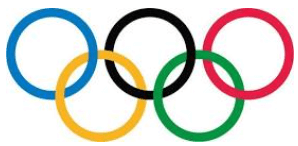 Olympics News: Ralph Lauren and Team USA have unveiled the Opening Ceremony uniforms for next month's Beijing games (from multiple readers). … Meanwhile, here's what Team USA will be wearing for lots of other sports (thanks, Phil).

Grab Bag: A high school in Lillooett, B.C., is retiring its "Wildfire" logo out of respect for neighboring communities devastated by wildfires (from Wade Heidt). … New uniforms in the pipeline for U.S. Air Force maintainers (from Timmy Donahue). … The Alfa Romeo F1 team has very slightly modified its name and logo, dropping the Italian flag motif. It makes sense, because while Alfa Romeo is an Italian car manufacturer, the team itself is based in Zürich, Switzerland.
• • • • •
And that's a wrap for this week. Stay safe, enjoy Phil's weekend content and the NFL playoff games (Go Niners!), and I'll see you back here on Monday. Peace. — Paul