For all photos, click to enlarge
In March of 2020, just before the pandemic really hit, I wrote about my visit to Buzz-a-Rama, an old-school slot-car racing emporium here in Brooklyn (the photo shown above is from that visit). By that time, Buzz-a-Rama was already down to being open only on weekends, and not at all during the summer. The pandemic shut them down for good in 2020, and then the husband-and-wife owners both died of Covid in 2021.
This past Saturday morning, I got a tip that Buzz-a-Rama's fixtures and inventory were being sold off. The Tugboat Captain and I didn't have any major plans for the day, so we decided to go down and check things out. We thought maybe we could get a loop of multi-colored track, which might look cool on the wall.
As it turned out, all of Buzz-a-Rama's "live" track was already long gone. Instead, they were selling boxes and boxes of parts and accessories that had been stored in the basement. This was a gold mine for the middle-aged slot-car geeks who were busily poring over everything (there was a lot of "I'd love to get this, but my wife would kill me"), but most of the stuff didn't really mean much to us because we're just casual slot-car fans. We quickly realized, however, that many of the items had gorgeous 1960s and '70s package designs, so I photographed the ones I liked best, starting with this pack of "Design-O-Graph" markers:
I love the box design for this race car controller — but what's inside the box is even better:
Similarly, I liked how this next box design was mimicked on the items inside the box:
Mary spotted the beautifully curved "S"es on the packaging of these miniature shrubs:
I like how these next two boxes both show the car from a ground-level perspective:
As you'd expect, lots of the box designs had checkered-flag motifs:
There was also an assortment of retro-styled printed matter — brochures, entry forms, stuff like that:
I also liked these sheets that spelled out the official slot-car specs and guidelines for 1969:
Finally, I couldn't resist photographing a box of A/FX accessories, because that's the slot-car brand I had as a kid. I still think the diagonal striping and the illustration style are pretty cool:
———
I did buy a little 24-drawer cabinet for $10 (I can put it to good use here at Uni Watch HQ). It's visually unremarkable — no special graphics or anything like that — but at least it's a little piece of a special place that's now gone. R.I.P.
• • • • •
• • • • •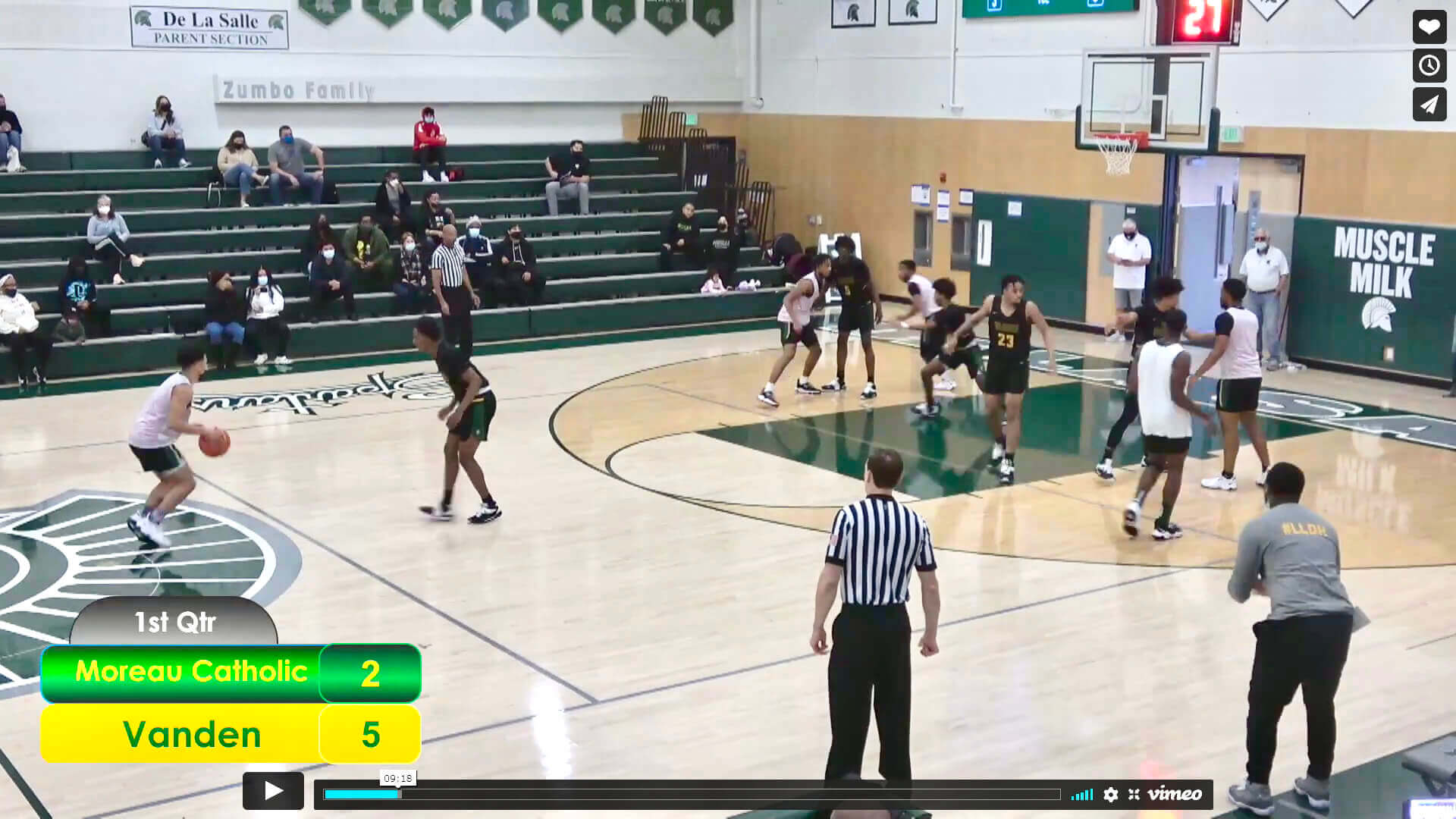 Click to enlarge
Oopsie: Unusual high school basketball situation last night in the Bay Area. I'll let reader Ethan Kassel explain:
The De La Salle Martin Luther King Jr. Classic is one of the more prestigious high school basketball events in the Bay Area, and the opening game this year was unusual as both Vanden and Moreau Catholic mistakenly showed up in their black uniforms.

Moreau Catholic was supposed to be the home team (and therefore should have been wearing white), so they were assessed with a technical foul before the start of the game and also had to wear plain white practice jerseys over their uniforms. Each time there was a foul, the referee asked the player to lift up the practice jersey to show his number underneath.
You can see video of the entire game here.
• • • • •
• • • • •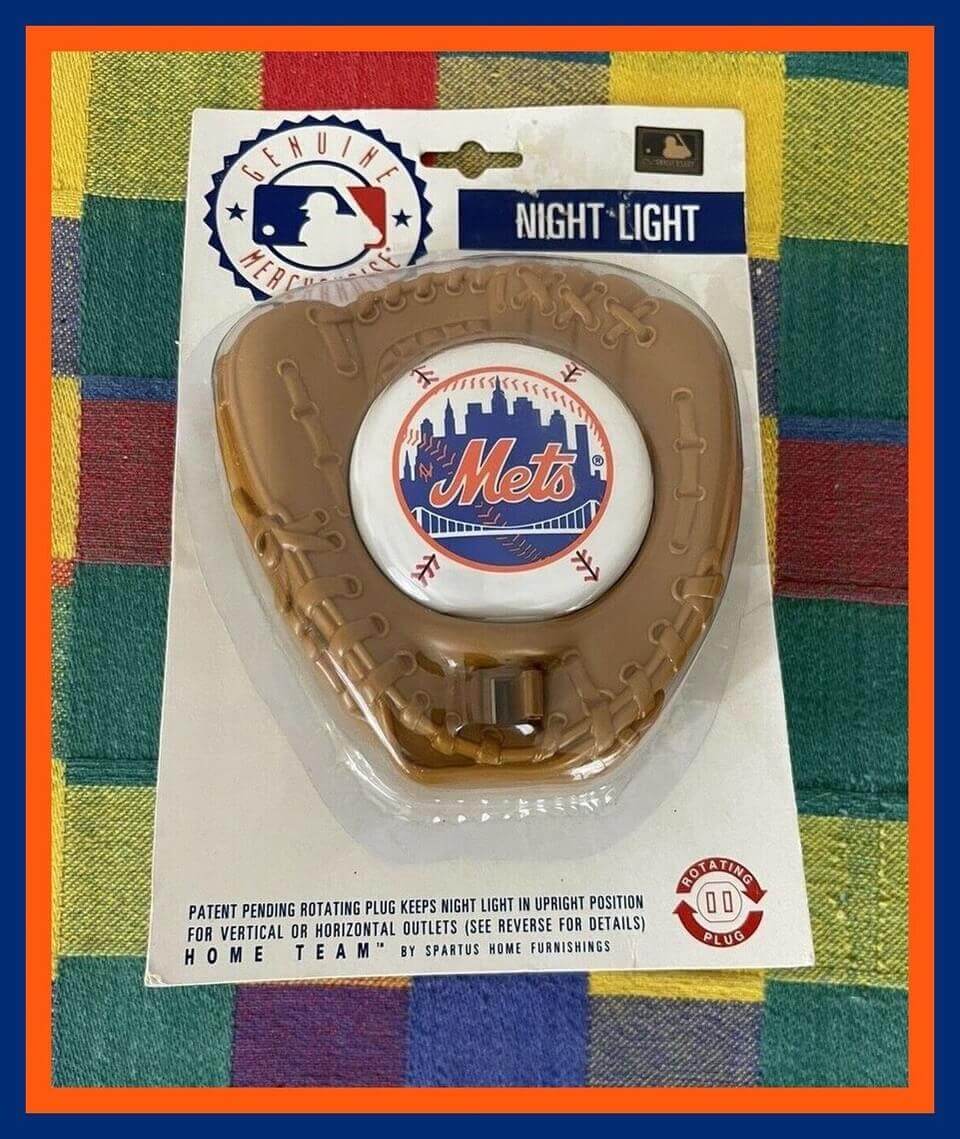 Click to enlarge
Collector's Corner    
By Brinke Guthrie
Follow @brinkeguthrie    
Here's just the right thing for Uni Watch HQ! Official girl mascot Caitlin will be kept company at night with this New York Mets night light. The seller is also offering Reds and Orioles versions.
Now for the rest of this week's picks:
• Back in 1973, the folks in the Radaco marketing department must've been quite stumped as to what to title their new game. So they just called it the "Officially Licensed Major League Baseball Game"!
• It seems MLB star Richie (call me Dick) Allen at one time had a clothing store in Philadelphia called the Dugout. Here's one of their clothing labels, featuring a Phillies cap.
• As you can see from this pair of 1985 Nike Air Jordan shorts, the cut was just a bit different back then. No Jumpman logo yet — that came three years later.
• The football player on this 1970 Topps Super Football wrapper is wearing the most unfortunate color combo of neon yellow, orange, and brown.
• Here we have a cute little Miami Dolphins troll figurine! 
• Here's what the seller is calling a 1970s Philadelphia Flyers car window decal. But the background is solid white, not clear , so maybe it's really more of a sticker, not a window decal.
• Orioles great Cal Ripken Jr. is depicted making a diving stop on the front of this commemorative 1995 Coca-Cola six-pack, but the Ripken illustration is clearly based on this photo of Brooks Robinson from the 1970 World Series.
• No "dishwater" in this 1960s Los Angeles Rams pennant. Just blue and white! 
• Packers fans will be interested in this decidedly vintage 9″ Packers doll with felt uniform. The seller says "The only info I have on this rare find is that it came out of an old trunk in an attic."
• This 1960s Boston Bruins bobblehead is in absolutely perfect shape. 
• • • • •
• • • • •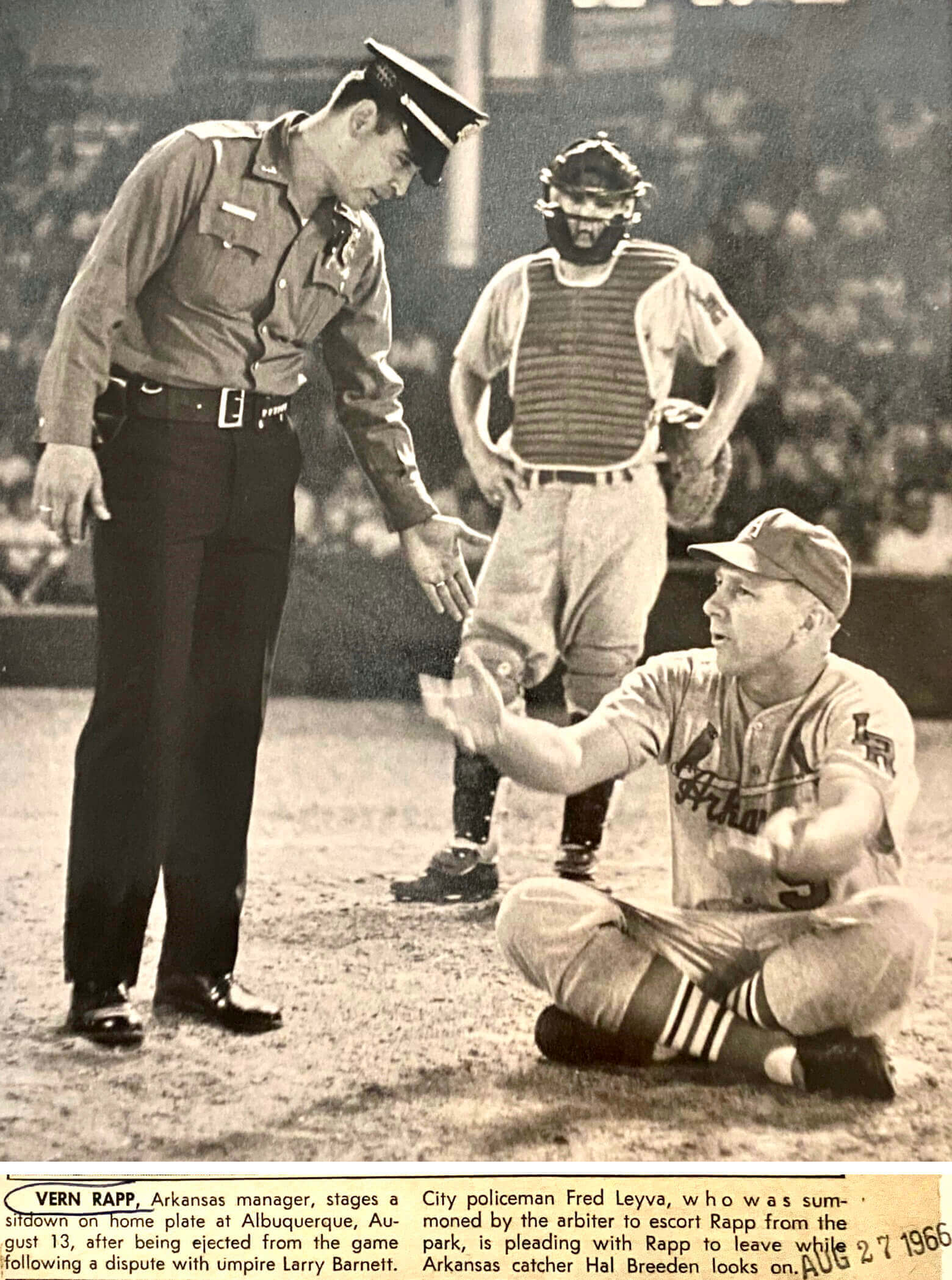 Click to enlarge
Too good for the Ticker: It's not often that you see a police uniform on the baseball diamond, but that's what happened during a 1966 minor league game, as Arkansas Travelers manager Vern Rapp staged a sitdown protest over a bad call and the umps summoned a cop to remove him. Priceless photo!
(Big thanks to Marc Harrison for this one.)
• • • • •
• • • • •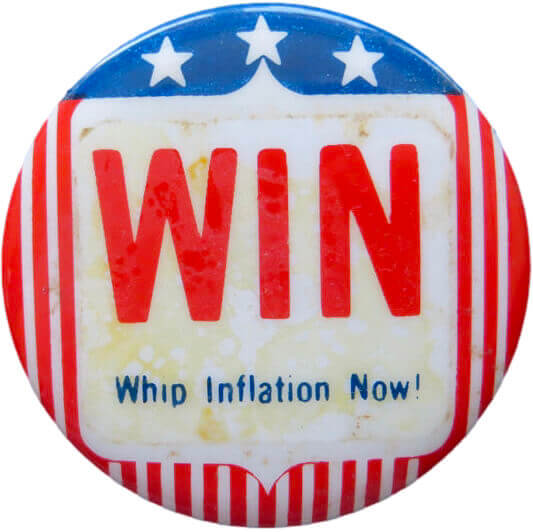 Price cut reminder: In case you missed it on Monday, I've cut the prices on a bunch of Uni Watch products, effective immediately:
• Seam rippers, originally $5, are now $3.
• Koozies, originally $5, are now $3.
• Trading cards, originally $6 and then reduced to $3, are now $2.
• Magnets, originally $3, are now $2.
• Chain-stitched patches, originally $35, are now just $20 (which is way below my $28 cost, so I'll be losing money on them, but I want to get them sold!). are now sold out. If you want to be notified when they're back in stock, shoot me a note.
• Memberships, normally $25, are now $20.
These items all mail out from Uni Watch HQ, so you can save on shipping charges by mixing/matching items. Email me and I can give you a combined shipping charge for the items you're interested in. Thanks!
• • • • •
• • • • •
The Ticker
By Alex Hider

Baseball News: Here's a blog that ranks the Cardinals' current uniform options (from Phil). … The Twins announced their new international signings by dressing them in older Majestic and Rawlings jerseys (from @Redsunhero). … Great story about a Redditor who's been spending the lockout drawing a new picture of Angels OF Mike Trout every day (from Trevor Williams). … The next two notes are from Kary Klismet: Here's a good post about the Cubs' 1972 road jerseys — the season they wore uniforms with basketball-style centered front numbers. … The Youth Baseball Association in Rochester, Minn., has unveiled new names and logos for its 10 teams, all of which have ties to the Rochester area. … Can't get enough of this vintage photo of Babe Ruth bowling (from @uniformnerd). … New caps for Newman University (from Blake Cripps). … If you love baseball sweaters — and who doesn't? — you'll love the sweaters worn by the 1906 Villanova club (from Alex Cheremeteff).

NFL News: Following up on an item from yesterday's blog post, the "Be Love" neck bumper slogans worn in last night's Rams/Cards playoff game did indeed have a circle-R trademark symbol, apparently because the phrase was licensed by the King Center. … In addition, players wore MLK-themed pregame T-shirts. … Heading into Monday night's playoff game, teams with primarily warm colors were undefeated over those with primarily cool colors during the Wild Card round (Jeff Perilman). … In honor of the 49ers' win on Sunday, Dave Kuruc sent along photos of some vintage Niners pennants he found for sale online. … Injured Los Angeles Lakers player Anthony Davis wore a 49ers Colin Kaepernick jersey for MLK Day while sitting on the bench yesterday — but the jersey had the Super Bowl LIV patch, and Kaepernick wasn't even on the team for that game.

Hockey News: The Blues retired Chris Pronger's No. 44 last night. The team created a logo to commemorate the night, and all Blues players wore white No. 44 Pronger pregame jerseys (from Wade Heidt and Alex Dewitt). … Hockey Day Minnesota is an annual youth hockey event that bounces around to different towns each year. The Wild always set up an outdoor rink and allow local youth clubs to come and skate. This year, the event is being held in Mankato, and these are the jerseys young players get when they come to skate (from Justin Geerdes). … Speaking of Hockey Day Minnesota, these are the jerseys that Mankato West High School will wear during an outdoor game at the rink later this week (from Paul Allan). … Interesting piece about the woman who builds the AHL schedule each year (from John Muir). … Does anyone remember these vintage hockey logo cards and stickers from the '70s and '80s? "The thick black outline on the logos does change how you see a few of the designs," Dave Kuruc said.

Basketball News: The Wizards have a uniform history display at their home arena (from Nicklaus Wallmeyer). … Check out the uniforms worn by the Nativity Social Club in Scranton, Pa., in 1953 (from Adam Vitcavage). … Rough black-vs-charcoal uniform matchup between Newman High School and Zachary High School in Louisiana (from Lenny Vangilder). … Cross-listed from the NFL section: Injured Lakers PF/C Anthony Davis wore a San Francisco 49ers Colin Kaepernick jersey for MLK Day while sitting on the bench yesterday — but the jersey had the Super Bowl LIV patch, and Kaepernick wasn't even on the team for that game.

Soccer News: The next three notes are from Kary Klismet: Mexican club Tigres UANL of Liga MX have announced plans to build a new stadium. … New third uniforms for Dundee United of the Scottish Premiership. … New uniforms for Vanruare Hachinohe, a third-tier Japanese team (from Jeremy Brahm). … Also from Jeremy: The Japanese J League is holding a "mascot general election."

Grab Bag: U.S. curler Matt Hamilton recently wore a suit jacket lined with a house ring pattern (from Mark in Philly). … Several notes from yesterday's NCAA gymnastics tri-meet between Iowa, Minnesota, and UCLA: The Hawkeyes broke out new leotards, Golden Gophers fans got really creative with their Covid masks, and all three teams wore MLK Day warm-up T-shirts (from Kary Klismet). … Also from Kary: A task force at Western Washington University has recommended retiring "Vikings" as the school's team name. … Nice gesture by the Ashland University track and field team. Not only did they unveil a memorial patch for recently deceased coach Jud Logan, featuring his signature catchphrase, but the program also allowed the athletes to add the patches to their uniforms themselves (from David Wiechmann). … New pride uniforms for women's Australian rules football clubs Gold Coast, Melbourne, and Fremantle. Ditto for most of the other AFL Women's clubs (from J.R. Rogers and our own Jamie Rathjen).
.