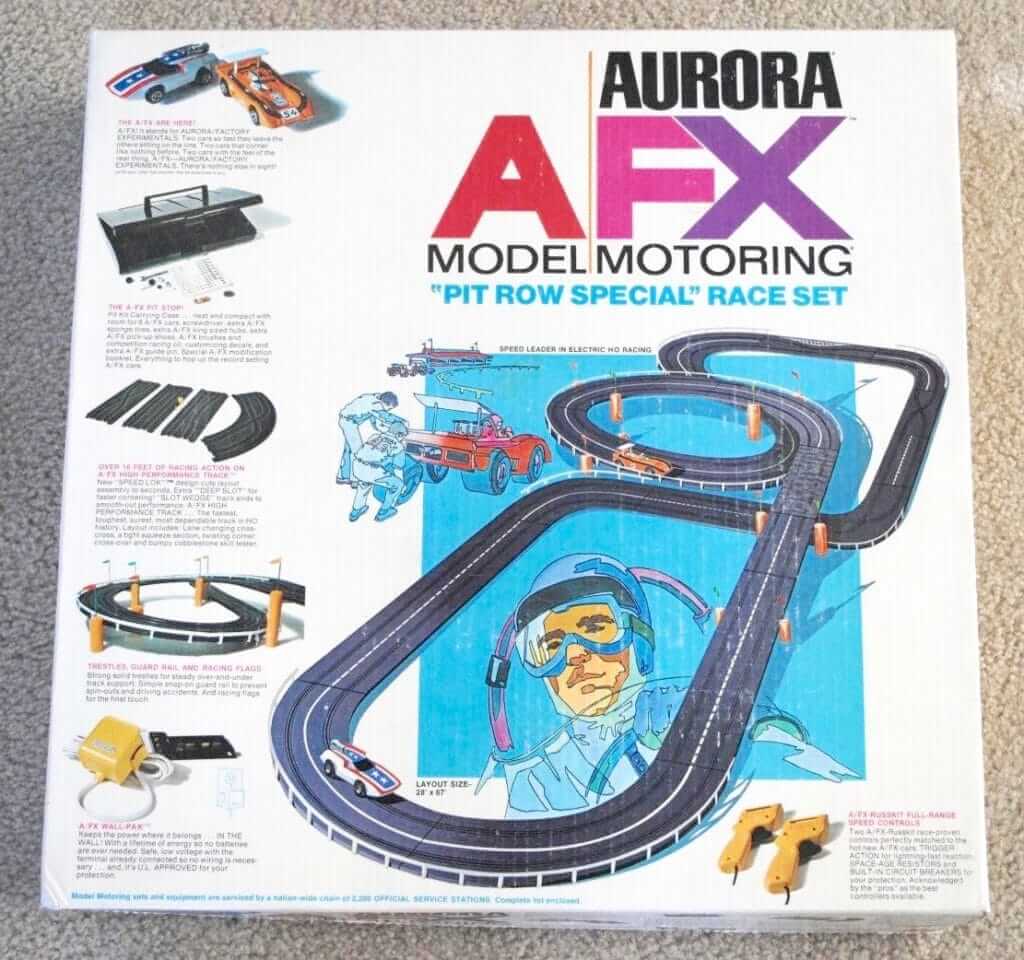 When I was in third grade, our teacher, Mrs. Mouzakes, taught us the proper way to write a letter — the salutation, the body, the closing, all of that. One of the letters we had to write was to Santa Claus, telling him what we wanted for Christmas. I was eight years old and was starting to have my doubts about Santa's existence, but I went ahead and wrote the letter, asking him for a slot car racing set that I wanted. I made sure my parents knew I wanted it too, just in case.
On Christmas Eve, for reasons I no longer remember, I started going down the steps to our basement. Maybe I had detected some suspicious activity, or maybe I just wanted to go down and play with some of my toys that I kept down there. In any case, my mom quickly grabbed me and steered back back upstairs — but not before I caught a glimpse of my father and my brother Henry assembling a slot car track.
That, alas, was the end of my last flickering belief in Santa. But it was the start of a fun period in which I had a slot car set in the basement (I'm about 95% sure it was the same set shown in the photo at the top of this entry). The brand was A/FX — short for Aurora Factory Experimentals, don'tcha know — which had launched a year earlier. Although I don't specifically remember, I assume I wanted it because I had seen TV commercials for it, perhaps like this one:
It was a fun time. Friends would come over, sometimes with their own cars, and we'd race, time our laps with a stopwatch, keep a little log book of the fastest times, intentionally set up crashes like Gomez Addams. I'd take take my cars apart, clean them, reassemble them. Along the way, I learned cool-sounding driving-related terms, like, "Floor it!" (which doesn't really make sense when your gas pedal is a handheld gizmo, but whatever — it was fun to say).
After a few years I got interested in other things and the race track fell into disuse. Another 40some years went by before I raced slot cars again. That was a few weeks ago, when the Tugboat Captain and I visited a place called Buzz-a-Rama.
Buzz-a-Rama is a slot car emporium in Brooklyn, about a half-hour walk from Uni Watch HQ. It's been open since 1965, when there were dozens of similar places around New York City. Buzz-a-Rama is now the last one left. These days it's open only on weekends, and not at all during the summer. It's still run by the original owners: Frank "Buzz" Perri, who's 85, and his wife, Delores (who definitely seems to be younger, although it's not clear by how much). A lot of their business comes from families who rent the tracks for birthday parties, but they also do some walk-in business.
Buzz-a-Rama is exactly the kind of old-school place I tend to love, but for some reason it wasn't on my radar until recently. Even when I did eventually hear about it, I mistakenly thought it was a new retro-hip place run by 26-year-olds or something like that. Happily, that's not the case.
The cars and track are a much larger gauge than the old A/FX track I had as a kid (those steering wheels are just for show and are not operational):
There are three tracks, each of which can accommodate up to eight cars in eight colored slots: red, white, green, orange, blue yellow, purple, and black. The colors have faded a bit with age, and there are also wear marks from the cars zipping around the tracks, all of which combines to form a sort of post-industrial rainbow:
If you want to race at Buzz-a-Rama, you pick an available track and rent a car and handheld speed gun for 15, 30, or 60 minutes. They'll assign you to the green slot, the red slot, or whatever. Then they'll activate that slot for the appropriate time period by turning a color-coded dial on a console of timers. When the timer runs out, your slot loses power and then you can either pay for more time or call it a day. The colored timer dials were among my favorite things about the place:
We raced for a bit, which was fun and brought back a lot of memories. But I was more interested in walking around and admiring the tracks, which I found mesmerizing. One track, for example, has a simple layout but a wavy/zigzag stretch that I couldn't stop looking at:
Another track — the one we raced on — has really nice banked curves that I found compelling:
Mostly, though, I couldn't stop looking at those post-industrial rainbows and the patterns they made. So many parallel lines and concentric circles, so much geometry — it was all very, very satisfying:
Some of the tracks have lap counters, which are used when Buzz-a-Rama's dues-paying members hold races:
By coincidence, the TV show Inside Edition did a nice little segment on Buzz-a-Rama shortly after our visit. It includes plenty of face time from Buzz and Delores, the owners, so you can get a better sense of them. Worth your five minutes:
• • • • •
• • • • •
1990s flashback: As we all know, purple and teal/turquoise were the trendy colors for uniforms (among other things) back in the 1990s.
Coverage of yesterday's Super Tuesday primaries provided a flashback to those days. First, look at The New York Times's electoral map, which showed Bernie Sanders in teal and Joe Biden in purple: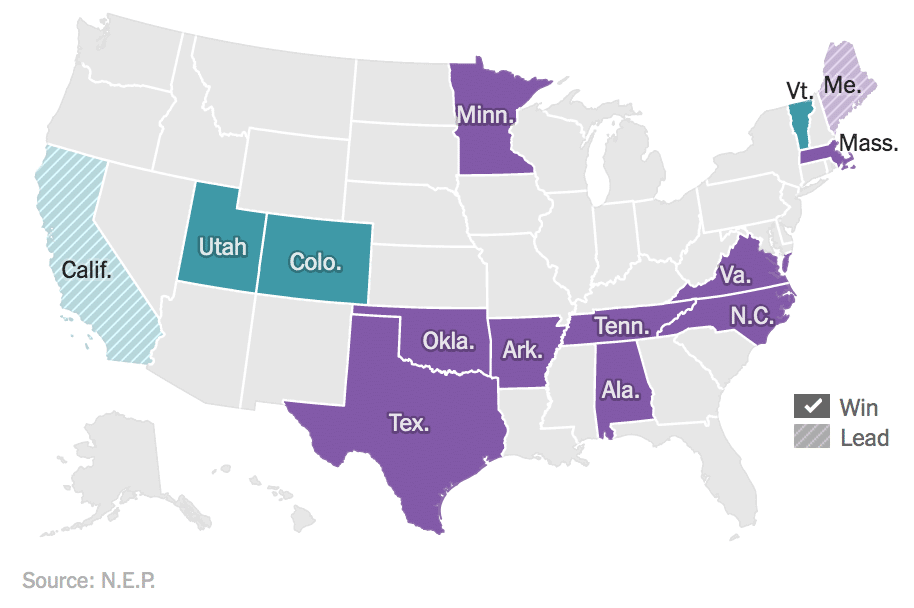 The Washington Post also used those colors — but had Sanders in purple (okay, maybe more of a magenta) and Biden in teal: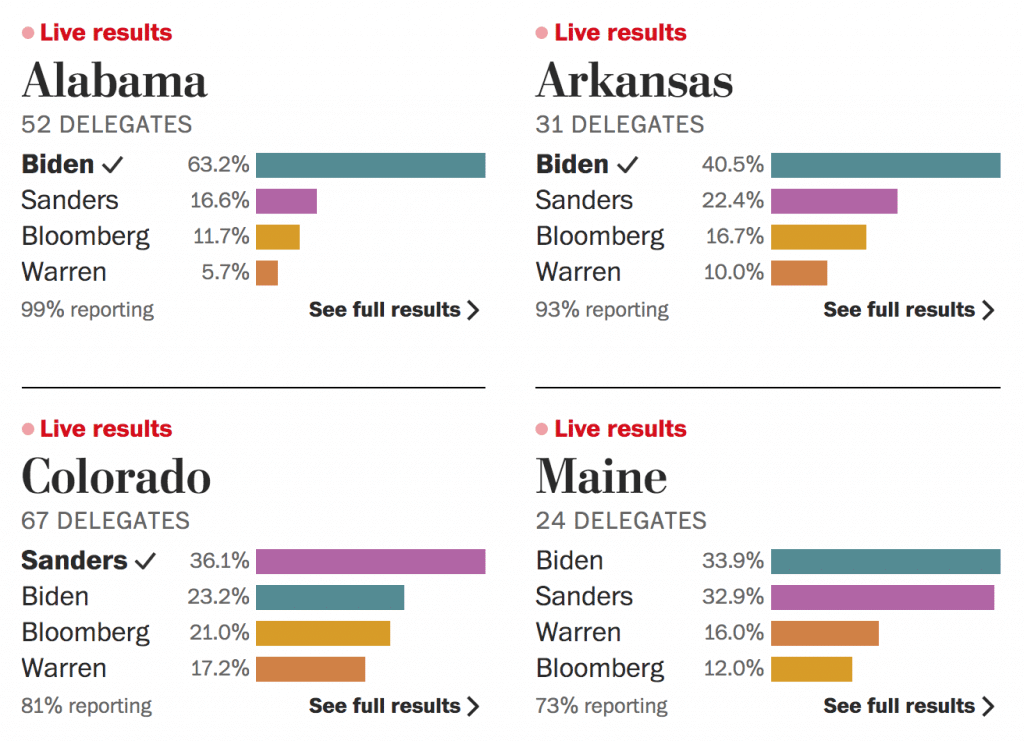 Of all the colors to choose, so weird that both newspapers would choose those two!
• • • • •
• • • • •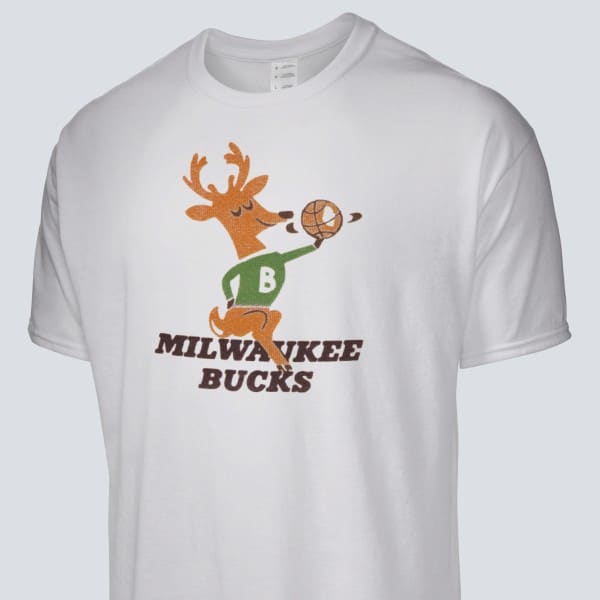 LAST CALL for the Vintage Brand raffle: Today is the last day to enter this month's Vintage Brand raffle. The winner will get to choose any item from the VB site (including the groovy Bucks T-shirt shown above).
To enter, send an email to the raffle address by 8pm Eastern tonight. One entry per person. I'll announce the winner tomorrow. My continued thanks to Vintage Brand for sponsoring these giveaways.
• • • • •
• • • • •
The Ticker
By Lloyd Alaban

Baseball News: Red Sox manager Ron Roenicke wore his team's regular cap instead of the spring/BP cap yesterday against the Yankees (from Curtis Galvin). … New Mexico State INF Nick Gonzales wore Yankees OF Aaron Judge-themed socks while playing in a doubleheader, and hit five home runs! (From Joanna Zwiep.) … The Indians used an unofficial roundel logo on their lineup card yesterday (from Believeland1994). … Color vs. color for Alabama and South Alabama yesterday (from Griffin T. Smith). … Good-looking matchup for LSU and Southeastern Louisiana last night (from Chris Mycoskie). … A fan at yesterday's Astros spring training game wore an "Asterisks" jersey (from Michael Barone). … Check out the new logo for the USS Cooperstown, a United States Navy ship commissioned in honor of WWII vets who played professional ball. The top of the logo features perhaps two of the most American things they could fit in a logo: a bald eagle hitting a line drive! More info here (from multiple readers). … New unis for Calvin University softball (from Timmy Donahue).

NFL News: Reader Glenn Chavez found a pair of Joe Flacco socks that were licensed by the NFL Players Association but not by the NFL, so they show Flacco in a blank uniform. … Former U.S. Steel exec William Smith died last week. The first few grafs of this obituary explain his role in the creation of the Steelers' logo (from Jerry Wolper).

Hockey News: The NHL unveiled a new data-tracking puck to be used for the playoffs and beyond (from Mike Chamernik). … G Roberto Luongo will have his number retired by the Panthers this weekend. Panthers players will wear a commemorative decal on their helmets (from @34inXXIII). … The Florida Everblades, minor league affiliate of the Predators, will dress up as the Skunk Apes this weekend. … The FPHL has unveiled its playoffs logo (from John Cerone). … Fox Sports Midwest chose a very confusing score bug for Blues/Rangers last night (from @jerumees).

Basketball News: New Warriors G Chasson Randle will wear No. 25. … Throwbacks last night for UNC. Additional photos here (from James Gilbert). … Iowa used last year's jerseys to present to graduating seniors on Senior Night (from Jake Cliek). … Evansville Bosse, an Indiana high school, didn't pack the correct uniforms for their road trip, so they were forced to wear their opponent's alternates (from Ryan Bowman).

Soccer News: A follow-up on yesterday's lede: The traditional pre-match handshake line has apparently been banned at all levels of Scottish soccer until further notice because of the coronavirus (from our own Jamie Rathjen). … Also from Jamie: The National Football Museum in Manchester, UK, has recovered a stolen Celtic shirt that has gone missing since February 1. … From Josh Hinton: Scotland's Euro away kit has leaked. … For the latest kit-related news from around the world, be sure to follow Josh's Twitter feed.

Grab Bag: New logo for Indiana State athletics. Many people have complained that the outlined shape of Indiana does not actually look that much like Indiana. … The Olympic Torch relay will continue despite the coronavirus. … New uniforms for the Australian rugby leage team Guyra Super Spuds (from E.P. Conrad). … With the new Aussie football season kicking off in two weeks, Here are a few items from Michael Robinson: In what appears to be a first, St Kilda FC will have a guernsey ad just below the collar. That spot is usually reserved for a maker's mark. More details here. … Essendon FC will be the first AFL team outfitted by Under Armour. … After 22 seasons with Nike, Carlton FC will be outfitted by Puma this season. More details here.
• • • • •
For those who've been asking or wondering, the launch of this month's Uni Watch Pin Club design has been slightly delayed due to coronavirus-related supply chain issues. I hope to have the pins ready to launch either tomorrow or Friday. Thanks for your patience! — Paul