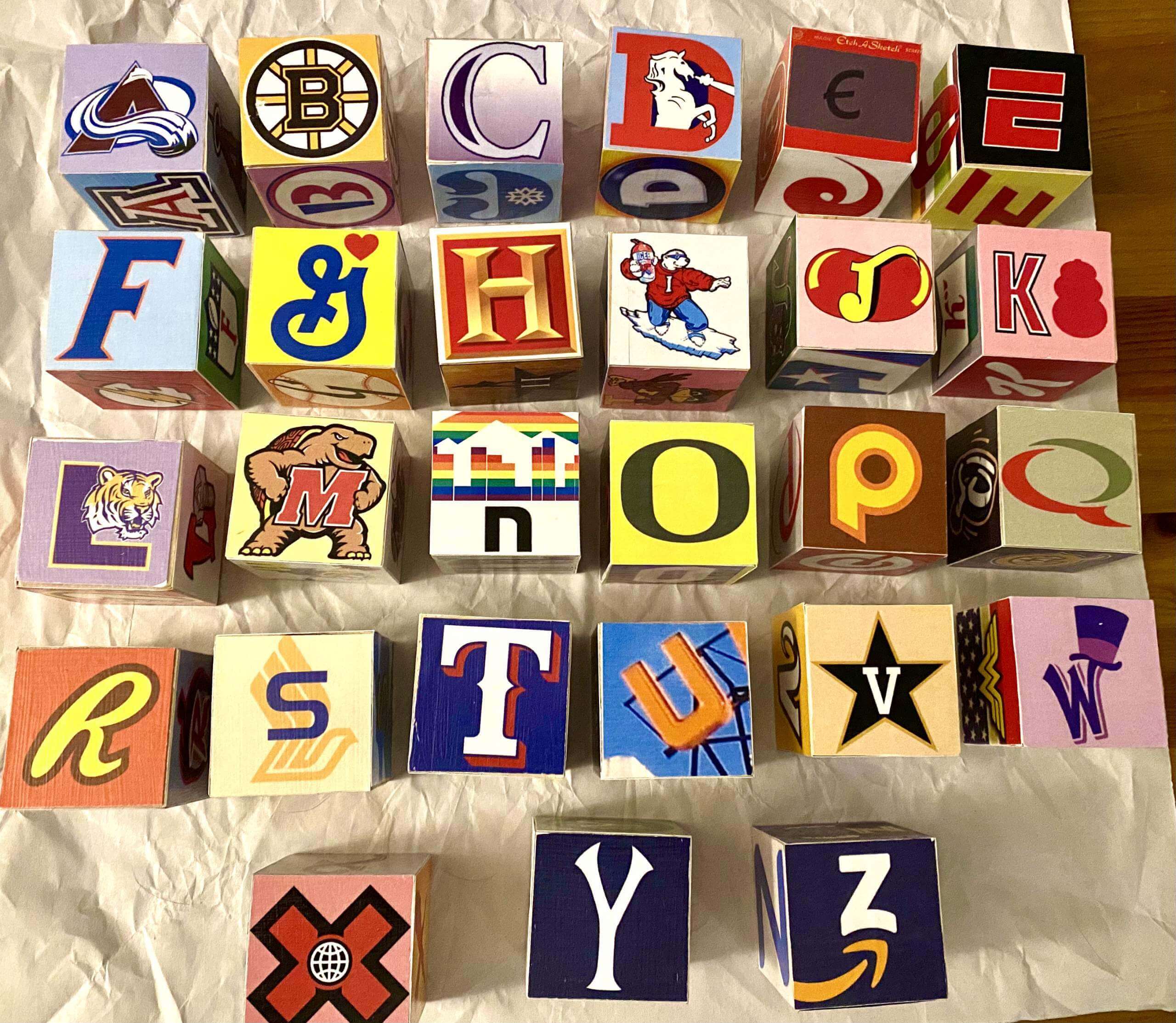 Click to enlarge
Two winters ago we had a guest post from reader Loren Southard, who created a set of awesome sports logo-themed building blocks for his new child. That inspired fellow reader Eric Wall to create a similar set of building blocks for his own newborn about a year later.
Our latest block-head is longtime reader Judy Adams, who wanted to create a set of blocks for her nephew's baby boy. She thought she might need a bit of help getting started, so she recently asked if I could put her in touch with Loren and Eric, which I happily did. With their help, Judy was able to complete a great set of blocks. Take it away, Judy!
My DIY Block Set
By Judy Adams
My nephew and his wife are big sports fans who live in Denver. But he's originally from the DC suburbs and she's from Dallas, so I relied heavily on colleges and teams in those areas, even to the point of including logos from minor league sports (which I never would've been able to do without SportsLogos.net).
I also included a generous assortment of pop culture references that I thought would appeal to the two of them. For example, they're both avid skiers, so I included logos from some Colorado ski resorts. Also, they had Voodoo Donuts instead of cake at their wedding, so that was my source for one of the "V" logos.
Here's a chart showing how it all broke down [click to enlarge]: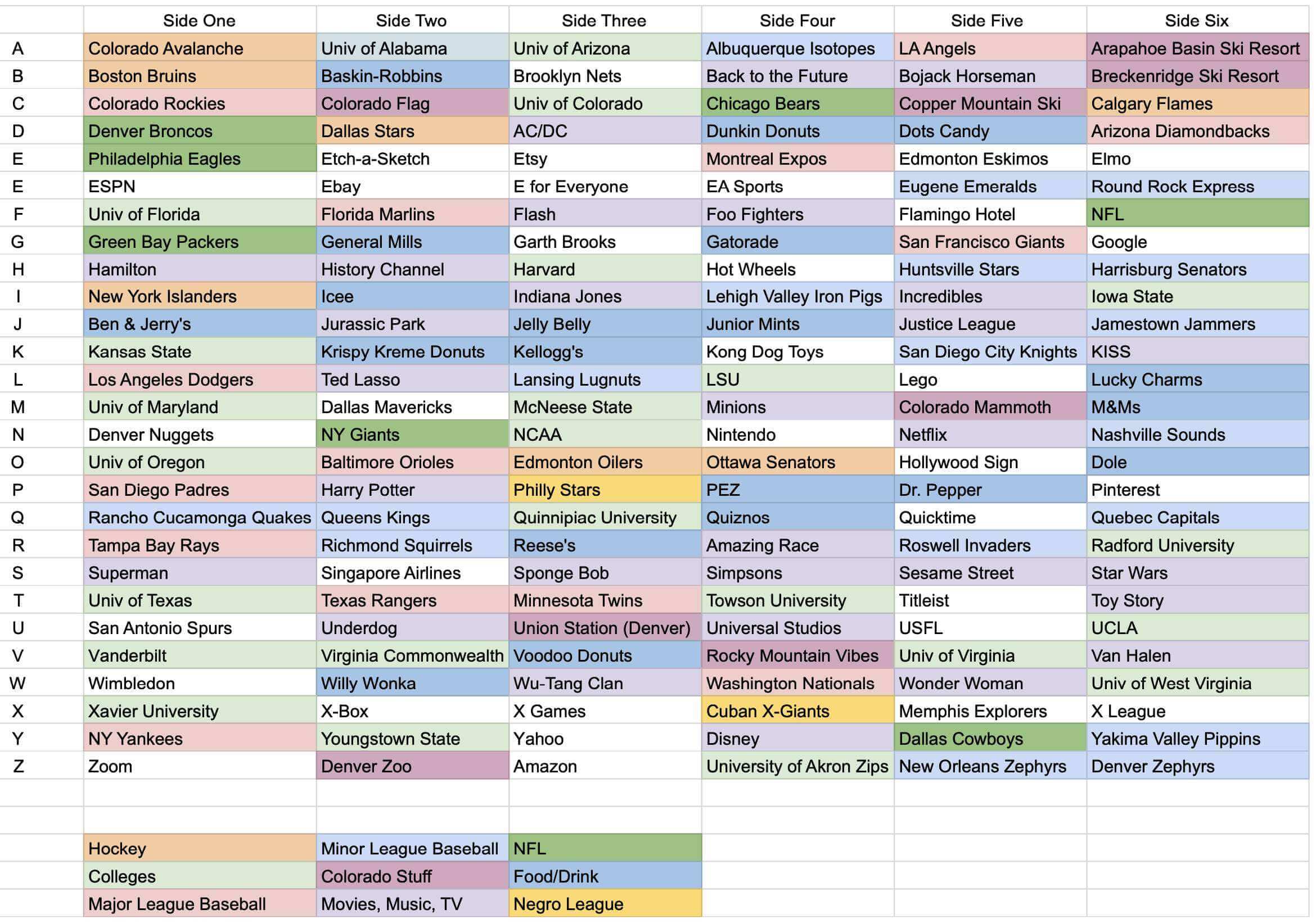 I tried not to repeat too many of the same letters that Loren or Eric used, although I did use a few of Loren's designs (with his permission, of course).
My grandnephew's name has two "E"s, and I wanted him to be able to spell his name with the blocks, so i did two "E" blocks. I had to dig deep enough to find enough "E" logos!
One of the biggest challenges — aside from not having Photoshop experience — was printing the letters themselves. I have a cheap home printer that would've run out of ink after only a page or two , so I had to print everything at my local FedEx Office location. They have a feature that lets you email documents to their cloud and then download them to the printer, but I even can't tell you how many times I'd get to the FedEx store and realize I'd sent the wrong page of letters or forgotten to bring card stock with me, and then I'd have to drive back home and re-do everything.
The other big challenge: trying to find teams that start with the letters X and Z!
My grandnephew is just now starting to play with the blocks (I'll let you know if I get any pictures), but his parents were delighted with the gift. I'm grateful to Uni Watch for inspiring me to take on this project, and to the comm-uni-ty for helping me realize it.
———
Paul here. How awesome is that? I love how the building blocks concept is spreading throughout the Uni Watch readership. Here are the remaining sides of Judy's block set: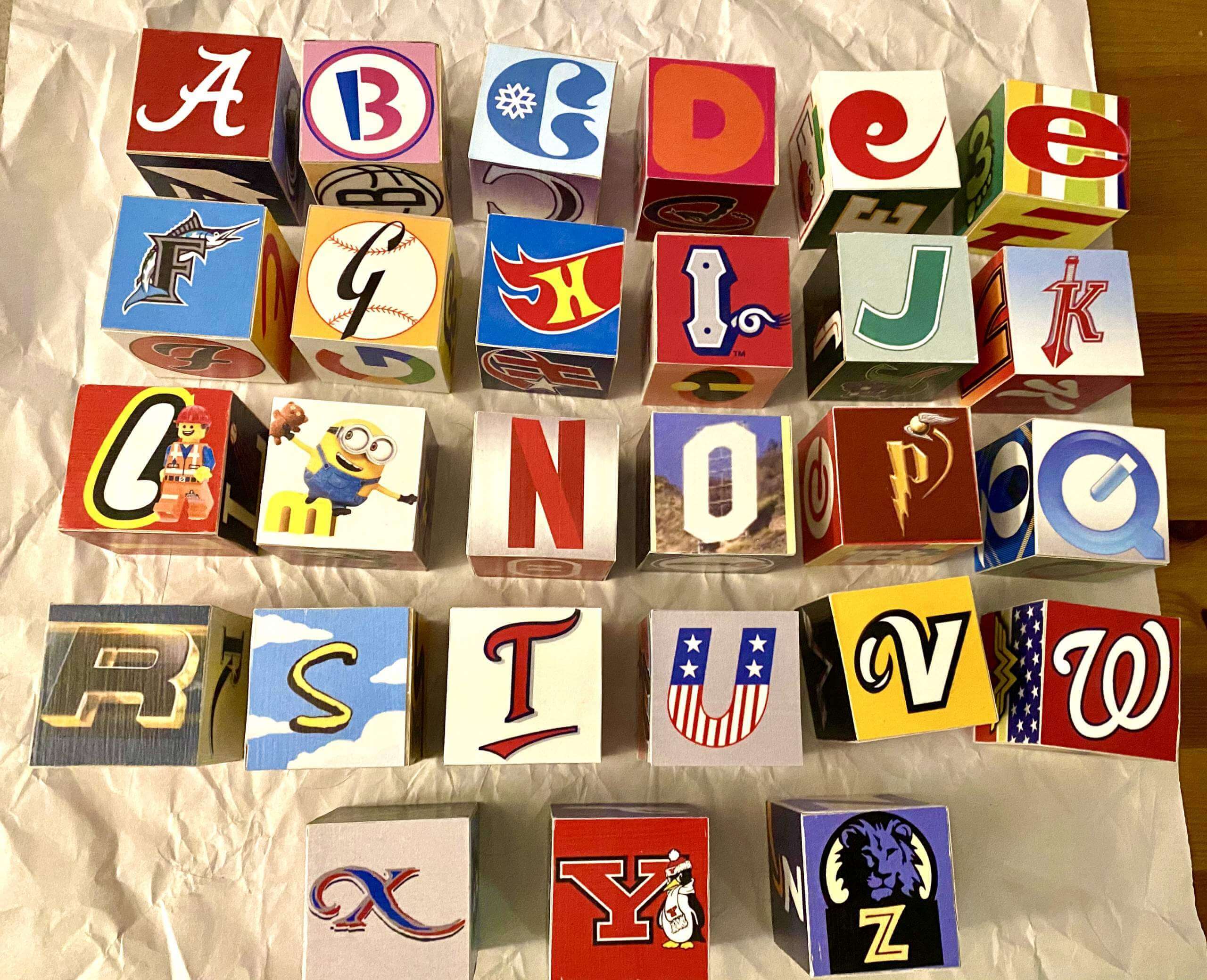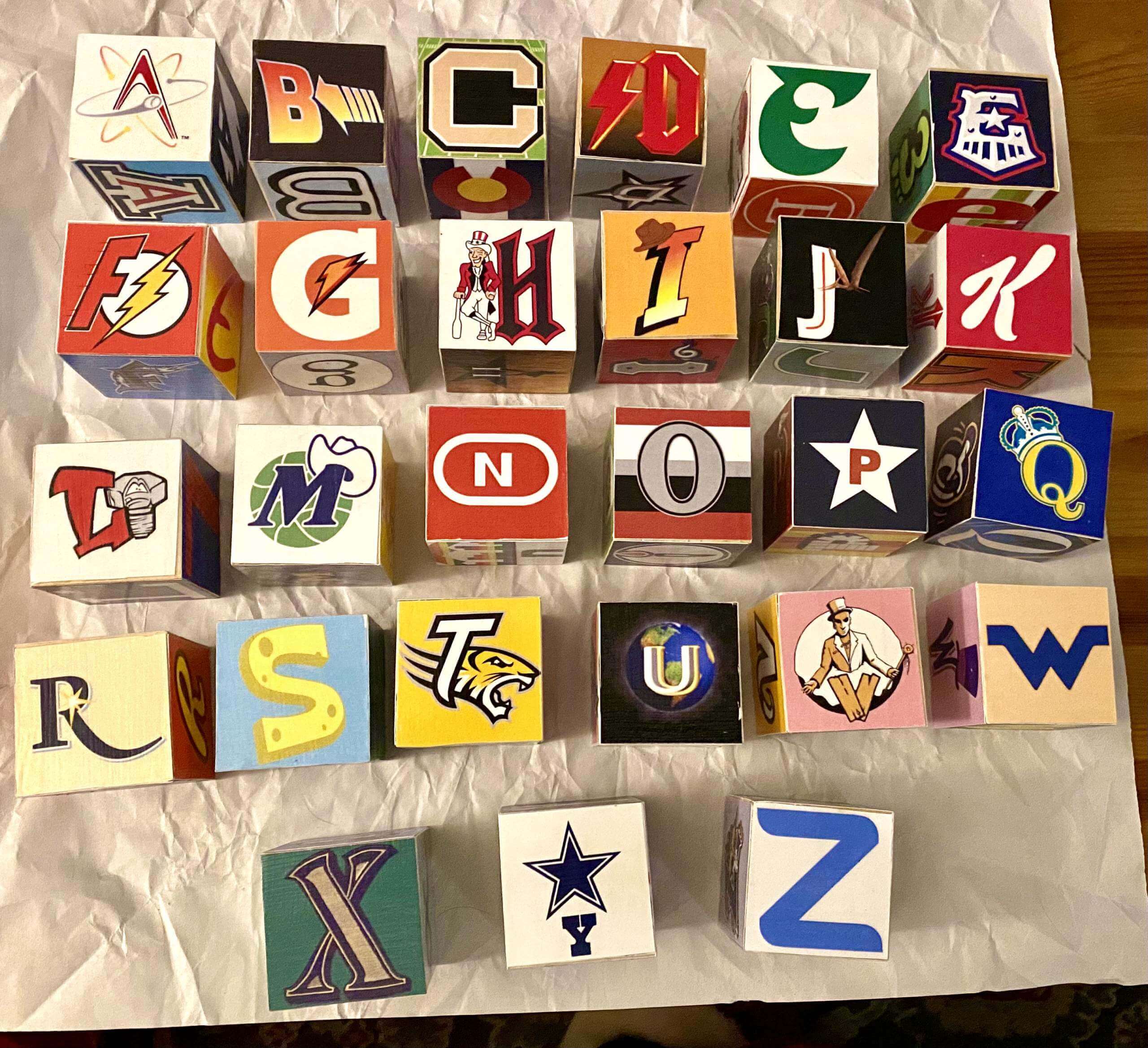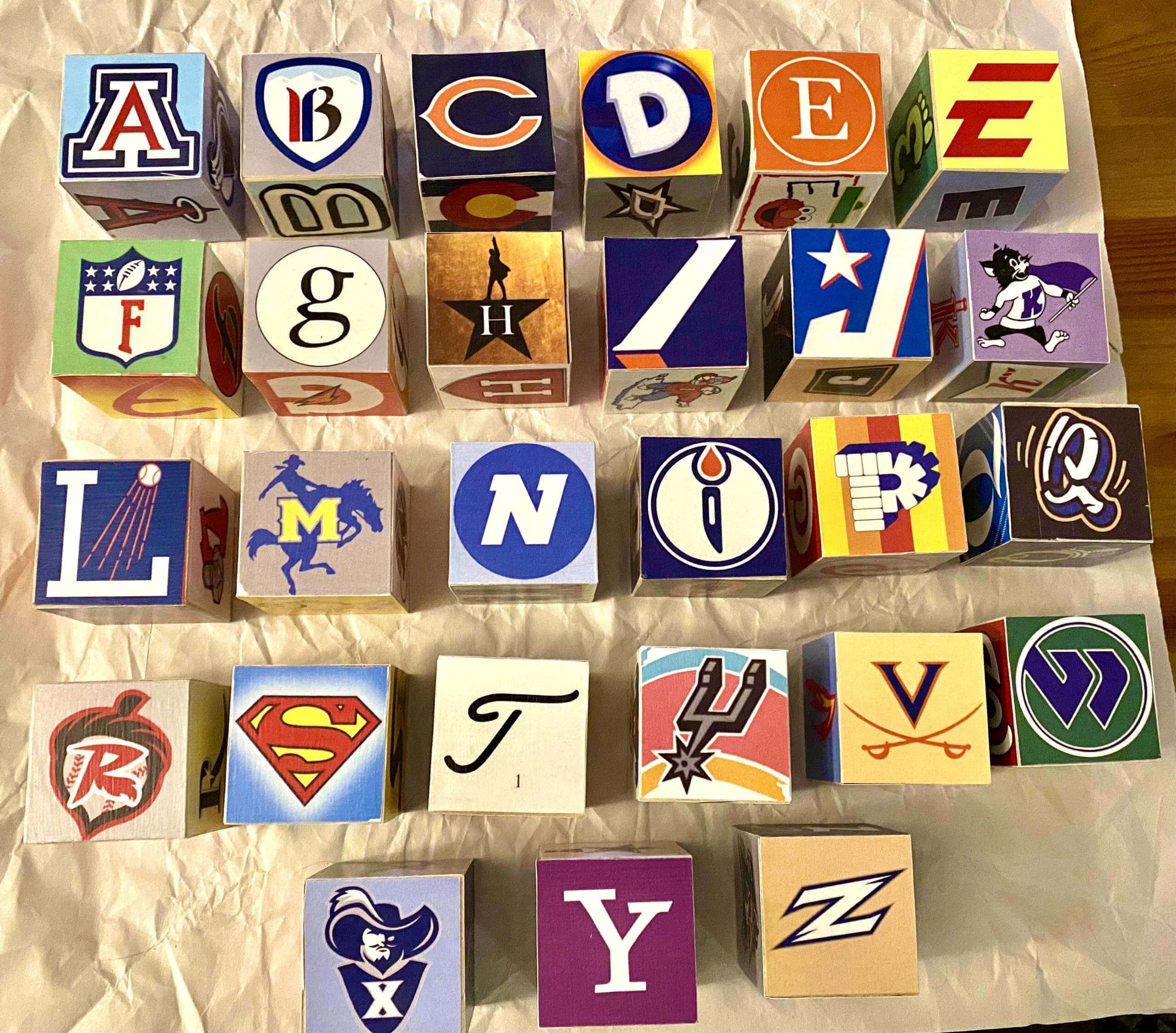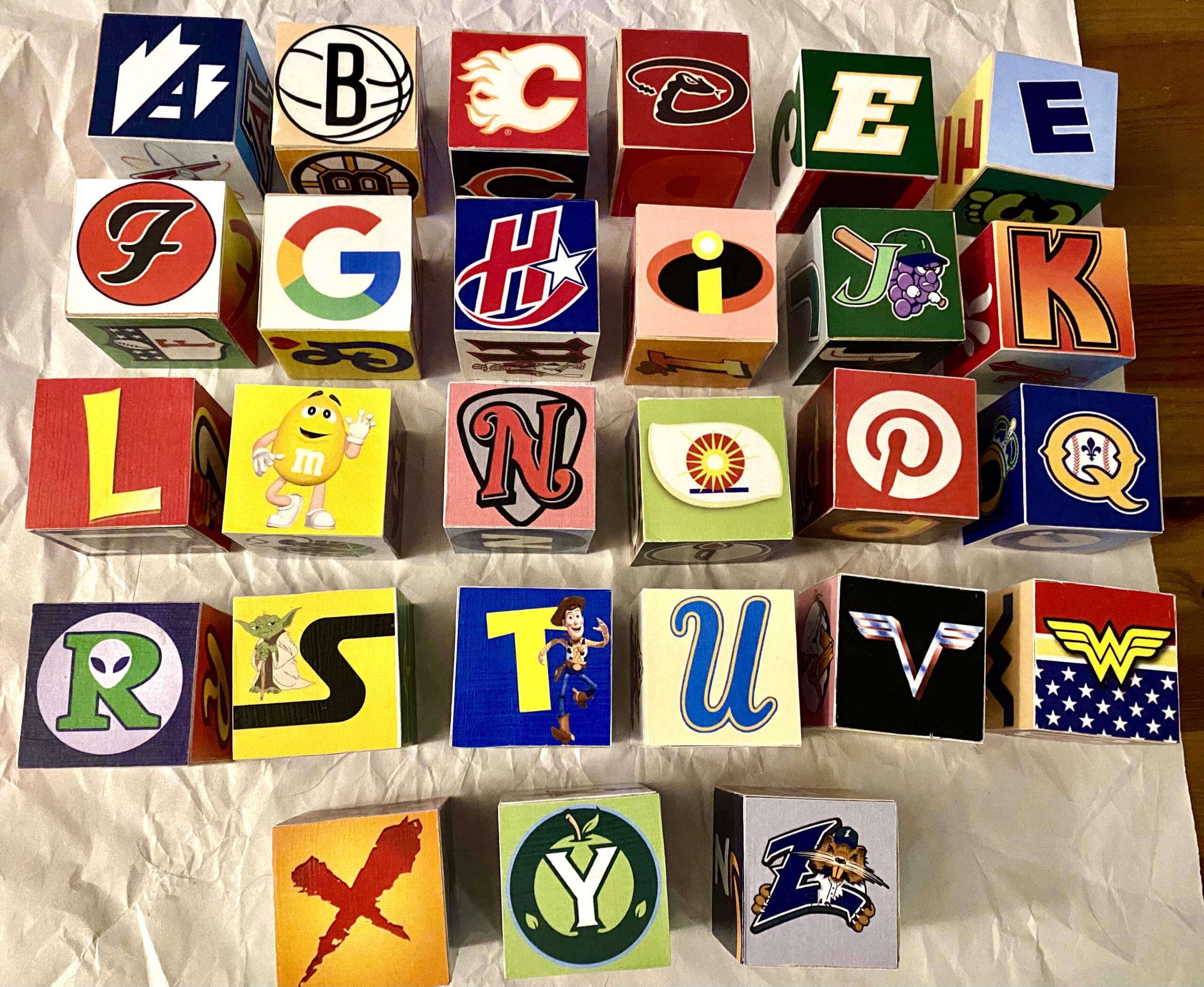 • • • • •
• • • • •
: | @Vistaprint

We've got an update on a popular name option, a sneak peek at the jerseys and a confirmed announcement date pic.twitter.com/IeSnetFebq

— Washington Football Team (@WashingtonNFL) January 4, 2022
New WFT identity to be revealed soon: The Washington Football Team announced this morning that they'll reveal their new team name and branding on Feb. 2 (that's four weeks from tomorrow). A few tidbits from the video embedded above:
• The new name will not be Wolves or RedWolves, which were popular with fans but deemed untenable by the team's legal department due to other teams' trademarks.
• There will be more than one helmet design (not surprising, since the one-shell rule is being lifted next season).
• The video includes several teaser glimpses of the new uniform, starting at the 5:18 mark. The new look will apparently include black trim, stars on the inner jersey collar, and a non-block number font with a faux-mesh treatment. It also looks like they're adding a logo to the helmet's nose bumper (the team has used blank bumpers for years), although it's blurred out in the video.
More info to come soon, I'm sure.
• • • • •
• • • • •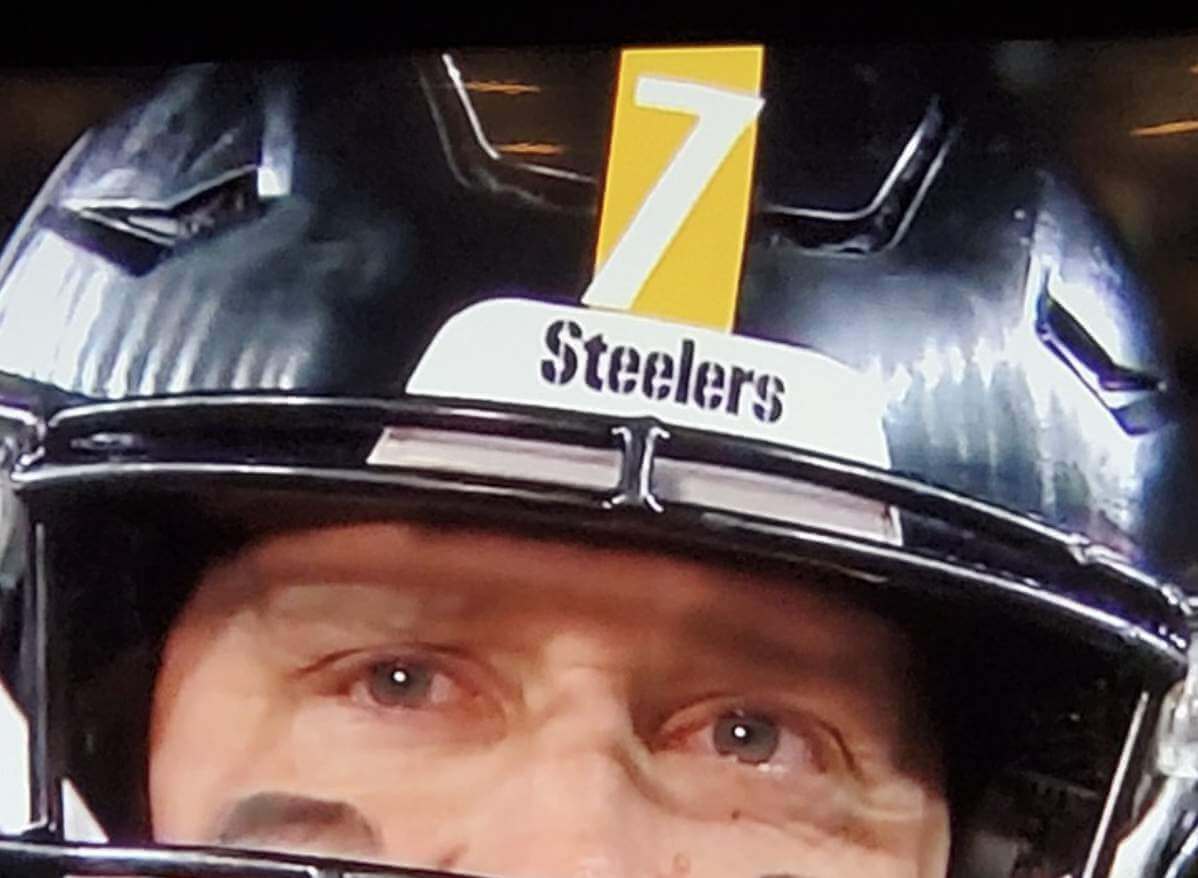 Grrrrr: Steelers quarterback Ben Roethlisberger played what is expected to be his final home game last night. In all the years he played, I don't think I noticed before that his front helmet number doesn't quite sit within the confines of the yellow stripe. Very frustrating!
I looked at a lot of Roethlisberger photos from various seasons before posting this item, and here's what I've concluded: While it's true that the number sometimes fit within the stripe, it seems like it more often extended outside the stripe. Surprising that we never noticed it until now!
(Blame Twitter-er @J771980 for this one.)
• • • • •
• • • • •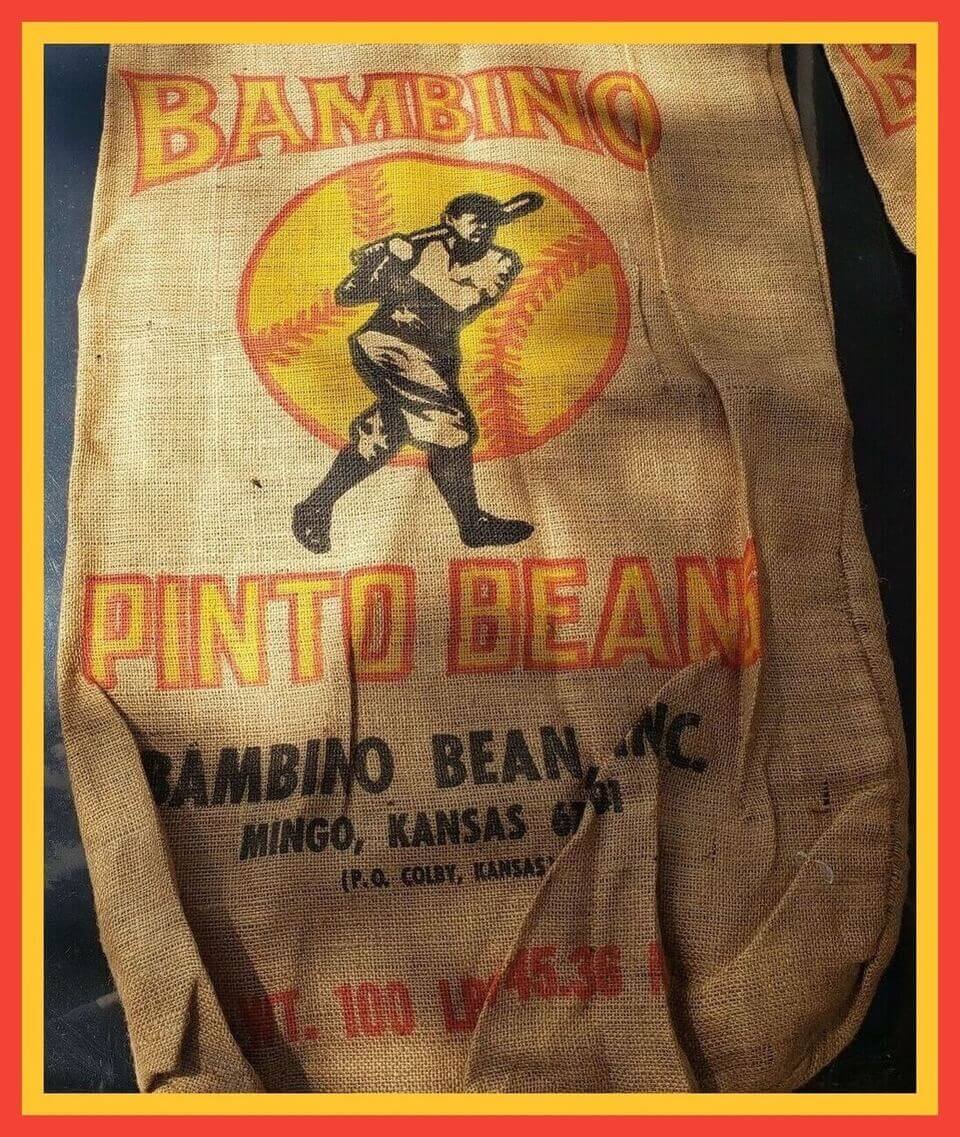 Click to enlarge
Collector's Corner    
By Brinke Guthrie
Follow @brinkeguthrie    
Here we go with the first Collector's Corner of 2022, and without a doubt the first time I've ever featured … pinto beans. But not just any pinto beans — this is a burlap sack for Bambino Pinto Beans! According to Mears Online Auctions, these were "burlap sack(s) dating to circa the 1960s. Apparently the Ruth family did not grant the company permission to use the Babe's likeness and as such the bags were pulled from [the market] after a relatively short time frame."
And there you have it! Now for the rest of this week's picks:
• For some of us, NFL gumball helmets will always be rememberd as iHop giveaways. (A complete set there — wowsers.) Turns out that Bonanza steakhouses also took part in this campaign — here's one from 1970 for the Rams.
• Got a couple of items from Pittsburgh here. First, an empty pickle jar (another CC first, I should think) for Darius Kasparaitis Krunchers, "premium 'Russian-style' dill spears" from the former Penguin. Also, this 1991 Pittsburgh Pirates-Blockbuster Video pin commemorating Harvey Haddix's 12-inning no-hitter from 1959.
• Here's a 1972 "Pour It On" promotional hockey puck signed by hockey legend Bobby Hull. The seller says this was for some type of motivational film.
• It was an April to remember: The 1987 Milwaukee Brewers started off the season with a 13-0 run that month. Here's a poster commemorating that feat from George Webb Restaurants and WTMJ Radio 62.
• Getcha hot drinks heyah, 25 cents! That was the cry of the vendors at Yankee Stadium wearing this 1964 concessionaire's hat. 
• Here's a pair of 1970s Wilson baseball cleats. They may be for baseball, but the guys I remember wearing these were NFL quarterbacks Kenny Stabler and Bob Griese.
• Speaking of shoes, Walter Payton was, to my knowledge, the only NFL guy who wore KangaROOS cleats (so named because they had a small pocket on the side). Here's a Sweetness in-store display for them.
• According to this 1982 print ad, Gold Medal Sporting Goods was the place to get your Phillies merch.
• Check out this Seattle Seahawks medallion from their inaugural 1976 season. Don't you miss those colors?
• If you like the old sports merch catalogs Paul's been writing about over the past few months, you'll love this 1992 Starting Lineup Sears catalog featuring licensed gear from the NFL, NBA, and MLB.
• • • • •
• • • • •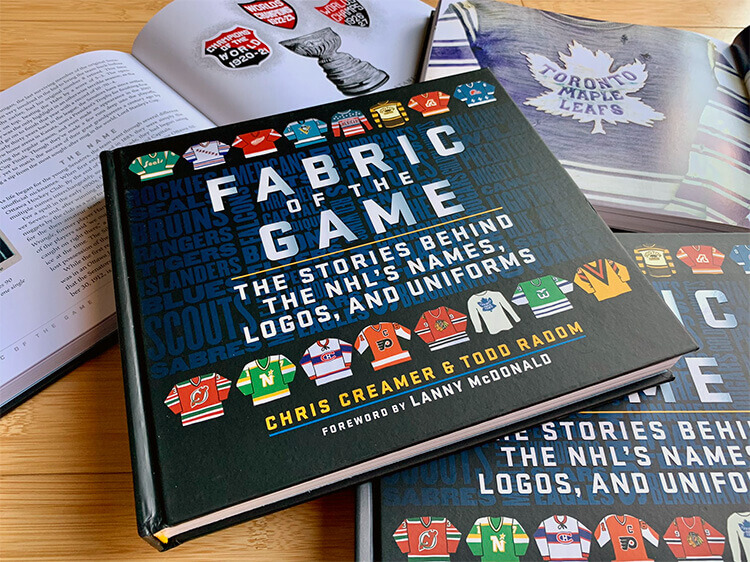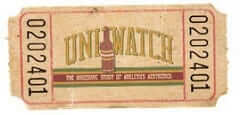 ITEM! Our first raffle of 2022: We're going to have a new raffle for each remaining weekday this week. The first one is courtesy of longtime reader Mike Engle, who has an extra copy of Chris Creamer and Todd Radom's Fabric of the Game book and has generously offered to make it available to a lucky Uni Watch reader.
This will be a one-day raffle. USA shipping addresses only. To enter, send an email with your mailing address to the raffle in-box by 8pm Eastern tonight. One entry per person. I'll announce the winner tomorrow. Good luck!
• • • • •
• • • • •
The Ticker
By Alex Hider

Baseball News: The end of an era: Topps is being acquired by Fanatics. … This piece from The Athletic (hard paywall) offers a fascinating look at the modern baseball bat and why traditional ash wood is no longer a viable material. It also leads with an incredible scene in eccentric Reds 1B Joey Votto's garage, which is now full of ash bats that he hoarded by the dozen last year (from webmaster John Ekdahl). …  In a 1989 Red Sox/Rangers game in Texas, Sox OF Jim Rice was wearing an older model jersey (circa 1986) where the letter spacing was split BO-STON at the placket, while the rest of the team was wearing the typical BOS-TON jerseys (from Joe Kuras). … This 1990s cover of the Giants' team magazine featured P Bud Black wearing home whites while pitching to himself, wearing road greys in the batter's box (from @Spesh98). … This story recaps the oddest stadium quirks in Major League history (from Kary Klismet).

Pro Football News: Browns DE Jadaveon Clowney was flagged last night for taking off Steelers WR Chase Claypool's shoe and tossing it aside. … Paul noted yesterday that Raiders WR DeSean Jackson paid tribute to John Madden with his cleats on Sunday. However, Jackson later wrote on Instagram that he was told to remove them during the game (from Phil). … The NFL often shares a player's weekly statline on social media by posting a jersey template. For Bengals QB Joe Burrow this week, they used a NNOB jersey to commemorate him losing his nameplate (from Nicklaus Wallmeyer). … A TV producer mistakenly used a Browns logo instead of a Raiders logo on a graphic (from Jorge Cruz). … We have a couple of notes from Sunday's episode of The Simpsons: The Winnipeg Blue Bombers got a mention, but the team pictured isn't even wear blue uniforms. That episode also featured an NFL Draft scene that featured several clever team names (from Johnny Garfield). … ESPN used a four-year-old photo of RB Derrick Henry in an old Titans uniform in a graphic yesterday (from Taylor Crabtree).

College/High School Football News: This blog ranks the uniform combos BYU wore this season (from Phil). … Michigan wore five different uniform combos this season. Their best record came when wearing their traditional blue-on-gold uniforms (from @uofm_graphix). … Funhouse spotted some serious uniform inconsistencies in an old episode of The Brady Bunch.

Hockey News: The Salmon Arm Silverback of the Junior "A" British Columbia Hockey League wore their BCHL 60th-anniversary throwback-inspired uniforms on Saturday night (from Wade Heidt). … A Florida youth 3-on-3 team called the Ice Cubes wears sweaters featuring rapper Ice Cube's face (from @burkeman78). … Spotted in The Hill in St. Louis, the city's historically Italian neighborhood: a Blues logo-Italian flag mashup mural (from @stlthrowbacks).

Basketball News: NBA numerologist Etienne Catalan is staying busy with the latest transactions. Check out his Twitter account to see the latest number updates from throughout the league. … Louisville will retire No. 2 in honor of Russ Smith on Jan. 22 (from Phil).

Soccer News: AC Milan and Inter Milan of Italy's Serie A have unveiled their new stadium design (from Kary Klismet).
.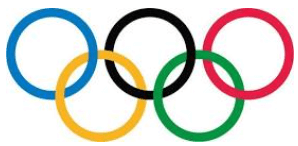 Olympics: The uniforms for the medal ceremony volunteers at this year's Winter Olympics in Beijing have been unveiled, and one Korean writer thinks they look a little too much like the uniforms from the 2018 Winter Games (from Kary Klismet). … Here's what Australia will be wearing in Beijing (thanks, Phil).

Grab Bag: Couple of cycling notes from our own Jamie Rathjen: New uniforms for women's team FDJ Nouvelle-Aquitane Futuroscope and men's team Quick Step-AlphaVinyl. Also, women's team Andy Schleck-CP NVST-Immo had their new jerseys banned by the UCI for being too similar to several other teams', so they're selling them on Facebook. … USA Volleyball has signed a new apparel deal with Mizuno. Per volleyball expert Jeremy Brahm, the team left Mizuno to sign with Adidas in 2017. … Also from Jeremy: This behind-the-scenes shot of cameramen filming a Formula 1 race in 1969 is wild — that guy is just a few feet from an oncoming car! … Here's a feature story on the fall and rebirth of French sportswear brand Le Coq Sportif, which produced many iconic soccer uniforms from the 1980s (from Ed Żelaski). … … The newest edition of the Catwoman comics will feature a new logo for the superhero (from John Cerone). … New uniforms are coming for India's army (from Kary Klismet). … A bit of irony from Scott Rogers: An Army recruitment center near his home got a new sign installation, thanks to a company called Make Signs Not War.