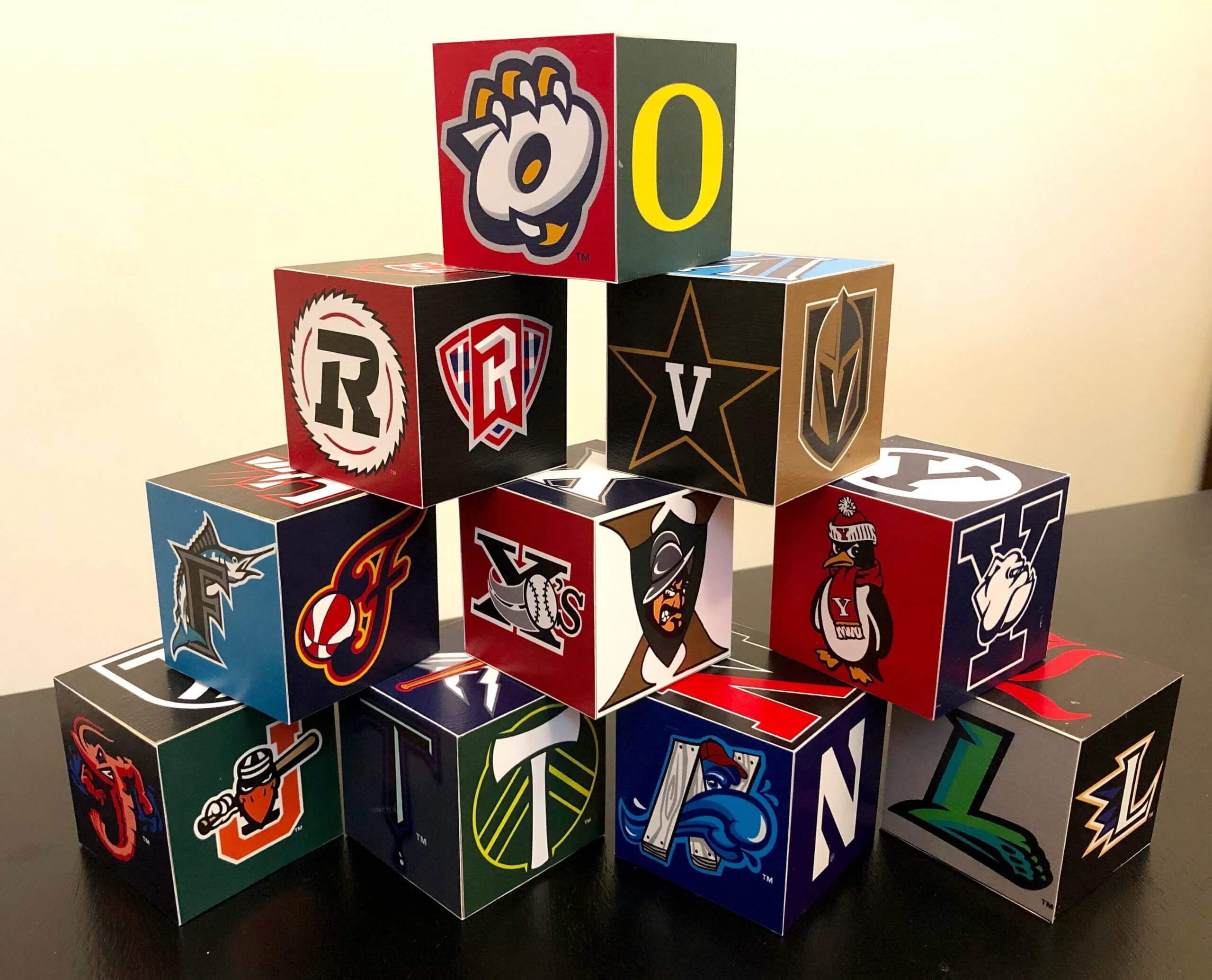 For all images, click to enlarge
A year ago — almost to the day — we had a guest post from reader Loren Southard, who told us about the completely awesome DIY uni-themed building blocks that he created for his newborn son.
That post made a big impression on reader Eric Wall, who followed up with his own DIY blocks project. I'll hand the mic over to him now — take it away, Eric.
My Building Block Project
By Eric Wall
When I saw Loren Southard's piece about his DIY building blocks, I loved the idea and bookmarked that entry for whenever my wife and I became pregnant with our first child. Sure enough, 2020 came and we are now expecting our first child (a girl). I used Loren's step-by-step guide to create my own set of blocks for our daughter, but I wanted to put my own spin on it.
Like most people, I have a favorite team in every sport — the Red Sox, Eagles, Celtics, Bruins, Army (I work in the athletics department at West Point), and several soccer teams — so I wanted to use those teams' number fonts for the numerals 0 through 9. In addition, my wife is an avid Yankees fan, so I also created a Yankees-font number set. Here's a breakdown of which player and team I honored for each number, along with some photos of the resulting blocks: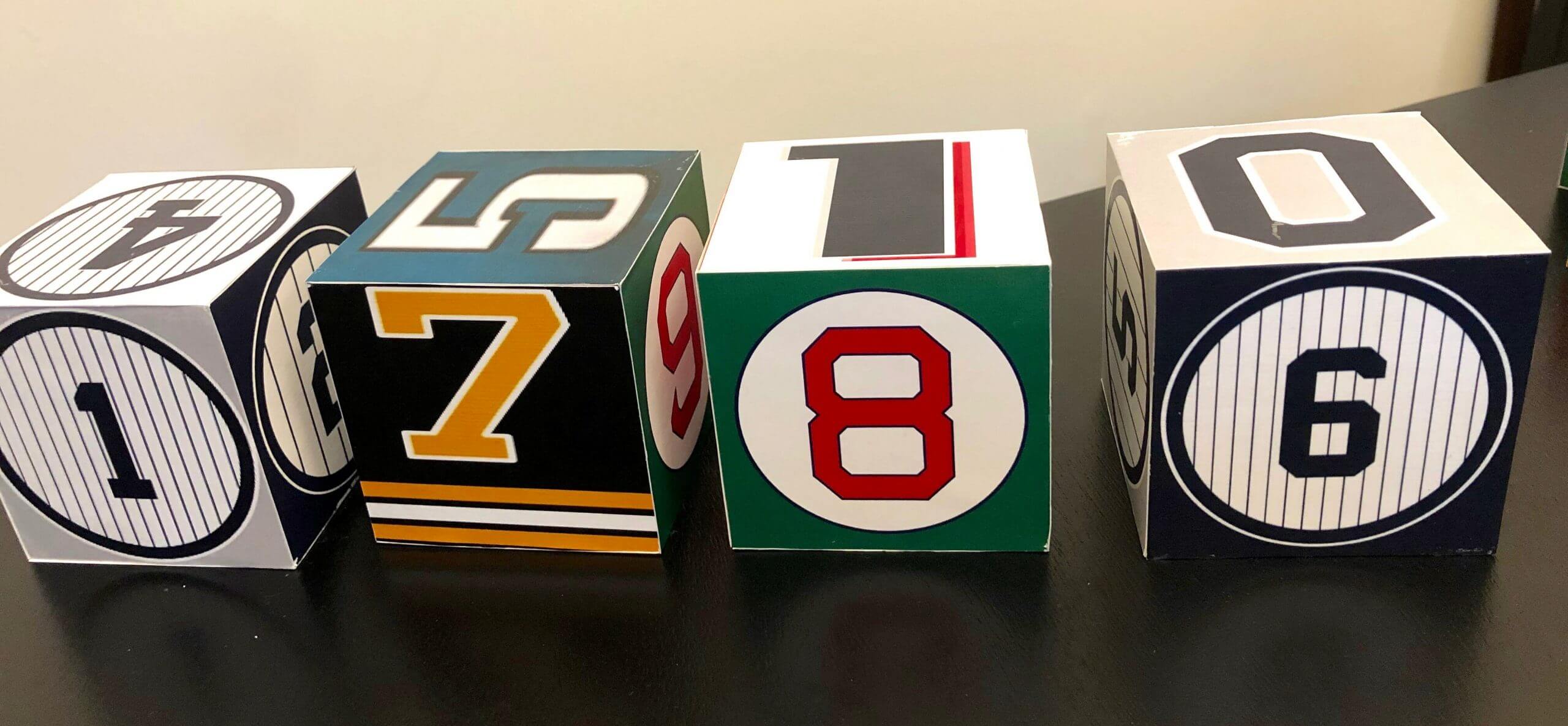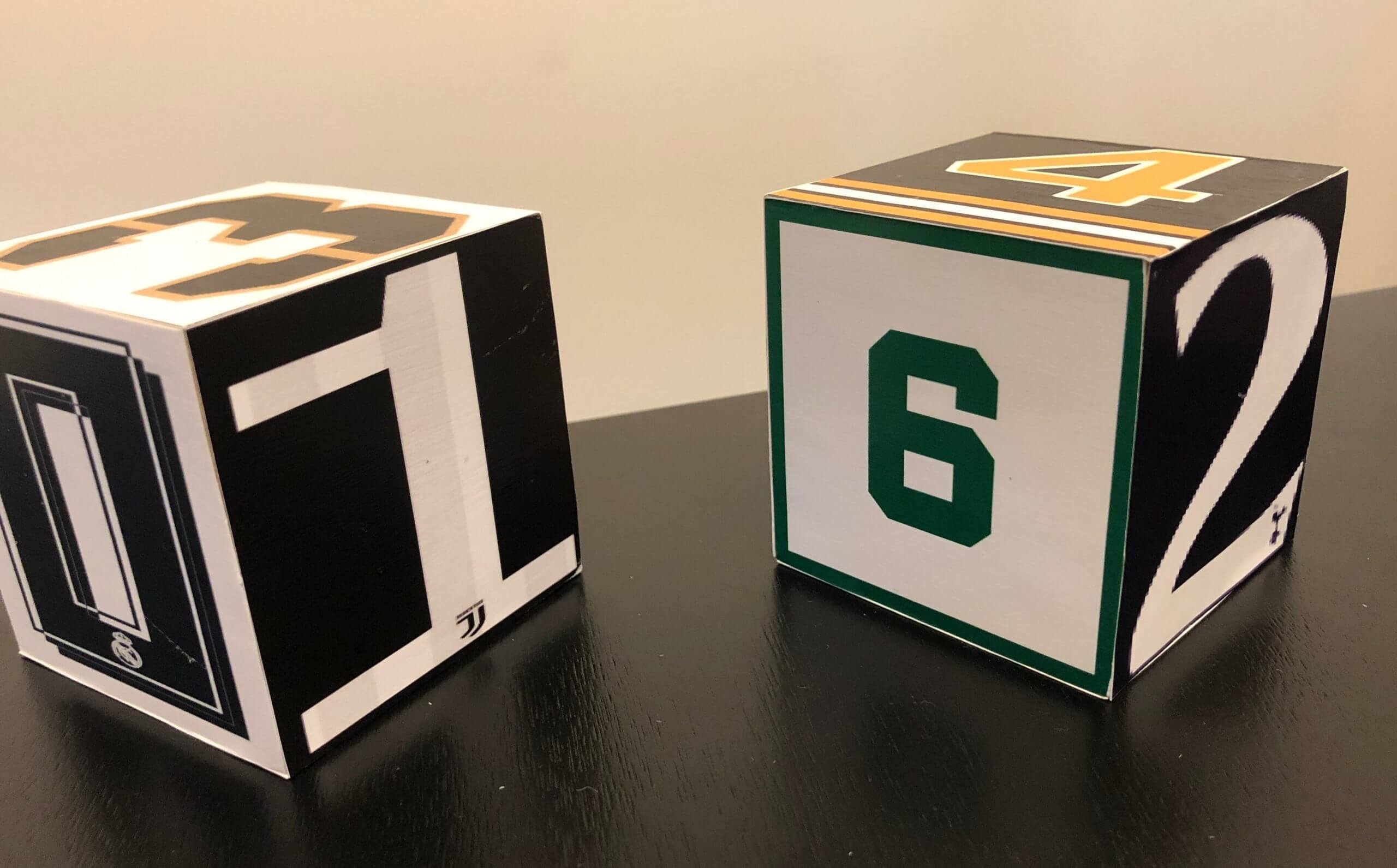 For the letters of the alphabet, I wanted to incorporate my love of letter-based logos. So each letter from A through Z is represented by its own block, and the six sides of each letter block have six different sport teams' logos — six different Cs, six different Ns, and so on. (I included pro, college, high school, and semi-pro teams.)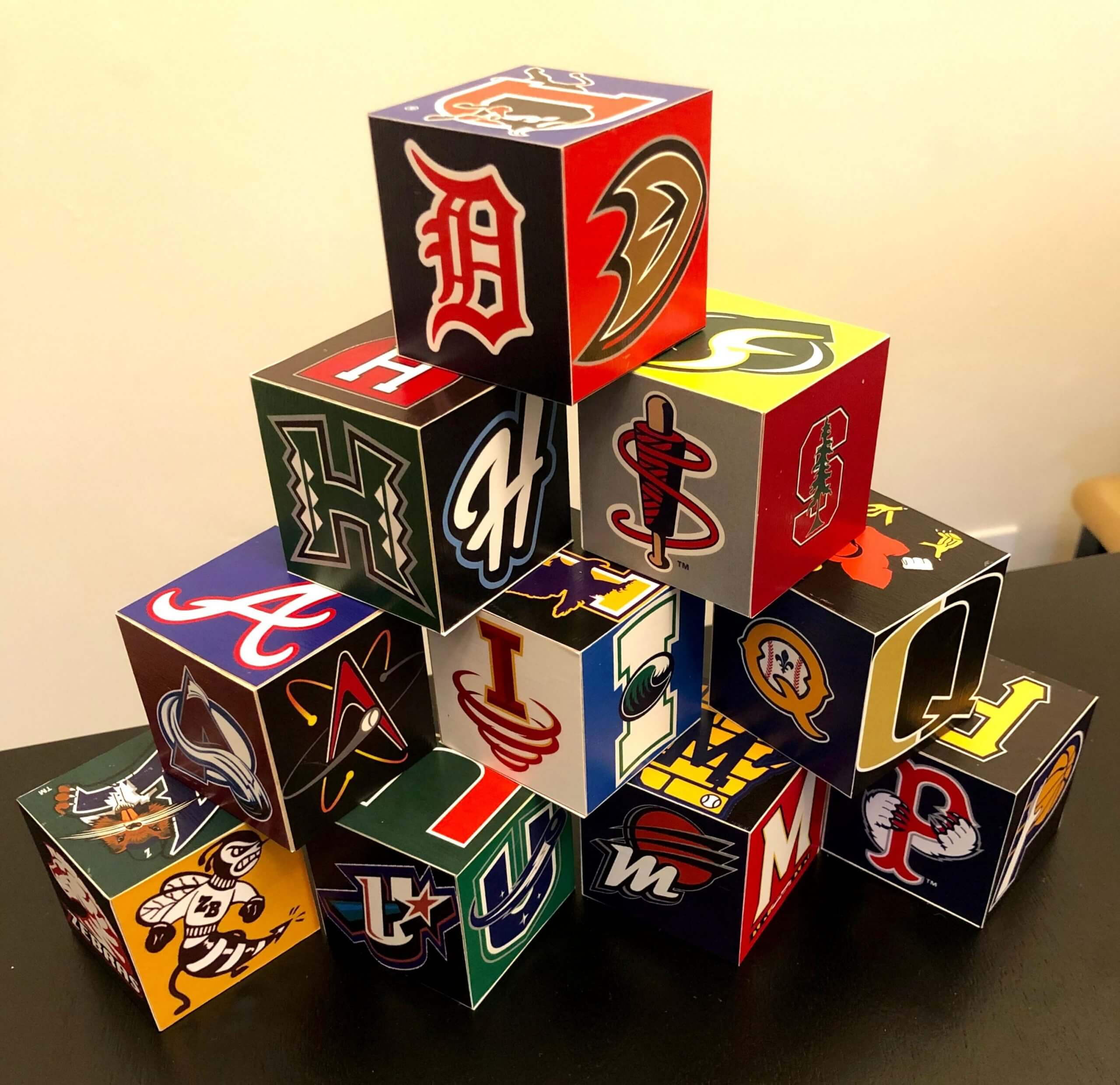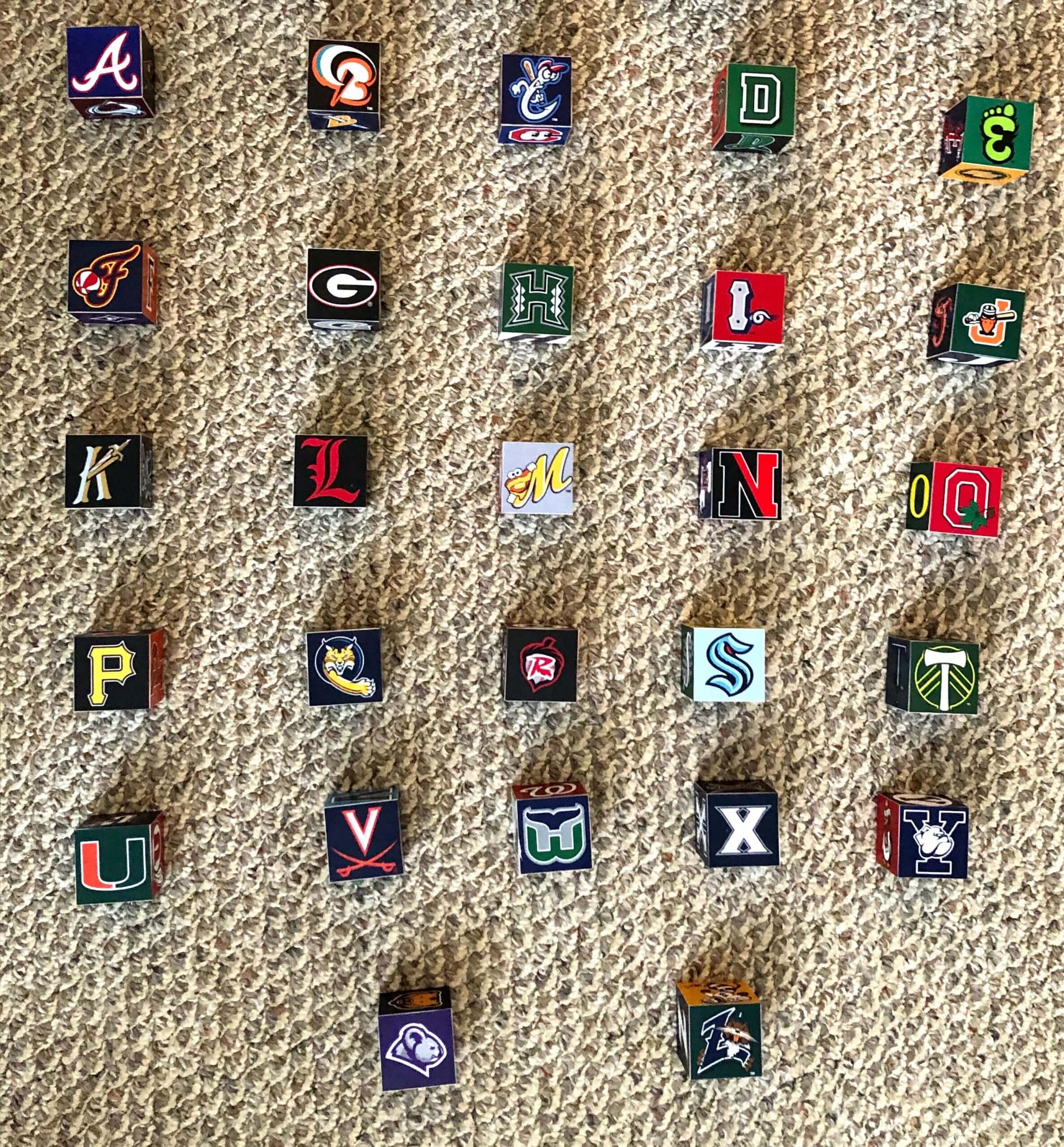 SportsLogos.net was a great resource for finding the letter logos. As you might expect, the letters Q, X, and Z were the hardest — they took a fair amount of time and they weren't perfect. But I went through as many leagues and organizations as I could, which led me to teams like the Quebec Bulldogs. Collegiate summer baseball leagues came in handy a few times as well.
I expanded the search by googling "colleges that start with the letter …" That led me to some schools like Quincy University. Eventually that ran dry, so I turned my attention to high schools by googling town names that started with a particular letter. I also came across a mascot database site, which was helpful.
Some of the things I came up with were stretches, and in a few cases I had to use multiple logos from the same team, something I had hoped to avoid. Here's how it all ended up: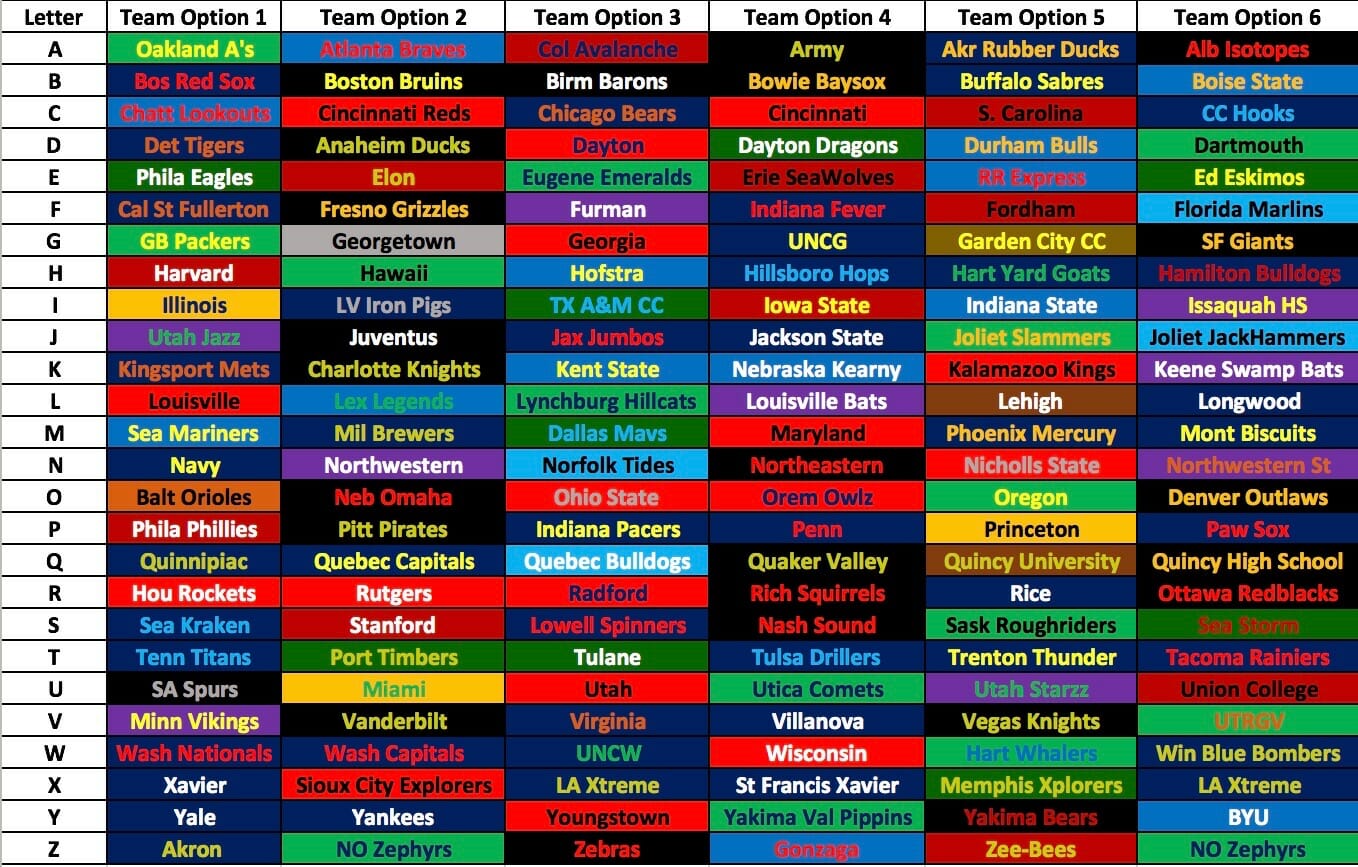 At the end of the project, I had one extra block left, so I put some animal logos that matched the theme of our daughter's nursery: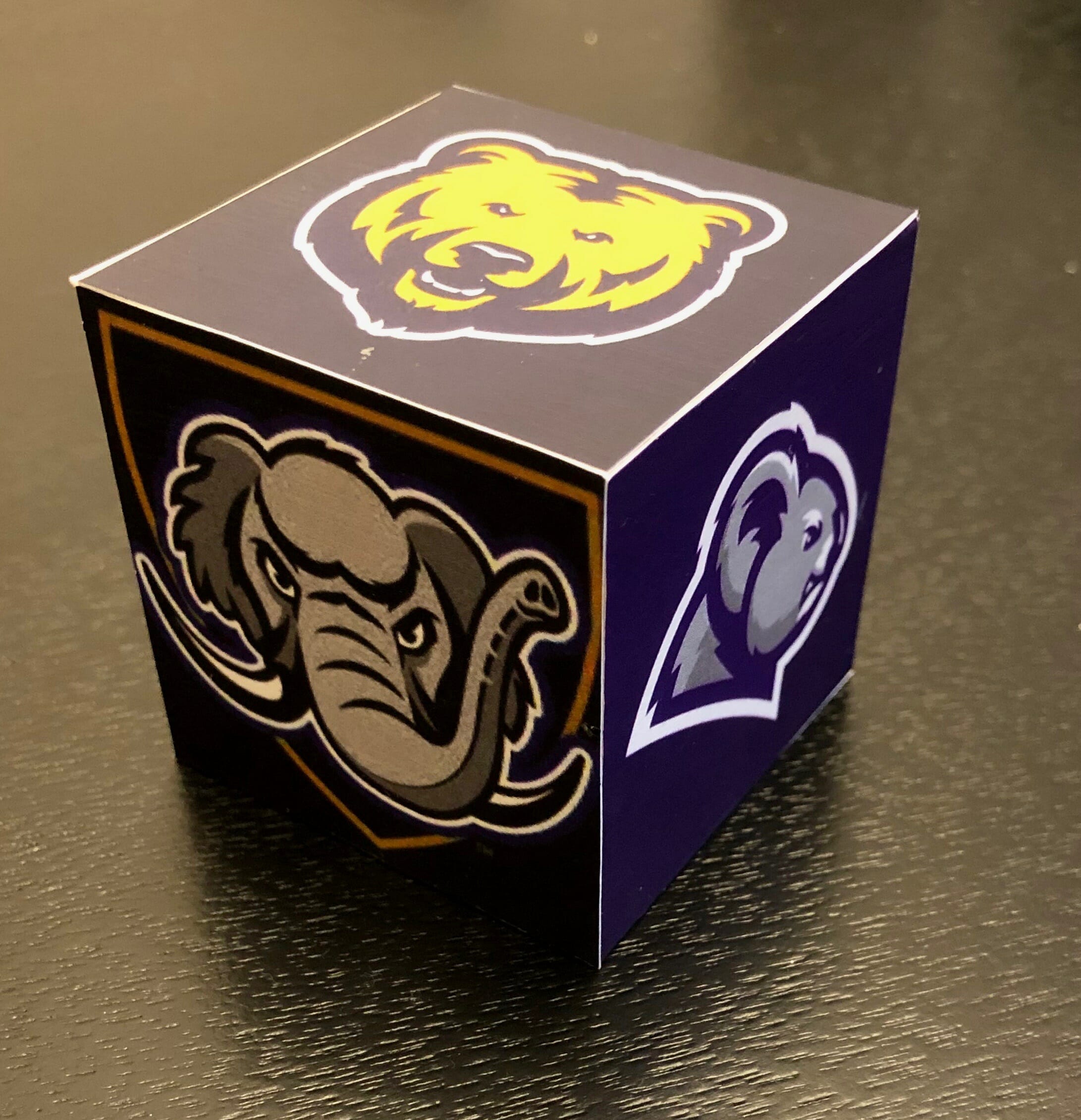 Overall, I felt like this would be a fun way to pass on my affinity for logos and uniforms to my child, and also a fun way for her to learn the alphabet and numbers.
———
Paul here. Is that fantastic or what? Such a sensational project!
Eric wrote all of that for me on Dec. 2. I'm happy to report that his daughter was born eight days later, on Dec. 10, and the entire family is doing well. Say hello to Abby Jean Wall: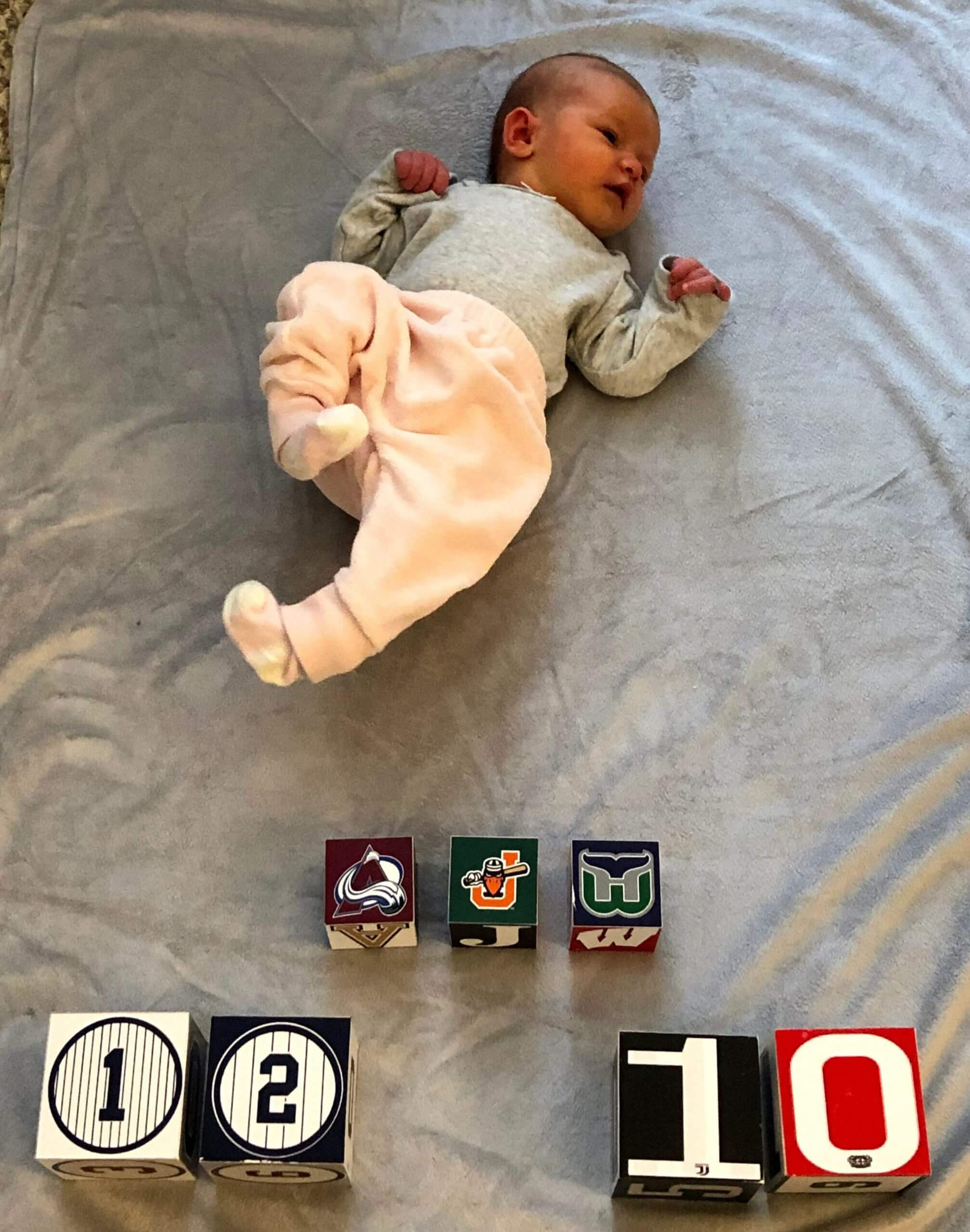 But wait, there's more: Since Eric's project was inspired by Loren Southard's blocks from last year, I shared Eric's story and photos with Loren. Here's his response:
This made my day! So great to hear that Eric was inspired by that idea, and his blocks are amazing.

My son is now 22 months old and has really started to build with his blocks — it's fun to watch. I'm sure Eric will feel the same way with his daughter.

Earlier this year, before everything shut down, I worked on another project that's based on these blocks. I saw something called Olliblocks, which swapped out letters and numbers for people. So I took that same approach to make some of my favorite L.A. athletes. My son loves these but mostly because he can stack them up and then run them over with his cars: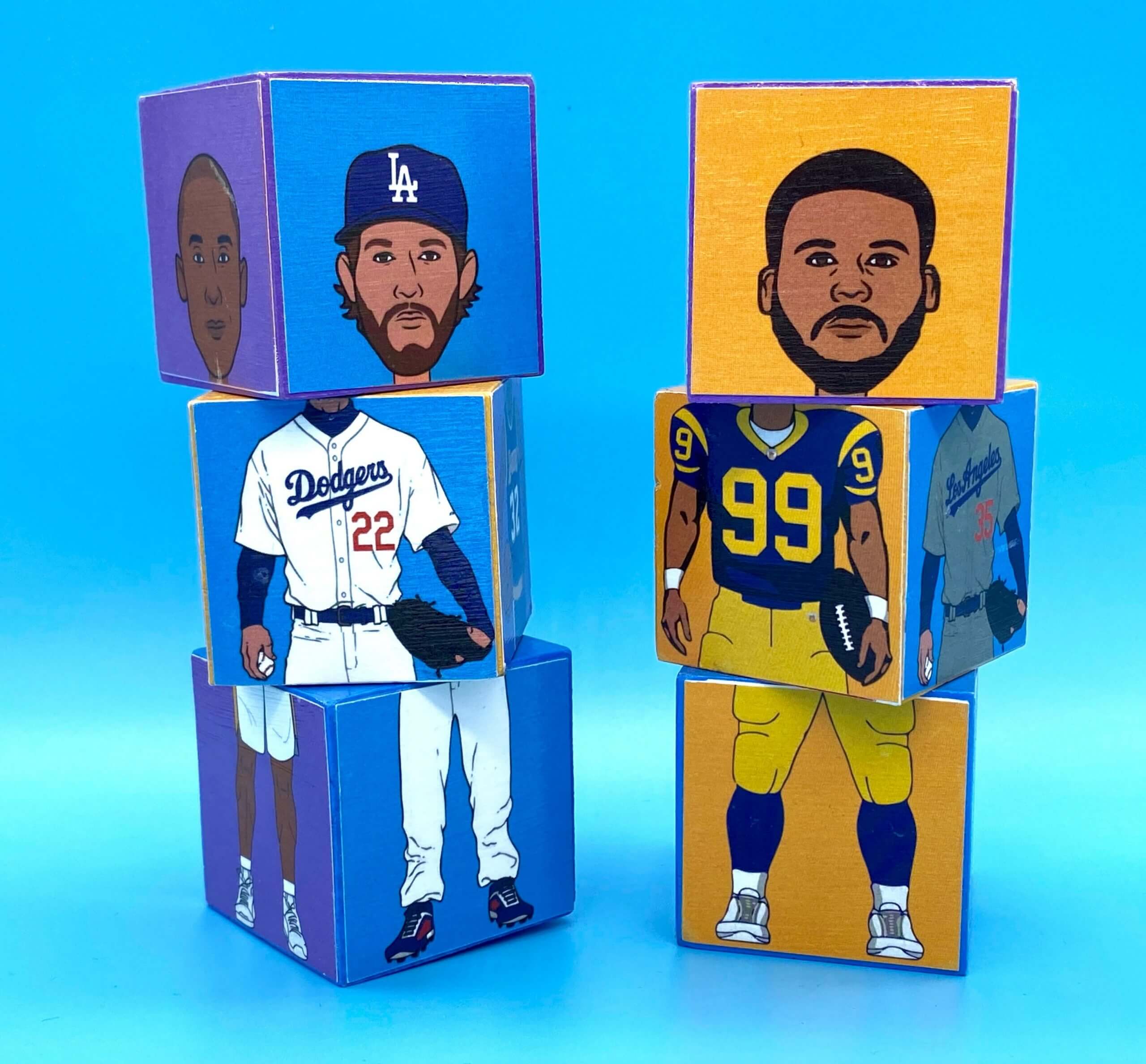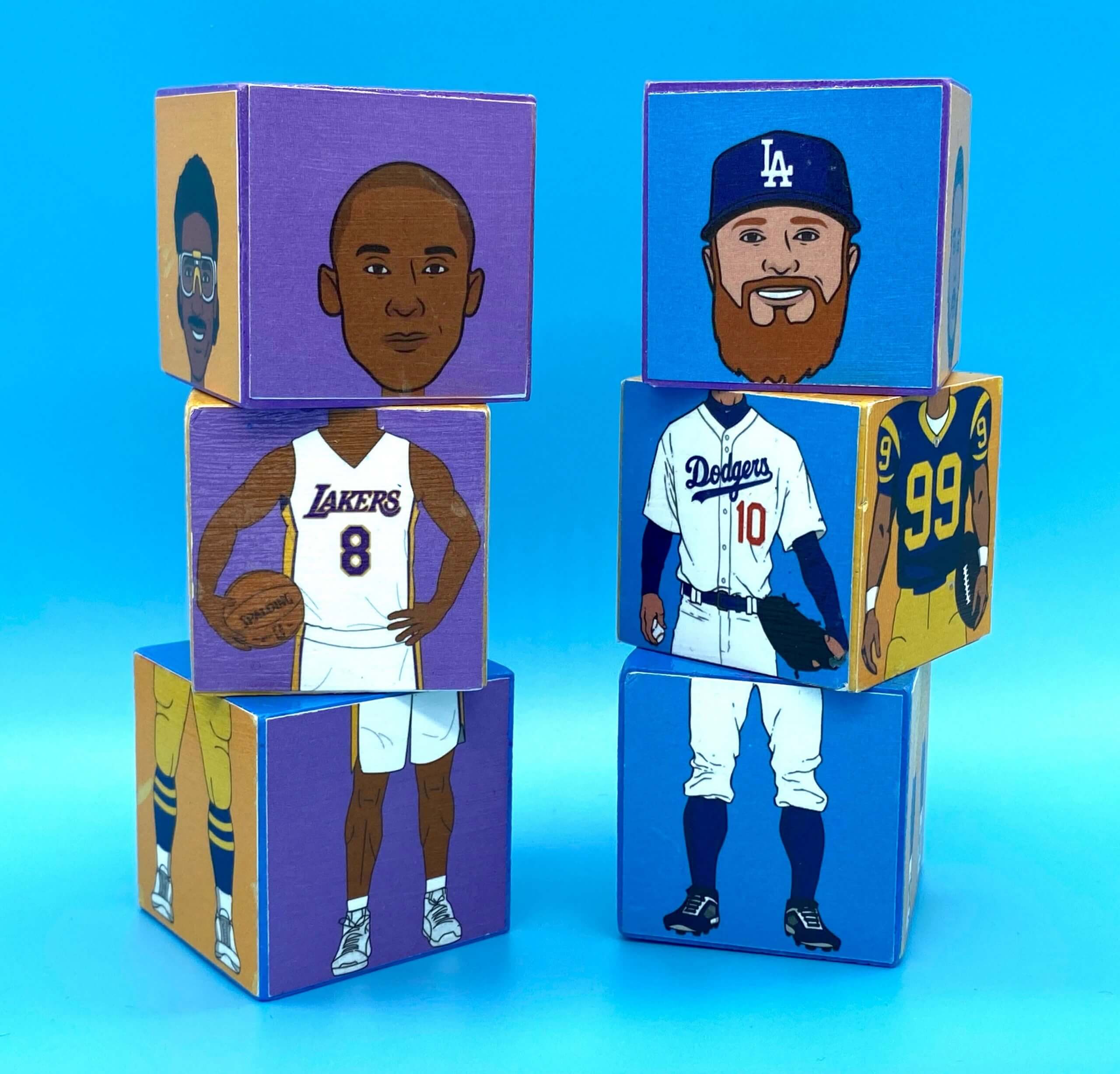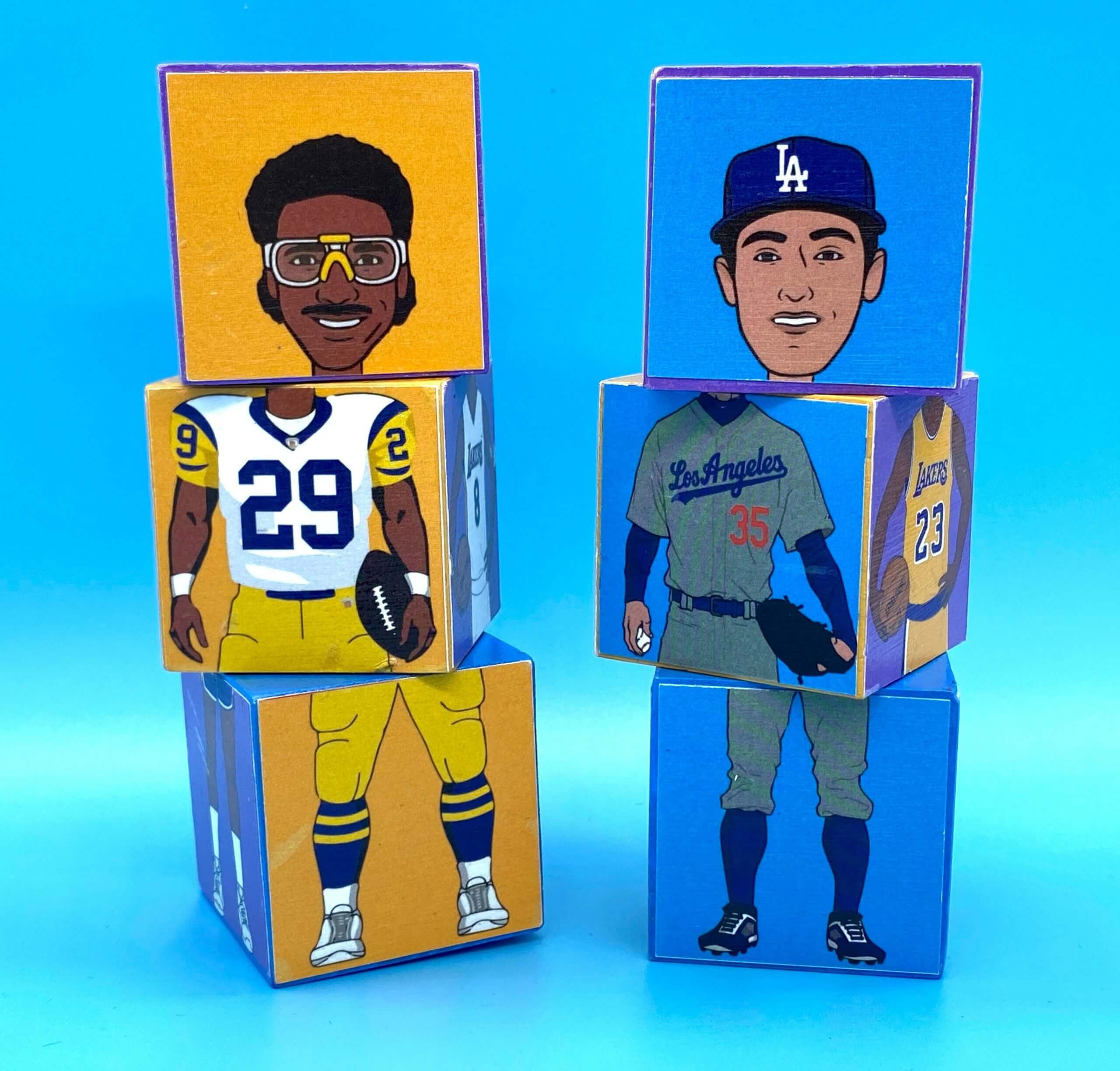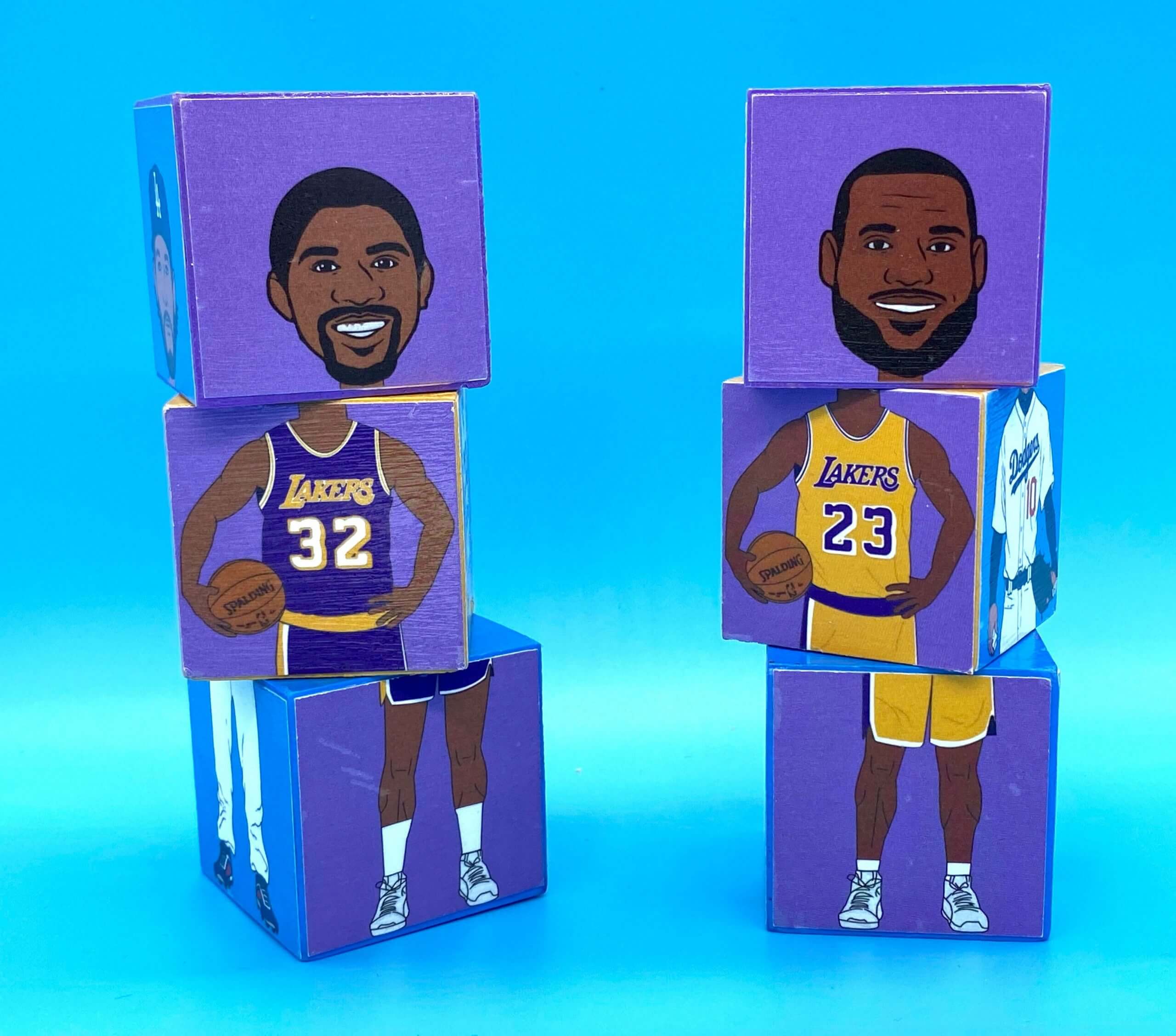 Oh, man — so amazing! I can't even begin to express how inspiring all of this is. Please join me in thanking Loren and Eric for sharing their fabulous work. Their kids are lucky to have them as parents!
• • • • •
• • • • •
Click to enlarge
Real glimpse of virtual uniforms: This season's Pro Bowl has been cancelled. Instead, there will be a virtual Pro Bowl played in Madden NFL 21. With the Pro Bowl rosters announced yesterday, we're now seeing what are, apparently, the virtual uniforms.
And guess what: They don't totally suck! At least not as much as most Pro Bowl uniforms. Here's a bit of video:
Fifth #ProBowl nod. Fourth in a row. First in Arizona 👏@DeAndreHopkins x @EAMaddenNFL pic.twitter.com/EbN8Pvu8jq

— Arizona Cardinals (@AZCardinals) December 22, 2020
Yeah, the gradient side panels are pretty embarrassing, and of course the whole "It's the Pro Bowl so we have to go mono" thing is annoying. But still, this could be (and usually has been!) a lot worse. Too bad it won't actually appear on a real-world field.
(Thanks to @risingfan123 and our own Alex Hider for spotting these.)
• • • • •
• • • • •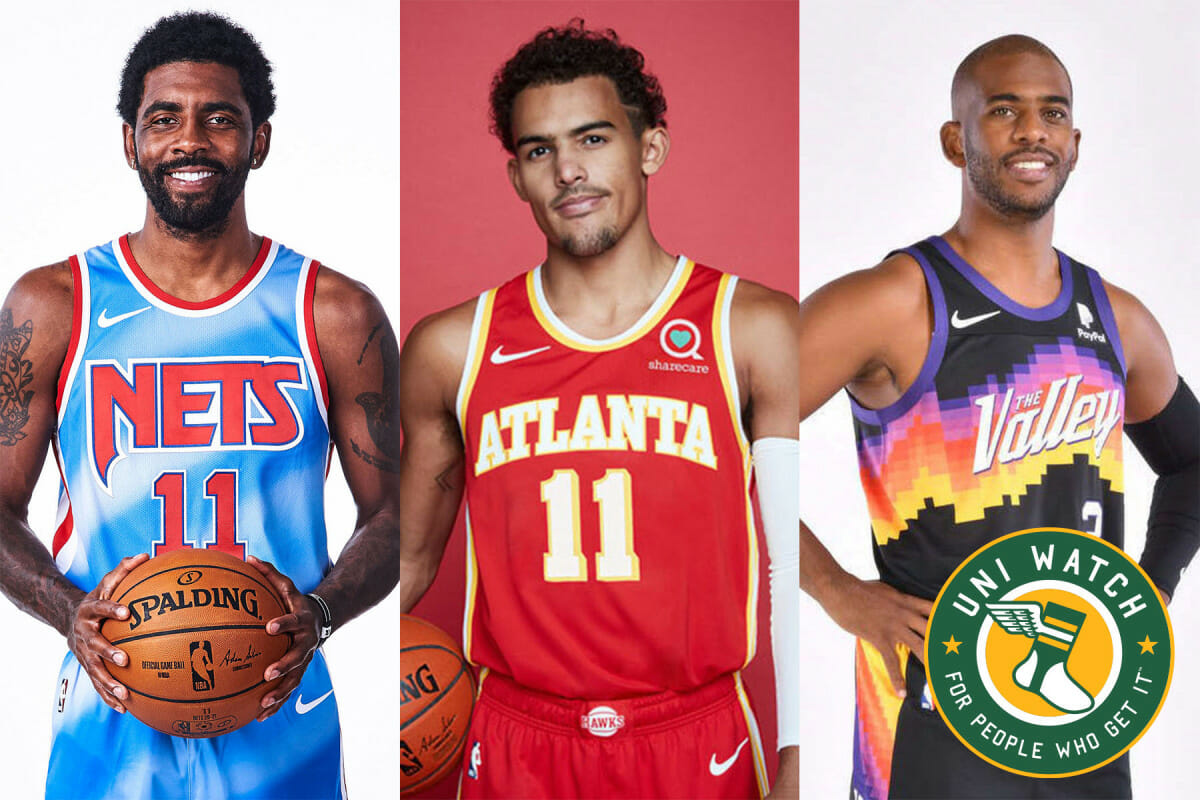 Click to enlarge
NBA Season Preview reminder: In case you missed it on Monday, the annual Uni Watch NBA Season Preview, with everything you need to know about this season's new uniforms, logos, courts, and more (including the Nets' new tie-dye throwback, the Hawks' new uni set, and the Suns' new City alternate, all shown above), is available now on InsideHook. Enjoy!
• • • • •
• • • • •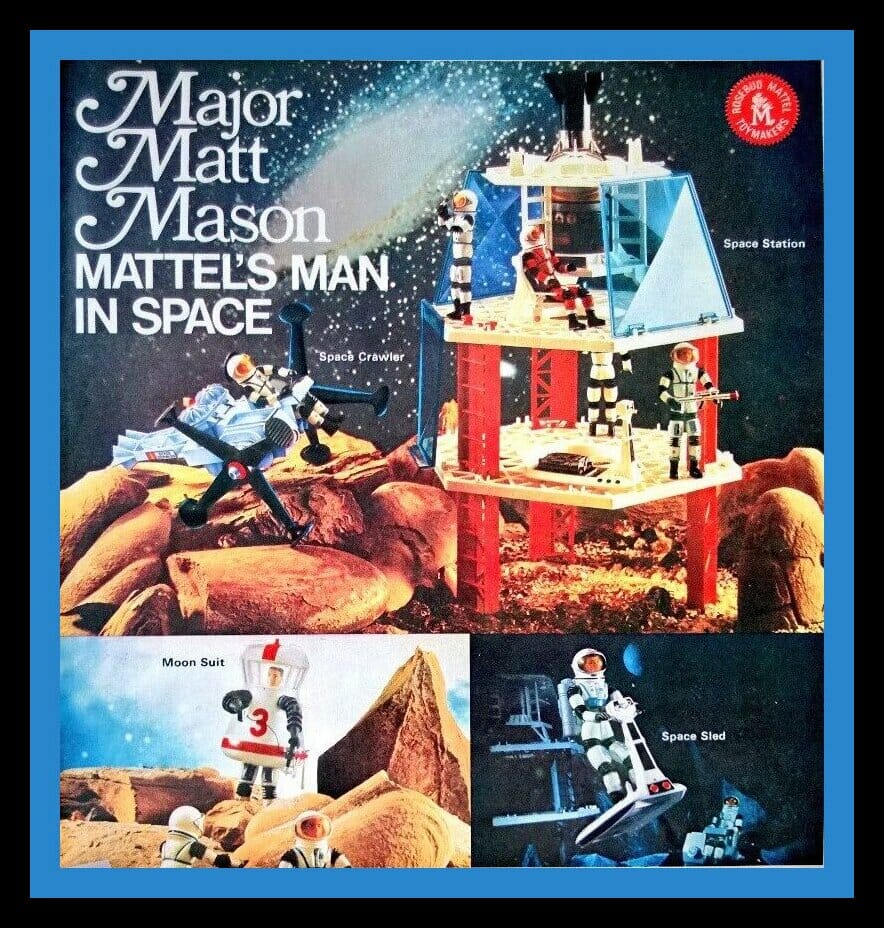 Click to enlarge
Collector's Corner
By Brinke Guthrie
Follow @brinkeguthrie    
Welcome to the three-days-until-Christmas edition of Collector's Corner! We're going with a bit of a different format today, as we'll be taking a look at some of my favorite toys that Santa Claus brought for me back in the mid- to late 1960s. I had all this stuff — I swear we had stock in Mattel back then.
We're starting off with one of the two biggest presents: the Matt Mason Space Station. (That auction listing is over but it has a nice series of photos.) Here I am with it, Christmas 1968. You could play with it in its standard modular two-deck style, or detach one level and put it next door. The Space Crawler (sold separately!) could be attached on top as a winch, a flashing beacon on the top could recess and then light the interior, and fold-down "solar panels" protected Matt and his friends. Just incredibly well-designed (although I do remember being a bit distressed that "Santa" had somehow managed to put the control panel stickers on wrong — it was already assembled by the tree!).
The other big present back then was this Fireball XL5 spaceship by MPC. (Got a spare $20,000? You can get one here.)
Quick story here: When I was about five years old, our family went over to see my grandma a few weeks prior to Christmas. My mom went to talk to her in the back bedroom. They took forever, and I got tired of waiting, so I went back to get them moving. They had forgotten to lock the door — a critical error on their part. I open the door, and there's the very same Fireball you see below, sitting on the bed. I go bananas. They gave me the nose cone section to placate me.
(I did buy this very nice die-cast version about 15 years ago, which remains on my desk to this day.) 
Now let's see what else was in Santa's sleigh way back when:
 • Got some more Matt Mason stuff here, and yes sir, I had it all — the Firebolt Space Cannon, the Uni-Tred Space Hauler and Space Bubble, and Matt's friend Captain Lazer:
 • Captain Action was a lot of fun. This guy was the same size as your standard G.I. Joe. By himself, he looks like a rather bland, boring guy. But! You could outfit him like Captain America, Superman, Batman, the Lone Ranger (outfits sold separately), and many other superheroes of the period. You could even switch his hair and face with a two-piece accessory. With all these uniforms, ol' Cap surely Got It™:
• Hot Wheels was another big one for me back then. Check out this lineup: the Picture Maker Car Designer Set (my wife tells me she had a "Barbie" version); the Car Carrier Showcase Plaque; the Action City Playset; the Super Charger Grand Prix Race Set; the Wipe-Out Race Game; and the Sizzlers Juice Machine! 
 • I remember this Remco Voyage to the Bottom of the Sea Seaview sub quite well. (This auction has ended, but the listing still has nice pictures.) I loved this sub but always wondered why they did it in yellow and blue — I kept thinking, "This isn't yellow on TV!" I thought that blue plastic thing at the nose was clunky, too. And I removed the stickers. Admiral Nelson's Seaview didn't have stickers, so why should mine?
 • I had this G.I. Joe Space Capsule, too. I think this came out before I went all-in on Major Matt Mason. Joe fit into this capsule quite well, but it was really hard to get him into that astronaut suit:
 • In the early 1970s, Mattel came out with a line of really cool die-cast airplanes — a companion line to Hot Wheels, I suppose — called, obviously, Hot Birds. This is their "On Target" flying set, complete with "Flight Deck" hand controller.
 • And finally: Danger, Will Robinson! Who can forget the Remco Lost in Space robot? Here was another case where toy designers messed up — the TV robot was silver, but the toy was blue and red:
Ah, good memories. Have a Merry Christmas! 
• • • • •
• • • • •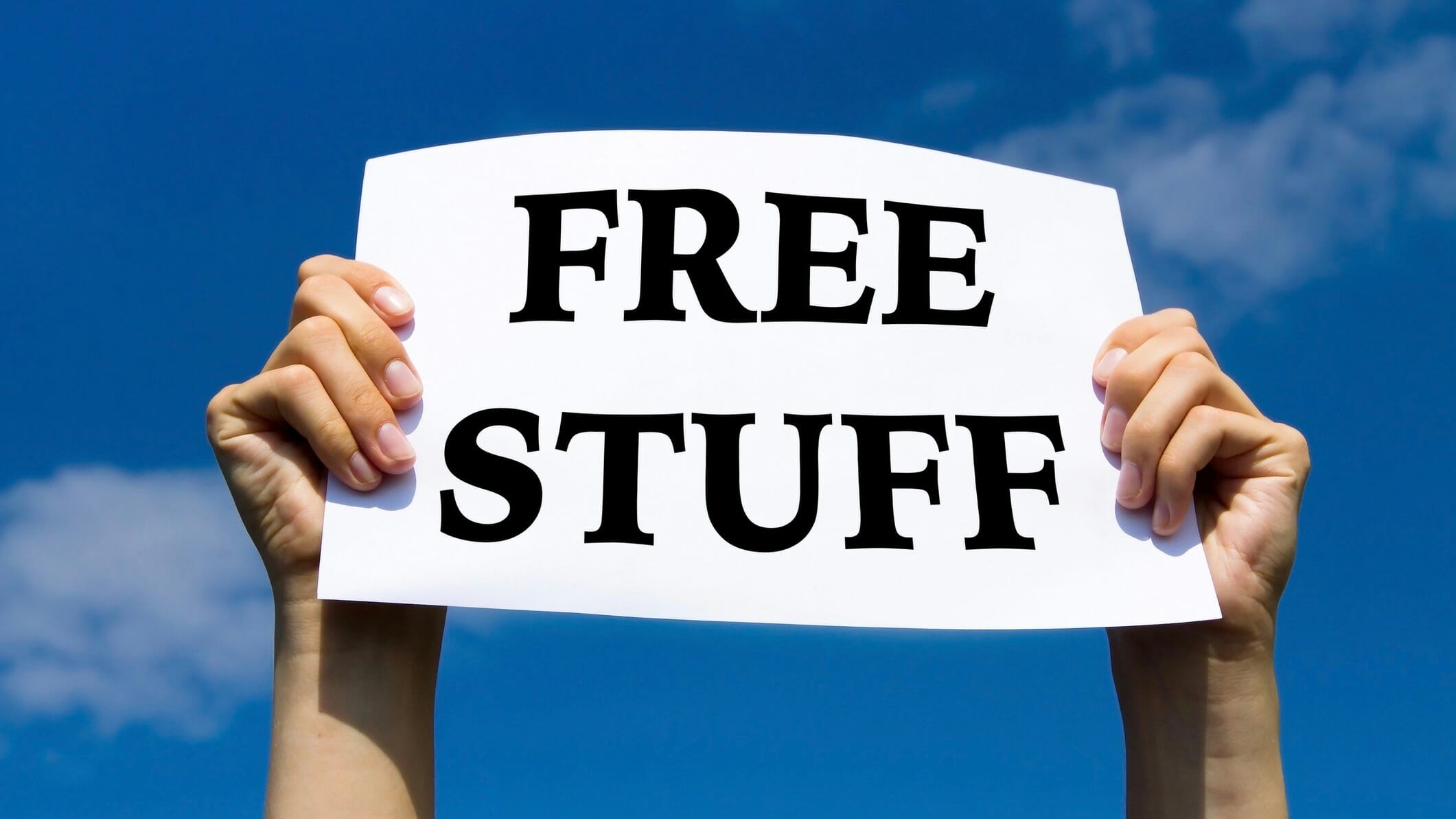 Raffle reminder: In case you missed it on Friday, our annual Uni Watch Year-End Raffle, in which I give away all the freebies I've received over the course of the year, is now under way. Full details here.
• • • • •
• • • • •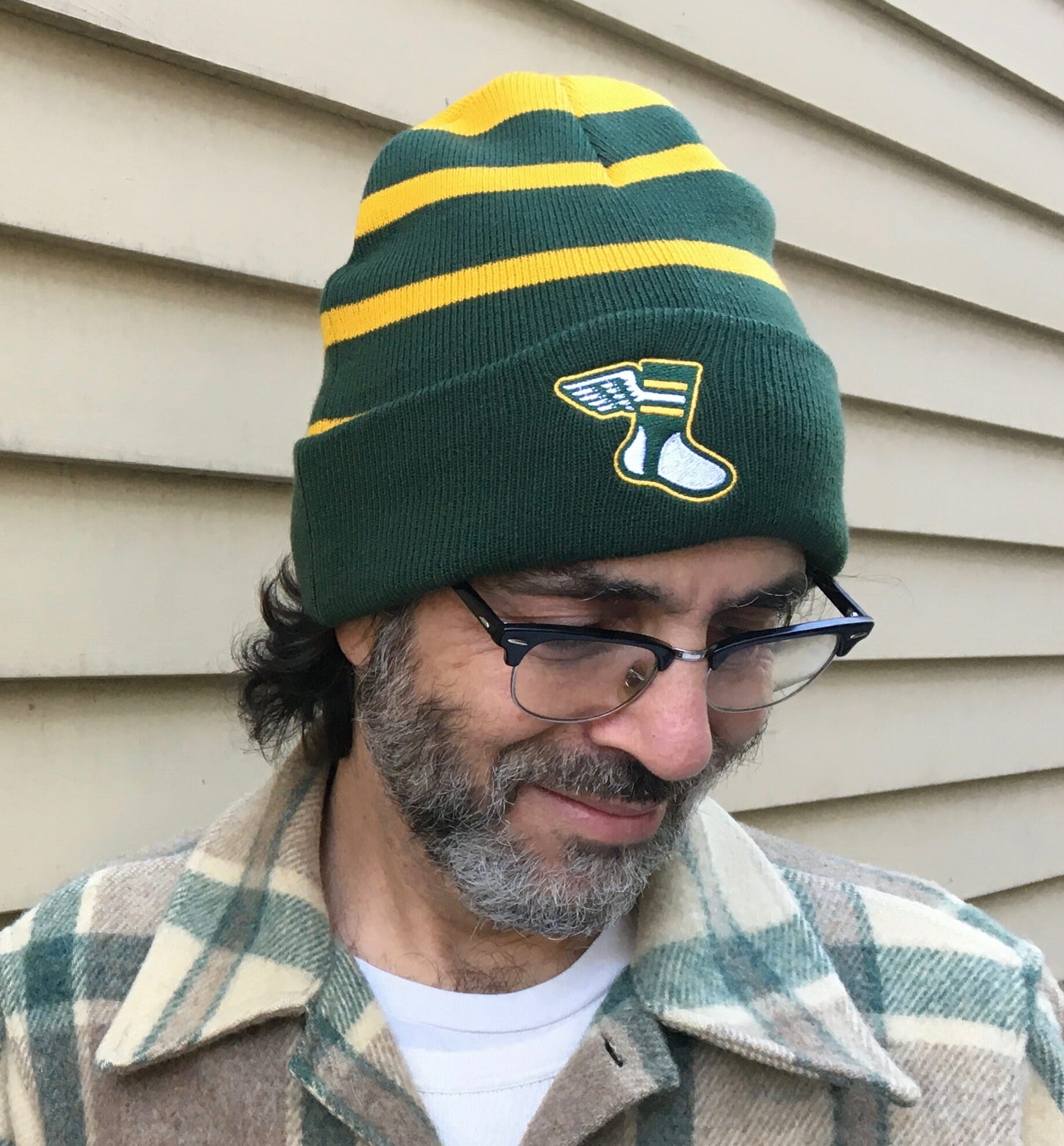 Click to enlarge
Ready for winter: Now that winter has officially begun, I figured I should give my new Uni Watch Toque a test-drive. Truthfully, I almost never wear this type of hat — I think it tends to look better on people with round-ish faces, not long faces like mine — but I have to say, I think this one looks pretty great! I'll definitely be wearing it this season.
Want one for yourself? It's available here.
• • • • •
• • • • •
The Ticker
By Alex Hider

Baseball News: The Oakland Coliseum has yet another new corporate-advertised name. It's the sixth name the stadium has had in its history (from Timmy Donahue). … Friend of the site and SportsLogos.net honcho Chris Creamer shared this photo of himself serving as a Blue Jays usher in 2003. "Yes, we wore uniform shirts with the old logo on it, and yes I brought it up with my superiors," he said.

NFL News: The Bears' official 2020 team photo is actually an illustration, as the team didn't want to get everyone together for fear of spreading the coronavirus (from Mike Chamernik). … Nate Burleson was on NFL Network yesterday and mentioned that he'd recently gotten a "new" Browns helmet from the team. While the helmet did have the matte finish they wear now, Bulreson's helmet had an old grey facemask and an old wordmark on the front bumper (from @ChiefMacDawg). … Rams OL Joe Scibelli, who played in the 1960s and '70s, at one point had a plate attached to the side of his helmet. "As a teenager, I wrote to the Rams, asking what purpose it served," says Wayne Krantz. "The reply was that it was protection for a fractured orbit." … @sonicsean89 found an NFL mug that dates back between 1970 and 1976 — "After the merge but before the Bucs and Seahawks joined," he said.

College Football News: Western Illinois will have new home uniforms when they take the field in their pandemic-delayed 2020-21 season this spring (from Tom Pachuta).

Hockey News: Several teams unveiled their sweaters for the upcoming 2021 World Juniors Championship (from @mayorNHL). … New uniforms for the Watertown (N.Y.) Wolves of the Federal Prospects Hockey League (from Kary Klismet).

Basketball News: The FIBA Foundation — that's FIBA's charitable arm — has a new logo (from Kary Klismet). … Also from Kary: A behind-the-scenes look at the design and production process of NBA championship rings. … Check out these scenes from an old episode of Miami Vice featuring former NBA star Bernard King wearing a fictitious team's uniform (from @retro_70s). … NBA commish Adam Silver said yesterday that the league may soon add some new teams, and used the unfortunate metaphor of comparing NBA expansion to "manifest destiny."

College Hoops: New basketball floor for Highland Community College in Illinois (from Kary Klismet). … Gonzaga wore new alternates with near-illegible chest lettering last night against Northwestern State.

Soccer News: There are reports that Chicago Fire is getting a new crest for the 2022 season, and it may have already leaked (from Kary Klismet). … New kits for Japanese sides Sanfreece Hiroshima and V-Varen Nagasaki (both from Sy Hart).

Grab Bag: Couple of notes from Kary Klismet: New uniforms for the Reno (Kan.) County Sheriff's Office; Afghanistan has approved a new stadium in Kabul for its national cricket team. … The Army now has body armor plates designed to fit a woman's physique (from Timmy Donahue).
• • • • •
• • • • •