Click to enlarge
As most of you know by now, I tend to take a pretty dim view of "storytelling" details in sports brand design. Most of them tend to feel torturously strained, a lot of it doesn't actually work from a functional-design standpoint (basing your number font on a local architectural feature or chiseled stonemasonry or a 44-degree angle doesn't amount to much if the font is hard to read or just unattractive), and the whole exercise usually feels like an exercise in box-checking. Like, "Okay, we have to embed three 'stories' in this design. I've got one — Bill, do you have one to add to the mix? What about you, Jean?" Moreover, a lot of that box-checking feels like it's been reverse-engineered: "What about this stripe — does that mean anything? If not, what could we say it means?"
But while "storytelling" is often risible, that's not to say that it never works. On the contrary, there are some good examples of it out there. Case in point: When my favorite team, the Mets, came into existence 60 years ago, their blue/orange color scheme was intended as a nod to New York City's two recently departed National League teams — blue for the Dodgers and orange for the Giants. This worked well because (a) it told a baseball story; (b) the wounds of the Giants' and Dodgers' departures were still fresh; (c) it was good functional design, because blue and orange work extremely well together; and (d) blue and orange also happen to be the colors of the NYC flag.
Now another New York baseball team, albeit a much lower-profile one, has come up with a similarly effective bit of "storytelling." That would be the new Staten Island FerryHawks, who'll be debuting next spring in the Atlantic League. Their team identity and inaugural logo set was recently released, but that news mostly got lost in the Thanksgiving shuffle, so I want to talk about it today.
As you can see at the top of this page, the FerryHawks' branding includes references to obvious things like the Staten Island Ferry and the Verrazzano-Narrows Bridge (which are the two primary ways to access the island and are endemic to Staten Island culture). Nothing surprising there. I don't mean that as a criticism — on the contrary, the ferry and the bridge are very appropriate visual signifiers for a Staten Island team. So far, so good.
Now take a look at the secondary and tertiary logos shown here (click to enlarge):

Okay, so there's the ferry and the bridge again — but look at the hawk's uniform. See how his pants have a green belt? That's because Staten Island has something called the Greenbelt, a series of public parks comprising over 2,800 acres. (Just to put that in perspective, Manhattan's Central Park is 843 acres.) So the green belt represents the Greenbelt!
I love that. If a team said, "We have a lot of lettuce farms in our county so we're making such-and-such uniform element green," that would be just the typical lame-o "storytelling" — too forced, too much of a reach. But taking the actual name of a local feature and recasting that name as a uni element — that's really clever! (Of course, it helps that green is my favorite color, but I'd feel the same way about a literal repurposing of a non-green color name.)
For now, all we have are the logos. But Skye Dillon, who handled the FerryHawks' brand design, tells me that the green belts will also be included on the team's real-life uniforms, which are slated to be unveiled sometime in late January.
I should probably mention here that the FerryHawks' logo package includes some other "storytelling" aspects that feel more strained. For example, the pose of the hawk hitting the ball into the river is supposedly based on Bobby Thomson's 1951 "Shot Heard 'Round the World,", which really seems like a stretch. But the green belt — I like that. (Also: I strongly approve of the hawk going high-cuffed!)
As it happens, my friend Rex recently moved to Staten Island and is also a huuuuge minor league baseball fan (he actually spends most of his vacation time traveling to various MiLB ballparks), plus he's very uni-aware, so I asked him what he thought of the FerryHawks' team name and logo release. Here's his response:
Given the potential alternatives, I'm happy with the team name. Personally, I had lobbied for Stevedores, but at least FerryHawks emphasizes the fact that the stadium is right next to the harbor and includes "Ferry" — the most iconic element of the Island.

We went to the name launch event, where I became the first person ever to buy a FerryHawks team cap, and we put down a deposit for season tickets. Plan on an invite!
Alrighty! You can see the FerryHawks' full logo package here.
• • • • •
• • • • •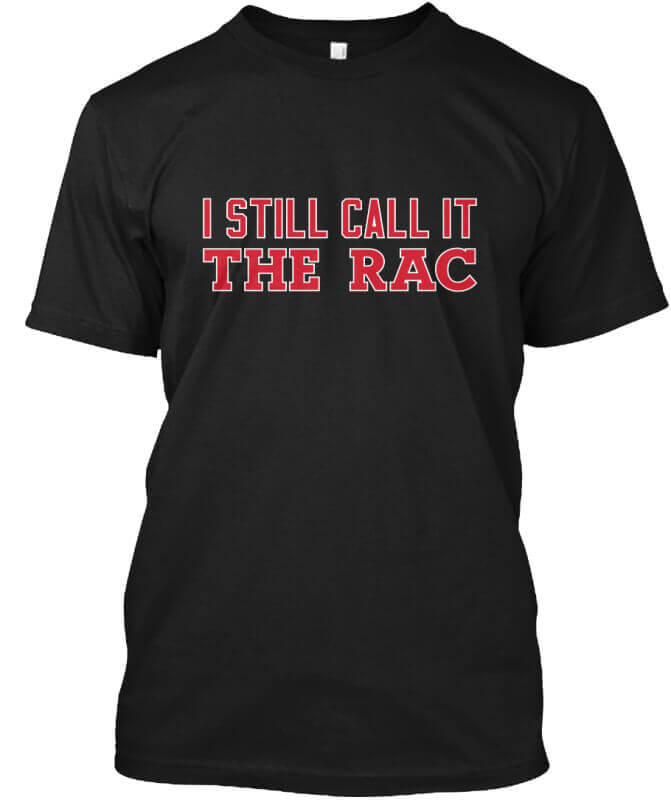 Click to enlarge
ITEM! Naming Wrongs update: It's rare that we have reason to add new Naming Wrongs product these days (mainly because all the new advertised stadium and arena names are just replacements for previous advertised names), but the Rutgers Athletic Center's recent renaming prompted us to crank up the old Naming Wrongs machinery.
Here's where you get get these T-shirts (which are also available in long-sleeved and hoodie versions) in black, red, and grey.
• • • • •
• • • • •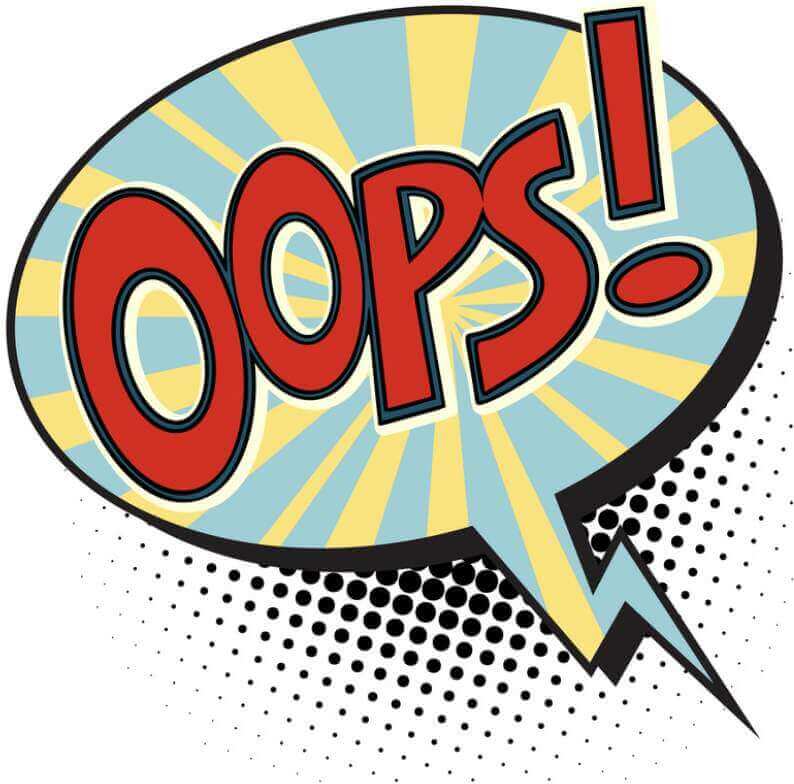 IMPORTANT — Teespring shipping snafu: I don't know if the people at the Teespring warehouse have been sharing a big doobie or what, but in the past two days I've heard from quite a few people who either (a) received three or four of our December pins despite ordering just one, or (b) ordered a December pin and received an empty mailer with no pin inside.
The people who received the extra pins have graciously agreed to go through the hassle of mailing their extras to the people who received the empty mailers (I'll reimburse them for the shipping costs), so my hope is that this will all get resolved in the end. But that will only work if all the affected parties check in with me, so if you received too many December pins or received an empty mailer, please let me know ASAP. Thanks!
Meanwhile, I've let Teespring know about the problem and asked for some of whatever they're smoking.
• • • • •
• • • • •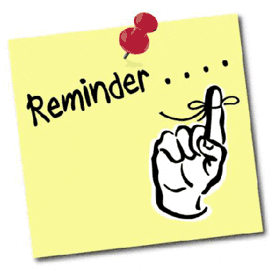 Assorted reminders: A few things to keep in mind:
• In case you missed it on Thursday, my latest piece for Bulletin is an "Ask Me Anything" entry, in which I answer reader-submitted questions. You can check it out here (and you can subscribe to receive my Bulletin posts via email here).
• Our December "Swinging Santa" pin is sold out, but the design is now available on a variety of shirts and hoodies.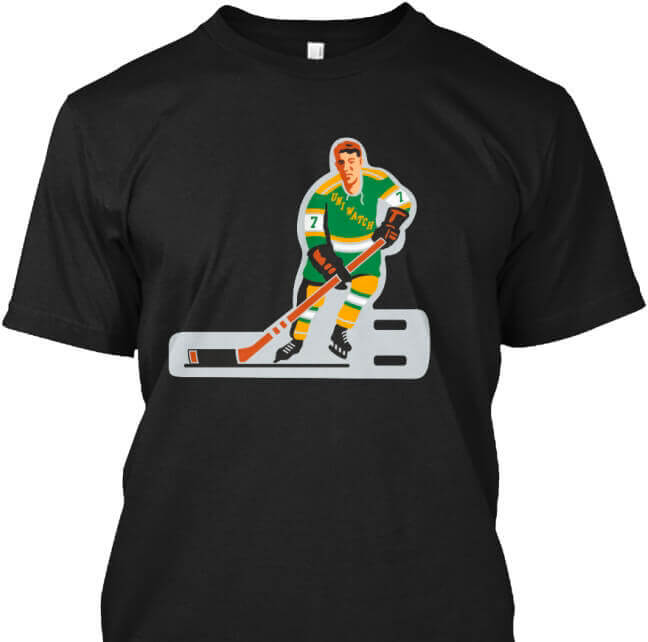 • Speaking of pin designs repurposed for apparel, we now have T-shirts and pint glasses featuring the designs for our table hockey pin and our baseball and football bobblehead pins. They're really fun — full details here.
• We're down to the last few Uni Watch Alternate Caps. Available sizes and full ordering details here.
• If you need other holiday shopping ideas, my annual Uni Watch Holiday Gift Guide, featuring lots of cool uni- and logo-related items, is here, and the full rundown of Uni Watch merchandise is here.
Okay, no more reminders. Thanks!
• • • • •
• • • • •
The Ticker
By Anthony Emerson

Baseball News: While doing some research on the recently deceased Richie Lewis, reader Peter (who didn't share his last name) noticed that in this photo from Lewis's Wikipedia page, taken during his tenure with the Jacksonville Expos, the jersey he's wearing has "Expos" on the back. Did the J-Expos go TNOB during Lewis's tenure, or was this a jersey used only for the photoshoot? … Nicklaus Wallmeyer sends along this story of the Brockton Rox, a team formerly in the Can-Am League, who for a time after their founding wore both "Rox" (a nod to the nearby Red Sox) and "Rocks" (a nod to Brockton native Rocky Marciano) on their jerseys, apparently even in the same game, though I could find no pictures of players wearing both jerseys during games. … Also posted in the college football section: Kinda difficult to see in this image, but that FIU Panthers' wordmark sure looks an awful lot like the Padres' mid-2000s-era wordmark, no? (Great spot by Mike Chaldu.)

Pro Football News: This is so great: L.J. Sparvero spotted a Vikings fan wearing a Vikings/Prince jersey — and by that I mean the fan appeared to have replaced the uni numbers with Prince's unpronounceable glyph from his "Artist" era. I love this so much, you don't even know. … Also posted in the hockey section: The OHL's Hamilton Bulldogs wore Hamilton Tiger-Cats-inspired sweaters last night to honor the Ticats ahead of their Grey Cup appearance (from Wade Heidt). … Also from Wade and speaking of the Ticats, here is their Grey Cup uni combo. … The Ravens are going white-over-purple this weekend (from Andrew Cosentino).

College/High School Football News: Cross-posted from the baseball section: Kinda difficult to see in this image, but that FIU Panthers wordmark sure looks an awful lot like the Padres' mid-2000s-era wordmark, no? (Great spot by Mike Chaldu.)

Hockey News: Here's the latest installment in the Icethetics video series on NHL prototype designs. If you missed the first two installments, they're here and here (from David Firestone). … Cross-posted from the pro football section: The OHL's Hamilton Bulldogs wore Hamilton Tiger-Cats-inspired sweaters last night to honor the Ticats ahead of their Grey Cup appearance (from Wade Heidt). … An Oilers fan created a mini-hockey rink in his backyard, complete with the logo of old Northlands Coliseum at center ice (from Kary Klismet). … In a first, the NHL 22 video game will include women's teams.

NBA News: The New Orleans Jazz apparently went with names below the numbers for at least one game in the late 1970s. Was it maybe just a preseason thing? … It's only a brief clip in the trailer, but it appears that the costume folks working mostly nailed the unis on the new HBO miniseries Winning Time, about the Showtime-era Lakers, though that shot of the back of the Larry Bird jersey makes it look like they got the Celtics' number font wrong (from Brett Baker).

Soccer News: Charlotte FC launched their kits yesterday. Like the rest of their identity, they're pretty boring and safe. Here's the hype video and some shots of some of the details. Reader Jimmy Armstrong was at the launch party and reports that there were tons of jersey-themed giveaways, though he didn't snag a pic of any. He also reports that, naturally, the main kit ad was also all over the party, and the event even featured a speech from the advertiser's CEO. … New throwback kit for Polish side Lech Poznań (from Ed Zelaski). … I always love videos of teams applying patches to soccer jerseys, and this one from the Portland Timbers is no exception (from Jeremy Brahm).
• • • • •
And that'll do it for this week. I have fun plans for the weekend — you too, I hope! Enjoy Phil's Saturday and Sunday content, and I'll see you back here on Monday morning. Peace. — Paul