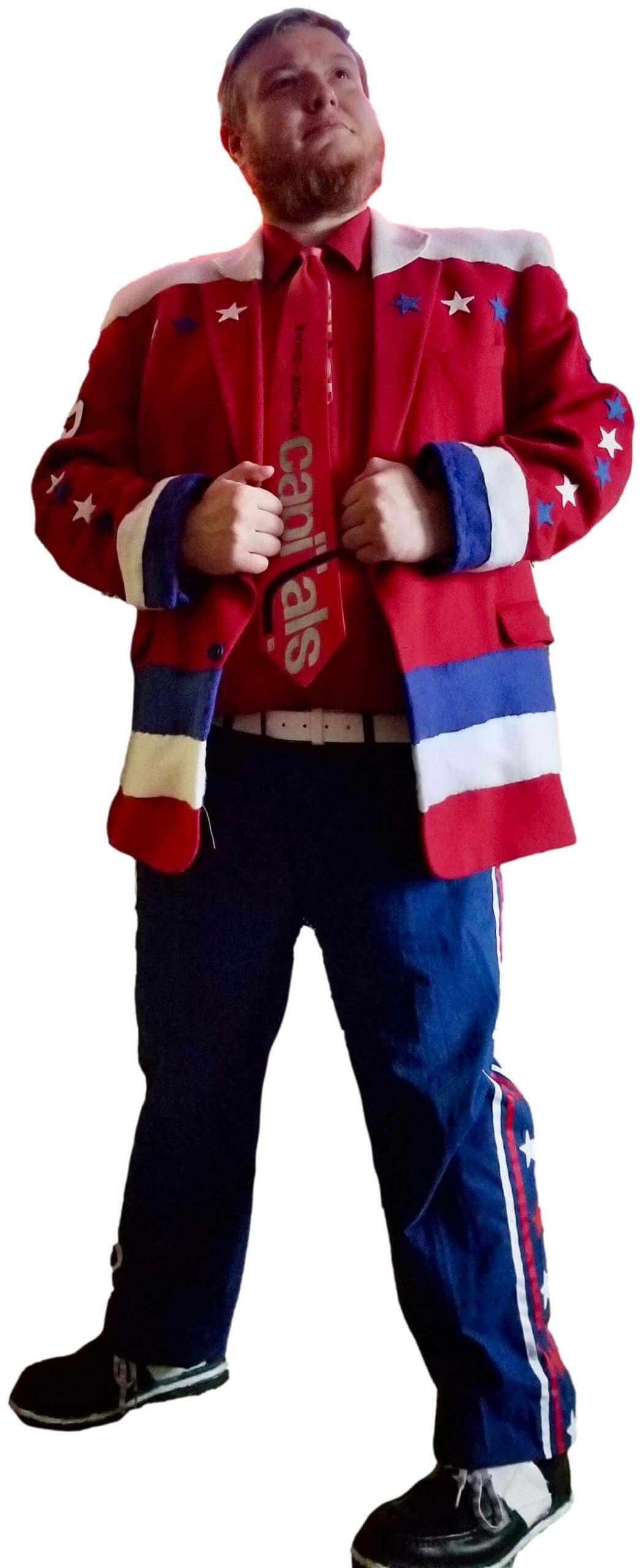 For all phtoos, click to enlarge
[Editor's Note: Today we have a guest entry from John Baranowski, who's going to tell us about his latest awesome DIY project. Enjoy! — PL]
By John Baranowski
I began wearing hockey jerseys regularly when I was in high school and never stopped. As a teacher in northern Virginia, I've taken to wearing them every day — and for added difficulty, I always try to choose a jersey that connects to the content I'm teaching that day. It's gone so far that I've been documenting what I'm wearing and why I'm wearing it each day on Instagram, where I'm known as @hockeyjerseyguy.
Sometimes, though, I have to wear a suit. Every time I do, people comment about how they don't recognize me without a jersey. Last year I finally combined the two and made a Pittsburgh Penguins-themed JerseySuit, which I created by hand-sewing stripes and numbers onto a suit (a process that I documented in a 2020 Uni Watch entry). It was a huge hit and I've worn it a handful of times now.
However, I live near Washington. I probably go to more Capitals games than Penguins games now, so I decided that I needed a Caps JerseySuit. I went back and forth on whether to base it on their classic 1980s look or their current design. Modern is always more recognizable, and the sleeve stripes would have been very easy to do. But I couldn't, as a Penguins fan, wear anything Ovechkin-related, so I went with the vintage look. (The Caps wearing it as a third didn't hurt.)

Next question: Whose name and number should I have on the back? I decided to go with the "Secretary of Defense," Rod Langway. His number is retired, he still works with the Capitals, and he's well-known for appearances in the arena — a perfect choice.
For the base garment, I used a red brushed-wool blazer that I found at a thrift shop. To match the blazer's texture, I settled on fleece fabric for the jersey graphics, which turned out to be super-easy to work with. Since it's not technically knit, it doesn't fray (which was a problem with the Penguins JerseySuit), and it's so thick that I could sew it, tear the threads back out if I made a mistake, and then sew it again without any real impact on the look or integrity of the fabric.
By far the hardest part was the white shoulder yoke. Just as you can't take a round globe and accurately spread it out flat, it's also difficult to take flat graphics and apply them to a curved surface. I had to curve the fleece over the shoulders, which entailed little bits of stretching, some creative cutting, and adding some stitches to tack down any folds: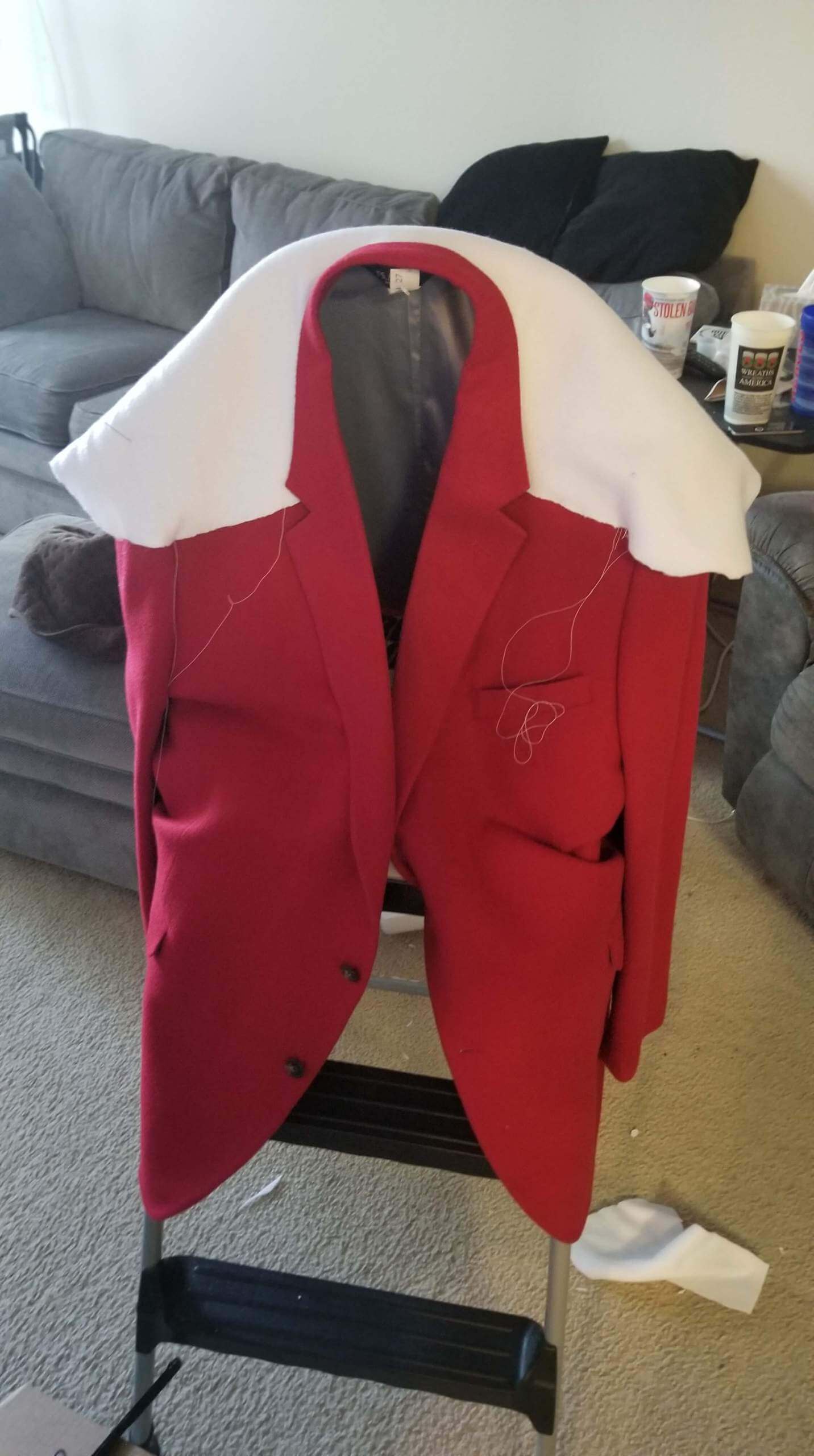 It turned out alright — there's still a little pucker that I notice, but nobody else has pointed it out so far, so I guess it's okay.
Next came the the lower stripes, which were relatively easy: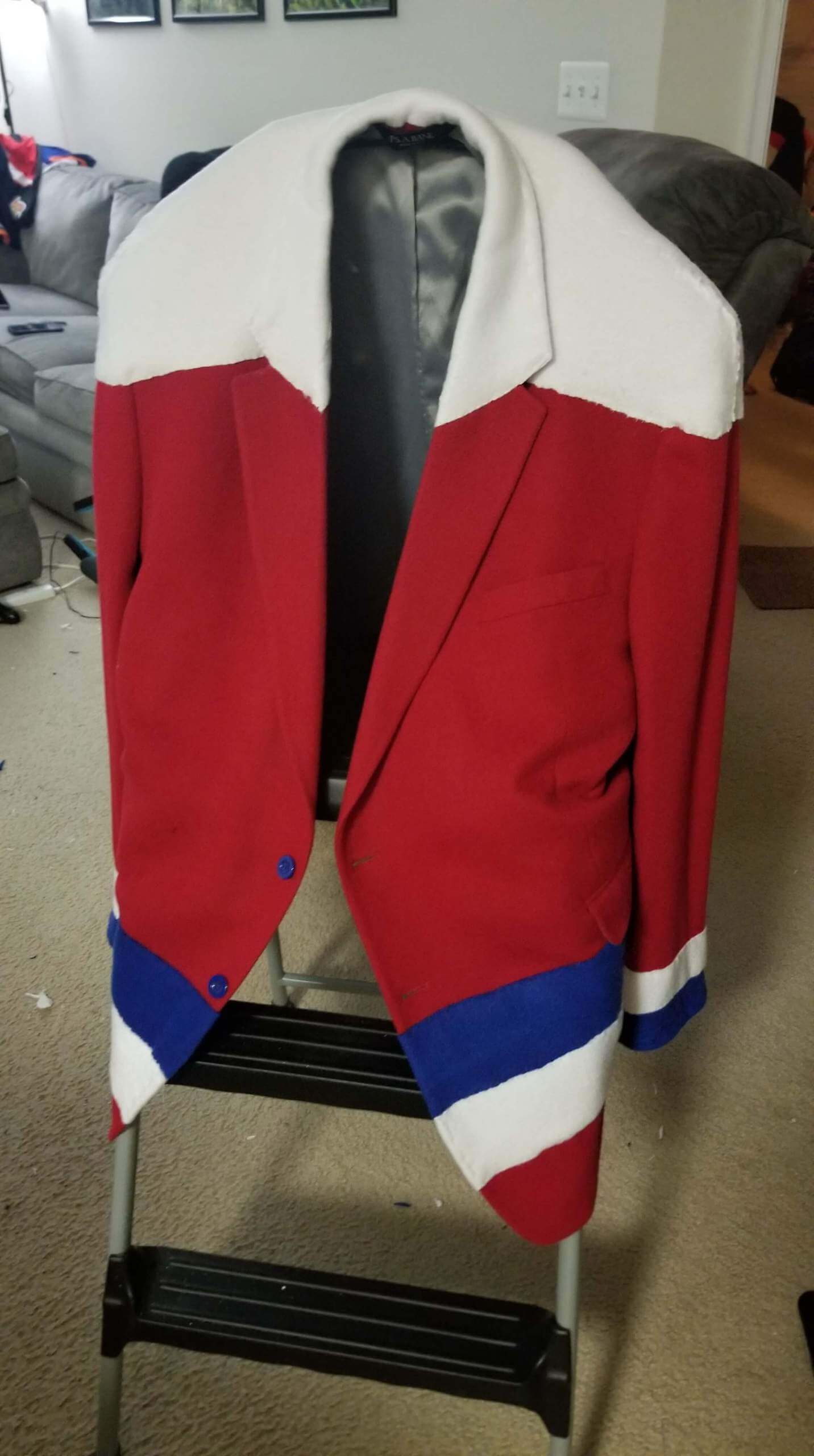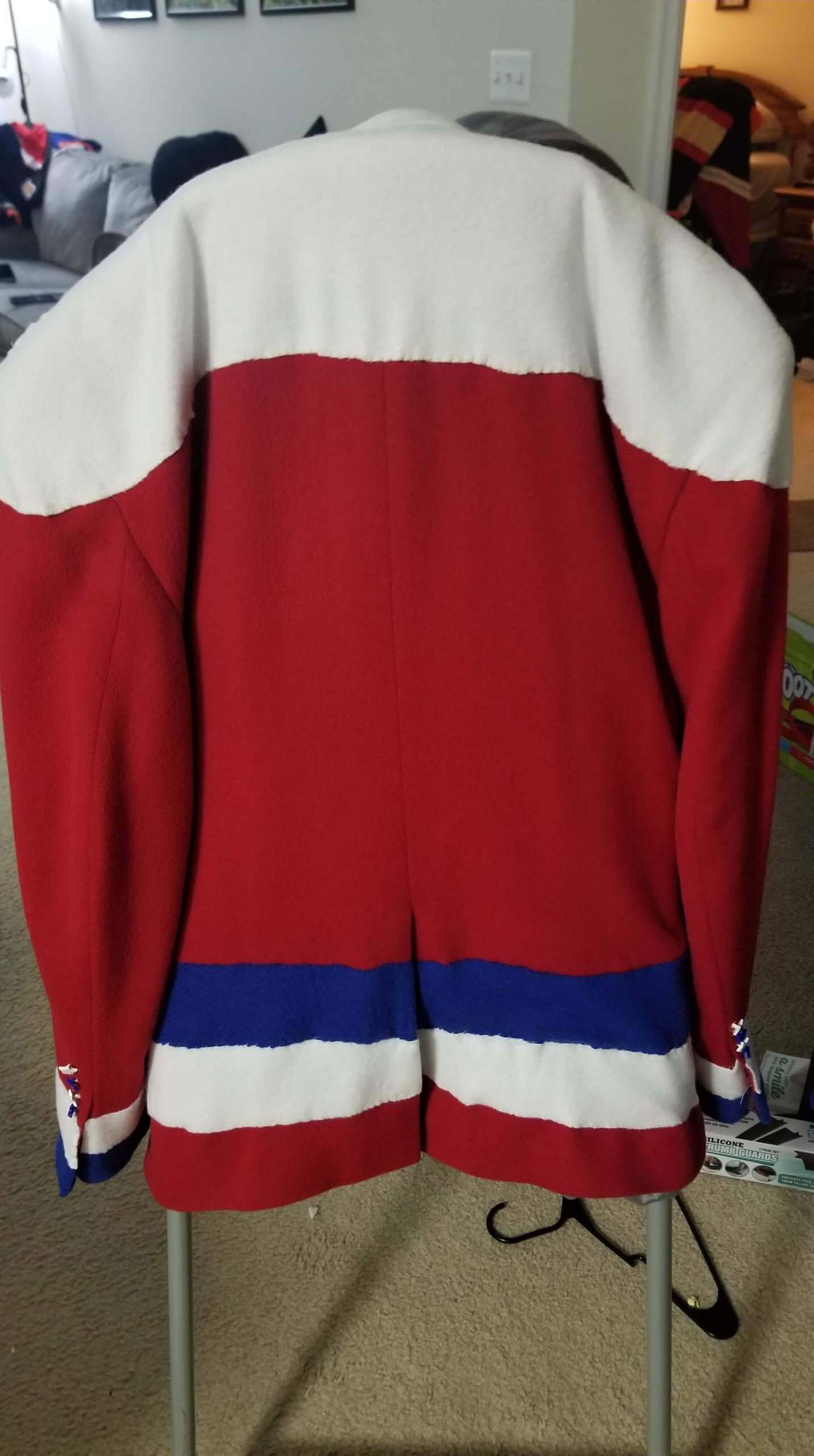 Then came the stars, which I bought pre-cut from Amazon. It was an absolute pain in the neck to sew each one on, but I wasn't about to use glue and risk having it not hold up: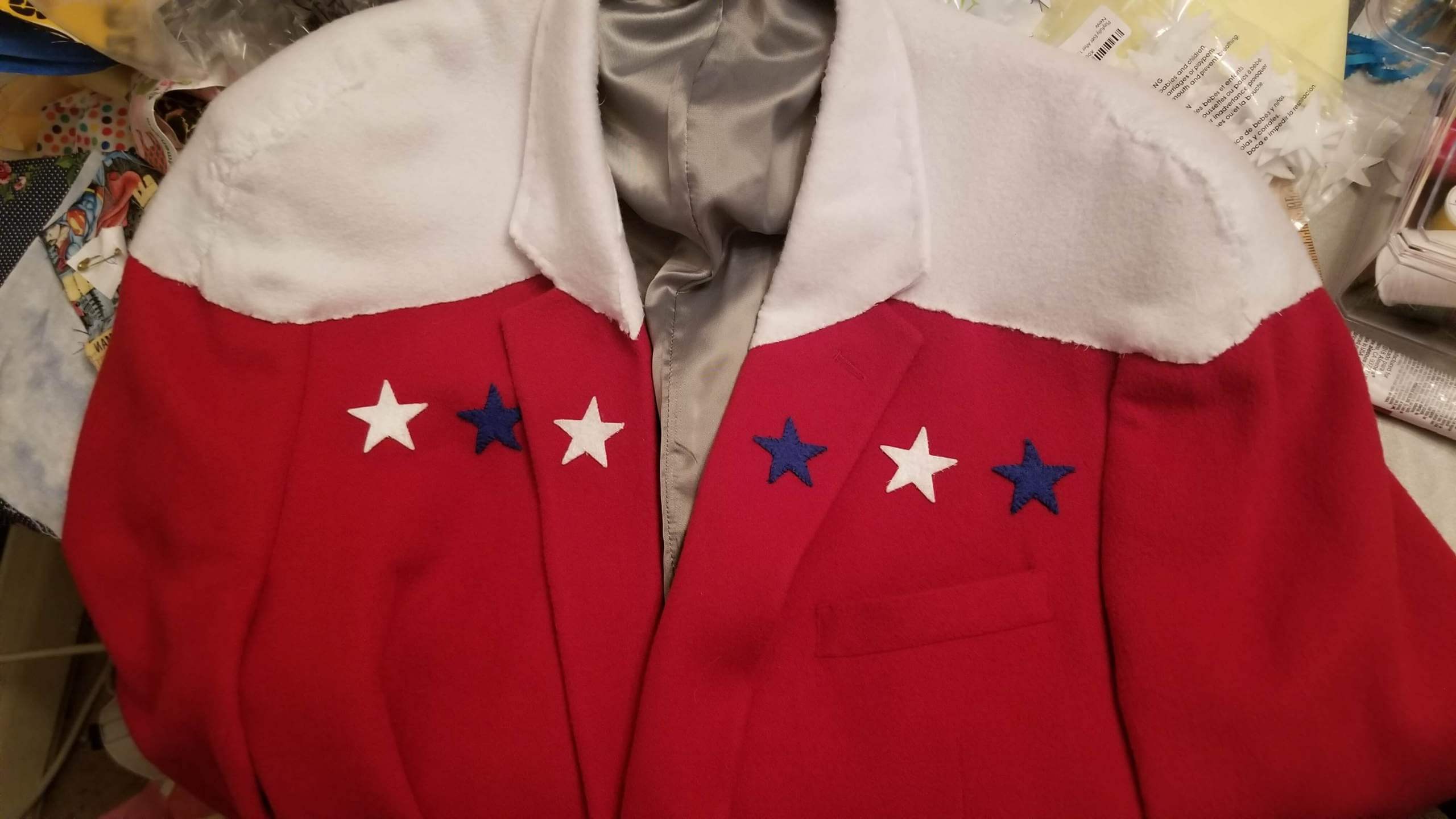 As you may have noticed in one of the earlier photos, I swapped out the original buttons for blue ones, to match the stripes. I also changed the vestigial sleeve buttons to little blue and white stars: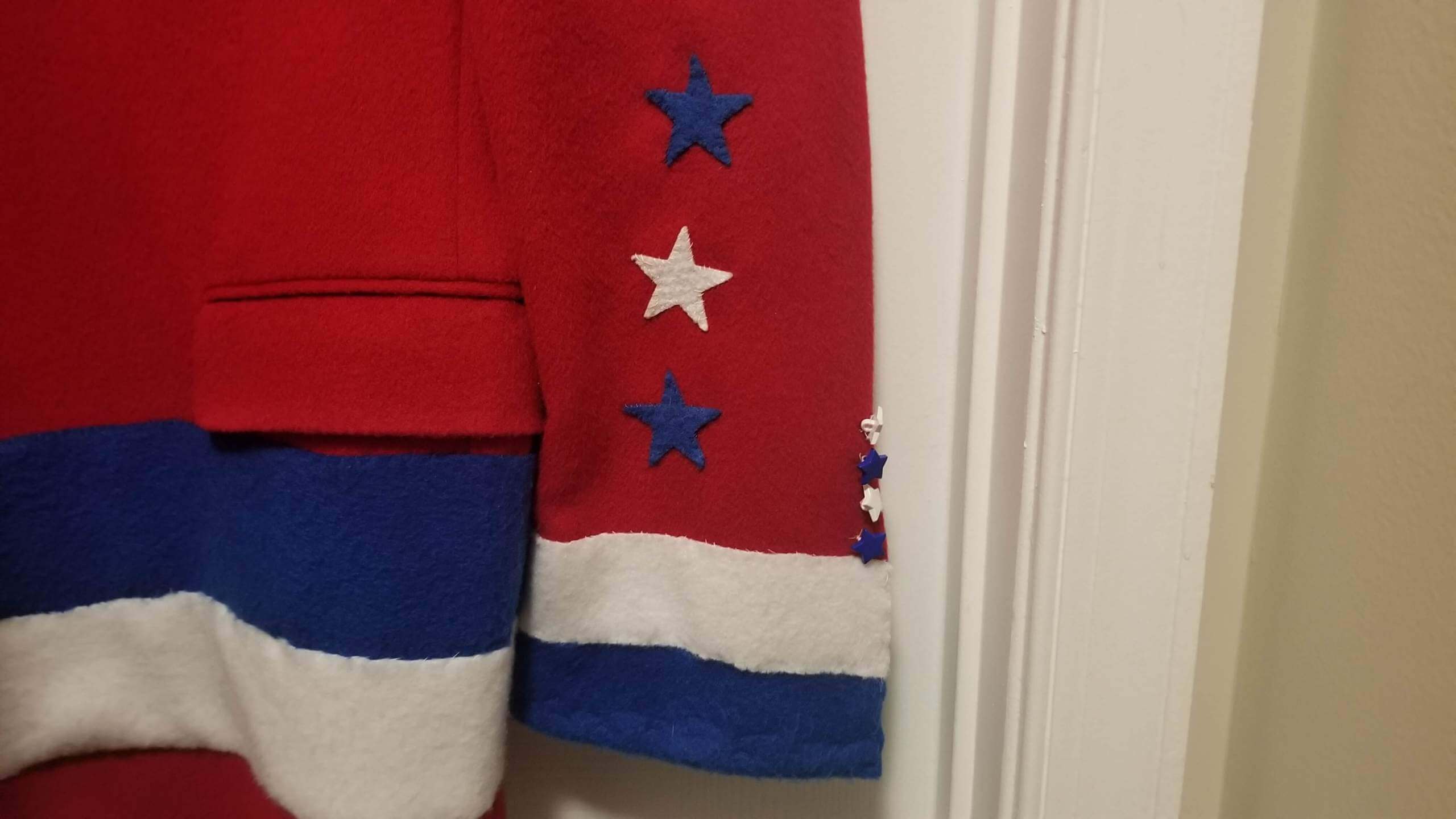 It's the little things that matter, right?
Now it was time to work on the number and NOB for the back of the blazer. There's an eBay seller called Customize-Sports — they have number kits for any jersey imaginable, and they were truly fantastic for this project. I would've been happy with any fabric for the numbers, but I was hoping to get something like the felt material that's been used in a lot of Winter Classic jerseys. Sure enough, Customize-Sports was able to provide just what I was looking for: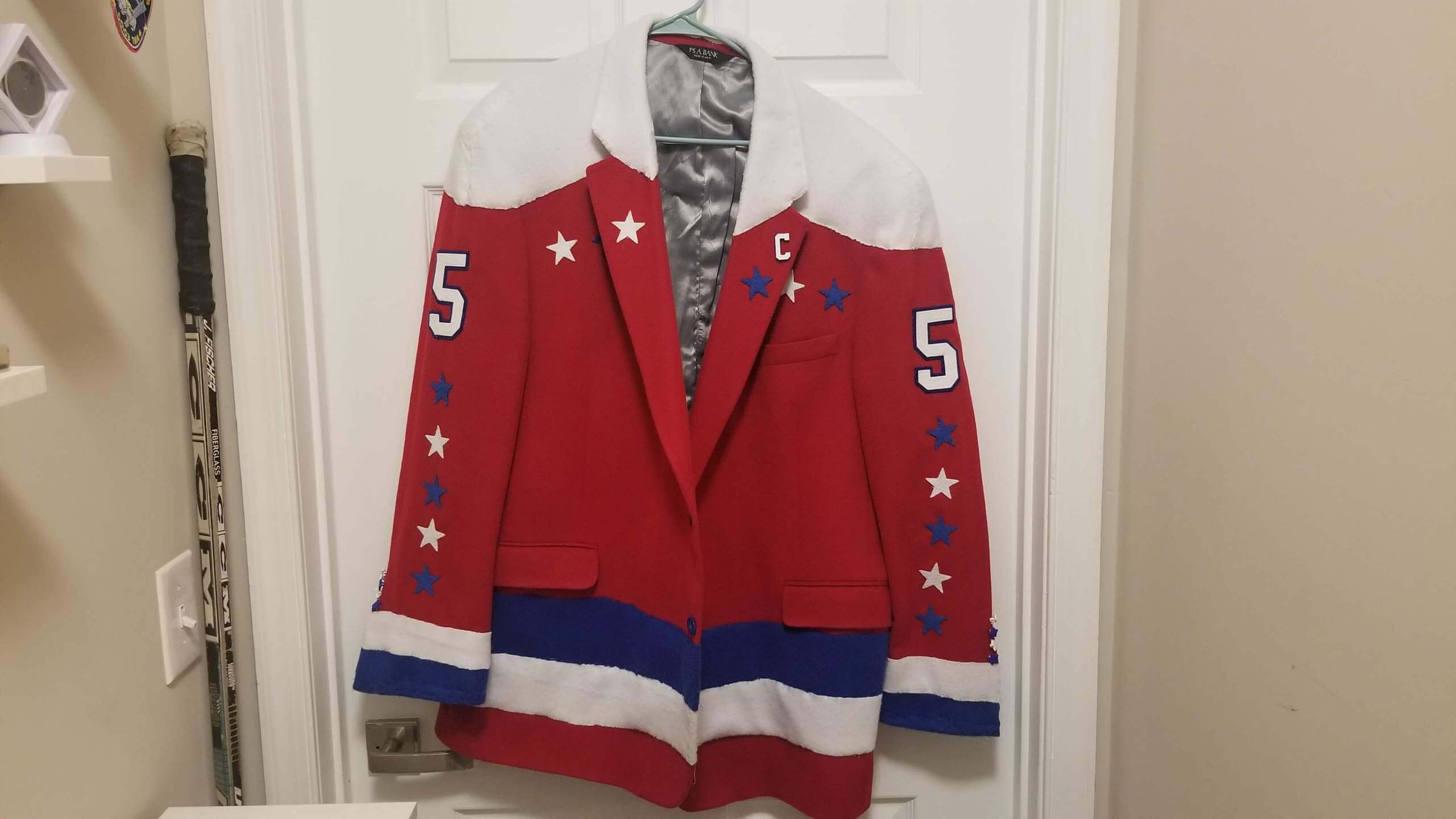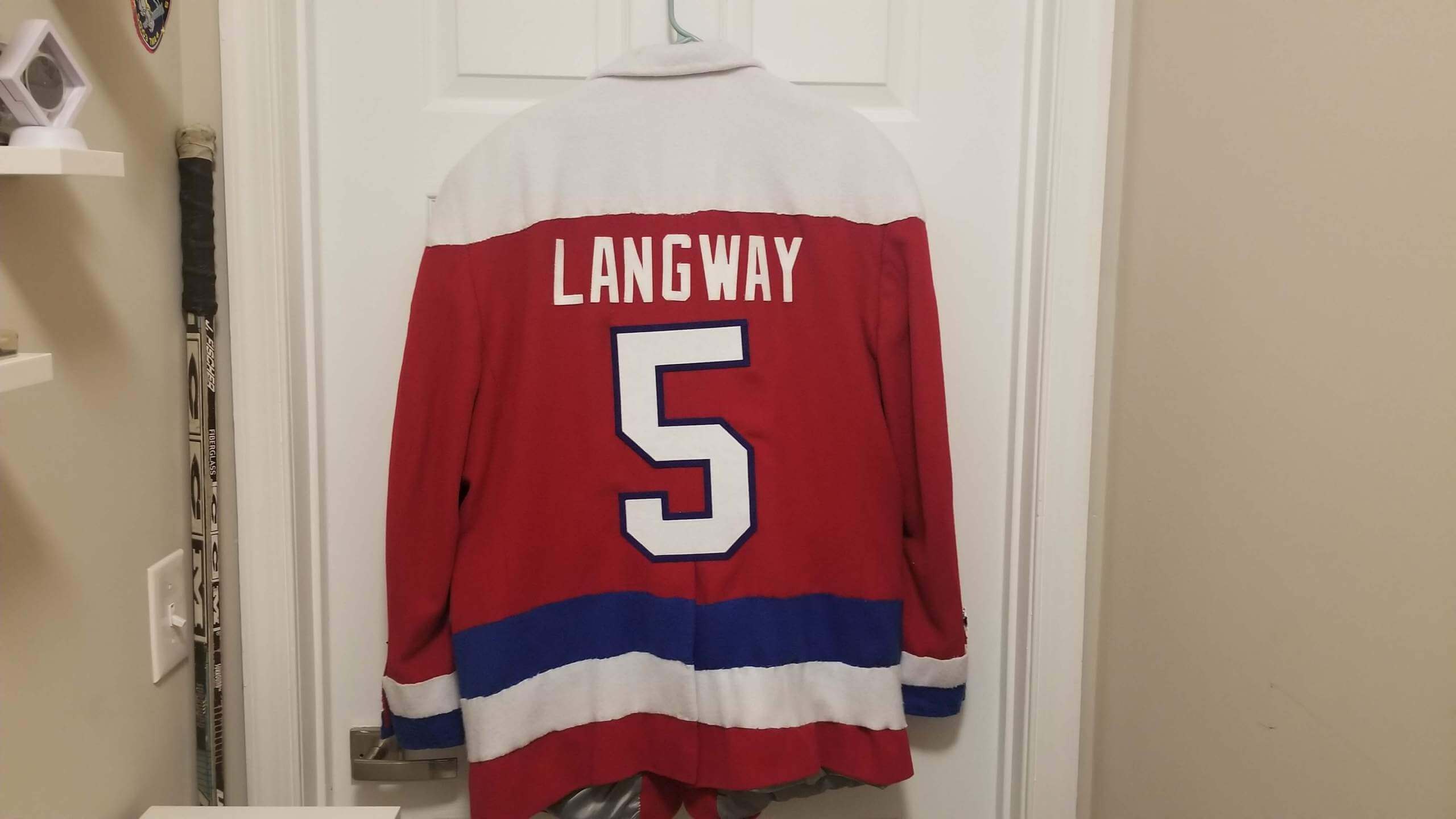 The pants presented a bigger dilemma. For the Penguins, their pants and socks were the both black, so using black pants was the obvious choice for the JerseySuit. But the Capitals wore blue pants and red socks — how was I going to translate that to standard menswear?
Zip-off pants seemed like the perfect solution — at least in theory. But was I really going to find a blue pair for the top half and a red pair for the bottom, and hope that the zippers would match? No way. I prototyped putting shorts over a pair of pants, but that didn't look right.
In the end, I found a pair of royal blue slacks on sale at JCPenney and added some ribbon piping and those same felt stars that I used on the blazer: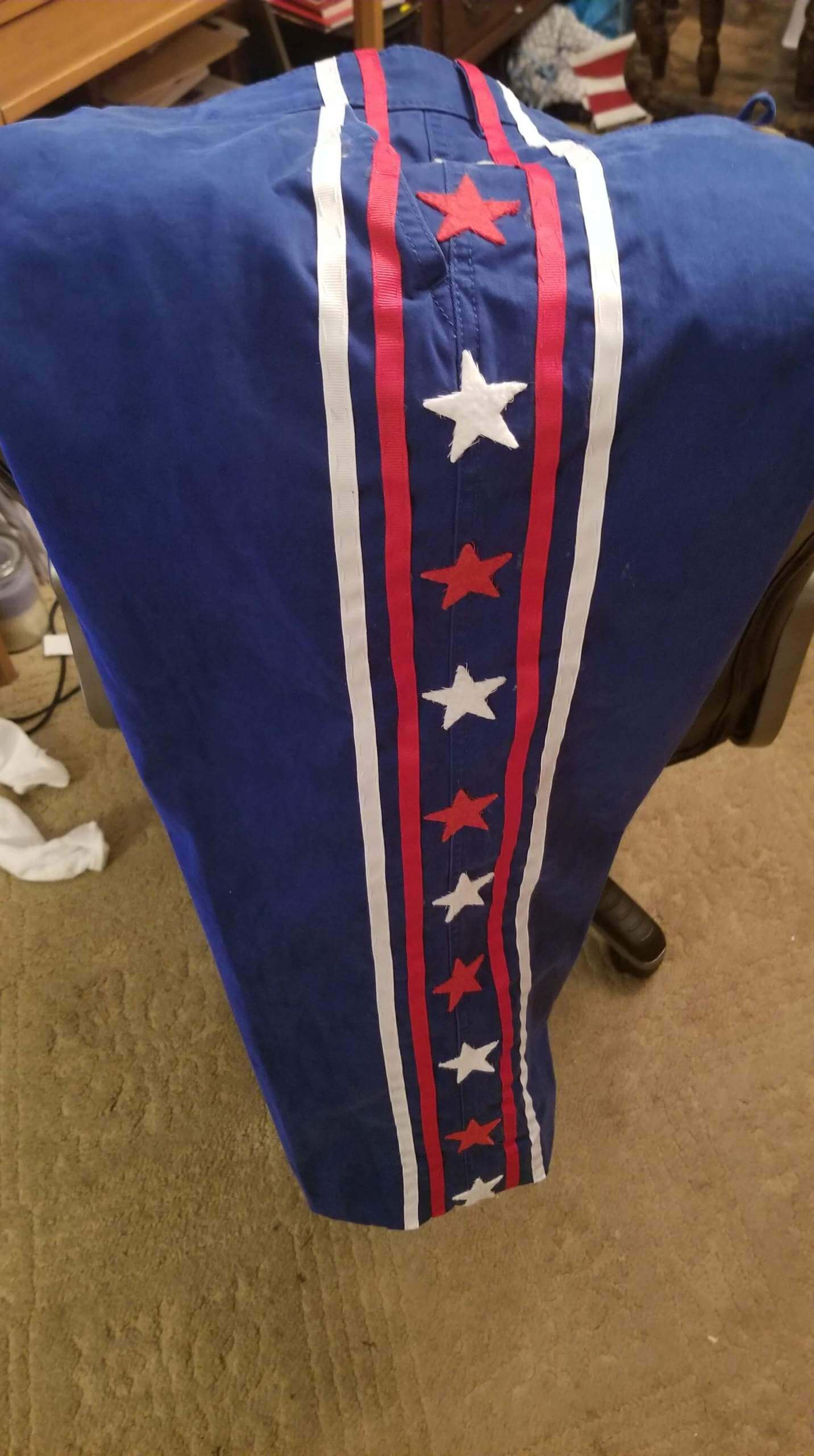 As for the socks, I couldn't find anything with the proper white/blue/white stripe pattern, so I bought a pair with three white stripes and filled in the middle one with blue sharpie: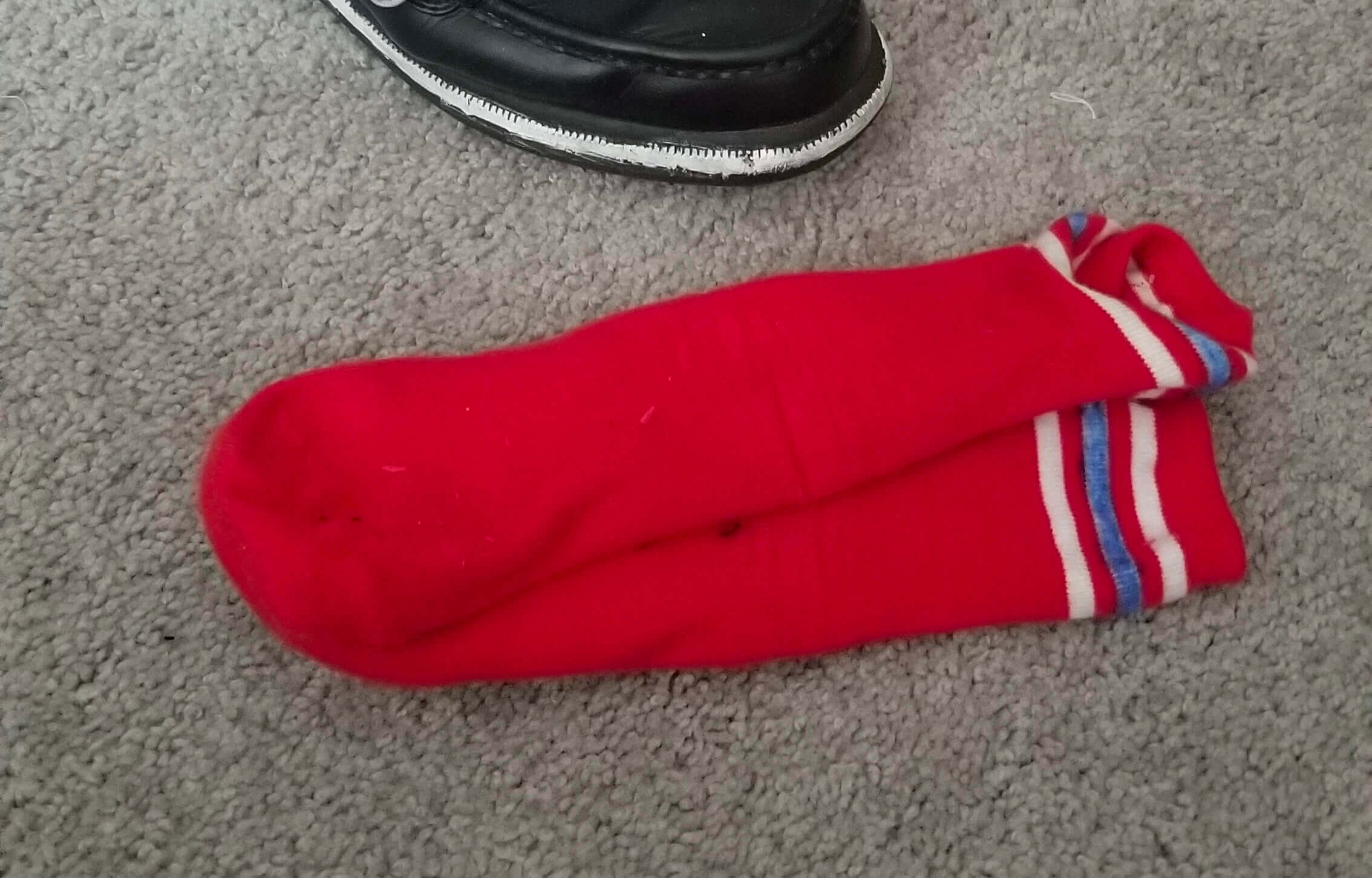 If anyone knows where I can find a better option, I'm all ears.
The shirt? A standard red button-down. I used the same shoes from the Penguins project (they simulate the look of CCM Tacks hockey skates). No hat, because Langway never wore a helmet. Gotta be accurate!
Finally, the necktie. Zazzle has an interface that lets you design your own tie. Five times I was rejected for submitting something trademarked, but I eventually managed to get it through the content filter:
And for the finishing touch, a Caps "C" lapel pin: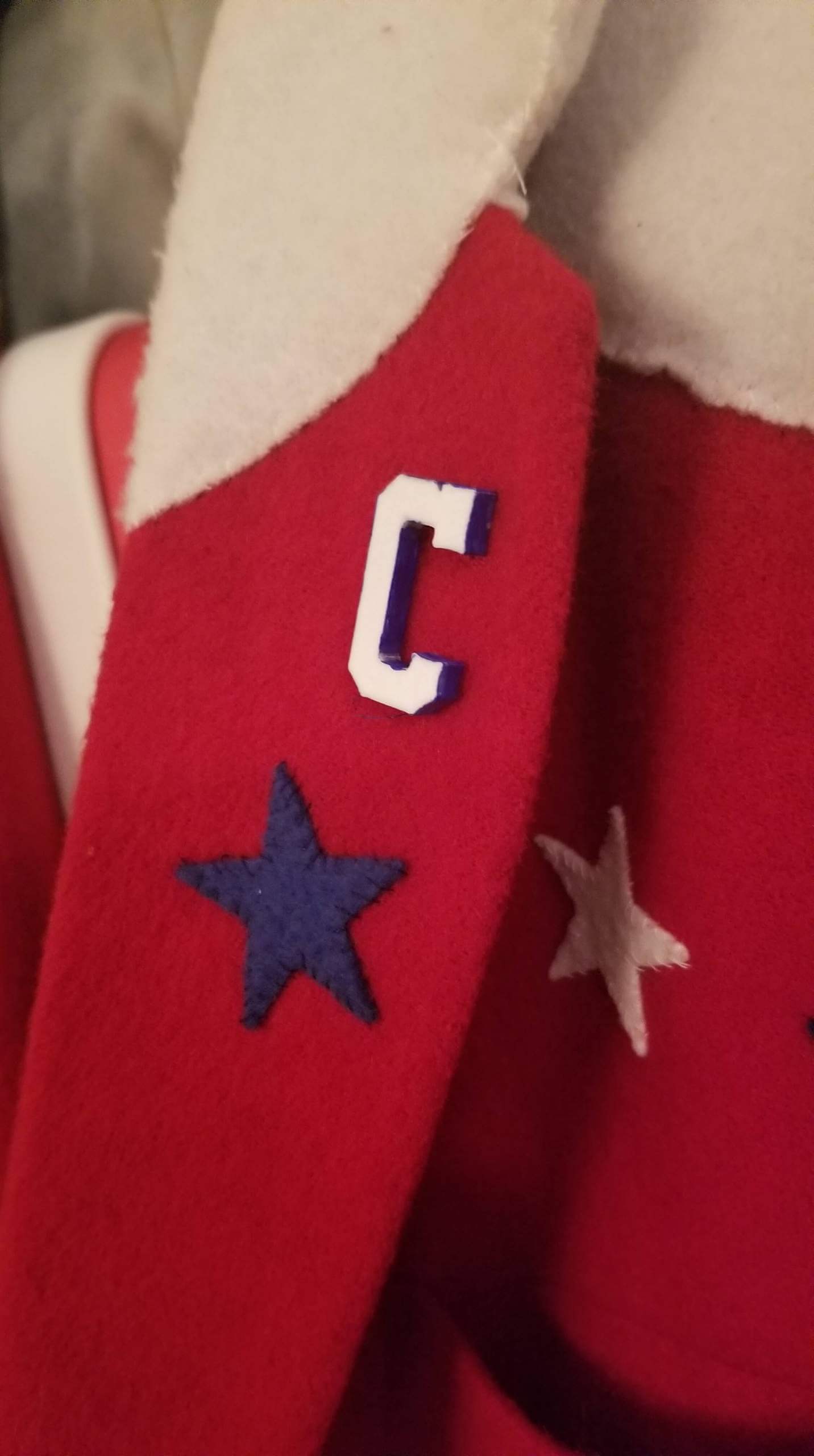 I recently got to wear the JerseySuit to a Capitals game. It was a massive hit, even bigger than the Penguins one. Fans kept coming up to me to ask about it, and I even got my photo taken with Slapshot the Eagle: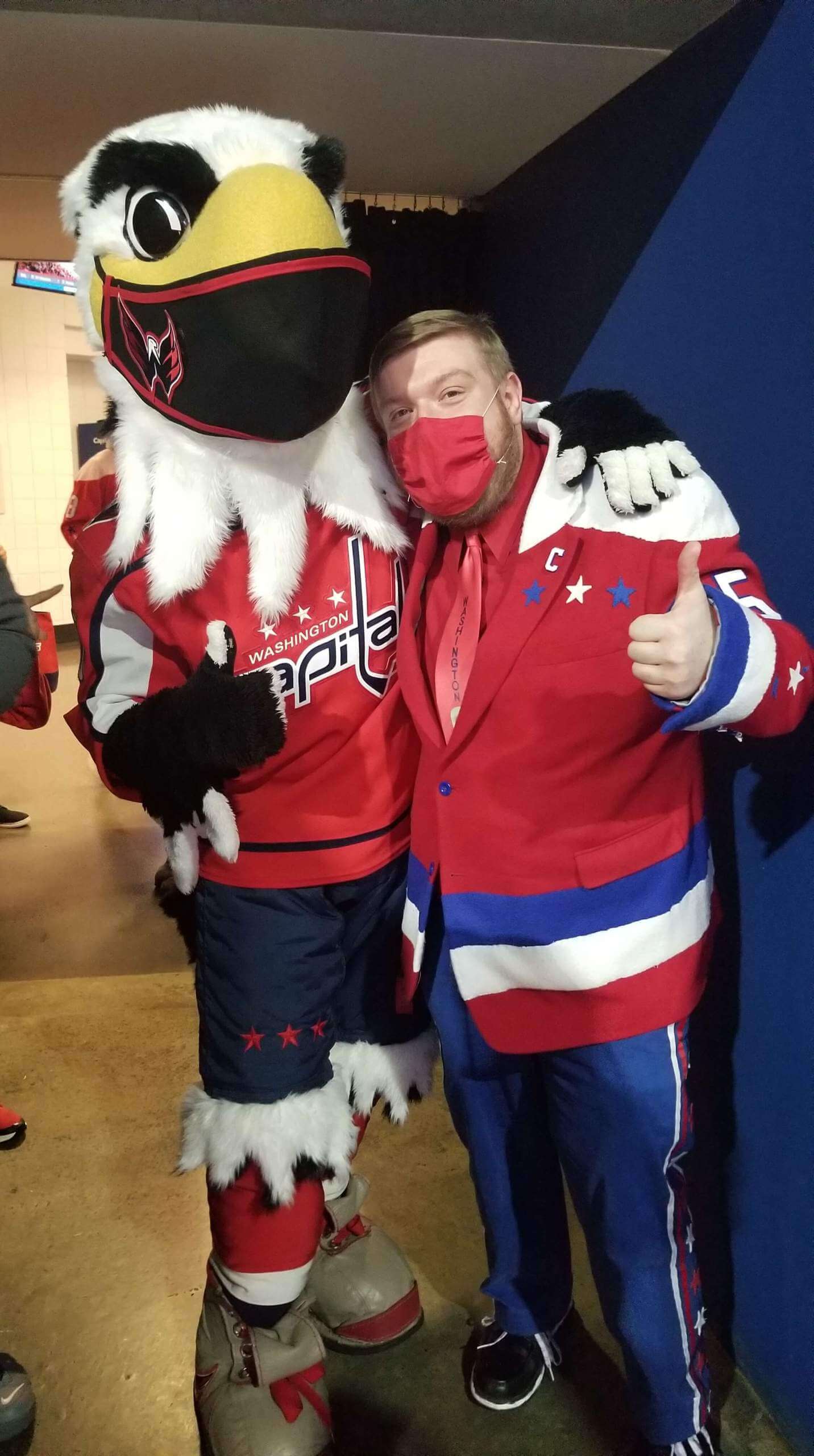 One vendor actually flagged me down to ask me where I bought the suit! That was about as good a compliment as I could get — fans are great, but rink staffers see it all. If they're impressed, I've done well.
I don't know if there's another JerseySuit in my future — I certainly don't need one — so for now this seems like a closed chapter. But a chapter that I cannot wait to show to my students.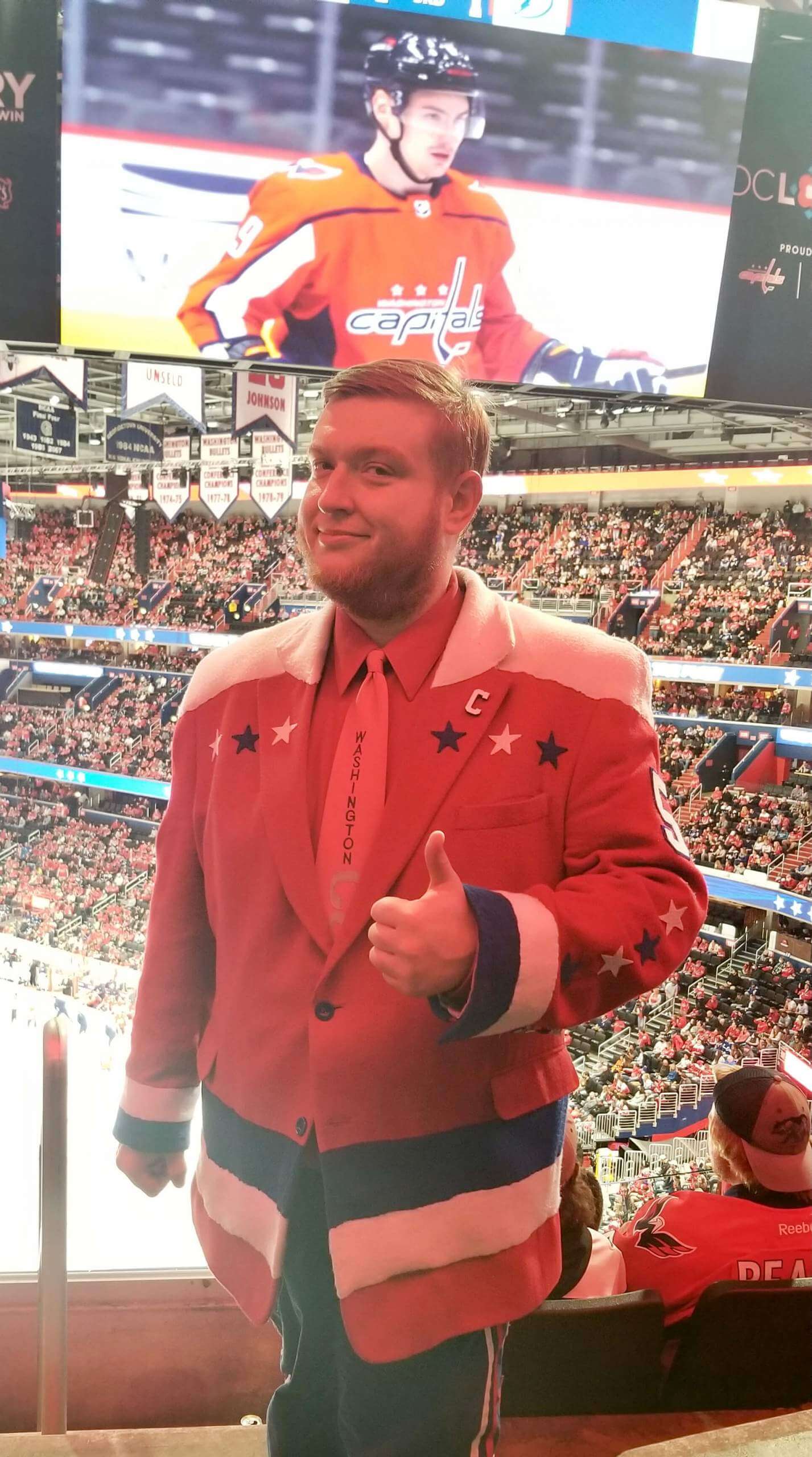 • • • • •
• • • • •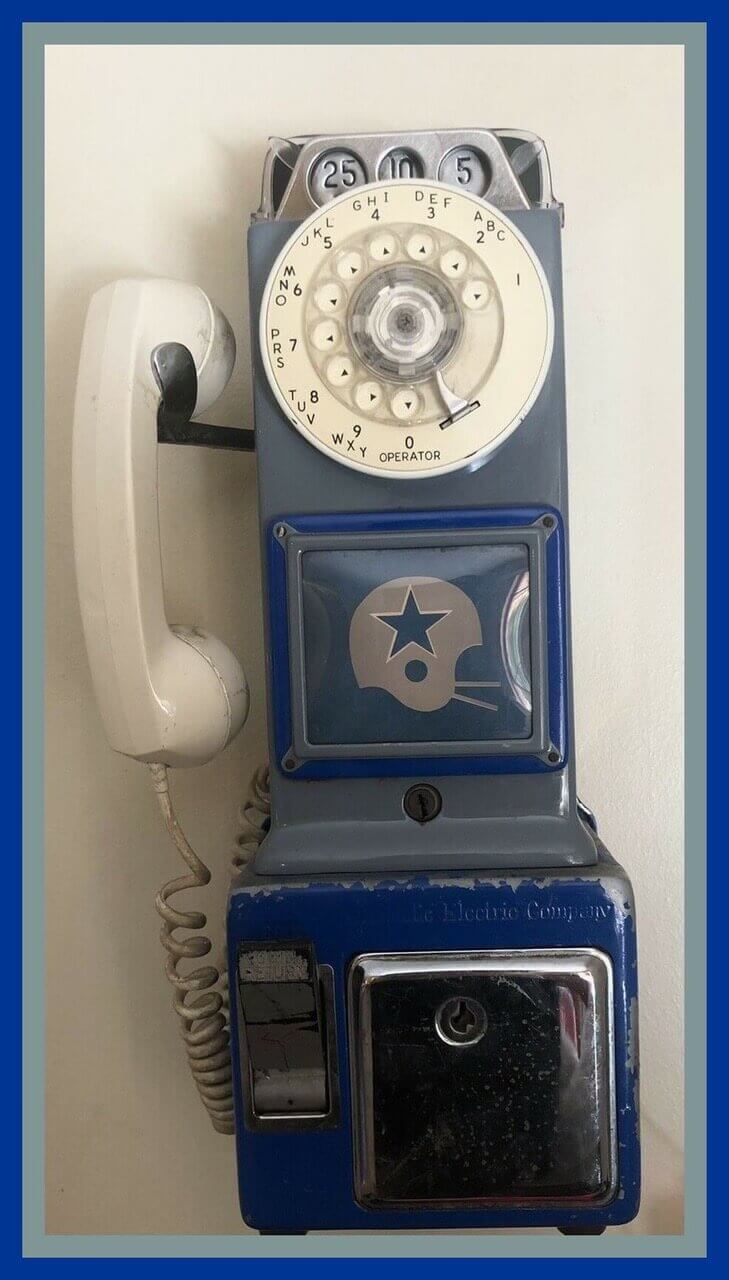 Click to enlarge
Collector's Corner
By Brinke Guthrie
Follow @brinkeguthrie    
Leading off today with what I am sure is a Collector's Corner first — a payphone! But not just any payphone — it looks like a DIY Dallas Cowboys payphone. While the seller goes for hyperbole here ("The Ultimate Collectible No One Else Has"), to me it looks like your basic blue and grey payphone with a Cowboys sticker slapped on for good measure. Not bad, but maybe not quite "the ultimate collectible."
Now for the rest of this week's picks:
• Here's a napkin and drink coaster from Lasorda's restaurant in Exton, Pa,, which closed five years ago.
• Mets star Dwight Gooden is wearing his road greys for this 1988 Baseball Superstars Statue. 
• This 1966 Cadaco All-Star Baseball Game promises that you can "Manage Top Players of American and National Leagues, who perform exactly as in Real Baseball."
• Gallagher & Burton Blended Whiskey offered this 1955 Baseball Fan's Guide. 
• Classic-looking NFL helmets on this 1963 deck of Stancraft playing cards.
• For Browns fans out there, here's a set of 1981 Cleveland Browns sketches from Shell Oil. You get Sipe, Alzado, and three others.
• Here's a very nice-looking 1960s Pendleton Green Bay Packers blanket for those chilly games at the Frozen Tundra.
• The Giants' "disco NY" is just one of the helmet designs featured on this 1970s NFL/NFC glass.
• This is a mail-order ad for a series of 1960s Dave Boss NFL posters from "Chicken of the Sea."
• Montreal hockey fans, keep your truck clean with these 1970s Montreal Canadiens truck mud flaps! 
• • • • •
• • • • •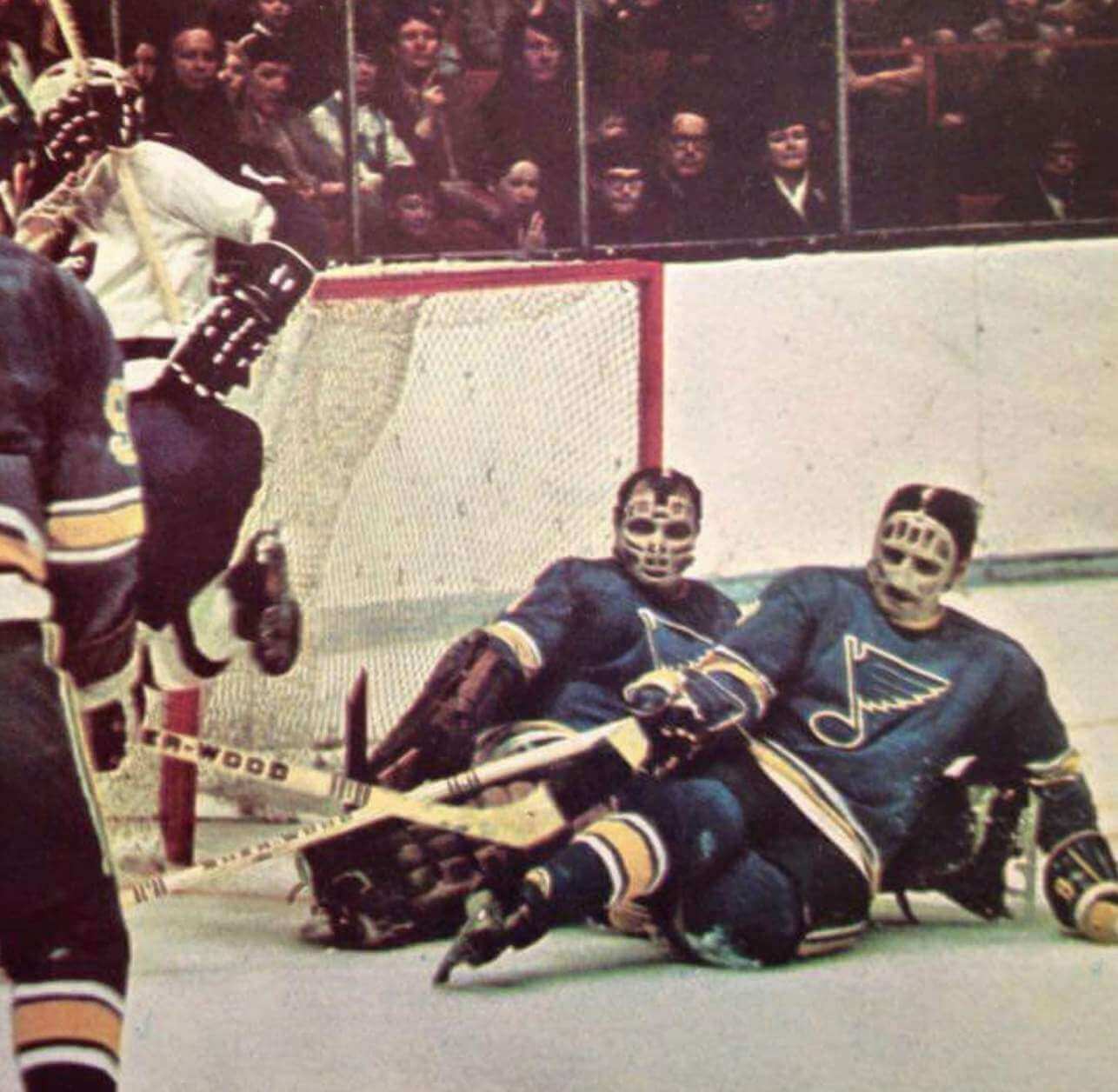 Click to enlarge
Too good for the Ticker: Did the Blues have two goalies on the ice? Nope — the player on the right is defenseman Barclay Plager, who was wearing a mask to protect his broken nose. Great photo!
(Thanks to Brandon Weir for this one.)
• • • • •
• • • • •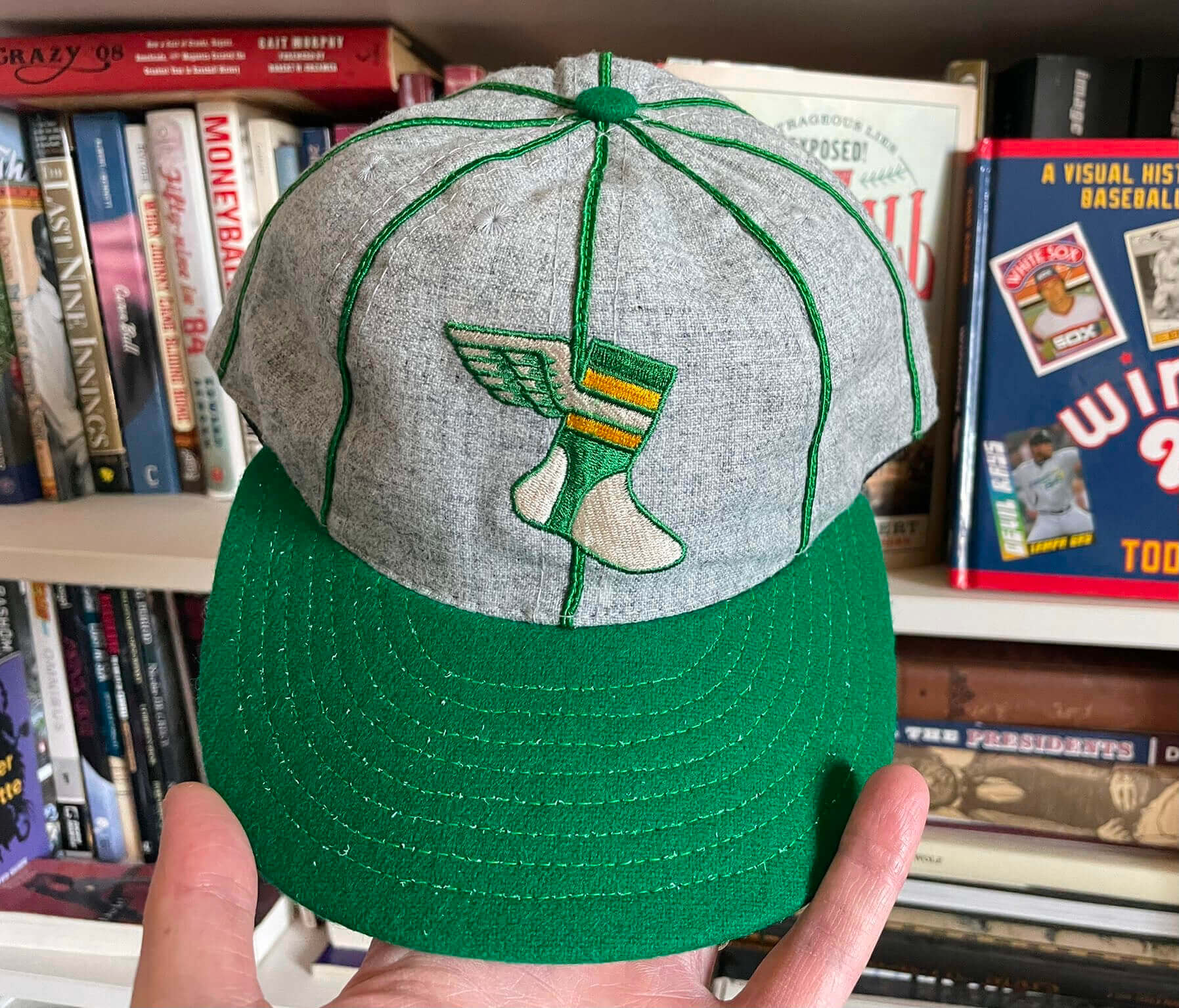 Photo by R. Scott Rogers; click to enlarge
Alternate Cap reminder: In case you missed it earlier this week, I'm now taking orders for our new Uni Watch Alternate Cap. Supplies of this one are extremely limited (we've already sold out of sizes 7 and 8, and several other sizes are down to just one or two caps remaining), so move fast. Additional photos and ordering details here.
• • • • •
• • • • •
The Ticker
By Alex Hider

Baseball News: The Phillies will be giving away Bryce Harper bobbleheads during a game next season. Considering the choice of uniform, I'd have to assume these will be given away during a day game (from @PhillyPartTwo). … Atlanta mascot Blooper attended a Georgia Bulldogs college football game on Saturday and at one point removed his baseball jersey to reveal a Bulldogs jersey.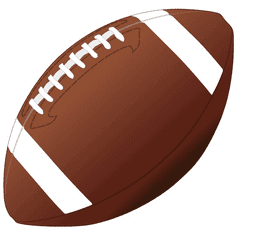 Football News: Titans fans are finding creative ways to turn their old Marcus Mariota jerseys into Adrian Peterson jerseys. … In Sunday's post, Phil mentioned that West Virginia LB Josh Chandler-Semedo didn't wear the team's stars/stripes helmet logo on Saturday, but there were no photos. Now reader Jordan Casper has provided these screen shots. … BYU will wear royal helmets and white jerseys and pants on Saturday at Georgia Southern (from Phil). … Having already used six unique helmet designs so far this season, Montana State has to be among the FCS leaders in the clubhouse for the number of 2021 uniform combinations (from @SportsPSD). … A recent football game in Panama featured a (fairly confusing) color-on-color matchup between two teams (from @BallparkHunter). … Cross-listed from the Baseball section: Atlanta MLB mascot Blooper attended a Georgia football jersey on Saturday and at one point removed his baseball jersey to reveal a Dawgs jersey.

Hockey News: New pads for Blue Jackets G Elvis Merzļikins. Given the shade of blue, I have to assume these will be used with the Jackets' alternate uniforms (from Sean Thesing). … On Friday, the Swift Current Broncos of the WHL wore jerseys designed by a young fan for "Junior Bronco Night." It was a "half-and-half" sweater design that reminds me a bit of those Sacramento Kings' half-and-half jerseys from the '90s (from Wade Heidt).

Pro Basketball News: The Austin Spurs of the D League will play three games this season as the "Los Raros de Austin," which is Spanish for the "Austin Weirdos." They'll wear these uniforms during those games. The name is a play on the local slogan "Keep Austin Weird." … Celtics PG Payton Pritchard has filed a trademark application for a new personal logo (from our own Anthony Emerson).

College Hoops News: Wisconsin's men's team will be wearing red uniforms for tonight's home opener, instead of their usual home whites, to accommodate opponent St. Francis College Brooklyn, who have yet not received their 2021-22 road unis because of supply chain issues (from Scott Hurley). … Here's a video about the best men's college hoops player for each uni number (from James Gilbert).

Soccer News: After he scored a goal Sunday, Leeds United winger Raphinha removed his jersey to reveal a tribute to singer and fellow Brazilian Marília Mendonça, who died in a plane crash Friday (from Mark Coale). … Some stadiums in English and Welsh soccer could soon look a bit different, because five teams are adding "safe" standing areas. Standing areas were banned following the 1989 Hillsborough disaster, which saw 97 fans killed in a trampling/overcrowding incident. The new safe areas include rows with foldable seats and rails in front of them (from our own Jamie Rathjen). … This map shows all the teams (and their logos) in the top five tiers of Japanese soccer (from Jeremy Brahm). … One of the jerseys Charlotte FC will wear next season may have leaked (from @CharlotteFCKits). … Lauren Grant, a goalkeeper for Scottish Women's Premier League club Partick Thistle, wore a black beanie on the field during a match against Hearts on Sunday (from Graham Clayton).

Grab Bag: American volleyball player Haleigh Washington lost a shoe during play recently while playing for Italian club Igor Gorgonzola Novara (from Jeremy Brahm). … Earlier this year, Paul wrote about Baltimore's salt boxes and how different neighborhoods have their own unique colors and designs. Fans of the salt boxes will soon be able to purchase a 2022 calendar that will feature different photos of the various designs (from Adam Marcus).