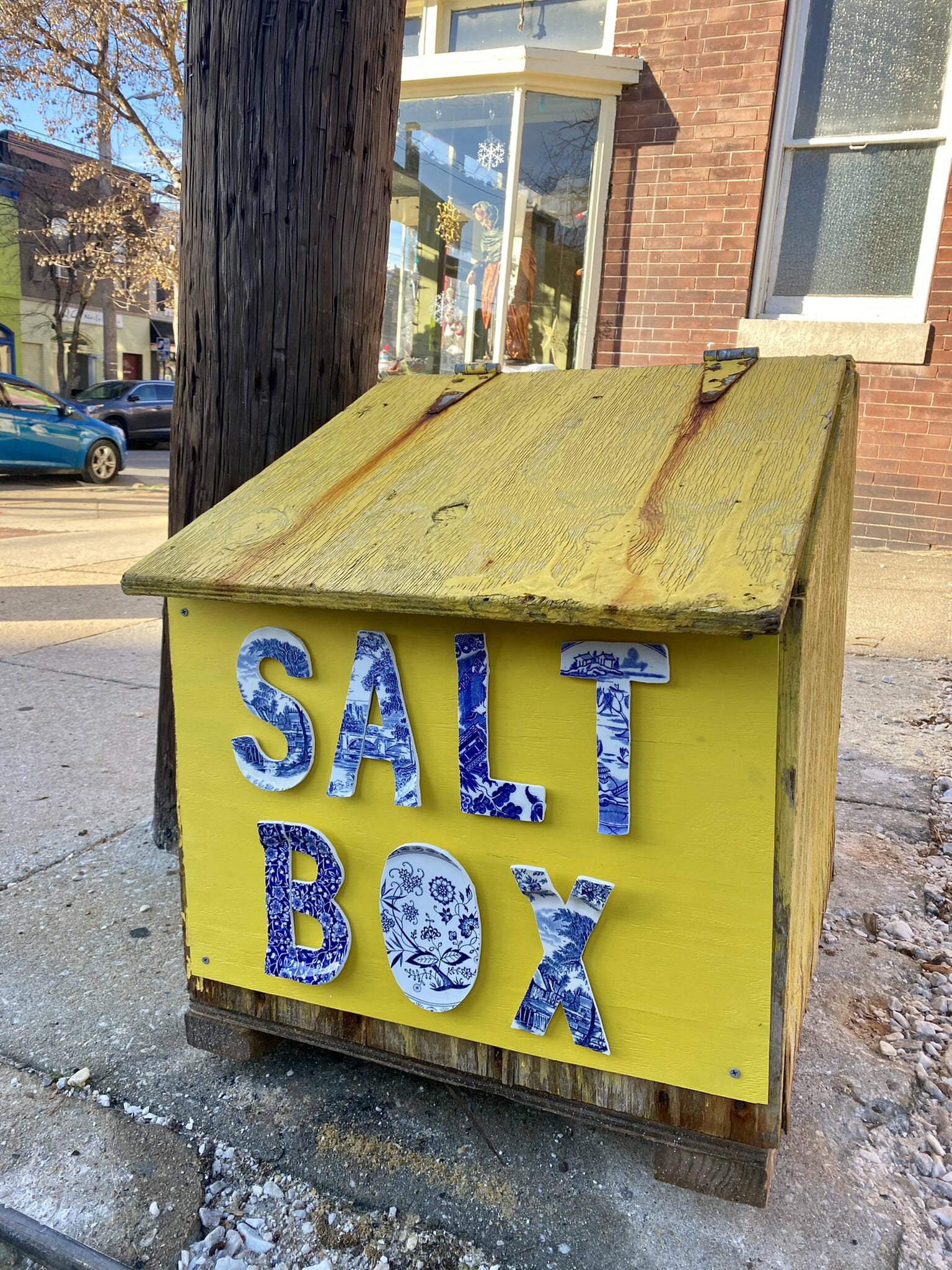 Click to enlarge
Today I want to go off-uni on a really interesting topic I recently learned about — but there's a uni-related payoff at the end, I promise, so stick with me here!
So: Longtime reader/pal Jack Krabbe, who lives in Baltimore (and previously worked for both the Orioles and the Ravens, don'tcha know) recently told me about the Baltimore-specific phenomenon of salt boxes, which are these curbside yellow boxes set up on street corners each fall by the city's department of transportation (DOT). The idea is that local residents can scoop out some salt to use on their sidewalks, driveways, and so on. I'd never heard of anything like that (we certainly don't have salt boxes here in NYC, or anyplace else I've lived), but I liked the idea of it: Socialized sodium, community chloride!
There's a Baltimore craft artist who's sort of locally famous for making stuff out of broken dishware. Her name is Juliet Ames, and her website's URL is actually ibreakplates.com. Back in December, Ames got it in her head that the old, battered salt boxes could use some sprucing up and that she should decorate one of them with broken-plate lettering (see above). She didn't ask the DOT for permission — she just went ahead and did it, and then tweeted about it. To her surprise (and, I imagine, everyone else's), the DOT wasn't just okay with it — they encouraged other people to follow her lead and created a #saltboxart hashtag to help get the ball rolling:
Looks like someone got a little creative with one of our salt boxes…. final verdict… 🥁….we love it! This is creative and fun! Perhaps other artist would be inspired to do the same! I think this calls for a challenge competition. #saltboxart https://t.co/LmzRyawWZx

— Baltimore City DOT (@BmoreCityDOT) December 13, 2020
This set off a wave of salt box redecoration around the city (a hefty percentage of it by Ames, although other artists have also participated). Some of the resulting designs have been salt-oriented, others have been Baltimore-oriented, still others have been yellow-themed, and some have just been weird, but the whole project is pretty awesome. Here are some of my favorites:
New Salt Box Alert 🚨 You know I had to do Boh box! This special box is so loved, it even has a little scooper inside. Well Played, Jackson St.! Happy Snow day! One more box reveal this afternoon. #saltboxart #nattyboh #orioles #baltimore @LiveBaltimore @BmoreCityDOT pic.twitter.com/sLCrtXjNr3

— Juliet Ames (@thebrokenplate) January 31, 2021
One last box for this weekend, a Yellow Submarine! It's not Baltimore themed, but it does celebrate Salt Box Yellow. Fun fact: this color is the official OSHA Safety Yellow. #saltboxart #yellowsubmarine #baltimore #mybmore #iheartcitylife pic.twitter.com/tLTuHwNAlk

— Juliet Ames (@thebrokenplate) February 7, 2021
Happy Lunar New Year to those celebrating! It's the year of the (salt) Ox. There is no salt in this box but I did drop a couple stickers. Across from Asia Food on York Road. #saltboxart #LunarNewYear #YearOfTheOx pic.twitter.com/VgPMXmaOJ7

— Juliet Ames (@thebrokenplate) February 12, 2021
Are those great or what? You can see a bunch more here and here.
Now, I promised you that there would be a uni-related payoff here. Frankly, the cumulative oomph of the repeated yellow boxes seems pretty uni-adjacent all by itself, but one of the salt boxes gets Uni Watch's highest rating:
That, of course, is a nod to the Negro Leagues' Baltimore Black Sox — brilliant! It was done by Ryan Dorsey, a member of the Baltimore City Council. There are some other uni-themed boxes out there, including one with a Ravens logo and another featuring Kobe Bryant in uniform, but the "Balt Sox" salt box is clearly the winner. Total genius!
Now that we know about this local phenomenon, I think it's pretty clear that the Orioles need to have an alternate salt box uniform, am I right?
(Thanks and hugs to Jack Krabbe for teaching me about this awesome project.)
• • • • •
• • • • •
• • • • •
• • • • •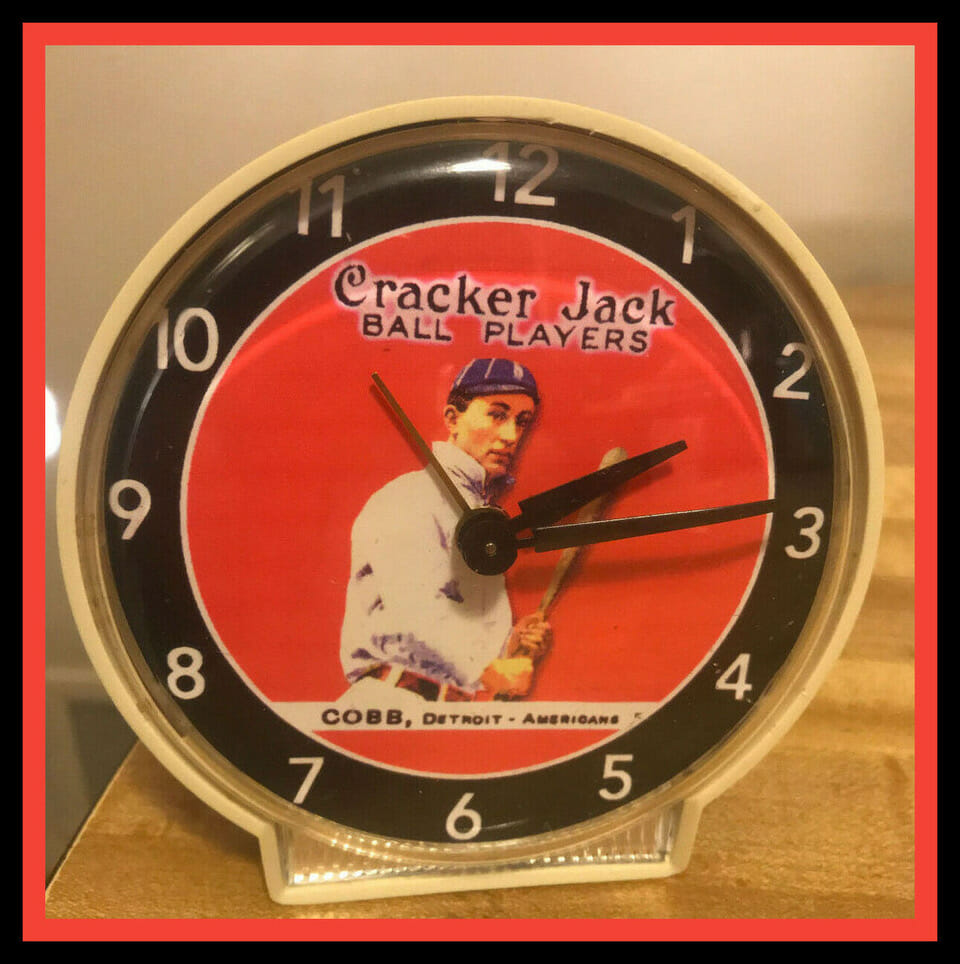 Click to enlarge
Collector's Corner
By Brinke Guthrie
Follow @brinkeguthrie
Leading off this week's Collector's Corner with this terrific-looking Ty Cobb alarm clock! This wasn't his only endorsement back then, though. Read the text on this 1916 Collier's magazine ad for Tuxedo Tobacco. The quotes, from Cobb, Christy Mathewson, and other baseball greats, are priceless!
Now for the rest of this week's picks:
• Here's a 1970s 24 x18" cardboard store Puma promo poster of Vikings QB Fran Tarkenton retouched here for licensing purposes. It was around 1971 or so when Adidas and Puma absolutely took over NFL footwear — it went from all Riddell to the German soccer giants almost overnight. It stayed that way for most of the 1970s, if I recall, until Brooks and Nike made inroads. (And I never knew who/what "Beconta" was, until now.)
• Here's another Vikes item: this 1995 pullover from Mirage includes the Vikings logo and No. 81 for Carl Eller.
• Speaking of Puma arch-rival Adidas — both of which I enthusiastically wore — they had their fair share of big-time pro sports endorsers back in that time frame, too — here's a promo poster for NBA star Kareem Abdul-Jabbar and others.
• While Fran had his Pumas, decades earlier New York Yankees star Lou Gehrig wore Athco cleats. Here's an ad for the "Lou" — his own shoe — "built for speed and comfort!"
• Check out this 1952 New York Yankees yearbook, which is referred to as a "Sketch Book" because … I have no idea. Note on the cover, it's the Yankees' 50th year in the league, and they've already racked up 18 Series wins! Bronx Bombers, indeed.
• There are different Big Boy restaurant chains. I grew up with Frisch's Big Boy in Cincinnati, and there's a Bob's Big Boy in Southern California, for example. Here's a 1970s promo glass from Azar's Big Boy, for the ABA's Denver Rockets.
• This 1940s Philadelphia A's decal is in excellent shape. (And what's the connection between an elephant and the A's? Todd Radom has the answer.)
• New York Mets fans will love this set of 1960s "Go! Mets Go!" pins, featuring Yogi Berra, Warren Spahn, Al Jackson, and Ed Kranepool.
• Chicago's Lincoln Park Zoo is featured on this pair of Cubs promo giveaway socks, sponsored by your local Chicagoland Pepsi bottlers.
• This 1962-63 hockey coin features Al Arbour of the Toronto Maple Leafs, though he reminds me of the only guy in school who knew how a slide rule worked. (Don't let that bookish look fool you, though. The late Mr. Arbour is the the fifth-winningest coach in NHL history, winning four straight Stanley Cups for the Islanders in the 1980s.)
• Couple of Cincinnati Reds items here: a 1990s gumball bank, and a 1989 Crush soda can featuring Johnny Bench's Hall of Fame induction.
Got an item to include on Collector's Corner? Tweet submissions to @brinkeguthrie
• • • • •
• • • • •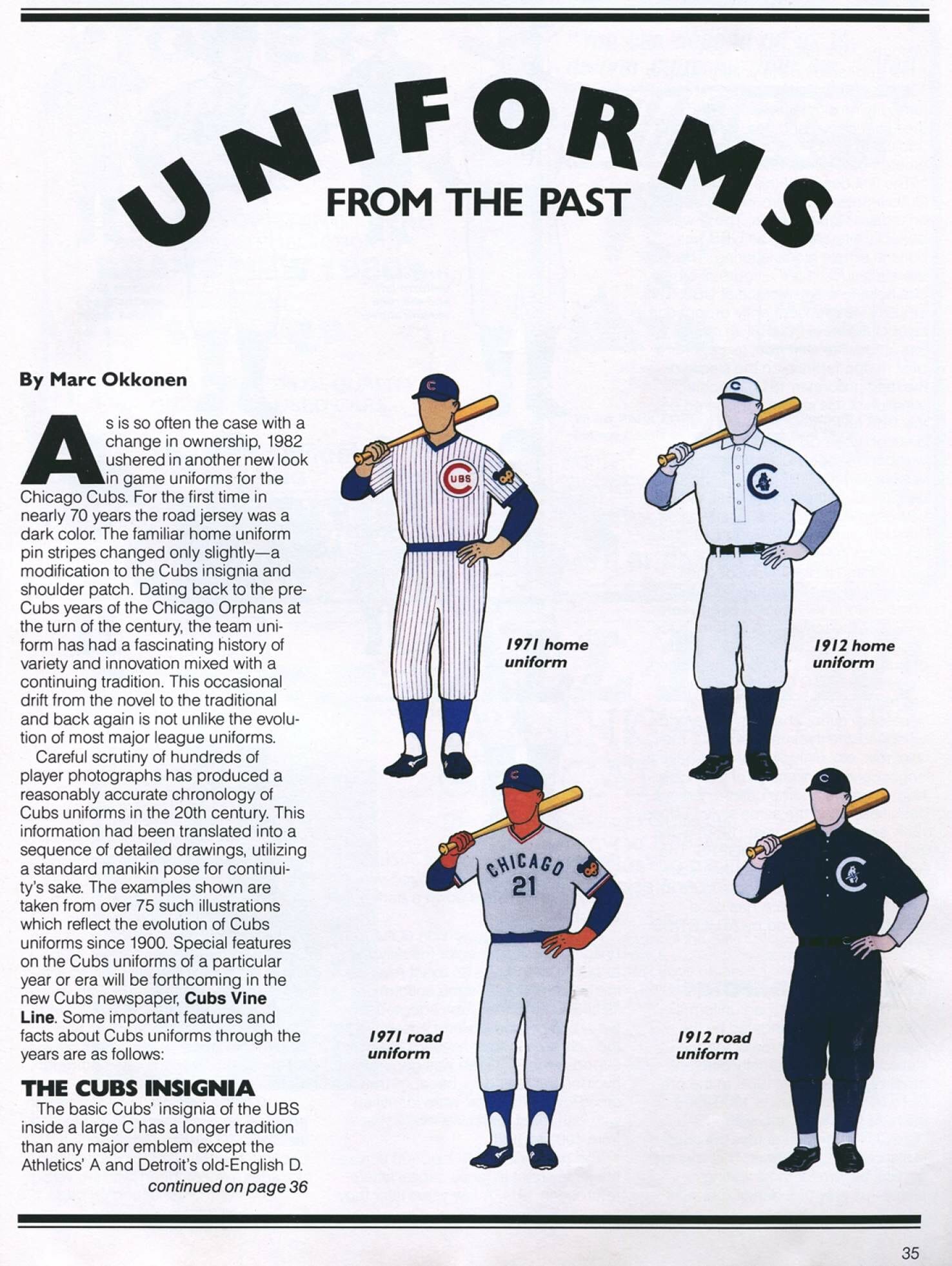 Click to enlarge
Too good for the Ticker: In 1986 — five years before the publication of uniform historian Marc Okkonen's seminal tome, Baseball Uniforms of the 20th Century — Okkonen wrote an article about Cubs uniform history, illustrated with his now-familiar mock-ups, for the Cubbies' program. This was when Okkonen was doing the research that would form the basis for the book — he did a decent number of articles like this one along the way. Reader Paul Kosman, who collects Cubs programs, recently came across the article and scanned the entire thing, which you can see here.
Interestingly, as you can see above, the article contained a major error: The two uniforms listed as being from 1971 are actually from 1972. (The Cubs still had button-front jerseys in '71.) Fortunately, Okkonen got it right in the book. But the fact that this type of mistake could be made by the greatest uniform historian of them all — about something that had happened only 15 years prior — should be a good reminder that we shouldn't just take things at face value. Fact-check and verify!
Meanwhile, if you want to learn more about Okkonen and his work, check out my six-part series of articles about him from 2019.
(Big thanks to Paul Kosman for sharing this article with us.)
• • • • •
• • • • •
The Ticker
By Alex Hider

Baseball News: Reader James Gilbert notes that the Looney Tunes classic "Baseball Bugs" features a grey-vs.-grey uniform matchup. … Former Alabama baseball player Georgie Salem had a grooms cake at his wedding shaped like the Tide's Sewell-Thomas Stadium (from Griffin Smith).

NFL News: Seahawks president Chuck Arnold said on local radio yesterday that even if owners choose to lift the one-shell rule this offseason, it's unlikely that the team would have the time to debut throwback uniforms for the 2021 season (from J.A. Scott). … Former Bucs and Chargers WR Vincent Jackson died yesterday. He was one of just a handful of Bucs players to wear all three of the team's primary uniform designs. He joined the Bucs in 2012 — the last time the team wore the Creamsicle throwbacks — and was there through 2016, the start of the alarm clock era (thanks to the unnamed reader who shared). … Reader Chris Cruz spotted a blue car with a Browns-inspired paint scheme on just the hood and roof — with California plates!

Hockey News: Included in this graphic is a photo of former Islanders G Billy Smith wearing a helmet with a New York Jets sticker on it (from Steve Watson). … Popeyes restaurants in Edmonton are giving away collector's cups based on the Oilers' jersey designs (from Ted Taylor). … The Hurricanes had some fun with newly acquired C Cedric Paquette. Instead of putting his name on his locker nameplate, they just put "New Guy" (from Wade Heidt). … Also from Wade: Edmonton's Cross Cancer Institute hosted the world's longest hockey game (252 hours!) last week as part of a fundraising event. The two teams, Team Hope and Team Cure, wore jerseys based on Team Canada's 1984-1991 Canada Cup uniforms.

NBA News: G Chasson Randle just signed a two-way contract with the Magic. He'll wear No. 25 when he's on the squad (from Etienne Catalan). … ESPN analyst Stephen A. Smith says NBA players should avoid wearing low-cut sneakers in order to avoid ankle injuries (clip begins at 1:59 mark) (from Trevor Williams). … Wizards G Bradley Beal crawled under the tarp to retrieve a loose ball last night (from Mike Chamernik).

College Hoops News: Virginia coach Tony Bennett and Florida State coach Leonard Hamilton wore towels on their shoulder bearing the image of former Georgetown coach John Thompson during last night's game (from Ryan Turley).

Soccer News: AS Roma has signed a new kit deal with New Balance (from Ed Zelaski). … Chelsea warmed up in Chinese Lunar New Year jerseys prior to their game with Newcastle yesterday (from Jakob Fox). … Also from Jakob: The Premier League has also unveiled a new ball design. … With snow falling in Germany yesterday, officials broke out the orange "visibility" ball for a Bundesliga match between Bayern Munich and Arminia Bielefeld (from Scott Rogers). … UEFA has unveiled the new ball design for the upcoming Champions League knockout stage matches (from Ed Żelaski). …  New white jersey for New York Red Bulls (from Tim Baker). … Philadelphia Union tweeted Valentine's cards to every other MLS team on Sunday (from Jeremy Brahm). … Soccer star Denise O'Sullivan only played for Australian club Western Sydney Wanderers last year, but one fan went ahead and got a tattoo of her anyway (from James Gilbert).

Grab Bag: F1 racing team McLaren has a new logo, a new livery for its cars and has published a logo history on its website (from Anthony Emerson and Ephraim Vorzman). … Speaking of McLaren, driver Daniel Ricciardo has a new helmet design (from Kary Klismet). … Daytona 500 winner Michael McDowell, who was listed at 100:1 odds prior to the race's start on Sunday, was considered such a longshot to win that Fanatics didn't even pre-make graphics promoting his championship merch (from Curran). … Speaking of McDowell, he was wearing Valentine's Day socks yesterday while officials took prints of his hands and feet for a racetrack display (from @texastrevor). … James Gilbert spotted an apostrophe catastrophe in this graphic celebrating North Carolina's Intercollegiate Tennis Association indoor championship. … Here's what every team will be wearing — Pool A and Pool B — at this year's Tournament of Hearts Canadian Women's Curling Championship (from Wade Heidt and Adam Peleshaty). … In honor of Presidents Day, Brinke sent along this piece about the designer of the Presidential Seal. … Virginia women's lacrosse wore new white jerseys for the first time yesterday (from our own Jamie Rathjen). … La Crosse Central High School (Wisconsin) will likely change its team name from Red Raiders to Riverhawks (from Kyle Baker).
• • • • •
• • • • •
• • • • •
Our latest raffle winner is Chris Whitham, who's won himself a Uni Watch membership card. Congrats to him, and thanks to Chris Hickey for sponsoring this one. — Paul