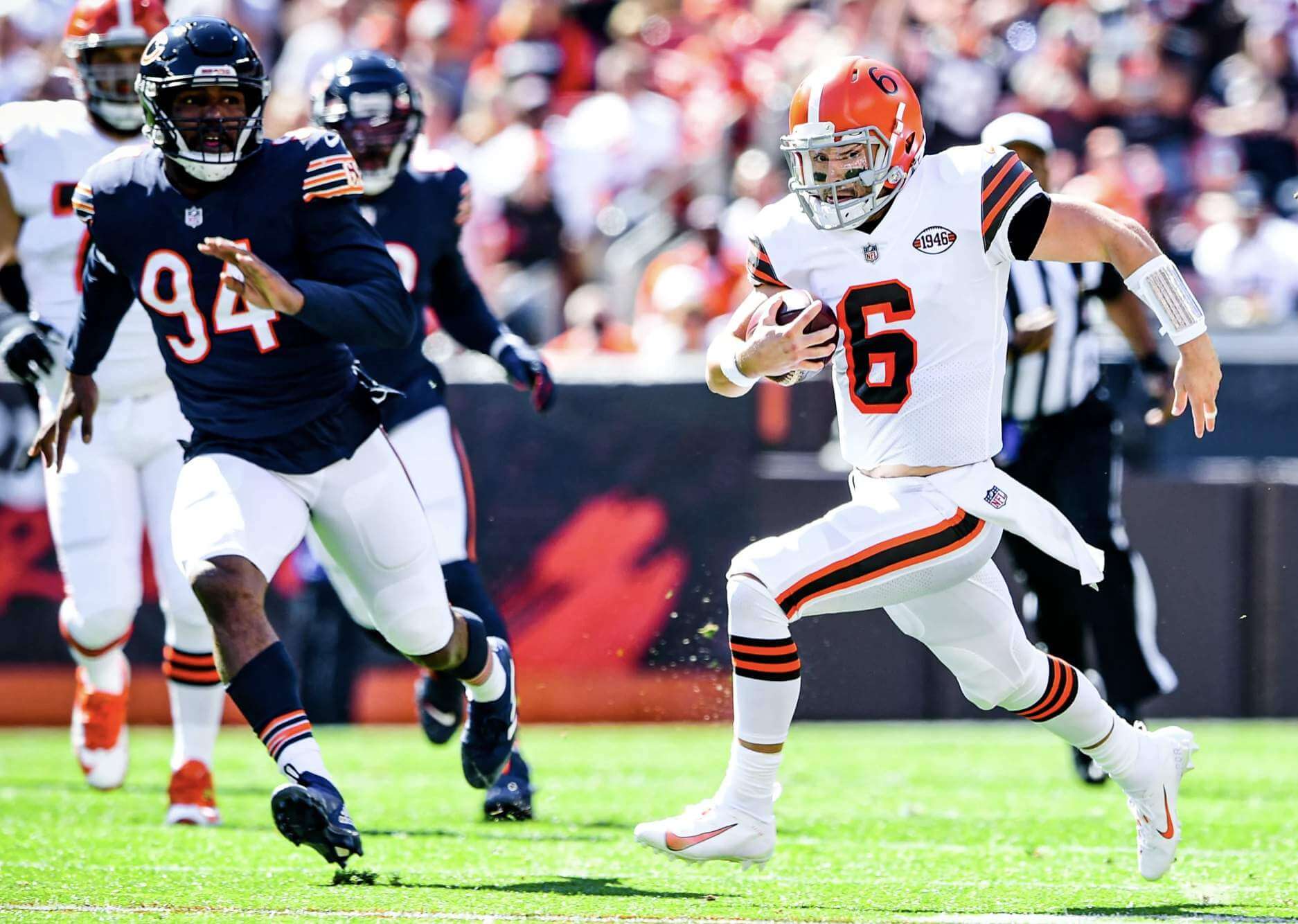 For all photos, click to enlarge
Good morning! Welcome to the last week of September. We're having a run of near-perfect weather here in NYC — hope things are nice where you're located as well.
Now then: The Browns debuted their 75th-anniversary throwbacks for yesterday's game against the Bears (lots of additional photos here, here), and here). The good news is that the uniforms generally looked very good, as did the uni matchup between the two teams (the rare game featuring both teams in striped socks!) The bad news is that several Browns players had some quality-control issues with their helmet numbers: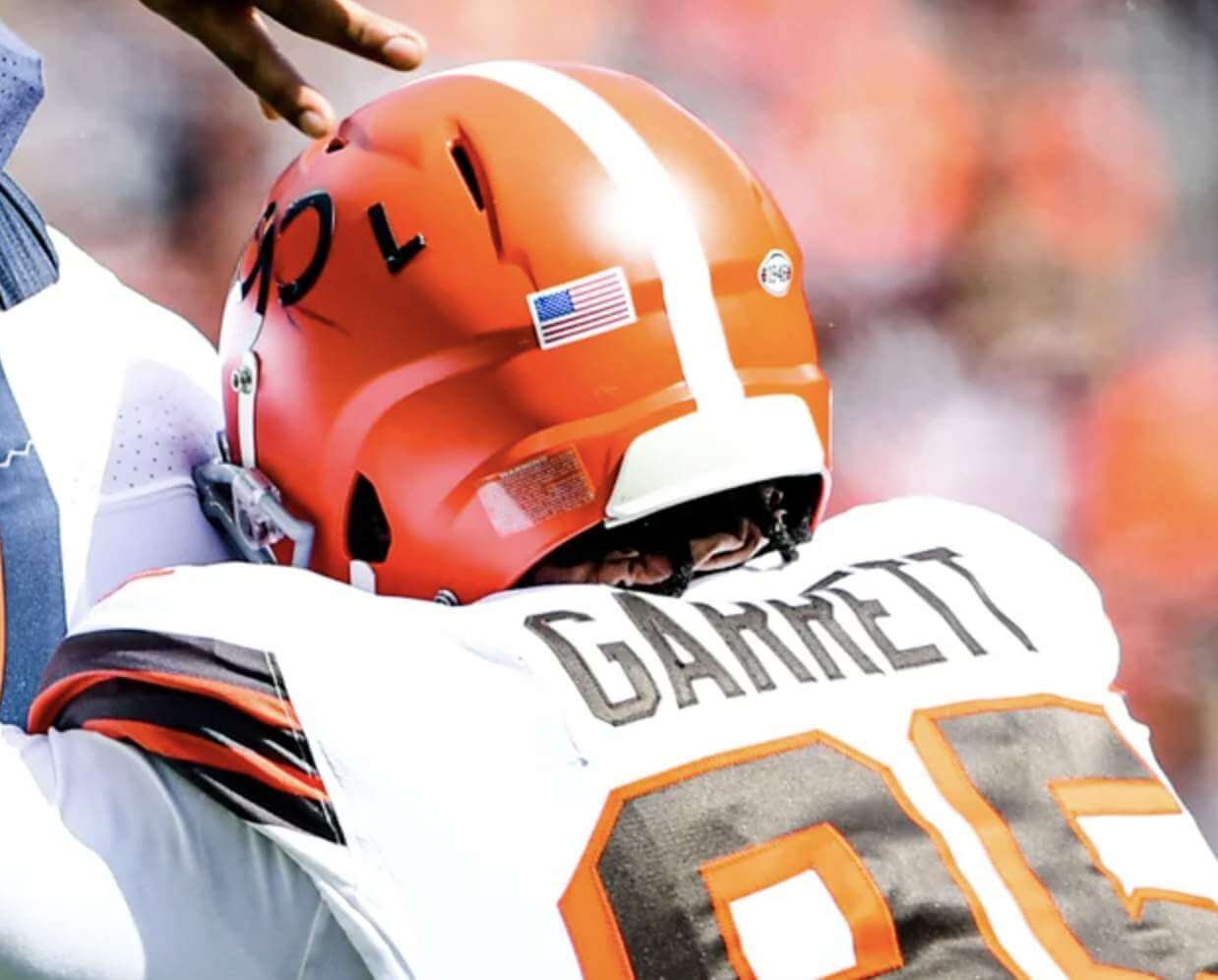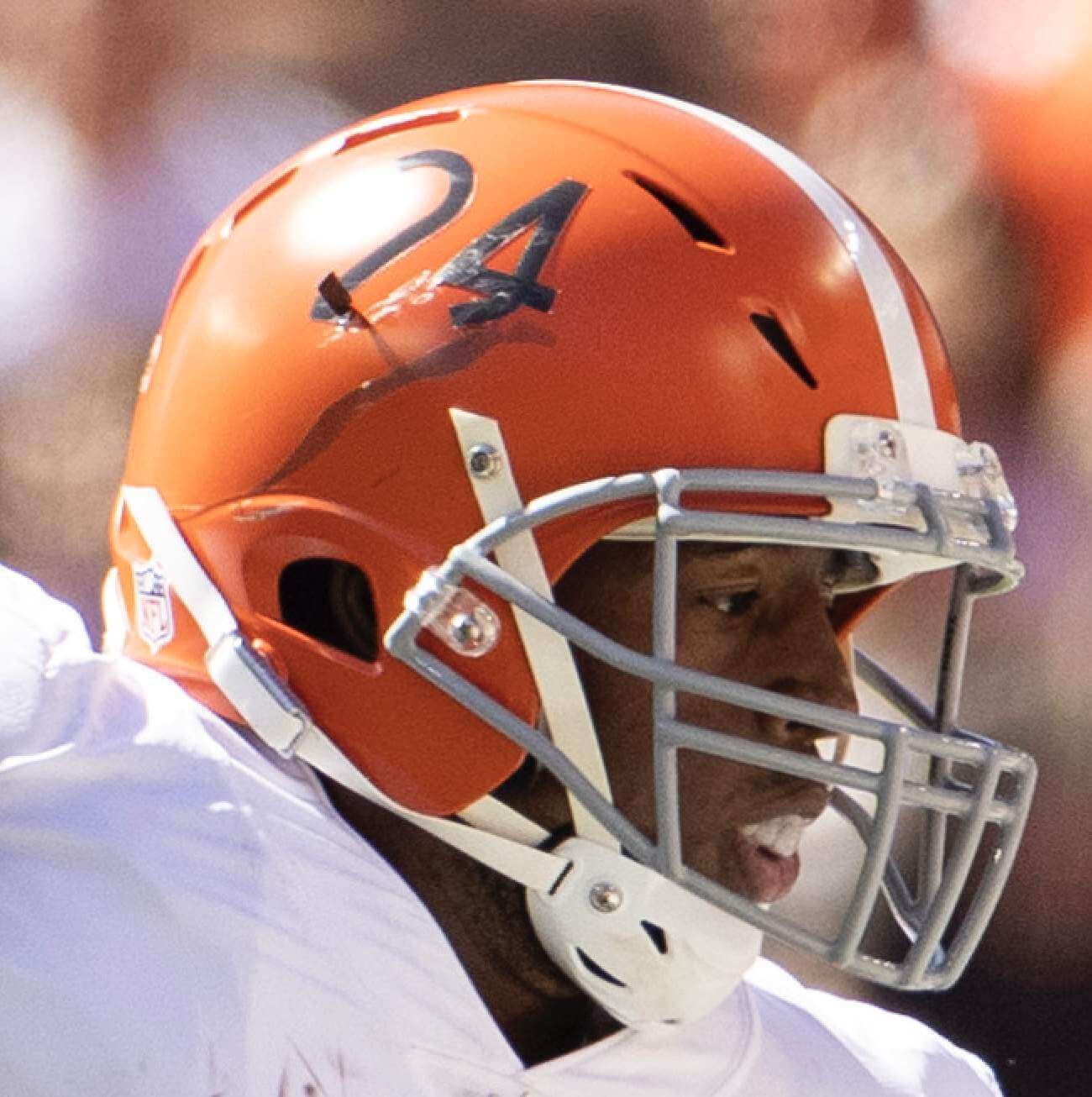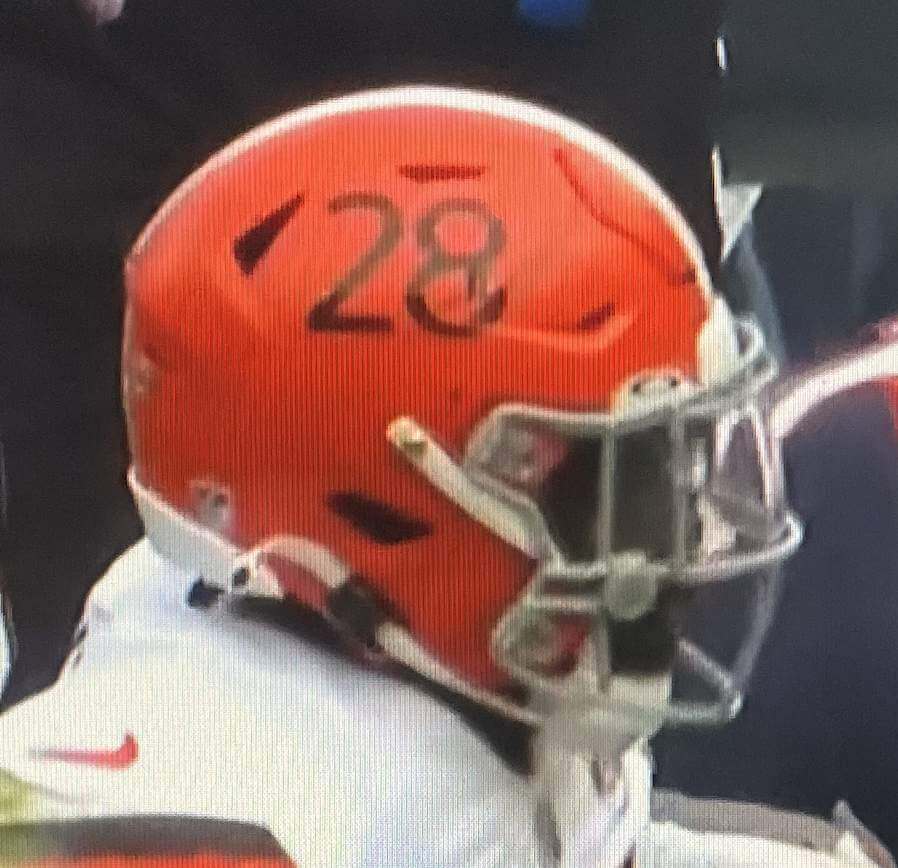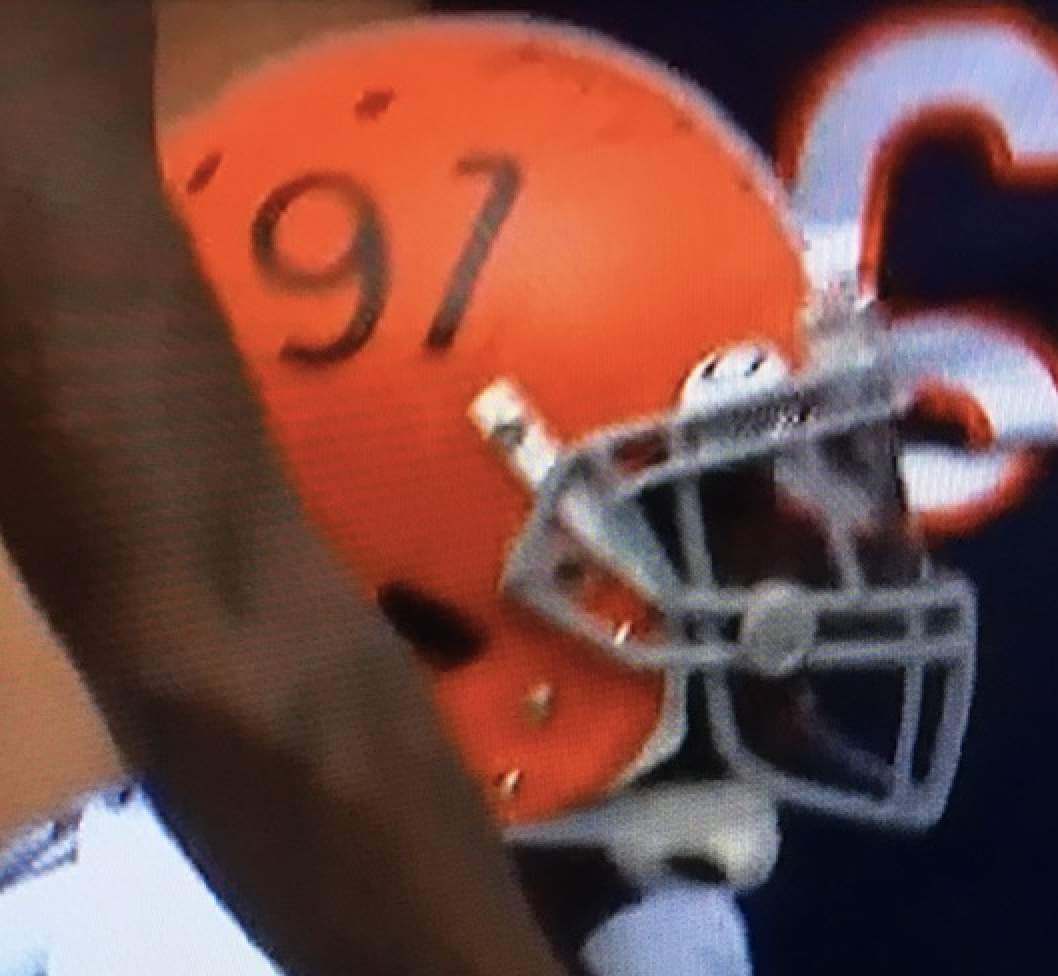 There were other players besides those four, but you get the idea. The Browns might want to consult with the Chargers, who have a bit more experience with helmet numbers.
Cleveland also used some old-fashioned scoreboard graphics for the throwback game: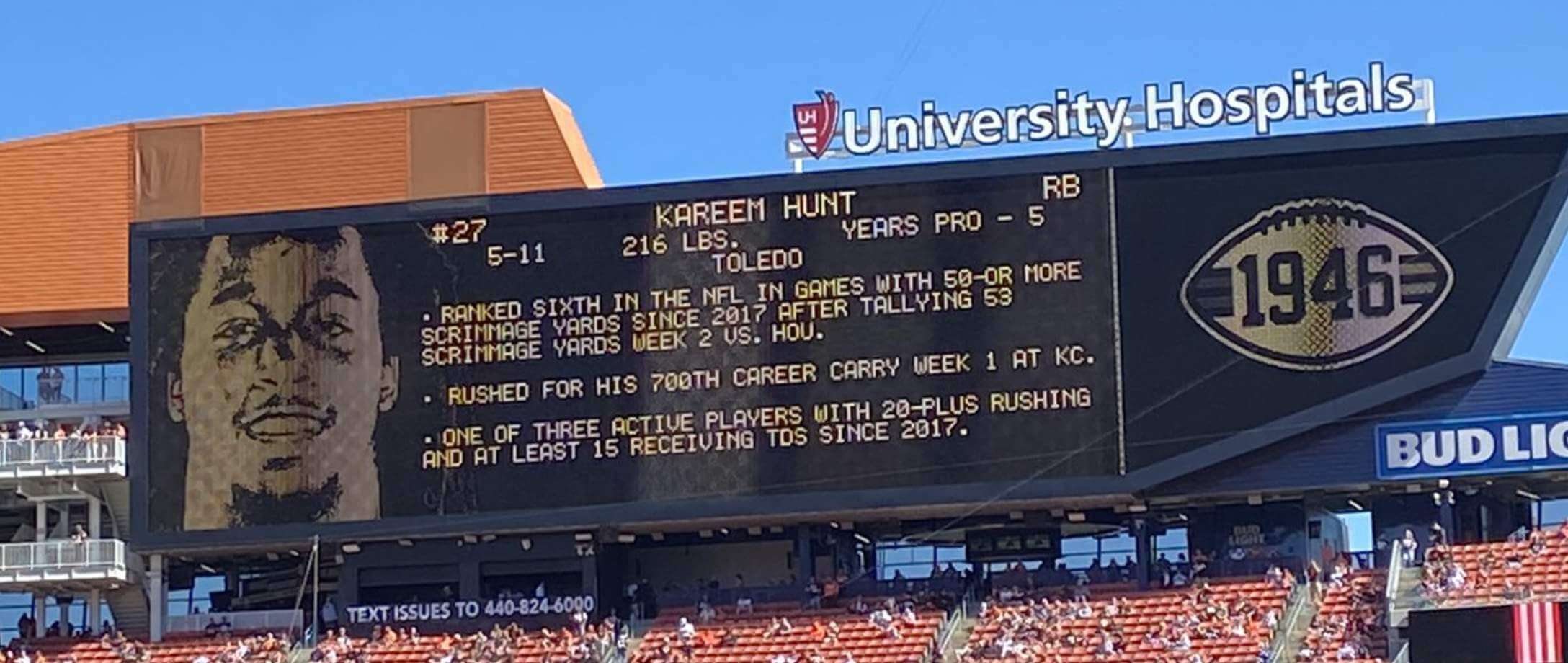 In other news from around the league yesterday:
• The Browns weren't the only team debuting a 75th-anniversary throwback. The 49ers wore their block-shadowed home throwbacks, making for a very nice uni matchup against the Packers (additional photos here and here: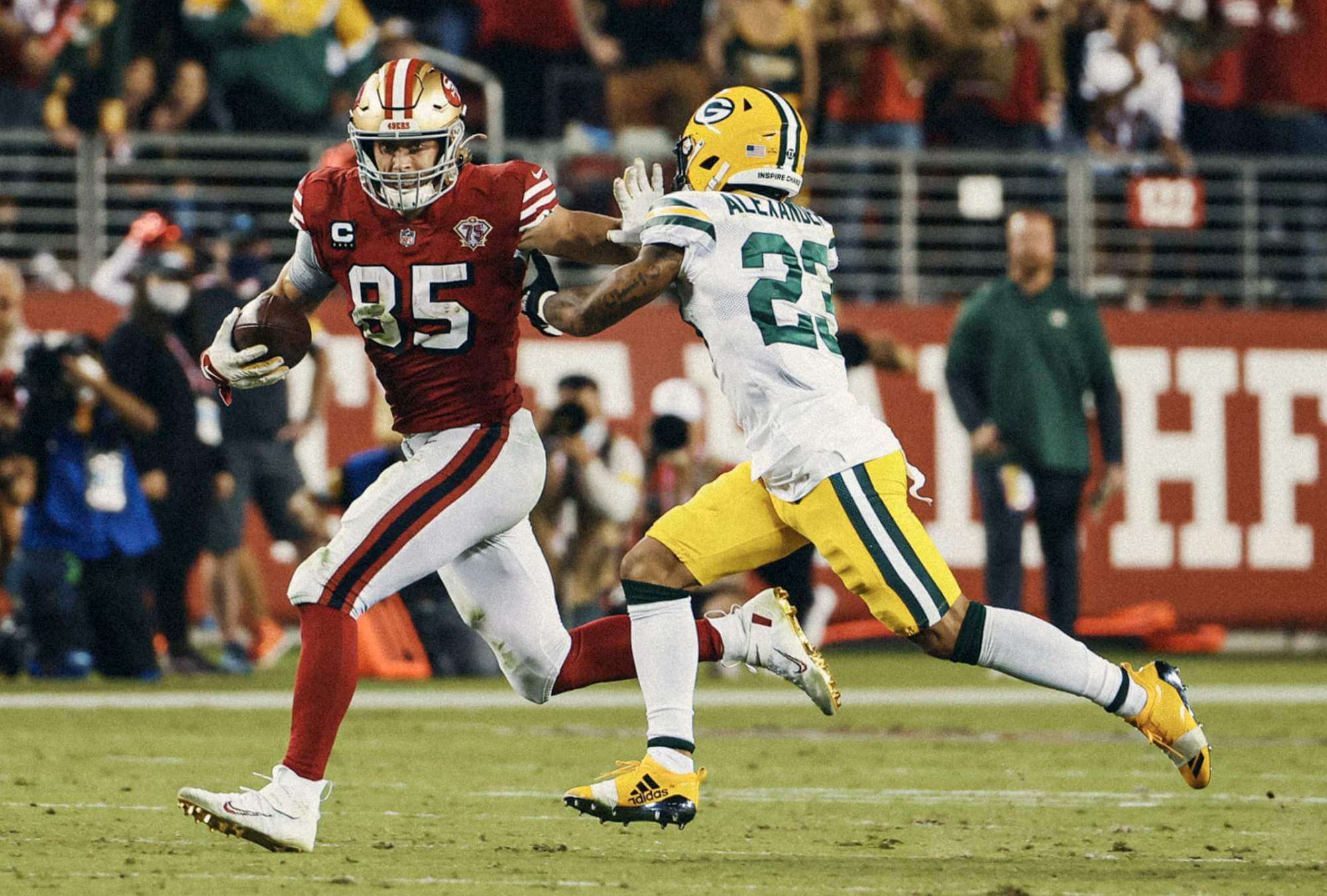 In an interesting little nuance, the Niners use red captaincy patches for their primary red and white jerseys, but they use black patches for their two throwback jerseys (including the red ones than debuted last night). Here's a comparison — primaries on top, throwbacks on bottom: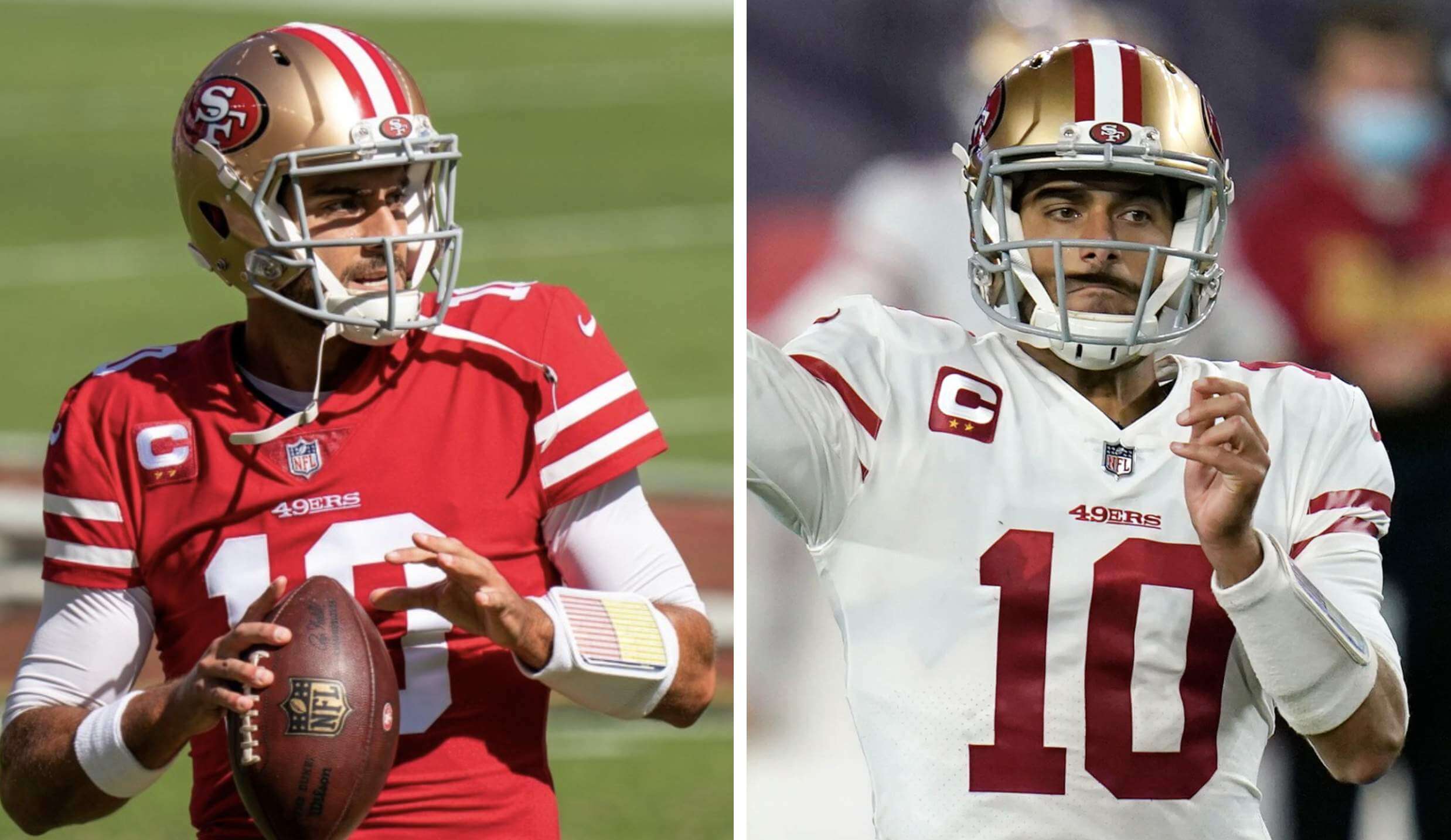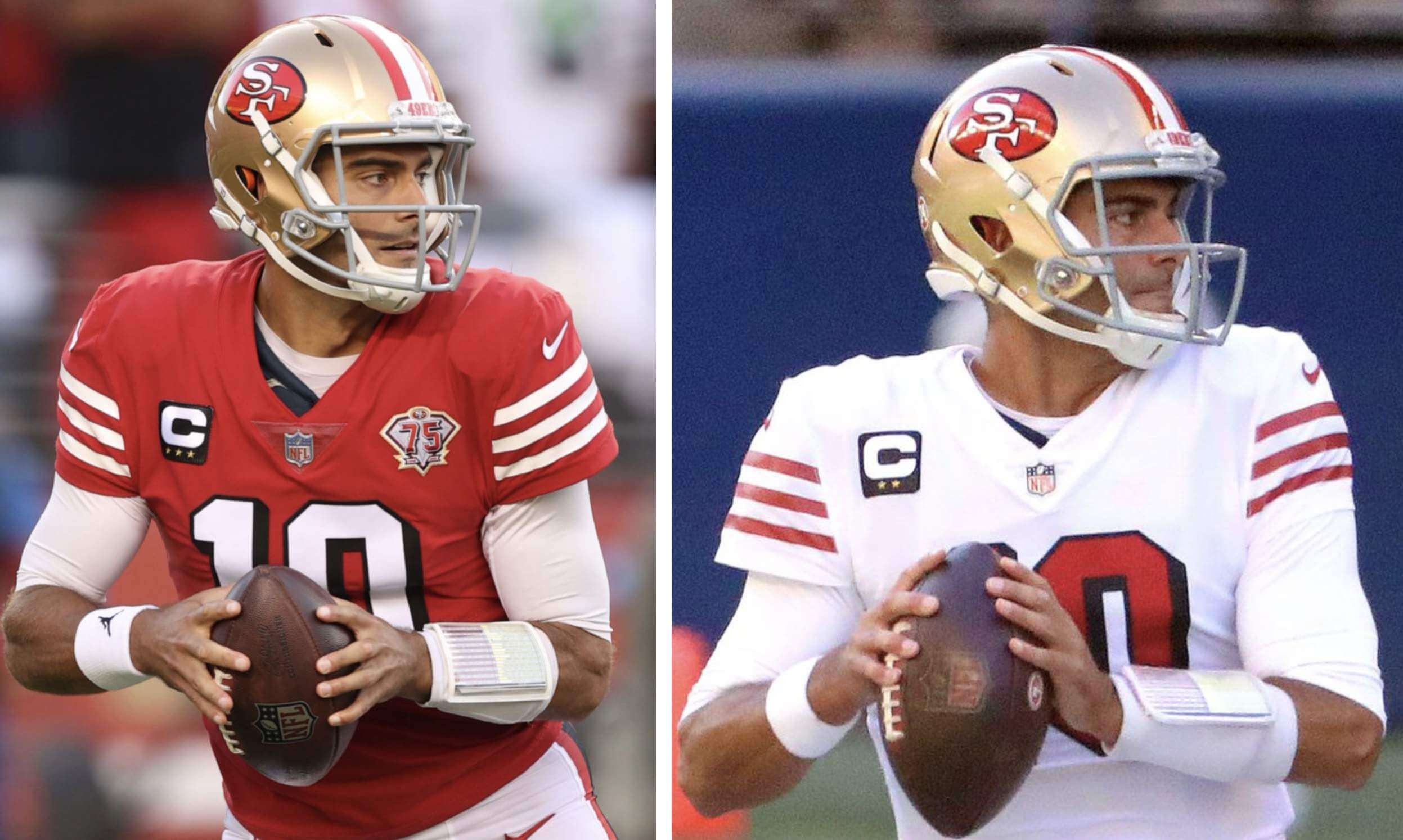 I get that they're probably doing this to match the black block-shadowing on the numerals, but it still feels like a gratuitous use of black to me.
• Ewwww — the Lions went mono-grey: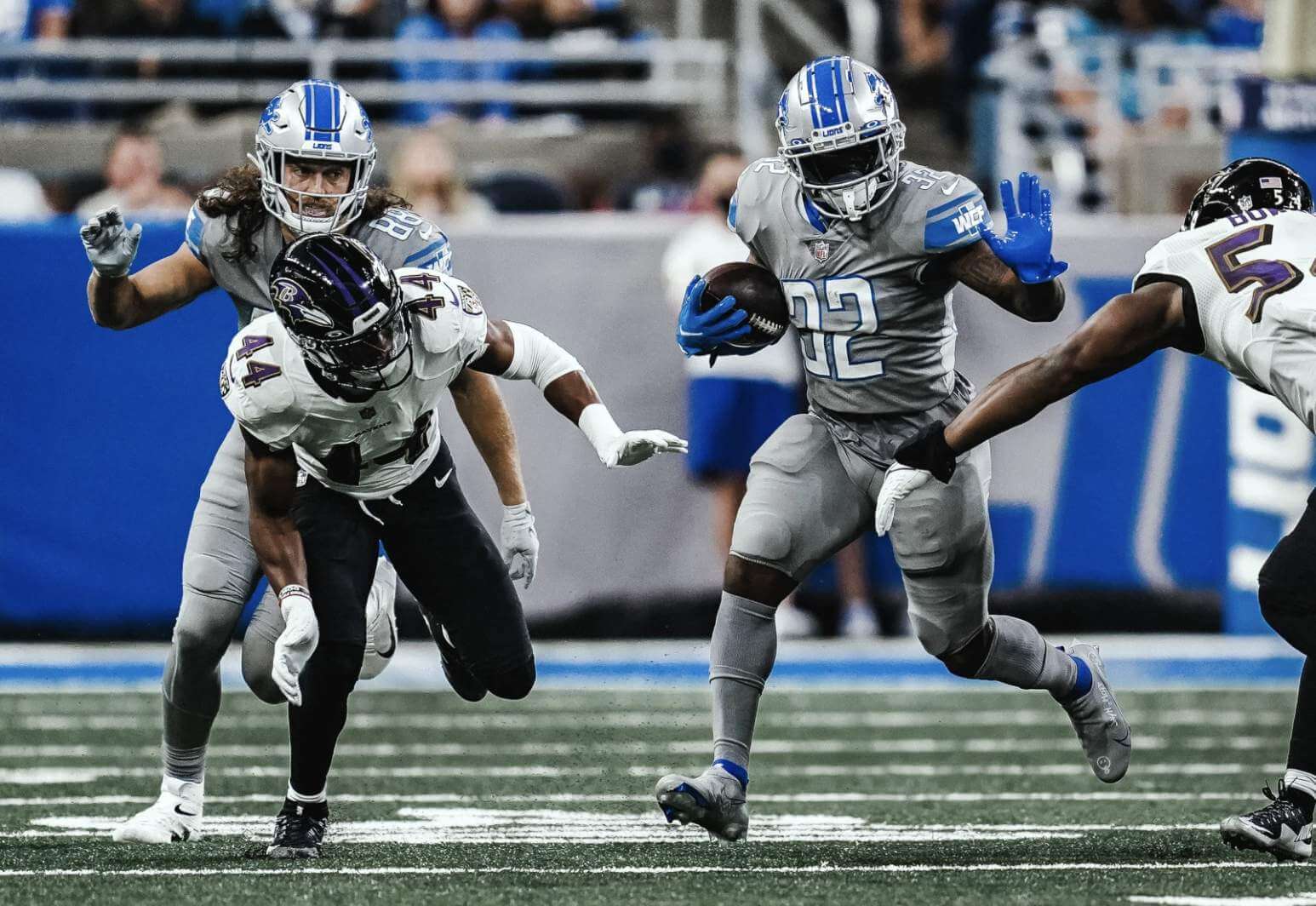 • Double-ewwww — the Bucs and Rams went mono-pewter vs. mono-dishwater: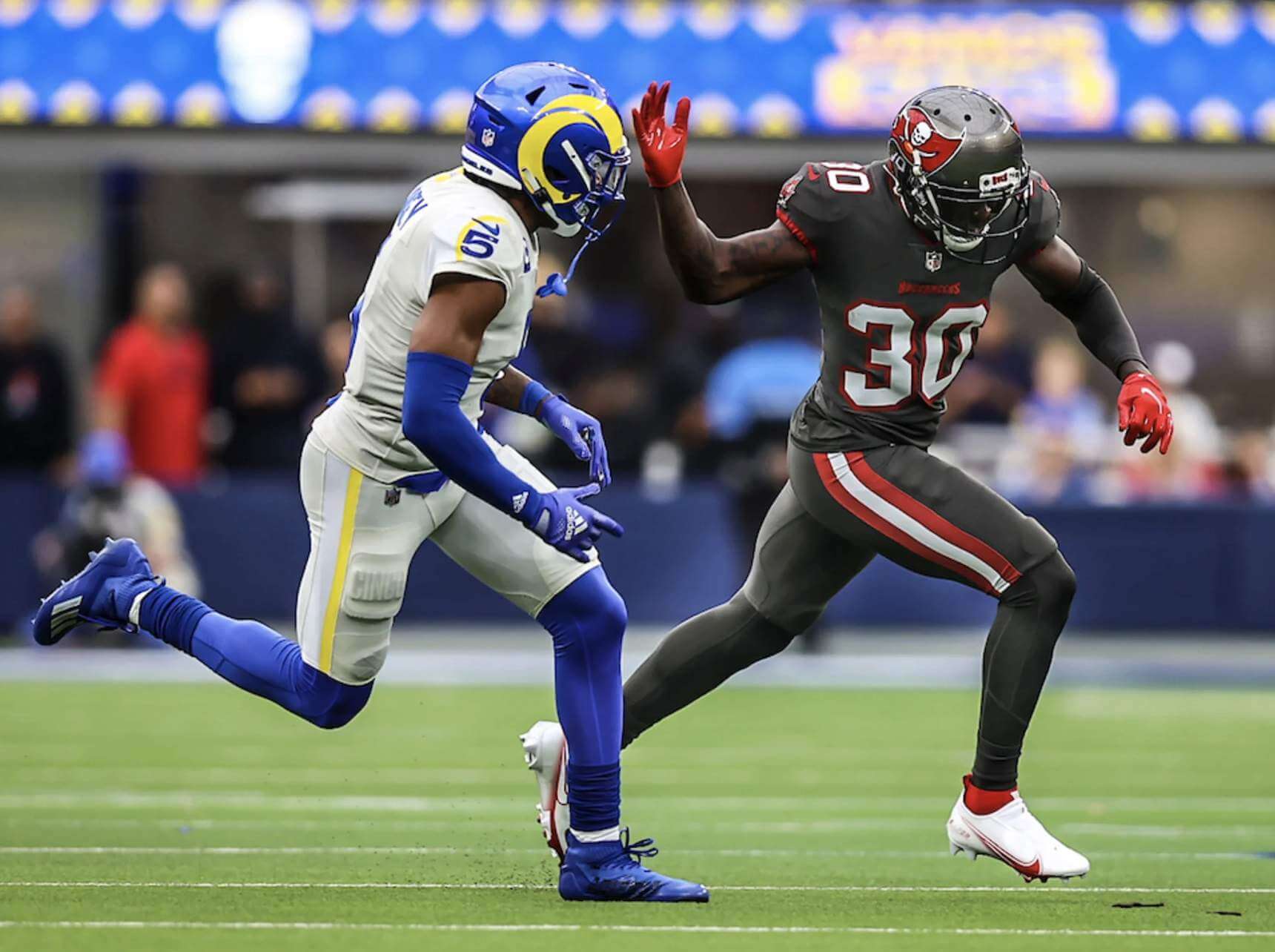 • KC's arrowhead helmet logo notwithstanding, their game against the Chargers was a very good-looking uni matchup: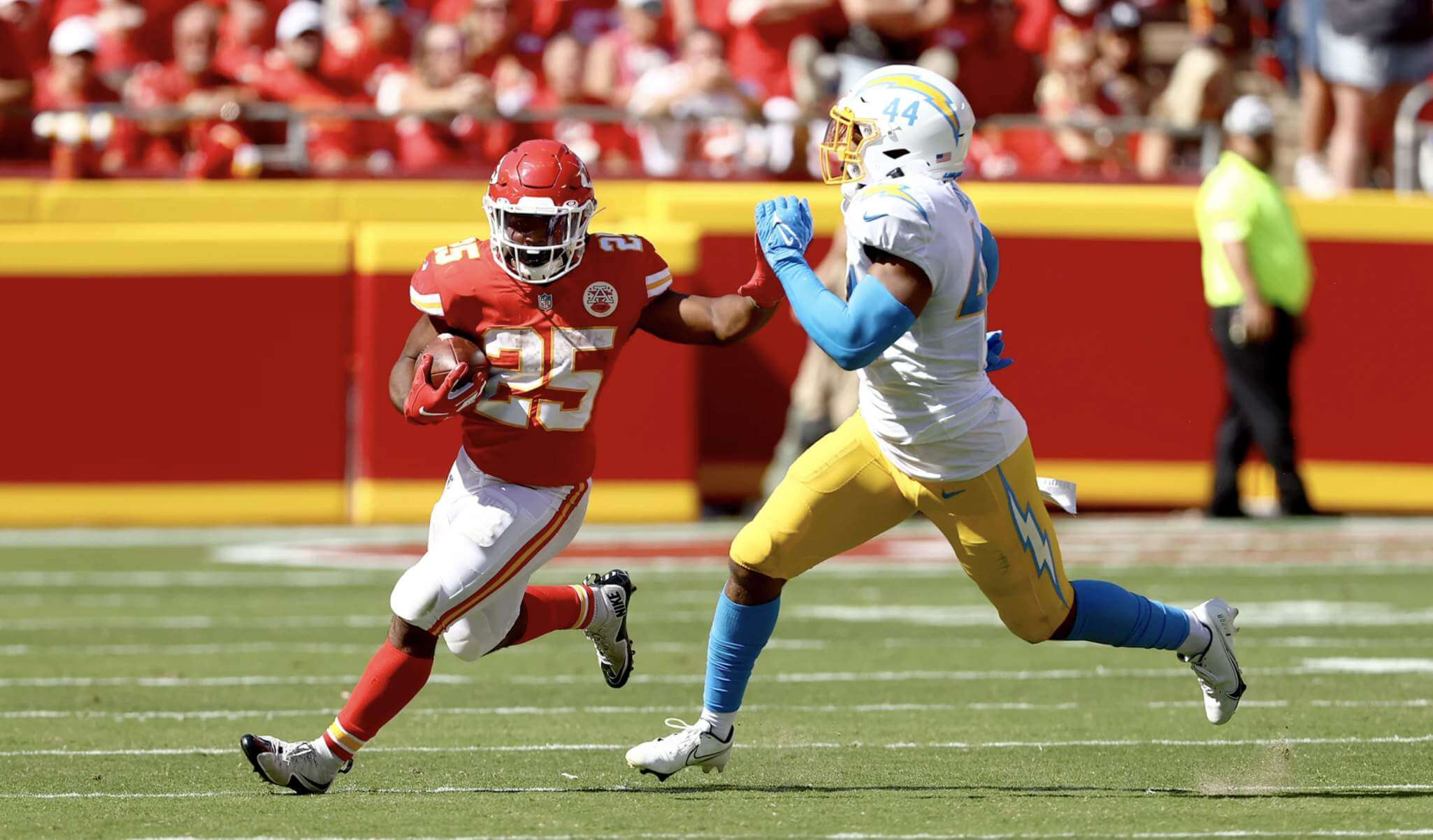 Third turnover of the first half by the Chiefs 😳

(via @NFL) pic.twitter.com/yrNyMxwRrX

— NFL on ESPN (@ESPNNFL) September 26, 2021
• I don't like the Broncos' or Jets' uniforms, but I do like the chromatic collision of orange and green that their game provided yesterday: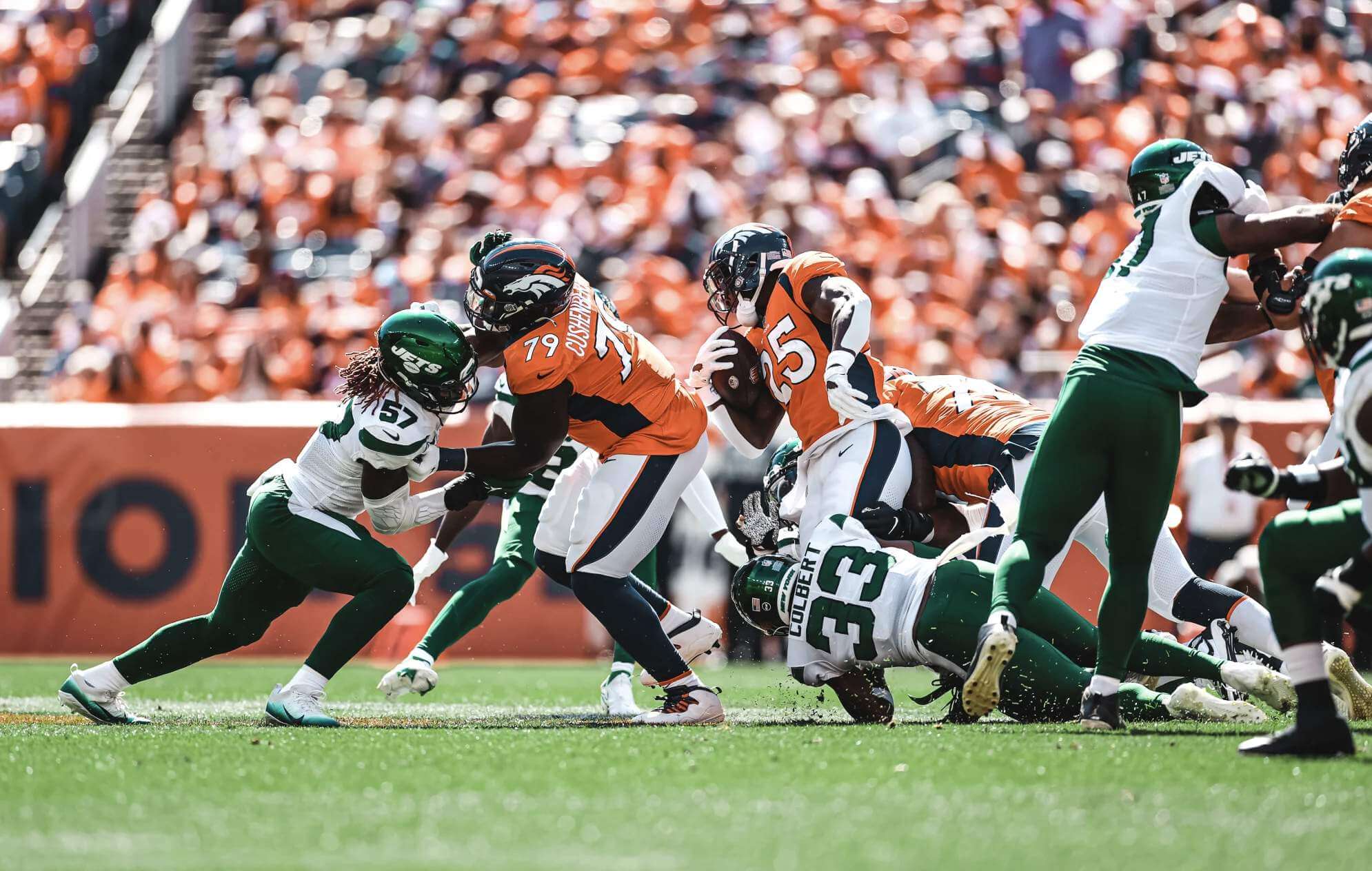 • The Giants retired Eli Manning's No. 10 during halftime of their game against the Falcons: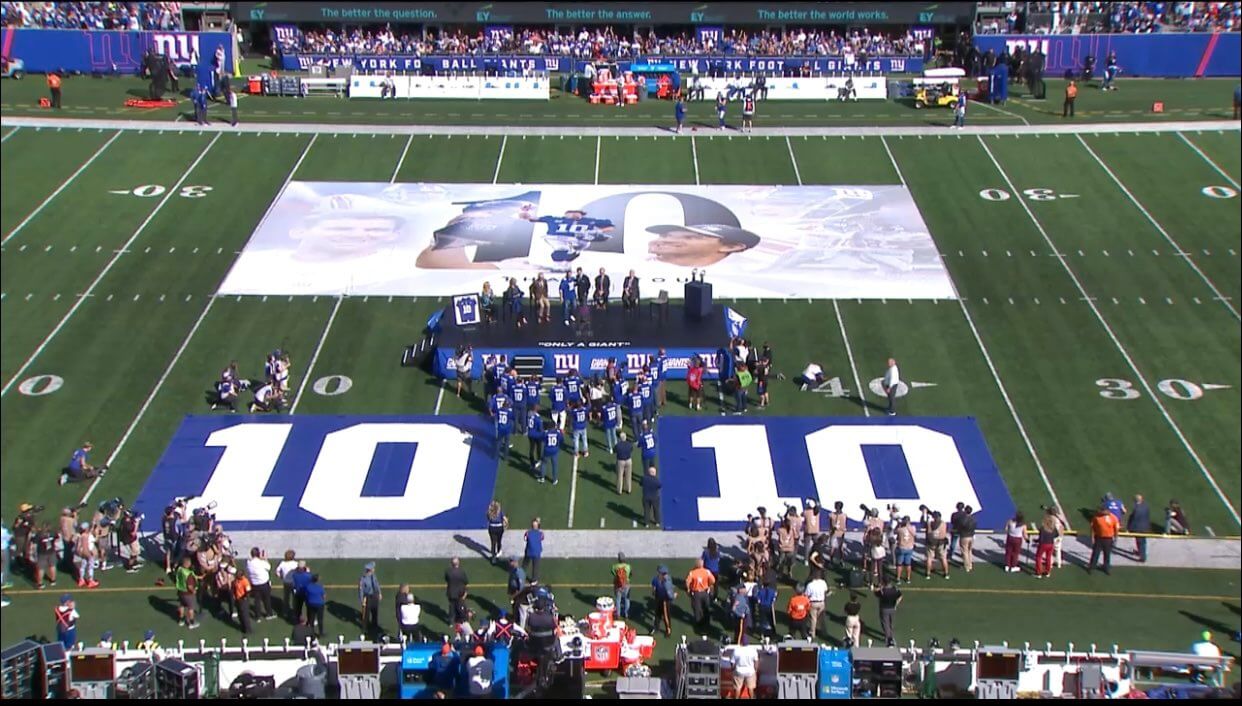 • The Titans wore Oilers shirts for pregame warm-ups: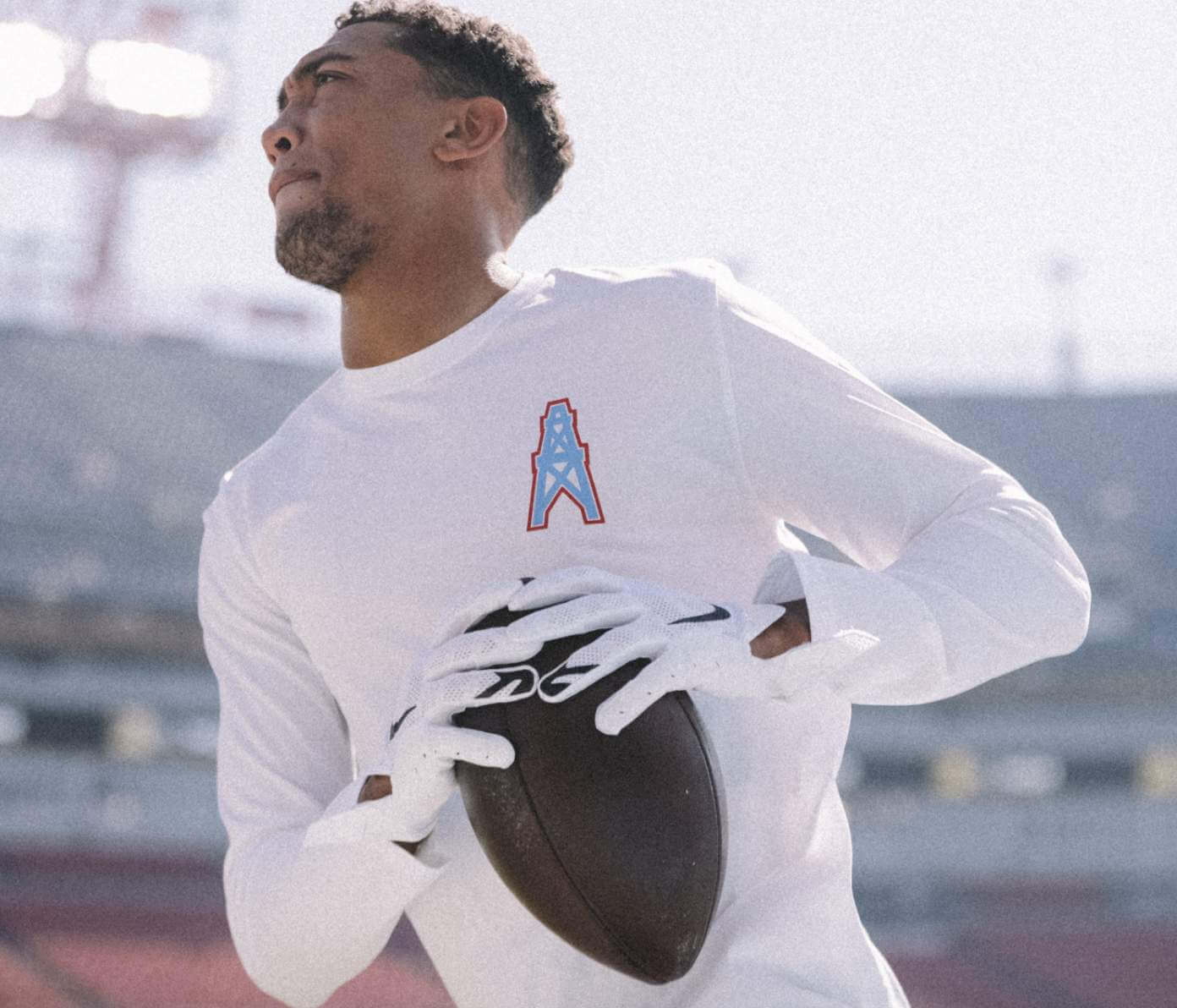 • Only two teams wore white at home: the aforementioned Browns and the Jaguars (plus the aforementioned Rams if you count dishwater as white).
(My thanks to all contributors, including K.C. Kless, Mark Morgan, Brandon Rudolph, Ignacio Salazar, and our own Alex Hider.)
• • • • •
• • • • •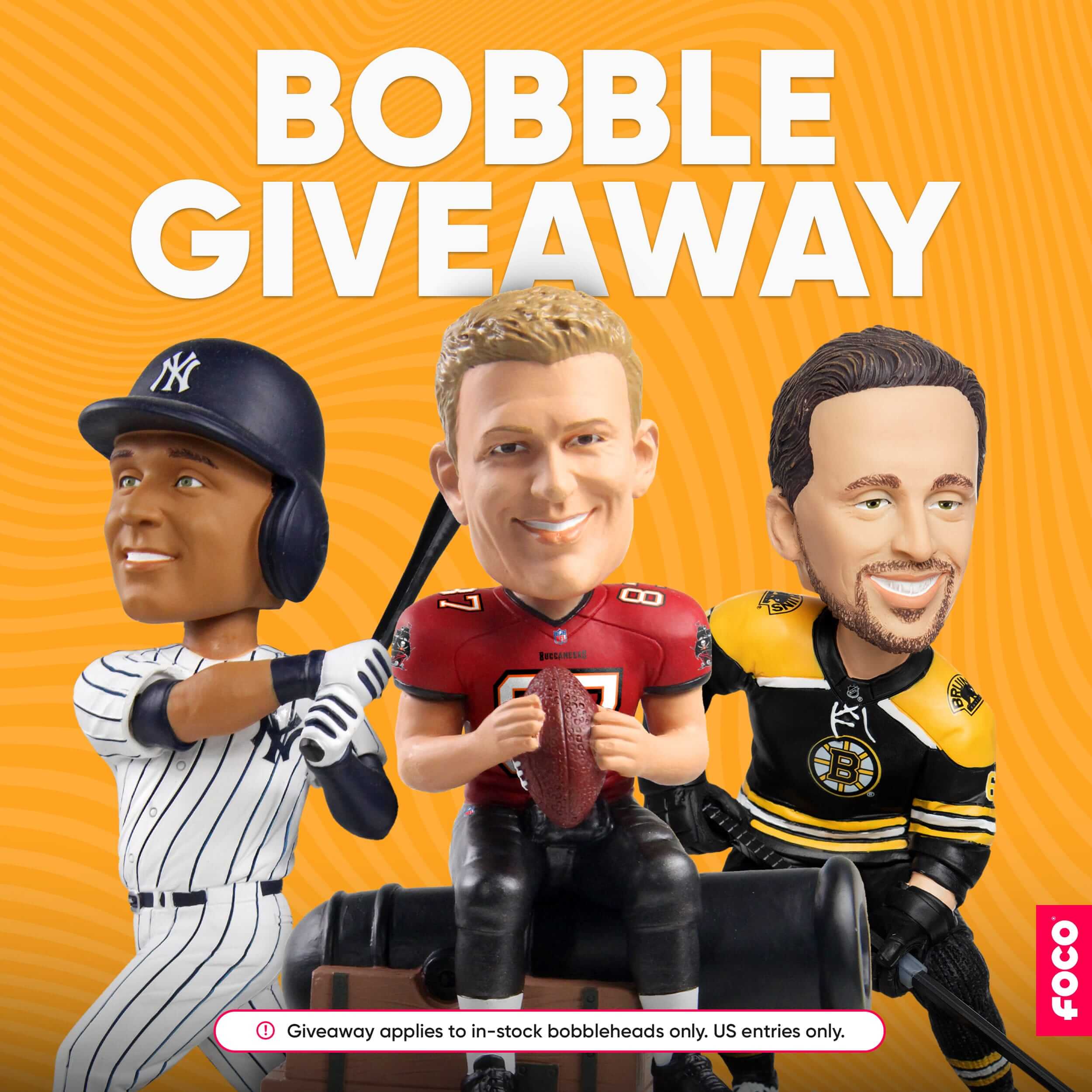 ITEM! Bobblehead raffle: The good folks at FOCO, who are among America's premier designers and manufacturers of bobblehead dolls, have generously invited me to raffle off one of their bobbles to a lucky Uni Watch reader. The raffle winner will be to choose any bobble shown on this page (well, except for the ones indicated as Sold Out, obviously).
 
This will be a two-day raffle. USA mailing addresses only. To enter, send an email with your mailing address to the raffle in-box by 8pm Eastern tomorrow. One entry per person. I'll announce the lucky winner on Wednesday. Big thanks to FOCO for sponsoring this one!
• • • • •
• • • • •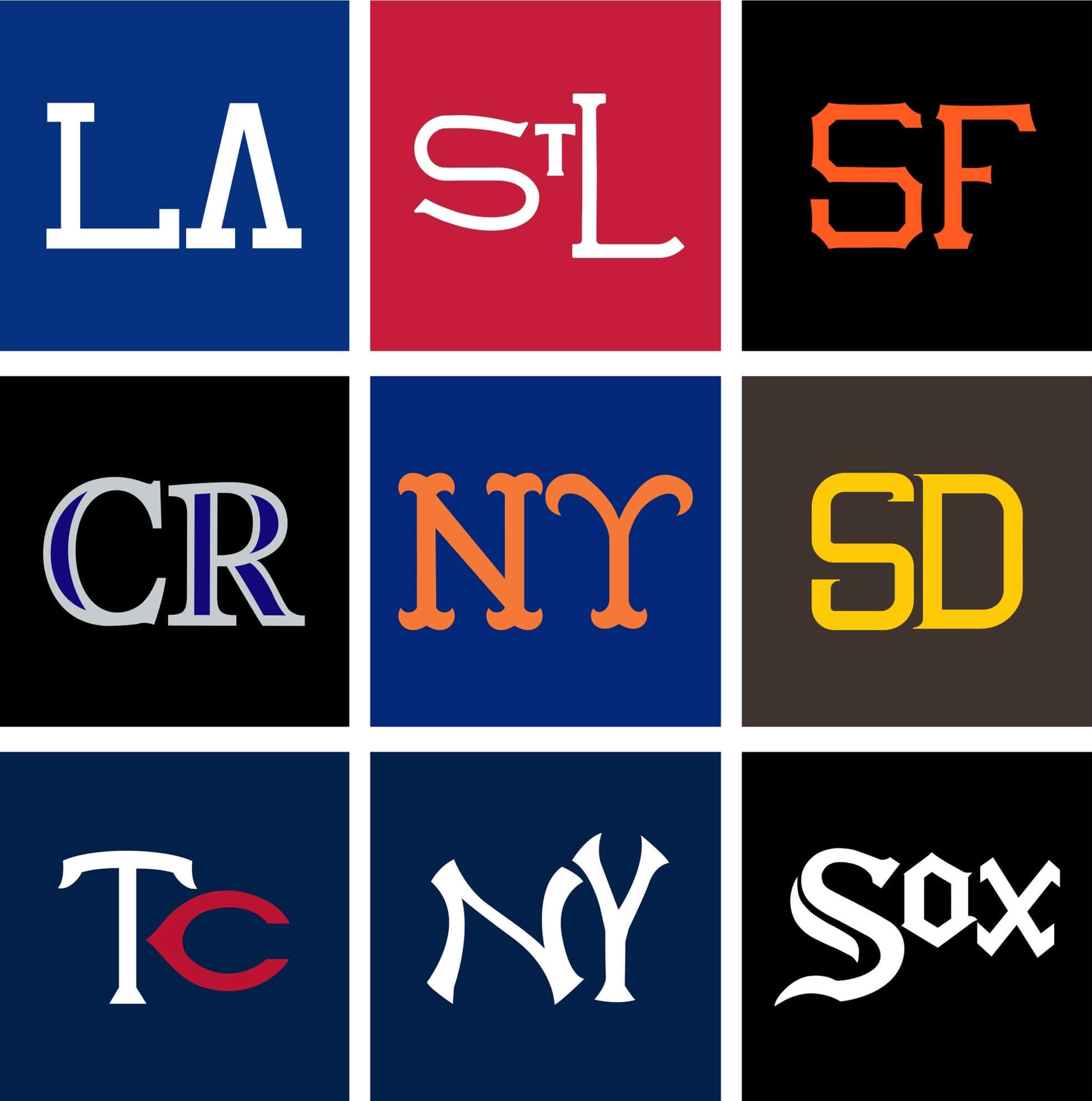 Click to enlarge
Too good for the Ticker: What you see above are MLB's nine interlocking-letter cap logos, each deconstructed into its constituent parts — a really fun exercise from Twitter-er Renzon Sanchez.
Wondering why the Rays' cap logo isn't included? That logo's letters don't quite interlock!
(Thanks to all who shared this one.)
• • • • •
• • • • •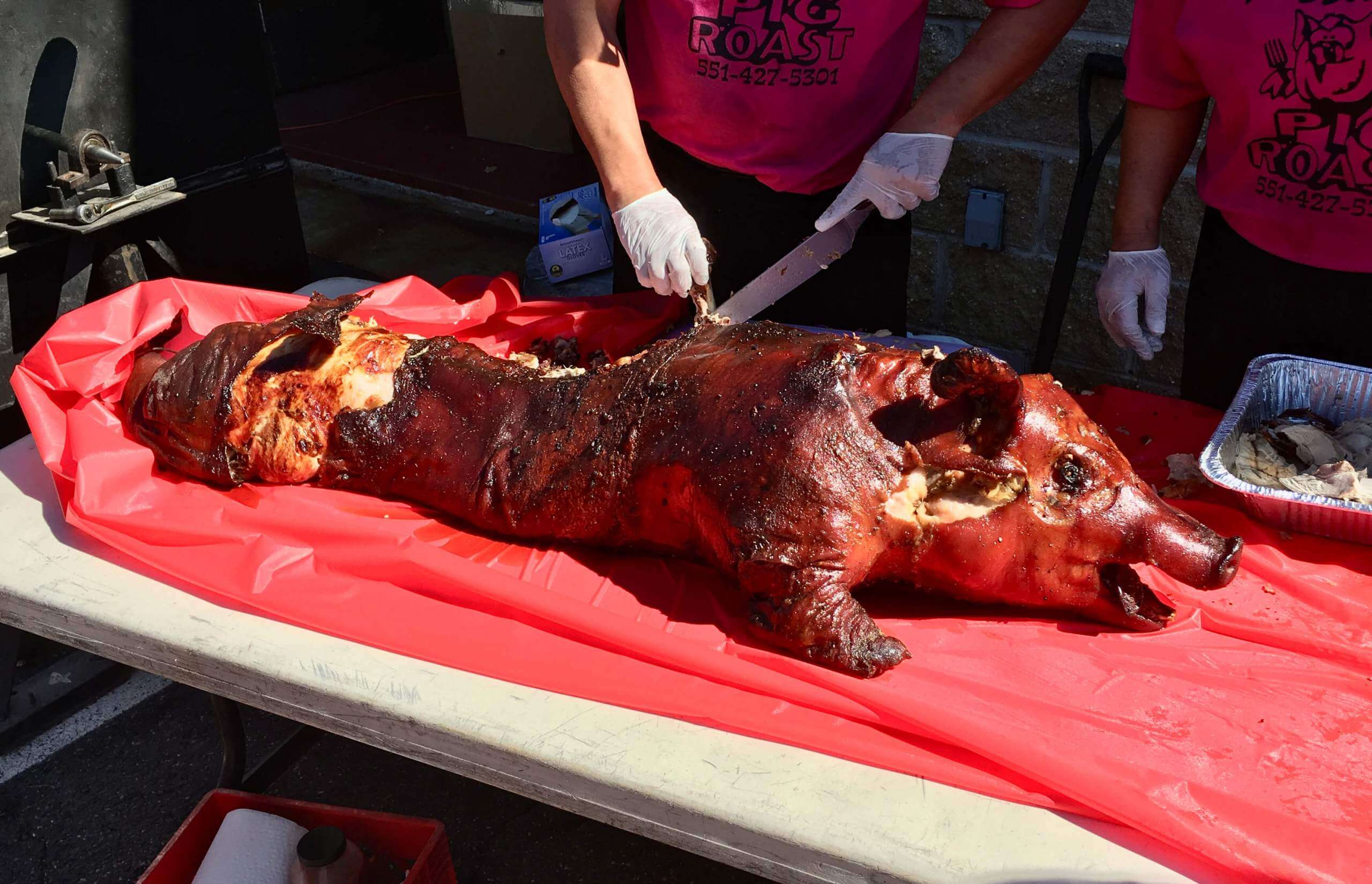 Click to enlarge
Culinary Corner: If there's one thing I love, it's a good volunteer fire department mass-feed fundraiser. I grew up attending the annual chicken barbecue at my hometown fire department, and I've attended many a firehouse eat/drink event since then. So when Mary and I learned that the Carlstadt Fire Department in New Jersey would be doing a pig roast on Sept. 25, we grabbed our friend Emily and went to check it out. The guest of honor is shown above.
As excited as I was about the pig roast, I was also a bit concerned — what if they overcooked the pig? There are few things worse that dried-out pork. So I thought it might be wise to bring some barbecue sauce, just in case. And I decided to whip up a batch of South Carolina-style mustard-based sauce — something I'd never made before.
After looking at a bunch of recipes, I sort of merged them into this: a cup of yellow mustard; 1/3 cup each of cider vinegar, brown sugar, and smoked maple syrup (the recipes all call for honey, but we had the smoked syrup in the house and I thought the smokiness would be very barbecue-appropriate, so I swapped it in); a tablespoon each of ketchup and Worcestershire sauce; some generous shakes of garlic powder, salt, pepper, and cayenne; and a few splashes of hot sauce. I put all of those in a saucepan and blended them over low heat for a few minutes. The resulting concoction was very good but not quite spicy enough, so I added a bit more cayenne to give it more of a kick and then put the sauce in a squeeze bottle to take along to the pig roast.
I needn't have bothered — the pork was juicy and excellent, with lots of shards of crisp skin cracklins (and I even ended up with the tail!). But the sauce turned out so well that we used a bit of it anyway, and we have plenty left over for future use. Recommended!
• • • • •
• • • • •
The Ticker
By Jamie Rathjen

Baseball News: The Brewers celebrated radio announcer Bob Uecker's 50th anniversary on the job by putting his signature in the outfield and also marked Ryan Braun's retirement by putting No. 8 on the mound, which was also Uecker's first number as a player (from multiple readers). … On Saturday, the Rockies gave away a bobblehead of former RF Larry Walker wearing the Turn Ahead the Clock jersey, except it had a normal rear-jersey name/NOB treatment instead of the TATC jersey's vertical NOB (from Billy Cole).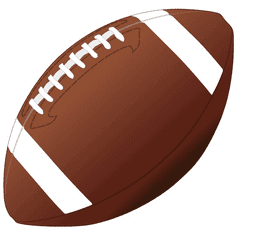 Football News: The Buccaneers/Cowboys game that opened the NFL season used a 2016 silver dollar for the coin toss, instead of the usual NFL coin (from David Firestone). … If you remember Paul's posts from earlier this year about Baltimore salt boxes, there's now a black Ravens-themed one (from Andrew Cosentino). … Left over from Saturday: An official in the Florida State/Louisville game casually partook from a bag of Skittles (from Timmy Donahue). … Oregon State RB B.J. Baylor had his NOB falling off (from Casey Lute). … The white facemasks Auburn wore last week might return (from Kary Klismet). … The next two are also from Kary: The Chargers and Snoop Dogg got a youth team in California new uniforms. … It's the 68th anniversary of Tennessee adopting a live dog mascot. … The amateur Canadian Junior Football League's Langley Rams have three new jerseys (from Wade Heidt). … Wade also has Canadian college uni tracking in yesterday's comments.

Hockey News: The first three items are from Wade Heidt: The Kraken are playing their home preseason games at WHL arenas in Washington, so they have warm-up jerseys for the occasion. … The Maple Leafs didn't wear a helmet ad on Saturday (also from Mike Guterman). … Two Avalanche goalies, Pavel Francouz and Darcy Kuemper, have new masks. … Here's a cool video showing the Ducks' ice being painted for the new season (from Brandon Weir).

Basketball News: NBA numerologist Etienne Catalan has more new and changed player numbers. … The Kings are apparently getting a new ad patch (from @Zimfroi). … Ohio's men's team has new white and dark grey uniforms (from multiple readers). … Wisconsin's men's team is retiring the No. 24 jersey, but not number, for Michael Finley (from Kary Klismet). … Also from Kary: NAIA Northwestern (Iowa) College has a new basketball floor.

Soccer News: The NWSL Players Association got players in all games this weekend to wear "No More Side Hustles" warm-up shirts, as they're close to getting their first collective bargaining agreement. What the shirt is referring to is that player payments are so low that many have side jobs in the offseason (WaPo link) or even during the season, or go to play in other countries in the winter. … NWSL supporters' groups also brought banners with the same messages. Your humble Ticker assistant sat near the ones Washington's Spirit Squadron put up. … Eintracht Frankfurt center-back Martin Hinteregger had the polo collar on this season's first shirt modified. He did the same thing with last season's second shirt (from Trevor Williams). … Tottenham Hotspur's women's team wore black armbands in memory of striker Jimmy Greaves. … A Scottish Women's Premier League match between Celtic and Hibernian saw both teams wearing second kits. … The Republic of Ireland's men's team is to wear a blue shirt for their association's 100th anniversary Oct. 12 against Qatar. The united Ireland team that existed in 1921 did wear blue, but it was the predecessor of the current Northern Irish national teams. According to Historical Football Kits, the Republic only wore blue shirts one time, at the 1924 Summer Olympics, which appears to be the basis for this shirt. … Meanwhile, Conn Rangers, a club in County Mayo, want to promote the League of Ireland by getting kids to wear the league's shirts while practicing.

Grab Bag: At least one member of the U.S. Ryder Cup team, Patrick Cantlay, wore an NOB yesterday (from Shaun Meulemans). … New kits for the second-tier Japanese men's volleyball team Veertien Mie (from Jeremy Brahm). … College field hockey teams that wore something gold for childhood cancer included Dartmouth and Iowa. … "The World Dairy Expo's signature colored wood shavings for the central display floor have finally arrived and were revealed for the 2021 event," says Bryan Martin Firvida. … The next three are from Kary Klismet: This article profiles the first Marine to wear a turban in uniform. … Radnor (Pa.) HS has a new sports logo. … Brisbane Pride doesn't want Queensland Police Services officers to participate in their pride march in uniform.