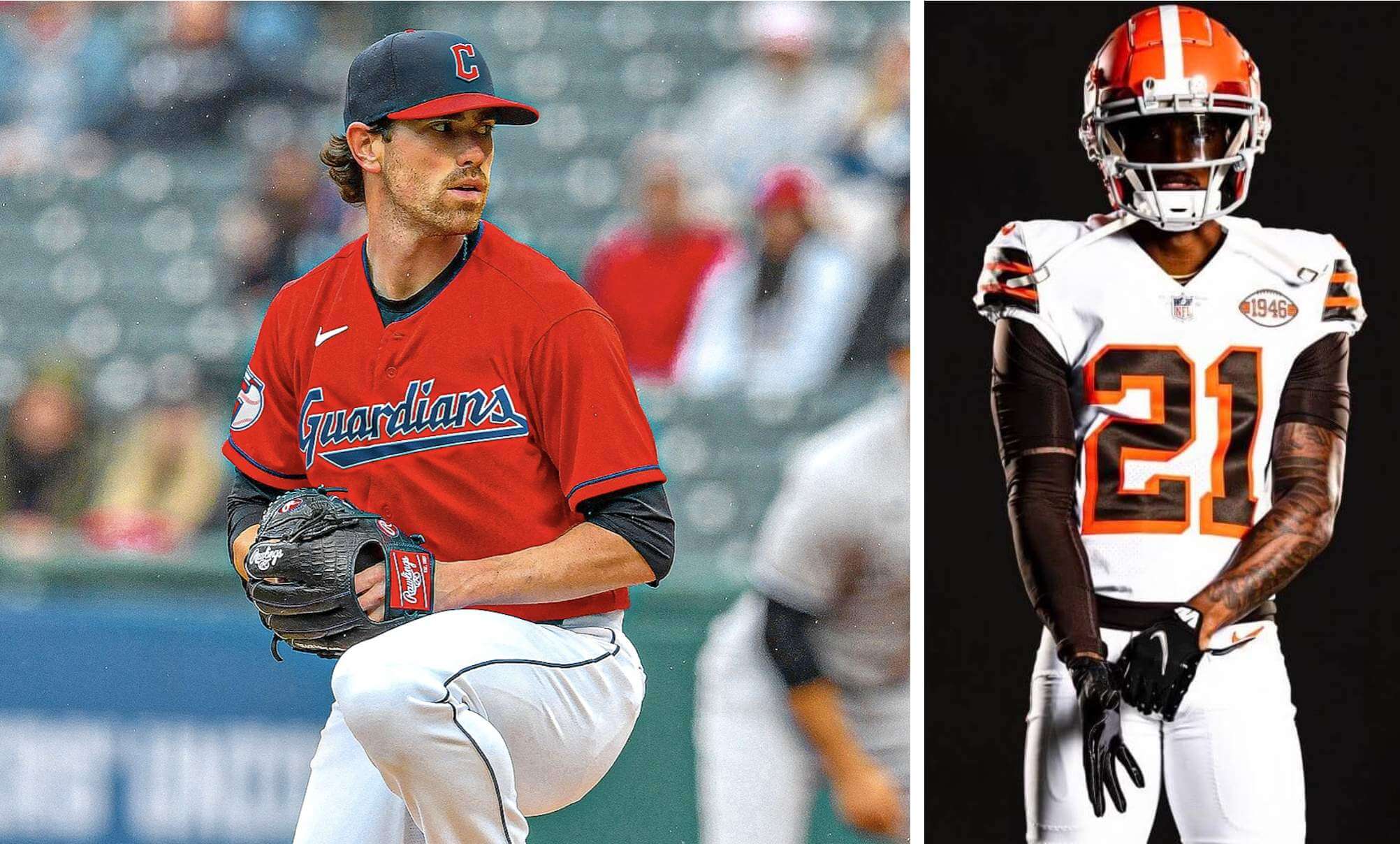 For all images, click to enlarge
As you probably know by now, there was a lot of Cleveland-related uni news over the past few days, as the Cleveland MLB team announced its new "Guardians" identity and the Browns finally unveiled their 1946 throwbacks (part of their 75th-anniversary celebration). Before I get to my own thoughts on those developments, let's have a standing O for Phil, who provided great coverage over the weekend. If you haven't already read his stories on the Guardians and Browns, I strongly urge you to do so.
As for me: Let's start with the Browns, since that's a fairly straightforward situation. Just to refresh your memory, here's a look at the design: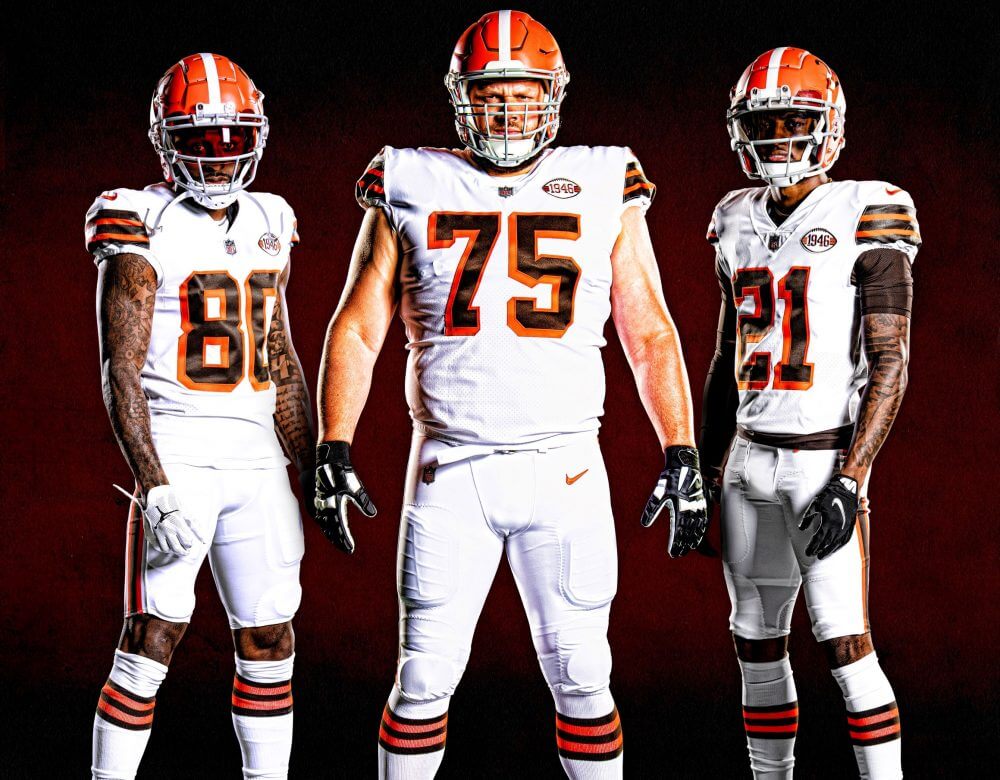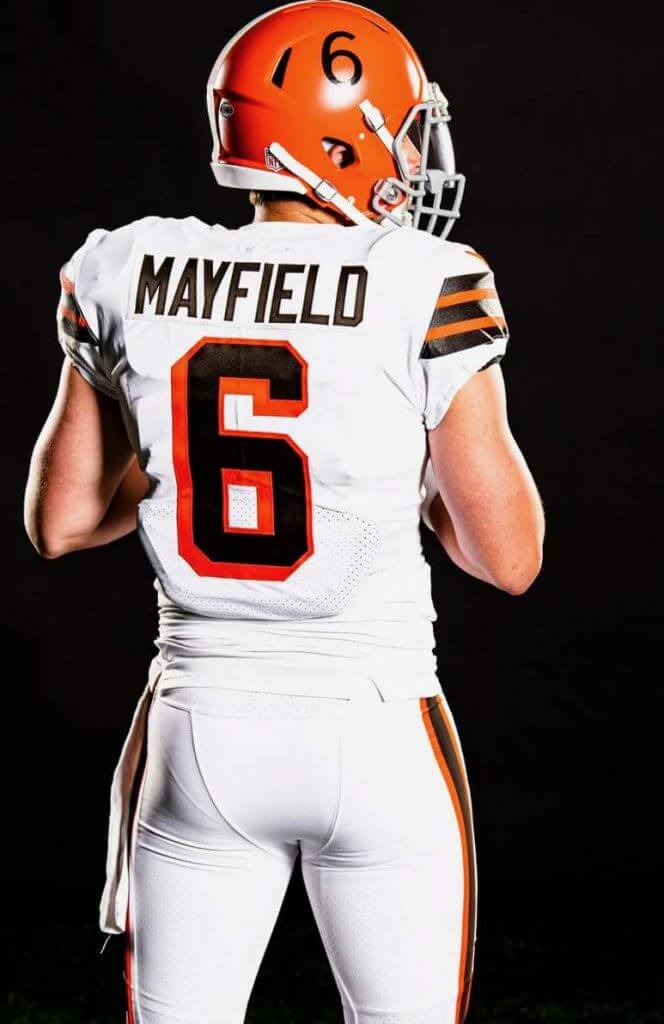 As Phil did a good job of explaining, this isn't a true 1946 throwback, because the one-shell rule makes it impossible for them to use the era-appropriate white helmet. So instead they've added TV numbers and a white stripe to their standard orange shell, mimicking the look they had in the late 1950s.
While the resulting uni may be more fauxback than throwback, it still looks great. I love the helmet, the block-shadowed jersey numbers, and the sleeve/sock stripes. My only gripe: The "1946" jersey patch seems really cheesy to me. I mean, imagine if every throwback uni had a patch indicating its year of origin — lame-o. And the matching "1946" decal on the back of the helmet isn't even accurate, since that helmet design didn't yet exist in '46.
Those are minor quibbles, though. Overall, this gets a big thumbs-up from me.
Okay, now let's talk about the Guardians, going one element at a time:
The Name
Ever since the team announced that it would be changing its identity, people have been asking me what I think the new name should be. My answer has been the same all along: "I have no dog in this fight. As long as they move away from the Native American theme, it's an upgrade." And that's still what I think — "Guardians" is way, way better than "Indians." (And yes, they both end in "dians," which was no doubt a factor in the final choice.)
As you've probably heard by now, the new name is based on the city's "Guardians of Traffic" statues (you can learn a lot more about them here). That's a very local reference — I've been to Cleveland at least half a dozen times but was not even aware of the statues' existence until the name change was announced on Friday, and I get the feeling that I'm not alone in that regard — which makes this feel very much like a City or City Connect approach. Similarly, the party line throughout the team's messaging about the new identity has been "It's the first name that counts; Cleveland, that's what counts." Again, that feels very City Connect to me. That's not necessarily a good thing or a bad thing — it's just the vibe I get from the name, its inspiration, and how they're framing it.
I do worry a bit that "Guardians" lends itself to all sorts of comic book/superhero nonsense, but let's see how they leverage the name in the months and years to come. Any way you slice it, it's better than the old name, and the local Indigenous community seems pleased with it. I'm happy for them.
(As an aside: "Cleveland Guardians" is also the trademarked name of a men's roller derby team. The MLB team definitely knows about them and has been in touch. More details in this Twitter thread.)
The Colors
Given how many other teams out there use red and blue, I was wondering if they might use the new identity as an opportunity to stake out some new chromatic territory. But that would probably be too jarring a change for the fan base, so I understand why the team has chosen to stick with the existing color scheme. Sensible, if a bit conservative.
The Script
I hate the script. H-a-t-e the script. It's all sharp corners and clunky angles. In this regard, it reminds me so much of the Milwaukee Bucks' "Cream City" script from a few years ago (which itself was clearly based on the Milwaukee Tools logo), except the Guardians script feels more ham-handed, sort of like a Flintstones version of the Bucks script: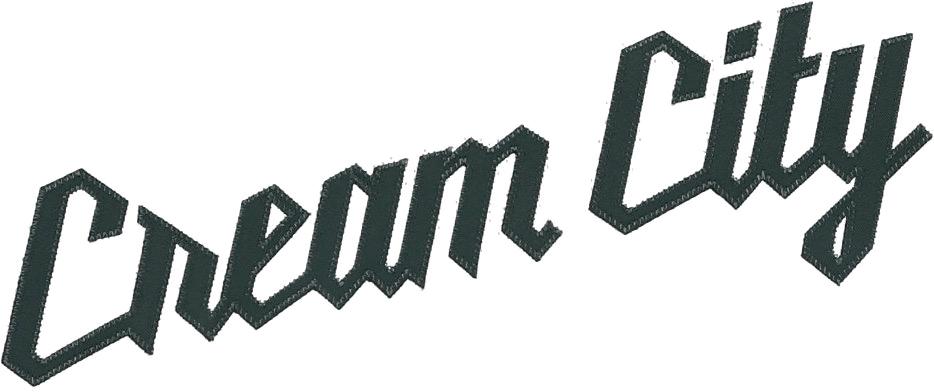 The use of corners instead of curvatures is apparently supposed to evoke a chiseled-in-stone effect, because the Guardians of Traffic are made of stone. In any case, the resulting script feels both brutal and Brutalist — no elegance, no flow.
The "Winged Baseball" Logo
This logo, which will be used as a sleeve patch and maybe as an alternate cap logo, feels very, very minor league to me — although with a few tweaks it could look Major League:

Sort of bizarre that the stitches on the new logo are oriented almost exactly the same as the stitches on the Major League logo, no?
More importantly: It seems odd that this "G" doesn't match the one in the script.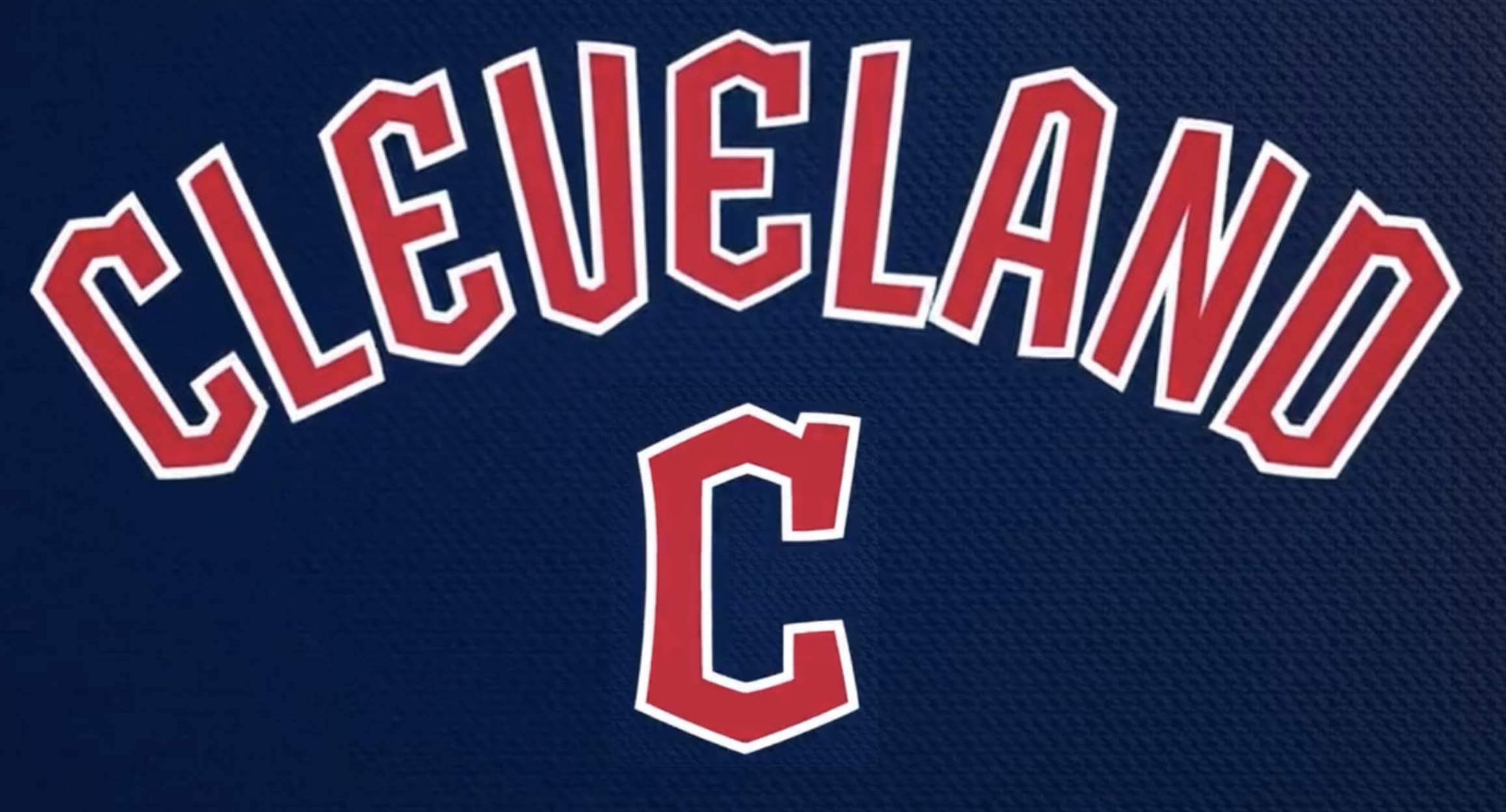 The Wordmark and "C" Logo

Again, this feels very Flintstones to me: clunky, uneven, unpleasant to process with the eye. The standalone "C," which will be used as a cap logo, is a particular disappointment — after the boring block-C, I figured they'd go for something with a lot more character. Also, the standalone "C" doesn't match the one in the wordmark (are you sensing a pattern here?).
The font is called "Bridge Print" — again, an apparent reference to chiseled letters in the bridge where the Guardians of Traffic stand sentinel. This is the same mistake the Tennessee Titans made with their chiseled-font uni numbers — type that looks like it's chiseled into stone might make for good "storytelling," but doesn't read well on a uniform.
Speaking of the uniforms, the team has released these mock-ups: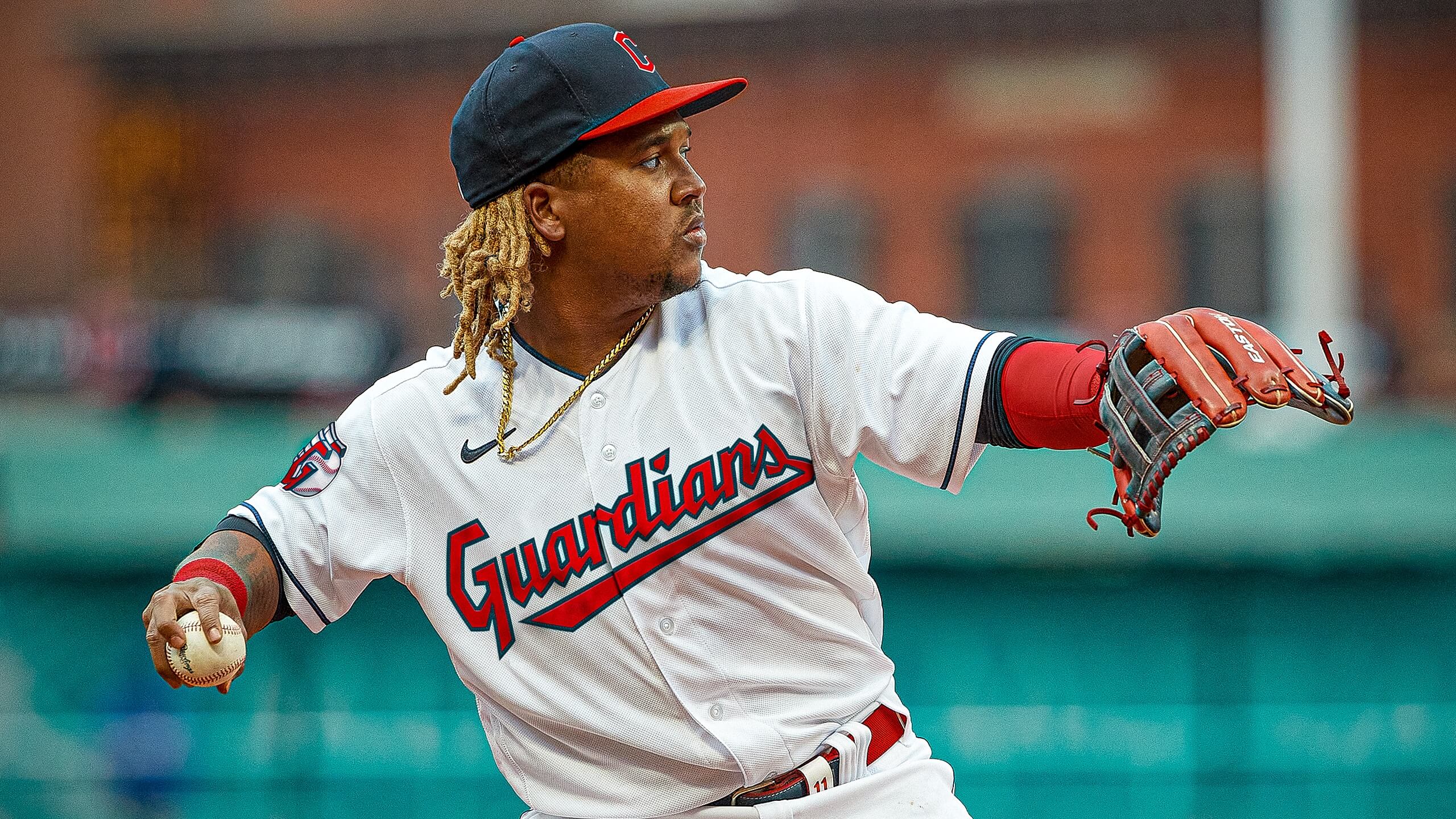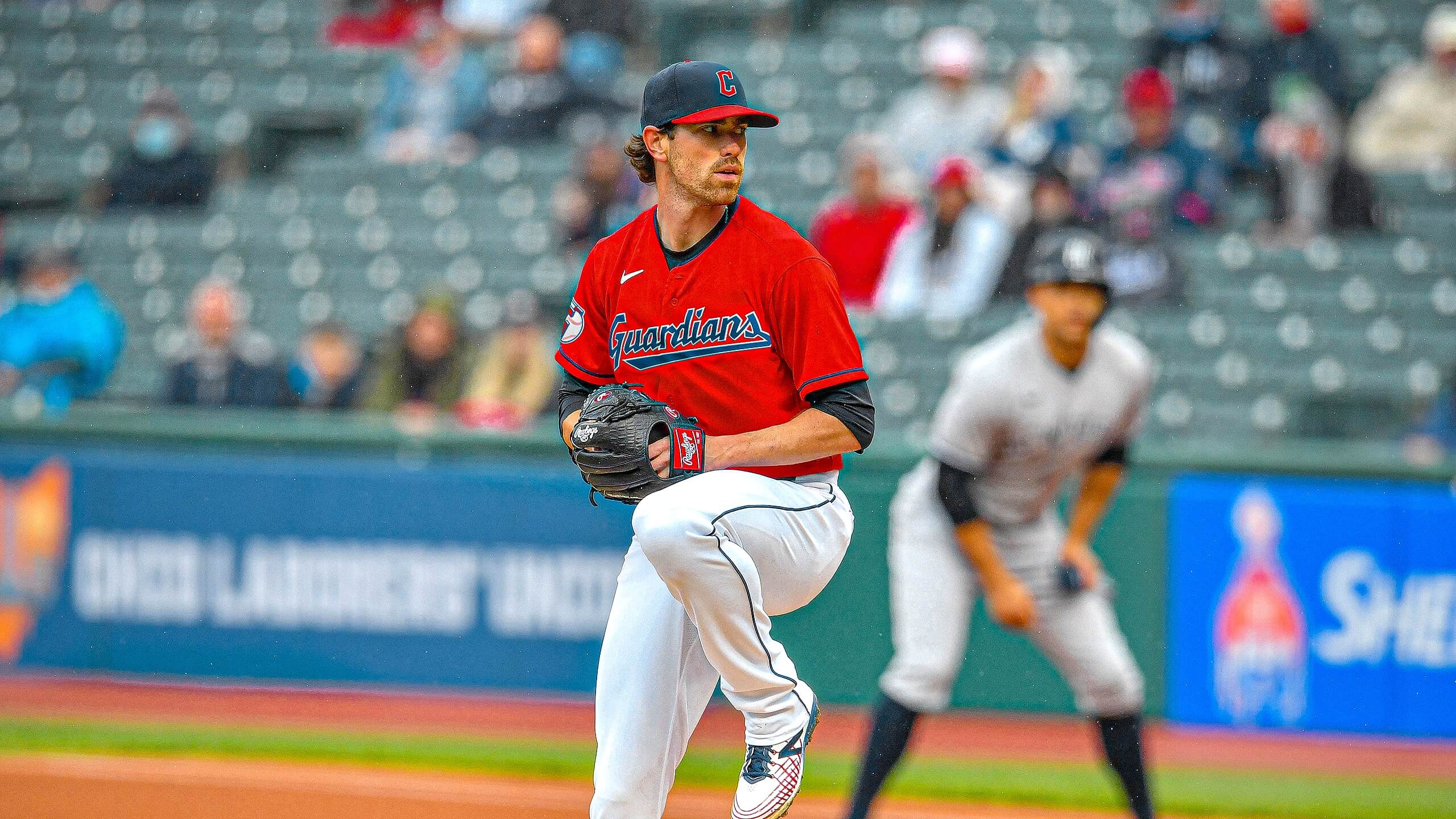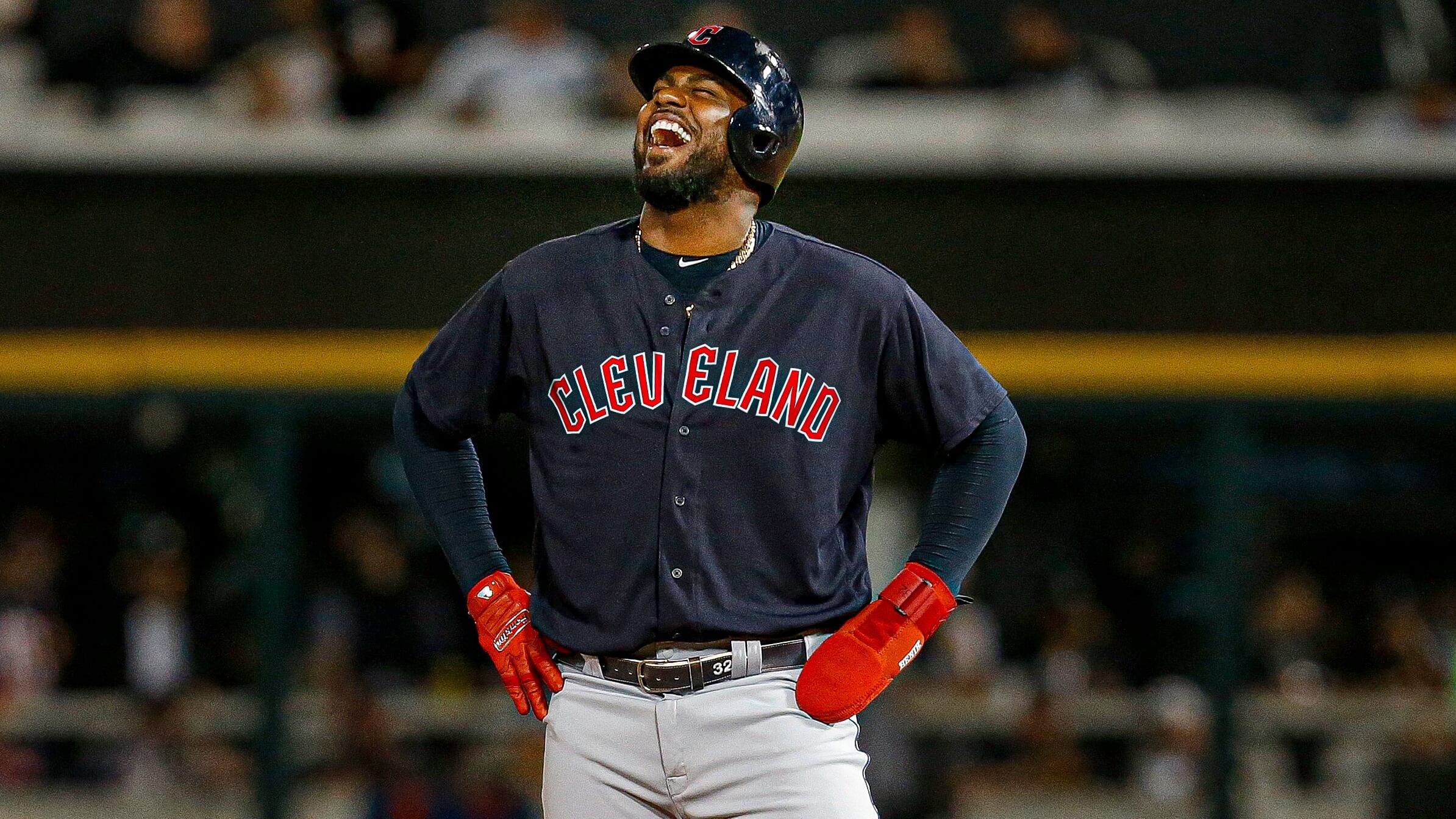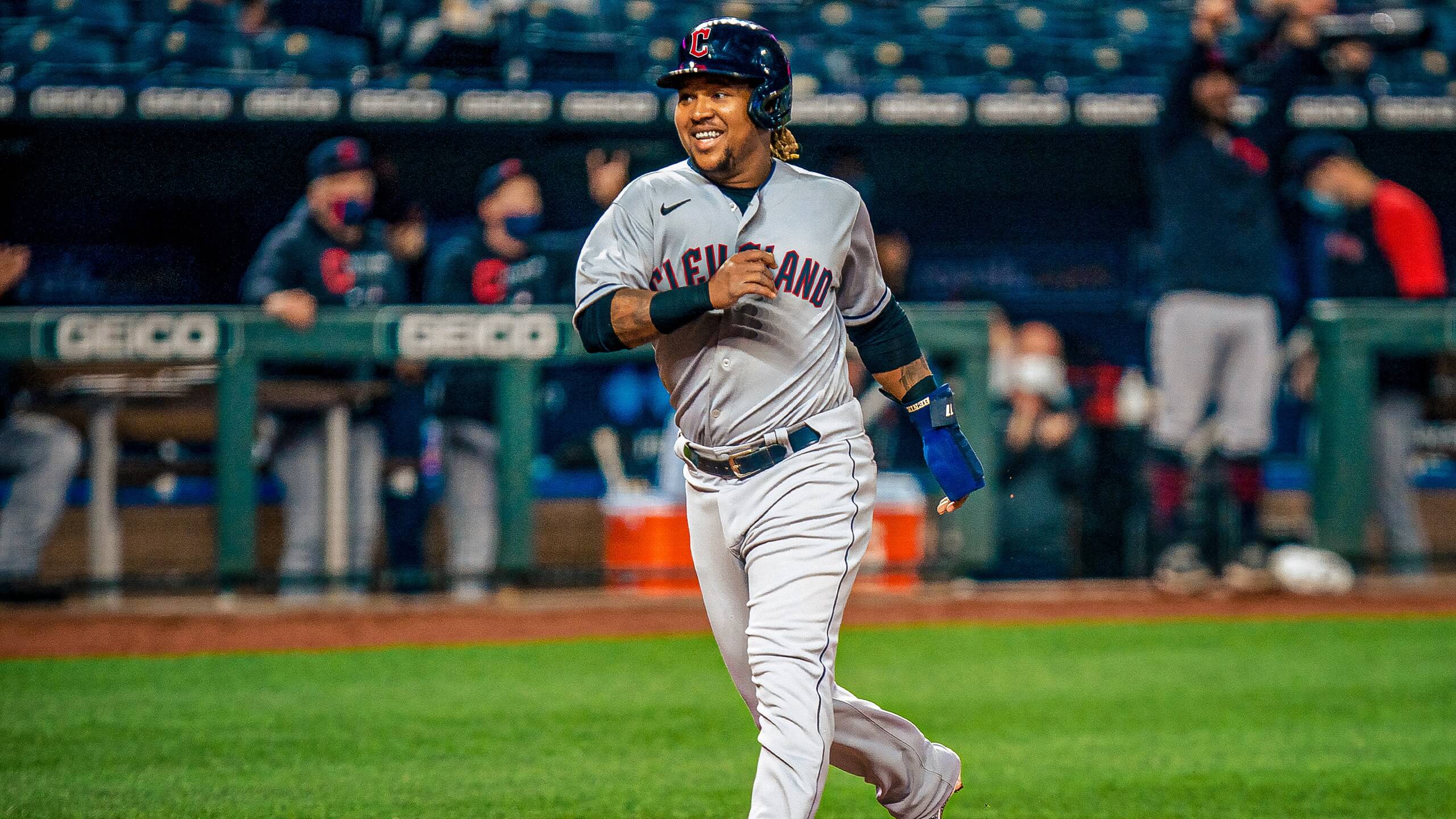 I'll say this much: Most of the graphics look better on those mock-ups than they do on their own, although the overall effect is still pretty underwhelming. I'll reserve further judgment until we see the full uniform set in real life.
To longtime Indians fans: I realize that this is hard for you. I totally get the emotional connection that forms between fans and their favorite team's visual identity — hell, that connection is a big part of why Uni Watch exists — so I understand that you may be mourning a bit about the name change, even if you were in favor of it happening. Please accept my condolences — I feel for you.
(My thanks to Twitter-er Brian Chesnick for the 'Major League' joke and mock-up, and to Rick Moreno for pointing me toward the roller derby thread.)
• • • • •
• • • • •
Click to enlarge
"When you come to a fork in the road, take it!": On Friday we drove up to western Massachusetts, where we saw some music and spent the night with Mary's brother and his family. The next day we drove southwest to the Hudson Valley, where we met up with friends and spent the night near Kingston, N.Y. Along the way, we passed the town of Rock City, N.Y., where there's a fork in the road — two of them, in fact.
The forks are at the intersection of Routes 199 and 308. The two roads split around a grassy triangle of land, where a local artist named Stephen Schreiber erected a 31-foot-high fork in 2000. The sculpture is locally famous and has been featured in various road guides, but we had no idea it was there until we drove by it. Seemed worth a stop, so we pulled over and took a few pics:
As we were getting set to move on, we noticed another piece of playful art (by the same artist, I'm pretty sure:
After being stuck at home for so long during the pandemic, it's great to see roadside attractions like these. Looking forward to more of the same next month, when we have a nine-day road trip planned.
• • • • •
• • • • •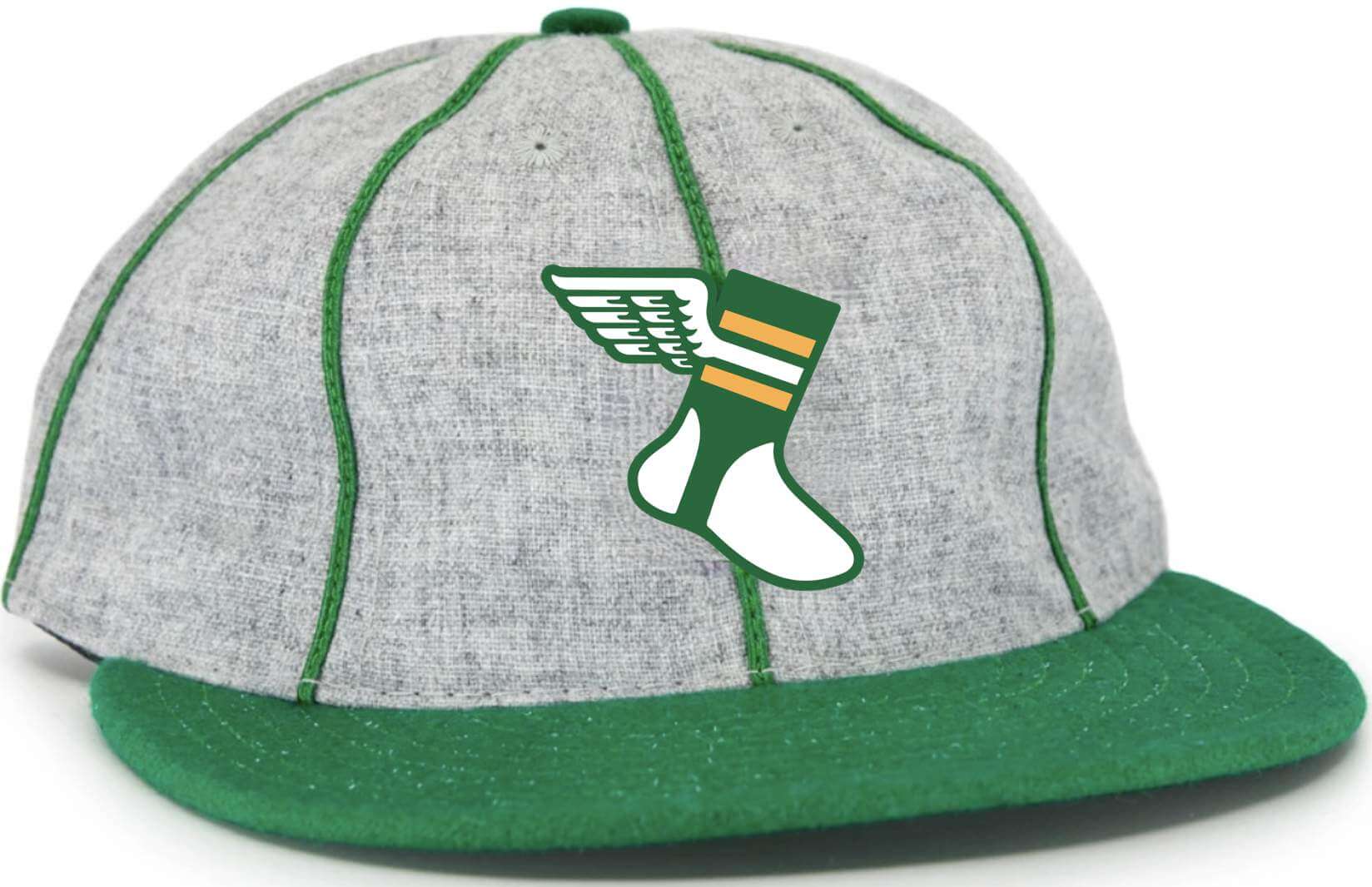 Click to enlarge
LAST CALL for the new cap: I'll be putting this cap concept into production with Ebbets Field Flannels in the next day or two. I'll be ordering enough for readers who've expressed interest, plus a few extras — but not many extras. So if you want in on this cap, you must tell me now.
If you emailed me to say you'd be willing to purchase this cap, I will soon be getting in touch to ask you to pre-order and confirm your size.
If you missed my previous posts about this cap concept, here are the details:
• This will be an eight-panel cap (not the more common six-panel) with green piping as shown in the mock-up.
• Just like the Classic Cap, this one will be 100% wool and made in the USA by Ebbets.
• That green brim is a Kelly green. As I recently explained, Ebbets no longer has the shade of green we were using for the Classic Cap. I don't want to do a solid-Kelly cap, but I think the combination of Kelly, grey, and piping works really well.
• Speaking of the brim: The photo that I used for the mock-up showed a cap with a short, soft visor. But the real-world cap will have a conventional-length stiff visor.
• No visible maker's mark, of course.
• It should be available to ship around the end of September.
• Based on the quote Ebbets has given me, the price will be $43 plus $6 shipping.
If you're interested in pre-ordering this cap based on the info I've just provided, please send me a note indicating that you'd be on board. If you want to list your preferred fitted size, that would also be helpful. I'll be back in touch soon to arrange your pre-order payment. Thanks!
• • • • •
• • • • •
The Ticker
By Jamie Rathjen

Baseball News: The Orioles usually wear black jerseys only on Fridays but have now worn them for three games in a row (from multiple readers). … Reader Darick Sears sent us a picture for the Ticker item yesterday of Bally Sports Wisconsin using the new Guardians logo in its graphics, which didn't have a picture. … Double-A Harrisburg Senators manager Tripp Keister was ejected for removing his cap and jersey during an argument (from Max Weintraub). … The Single-A Lansing Lugnuts are doing a promotion for Tool Time, the show-within-a-show on the sitcom Home Improvement.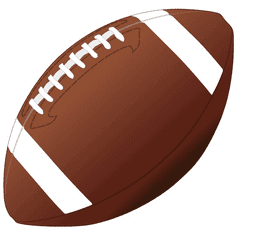 Football News: The Buccaneers are planning to use colored wristbands during practices to distinguish between players who are and aren't vaccinated (thanks, Brinke). … South Carolina's Williams-Brice Stadium has a new banner that clearly uses the wrong shade of garnet, and the school admitted as such (from David Sharples).

Hockey News: The KHL's Metallurg Magnitogorsk have new jerseys (from Conan Smeeth).



Basketball News: Ohio 1804, a team in The Tournament, comprised of former Ohio University players, has interesting Ohio-themed uniforms (from @TreeWeezel).

Soccer News: On Friday, Germany's 2. Bundesliga's Schalke 04 wore black armbands for the victims of the recent German floods (from my brother Nate Rathjen). … New second shirt for Portugal's Sporting CP. … Scotland's women's team are to start playing all their games at the men's home of Hampden Park in Glasgow. … Kansas City NWSL goalie Katelyn Rowland was traded to the team from North Carolina last week and kept her No. 0, remaining one of the few pro players to wear it. Kansas City also has a No. 99, midfielder Victoria Pickett, and not only does KC now have both 0 and 99, Rowland was previously sometimes listed as No. 99 on scoring apps and websites like ESPN that can't display somebody wearing No. 0. Now that Rowland's at Kansas City, ESPN duly switched her to No. 98.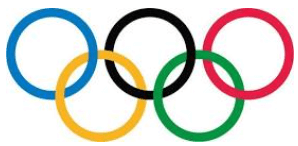 Olympics News: The U.S. women's 3×3 basketball team wear a grey version of the other basketball teams' white uniform, but have the same blue one. … Members of the Great Britain soccer team have been kneeling before matches and getting their opponents to join in, and yesterday the women's field hockey team also did so and got Germany to join them. … It wasn't just Uni Watch readers who pointed out that France's men's basketball team wears the Jordan logo but the U.S. teams don't (from Chris Mycoskie). … At least some of the teams participating in the first games of the rugby sevens tournaments have numbers on the front of their shirts, which is unusual in sevens (from @Stumpy7780). … The Mongolian 3×3 basketball team appears to have a cover-up patch over its maker's mark (from @flowfloxflow).

Grab Bag: Here is an overview of the shirts for The Hundred, a new English men's and women's cricket competition that started last week using an also new short-form 100-ball format. … New pandemic surges are slowing down production in Nike's and Adidas's Asian factories.