Monday was Labor Day, the day when we celebrate the American labor movement. It's one of our oldest federal holidays, dating back to 1894. But as usual, Major League Baseball — a league that routinely trots out special uniforms or at least patches for Mother's Day, Father's Day, Armed Forces Day, Memorial Day, Independence Day, and 9/11, and that also had all uniformed personnel wear yellow ribbons for pediatric cancer just last week — did nothing at all to acknowledge Labor Day.
Personally, I don't much care for holiday uniforms and wish MLB would skip all of them. But if we're going to have them, it makes no sense to exclude Labor Day. That's particularly true now, as there are increasing reports that the pandemic has led many people to rethink the role of work in their lives and reassess their work/life balance.
Before I go any further, it's worth pointing out here that Labor Day is not about glorifying "blue collar"/hardhat labor (as so many teams and coaches already do). It's about acknowledging the value and dignity of all labor, encouraging worker solidarity, and raising the level of work conditions for all of us.
With all that in mind, I wanted to explore what an MLB Labor Day uniform might look like. Here are some ideas:
• Players could simply wear a cap patch acknowledging the holiday, as they do on Memorial Day.
• Players could wear a slate-blue/orange ribbon, because those are the colors of the AFL-CIO.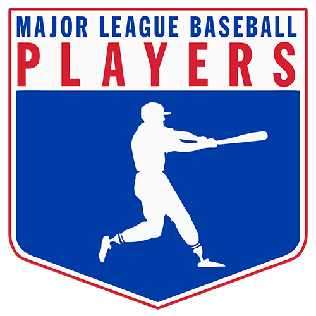 • Players could wear the logo of the Major League Baseball Players Association — arguably the most powerful and successful American trade union of the past half-century — as a sleeve patch. (One strong argument in favor of this option: As you can see at right, it's a really good logo that would work extremely well as a patch.)
• Players could wear a logo based on the AFL-CIO's famous "handshake" logo, with the hands wearing batting gloves, wristbands, or other baseball-identified accessories.
• Players could wear "21" patches, to honor Curt Flood, and/or "MM" patches, to honor Marvin Miller (who's being inducted into the Baseball Hall of Fame today, incidentally).
• In addition to team-wide gestures, each team's union rep (every club has one) could wear some sort of patch or designation.
• Not uni-related, but another possibility: In the interests of work/life balance, Labor Day could be reserved as an open date, with no teams playing. (Side note: Six MLB teams didn't play on the holiday this year.)
I'm not saying all of these are awesome ideas, but I'm definitely saying it's worth thinking about Labor Day — and its relation to sports in general and the uni-verse in particular — at least as much as any other holiday.
I realize it's easy (maybe even sensible) to be cynical here and just say, "Ah, they'll never do anything like that," or "You know they'd turn it into a blue-collar thing," or even "Forget it, most people think Labor Day is about firing up the grill or going shopping." But I'm asking you to suspend your disbelief for a few minutes and try to work with me here — think about what this could be, not what it probably would be. So if you have good ideas for the intersection of Labor Day and MLB uniforms, feel free to post them in today's comments. And if you want to go so far as to whip up some concepts, send them my way. If they're good, I'll post them on the site at some point down the road.
Meanwhile, here's an interesting situation that's related to all of this: The concession workers at the Giants' ballpark, who are unionized, have voted to go on strike. It's a moot point for now, because the Giants are on the road, but their next home game is on Monday night. Based on what I've read, the strike will probably be settled by then — but what if it isn't? Will the concession workers picket the ballpark? If so, will the ballplayers, all of whom are union members, cross the picket line? Hmmmm.
• • • • •
• • • • •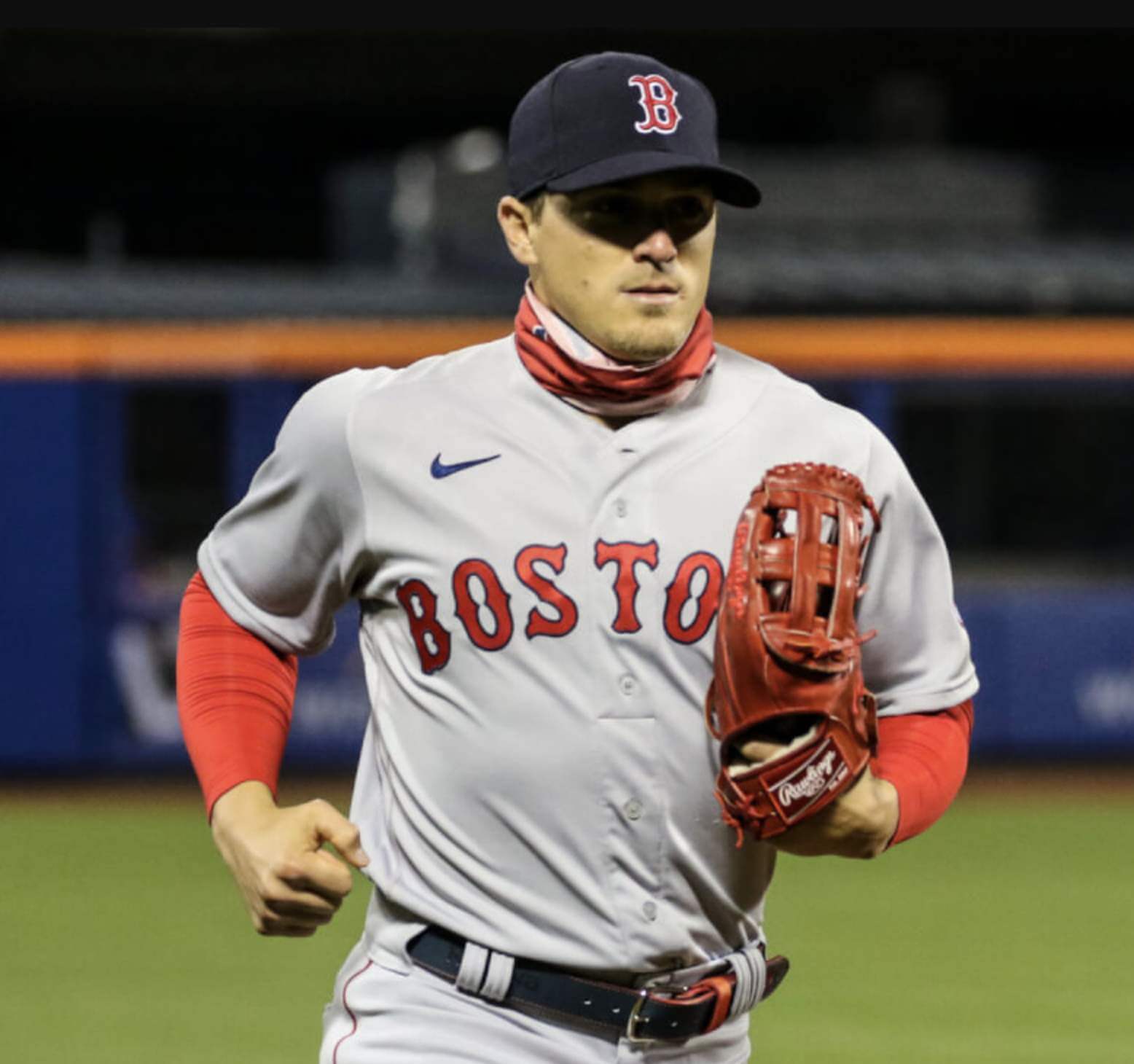 Click to enlarge
This is so great: Red Sox infielder Kiké Hernández is already uni-notable because, as you can see from the telltale placket seam in the photo above, he has his jersey sewn shut (something I first wrote about him doing more than five years ago). But now he's taken things to another level by — get this — putting on his uniform to watch Red Sox games while quarantining in his hotel room.
That news came yesterday via this article, which explains how Hernández began a 10-day quarantine on Aug. 27 after a positive Covid test in Cleveland. During that period, he stayed in a Cleveland hotel, watched Sox games on TV, and suited up for the occasion:
"[Clubhouse manager] Tommy [McLaughlin], he sent me my bag with some of my gear, in case I had to spend more than 10 days in Cleveland to find somewhere to go hit or whatever," Hernández told reporters here at Fenway Park on Tuesday. "It didn't end up happening because I left at day 10. But I just pretended like I was at the game. I'd put on my pants, put on my top, my hat. And I'd wear a mask just as if I were in the dugout."
How awesome is that?! I'd say Hernández just punched his ticket to the Uni Watch Hall of Fame.
(Mega-thanks to Phil for bringing this one to my attention.)
• • • • •
• • • • •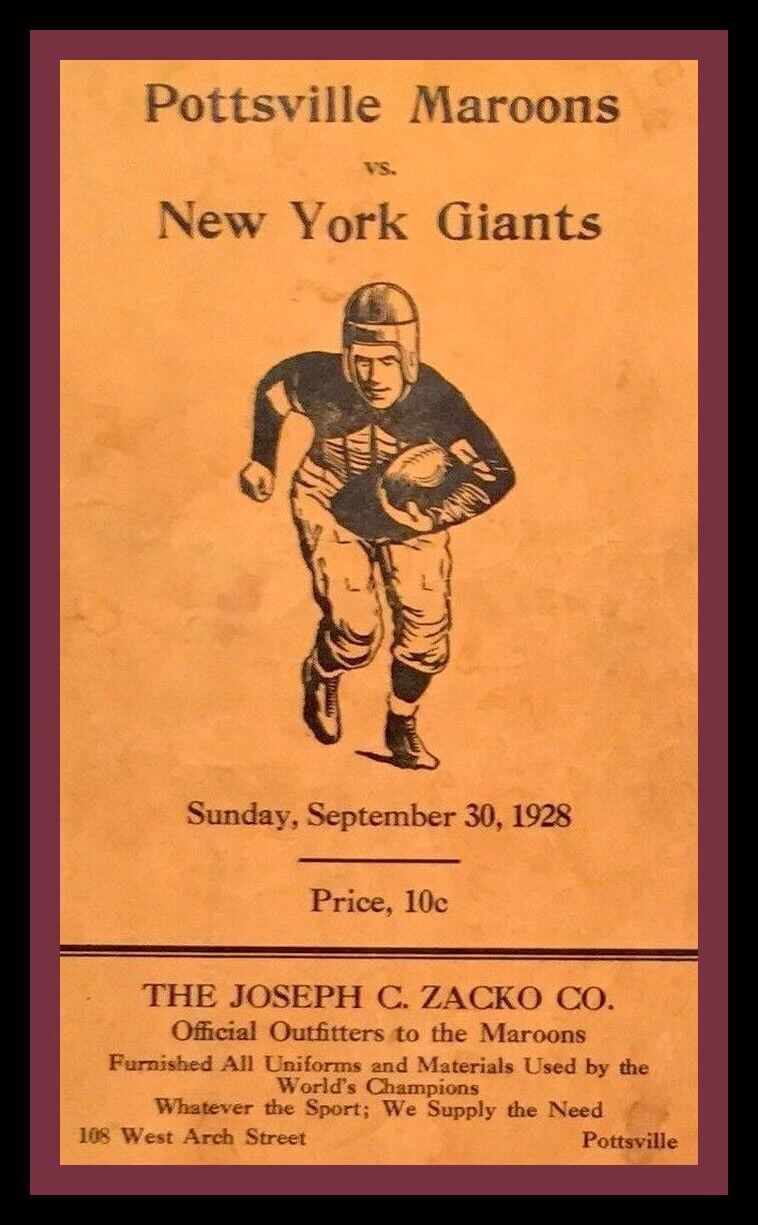 Click to enlarge
Collector's Corner
By Brinke Guthrie
Follow @brinkeguthrie    
Welcome to NFL kickoff week at Collector's Corner. Let's start things off with this Pottsville Maroons vs. New York Football Giants game program from almost a century ago — Sept. 30, 1928! You'll notice that the "Joseph C. Zacko Co." gets some prominent love on the cover as the team's official outfitter. Ah, but there's more to the story, as Wikipedia explains: "[1924] was also the year the team adopted the Maroons name; according to legend, the team placed an order for new football jerseys with local sporting goods supplier Joe Zacko, telling him that the color was not important. Zacko sent them twenty-five maroon jerseys, giving birth to the name." 
Things were certainly different back then! More on the team's history here.
Now for the rest of this week's picks:
• The text on the box of this 1940s Los Angeles Rams football game is worth the cost of the game all by itself. Game of Skill! Not a Game of Chance! Most Realistic Football Game Ever Devised! (And that sure doesn't look like Bob Waterfield to me.)
• I visited the Pro Football Hall of Fame in the mid-1970s and bought this very same mug. It's done in a very rich deep, blue and gold, and as I recall it weighed a ton.
• Check out this 1966 Green Bay Packers set from the Danbury Mint. Nine players and Coach Lombardi — stunning likenesses.
• A few weeks back, I ran an item about a 1980s-era watch with a San Francisco 49ers helmet on it — you could flip up the helmet to see a teeny digital screen. Of course, there were also MLB versions, like this one for the Oakland A's.
• This 1970s New York Mets batting helmet lamp should rightfully assume a place of honor at Uni Watch HQ.
• New Jersey Devils fans will want this 1980s team spoon to go with their daily breakfast cereal.
• I don't know if I've ever seen one of those 1970s-80s licensed team trash cans that wasn't totally rusted on the inside. This one for the San Francisco 49ers is the exception to that rule.
• "Baseball Stars" is the generic name for this pair of 1969 MLBPA stamp albums. ("Official Centennial Edition!") Nary a logo to be found — par for the course with an MLBPA-sanctioned item.
• Going back further than 1969 for this next item; a Dodgers vs. Giants scorecard from 1940. Just a nickel!
• Here's a New York Rangers ceramic tile from the 1962-63 season, featuring their player Harry Howell.
• • • • •
• • • • •
Membership update: A few more designs have been added to the membership card gallery. That includes reader Jack Murphy's card, shown at right, based on the Knicks' 2011 road jersey.
Ordering a membership card is a good way to support Uni Watch, and fun to boot. And remember, a Uni Watch membership card entitles you to a 15% discount on any of the merchandise in the Uni Watch, Uni Rock, and Naming Wrongs shops. (If you're an existing member and would like to have the discount code, email me and I'll hook you up.)
As always, you can sign up for your own custom-designed card here, you can see all the cards we've designed so far here (now more than 3,200 of them!), and you can see how we produce the cards here.
• • • • •
• • • • •
The Ticker
By Lloyd Alaban

Baseball News: The Pirates will once again all wear No. 21 on Roberto Clemente Day, which is Sept. 15 this year. … New logo and uniforms for the Winnipeg Goldeyes of the AAPB (from multiple readers). … Dodgers P Clayton Kershaw, who normally wears No. 22, wore No. 29 for a rehab start last night with the Triple-A Oklahoma City Dodgers, because OKC already has a No. 22 on the roster — P Edwin Uceta (from Thad Balkman).

NFL News: All NFL teams will wear a 9/11 helmet decal during Week One. … The next two items are from our own Phil Hecken: Mono-white for the Bengals on Sunday. … Here's the Chargers' uniform schedule. … Buccaneers QB Tom Brady still doesn't like the new uni number rules. … Mono-white for the Bills this weekend. … Starting from the 29:00 mark, here's a 1972 feature on the league's helmets (from Steve Sayre).

College Football News: Reader Scott Rogers's neighbor made a tribute on his lawn to now-retired Wisconsin football coach and athletic director Barry Alvarez.

Hockey News: The Blues will reveal their Winter Classic unis on Friday (from our own Phil Hecken). … Here's the new logo for the ex-NWHL, now known as the Premier Hockey Federation. There's also a French version of the logo since the league is planning to expand to Montreal (from our own Jamie Rathjen).

Soccer News: Fashion brand Christian Dior will be designing suits for Paris Saint-Germain players to wear off the field (from our own Phil Hecken). … German side Borussia Dortmund has released a line of retail shirts styled after football, hockey, and baseball jerseys (from Tamás Szalai). … New third kit for Welsh side Newport County (from Ed Zelaski).

Grab Bag: Our own Brinke Guthrie notes that Coco Gauff wore an unusual pair of sneakers during her U.S. Open match against Sloane Stephens last week. "See the QR code on the heels — that's a first as far as I know," he says. "Fans could pick up the code on their phone camera and it linked to a YouTube clip that was live during her match." … A series from World Rugby documents different rugby shirts (from Rick Collins). … New unis for Iowa State volleyball (from @cylinen). … Here's Beard Motorsports' 2022 Daytona 500 livery (from Dell Michaels). … New kits for the England national volleyball teams (from Jeremy Brahm). … Also from Jeremy: New kits for Japanese volleyball team Victorina Himeji. … Philadelphia transit agency SEPTA has proposed revamping some of its lines' names and colors (from Ted Morrin). …The Pentagon is asking the public to help rename buildings and bases named after Confederate figures (from Drayton Jackson).
• • • • •
• • • • •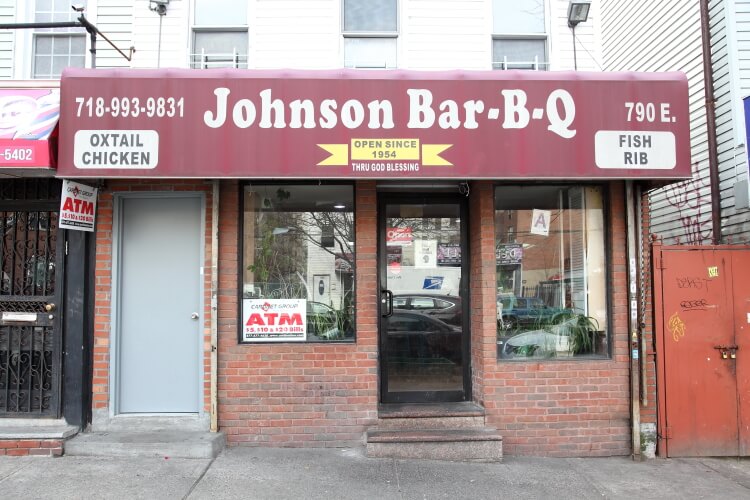 Click to enlarge

What Paul did last night on Sunday: For a few months now I've been wanting to check out two barbecue joints in the Bronx — one old and one new-ish. Eating two barbecue meals in one day is a recipe for some serious gluttony, but we figured it was doable if we paced ourselves. So on Sunday, accompanied by our friends Garth and Nina, we drove north to the Bronx.
Our first stop was Johnson's BBQ (shown above), a takeout joint that's been operating since 1954. Really more of a soul food place than a barbecue place, it's run by Dwayne Johnson, a really special old-school guy in his 60s who puts on quite a performance — just being in his presence was worth the trip.
We ordered a rib dinner and a fried chicken dinner plus various sides. After we ordered, Dwayne eyed us a bit quizzically and said, "This your first time here?" (probably because we were the only people in the place who weren't Black, plus he seemed to know all his other customers personally). When we explained that we'd come from Brooklyn, he chopped up a half-rack of ribs and topped them with his signature mustard-based sauce plus some of his more conventional red sauce. Then he presented it to us and said, "Here, you'll like this. You have that while I get your food." In other words, he gave us a free order of ribs to tide us over while he prepared our real order of ribs, plus the chicken and sides. (Meanwhile, all sorts of crazy dramas were playing out in the tiny storefront — it was like a free floor show. Sorry, no photos of any of this, because I thought taking pics in Dwayne's place would be disrespectful.)
By the time our orders were ready, we were already stuffed on the freebie ribs, which were delicious. As a parting gift, Dwayne sent us out with two free slices of cake and a few bottles of water. "You came a long way to eat my food," he said. "I appreciate that."
There was no park or anyplace like that where we could eat, so we just set things up on the trunk of my car, which just made the whole experience more fun. Since we'd already eaten the freebie ribs, we stuck to the chicken and sides (collards, black-eyed peas, mac/cheese), all of which came in insanely huge portions. What a feast! We had plenty of leftovers, so we divvied those up, along with the ribs, to take home later.
We tried not to overeat because we had another stop to make, at Hudson Smokehouse, a modern barbecue place that opened last year and has received a lot of positive write-ups. The whole place smelled great — definitely a real smokehouse, not a soul food place. We got a half-slab of ribs, some pork belly burnt ends, some dry-rubbed chicken wings, more collards, and some pickles.
It was all … fine. Part of it, I'm sure, is that we were already stuffed from the first meal. But Hudson's 'cue just didn't do it for me — nothing was awful, but nothing was awesome either. Everything was a little too dry, and the whole experience felt a bit too … curated.
But still: A great day of outer-borough meaty adventure, and a highlight of our long weekend!
• • • • •
Our latest raffle winner is Chad Staffan, who's won himself a Uni Watch Classic Cap. Congrats to him, and thanks to Troy Fordyce for making this one possible.
The September pin still has not arrived at the Teespring warehouse. First there were manufacturing delays, now there are FedEx delays. Tomorrow, I hope. Update: The September pin is finally available. I'll have a splashier announcement for it tomorrow.
Speaking of tomorrow: The 2021 Uni Watch NFL Season Preview will be waiting for you in the morning. See you then. — Paul