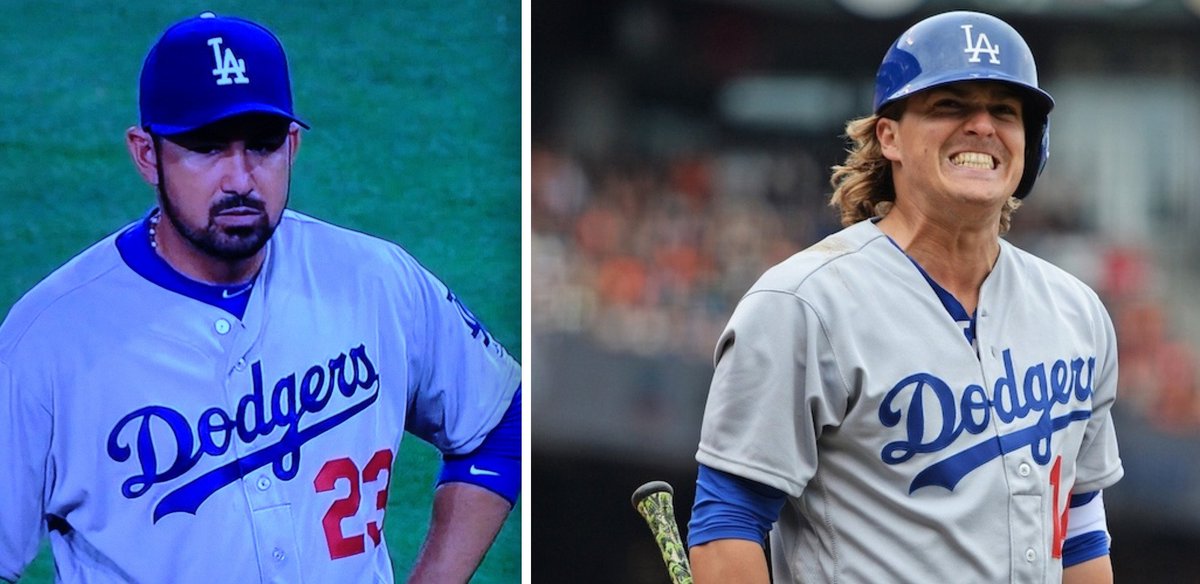 Click to enlarge
Back in April we ran a Ticker item about Dodgers first baseman Adrian González appearing to have a horizontal seam sewn into his jersey placket, a bit below the chest script (above left). Now his teammate Enrique Hernández is sporting the same little seam (above right).
At first glance, this looks very similar to some college baseball jerseys we've recently seen. Those jerseys look like button-fronts but they're actually henley pullovers — the top two buttons are functional, but then there's a horizontal seam (just like the ones worn by González and Hernández), and then the buttons beneath the seam are ornamental, not functional. The buttons are sewn into place, but there are no buttonholes (similar to the buttons found on the sleeve cuffs of most suit jackets and blazers). It's a way of preserving the look of a button-front while having the functional simplicity of a pullover.
But Dodgers equipment manager Mitch Poole says that's not the situation with González and Hernández. First, some quick background: González doesn't like to deal with buttons, so in previous years Poole had arranged to have his jersey sewn completely shut. The stitching, which is hard to see, ran along the placket flap edge ("except for the top two buttons, because otherwise your head wouldn't fit through when you're putting it on," Poole told me). The buttons were real and functional, at least technically speaking, with real buttonholes, but they were rendered moot because the placket was sewn shut.
This modification is mentioned on the auction listing page for this 2015 game-used Hernández jersey, which states: "Jersey has the custom sewing down the front, as Adrian did this to create a pullover type jersey for him to use."
This year, however, Majestic is handling the jersey modifications, not Poole, and they've chosen to do it by adding that little horizontal bar-tack seam, instead of adding stitching down the length of the placket. Again, this is a standard-issue jersey with fully functional buttons, but the added seam effectively turns it into a pullover.
As for Hernández, Poole says he basically liked what González was doing and decided to copy it (just as he recently copied González's NOB accent).
As you know, I don't care about retail jerseys, but lots of you folks do. So here's a question: If you bought a González or Hernández jersey, would you expect it to have the little modification sewn in? If the modification wasn't included, would you expect the shop to provide it for you? If they refused, would you do it yourself? If the modification isn't included, does that make the jersey less "authentic"?
It's worth noting, incidentally, that MLBers routinely have personalized specs for their jerseys, most of which are spelled out during fitting sessions in spring training. Some want a slightly longer shirttail, for example; others want a slightly shorter sleeve; and so on. Most of us will never know about any of this stuff, and none of it is ever reflected in the retail jerseys, so the whole notion of an "authentic" retail jersey has always been a bit of a stretch. (Of course, it's already a given that the retail jersey a fan buys probably won't be the same size as the one the player wears, plus the player wears it tucked in and the fan wears it untucked, etc., etc. But I digress.)
Your thoughts?
(My thanks to Tim Golden for spotting that Enrique Hernández has added the jersey seam.)
• • • • •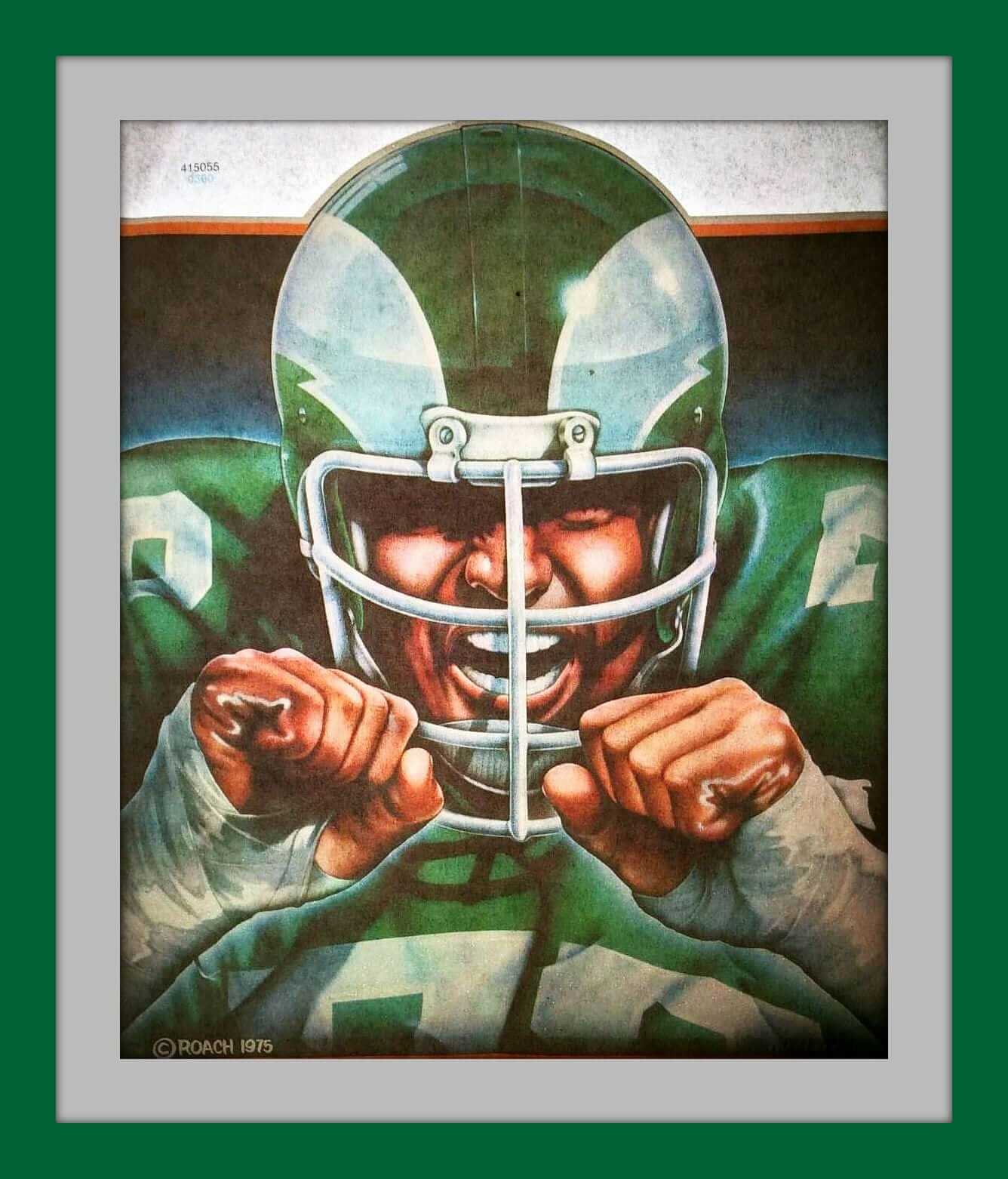 Click to enlarge
Collector's Corner
By Brinke Guthrie
Here's a mid-1970s Philadelphia Eagles T-shirt transfer done by the artist known as "Roach." Definitely seen other examples of his work, and I know this same illustration was also made into a poster with "Eagles" printed over the top. If you can find any more examples of his NFL art, please leave the URL in the comments. I wore out Google and Bing out looking for examples and couldn't find a one.
Now for the rest of this week's stuff:
• Here we have my first pair of name brand sneakers: the Adidas ABA "Americana" shoe from 1972. Worked hard to keep 'em clean, but that mesh upper was a problem.
• This 1960s baseball-themed waste can is adorned with pennants of the day, but no team artwork.
• Before the Superdome went up, you need this 1970s Saints pancho to keep dry at the game.
• Did someone say, "dome?" Get the Superdome decanter here. Remember that cool LS logo!
• Here's a 1970s Lakers pin from the Fabulous Forum. That's not Jerry West, is it?
• Charles Schulz did the artwork for this 1970s California Golden Seals pennant. Their mascot took on his nickname, "Sparky." [Footnote: Back in the late '90s, when Schultz was still alive, my then-girlfriend worked for United Media, which syndicated 'Peanuts.' She said everyone in the office referred to Schultz as Sparky. "" PL]
Some quaint artwork on this Texas Rangers scorecard from August 18, 1973.
• This 1977 "NFL Challenge" 31-page booklet from the Ford Motor Company will teach you all about special teams, the nickel defense, and something called "Mombo." (See item description.)
• Minnie Mouse is featured on this 1968 L.A. Rams poster.
• Ah, here's one of those early-1970s (Cowboys) zip-front sweaters from the Sears NFL Shop, with that huge pull ring.
• Never seen this before: a 1970 Open House & Dedication program for the late, great Riverfront Stadium.
• Finally, there is no chance in the world that this painting can be Bart Starr.
• • • • •
Tucker update: Thanks for all the kind thoughts last week regarding Uni Watch boy mascot Tucker, who's been dealing with a nasty bout of pancreatitis. Several of you have asked how he's doing, and I'm sorry to report that he's had a setback: We had hoped that the condition was temporary and could be treated with fairly simple medicine, but it appears to be chronic, so now Tucker has started taking a more serious drug. Fingers crossed that this one works.
On the plus side, Uni Watch girl mascot Caitlin, who had been hissing at Tucker for more than a week because he smelled like the vet's office, has finally re-accepted him, and the two of them have resumed grooming each other and generally being buddies. So now we're a family again, even if one of us is still sick and another of us is very nervous and scared about the sick one. Hoping for the best, because what else is there to do, right?
• • • • •
The Ticker
By Mike Chamernik

Baseball News: The Cubs are wearing track suits for their trip to Philadelphia this week. The suits look like the Cubs alternate blue jerseys, and they even have nickNOBs! Some of the nicknames are kind of weak (Rizz, Addy, and Stropy for Anthony Rizzo, Addison Russell, and Pedro Strop), but I did enjoy "Reaper" for reliever Justin Grimm. … The Jim Harbaugh Jersey Tour rolls on as the Michigan football coach wore a Cal Ripken jersey to a camp in Baltimore (from Phil and Brinke). … Next up for Harbaugh: a Derek Jeter jersey. … Auburn softball coaches wore camo hats in the College World Series final (from reader B Johnson). … White Sox coach Minnie Miñoso dressed as a matador at "Salute to Mexico Day" in 1976. The players also wore sombreros for the occasion (from BSmile). … The Durham Bulls will wear "Durm" jerseys with 2-in-1 socks on Thursday (from Matt Campbell). … Thanks to the new Braves stadium, Cobb County will have to raise taxes to fund new public parks. … The Astros' Marwin Gonzalez wore an Adidas compression sleeve and a Nike undershirt and batting gloves with his Majestic 'Stros jersey. Just a lot of logos going on there (from Patrick Evans). … The Ottawa Champions, a Canadian pro baseball team, wear tequila sunrise jerseys (from Chris Blackstone).


Football News: Iowa State unveiled new white helmets (from many readers). … The Broncos visited the White House yesterday and gave President Obama a No. 44 Broncos jersey. … Washington's Will Compton taped up his facemask, Sean Taylor-style, for OTAs (from Zach Spencer). … Good collection here of odd NFL facemasks. Scott Mason reminds us of one we saw a few months back: Bears QB Mike Phipps wore a fullback facemask in 1979. … Joe Montana signed an interesting 49ers helmet, with the red and gold reversed (from Jordan Bianucci). … The Oates brothers, Bart and Brad, went FNOB for the USFL's Philadelphia Stars (from Stephen Volkman). … Former lineman LeCharles Bentley is suing the TV show "The Biggest Loser" over its logo.

Hockey News: The Sharks gave away sharks-vs.-penguins, as in the animals, towels and T-shirts last night (from Phil). … Mmmmm Sharks cookies, but it's a little lame that they went with printed logos instead of hand-iced cookies. @redbuppy surmises that those were for media members at last night's game. … A jersey from the original Mighty Ducks film is up for auction. It was worn on the set by Vincent Larusso, who played Adam Banks (from Chris Bisbee).

NBA News: Former Lakers coach Phil Jackson says that Shaq showed up to some practices in the nude with only his shoes on. … Nathan Shields reports that the NBA Store in New York is selling an outdated John Wall jersey. The Wizards switched to a solid back without a stripe before the 2014 season.

Soccer News: New away kit for Real Madrid (from an unnamed reader). … New ball for the Premier League. I'm not a soccer guy, so it seems weird to me that soccer leagues and tournaments change the patterns and colors of their balls so often (from Ted Arnold). … Barcelona's deal with Qatar Airways has ended so the club is now weighing offers from a dozen potential advertisers. As the article says, Barcelona didn't have jersey advertiser until 2006 (from Tim Cross).

Grab Bag: Eastern Air Lines, a major airline up until its dissolution in 1991, has returned as a startup charter airline service, complete with the old logo and livery. Eastern brought Muhammad Ali's casket to Louisville this week (from Edward Hahn). … Speaking of Ali, Joseph Anderson points out the key passage in this article: " "The services for Ali in his hometown of Louisville, Kentucky, will include a procession and private burial and, later in the day, a public memorial at the KFC Yum! Center." As Joseph notes: "It almost look as if KFC is an official sponsor of the Muhammad Ali public memorial. Just looks so tacky for a memorial service." … Vote here for the NASCAR Sprint Cup paint scheme of the week (from Joseph Dawkins). … Virginia Tech is letting people vote on the new Hokies license plate design (from Andrew Cosentino). … The South African rugby team is selling jersey advertisements on a series-by-series basis (from @Stumpy7780). … In pro lacrosse, the Ohio Machine rookie Reagan Harding went NNOB this past weekend. As Kevin Mueller explains, MLL rookies join the team mid-season after the college season ends, so uniforms might not always be ready. … After the MLL's Long Island Lizards changed to their current name in 2012, Ferdinand Cesarano reports that the Yankees required them to not use their new logo without the roundel, since it looks similar, presumably, to the Yanks' NY logo (Ferdinand called the team for this info). The team wore L logos on their lids instead. The Lizards have recently switched away from that, wearing the NYL logos on the helmets. Add to all that, a Queens baseball academy has borrowed the Lizards logo and added an old Phillies "P" to it. … There a "Vote for the best rowing suit" contest taking place on this Twitter account (from Matt K). … Nike is suing track and field star Boris Berian because he signed a deal with New Balance, a typical example of how the company plays hardball with athletes.