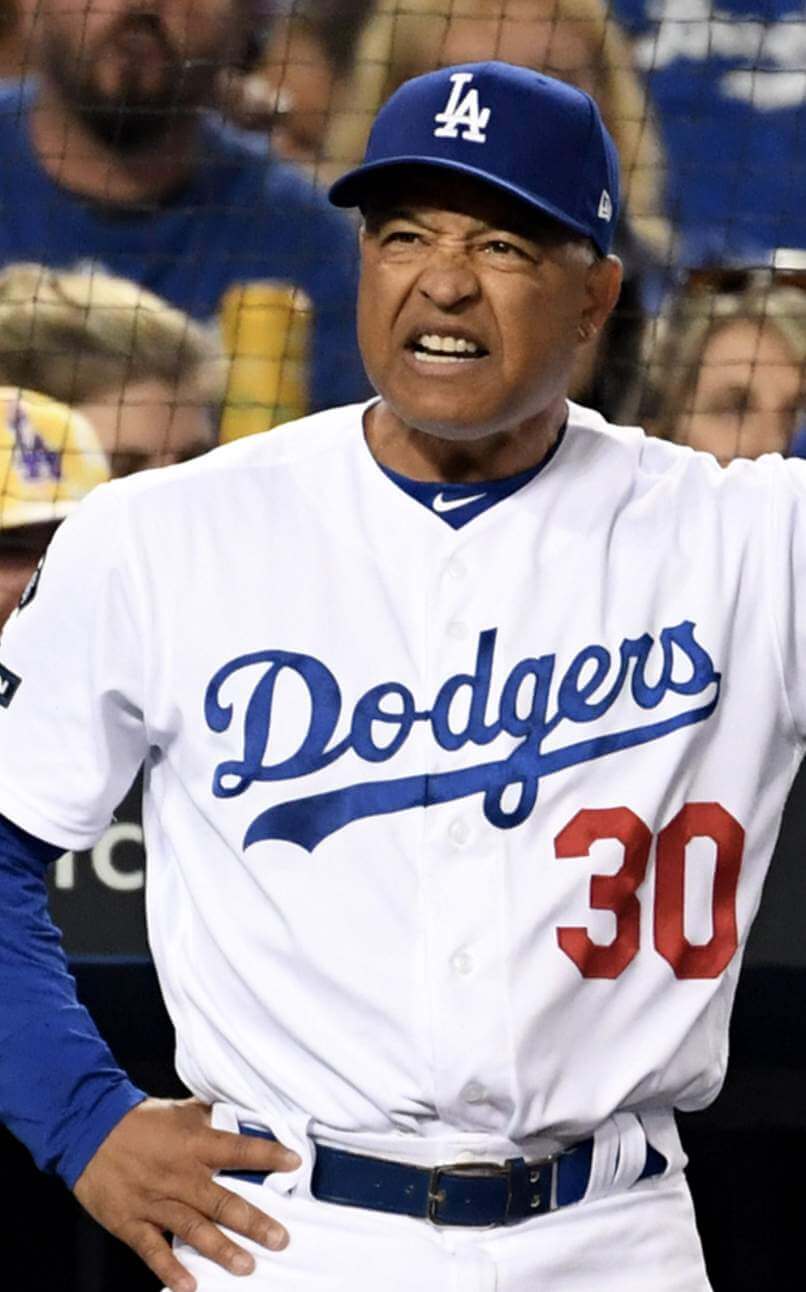 In a comment recently posted to the site, reader Robert Brashear said to me, "You might look into whether any [MLB] managers wear a jersey anymore. When's the last time you saw one? That's a significant change."
I immediately countered that managers Dave Roberts (Dodgers) and Luis Rojas (Mets) routinely wear a full uniform. But are they just outliers, as Robert's comment suggested? I decided to find out, so I looked at 2021 game photos of all 30 MLB managers.
Before I present my findings, I should say here that there are almost no managers who never wear a full uni. Even the guys who usually wear a hoodie or a smock tend to dress up more formally for special occasions, like Opening Day or Jackie Day. Similarly, even skippers who usually wear a full uni can occasionally be spotted in a more casual-Friday getup.
That said, my research indicates that Robert's assessment was a bit of an exaggeration, and that there's a sizable contingent of MLB managers who still wear a jersey. Let's start with the National League, where I've identified six skippers who usually go full-uni (all photos are from this season):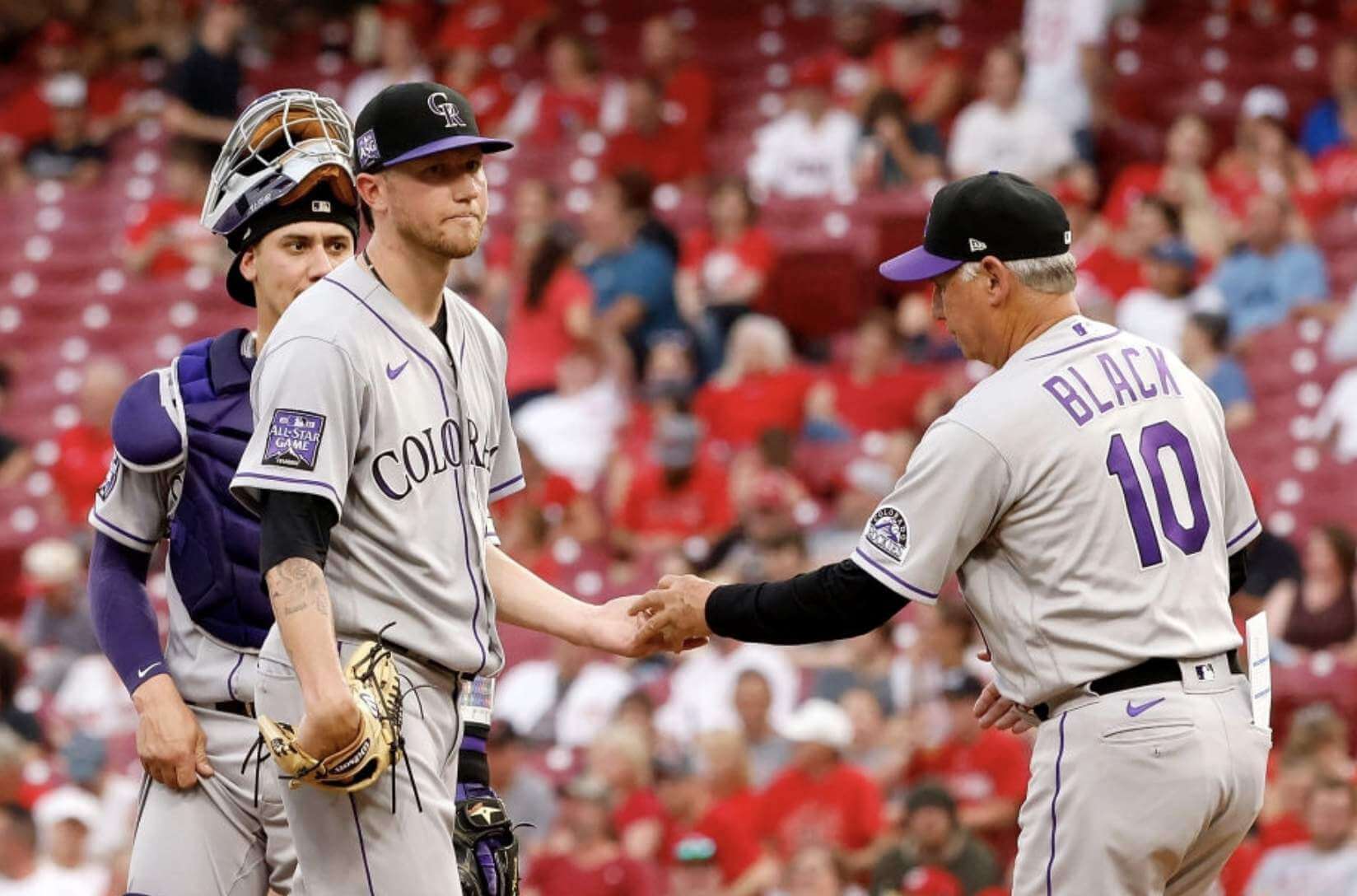 Bud Black, Rockies

———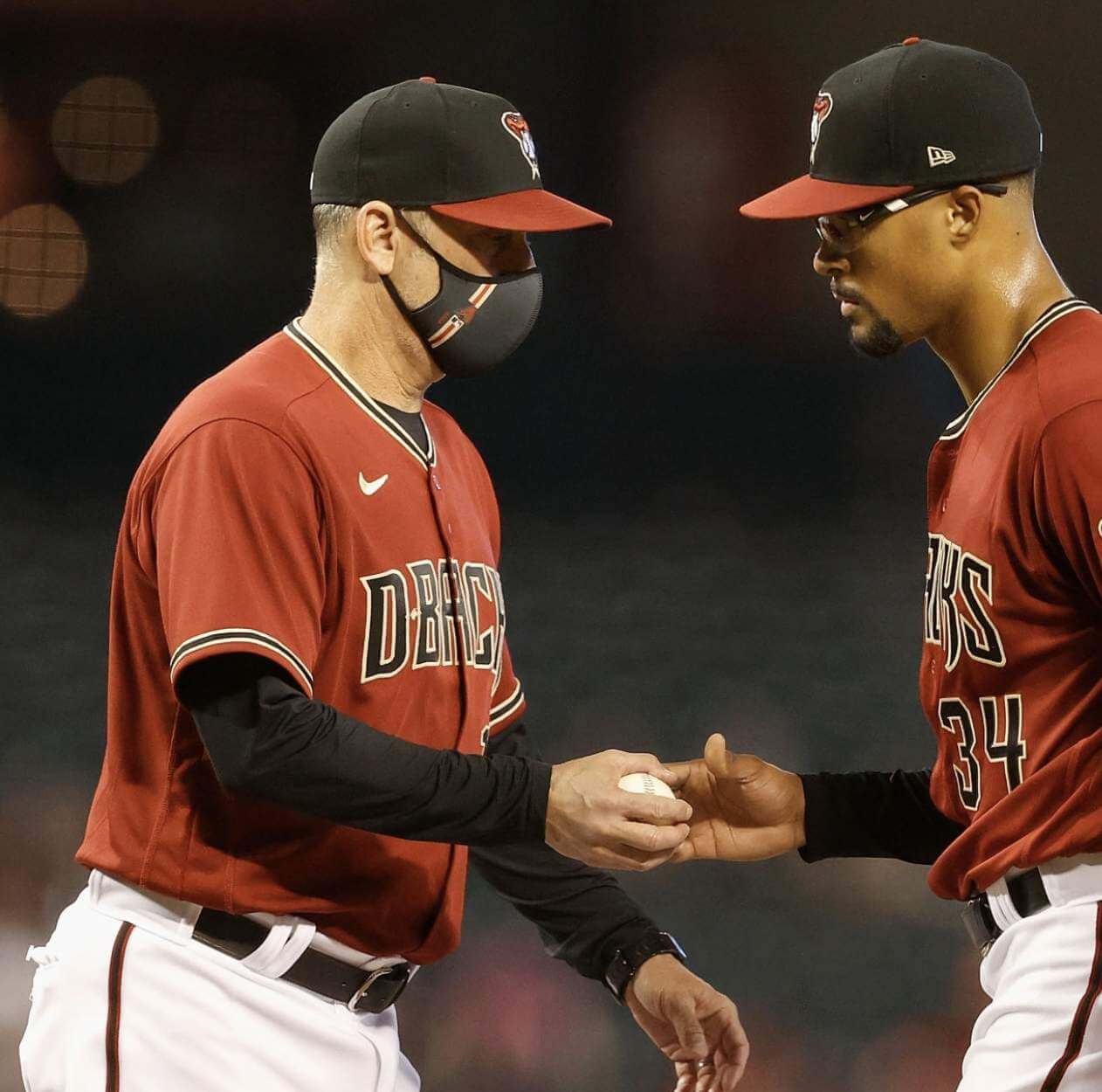 Torey Luvollo, Diamondbacks

———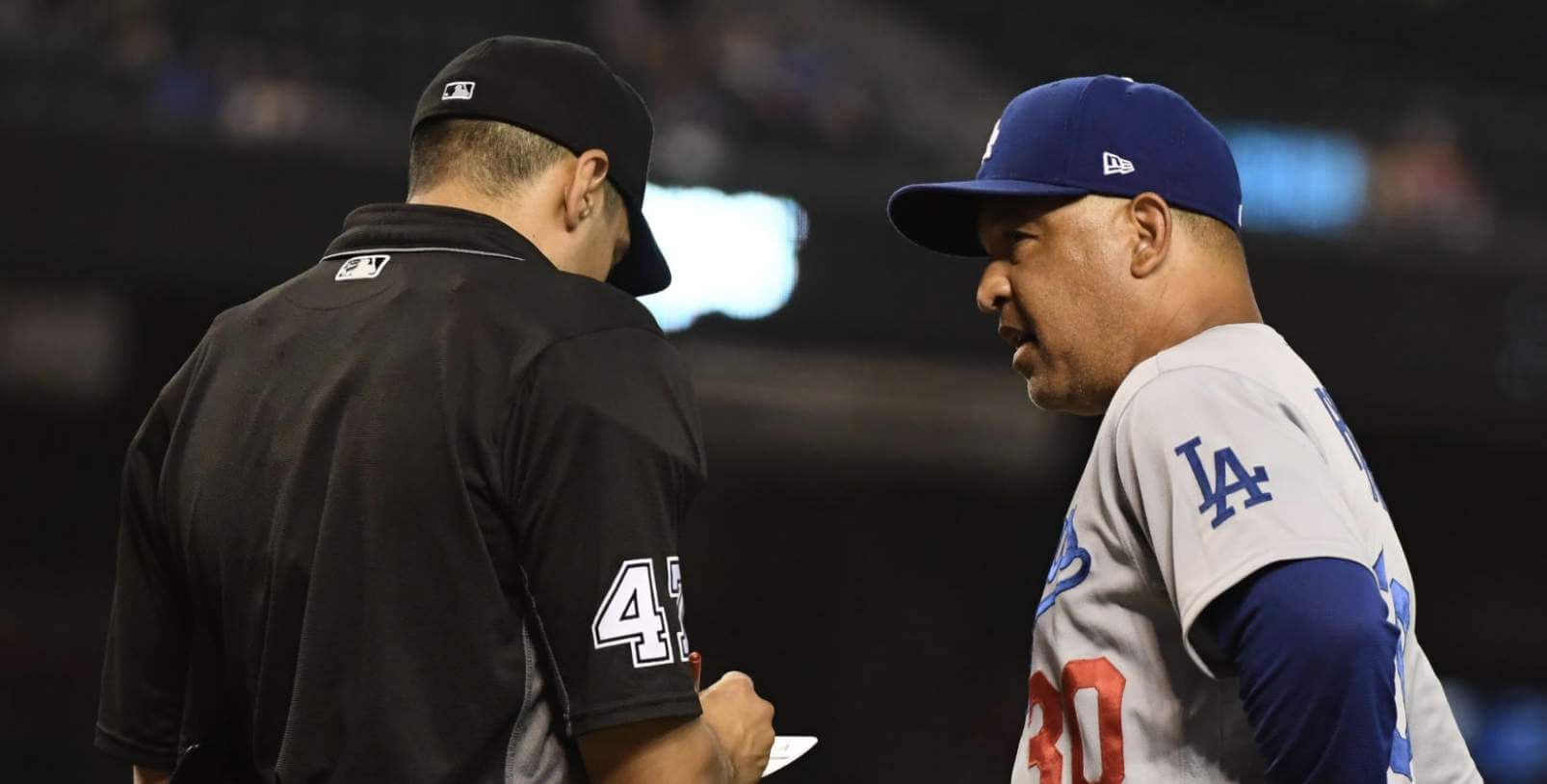 Dave Roberts, Dodgers

———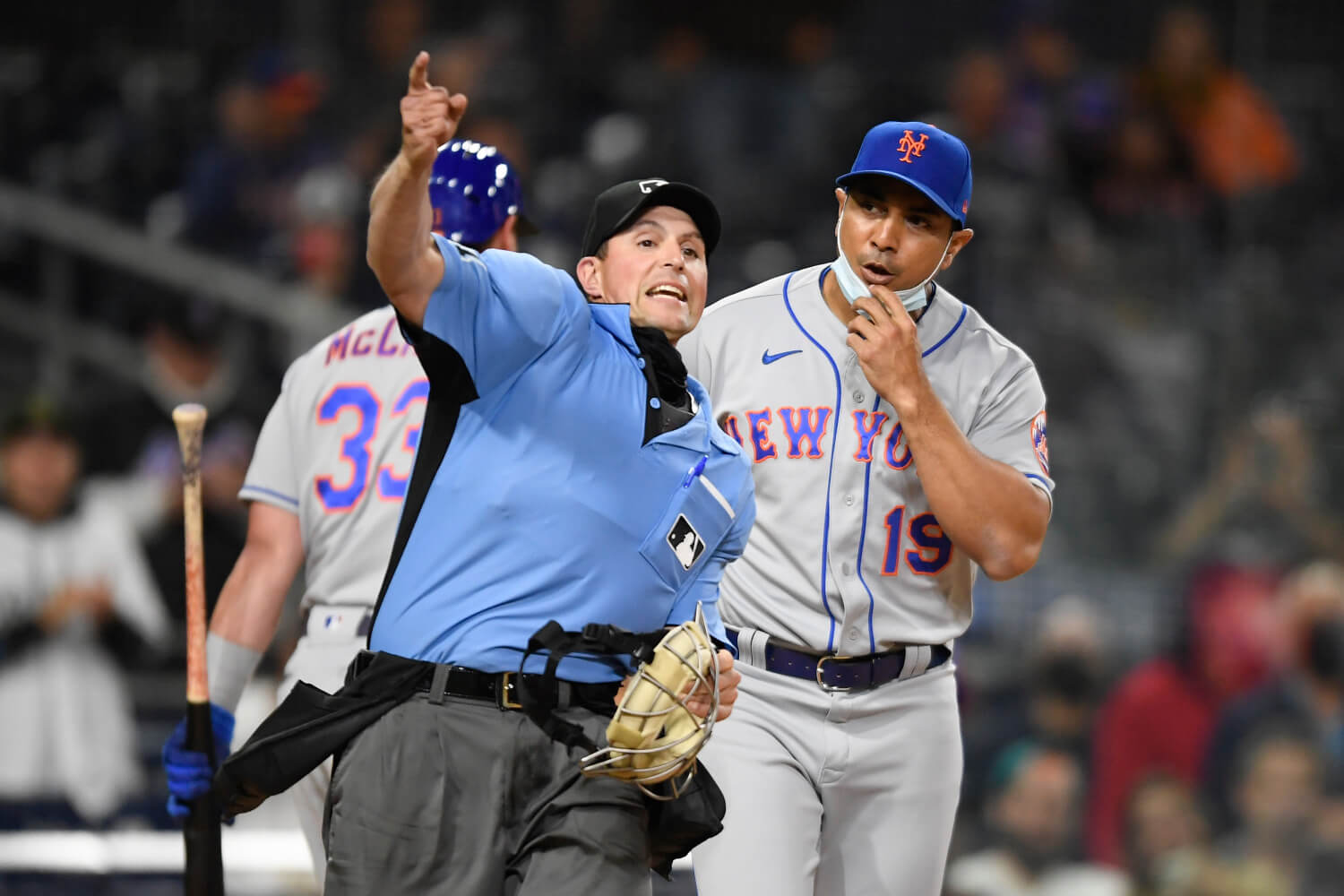 Luis Rojas, Mets

———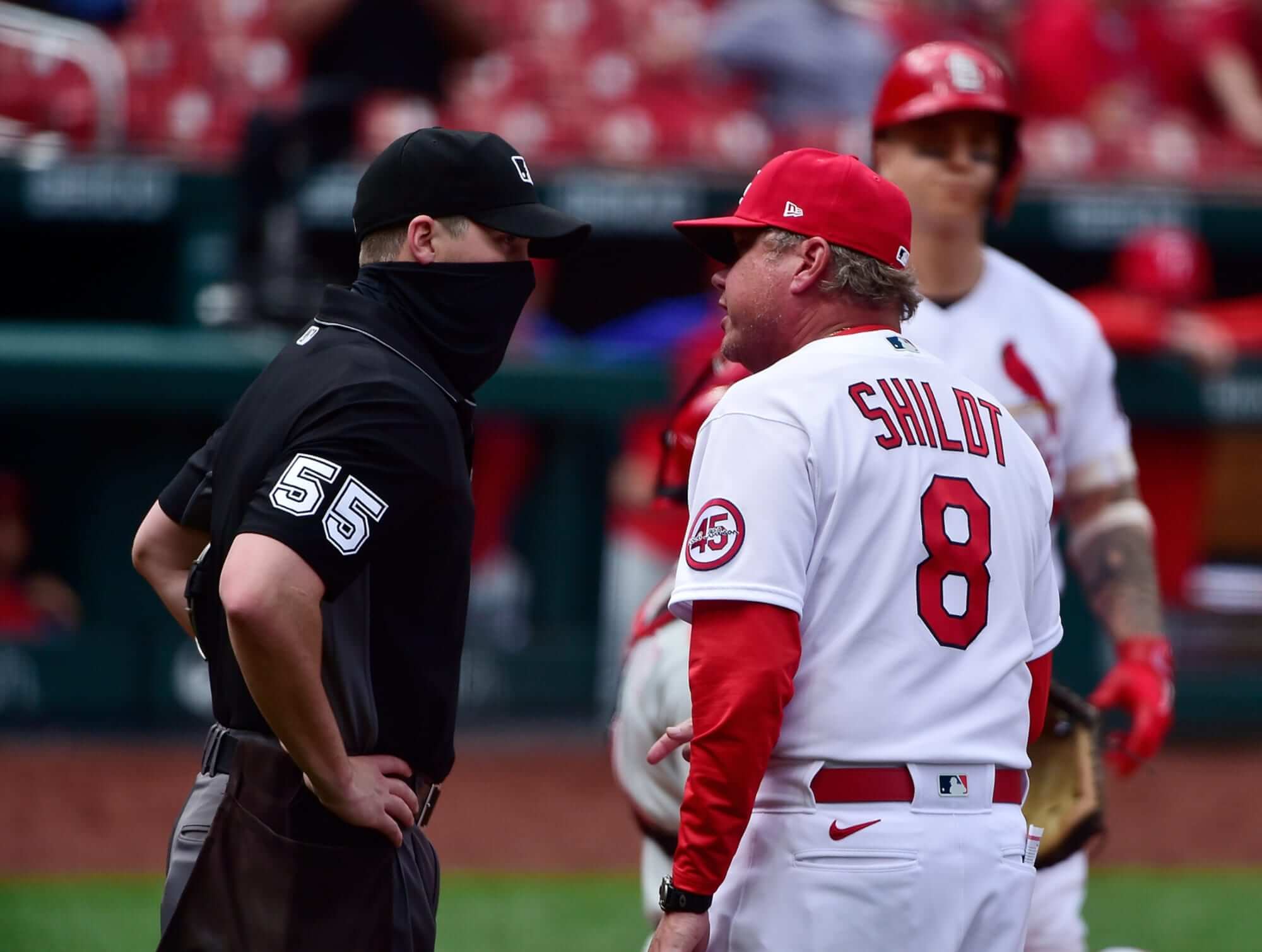 Mike Shildt, Cardinals

———
Brian Snitker, Atlanta

———
In addition, there are three National League managers who sometimes go full-uni. It's hard to gauge the exact percentages, but I'd say each of these three guys wears a jersey at least 40% of the time (I'm basing that solely on photo research — if you follow one of these three teams and can give us a better sense of how their managers dress, feel free to do so in the comments):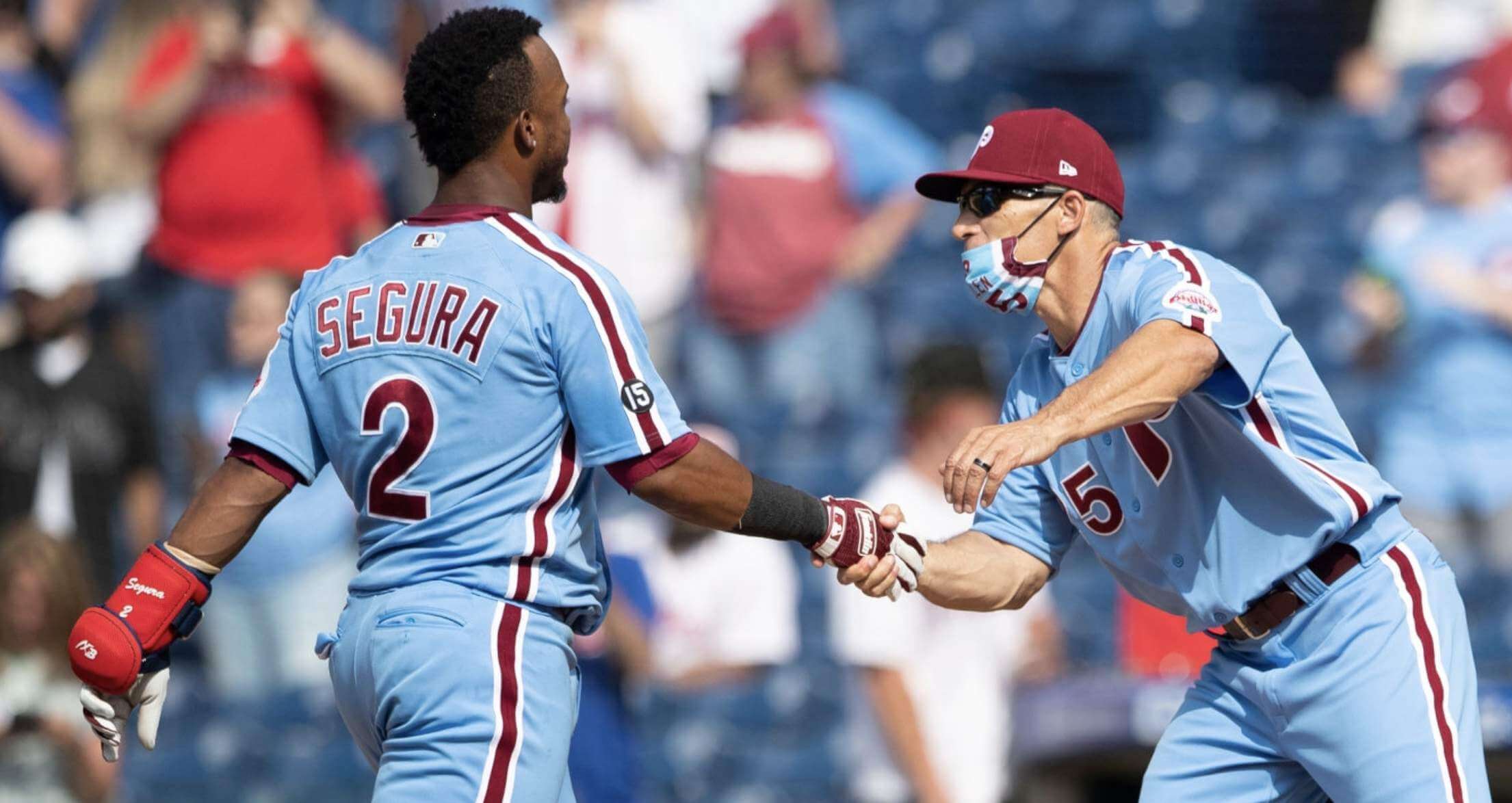 Joe Girardi, Phillies

———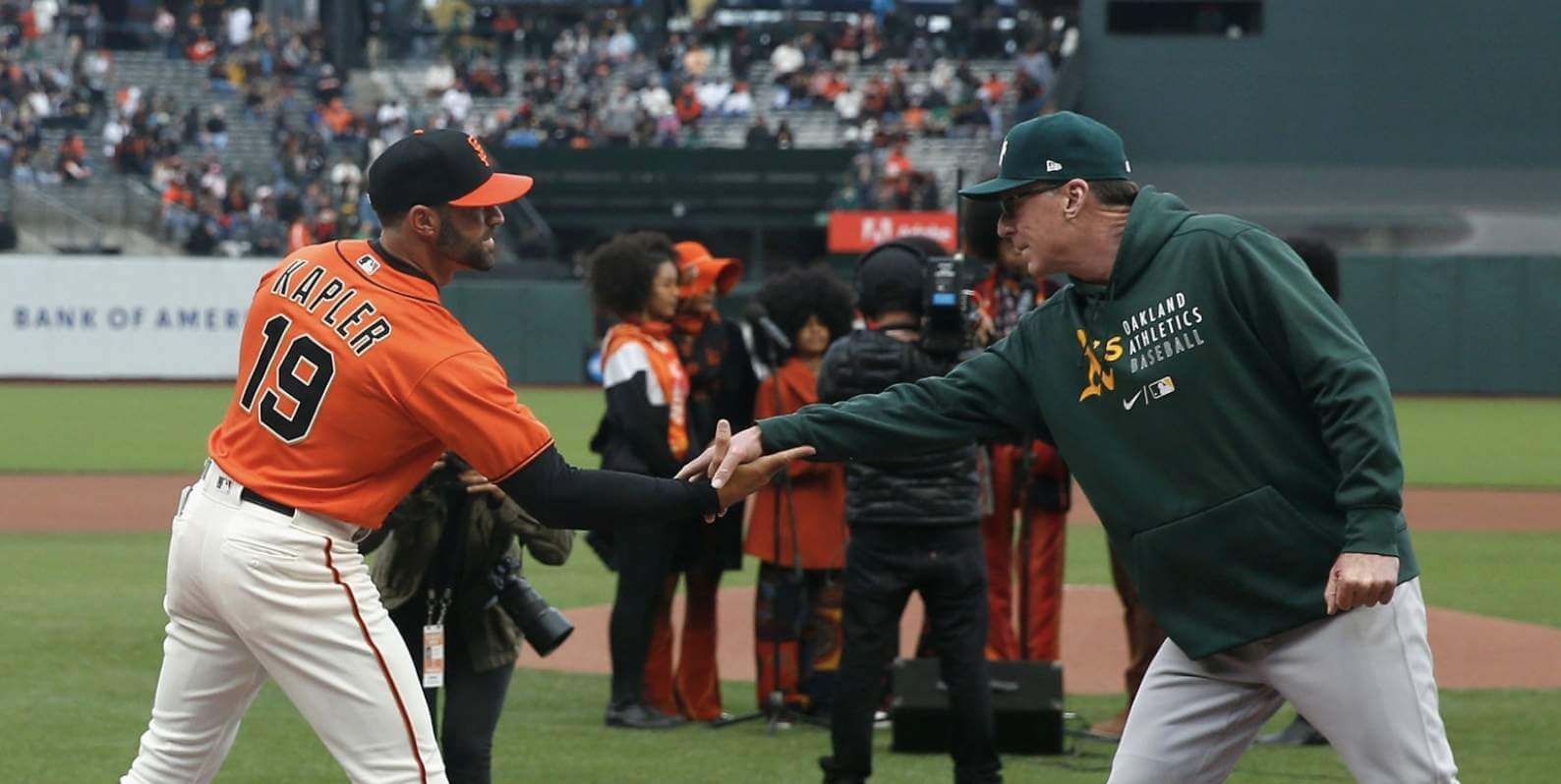 Gabe Kapler, Giants

———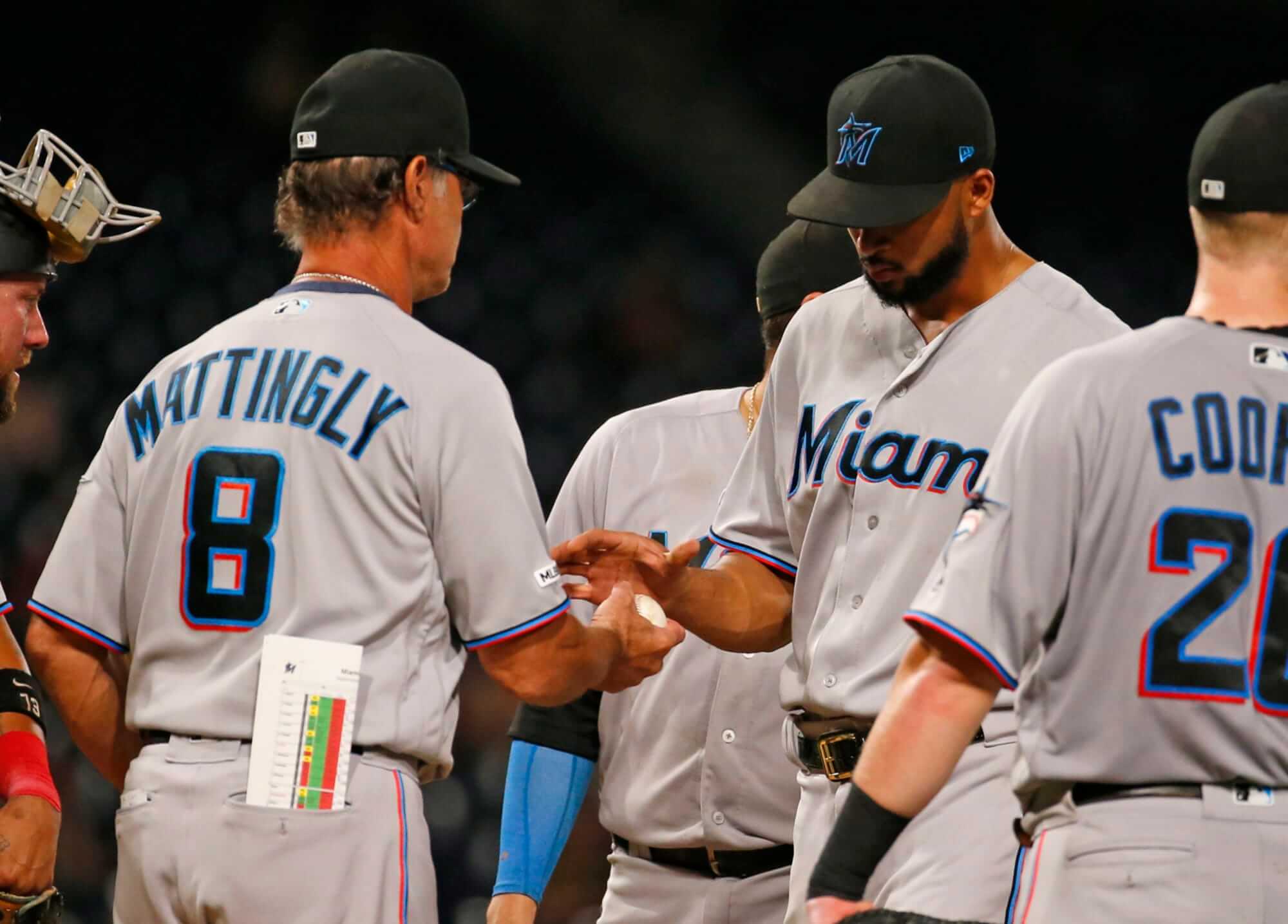 Don Mattingly, Marlins

That leaves us with six NL skippers who usually don't go full-uni: David Bell, Reds; Craig Counsell, Brewers; Dave Martinez, Nationals; David Ross, Cubs; Derek Shelton, Pirates; and Jayce Tingler, Padres.
So six of the 15 NL managers routinely go full-uni, and another three do so at least a significant percentage of the time.
The situation in the American League is a bit different. I've identified just four AL skippers who routinely suit up in a full uniform, plus two more who do so occasionally. Let's start with the four guys who are all in: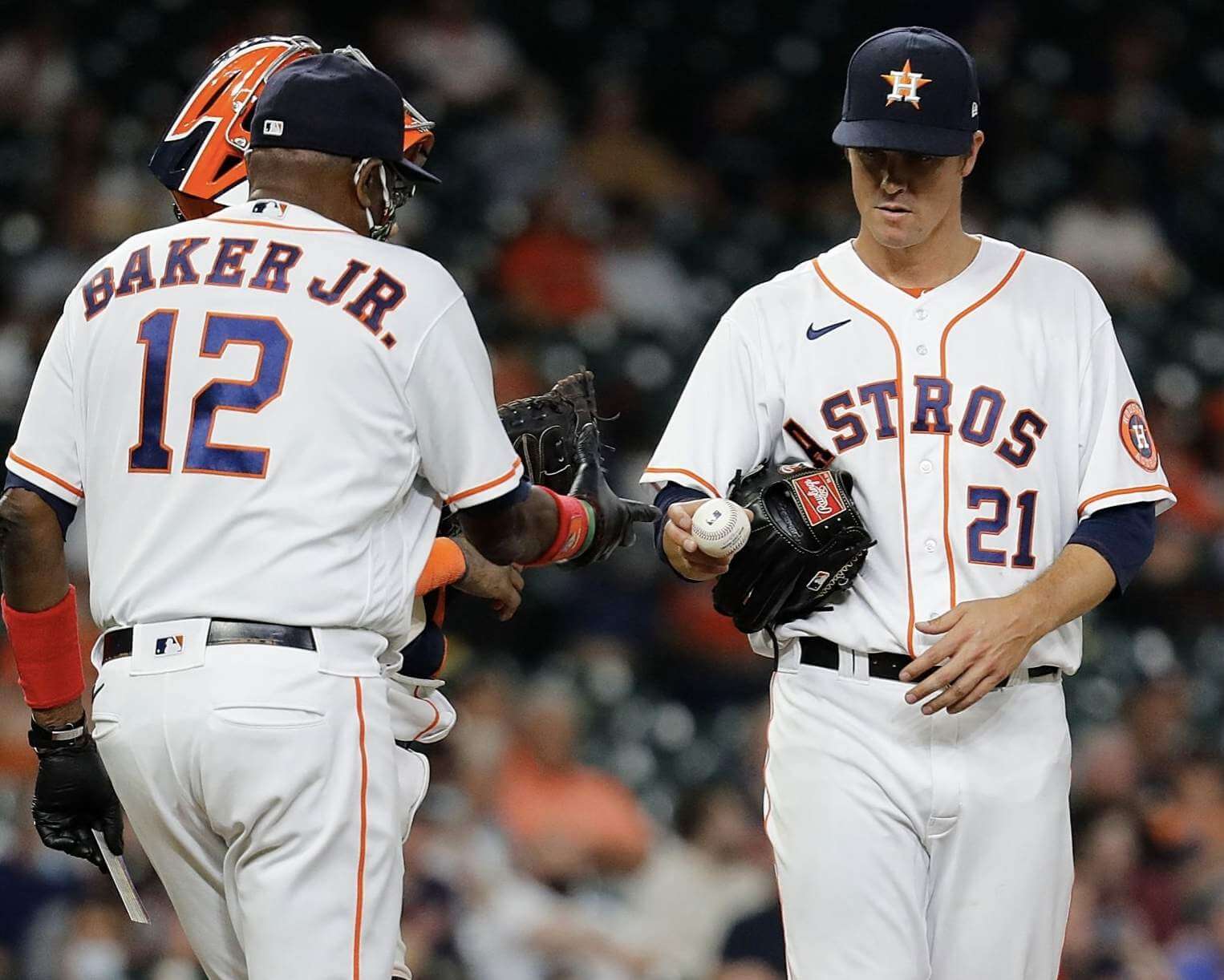 Dusty Baker, Astros

———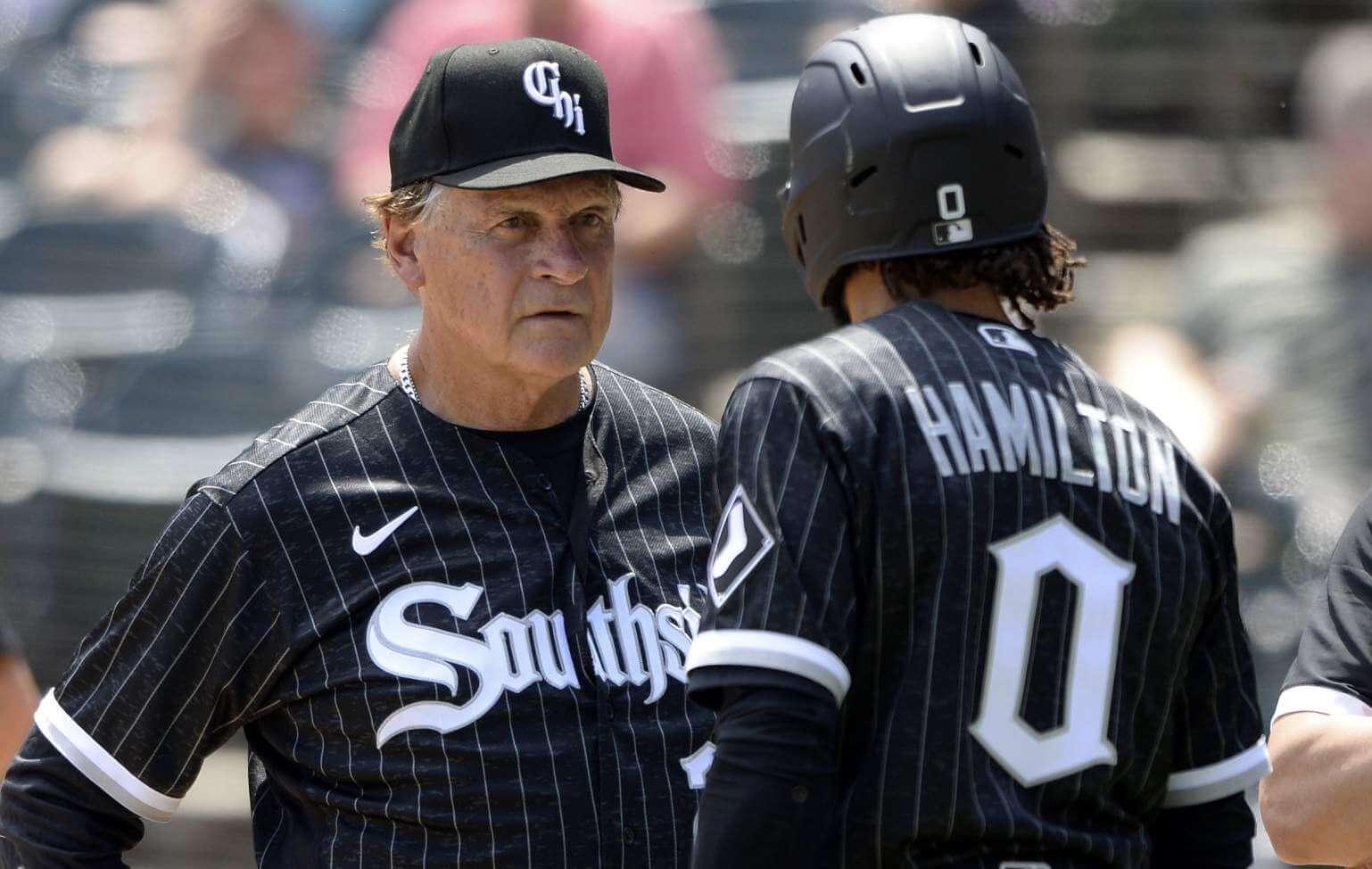 Tony La Russa, White Sox

———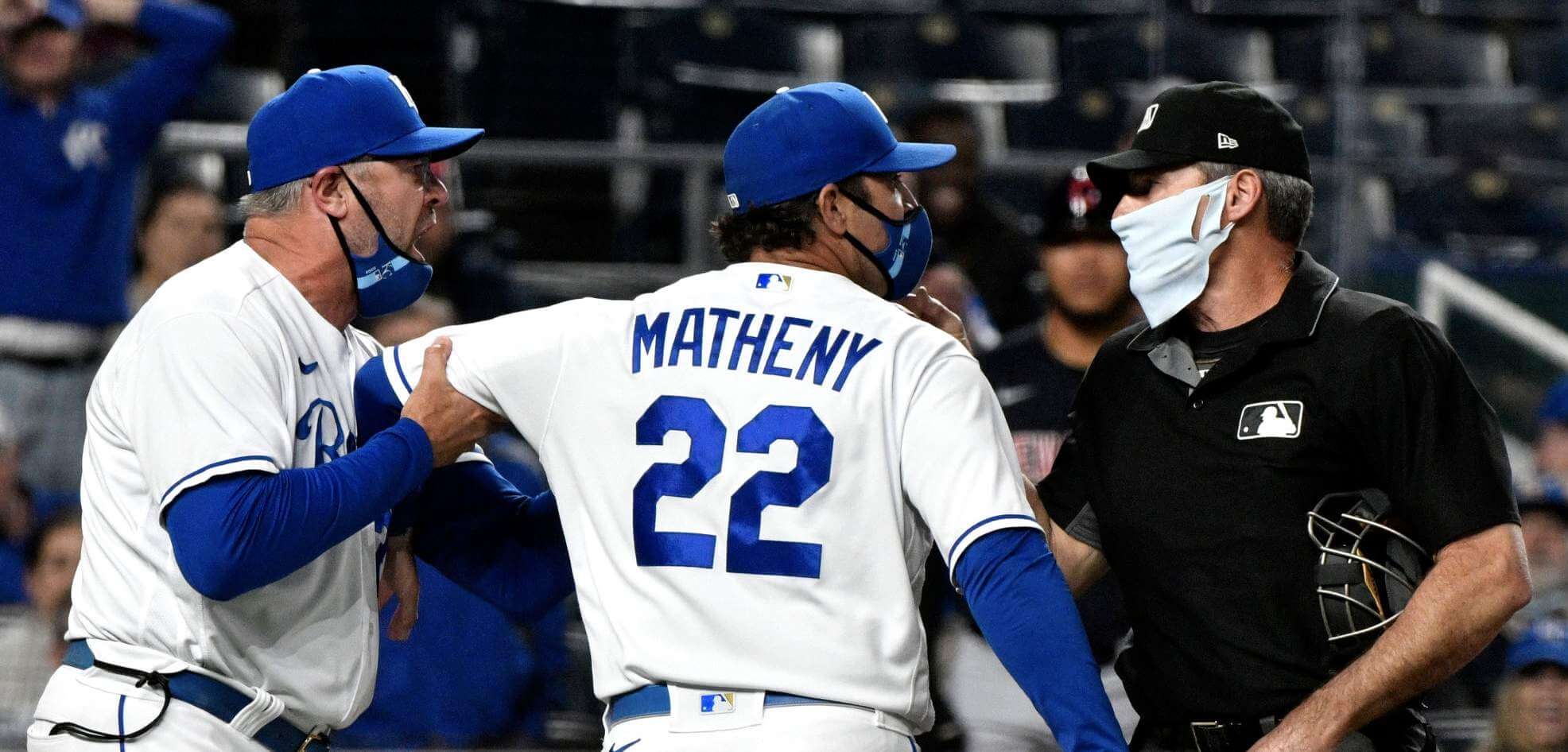 Mike Matheny, Royals

———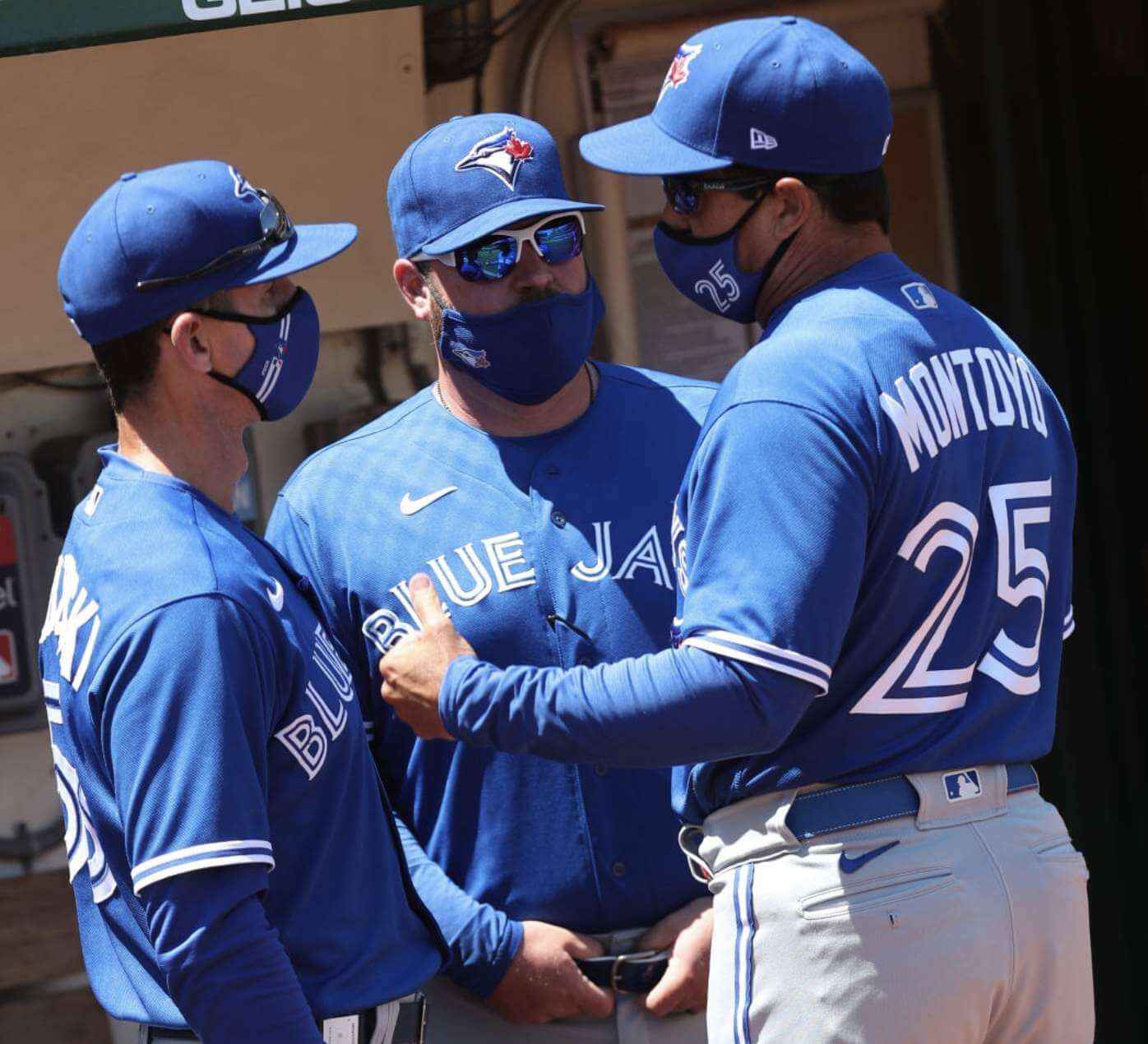 Charlie Montoyo, Blue Jays

And here are the two American League guys who sometimes go full-uni. Again, I'd say they do so at least 40% of the time but am happy to defer to fans who follow the team on a regular basis: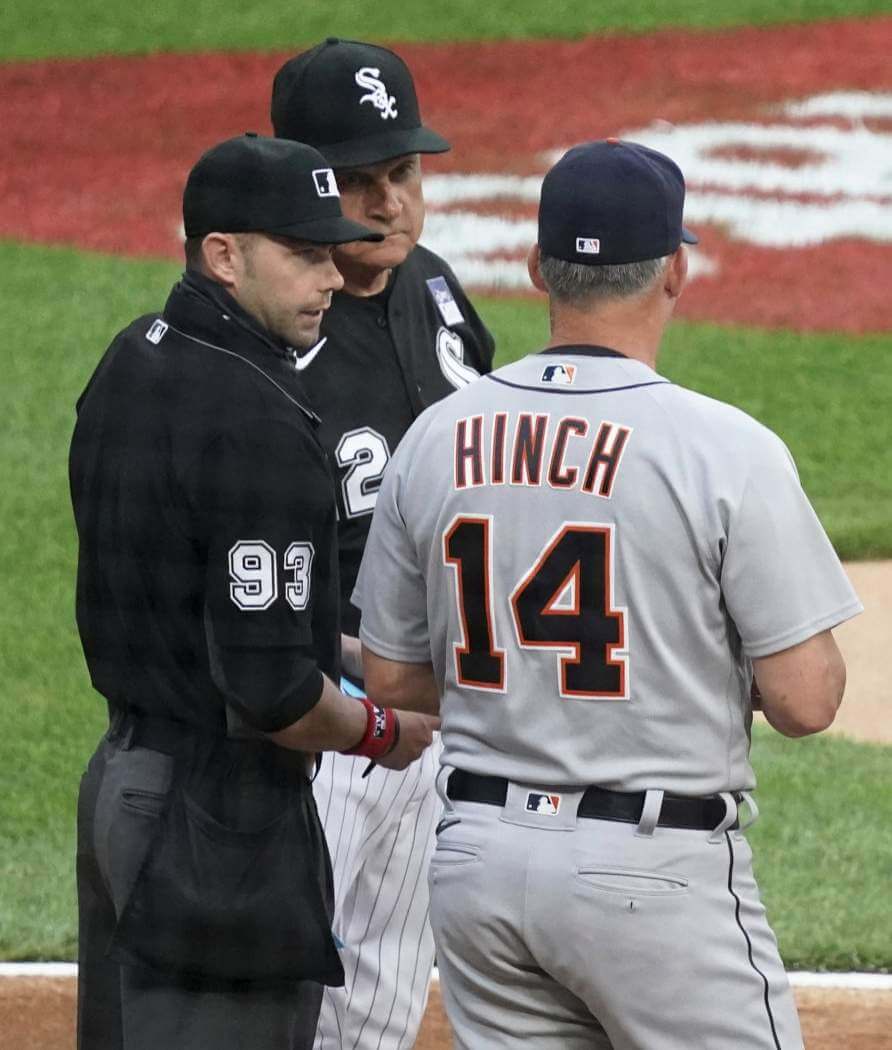 A.J. Hinch, Tigers

———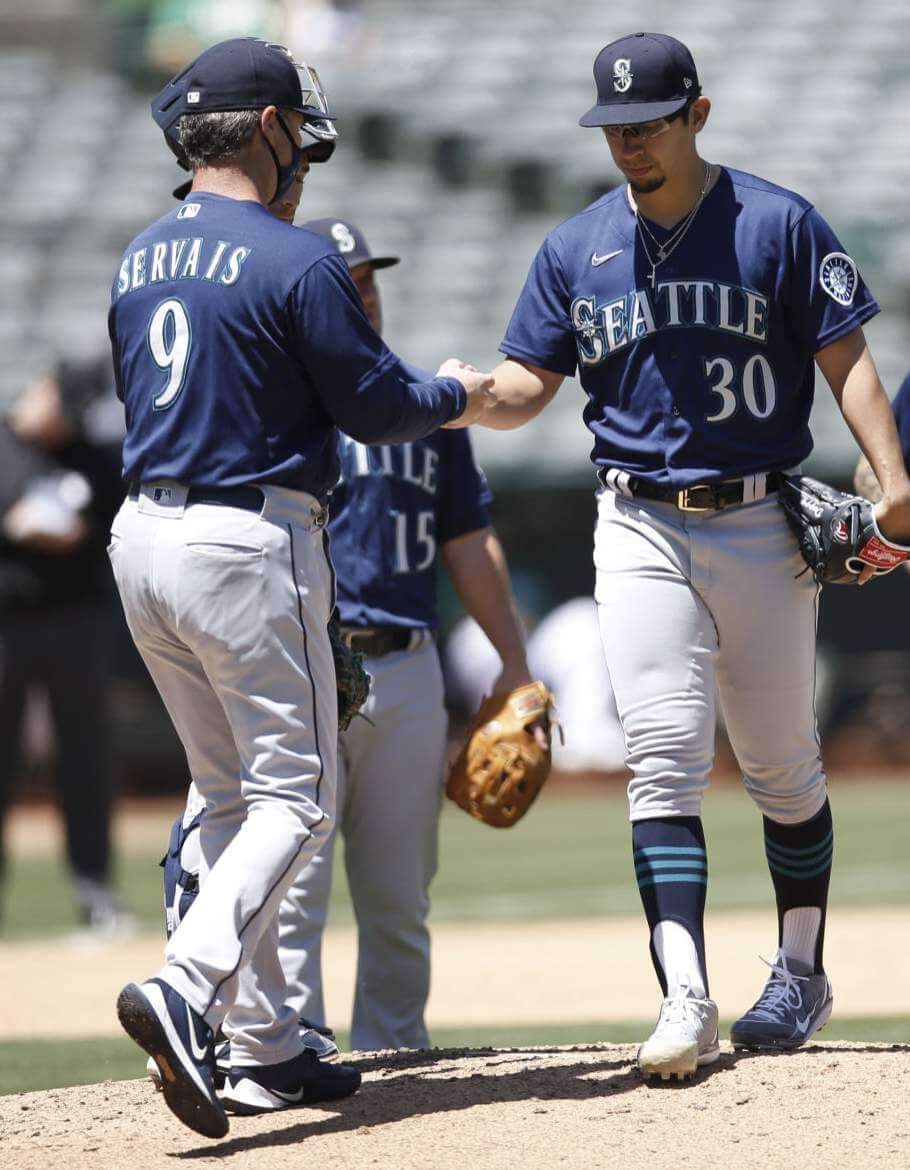 Scott Servais, Mariners

———
That leaves nine AL managers who usually don't go full-uni: Rocco Baldelli, Twins; Aaron Boone, Yankees; Kevin Cash, Rays; Alex Cora, Red Sox; Terry Francona, Cleveland; Brandon Hyde, Orioles; Joe Maddon, Angels (the rare manager who goes high-cuffed); Bob Melvin, A's; and Chris Woodward, Rangers.
If you add the American and National League numbers together, here's how the 30 MLB managers shake out:
• Ten of them — one-third of the MLB managerial corps — routinely suit up in a full uniform.
• Another five of them sometimes go full-uni.
• The remaining 15 MLB managers — fully half of the overall contingent — usually leave their jerseys unworn.
That's not quite as one-sided a situation as Robert Brashear suggested in his comment, but it definitely indicates that the jersey is now considered optional for MLB skippers.
Let's shift into FAQ mode:
Why do baseball managers wear uniforms anyway?
The tradition goes back to the days when an active player often served as the team's manager. (The last time anyone did double-duty like that was in 1986, when Pete Rose served as the Reds' player-manager.)
Also, while managers and coaches in other sports rarely if ever go onto the field, court, or ice, baseball managers are often on the field to make pitching changes or argue with umpires, so the uniform seems more appropriate. (The same goes for base coaches.)
But didn't old-time managers used to wear suits?
Some of them did, most famously Philadelphia A's manager Connie Mack. But suit-clad managers could have worn uniforms if they'd wanted to.
Who was the last manager to wear a suit?
Burt Shotton, who skippered the Brooklyn Dodgers from 1947 through 1950.
Wasn't there some fuss over a manager not being in uniform around 15 years ago?
Yes. In 2007, there was a bit of a controversy when Terry Francona, then skippering the Red Sox, was subject to a "wardrobe compliance check" in the middle of a game. At the time, Francona said he preferred to wear a loose pullover due to circulatory issues.
If MLB had a problem with Francona wearing a pullover back then, why don't they have a problem with all the guys who are doing it now?
For starters, MLB received a lot of negative feedback from the Francona incident. Moreover, it seems to be one of those things that the authorities have given up trying to police, like MLB belt colors, or NBA tights, or any number of other things throughout the uni-verse. At some point, league officials just throw up their hands and let the players (or, in this case, the managers) do what they want.
Do you have a preference for how a manager should dress?
I definitely prefer to see a manager in his full uniform. To me, the hoodie/pullover style looks sloppy, and there's something unseemly about the boss dressing less formally than his employees. If they insist on wearing hoodies or windbreakers or whatever, I think it would be better for them to stop wearing their baseball uniform pants, which don't mesh well with the hoodies. Just wear slacks and sneakers, or something like that.
I think a manager wearing a uniform is silly. He's not going to play, and a lot of these guys are too out of shape to look good in a uniform.
I am aware of that point of view. I just happen to disagree with it.
Would you want coaches in other sports to wear the same uniforms that the players wear?
No, that wouldn't make sense. Football and hockey uniforms, for example, have all sorts of padding and specialized gear, so it would be silly for a coach to wear those, but a baseball uniform is just clothing. Similarly, basketball uniforms are designed for ease of movement and lots of back-and-forth running, so it would make no sense for a coach to wear that — but again, a baseball uni is just clothing. I see nothing wrong with a manager wearing it.
Do you think Nike is working on separate gear just for managers and coaches?
Shhhh, don't give them any ideas.
(My thanks to Robert Brashear for sending me down this interesting rabbit hole.)
• • • • •
• • • • •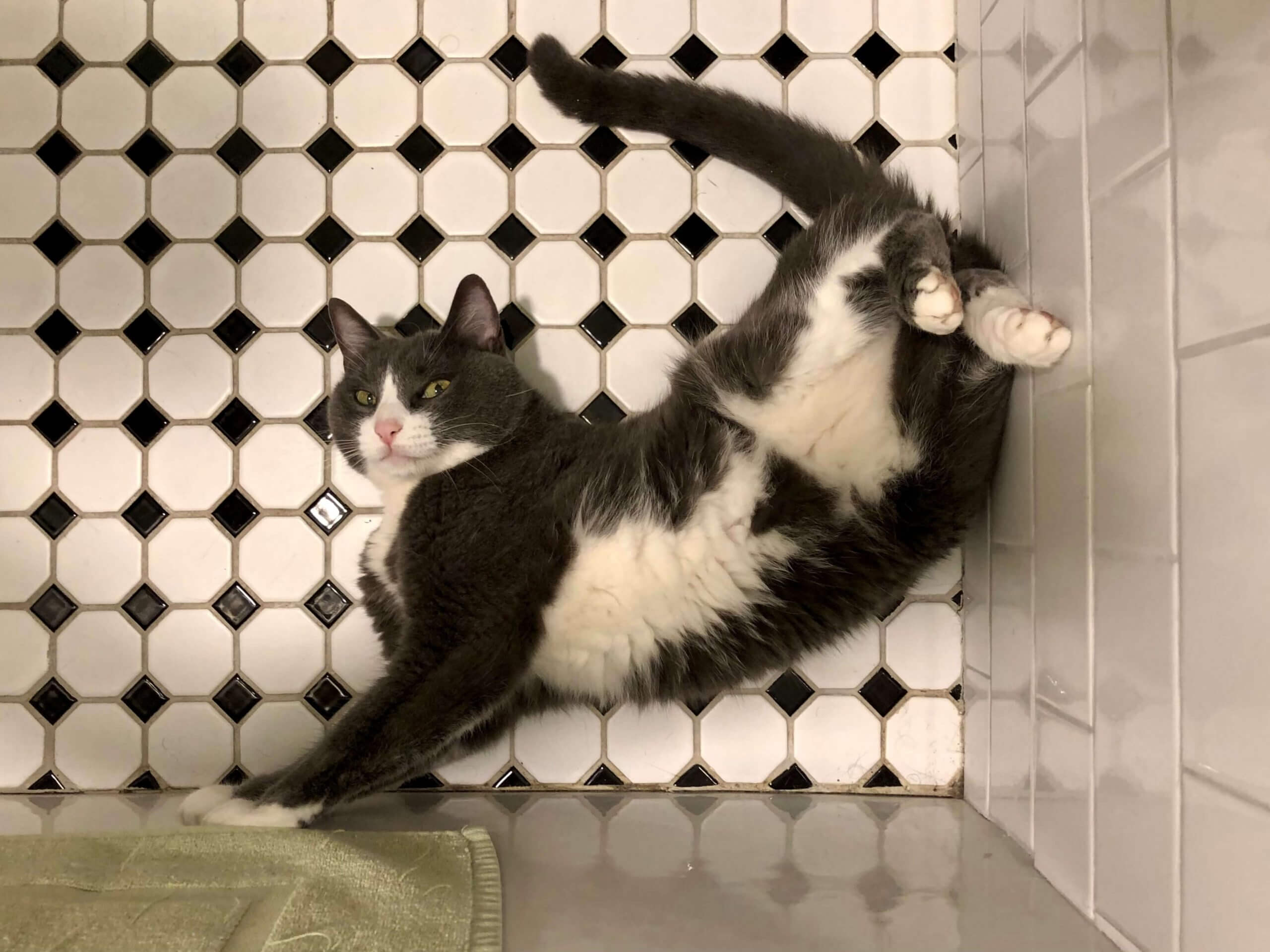 Photo by Mary; click to enlarge
Awwwww: Temperatures have been in the 90s here in NYC, so Uni Watch girl mascot Caitlin has been keeping cool on our bathroom tiles. Li'l cutie!!
• • • • •
• • • • •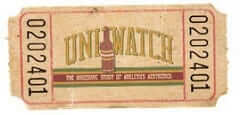 ITEM! Brooklyn Branches first-anniversary raffle: Yesterday marked exactly one year since Branch Rickety — the big, loose branch that had been swinging from the higher reaches of a tree across the street from Uni Watch HQ — crashed to the ground. As you may recall, that prompted reader Ron Ruelle to come up with the concept for a baseball team called the Brooklyn Branches, which in turn led to a series of Branches T-shirts, a spectacular DIY'd Branches jersey by Wafflebored, a bunch of Branches lapel pins (made from the original Branch Rickety!), and more.
Ron says the Branches project was one of the highlights of his 2020. So in honor of the Branch-iversary, he's generously offered to sponsor a raffle. The winner will have their choice of either a Branches T-shirt (your choice of home white, road grey, green alt, or brown alt) or a Branches-themed Uni Watch membership card. Since the only numeral Ron had designed for the Branches' font is 7, he'll design custom numerals if the raffle winner wants any number other than 7 or 77.
This will be a one-day raffle. No entry restrictions for the membership card, but USA mailing addresses only for the T-shirt. To enter, send an email with your choice of either a T-shirt or a membership card to the raffle in-box. If you're choosing a T-shirt, indicate your preferred color and size, along with your mailing address; if choosing a membership card, indicate which jersey color it should be based on, along with your choice of number and NOB, as well as your mailing address. One entry per person. I'll announce the winner tomorrow. Good luck!
• • • • •
• • • • •

Cap update: We continue to sell through our remaining cap inventory. Thanks to a few returns and exchanges, a few sizes that were sold out are now available again. Here's what we currently have on hand:
7-1/8: 1 cap
7-1/2: 1
7-3/4: 4
7-7/8: 2
Once they're gone, they're gone. Available here while they last.
• • • • •
• • • • •
The Ticker
By Lloyd Alaban

Baseball News: With a mariachi band on hand to perform the national anthem at Dodger Stadium, Dodgers P Joe Kelly traded his jersey for a band member's jacket (from our own Brinke Guthrie). … Longtime Uni Watch pal Hal the Hot Dog Guy has written an article in favor of the A's new stadium-development project (from Attila Szendrodi). … First Lady Jill Biden and Second Gentleman Douglas Emhoff visited the Astros' ballpark yesterday to view the club's vaccination efforts. They both received custom No. 46 jerseys with their NOBs, although it's worth noting that Emhoff is married to the 49th vice president, not the 46th (from Steve, who didn't give his last name). … Umpire Ted Barrett had a black bandana sticking out of his back-right pocket last night (from @fillupg1).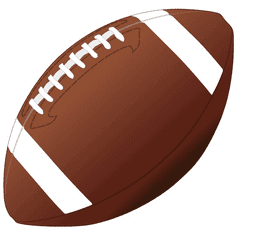 Football News: Rams OT Andrew Whitworth said on a podcast that the new Rams unis coming out next month will be a yellow throwback of some sort (from multiple readers). … The Colts' practice field is using the team's new wordmark (from @thebigDOOKY). … Thanks to a bank merger, the U. of Minnesota's stadium has a new advertised name (from Erick Kriewaldt). … New helmets for Colgate (from @ColgateFootball).

Basketball News: Bucks PF/C PJ Tucker suffered a jersey tear last night (from Dan Kennedy). … The Fraser Valley Bandits of the Canadian Elite Basketball League draped the jerseys of local sports teams on their home arena's seats (from Wade Heidt).

Soccer News: New third kit for Argentinos Juniors (from German Cabrejo). … New shorts advertiser for top-level Polish side Wisla Kraków (from Ed Zelaski). … New unis for Portuguese club Benfica (from Mike D.). … New shirts for Haiti (from Trevor Williams). … Two more from Ed Zelaski: New kits for Bundesliga club Hertha, and also for Belgian club KV Mechelen. … New first kit for Scottish club Partick Thistle (from our own Jamie Rathjen). … A Mia Hamm rookie card has sold for over $34K, which is a record price for a female athlete's trading card.

Grab Bag: NASCAR driver Bubba Wallace will appear on the hood of his own car this weekend after a fan vote on his livery (from Trevor Williams). … Some American stadiums are switching to all-aluminum drinkware (from John Cerone). … A local labor union is poaching the Budweiser logo (from Scott Ross Steffes). … Bowling balls are not recyclable, but people keep trying to recycle them anyway.
• • • • •
Tomorrow: The July Pin Club launch. See you then. — Paul