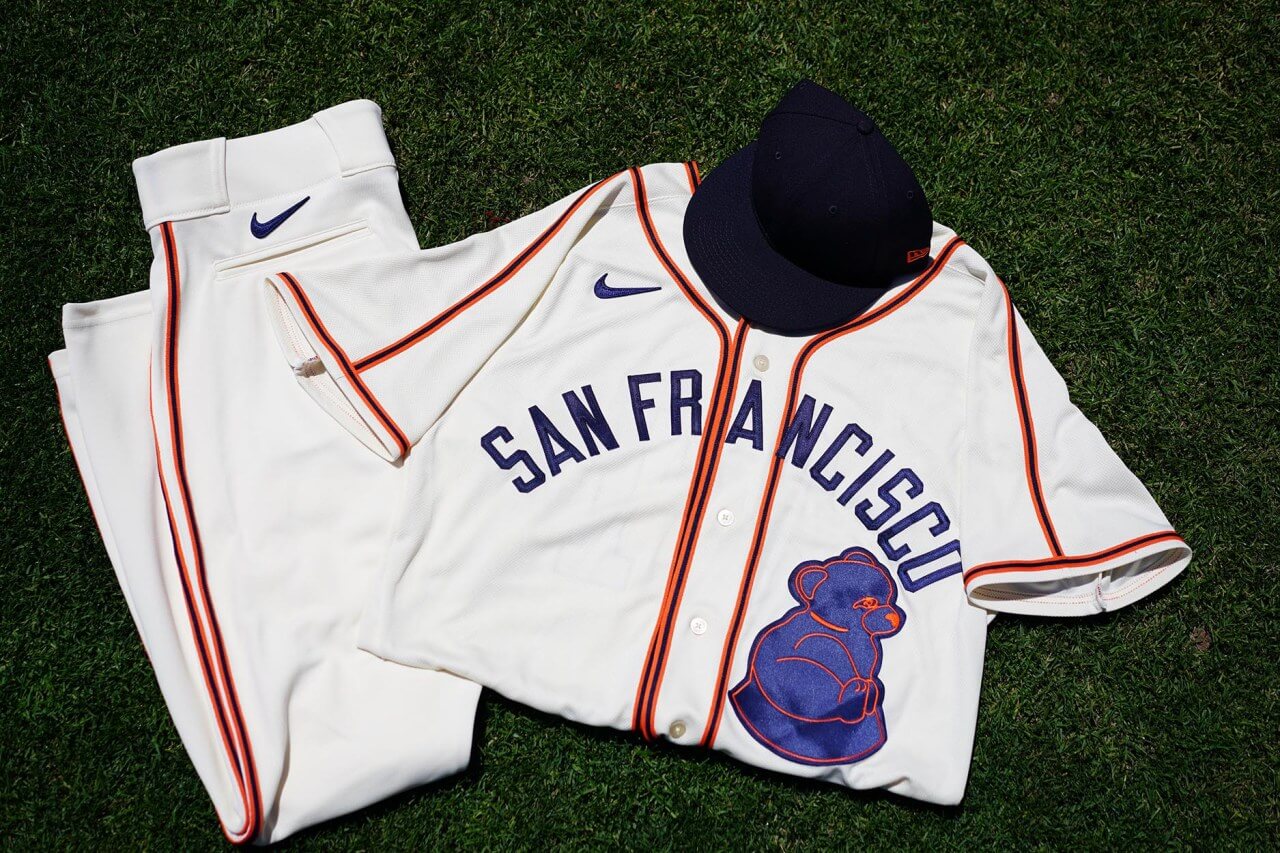 Click to enlarge
The Giants yesterday announced that they will celebrate Juneteenth this Saturday by wearing San Francisco Sea Lions throwbacks. The Sea Lions played for one season — 1946 — in the West Coast Negro Baseball Association. Their jerseys featured a cub, instead of a sea lion, because they purchased their unis from a defunct team called the San Francisco Cubs. Here's how they looked back in the day (click to slightly enlarge):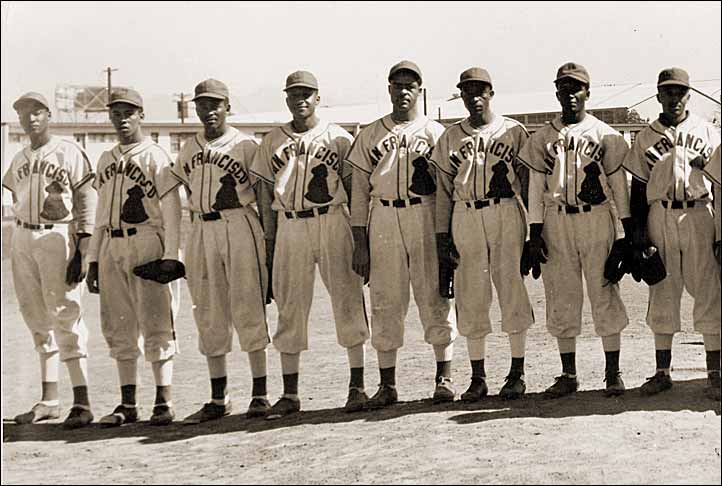 According to Bill Henderson's uniform guide, this will be the second time that the Giants have dressed up as the Sea Lions. They wore a grey version of this throwback for a Negro Leagues throwback game in Atlanta in 2014.
As you can see at the top of the page, the throwback cap is blank, which is era-appropriate — except for the maker's mark. Sigh.
It's not clear, at least to me, whether the Giants' Juneteenth opponents, the Phillies, will also be wearing throwbacks. Normally I'd say, "I hope so," but in this case I'm hoping the Phils just wear their regular road greys because Aaron Nola will likely be taking his turn in the starting rotation that day, and I'm once again obsessed with his cap saga.
Either way, at least one other team will be wearing Negro Leagues throwbacks for Juneteenth. That would be the Mariners, who'll be dressing up as the Seattle Steelheads:
Per team exec, the Seattle Steelheads throwbacks that the Mariners were originally planning to wear last June (for a game that fell victim to the pandemic) will be worn this season, on June 19. https://t.co/UXFHOLfVDV

— Paul Lukas (@UniWatch) March 23, 2021
The visiting team for that game, the Rays, will be wearing their regular uniforms, not throwbacks. (Also, note that the photo in the tweet shown above is from a previous Steelheads throwback game that took place in 2015. This year's version of the uniform will presumably include the Nike logo.)
At least one minor league team will also be commemorating Juneteenth with their uniforms, as the Double-A Pensacola Blue Wahoos dress up as the Negro Leagues' Pensacola Seagulls:
The Pensacola Seagulls will return to the field this Saturday as the Blue Wahoos celebrate the history and legacy of the Negro Leagues!

Bid now to take home your favorite player's game worn jersey with proceeds going to charity!

Bid: https://t.co/A0wSIY64VR pic.twitter.com/zh48MWQ6zV

— Pensacola Blue Wahoos (@BlueWahoosBBall) June 16, 2021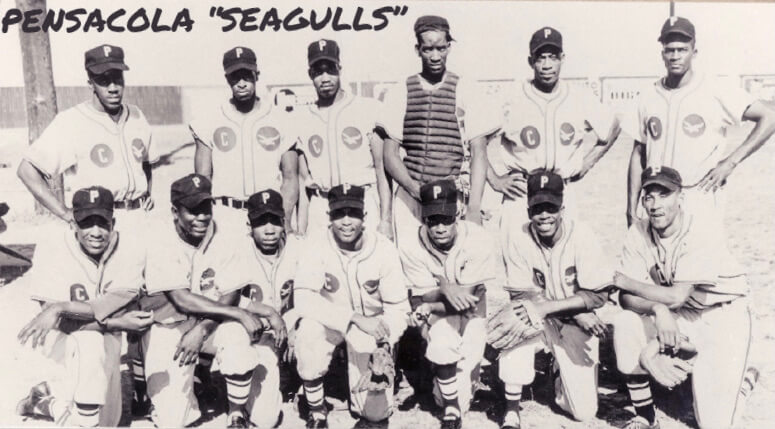 Juneteenth, incidentally, in addition to becoming a widely recognized celebration around America in recent years, is also now about to become an official federal holiday. That distinguishes it from Ma's Day, Pa's Day, and Armed Forces Day, none of which is an official federal holiday — yet for some reason those three all get the annual MLB uni/merch treatment. Maybe Juneteenth will be given that status next season.
Speaking of federal holidays: Still waiting for those Labor Day uniforms.
Update: Reader/commenter Brian Schmidtke reports that the High-A Lansing Lugnuts will be dressing as the Negro Leagues' Page Fence Giants on Juneteenth:
ICYMI: The Lansing Lugnuts will honor the legendary Page Fence Giants of 1895-1898 on Saturday, June 19th at Jackson® Field™.

INFO: https://t.co/KNXTLpmHxz pic.twitter.com/lgFD22RDGi

— Lansing Lugnuts (@LansingLugnuts) June 15, 2021
• • • • •
• • • • •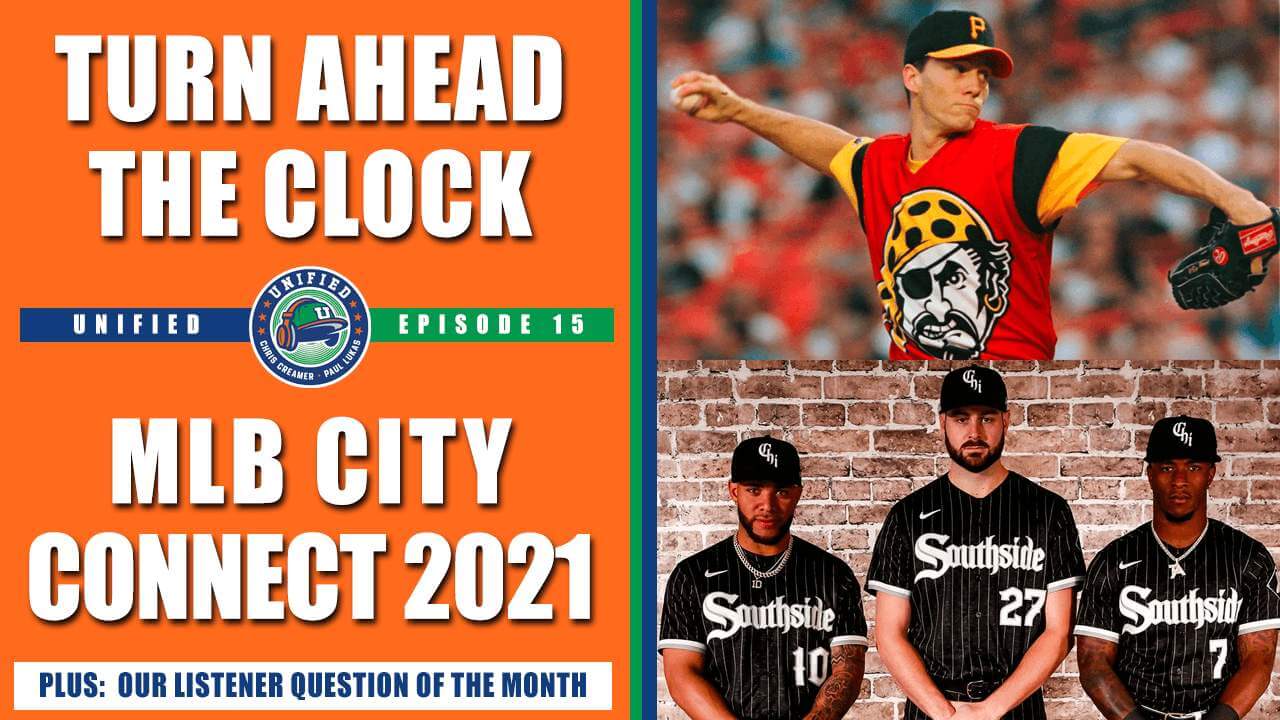 New podcast episode: Unified is back! Did you miss us? For this month's episode (part of our slower summer schedule), Chris and I talked about MLB's infamous 1999 "Turn Ahead the Clock" promotion. Remember, the uniforms for that program were supposed to represent the year 2021 — the future is now!
Plus we also assessed the MLB CC uniforms and had our weekly monthly reader-submitted question.
As always, you can listen to us on Apple, Google, Stitcher, TuneIn, and Spotify, or just use the player below:
The show notes for this episode, which include photos of many of the things we discussed, are here. Those photos (and some additional ones) also appear in the video version of the episode, which you can see here:
Please consider supporting this episode's advertisers: Homefield Apparel (15% off with checkout code UNIFIED), Aced Out (20% off with checkout code UNIFIED), 3rd Base Clothing (15% off with checkout code UNIFIED), and Winning Streak Sports (sorry, no discount, but still good products!).
Enjoy the episode, and thanks for listening.
• • • • •
• • • • •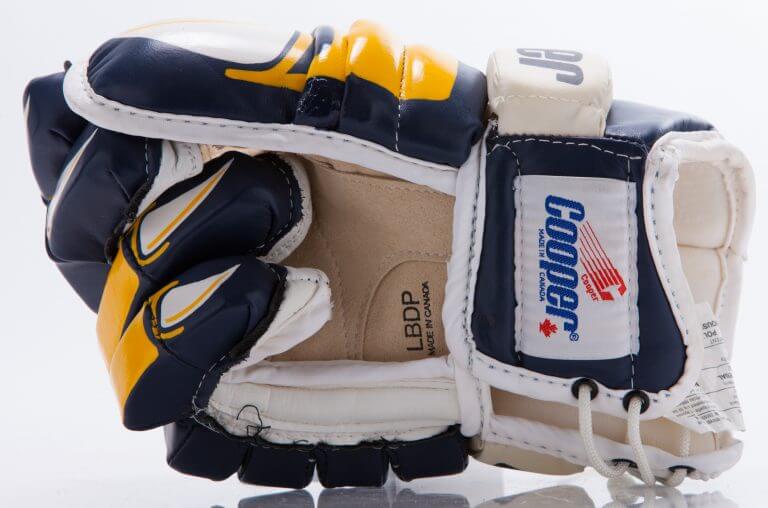 Click to enlarge
What might have been: Here's something I'd never seen before: When the Panthers joined the NHL in 1993, their gloves were originally slated to depict claws! The photo above shows a prototype; you can see additional photos of it here.
Putting team-related graphics on hockey gloves is not a phenomenon I'm familiar with. Have other teams done it?
(My thanks to Brandon Weir for this one.)
• • • • •
• • • • •
Oh. My. God. See that wooden football in the video embed shown above? It's the result of a completely amazing woodworking project, all of which is shown in the video. Believe me when I say that it's completely worth watching — compelling stuff. Uni Watch's highest rating!
(Big thanks to John Chapman for this one.)
• • • • •
• • • • •

Click to enlarge
Cap update: We continue to sell through the remaining inventory of Uni Watch caps. As I mentioned a few days ago, we're temporarily out of shipping boxes, but we have more boxes on the way, so orders placed over the next few days will ship out either this weekend or next Monday. Thanks in advance for your patience.
Here's what we have left, broken down by size:
7: 1 cap
7-1/8: Sold Out
7-1/4: 4
7-3/8: 3
7-1/2: Sold Out
7-5/8: Sold out
7-3/4: 6
7-7/8: 5
8: Sold out
Once they're gone, they're gone! So if you want one (or more than one), get your order in now.
• • • • •
• • • • •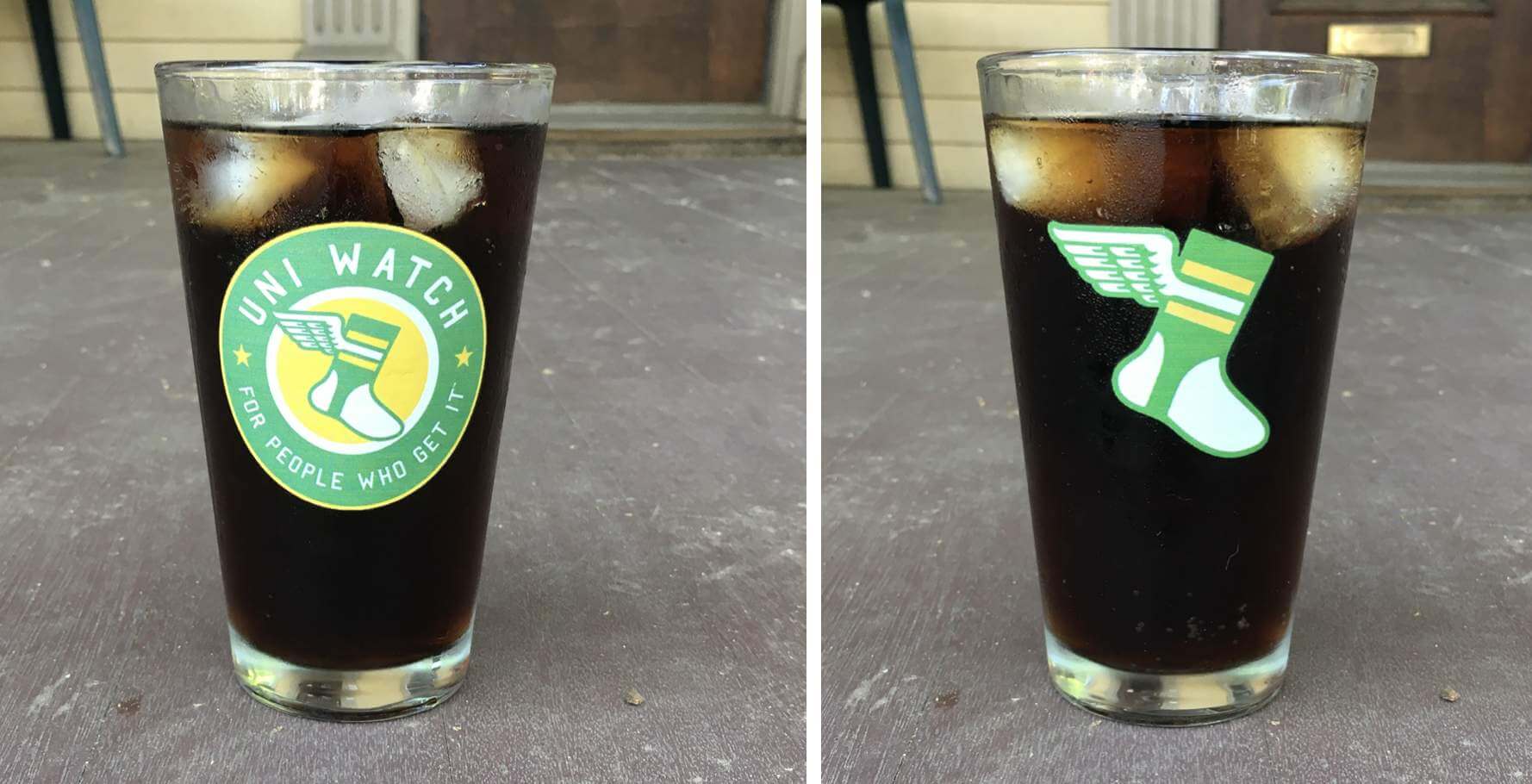 Click to enlarge
Pint glass reminder: Thanks for all the enthusiasm about the new Uni Watch pint glass, despite its slightly imperfect print quality. (If you missed my explanation about that, look here.)
We've already sold a few dozen of these. They're available here. My thanks, as always, for your consideration of our products.
• • • • •
• • • • •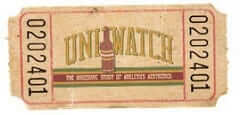 ITEM! Hoodie raffle: Due to an ordering/sizing error, Ben Hollett has ended up with an extra 2XL Uni Watch hoodie and has generously offered to let me raffle it off, so that's what we're going to do today.
This will be a one-day raffle. USA mailing addresses only. To enter, send an email with your mailing address to the raffle in-box. One entry per person. I'll announce the winner tomorrow. Big thanks to Ben for doing this!
• • • • •
• • • • •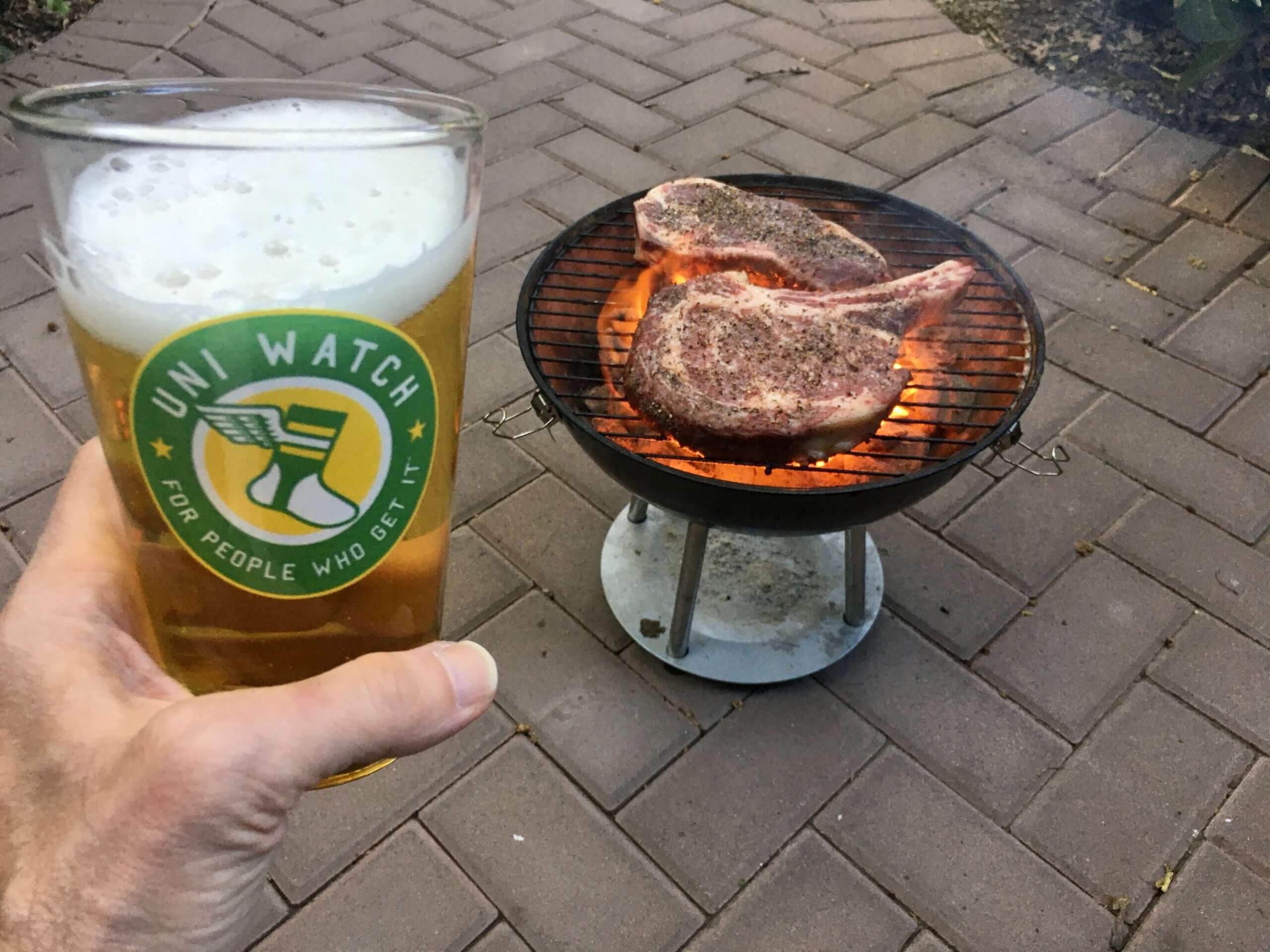 Click to enlarge
Culinary Corner: One of my few gripes about our current neighborhood is that we don't have a good butcher. Or at least that was the case until about two weeks ago, when a Halal butcher shop, run by a super-nice Uzbek family, opened right around the corner from us. Their beef is insanely marbled and ridiculously inexpensive. This shell steak and ribeye cost a total of $17: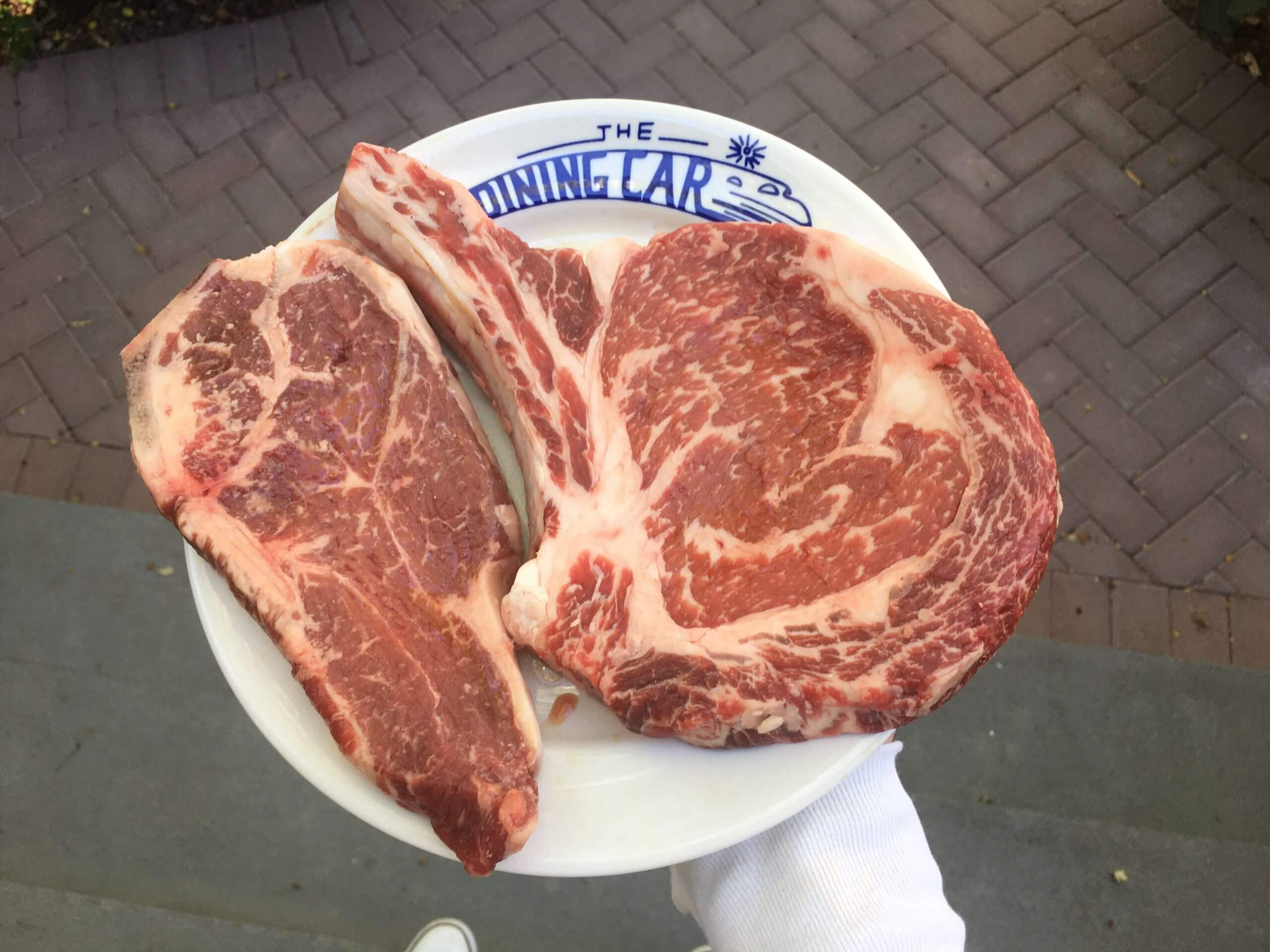 Of course, just because it looks good doesn't mean it eats good, so last night we fired up the grill. Good beef doesn't need anything besides salt and pepper, so that's all we added: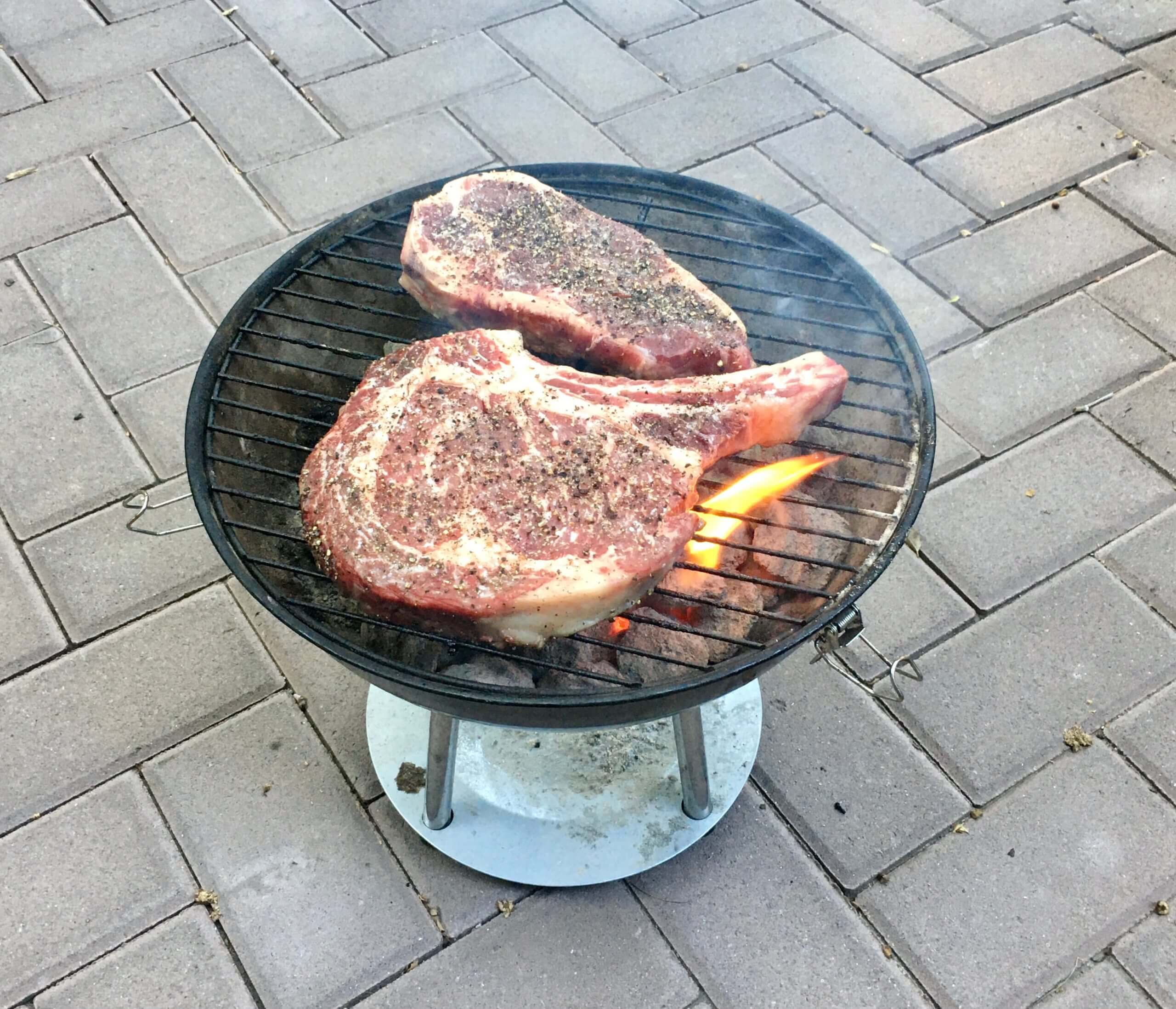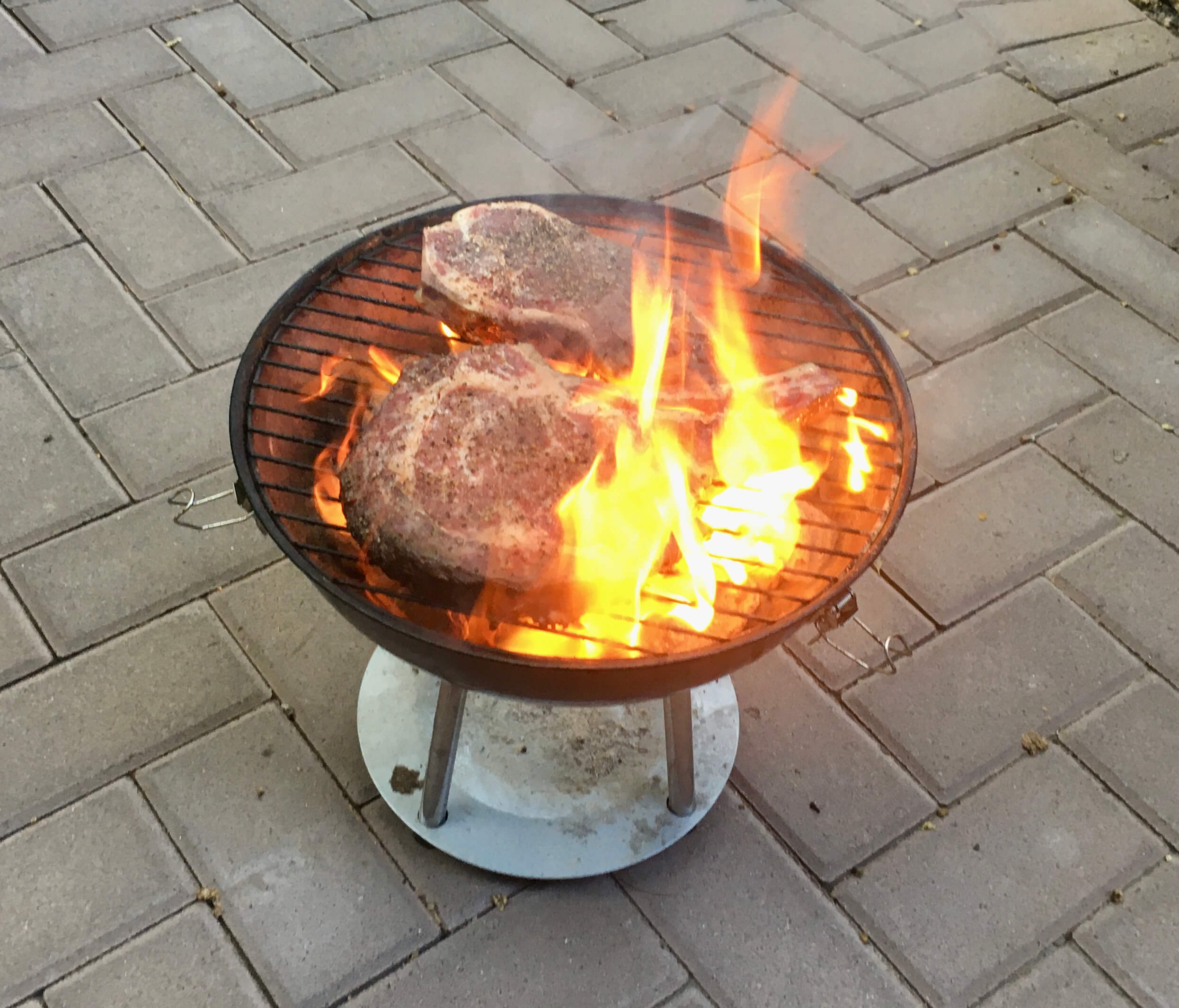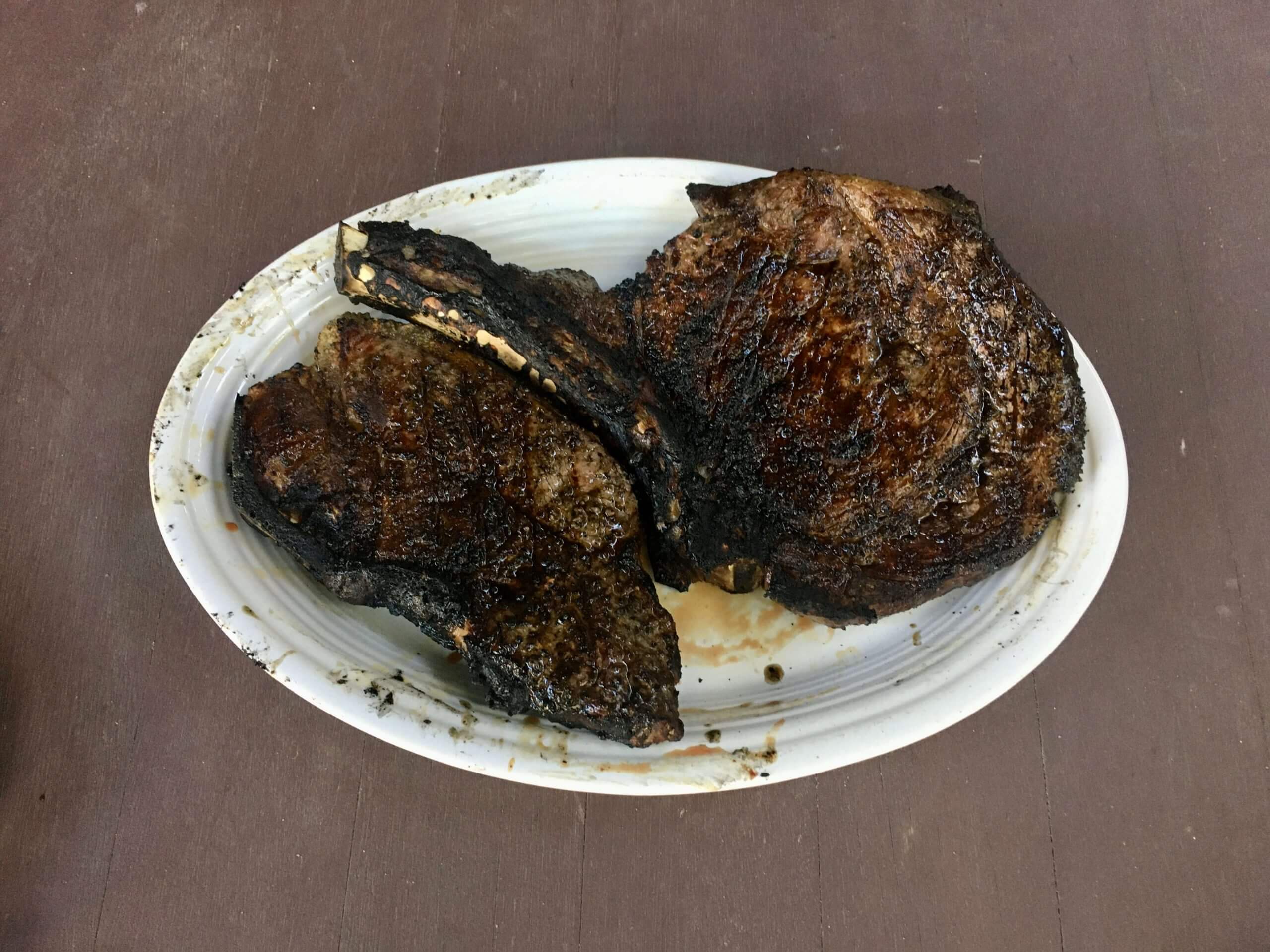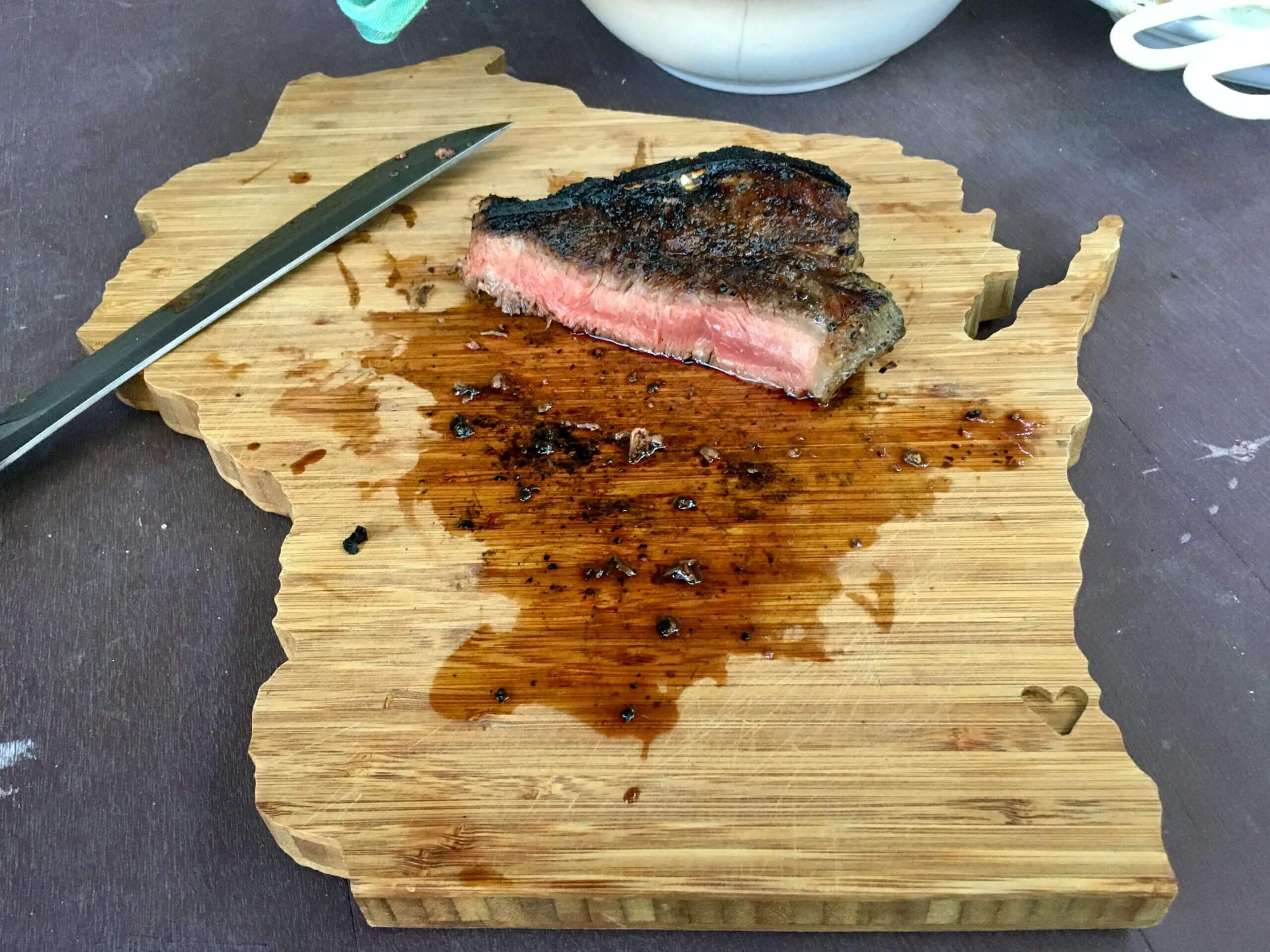 As you can see there, I overcooked them a smidge (at least by my standards), but they were still soooooo good. Plus we had enough leftovers to provide tomorrow's dinner. A win-win!
Having a good, reasonably priced butcher literally a two-minute walk away is gonna be potentially dangerous. Since they're Halal, they don't carry pork, but I can't wait to try their lamb and goat. I'm envisioning a very meaty summer.
• • • • •
• • • • •
The Ticker
By Paul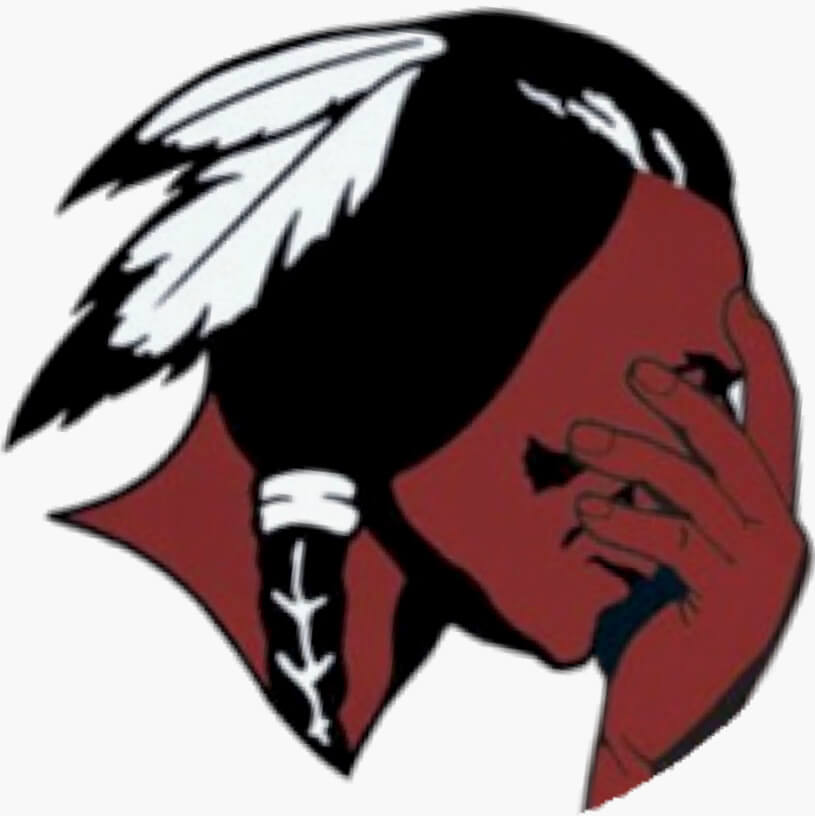 Indigenous Appropriation News: A Pennsylvania court has ruled that a school district's use of "Redskins" for its sports teams does not violate a state law that prohibits discrimination, overturning an earlier decision by the state's Human Rights Commission (from Mark Gatti). … The baseball team at Keller High School in Texas, whose teams are called the Indians, wears a Chief Wahoo sleeve patch (from @spiders_six). … A provision in the new Connecticut state budget proposal would disqualify towns from their usual share of casino slots revenue if their public schools use Native American mascots (thanks to all who shared). … The Seneca Valley school district in Pennsylvania will no longer use Native American iconography (from Timmy Donahue). … Montrose (Colo.) High School has announced that it expects to retire "Indians" as its team name in anticipation of a new law to ban Native American mascots and sports team imagery (from Kary Klismet). … Also from Kary: A group of alumni and community members has petitioned West Canada Valley High School in Newport, N.Y., to drop "Indians" as its team name.

Baseball News: As promised, the Phillies wore their red spring/BP tops on the road last night. … Katie Sekelsky, who's been on a run of Jeopardy! wins this week, is an artist/illustrator whose work has been featured by the Pirates (from the great BSmile). … Can't make it up: The American Association's Milwaukee Milkmen will be playing this Sunday as the Milwaukee Sweet Teats (thanks to all who shared). … The Nationals have worn their red caps with their home script-"Nationals" jerseys for the past three games. It's a combo they'd never worn previously (thanks to all who shared). … I hadn't noticed until last night that Cubs OF Jason Heyward, like several other MLBers, has his jersey sewn shut. … Former MLBer Tim Raines attended last night's NHL playoff game between the Montreal Canadiens and the Vegas Golden Knights and wore an Expos cap and a Canadiens mask and polo (from Will Radie).

College Football News: Pitt coach Pat Narduzzi is hinting about a mono-white uniform (from Sebastian Smelko). … Boston College has unveiled its first Adidas uniforms (thanks, Phil). … Can't make it up: The LA Bowl — a new bowl game that was supposed to debut last year but was postponed due to the pandemic — has sold its naming rights to comedian Jimmy Kimmel.

Hockey News: Reprinted from yesterday's comments: Yesterday's Ticker included a link to an article about the Jets' arena getting a new advertised name. Buried at the end of that article is this: "In a separate statement on Monday, True North [which owns the Jets] announced it had signed a five-year deal with Bell MTS to provide telecommunications services for the 2021-26 seasons. As part of the deal, the Bell logo will remain on the Jets' helmets for the next five seasons." Sigh. We all knew from the start that the "It'll just be for one year" thing was bullshit, but this is still a depressing development. … New logo for the NAHL's Amarillo Wranglers (from Kary Klismet). … Cross-listed from the baseball section: Former MLB player Tim Raines attended last night's Canadiens/Golden Knights playoff game and wore a Montreal Expos cap and a Canadiens mask and polo (from Will Radie).

Soccer News: Here are the new uniforms for the U.S. men's and women's national teams. Additional info here. … New home shirt for La Liga's Athletic Club (from Ed Zelaski). … Also from Ed: New badge for the re-established Russian club Amkar Perm, which played in the Russian Premier League from 2004-2018. … One more from Ed: New shirt advertiser for top-level Polish side Wisła Kraków. … Finland wore "Get Well Christian" warm-up shirts at Euro 2020 yesterday, in support of Denmark's Christian Eriksen, who collapsed on the field a few days ago (thanks, Jamie). … Also from Jamie: "The USWNT's Carli Lloyd received a framed shirt for making 300 national team appearances. She reached the milestone in April, but only three players, all American women, have done it. Canada's Christine Sinclair is at 299 and will probably get 300 at or before the Olympics." … The rest of these are from Kary Klismet: New home kit for Barcelona, plus their away kit appears to have leaked. … Providence City FC of the New England-based amateur FA1 League and Forward Madison of USL League One have both unveiled new Pride shirts. Forward Madison's is for pregame warm-ups. … New away uniforms for Queen of the South of the second-tier Scottish Championship. … New stadium under development for Holstein Kiel of Germany's 2. Bundesliga.

Grab Bag: Here's a bunch of sensational pics by a photographer who specializes in taking shots of South African drum majorettes. … For many years I lived just half a block from where the NYC Marathon runners would pass by each November, which was always fun. But then in 2018 I moved to a different part of Brooklyn, which isn't near the marathon route. Now it looks like Brooklyn will be getting its own marathon next April, and the tentative route will pass just a few blocks from Uni Watch HQ — nice! … Here's what Roger Federer will be wearing at Wimbledon (thanks, Brinke). … According to this paywalled Wall Street Journal article, Nike's latest track shoes are so fast that other footwear companies are letting their endorsement-contract runners wear the Nike footwear at the U.S. Olympic trials so they won't be at a competitive disadvantage. … The city of Walla Walla, Wash., is holding an online vote to choose a new flag (from Kyle Tarbet). … New rugby union alternate kit for the Utah Warriors (from Brandon Sparks). … New patch and dress uniforms for the Boston police department (from Timmy Donahue). … New cricket uniforms for England (from James Welham).