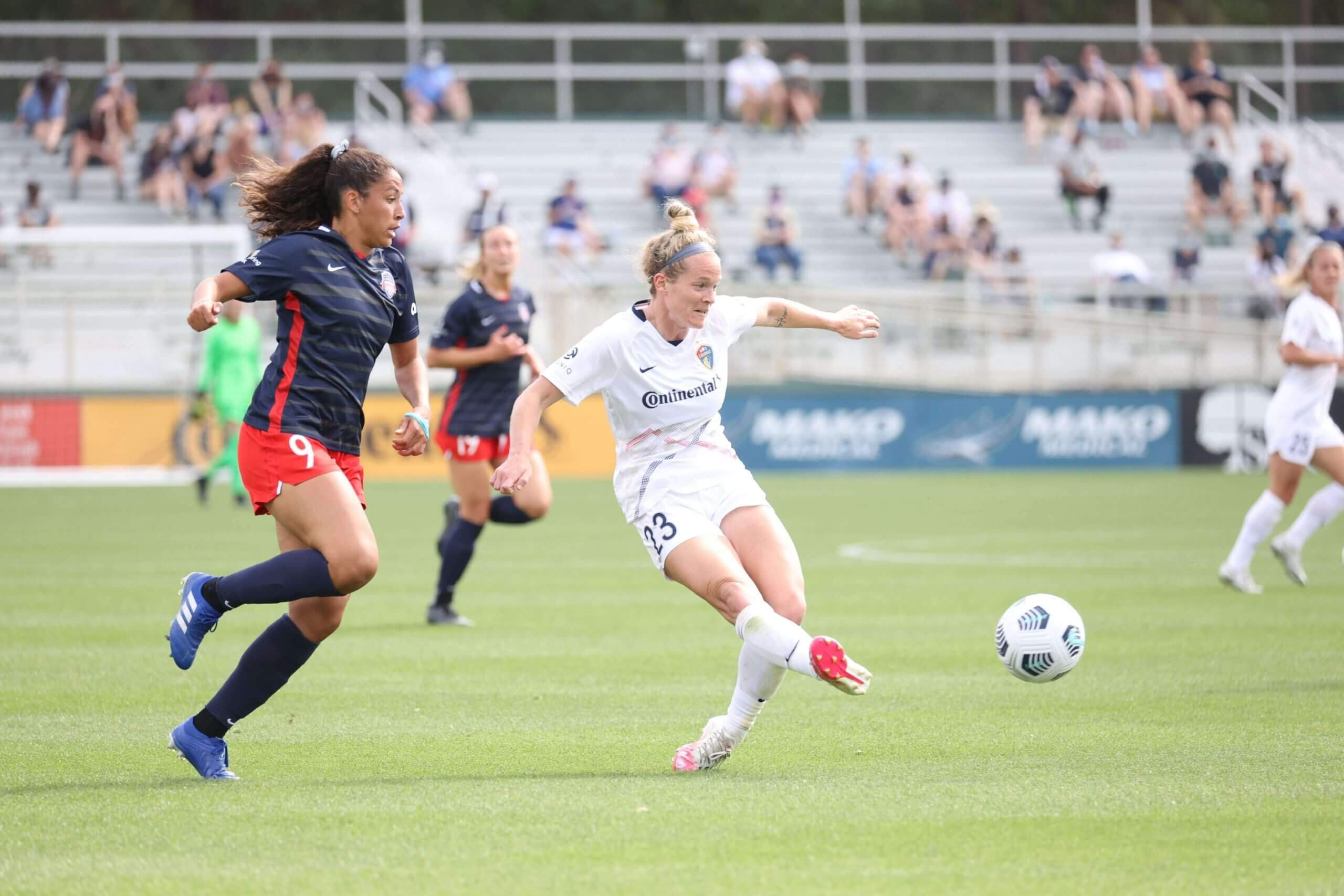 [Editor's Note: For the second consecutive day, we have a soccer-centric entry written by another member of the Uni Watch team (because I'm basically unqualified to write about anything other than MLB umpires soccer). Today it's Jamie Rathjen with a look at the kits for the new NWSL season. Enjoy. — PL]
By Jamie Rathjen
The NWSL's regular season starts this Saturday, May 15. Team changes for this season include an expansion team, Racing Louisville; a name change for Sky Blue FC to NY/NJ Gotham FC; and a move for the former Utah Royals, back to their previous home base of Kansas City.
One league-wide uni-related change is that there is now a common sleeve ad again after a one-year absence. Unlike the previous league-wide sleeve ad, this one replaces the NWSL logo sleeve patch.
The number of new releases for each team this year varies from zero to two, at least for now (a few teams seem to be waiting for the start of the actual regular season before making their release). So while all of the league's kits are shown in the photos that accompany the following team-by-team breakdown, only the new ones are discussed in this article. Those not mentioned here are addressed in my 2020 season preview.)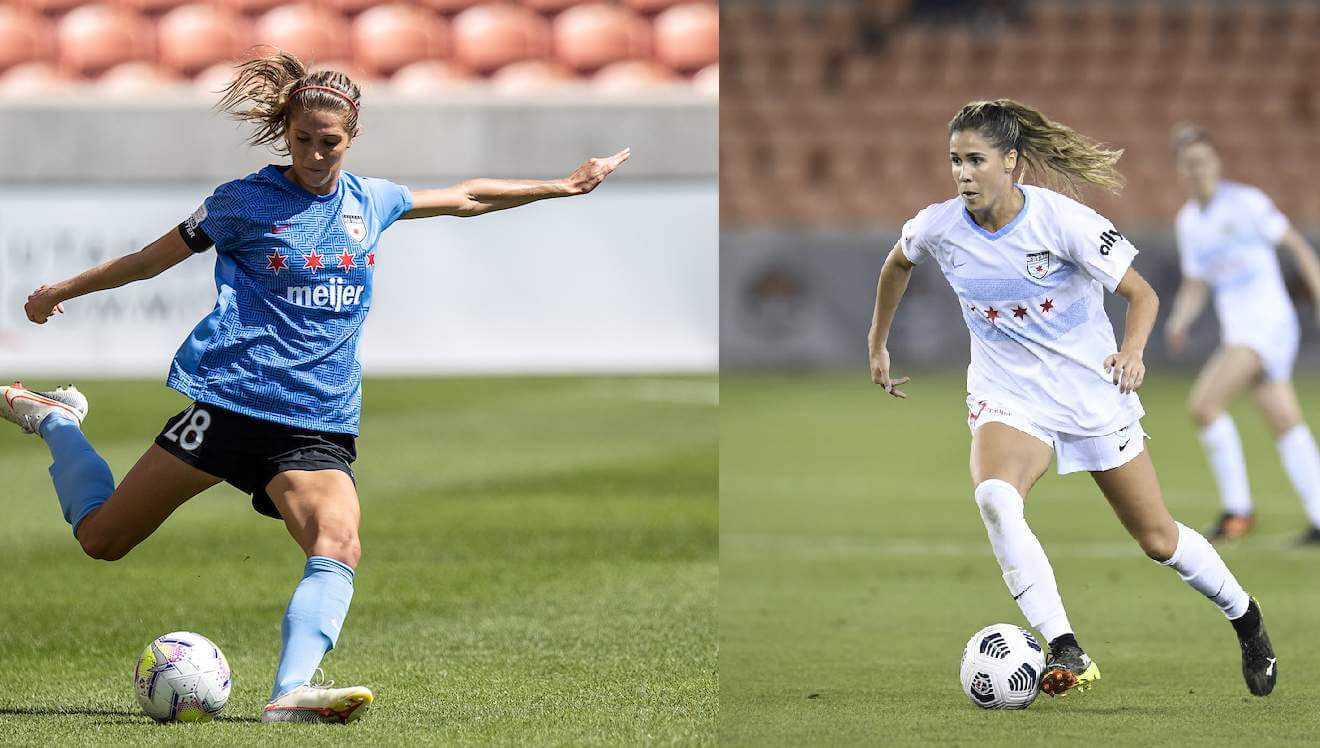 Chicago Red Stars

The Red Stars haven't made any changes yet besides losing their front ad, but have said over the past few weeks that they'll be having their release May 22 while also implying that it's a third shirt, which would be an NWSL first.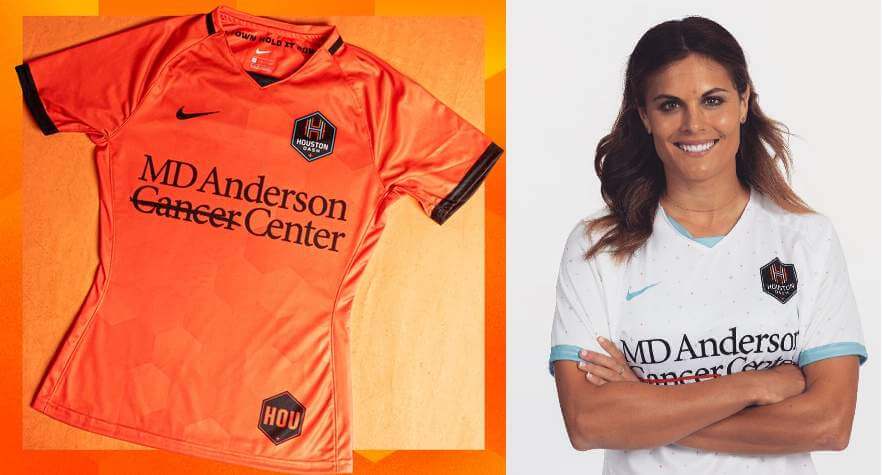 Houston Dash

Not only is the new first shirt basically solid orange, which is the very thing I praised the Dash for avoiding last year, it's almost as identical to the Dynamo's new shirt as it can be with different manufacturers. The new second shirt is NASA-inspired, and somehow it's not the only space-themed NWSL shirt this year, though this design restricts itself to a pattern of starry dots that isn't visible from distance and doesn't extend to the back.
The Dash also have a new crest, which is again similar to the Dynamo's.

Kansas City NWSL

Kansas City NWSL has a temporary name and crest, along with a single very basic white shirt and white shorts with teal (or white) socks, which may only be worn for the Challenge Cup because the team calls it the "Challenge Cup jersey." The team was only moved in December, so everything was put together on short notice.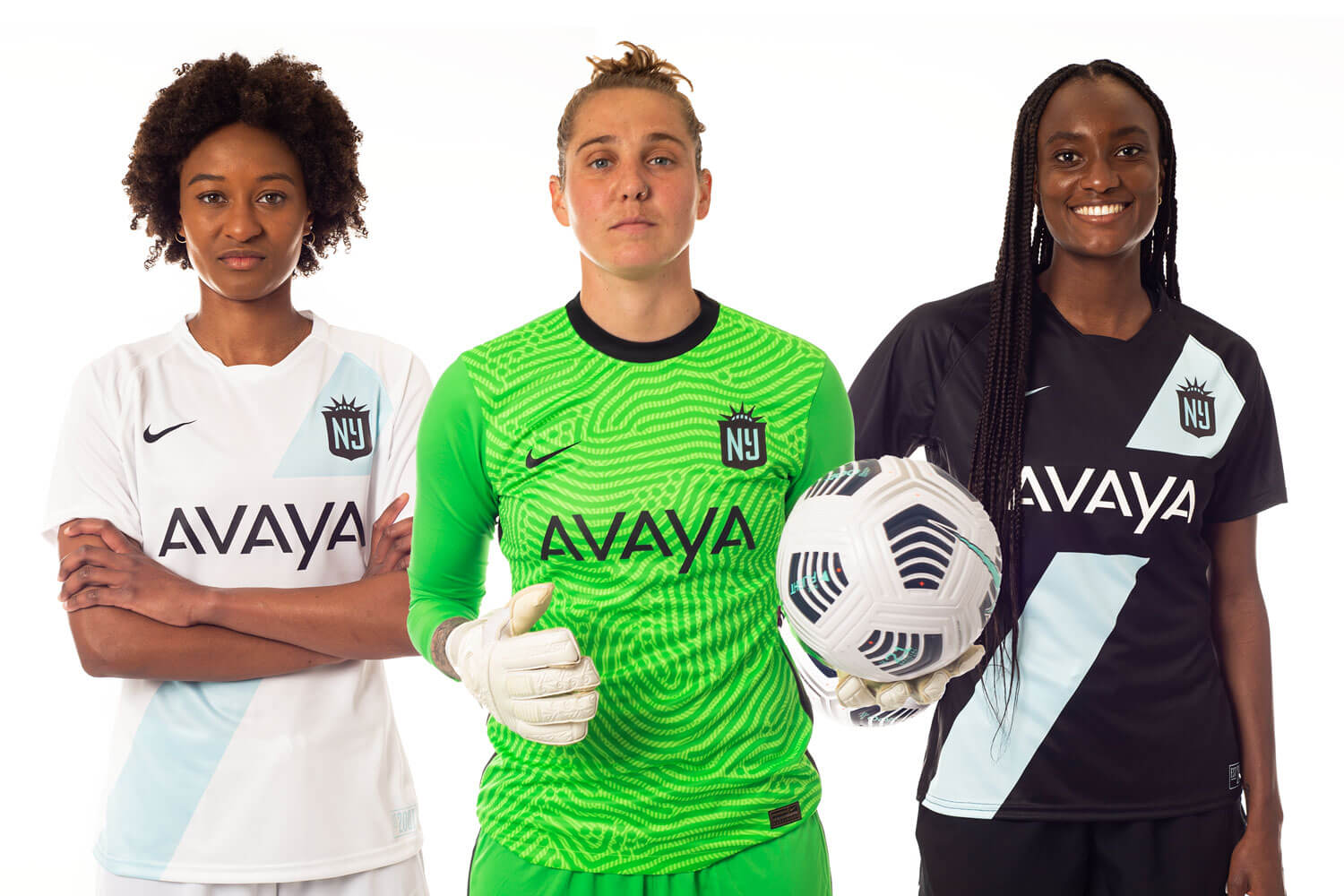 NJ/NY Gotham FC

I'm sad to see the Sky Blue FC name go, because they were one of the last two teams whose name and colors predated the NWSL. (They and Chicago were members of WPS, one of the NWSL's predecessor leagues.) But the name was also out of place for a few years because a rebrand-in-stages meant SBFC last wore their titular sky blue in 2018. In 2019, Sky Blue wore a dark blue kit at home that never looked anything but temporary, and last year they introduced a color scheme of black and a paler blue, which we now know is supposed to be Statue of Liberty-ish.
This is definitely an improvement on what was not an especially coherent identity — including a crest that, despite the Sky Blue name, had a lot of orange. But Gotham now reminds me of the WNBA's more-established Liberty, because the two have essentially the same fairly uncommon color scheme and the same ideas for their logo (i.e., various parts of the Statue of Liberty combined with an "NY" or "NJ"). I think Gotham just about differentiated themselves with their two shirts, however, which are simple black and white with sky blue sashes.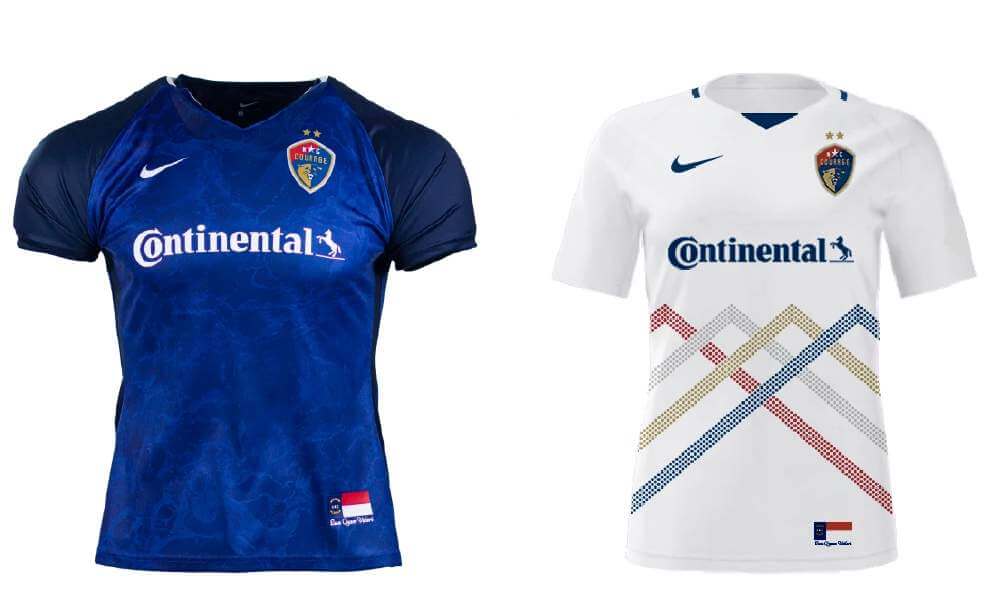 North Carolina Courage

Two shades of blue are better than last season's one, but in what is a theme for the Courage this year, the raglan pattern was used not that long ago. This shirt is allegedly sea-themed, which is not that visible but is supposed to tie in with the second shirt.
The second shirt has a mountain pattern. I appreciate the effort to avoid a plain white shirt, but this immediately feels familiar because Utah had a very similar idea last year, leaving us with related variations on the same theme like the space-based shirts.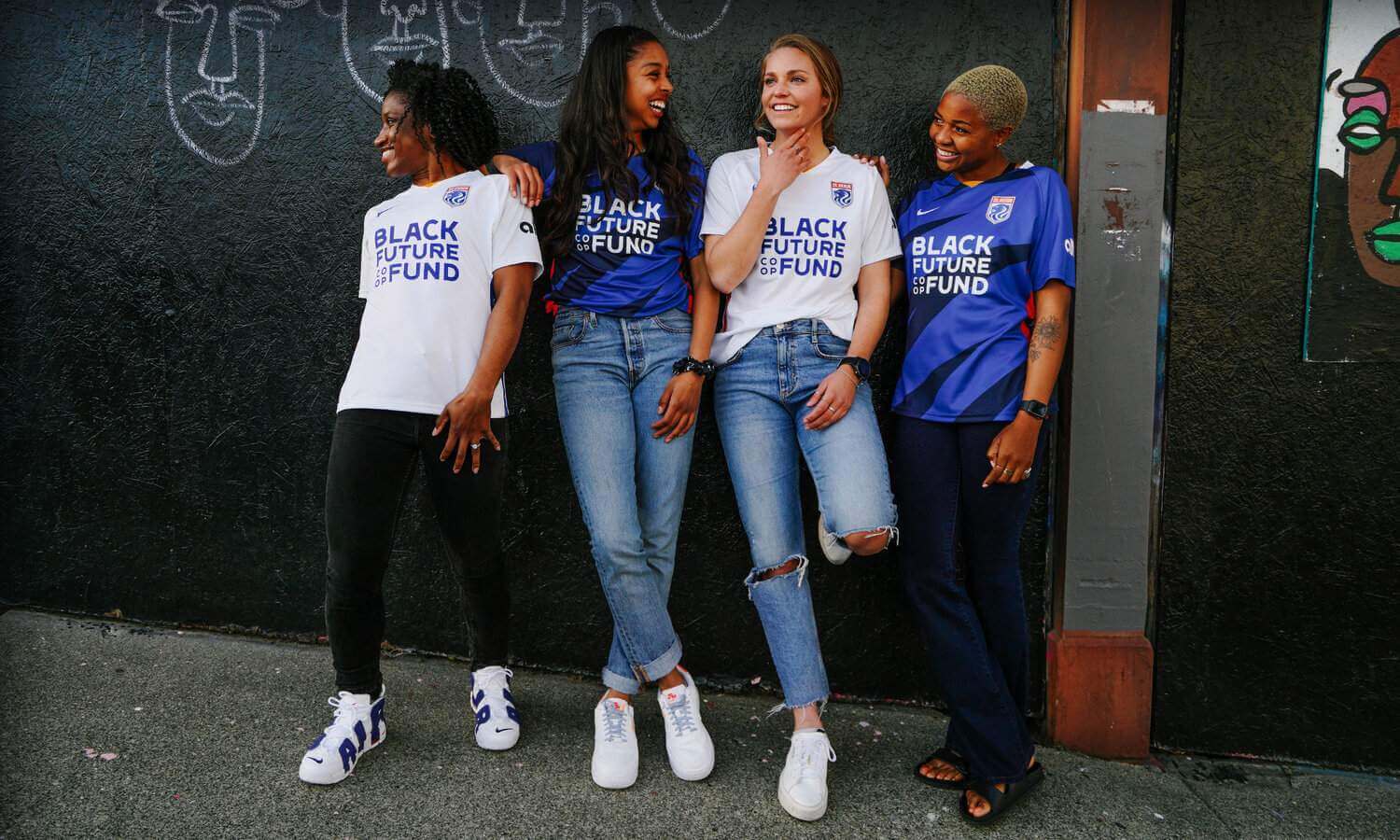 OL Reign

Tacoma, Wash.-based OL Reign's shirts are similar to last season's, but blue becomes primary and white becomes secondary. The shirts display more influences from the parent club, Olympique Lyonnais, as the color schemes of both, including the white shirt's red accents on one side and blue on the other, are close to OL's first and third shirts this season.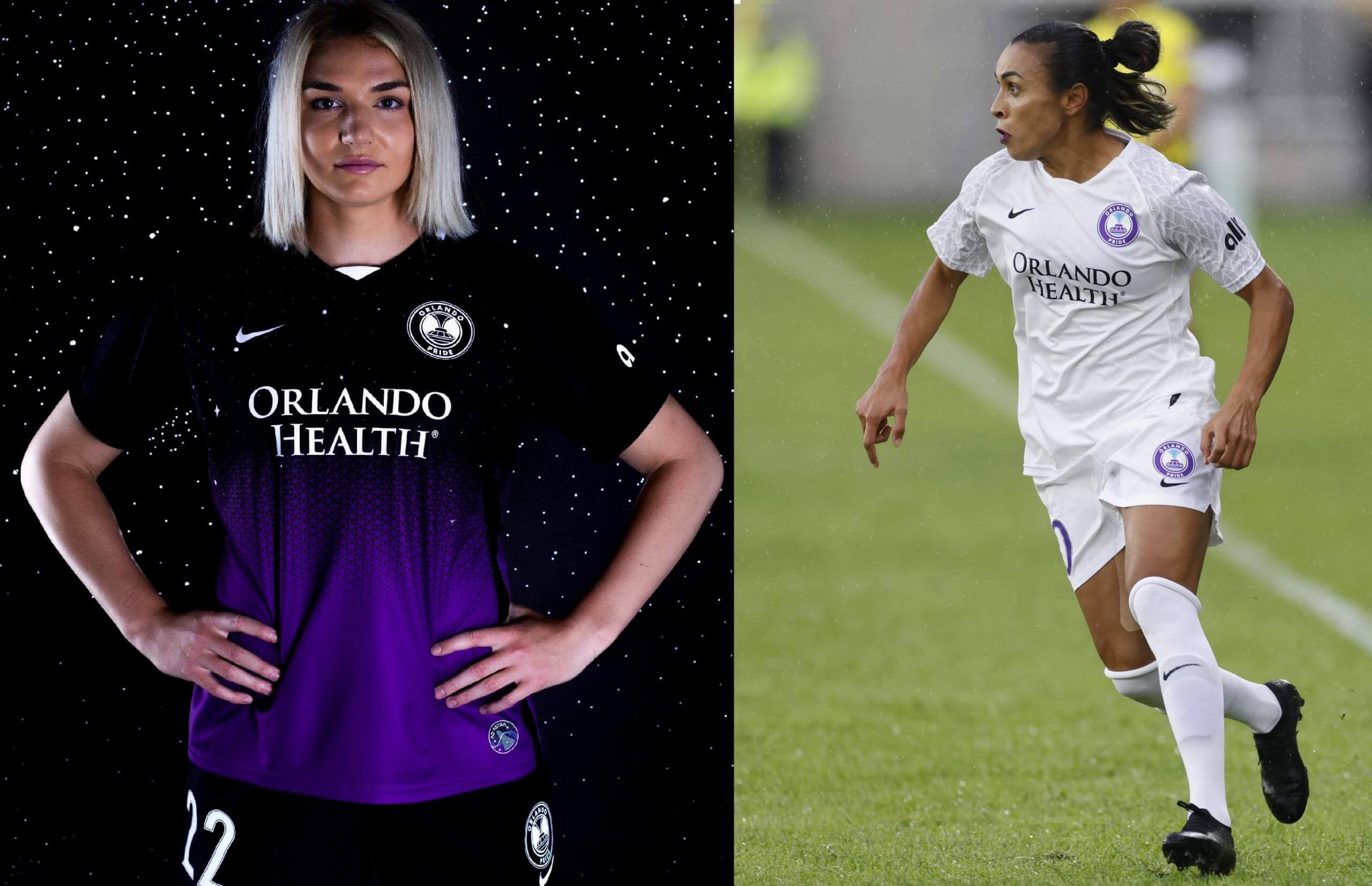 Orlando Pride

Well, that new first shirt sure is something. But that's not intended to be a knock; I appreciate the imagination with this one. It's a good measure of how far the NWSL has come from the days of templated lookalike designs.
The shirt partially has a star pattern — a reference to the nearby NASA installations. One shirt actually did go into space along with a ball that's to be used for Orlando's first regular season home game.
This is worn with black shorts and socks, which I think is a better, more coherent choice than purple, even if it forsakes the actual team color.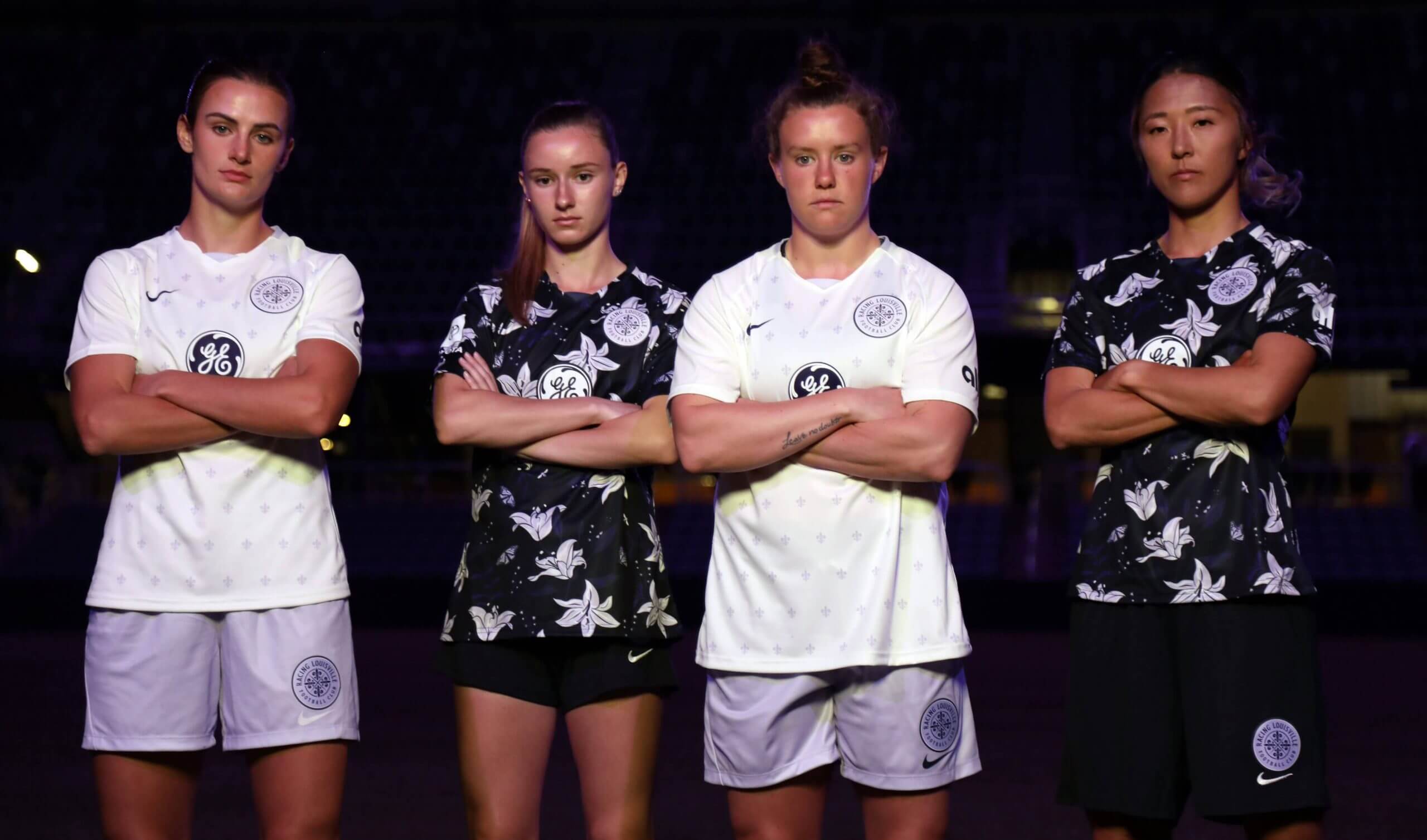 Racing Louisville

Even though the crest is purple with purple accents, the first shirt is very dark, almost black, and has a flower pattern. This feels like yet another multi-team trend, as flowers are lately a growing theme for Nike-outfitted women's soccer teams (like the Portland Thorns, who we'll get to momentarily), but a positive trend as I think all those designs have turned out well. The shirt even works in a reference to Louisville native Muhammad Ali with small butterflies and bees between the flowers. Add it all together and we have one of the most well-received designs of this year.
The white shirt has a small fleur-de-lis pattern, laid out similarly to Houston's white shirt.

Portland Thorns

No changes for the Thorns, who are keeping both of their kits from last year.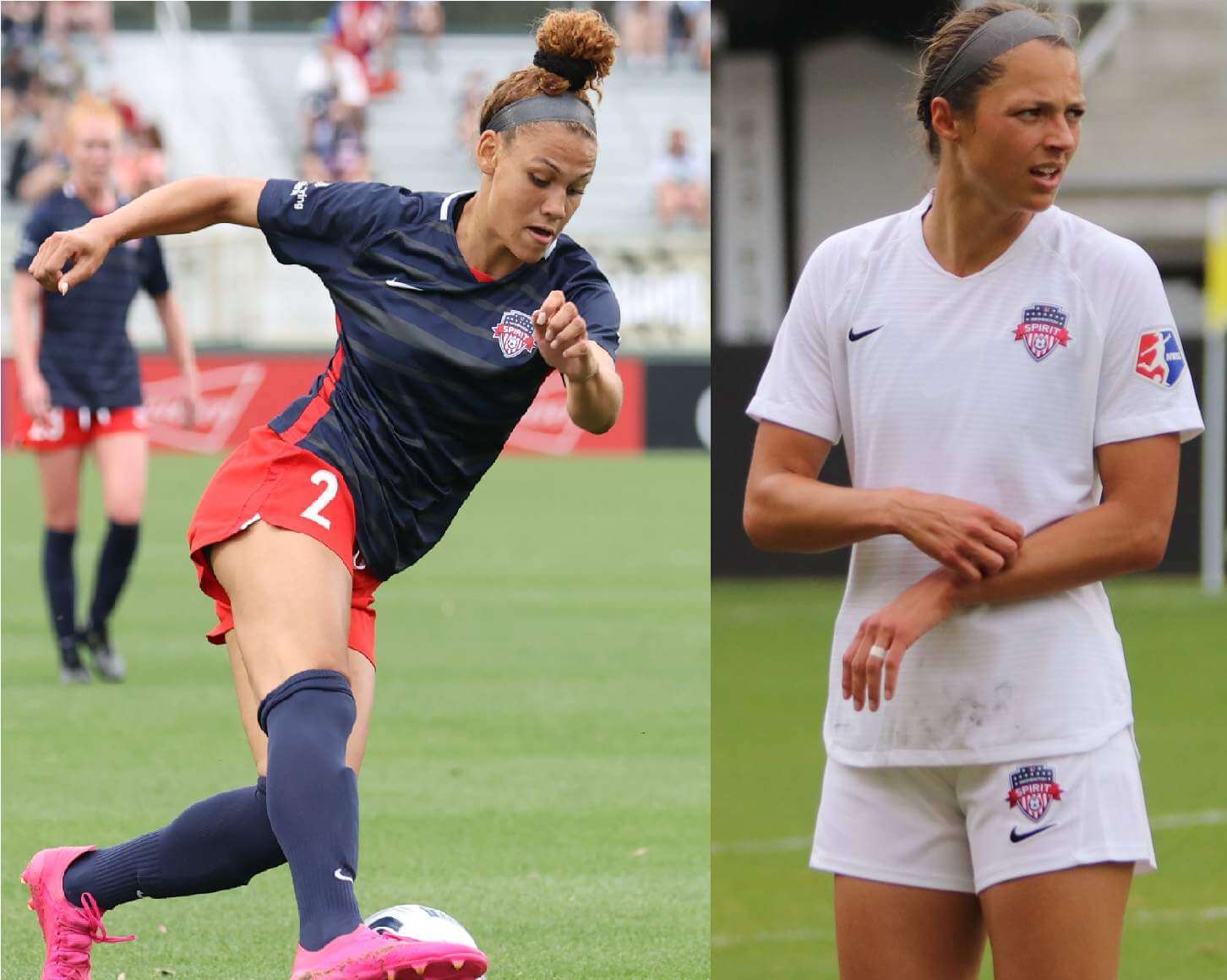 Washington Spirit

The Spirit don't have any current changes except for starting the season without a front ad, which they also did in 2019, but they may be replacing their mono-white second kit at some point.
One final note: Angel City, the league's new Los Angeles expansion team, is planning to start play in 2022 but will release shirts this summer. So by the time of their first game, their shirts will already have been out for almost a year — unusual for a soccer team.
• • • • •
• • • • •
Hat tip on @snytv to @UniWatch for the Almora "pullover" jersey style choice. #mets #MetsTwitter pic.twitter.com/po2tMG6HoK

— Manny S. (@MMS0272) May 12, 2021
ITEM! Uni Watch gets on-air shout-out: Back on May 3, I mentioned on Twitter that Mets outfielder Albert Almora, like several other MLB players, has his jersey sewn shut to create a de facto pullover (a phenomenon I first wrote about back in 2016). That tweet apparently caught the attention of SNY roving reporter Steve Gelbs, who mentioned Almora's sewn jersey placket during the broadcast of last night's Mets/O's game and gave credit to Uni Watch — nice! You can see the video in the tweet embedded above.
I'll admit that it's a kick to be name-checked during my favorite team's game. More importantly, it's great that this broadcast crew cares about small uni details and is willing to discuss them on the air.
• • • • •
• • • • •
Ready for action.

2021 Schedule Release: Tomorrow at 7:45 PM on @patriotsDOTcom & Patriots social; 8:00 PM on @nflnetwork pic.twitter.com/qHsuXm9osX

— New England Patriots (@Patriots) May 11, 2021
Too good for the Ticker: Personally, I think the whole notion of hyping or promoting the imminent release of the NFL schedule is a bit silly. But the video clip that the Patriots used for that purpose yesterday, showing some sort of bobblehead or action figure being designed, is pure gold. Best 105 seconds you'll spend today, guaranteed. (The video clip is only 35 seconds, but it's so good that I figure you'll want to watch it at least three times.)
(Thanks to all who shared.)
• • • • •
• • • • •
Membership update: A bunch of new designs have been added to the membership card gallery. That includes Teddy Morgan's new card, which is based on the 1982 Campbell Conference All-Star jersey. We decided to orient it vertically in order to capture the full design.
Ordering a membership card is a good way to support Uni Watch (which, frankly, could use your support these days). And remember, a Uni Watch membership card entitles you to a 15% discount on any of the merchandise in the Uni Watch, Uni Rock, and Naming Wrongs shops, plus the discount also applies to our Uni Watch Classic Cap. (If you're an existing member and would like to have the discount code, email me and I'll hook you up.)
As always, you can sign up for your own custom-designed card here, you can see all the cards we've designed so far here (now more than 3,100 of them!), and you can see how we produce the cards here.
• • • • •
• • • • •
The Ticker
By Lloyd Alaban

Baseball News: Reds P Wade Miley threw a no-hitter on Friday after his son gave him a temporary Hulk tattoo. Fans now want him to make the tattoo permanent (from Brice Wallace). … Astros CF Myles Straw apparently wore teammate Alex Bregman's arm sleeve last night. Straw wears No. 3 (from @SteveinLC). … The Yankees are wearing their Whitey Ford memorial patch on the left sleeve this season, but C Gary Sanchez had it on the right sleeve last night. Some quick photo research indicates that he consistently had it on the proper sleeve prior to last night (from Dave Rakowski). … Brewers IF Luis Urias started an at-bat last night against the Cardinals in the bottom of the eighth wearing blue batting gloves. He fouled off a pitch in the middle of his at-bat and then returned to the batter's box wearing yellow and white gloves (from Andrew Lehman). … Rays OF/3B Yandy Diaz was still wearing his pink Mother's Day belt last night (from Ryan Webster), and A's SS Elvis Andrus was still wearing his pink batting gloves (from Samuel Lam). … Speaking of Oakland: The A's announced they would explore relocation yesterday, and ESPN broke the story using a graphic of the team's script with a fly on it (from multiple readers). … The Mets will unveil their Tom Seaver statue on Opening Day next season (from our own Brinke Guthrie). … Childhood Cancer Awareness caps for Arkansas yesterday (from Matt Snyder). … P Max Meyer of the Pensacola Blue Wahoos, affiliate of the Marlins, wore a Wilson jersey with Majestic pants last night (from @chriscobos). … The Progressive ad behind home plate at Cleveland's ballpark shows spokeswoman Flo wearing a red helmet — an odd choice considering Cleveland has never worn a red batting helmet and hasn't even worn a red cap since 2018 (from Ben Teaford). … A pitcher in the Chinese Professional Baseball League was told by officials to change his cleats after the the opposing team complained that his reflective footwear was distracting batters (from multiple readers). … Ole Miss softball graduates will wear an SEC-themed graduate patch this weekend (from Gray Hardison). … White Sox P Dylan Cease changed gloves during last night's game (from Mark Kelly).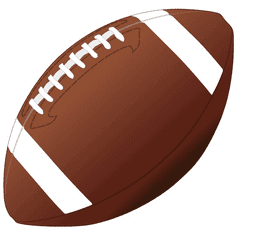 Football News: WR Robert Woods of the Rams will switch to No. 2 (from Andrew Cosentino). … Giants WR Sterling Shepard will switch to No. 3 (from our own Brinke Guthrie). … Georgia Tech P Pressley Harvin III, who was drafted in the seventh round by the Steelers earlier this month, wore a Steelers-themed graduation cap at his school's commencement ceremony (from James Gilbert).

Hockey News: The Jets released a commemorative logo for C Paul Stastny's 1,000th game, featuring the number fonts from the various teams for which he's played. In addition, Stastney wore a No. 1000 pregame jersey (from Michael Remis).

Basketball News: New court design, banners, and other refurbishments for UTEP (from Mark C. Gutierrez).


Soccer News: Manchester United D Axel Tuanzebe wore a smart watch yesterday (from Jakob Fox). … Celtic will honor MF Scott Brown today with a commemorative warm-up jacket, as he'll be playing his last home game with the team (from Ed Zelaski). … Dutch side Ajax has melted its 2020-21 Eredivisie trophy and will use the metal to make little stars for season ticket holders (from @stumpty7780). … New home kit for German side RB Leipzig (from Ed Zelaski).

Grab Bag: England is changing the name of its national second XV rugby union team from England Saxons back to England A (which is the nomenclature used by all other nations, with the exception of New Zealand, which calls its second team the Maori All Blacks) to "better reflect rugby's diversity" (from Eric Bangeman). … The Toronto Rock of the National Lacrosse League is moving to Hamilton. It's not yet clear what this will mean for their team name (from Wade Heidt). … This past Sunday's episode of The Simpsons had a subplot of a high school-age Lisa trying to decide which college to attend, with assorted college logos shown in varying degrees of accuracy (from Michael Rich). … New AFL indigenous design for Adelaide (from our own Jamie Rathjen). … New volleyball uniforms for Slovenian men's team NT (from Jeremy Brahm).
• • • • •
• • • • •