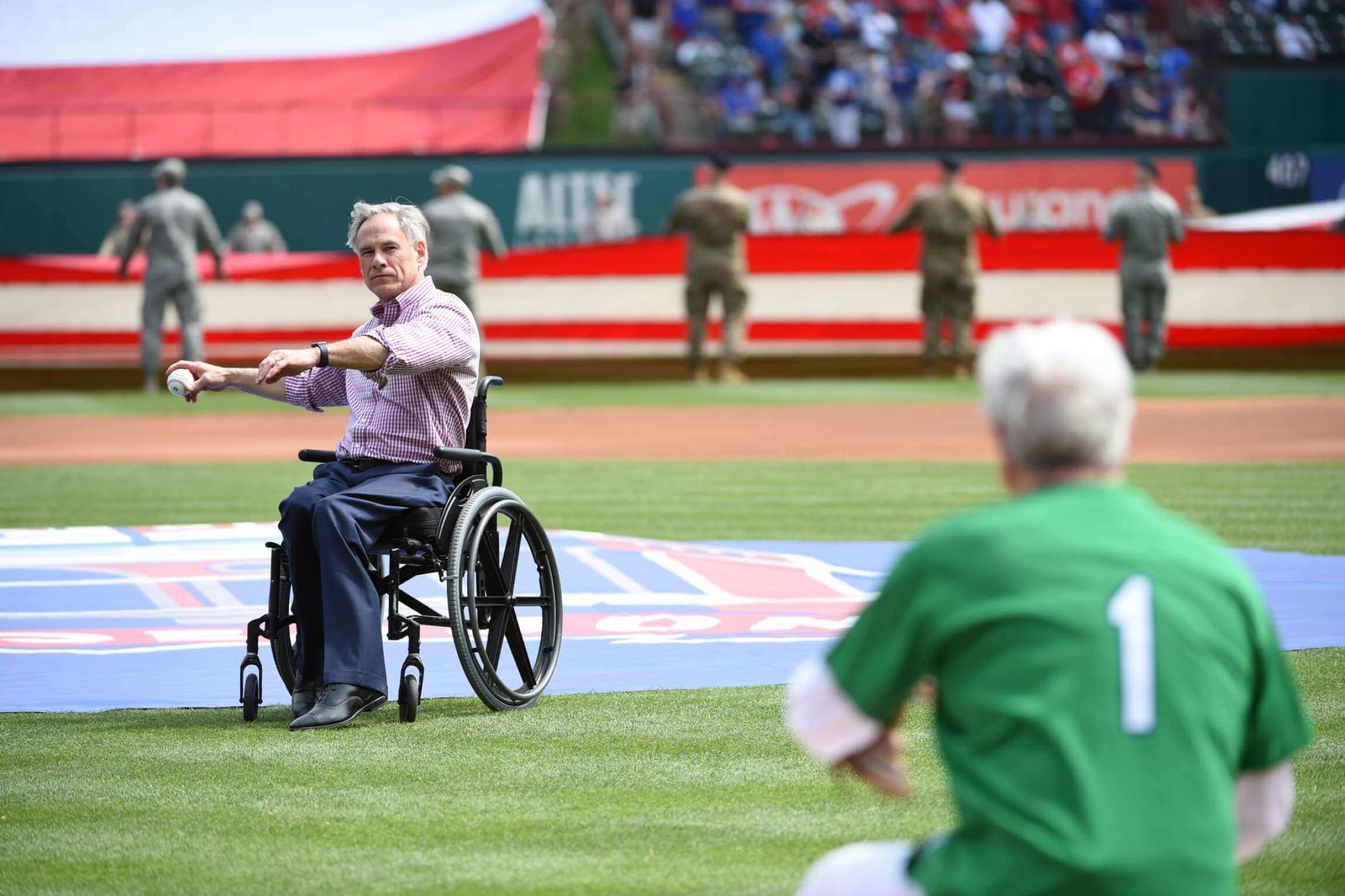 Click to enlarge
The photo above shows Texas Gov. Greg Abbott throwing out the first pitch for the Rangers' 2019 season opener against the Cubs. He also threw out a virtual first pitch to open the Rangers' season last year, and he was scheduled to extend his personal Opening Day streak by doing the honors at the team's 2021 home opener yesterday.
But as you've probably heard by now, Abbott announced a few hours before yesterday's game that he'd decided to boycott the first pitch as a way of protesting MLB's decision to pull this year's All-Star Game out of Atlanta due to Georgia's new voting law. (The Rangers had a bunch of pandemic "frontline heroes" throw out first pitches instead.)
I saw some people critiquing or ridiculing Abbott's decision. Personally, I disagree with those people. Here's why.
First, as I've previously said many times regarding many issues, boycotting something seems like a perfectly reasonable form of self-expression, and a good way of exercising one's freedom of association. If Abbott doesn't want to be associated with MLB right now because of the All-Star Game situation, then skipping the first pitch makes perfect sense. It's an effective use of the platform the Rangers gave him and the power of his office.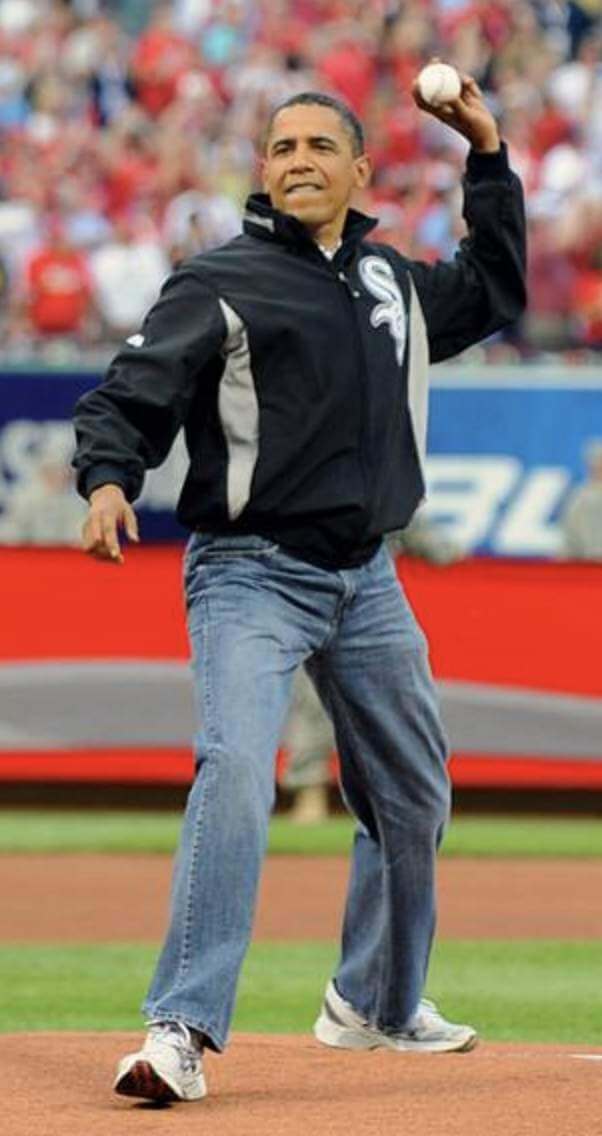 Moreover: Is Abbott engaging in a nakedly transparent bit of political grandstanding here? Yeah, probably — and what's wrong with that? He's a politician — making grandstanding maneuvers based on raw political calculations is a big part of his job. Whether yesterday's move was rooted in principled sincerity or something more cynical, it was completely sensible when viewed from a political perspective.
All of which leads me to a question: Why the hell should politicians of any stripe be throwing out the first pitch to begin with?
Politicians already get tons of free media coverage and publicity (and can get more whenever they want simply by calling a press conference). Plus they get to kiss babies, cut ribbons at grand openings, stick shovels in the dirt at groundbreakings, serve as grand marshals at parades, and appear in lots of other ceremonial photo-op capacities. Why should they also be given the high-profile showcase of tossing out a first pitch? It basically turns a sporting event into a campaign event. It would be easy to say that Abbott was politicizing the first pitch yesterday, but the reality is that the first pitch has been politicized all along, at least when it's being performed by a politician.
Everyone's always saying they want to get politics out of sports. This seems like a good place to start, no? No more elected officials tossing out the first pitch (at least 40% of the fans in the crowd probably voted against the politician anyway, so why give the honor to someone whose presence will annoy a large subset of your customers?). And ditto for White House team visits, which turn players into campaign props. Just scrap all of that.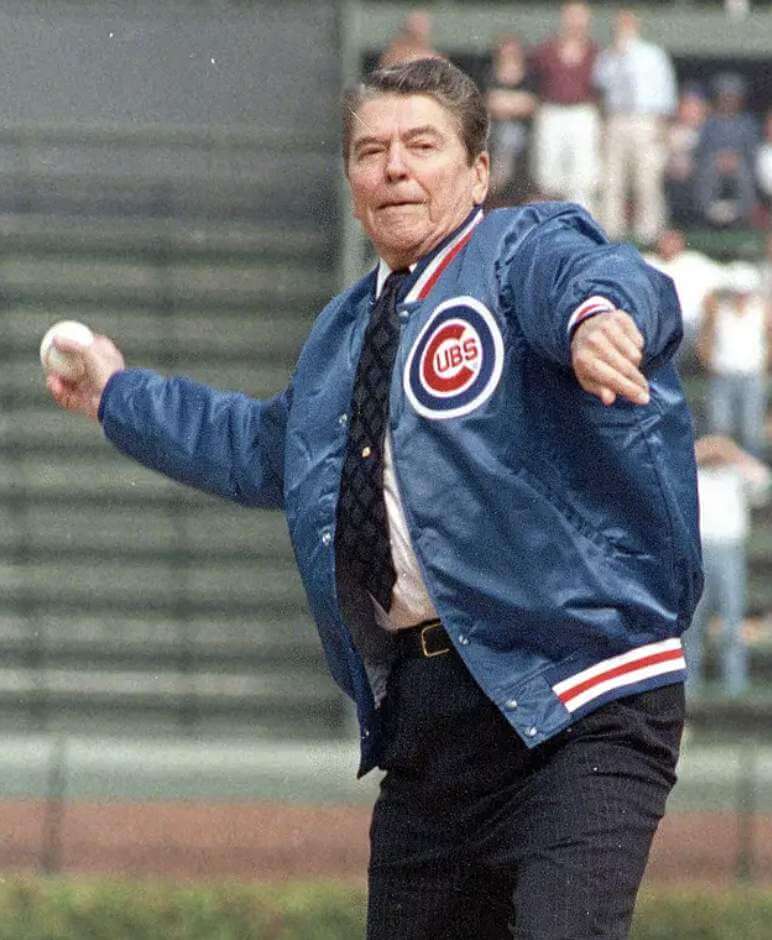 As an aside: Abbott, in his announcement yesterday, also said he doesn't want MLB to move the All-Star Game to Texas. That's a laugh, because Texas (among several other states) is considering new voting laws very similar to Georgia's, so the chances of MLB moving the ASG to Houston or Arlington were approximately zero anyway. Abbott saying, "Don't even think about bringing the game here, we don't want it!" is like the math nerd telling the prom queen that he's not interested in dating her. But because Abbott got to make his grandstand play of boycotting the first pitch, he got to piggyback this additional grandstand play of not wanting to host the ASG. Two for the price of one! I don't blame him for doing that — again, it's smart politics, at least in terms of appealing to his base — but it's yet another reason not to involve elected officials in this stuff in the first place. (Footnote: Later in the day, it was reported that the game will be relocated to Colorado. The official announcement is supposedly coming today. It's not yet clear whether the Rockies will add a sleeve and/or cap patch for the occasion.)
Now that Abbott has chosen to take his ball and stay home, I wonder if teams will start to rethink inviting politicians for the pregame pitch. Maybe getting involved with elected officials will become more of a loaded proposition than teams want to deal with and they'll stick to non-politicians. Hope so. (Yes, I know, it's funny when a politician botches the pitch and we all get a good laugh. But still.)
It would be fair to say that Greg Abbott's worldview differs significantly from my own. But I think he has every right to express that worldview by boycotting a first pitch ceremony — which is a good reason why he shouldn't have been offered that opportunity in the first place. He's done us all a favor by shining a light on a longstanding practice that should be retired. If his decision yesterday goes down as the beginning of the end for politicians tossing out the first pitch, we'll all owe him a serious debt of gratitude.
Let's please keep today's discussion on the issue of politicians throwing out the first pitch and any uni-related aspects of the situation, not on MLB's course of action regarding the All-Star Game. Thanks!
• • • • •
• • • • •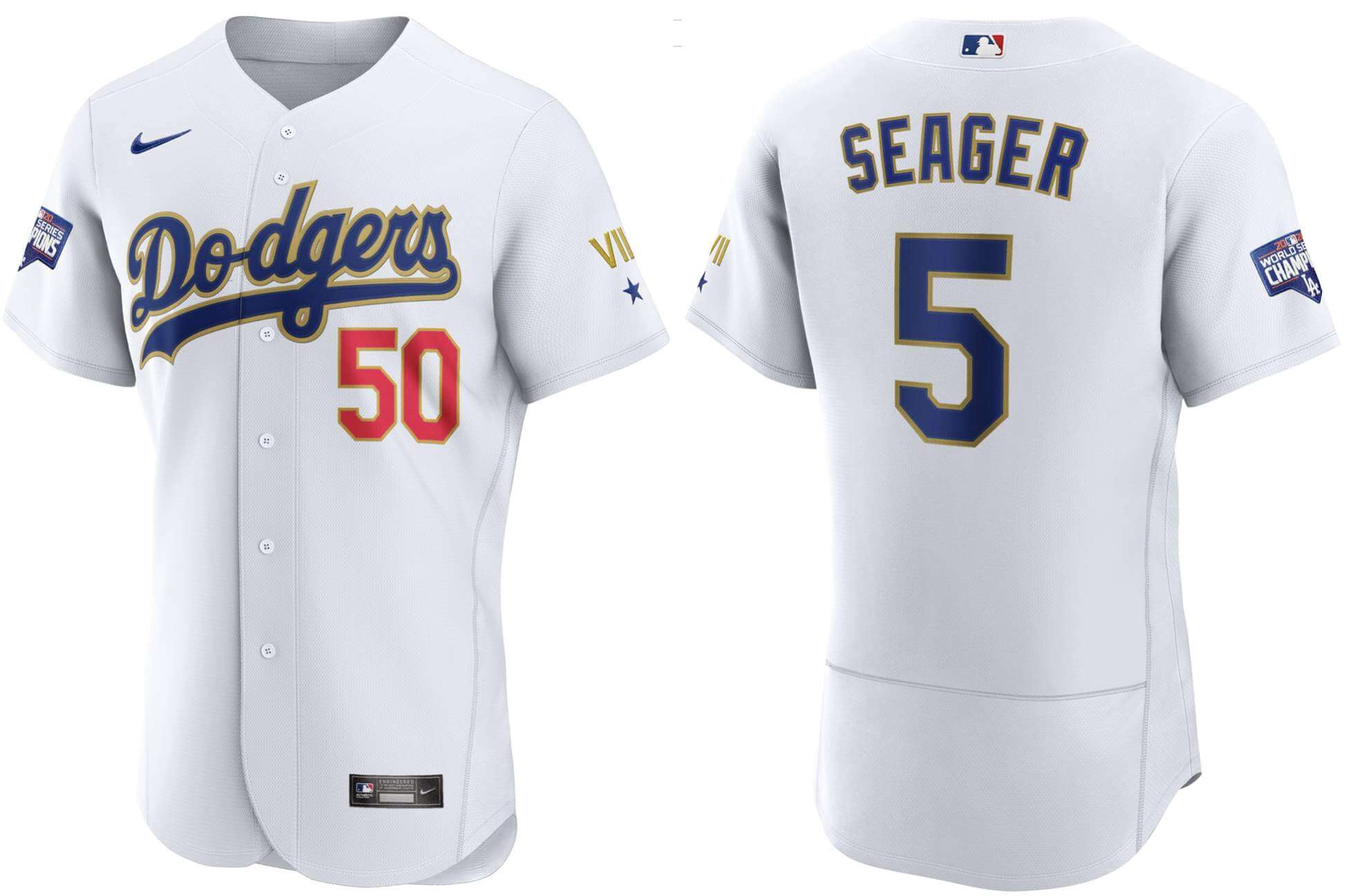 Click to enlarge
All that glitters: The Dodgers finally made it official yesterday, revealing the gold-trimmed championship uniform that they'll be wearing for their home opener on Friday. The Roman numeral VII on the left sleeve is for the franchise's seven World Series titles.
The cap had already leaked nearly two weeks ago, but here's the official view of it: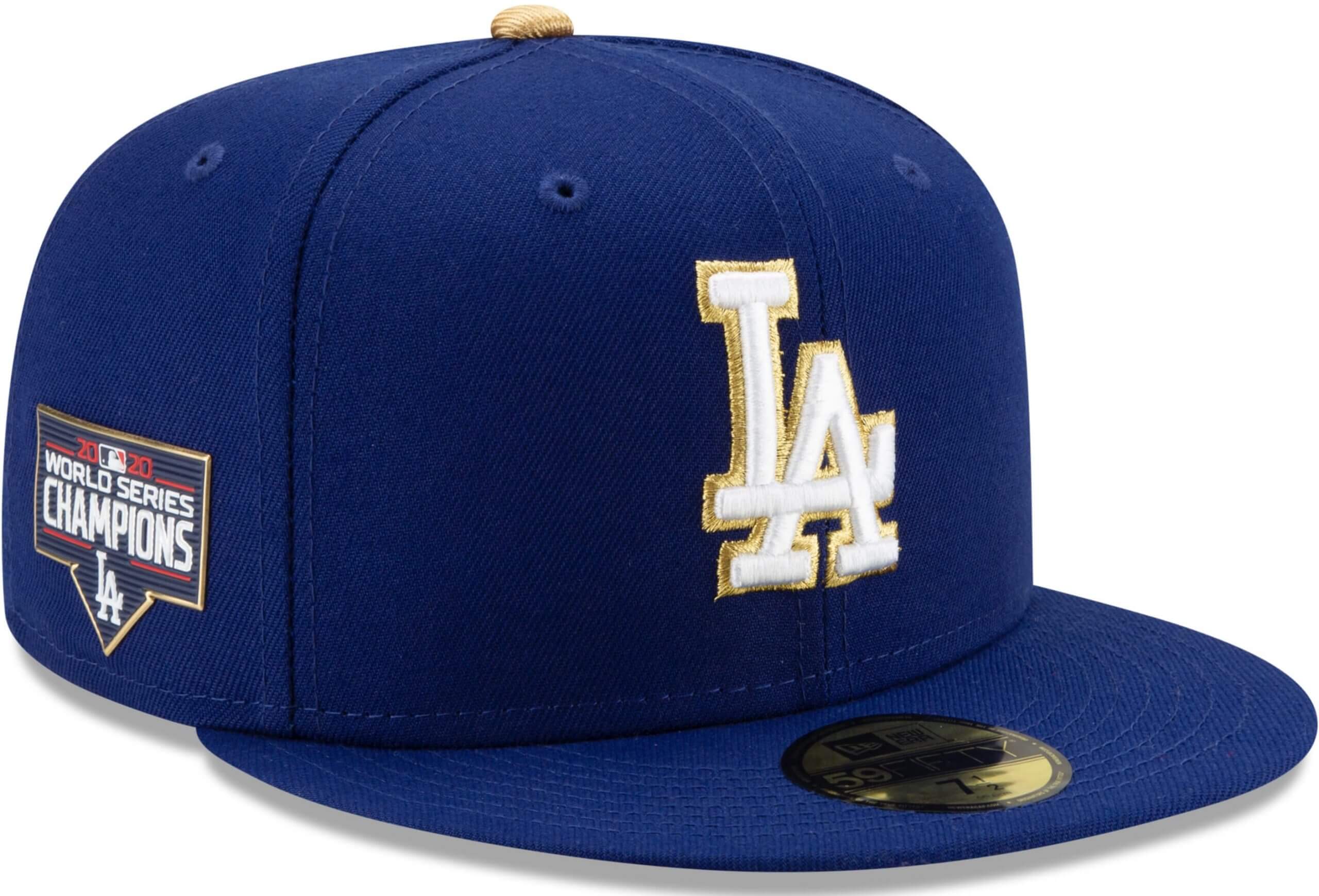 • • • • •
• • • • •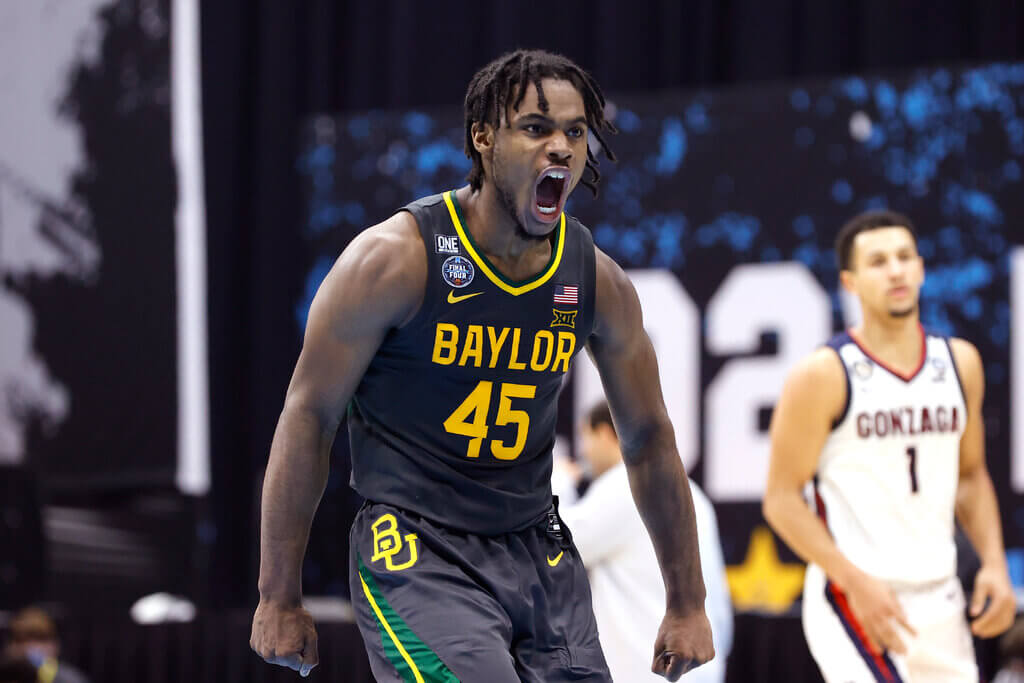 Dang: As you might expect, I'm happy that a team whose colors are green and yellow won the national championship last night. But I'd be a lot happier if they actually, you know, wore green and yellow instead of going AFAS (anthracite for anthracite's sake). A puzzling choice for the biggest game in program history, although I guess it's hard to argue with the results.
Anyway: Congrats to the Bears and their fans. Keep it green!
• • • • •
• • • • •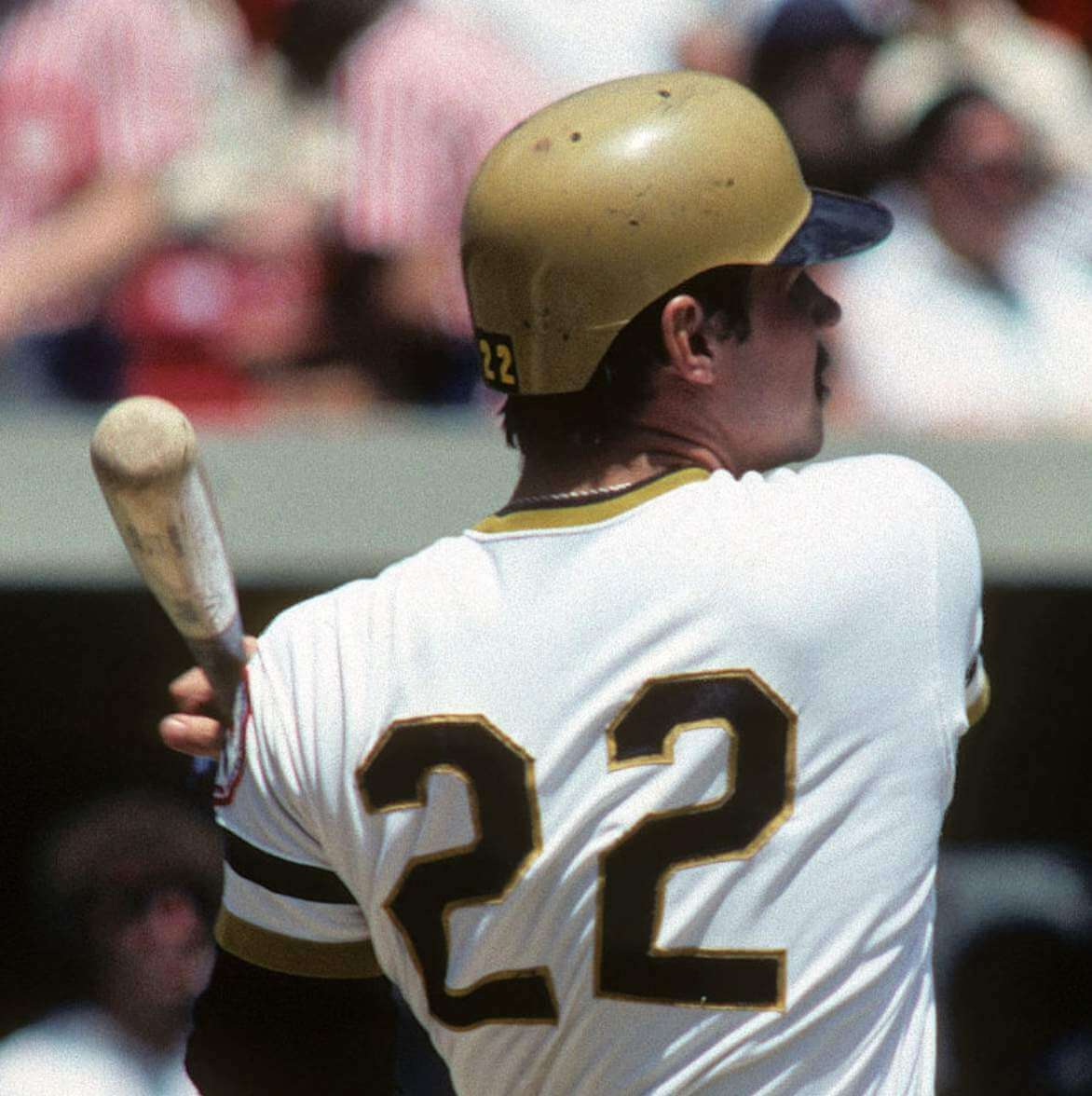 Click to enlarge
Buccos history mystery, continued: In yesterday's post, I wrote about how the Pirates had at least two players wearing their uni numbers on the side of their batting helmets in 1976, and how the team had previously used those same number decals on the helmet brim. Now reader Chris Hickey has found a photo of Richie Zisk (one of the all-time great MLB names, no?) wearing those same numeral decals on back of his helmet.
This photo is definitely from 1976, because Zisk is wearing the telltale National League centennial patch. Seems like Pirates equipment manager John Hallahan was having a hard time coming up with a consistent helmet number protocol! Unfortunately, he died in 1991 (the team even wore a memorial patch for him, so we can't ask him about this unusual chapter in Buccos uni history. Too bad.
(My thanks to Jerry Wolper for reminding me about the Hallahan memorial patch.)
• • • • •
• • • • •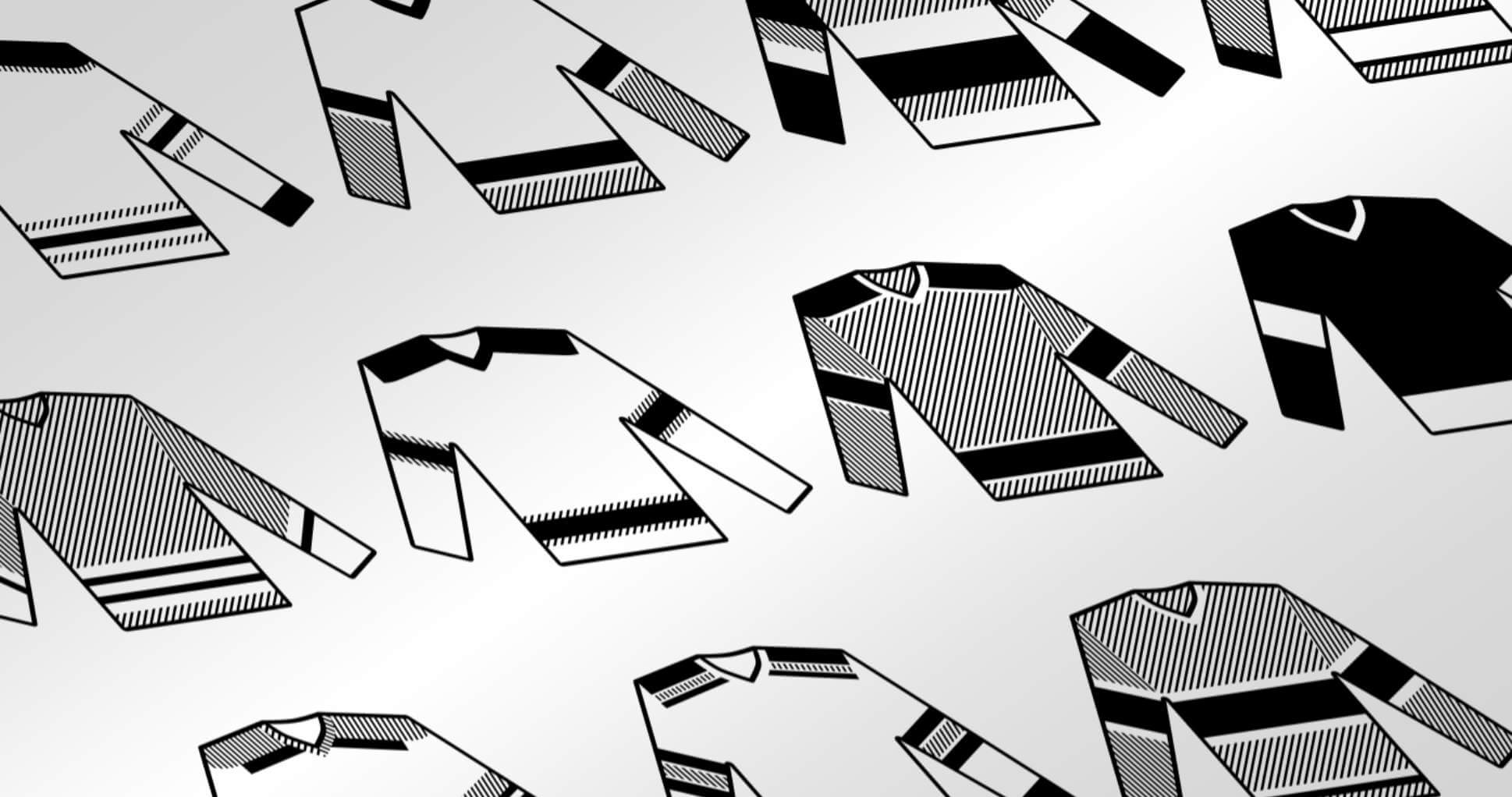 Click to enlarge
Too good for the Ticker: This is so awesome — reader Pete Woychik has created a dingbat font based on hockey jerseys! It's a brilliant little project, and you can learn more about it here. Great job, Pete!
• • • • •
• • • • •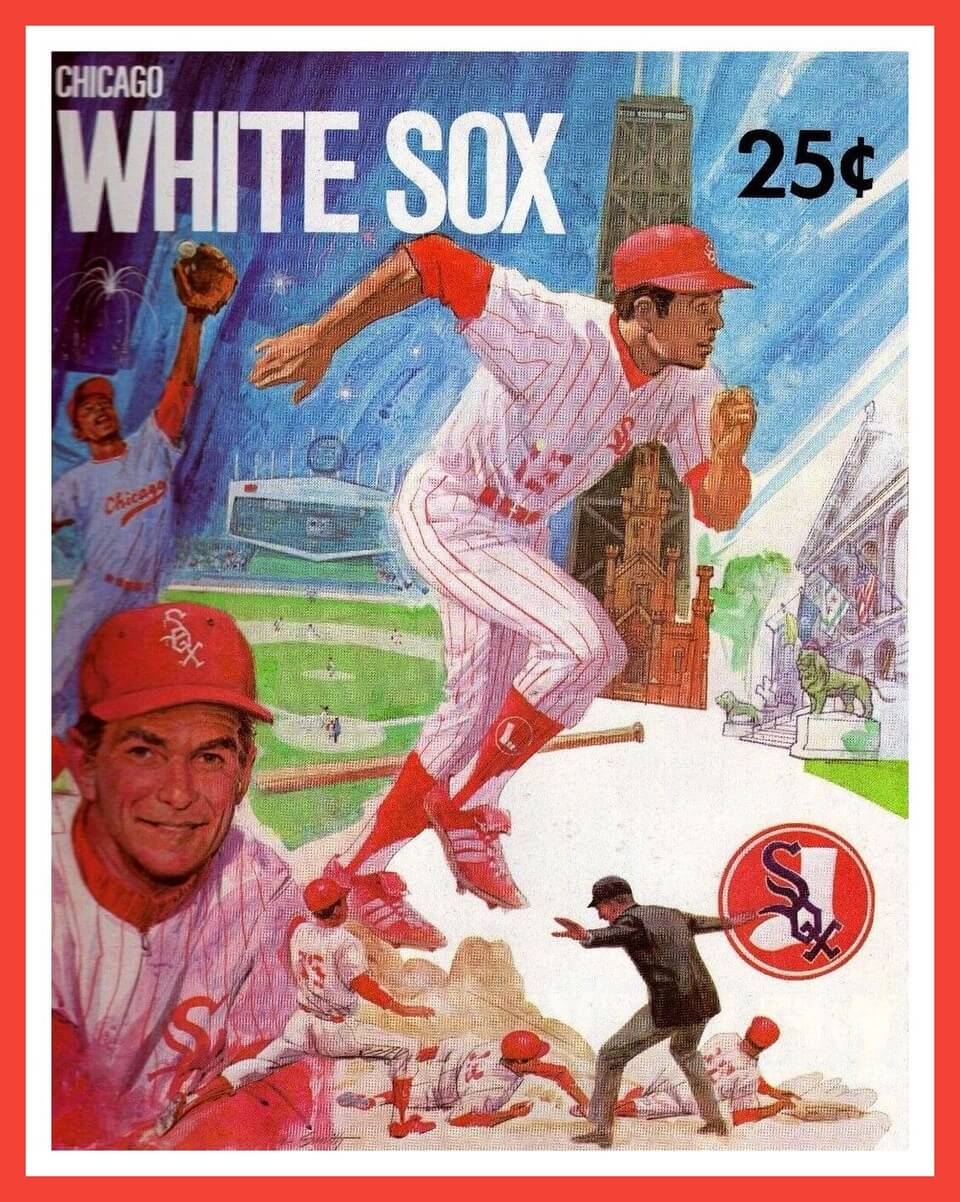 Click to enlarge
Collector's Corner
By Brinke Guthrie
Follow @brinkeguthrie    
Leading off this week with some classic-looking artwork for the Chicago White Sox. This is a scorebook from May 7, 1971, when the visiting Yankees beat the Sox, 2-1. That season was the first time the Sox wore the color red, so this cover art had just been unveiled a month earlier!
Now for the rest of this week's picks:
 • Another program for you, from two seasons earlier: This is a "Programme Officiel des Expos" from 1969, their first season (or première saison, if you prefer). Southpaw Larry Jaster is your cover star.
 • Don Mattingly closed his "Mattingly's 23" restaurant in Evansville, Ind., back in  1996. Here's a mug bearing his image. (It also shows the Yankees' "NY" logo on his cap. Wonder if that was officially licensed or if he just did it on his own!)
 • You could personalize this 1967 NFL Helmet Bank with a small gold decal bearing the name of your favorite team.
 • This 1970s red/blue T-shirt from Russell Athletic features the NFL shield on the front.
 • "Hats Off to the Mets!" That's what this promo visor says on the front. It was sponsored by Thom McAn shoes and given away during the 1969 playoffs. (By the way, ever wonder where the name "Thom McAn" came from? Wikipedia says it's from a Scottish golfer named Thomas McCann, but this article maintains it was simply made up.)
 • Let's Talk Hockey was a 1964 album featuring the Toronto Maple Leafs and their coach. This edition comes with an instructional booklet. Comin' off three straight Cup wins, these guys knew their stuff.
 • This early-1970s NFL team catalog is from a company called Pro-Central. Check out all that team-branded merch! Pretty much exactly what you'd find at Sears.
 • Here's a 1960s San Francisco 49ers Punt, Pass & Kick varsity-style jacket, made by a company called Timberetta. The sleeves of this jacket are in "Dry Cleanable Vinyl," aka the "New Leather Look." These were awarded to PP&K winners. To the losers? "Here's a T-shirt, kid."
 • Red Sox star Carl Yastrzemski "shares his know-how with you" in this 1969 book simply titled Play Ball.
 • Just the basics, m'am: No flashy trim on this 1970s-80s Detroit Pistons sweatshirt/sweatpants set made by Champion. Just a white logo on navy blue. 
• • • • •
• • • • •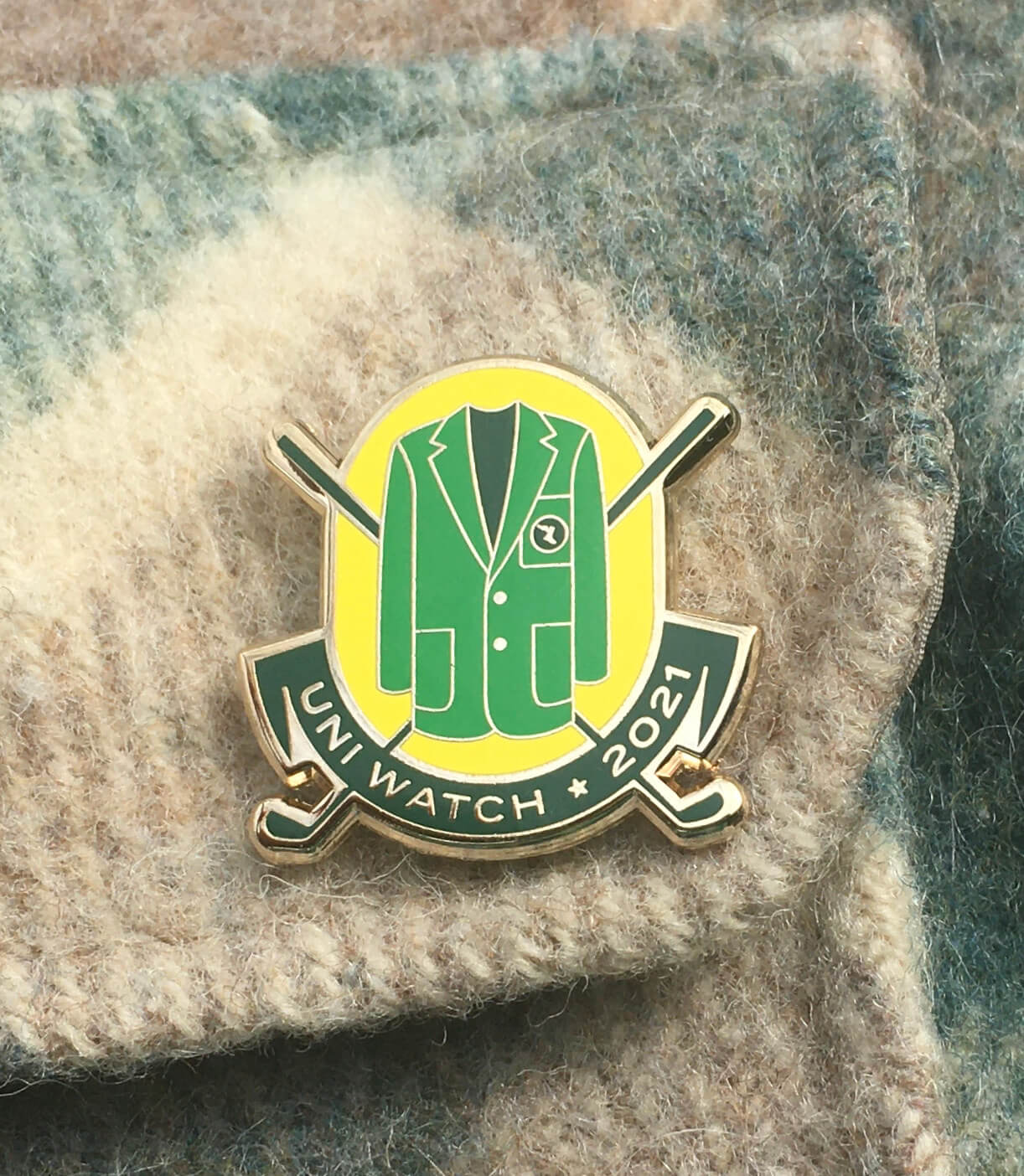 Pin Club reminder: In case you missed it last Thursday, the Uni Watch Pin Club's latest release has a golf/Masters them. It's a numbered edition of 200, with each pin individually numbered on the back, and as of this morning there are fewer than 70 remaining. It's available here, and we're donating all the profits from this one to Fair Fight. (You can learn more about why we've chosen to do that here.)
• • • • •
• • • • •
The Ticker
By Alex Hider

Baseball News: Something I certainly hadn't noticed until now: Apparently, Nike's MLB pants have a ventilation panel at the crotch, which looks particularly weird on pinstriped pants. I will never unsee that (from Justo Gutierrez). … Earlier this spring, Jeff Frandsen noted that Mets SS Francisco Lindor appeared to be wearing the belt of teammate Michael Conforto. That continued during the Mets opener yesterday, when Lindor again wore Conforto's belt (from C.B. Ciullo). … Speaking of belts, Twins RF Nelson Cruz wore a grey belt during Saturday's game, while the rest of his teammates wore navy belts (from John Luther). … More belt news: The Red Sox were mixing and matching red and blue belts last night (from Lorne Geller). … Reds manager David Bell was wearing a batting practice cap during last night's game. … A Blue Jays coach was also wearing a BP cap during their game (from James T. Paterson). … Cubs OF Joc Pederson switched his cleats midway through Sunday's game (from @MBDChicago). … Sales of this Mets/Metropolitan Museum of Art mashup cap, which we've discussed before, have reportedly raised $15,000 for charity (from Chris Nordloh). … Victory Field, the home of the Triple-A Indianapolis Indians, had the NCAA Final Four logo mowed into its outfield in honor of last night's national championship (from Michael Kinney). … An ESPN graphic that aired yesterday mistakenly listed Barry Bonds as a Hall of Famer (from Joseph Matlock). … For sale on eBay: an Expos mini football helmet (from @BenOnSports). … Oregon State debuted a retro/throwback cap yesterday (from Max G. and @peeweereis). … Here's a great story: Sam Chatto works at a middle school in Maine — heavy Red Sox territory — and to boost fundraising for a cancer charity drive, he and his co-worker (also a Sox fan) promised to wear Yankees jerseys for a day. It worked — the students raised close to $750. Congrats! … Former MLB P Daniel Mengden, now playing in Korea with the Kia Tigers, wore some serious candy-striped socks yesterday (from Brian Smith).

NFL News: Ravens WR Sammy Watkins will wear No. 14 with his new team (from Andrew Cosentino). … Washington has released the first episode of a new video series giving viewers a behind-the-scenes look at the work in putting together its new team identity (from @realRosebud). … Darrell Dawson notes that the Colts' Ring of Honor graphic for Peyton Manning lists him as having played for the team from "1998-11," which makes no sense. Should be 1998-2011.

Hockey News: The Jets wore Pride warm-up sweaters before last night's game (from Wade Heidt and Anthony). … Reader Josh Pearlman received an email from the Coyotes indicating that the team has a new sweater in the works.

Basketball News: Steph Curry wore sneakers featuring Bruce Lee as a show of solidarity with the AAPI community amid a rise in hate crimes (from Brinke). … A Raptors blog counted down the top five uniforms the team has worn this season (from Phil).

College Hoops: It's been 80 years since Wisconsin won the national championship, and they looked good doing it. Check out those striped socks and coaches' jackets (from David Petroff). … North Carolina hired Hubert Davis as its new head coach yesterday. James Gilbert notes that Davis modeled the Tar Heels' argyle unis when they were unveiled in 1991. … Cross-listed from the baseball section: Indianapolis's minor league baseball stadium had the Final Four logo mowed into its outfield in honor of the national championship (from Michael Kinney).

Soccer News: The NWSL's Houston Dash have a new second uniform (from Ignacio Salazar and our own Jamie Rathjen ). … Also from Jamie: Chelsea women's midfielder Maren Mjelde got a framed No. 100 shirt for reaching 100 total appearances with the club. … The San Jose Earthquakes have sold the naming rights to their stadium (from our own Lloyd Alaban). … Polish club Górnik Zabrze wore retro-inspired uniforms yesterday (from Ed Żelaski).

Grab Bag: Bloomberg has a new piece that looks into the current branding trend of removing detail and depth from logos (from William F. Yurasko and David Raglin). … Oscar Mayer has released limited edition bacon-scented shoelaces (BrandNew article, hard paywall) to accompany the re-release of Nike's bacon-themed sneakers (from James Gilbert).
• • • • •
• • • • •
• • • • •
Our latest raffle winner is Dave Feit, who's won himself $50 worth of Uni Watch merchandise. Congrats to him, and thanks again to Jerry Kulig for sponsoring this one.