This season, we tip our caps #For44 and #ForKnucksie 💙❤️ pic.twitter.com/CIAqoqh3jH

— Atlanta Braves (@Braves) March 31, 2021
Good morning! Today is April 1, so I want to begin by saying two things: First, I promise you that today's Uni Watch post is 100% prank-free. No jokes, no fake news, no foolin'. All of today's content is legit!
And second, it's a safe bet that there will be lots of bogus uni content circulating on the internet today. So if you see something that sounds outrageous or gonzo or whatever, take a glance at the calendar before pulling your hair out and going bananas on social media. We'll all be better off if we maintain a bit of healthy skepticism today!
Now then: Depending on when you read my annual MLB Season Preview yesterday (and if you haven't yet read it, by all means do so now!), you may have missed the late-breaking news that the Braves will be memorializing Henry Aaron and Phil Niekro by wearing their respective uni numbers as small rear-cap patches flanking the MLB logo, as shown above. (They were forced to go this route because their jersey sleeves are already occupied by patches for the All-Star Game and the team's sesquicentennial.)
Of course, there are countless previous instances of players creating impromptu memorials by writing someone's number or initials on their cap. But is this the first time a team has used a cap patch as an official team-wide, season-long uniform memorial? The only vaguely similar example I can think of was on July 18, 2014, when the Padres wore a "19" cap patch for Tony Gwynn: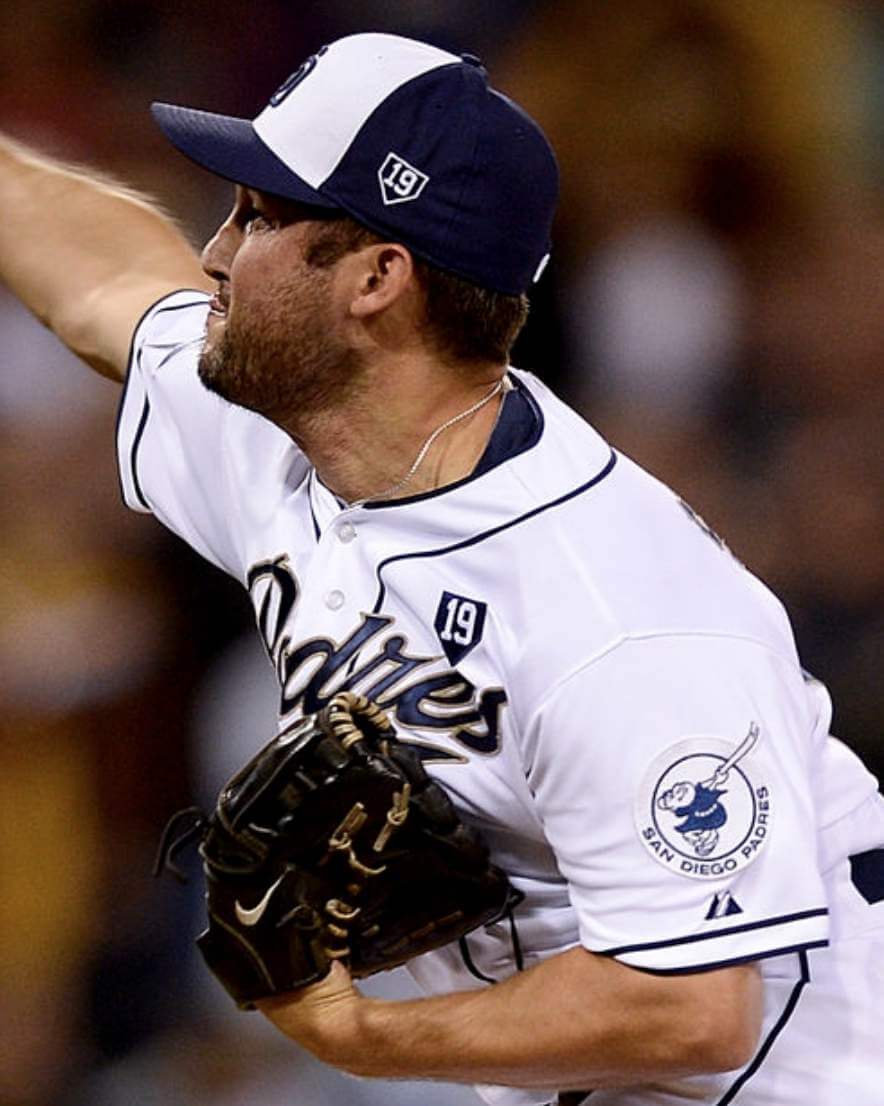 But as you can see in that photo, they also wore a jersey patch in addition to the cap patch. The cap memorial was only for that one game, while the jersey memorial remained for the rest of the season. The Braves' cap memorials, by contrast, will have no corresponding jersey patch, and will be worn all season long. I think that might be an MLB first.
A few other late-breaking items that didn't make it into the Season Preview piece:
• Speaking of memorials, we got our first look at how the Mets' new pinstriped Tom Seaver patch will look on the team's pinstriped home jersey. I think it's fair to say that the combination of the two pinstripe patterns is a bit awkward-looking: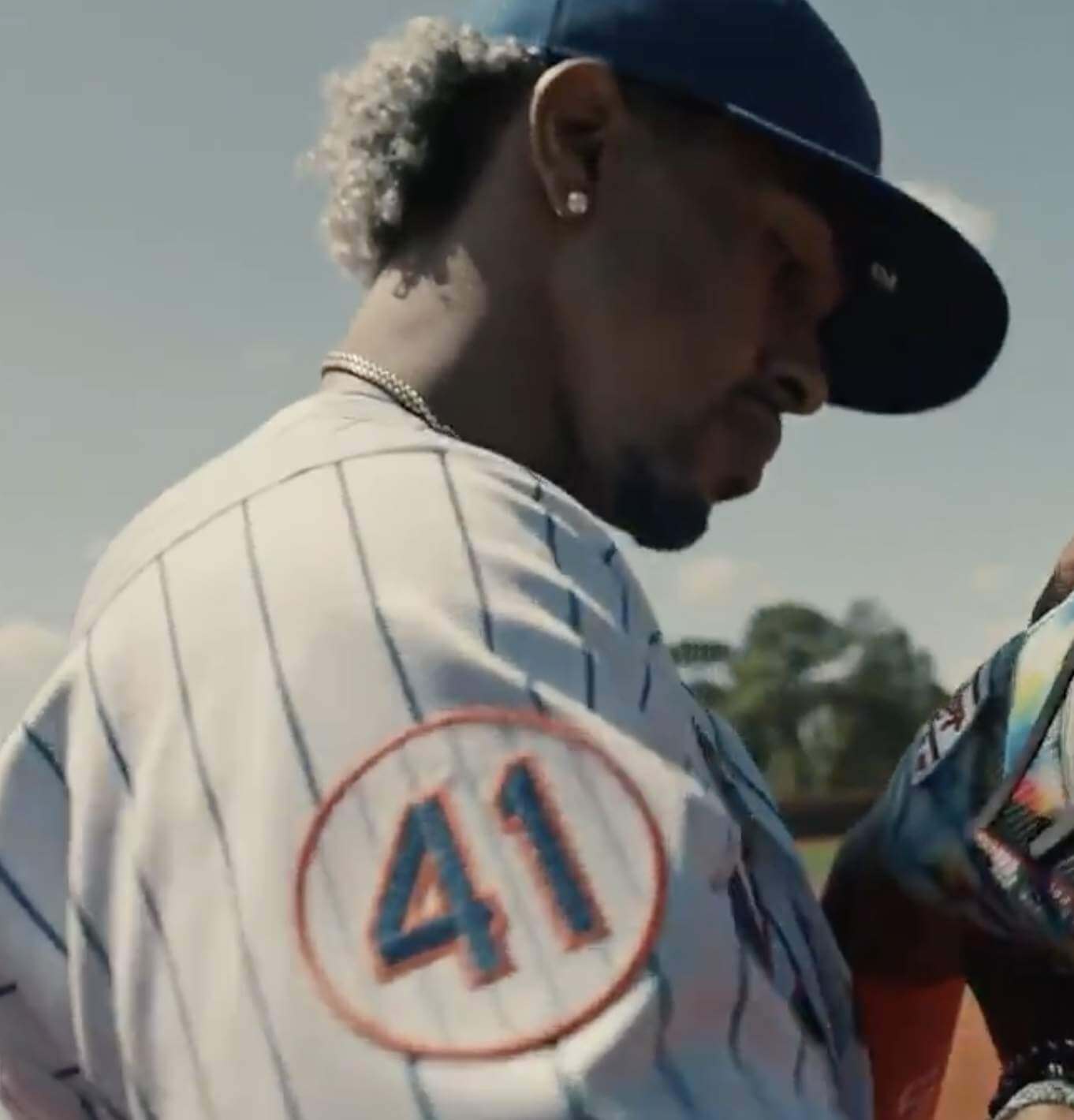 • Padres pitcher Blake Snell, who wore No. 4 during his years with the Rays, has been wearing No. 24 this spring. But now teammate Wil Myers, who had been wearing No. 4, has switched to No. 5, allowing Snell to reclaim his preferred single-digit number. This also means that when MacKenzie Gore, who wears No. 1, makes his anticipated MLB debut at some point this season, the Padres will have two single-digitized pitchers in their starting rotation.
• The Cubs have changed the flags at Wrigley Field, and have produced a nice little animation showing the changes:
As we welcome fans back to the Friendly Confines, be sure to look up!

The flags on the Wrigley Field roof will now honor Cubs Hall of Famers and postseason appearances. #CubTogether pic.twitter.com/6TXrkp3aGY

— Chicago Cubs (@Cubs) March 31, 2021
• The Cardinals' regional TV network announced a change to their score bug design:
Here's how the "score box" will look on #Cardinals telecasts this season. @BallySportsMW said in a statement: "This placement enhances the space on screen for game action." pic.twitter.com/6weTvjJK9A

— Benjamin Hochman (@hochman) March 31, 2021
• One thing we haven't yet seen: the Phillies' memorial patch for Dick Allen. It was announced more than three weeks ago, but still no sign of the design. The Phils open their season today at 3pm, so we'll presumably see it no later than that.
All 30 teams will be playing today, making this a true MLB-wide Opening Day (although four of the 15 games, including the one that includes my favorite team, will be played at night — booooo). Whoever you're rooting for, make yourself a hot dog, pour yourself a beverage, and enjoy the annual return of Uni Watch's favorite sport. Play ball!
Update: My favorite team's game has been postponed. Now what am I gonna do with all these hot dogs and capers??
• • • • •
• • • • •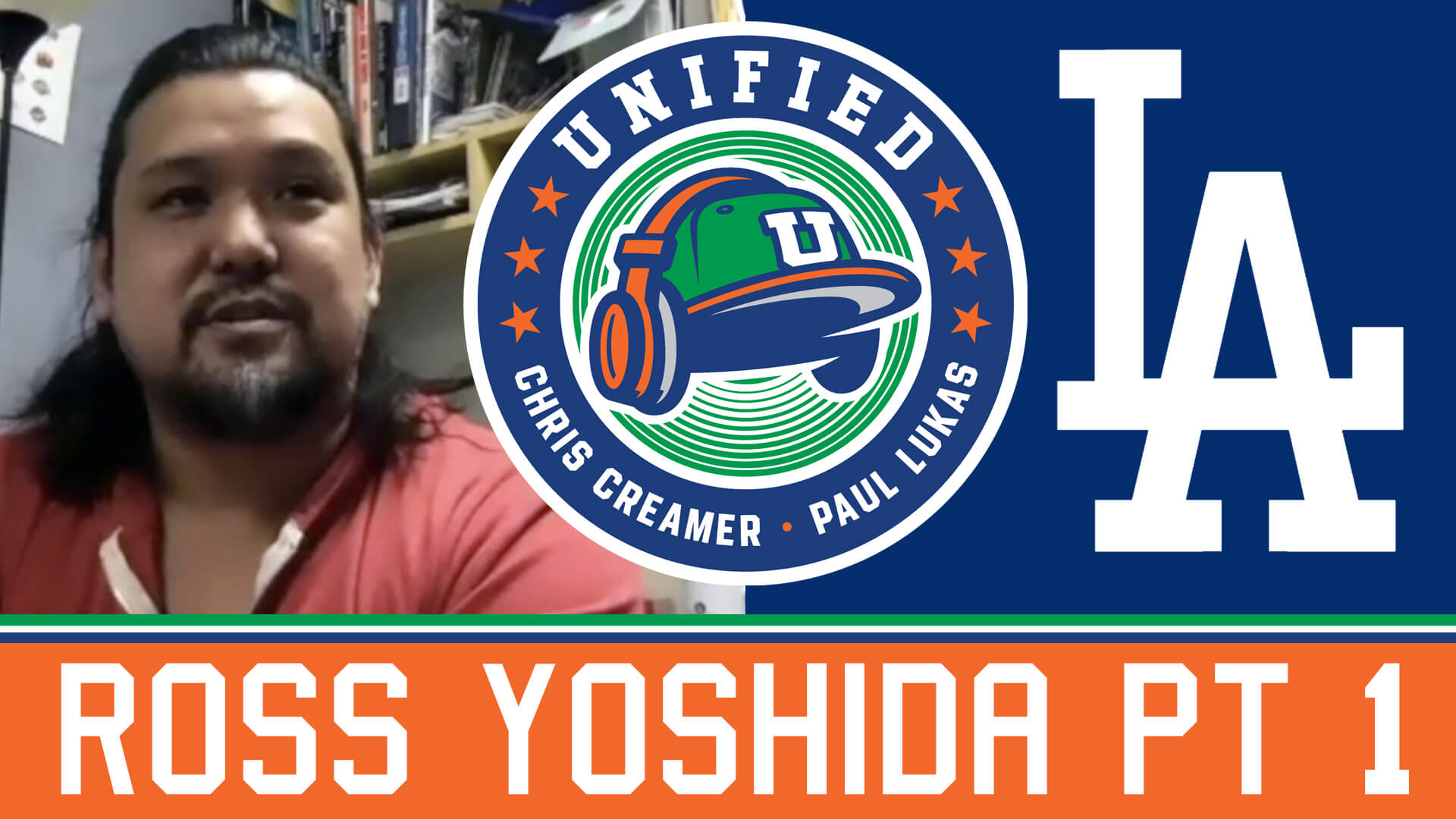 ITEM! New podcast episode: With the MLB season opening today, Chris and I interviewed Dodgers design director Ross Yoshida for this week's episode of Unified — our first guest! You might think he doesn't have a lot to do, since the Dodgers' visual identity is so traditional and static, but he's designed lots of the team's sleeve patches, fixed their iconic script after it somehow got altered, and a lot more. This is the first installment of a two-part interview with him, which we think you'll really enjoy.
As always, you can listen to us on Apple, Google, Stitcher, TuneIn, and Spotify, or just use the player below:
The show notes from this episode, which include photos of many of the things we discussed, are here. Those photos (and some additional ones) also appear in the video version of the episode, which you can see here:
Please consider supporting this episode's advertisers, Oxford Pennant (get 20% off any order with checkout code UNIFIED), Ebbets Field Flannels (10% off, except on NFL items, with checkout code UNIFIED), and Tokens & Icons (free shipping by checking the "For Office Use Only" box and then entering the checkout code UNIFIED).
Enjoy the episode, and thanks for listening.
• • • • •
• • • • •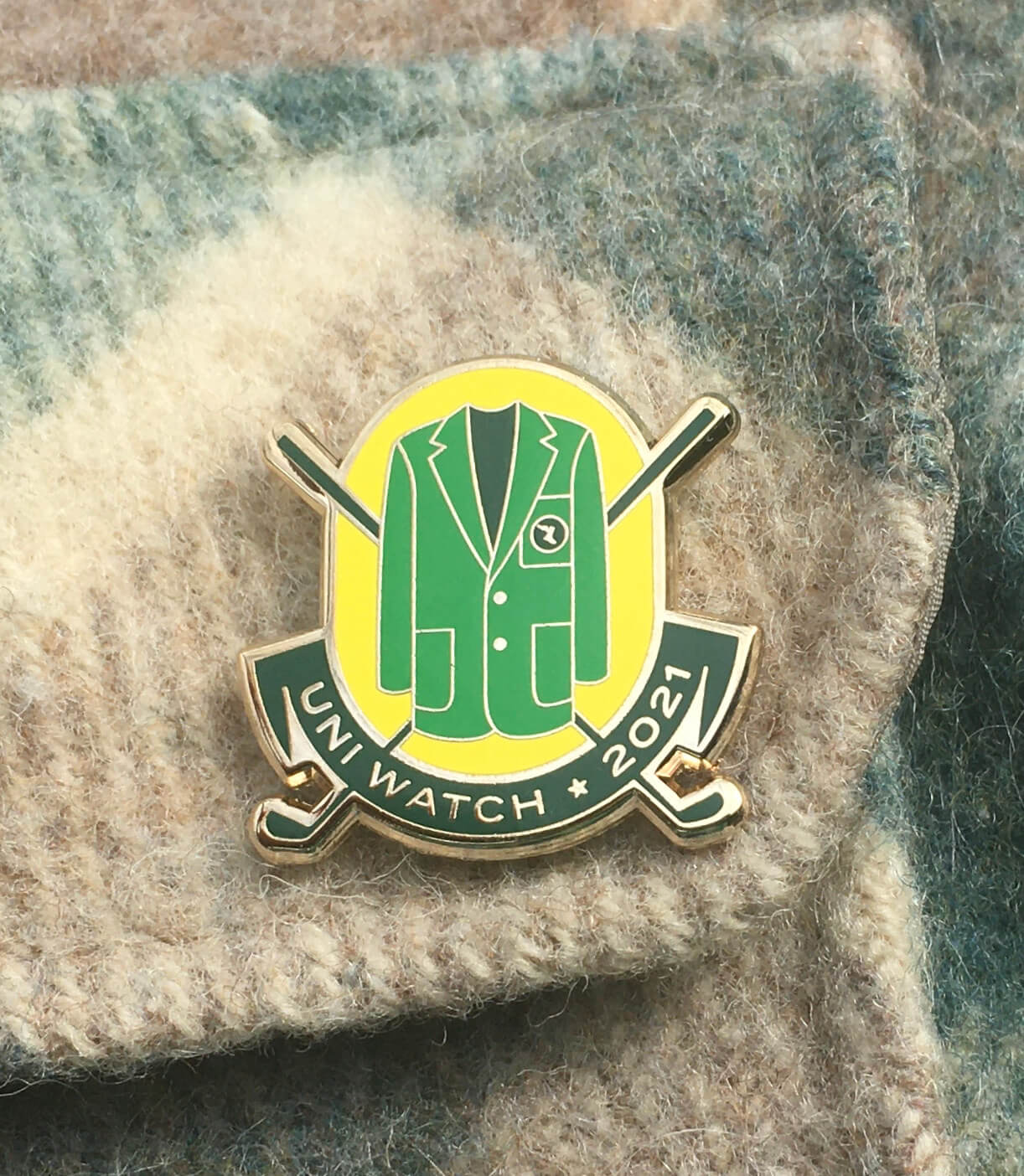 Click to enlarge
ITEM! April Pin Club launch: When we launched last year's November pin, someone — I don't remember who — said, "I thought you'd do a golf pin, since they moved the 2020 Masters to November." Honestly, that hadn't even occurred to me, but I liked the idea — after all, what could be more Uni Watch than the famous Green Jacket? So when pin designer Todd Radom and I were plotting out this year's pin calendar, I said, "We should do a golf/Masters pin for April." (Then we kept our fingers crossed that this year's Masters would actually take place on schedule.) You can see the results above.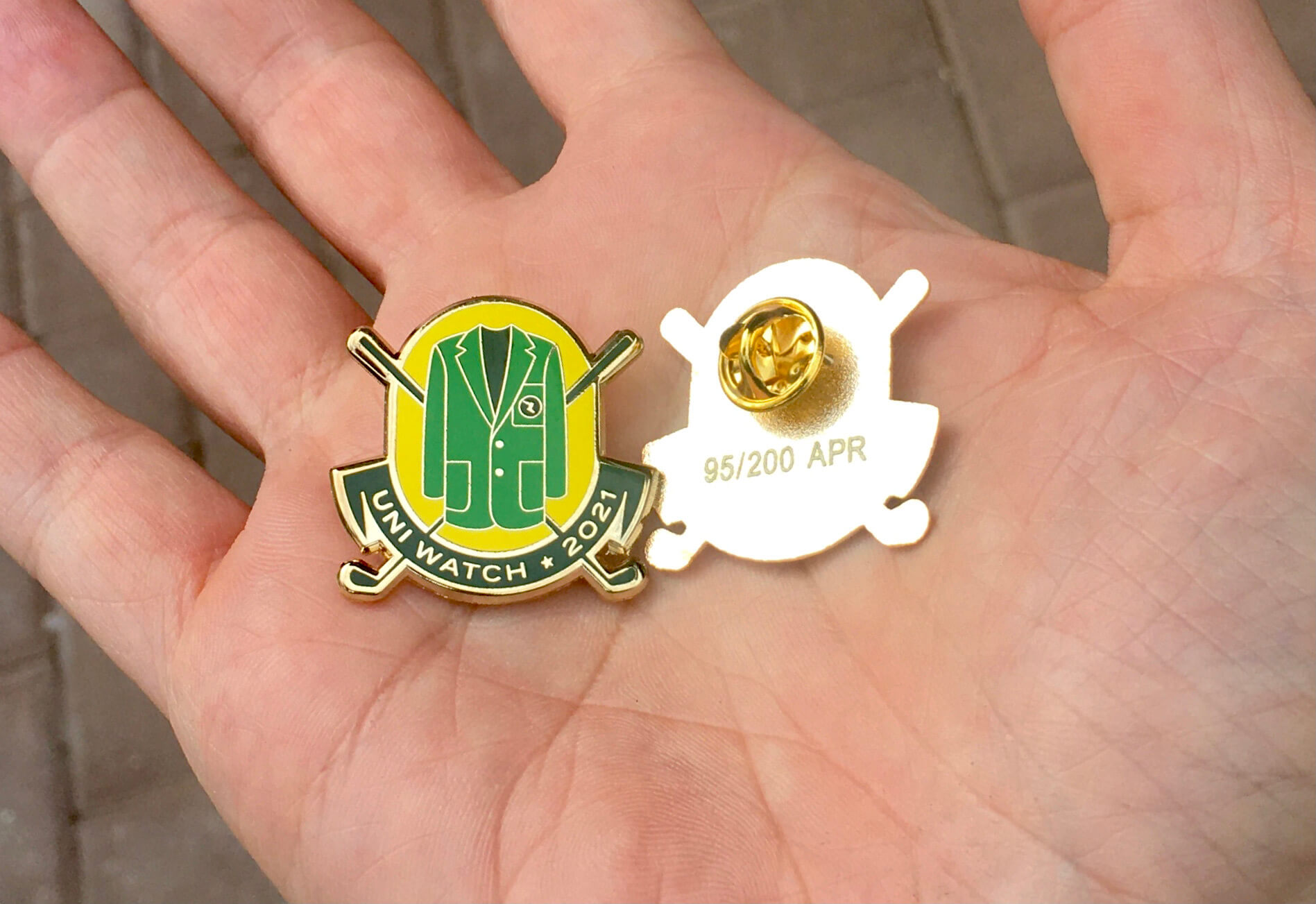 This is a numbered edition of 200 pins. As always, each pin is individually numbered on the back:


It's a really good-looking pin, right? But here's the thing: Georgia-based sports, including the Masters, have become a thorny issue over the past week or so. In response to the state enacting a set of restrictive voter-suppression measures, the MLB players' union has talked about the possibility of moving the MLB All-Star Game out of Atlanta; Dodgers manager Dave Roberts, who would normally be skippering this year's National League All-Star squad, has said he might opt out of the game; a number of Georgia-based companies, including the NFL's Atlanta Falcons and the NBA's Atlanta Hawks — both of which operated early voting sites last fall — have condemned the new law; and a civil rights group has said that the Masters should be moved out of the state.
Obviously, Todd and I didn't foresee any of this happening when we designed and produced the pin. After talking about it, we've decided that this isn't the right time for us to profit off of a playful visual reference to the Masters. We're proud of this pin design and are happy to offer it for sale, but we will be donating all of the profits from this one to Fair Fight, the Georgia-based voting access group founded by Stacey Abrams.
We realize some of you may not like this approach, and that others may be sympathetic to our sentiments but wish we could just sell the pin without getting embroiled in politics. Frankly, so do we — but that's not the world we're living in at the moment, and this is the course of action that makes the most sense to us.
The pin is available here. If you need to get caught up, here are our January and February pins from this year (sorry, March is sold out), plus all of our remaining 2020 pins are available at a discounted price.
My thanks, as always, for your consideration of our products.
• • • • •
• • • • •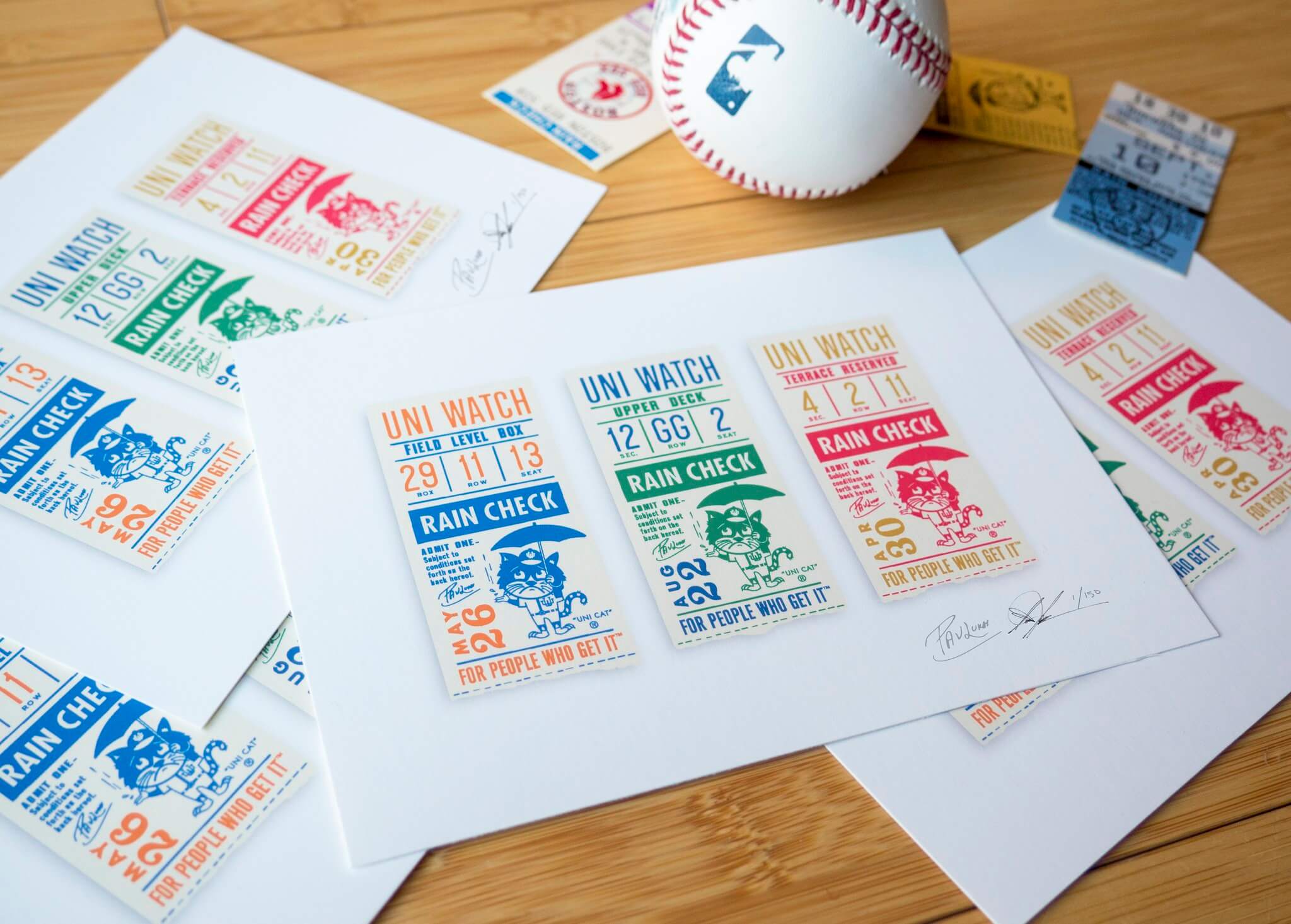 Click to enlarge
Going, going…: Todd and I are down to about a dozen of these museum-quality "Rain Check" prints, produced in a numbered edition of 150 and signed by each of us at a Brooklyn diner back in 2018. As I recently mentioned, we thought we had sold out but recently found a stash we had set aside and then forgotten about. If you want one, they're available on Todd's website until we run out.
• • • • •
• • • • •
The Ticker
By Paul

'Skins Watch: MLB's Cleveland Indians have banned Native American headdresses and red face paint from their ballpark (from @DoogieStardust). … Skowhegan Area High School in Maine, which dropped "Indians" as its team name in 2019, is now engaged in a community debate about whether its new team name should be spelled "River Hawks" or "RiverHawks" (from Kary Klismet). … The Ontario Lacrosse League's Mississauga Tomahawks will now be known as the Mississauga Badgers (from Michael Sullivan). … The Manitoba Junior Hockey League team formerly known as the Neepawa Natives will soon unveil their new identity (from Jim Wooley). … Frontier Regional School in Massachusetts, which recently changed its team name from "Redskins" to "Redhawks," has unveiled new logos (from Kary Klismet).

Baseball News: Here are some changes that fans can expect to see at Nats Park this season (from Tom Turner). … Police have recovered the Chattanooga Lookouts' costumed mascot, which had been stolen (thanks to all who shared). … There's a new line of MLB caps based on state flowers (from my old ESPN editor Mike Philbrick). … The Athletic has a good (but paywalled) article on how the White Sox developed their current silver/black identity (from Thomas Juettner). … The Double-A Somerset Patriots will apparently be unveiling new uniforms today (from Timmy Donahue). … Southern Illinois has added a memorial rear-helmet decal for alum Mark Newman, who played for the team and then went on to become an exec with the Yankees (from @mrmichael21). … Korean team SK Wyverns is rebranding as Shinsegae Landers. … Brewers OF Christian Yelich has some interesting thoughts about how his state of mind relates to his uniform (from @CreamCityPro).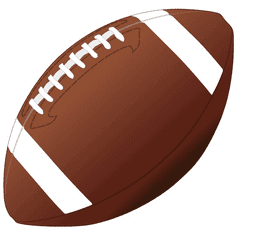 Football News: More NFL draft caps appear to have leaked. … When President Biden arrived in Pittsburgh for a speech yesterday, the jet bridge had the logo for the 171st Air Refueling Wing, which is very Steelers-esque, or maybe just U.S. Steel-esque (from @J8771). … Lions prexy Rod Wood is apparently considering some uni changes, although that would be for 2022 at the earliest. … Clemson players received their ACC championship rings (from James Gilbert).

Hockey News: The Blues have added a giant Bob Plager memorial graphic to their arena exterior (from @mrmichael21). … The Lightning held Pride Night on Tuesday, featuring rainbow-striped stick tape for pregame activities (from Wade Heidt).

Basketball News: The Australian women's basketball team is bringing back the unitards for this year's Olympics (from Chadd Mann).


Soccer News: Chelsea's home kit has leaked (thanks, Phil). … New kits for two USL League One teams: North Texas SC and Greenville Triumph SC (thanks to all who shared). … Interesting article on how soccer design has been influenced by streetwear (NYT link). … Spain's government has never recognized Kosovo as an independent nation. One very petty-seeming aspect of this is that the score bug on Spain's national TV network puts "kos" in lowercase letters (from Ben Isaacs). … The NWSL's Orlando Pride have a new shirt, featuring a black-to-purple gradient. "It's something, that's for sure," says our own Jamie Rathjen. … In a related item, Orlando Pride keeper Ashlyn Harris explained the message of the team's new shirt.

Grab Bag: New logo for MSNBC. … A Connecticut AutoZone shop was robbed by a man wearing a UPS uniform. … Did you know that some people find the Disney logo confusing? I didn't, but it's apparently a thing. … You may have seen this elsewhere on the internet, but I love this graphic showing all the colors of Mr. Rogers's cardigans over the years (from Anthony Nuccio). … Here's a look at all of this season's F1 helmet designs. … Here's a really cool animation showing the spread of post offices across the United States (from the Tugboat Captain). … Australia's new Olympics uniforms, which were featured on the site just yesterday, are now embroiled in controversy because they're made by Asics, which is under fire for using cotton harvested by forced laborers in China. … Here's a list of notable instances of a movie studio's logo being changed in the credits. … Here are some graphics that explore color combos on F1 cars (from Jeremy Brahm). … New uniforms for the Punjab Kings of the Indian Premier League, the country's top-flight Twenty20 cricket competition (from Kary Klismet). … Also from Kary: Hays High School in Texas, which recently changed its team name from "Rebels" to "Hawks," has unveiled its new logo.
• • • • •
• • • • •
• • • • •
Our latest raffle winner is Aaron Wiens, who's won himself $25 worth of Uni Watch merchandise. Congrats to him, and big thanks to Michael Brantner for sponsoring this one. — Paul