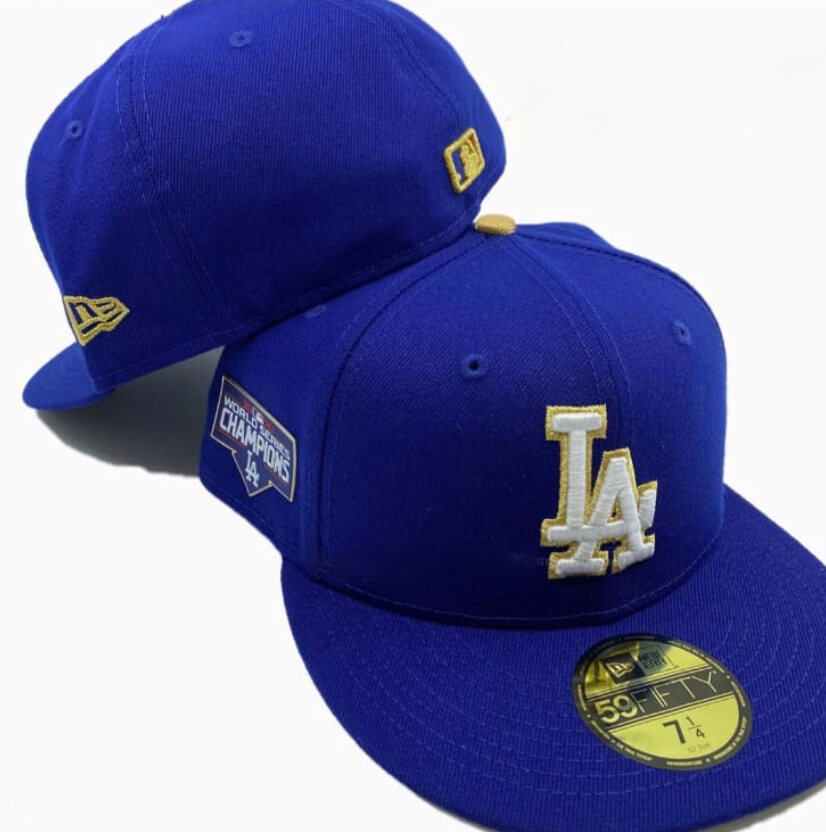 Click to enlarge
Ever since the Dodgers won last year's World Series, I've been wondering if they would wear a gold-trimmed uniform to open the 2021 season. The last team not to do so was, perhaps predictably, the Yankees, who won the 2009 Series but skipped the gold treatment in 2010. And if there's such a thing as a National League version of the Yankees, it's probably the Dodgers, so I was wondering if they might opt to go gold-free this year. Defending Series champs usually haven't unveiled their gold-trimmed uniforms until shortly before Opening Day, so I figured the Dodgers wouldn't let us know their plans until next week.
But we got our answer yesterday, as the California shop the Locker Room of Downey shared the photo shown above. I have confirmed that it is indeed legitimate and that the Dodgers will be wearing gold uniforms. No sign of the jersey so far.
The Dodgers will open their season next Thursday afternoon — that's a week from today — in Colorado. Their home opener is April 9, so that's presumably when the gold design will be worn.
• • • • •
• • • • •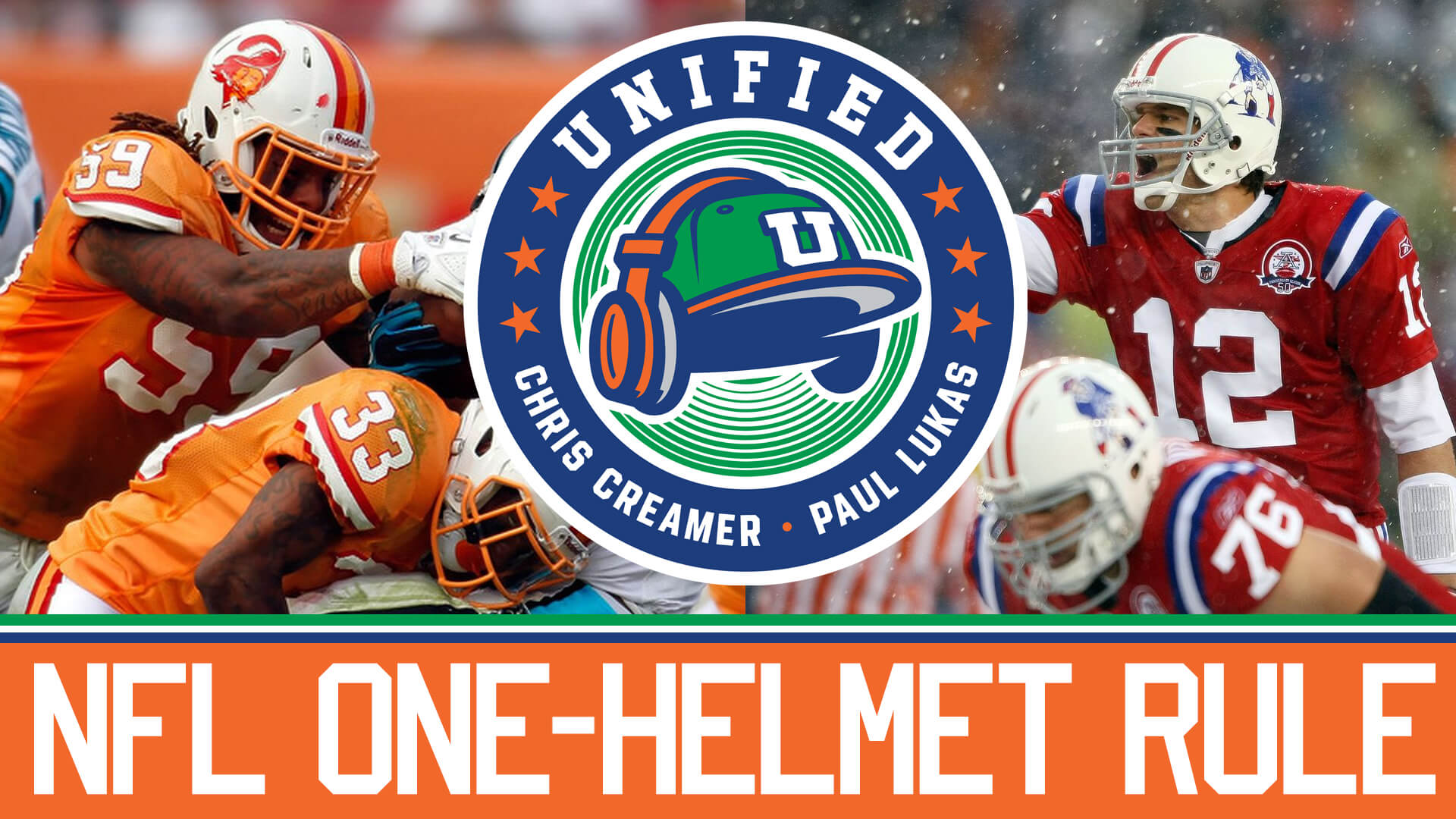 ITEM! New podcast episode: The latest episode of Unified is about a very hot-button topic in the uni-verse: the NFL's one-helmet or one-shell rule. Will it be lifted for the coming season, as has been hinted at? If so, what sorts of throwback helmets might reappear? Moreover, what sorts of alternate helmets (like, say, a neon-green Seahawks helmet) might suddenly appear? We discuss all of that, along with the latest uni-related news of the past week, our weekly listener-submitted question, and more.
As always, you can listen to us on Apple, Google, Stitcher, TuneIn, and Spotify, or just use the player below:
The show notes from this episode, which include photos of many of the things we discussed, are here. Those photos (and some additional ones) also appear in the video version of the episode:
Please consider supporting this episode's advertisers, Oxford Pennant (get 20% off any order with checkout code UNIFIED), Ebbets Field Flannels (10% off, except on NFL items, with checkout code UNIFIED), and Homefield Apparel (15% off with checkout code UNIFIED).
Enjoy the episode, and thanks for listening.
• • • • •
• • • • •
More Padres/UA prototypes: Hot on the heels of that Padres/Under Armour prototype jersey that recently emerged, we now have three more. Two of them have that same visual ventilation storytelling diamond mesh pattern that the earlier jersey had, while the pinstriped one does not (which makes sense). Interesting!
Update: As several commenters have pointed out, the pinstriped version actually does have the mesh. It's just harder to see. My bad!
(Big thanks to Eric Abneri for this one.)
• • • • •
• • • • •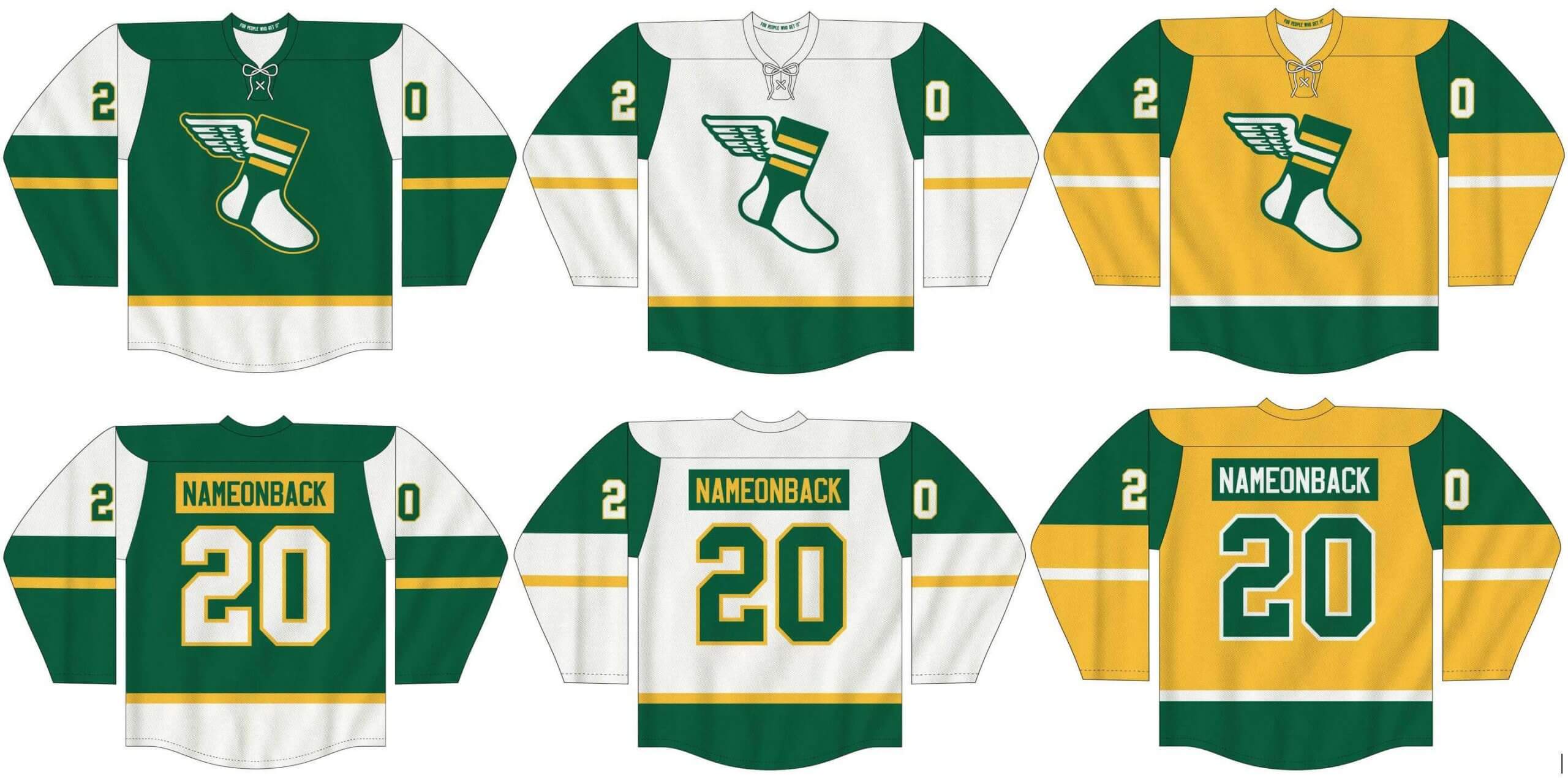 Click to enlarge
The usual merch reminders: As you probably know by now, we have a new line of Uni Watch hockey jerseys (customizable with your choice of number and NOB, of course), as well as new Uni Watch socks and stirrups. In order to get in on these items, you must place your pre-order by March 31 (that's next Wednesday). You can do that here. We expect the finished product to ship out by the end of April.
Meanwhile: Todd Radom and I had recently found a small stash of our limited-edition 2018 "Rain Check" print that we had set aside for promo purposes and then forgotten about. These are all signed by both Todd and myself: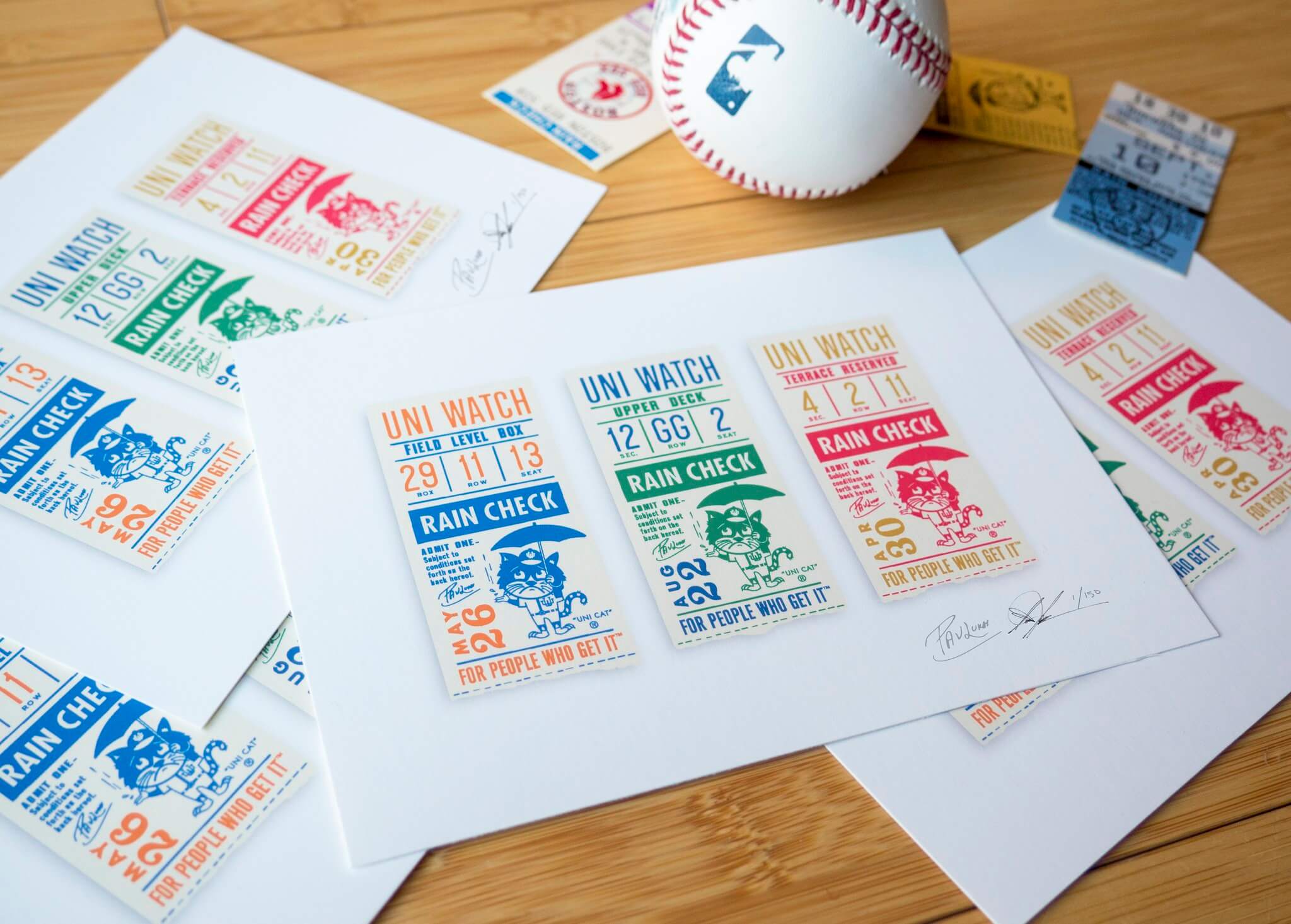 These are available while supplies last on Todd's website.
My thanks, as always, for your consideration.
• • • • •
• • • • •
The Ticker
By Alex Hider

Baseball News: Mets SS Francisco Lindor appeared to be wearing teammate Michael Conforto's belt during yesterday's game (from Jeff Frandsen). … Yesterday marked the 20th anniversary of the day when Diamondbacks P Randy Johnson annihilated a bird with a fastball during a spring training game. He apparently leaned into the infamous moment — his photography website uses a dead bird as its logo (from @PhillyPartTwo). … Here's an unfortunate article making a case for MLB uniform ads, comparing them to the revenue generated by soccer (from Phil). … This blog surveyed fans and determined that White Sox fans drink the most while watching their team, followed closely by Braves and Reds fans (from Jason Hillyer). … The newest team in the All-American Amateur Baseball Association is the Carolina Disco Turkeys, who also unveiled a groovy peacock logo yesterday (thanks to all who shared). … New jerseys for New Jersey — that is, the New Jersey Jackals of the Frontier League (from @BallparkHunter). … The U. of Minnesota has published a uniform history page on its website (from Mike Menner and Phil). … UCF infielder Andrew Brait wore a batting helmet with a full facemask and no team logo during last night's game (from Timmy Donahue). … Vanderbilt has unveiled the uni combos they will wear for their upcoming series against Missouri (from Phil). … Ron Henske notes the design template on this social media graphic shared by the Democratic Party of Wisconsin resembles the 1982 Topps set.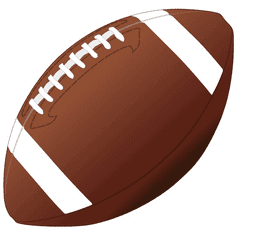 Football News: The Chargers' 2021 Draft Cap has apparently leaked. Ditto for the 49ers' cap. … The Athletic (hard paywall) reports that the Saints are close to selling the naming rights to the Superdome to Caesars, the hotel and casino chain. Should that happen, it would be one of the most high-profile gambling ad deals ever in the U.S. (from @TonyLoyal1). … A Rams blog thinks the team's next alternate uniform could be BFBS (from Phil). … European League of Football, a new football league launching this summer, has unveiled an MLB/NBA-style logo (from Brandon Keys). … High school football in California just kicked off an abbreviated season, and powerhouse Mater Dei made a slight change to their typically old-school uni set, going with sleeve numbers for 2021 in lieu of the the school sleeve logo (from Kyle Mackie). … Scott High School in West Virginia has new uniforms, a set that poaches an old Southern Miss logo that was discontinued for being too similar to Iowa's Tigerhawk logo (from Kary Klismet). … Some new uni number assignments for the Jags (thanks, Brinke).

Hockey News: Stars G Jake Oettinger has a new set of pads and gloves to go with the team's black alternates (from Wade Heidt). … Coyotes G Antti Raanta also has a new pad set (from @GoalieGearNerd). … To celebrate the upcoming the release of a new Mighty Ducks TV series, the Anaheim Ducks all wore the sweaters from the franchise's first film prior to last night's game (from Phil). … Chicago paid tribute to RW Patrick Kane prior to his 1,000th career game on Tuesday by having the entire team dress in his No. 88 sweater — complete with an assistant captaincy patch! (From Wade Heidt.) … Noah Sidel sends along a photo of the 1968-69 WHL champion Vancouver Canucks — forerunners of the NHL's Canucks — and their very cool uni set, which featured a team name and number on front!

Basketball News: An Indy-area TV station has a video package about the laundry volunteers washing the team uniforms at the men's NCAA tournament (from John Goodrich). … On Monday, a sports anchor in Louisiana resorted to creating his own March Madness "highlights" in MS Paint due to restrictions that prevented his station from showing the real highlights (from Paul Deaver). … While NCAA men's tournament games are taking place on NCAA-branded courts, some at the NCAA women's tournament bubble in San Antonio are being played on generic arena floors, raising more questions about the inequity of the facilities at the men's and women's tournaments (from @fdm3mnl). … Jefferson Boswell sends along this photo of his grandfather and the 1951 American Fork High School (Utah) Cavemen. Love the unis with the "AF" insignia. … Some new uni numbers for the Nets and Kings.

Soccer News: A new Sounders alternate jersey has apparently leaked on the team's website. The design would seem to mimic a tease they tweeted earlier this week (from Phil and Dean Hinther). … The Columbus Crew will open their new stadium on July 3 (also from Phil). … A New England Revolution blog has laid out all the arguments for and against a new team logo (from Kary Klismet). … Norway's men's team wore warm-up shirts before their 2022 World Cup qualifier today, protesting tournament host Qatar's human rights record. Norway is set to decide in June whether to boycott the tournament (from our own Jamie Rathjen). … Also from Jamie: In a separate men's World Cup qualifier, Belgium and Wales both wore second kits, despite no real need for them to do so.

Grab Bag: Torchbearers for the upcoming Summer Olympics will wear shirts made out of recycled plastic (from Phil). … A newspaper in Ireland has a feature about a local man's enormous jersey and memorabilia collection, which covers multiple sports (from Kenneth Traisman). … The next three submissions are from Kary Klismet: Texas A&M-Corpus Christi is retiring its "Izzy the Islander" mascot following complaints that it is derogatory toward Pacific Islander culture. … Vassar College's men's volleyball team has new uniforms. … Belarus's Olympic Committee has unveiled its national team uniforms for the Tokyo Olympics. … Wrestling aesthetician Ross Bendik ranked the top podium warm-ups from last weekend's NCAA Division I Wrestling Championships. … This piece recounts the history of the Annie's Homegrown bunny logo and its signature purple packaging (from Scott Rogers).
• • • • •
• • • • •
• • • • •
Our latest raffle winners are Adam Hornstine and Phillip Sanchez, each of whom has won a Uni Watch membership card. Congrats to them, and big thanks to Steve Heller for sponsoring this one.
Meanwhile: I'm told that NBA leaker Igor Coelho, who I interviewed back in November, is recovering from Covid. As you may recall, he lives in Brazil, which has been hit particularly hard by the pandemic. Igor, if you're reading this, hope you're feeling better soon. — Paul