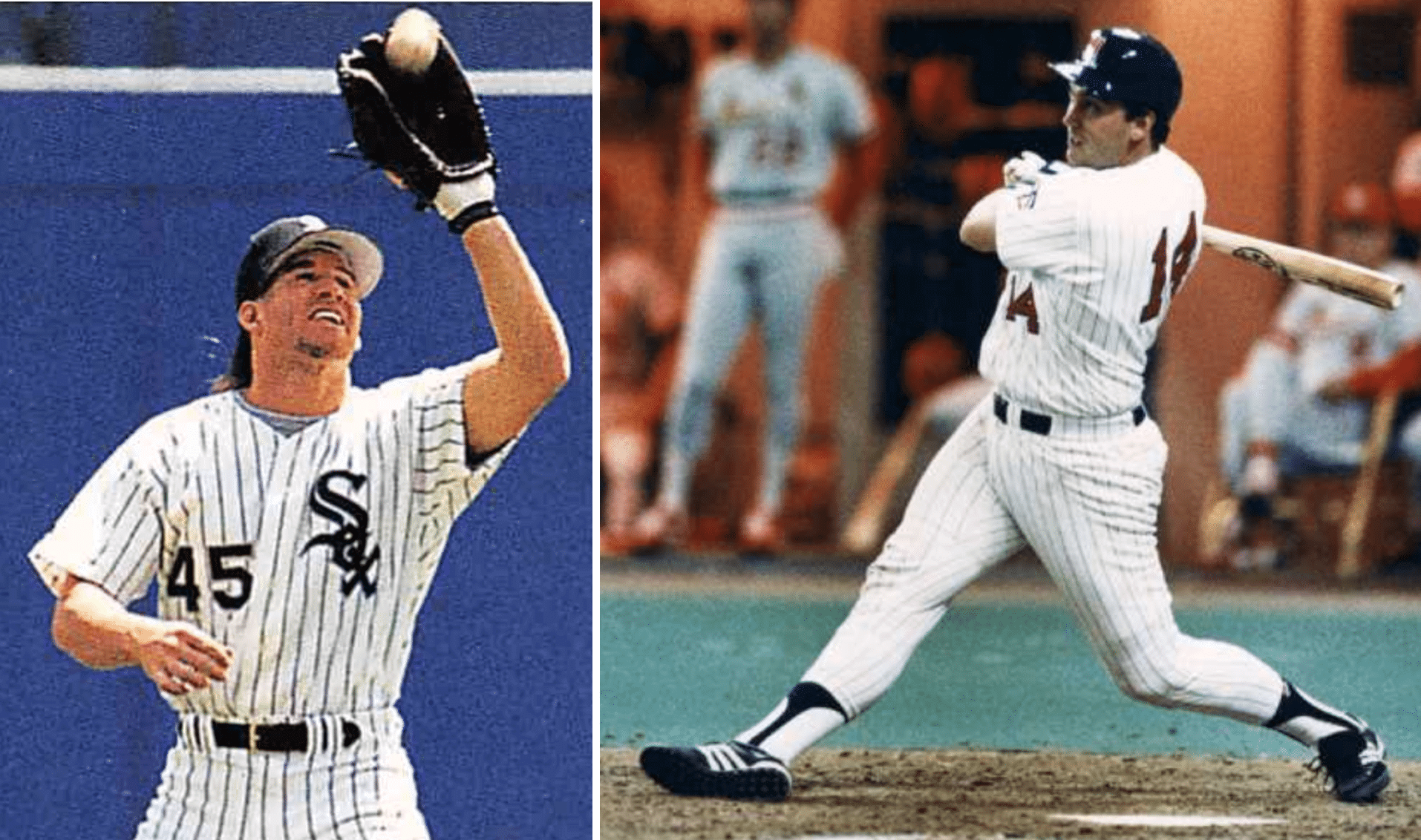 I recently came across two interesting items about semi-recent MLB hosiery history that were new to me. First, longtime Uni Watch reader Trevor Williams alerted me to an interesting passage in former Twins first baseman Kent Hrbek's Wikipedia entry, as follows:
Hrbek, who was notorious for losing his stirrups, was the most outspoken member of the MLBPA to revise the uniform code to remove mandatory stirrups and helped to ensure that it was written into the new labor agreement following the 1994 player strike. "I'm thankful that future generations of players will not have to rummage through their lockers 20 minutes before the first pitch to find those darn stirrups. If that's my lone contribution to the game, I've done enough."
I hadn't ever heard that before. Seems like something that would have come up before if it were true, right? Interestingly, the passage was not source-cited in the Wiki entry — a yellow flag, for sure. So I Googled the "darn stirrups" quote and also just "Kent Hrbek stirrups," and the only thing that came up was an auction listing for a Hrbek-autographed ball, the key passage of which seems to have been copy/pasted from the Wikipedia entry (or possibly vice-versa). So my initial hunch was that a prankster had added the stirrups bit to Hrbek's Wikipedia entry and that the whole thing was bogus.
But after I mentioned all of this on Twitter, one of my followers, Daniel Garcia, said he had a connection to Hrbek and could try to find out more. He eventually wrote back to me with the following:
My friend Kristen is Hrbek's girlfriend! We went to high school together in Casper, Wyo. I messaged her on Facebook, and she said someone had asked them about it once and it's true — Kent fought against the stirrups! She showed him the blurb [from the Wikipedia entry]. He agreed with the sentiment, but wasn't so sure he used so many big words!
Daniel even provided screen shots of his conversation with Kristen: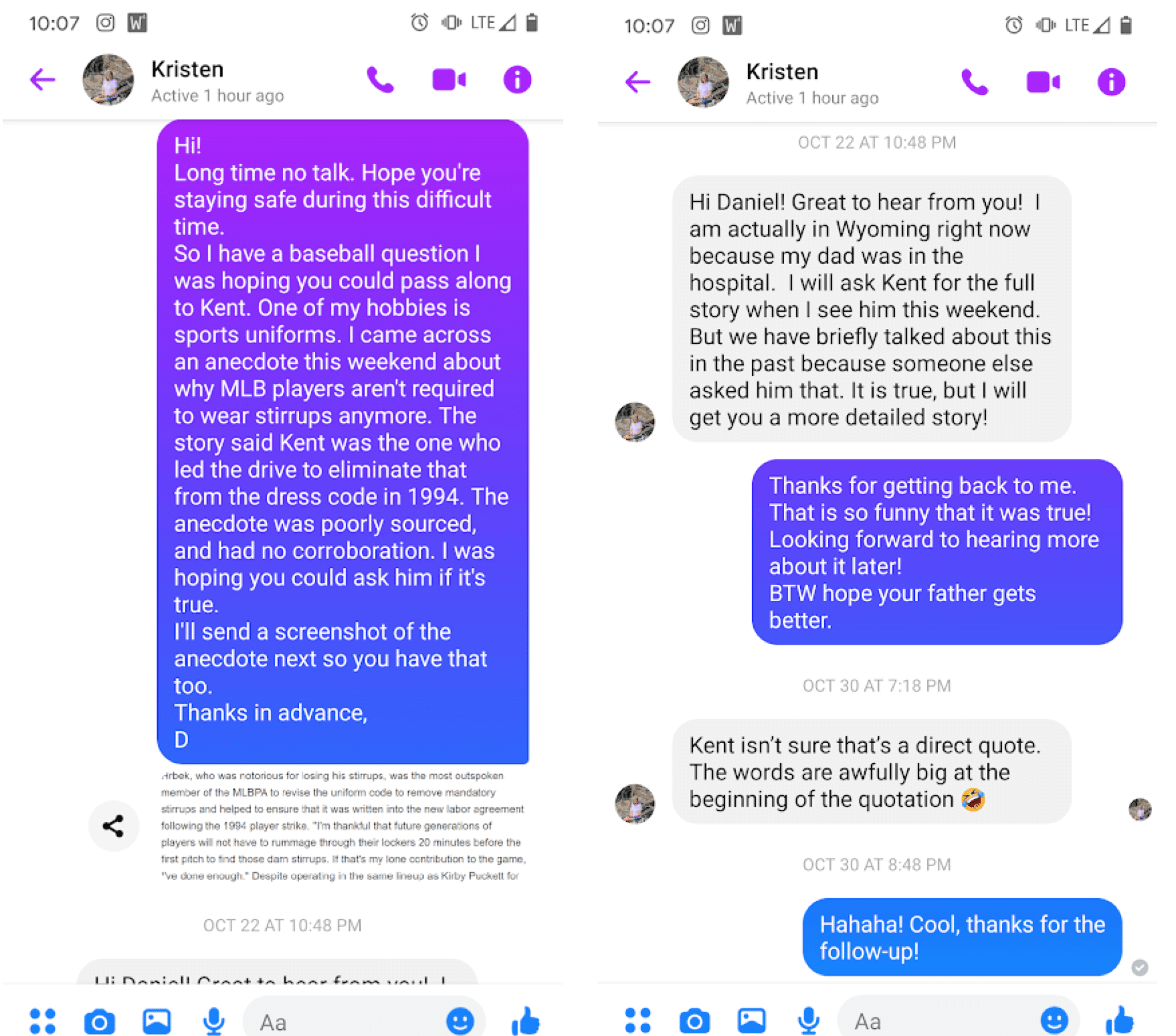 (As you can see, Daniel's conversation with Kristen was last October. This story has been sitting in my "evergreens" pile since then. No particular reason why I've waited this long to publish it — it just didn't seem urgent.)
So Hrbek, it turns out, is a heretofore unacknowledged MLB hosiery heretic! A stirrups scalawag! A legwear lowlife! He seems like a decent guy, but his role in the diminution of stirrup supremacy is inexcusable. We'll have to reserve a nook for him in the Uni Watch Hall of Shame.
Meanwhile, speaking of stirrups, check out this wire service squib about White Sox outfielder Shawn Abner that ran in many newspapers on June 12, 1992: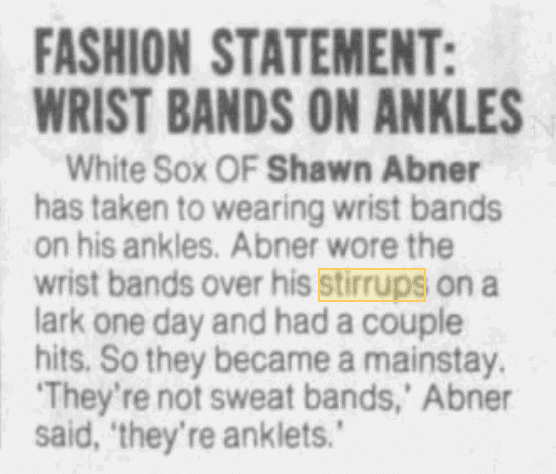 I stumbled across that item while researching something else. Naturally, I stopped what I was doing and started hunting for 1992 photos of Abner. Here's the best one I could find (click to enlarge):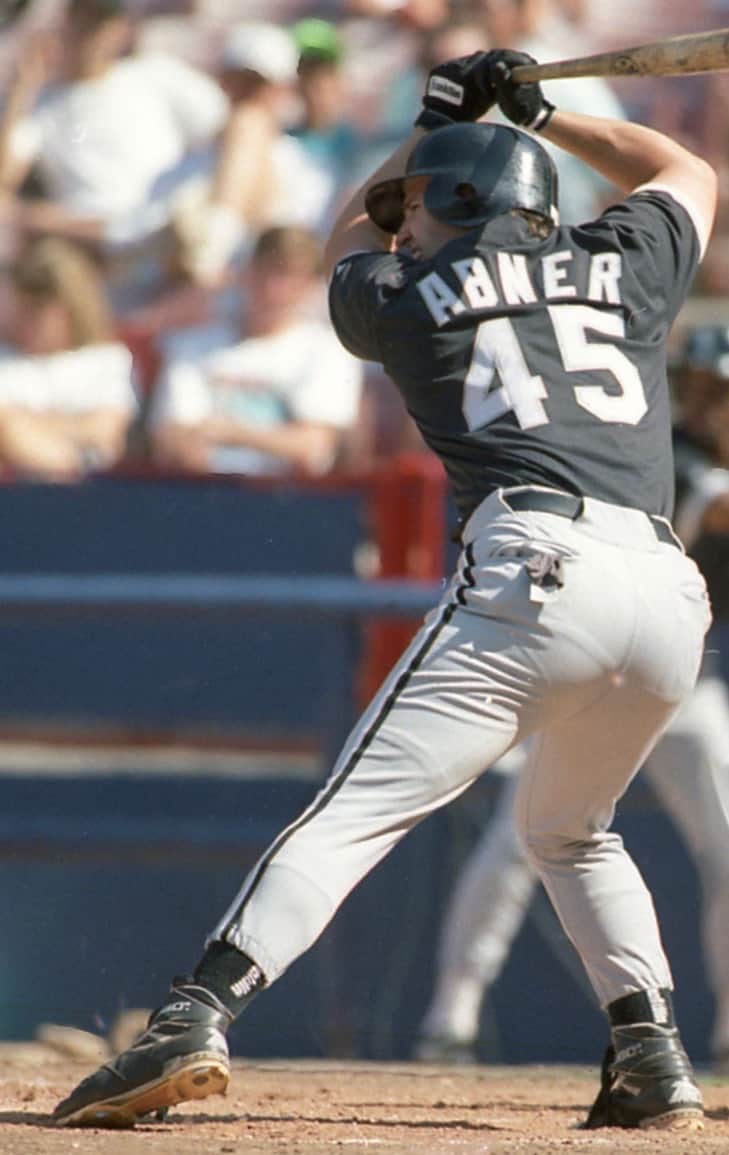 At first glance, those seem to be weird socks with sort of text printed in the Achilles region (the last three letters appear to be "din"). Could those be the "anklets" he was wearing?
Update: As several commenters have quickly pointed out, those three letters are likely "lin" (not "din"), as in "Franklin." Looking at it again, it does appear to be the Franklin logo.
Here's another shot that seems to show some lines or edges just below Abner's pant cuffs (click to slightly enlarge):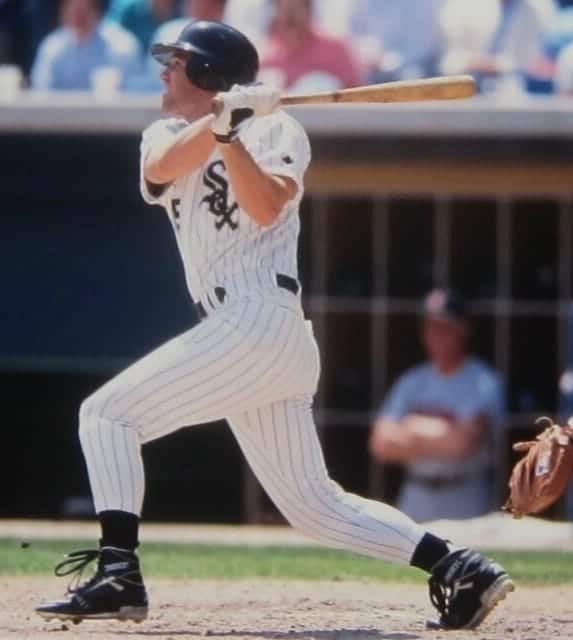 Definitely an interesting uni quirk (and another case of a story I hadn't heard before), although it's unlikely to eclipse the more notorious entry on Abner's bio.
(Big thanks to Trevor Williams and Daniel Garcia for this contributions to this entry.)
• • • • •
• • • • •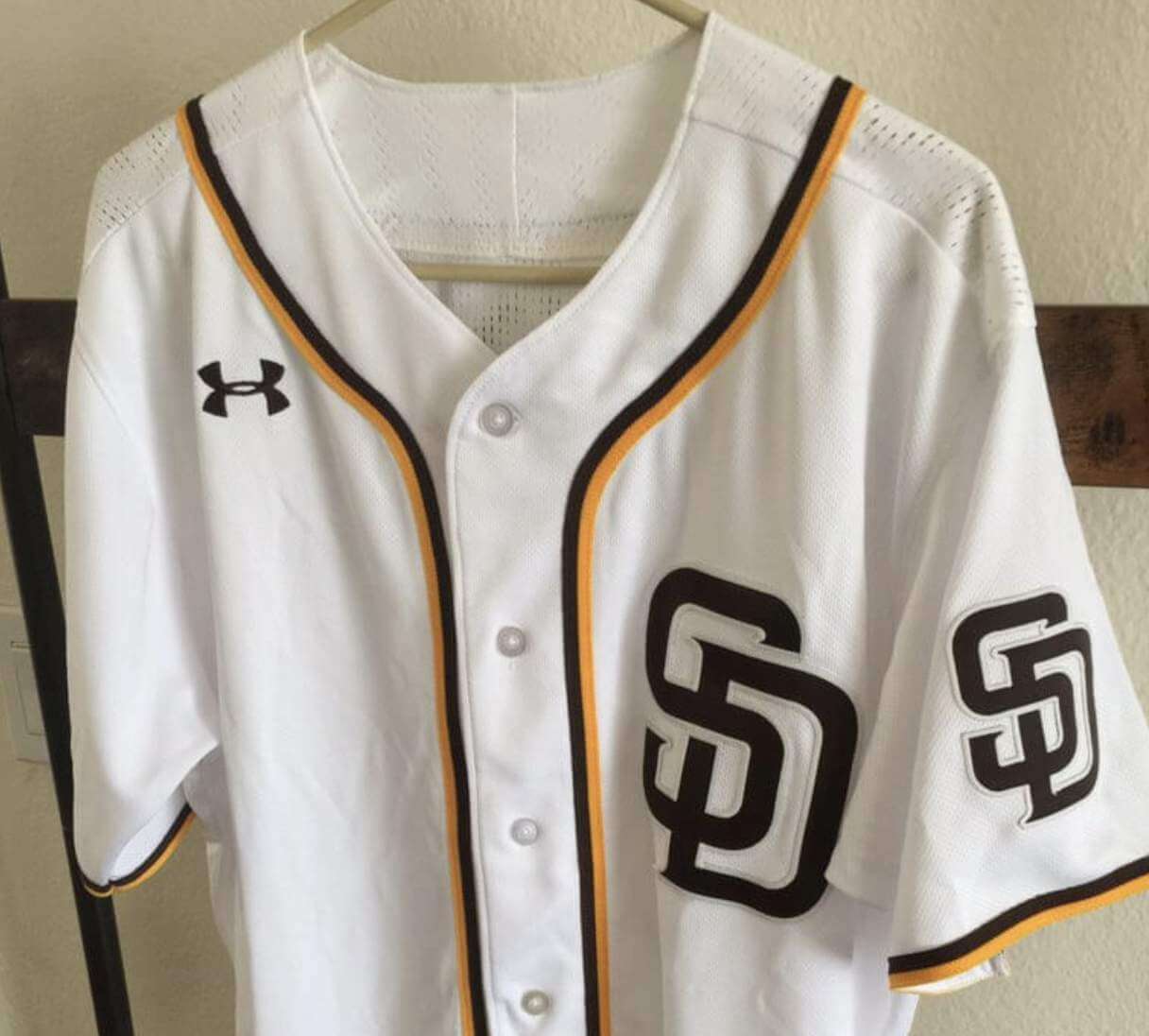 Under Armour prototype update: Yesterday I wrote about the apparent Under Armour-made MLB prototype jersey that a reader picked up at a sale of surplus Padres gear. Now a well-placed source who prefers to remain anonymous has provided more information:
I can confirm that the jersey is a prototype from the development process for the uniforms that Under Armour was going to manufacture for MLB. The mesh on the back of the jersey is a micro-thread mesh that is shared across various uniforms UA currently makes. The pattern is a diamond mesh, which was intended to to be a play on the baseball diamond and tell a visual ventilation story.

You can see this fabric used in basketball uniforms, lacrosse uniforms, baseball uniforms, and strategically placed in other uniform platforms. The mesh is engineered and isn't the same diamond pattern in basketball as it is in baseball.
Ay yi yi — "tell a visual ventilation story"? Yikes. When UA backed out of their MLB deal, that was a narrow escape for sure.
• • • • •
• • • • •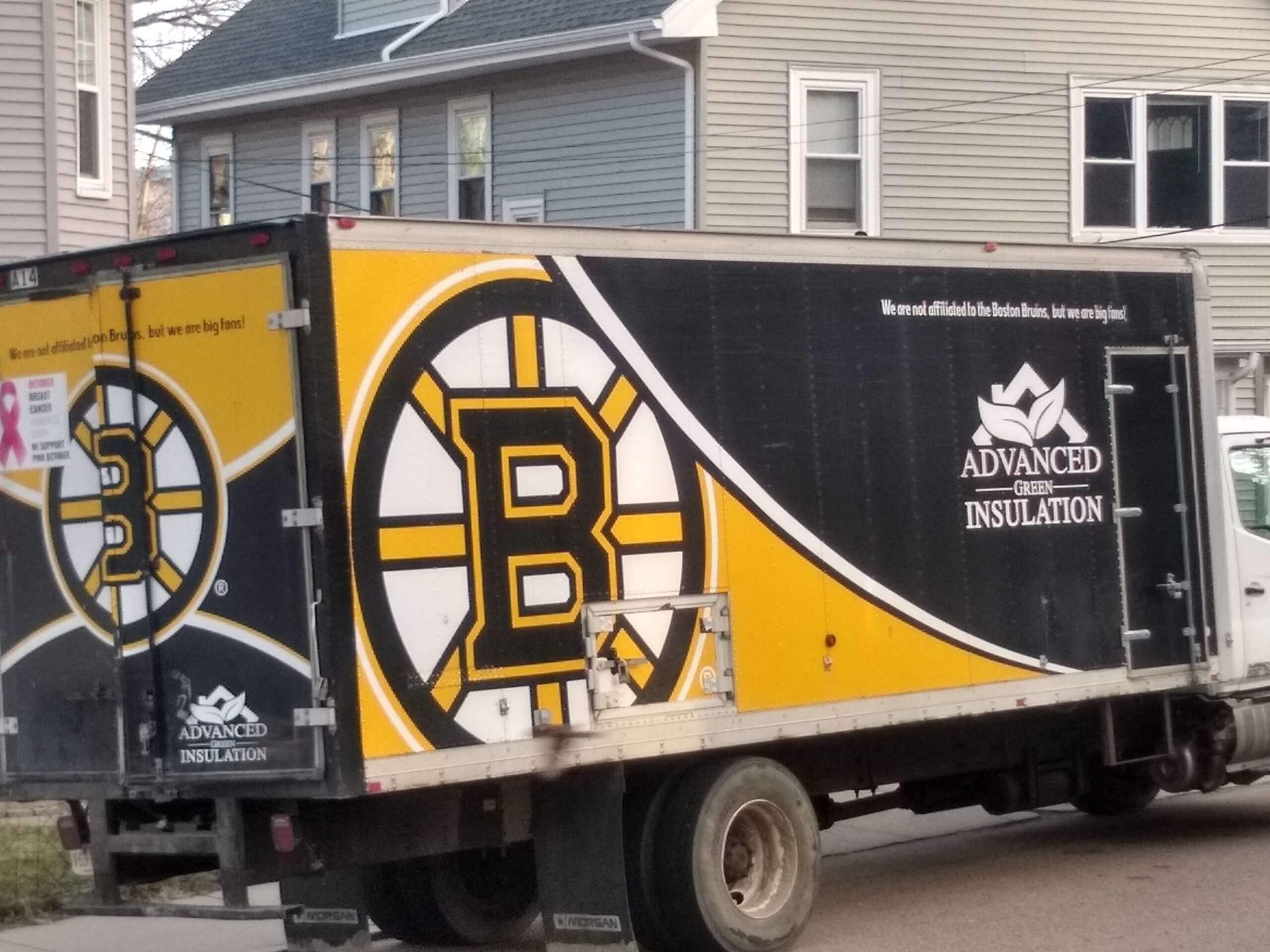 Click to enlarge
Truth in advertising: We've all seen lots of businesses that have poached team logos for their signs, trucks, or whatever. But Advanced Green Insulation, a company in East Weymouth, Mass., has them all beat. See that fine print near the top-front of the truck? It says, "We are not affiliated to the Boston Bruins, but we are big fans!"
Gotta like that.
(Big thanks to Paul Friedmann for this one.)
• • • • •
• • • • •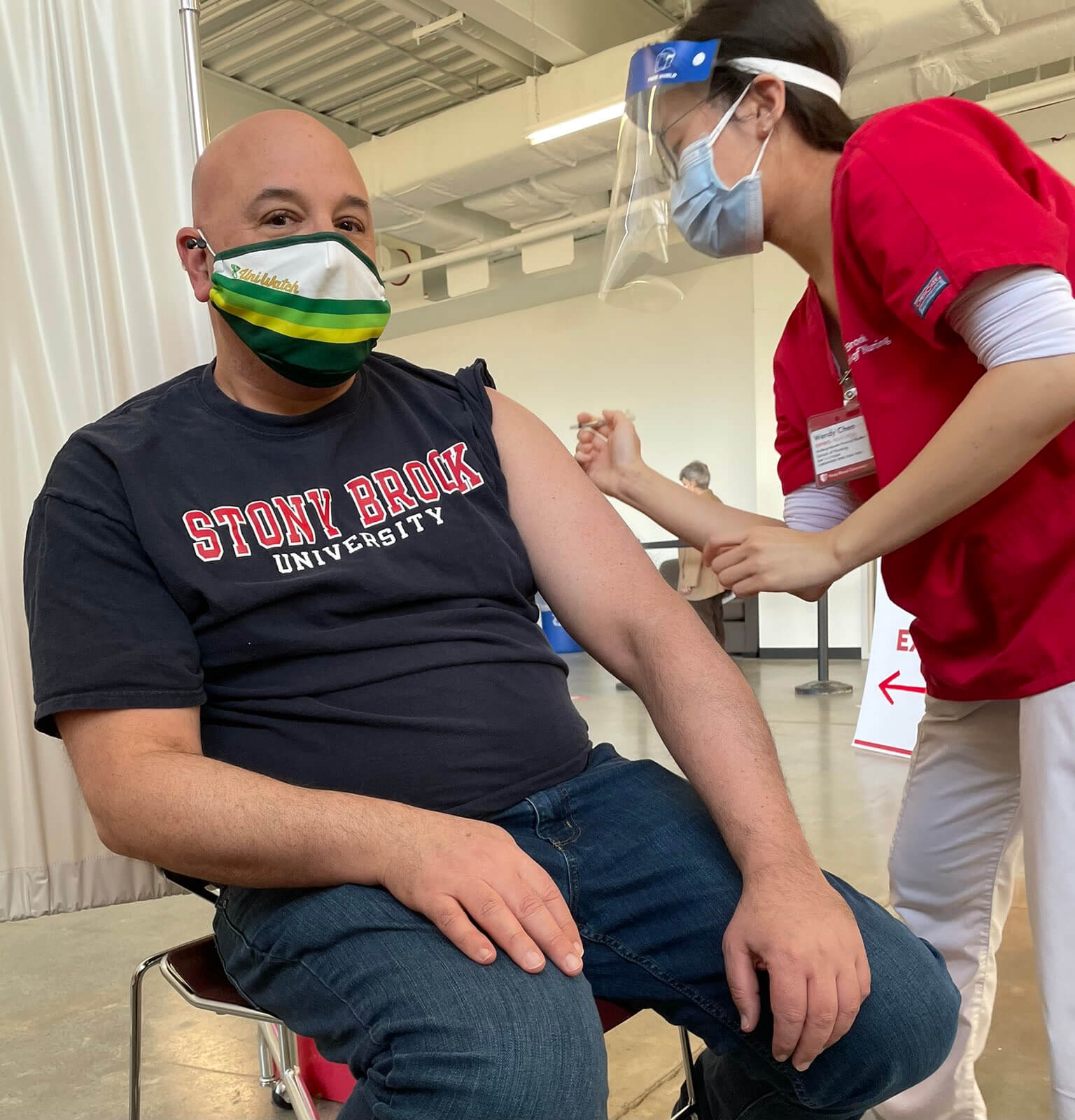 Click to enlarge
Look good, feel good: Who's that getting Covid-vaccinated in the SUNY-Stony Brook shirt and the Uni Watch mask? None other than longtime reader, New York Rangers super-fan, and all-around swell guy Alan Kreit. Thanks for doing your part for public health, Alan!
• • • • •
• • • • •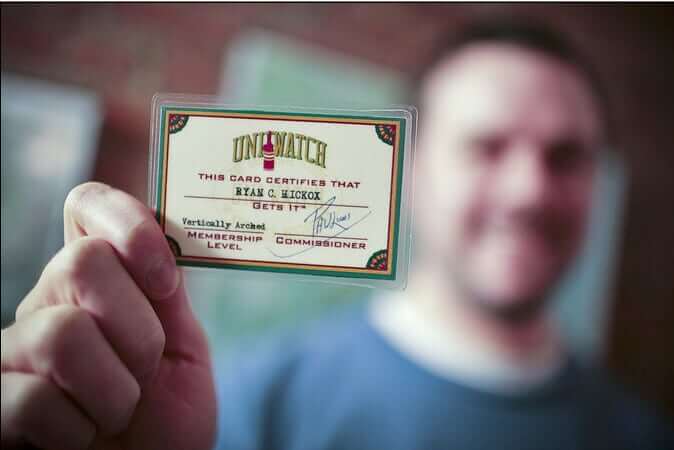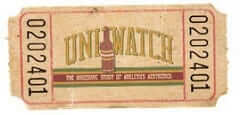 ITEM! New membership raffle: Reader Steve Heller recently purchased two memberships for me to raffle off, so that's what we're going to do today.
This will be a one-day raffle. No entry restrictions. To enter, send an email to the raffle in-box by 8pm Eastern tonight. One entry per person. I'll announce the winner tomorrow. Good luck!
• • • • •
• • • • •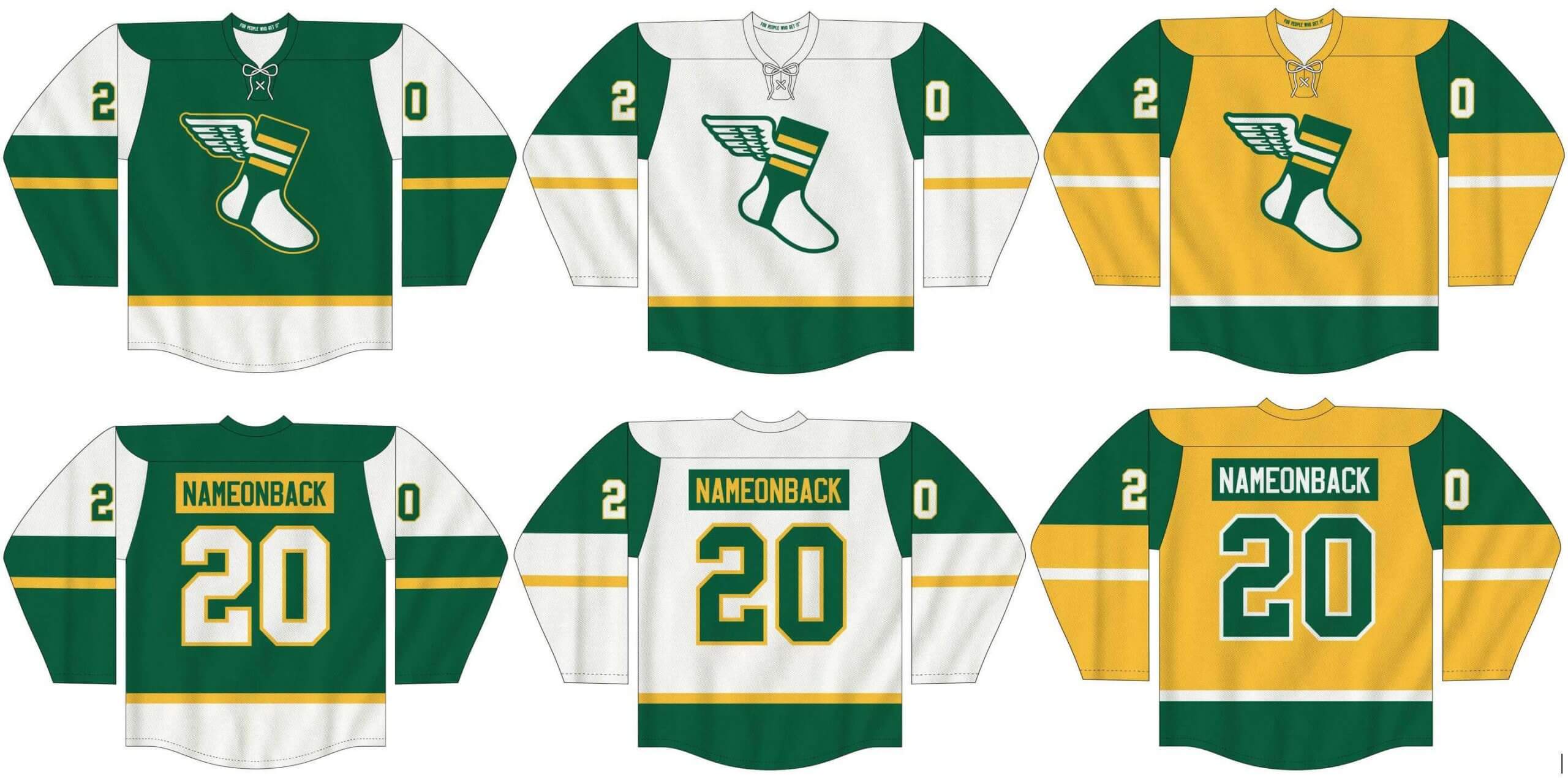 Click to enlarge
LAST WEEK for hockey and hosier pre-orders: As you probably know by now, we have a new line of Uni Watch hockey jerseys (customizable with your choice of number and NOB, of course), as well as new Uni Watch socks and stirrups. In order to get in on these items, you must place your pre-order by March 31 — that's one week from today. You can do that here. We expect the finished product to ship out by the end of April.
Meanwhile: Todd Radom and I had recently found a small stash of our limited-edition 2018 "Rain Check" print that we had set aside for promo purposes and then forgotten about. These are all signed by both Todd and myself: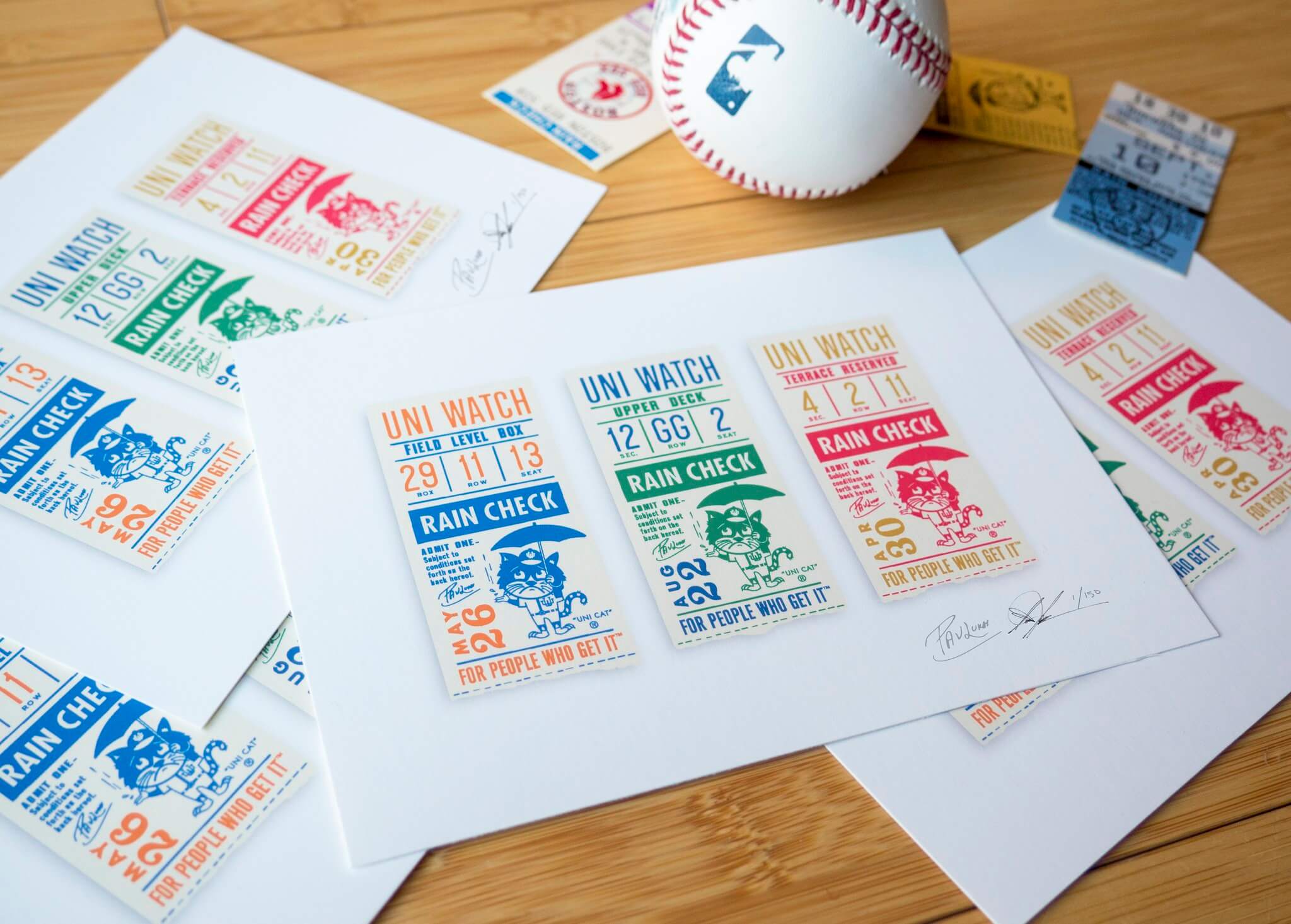 These are available while supplies last on Todd's website.
My thanks, as always, for your consideration.
• • • • •
• • • • •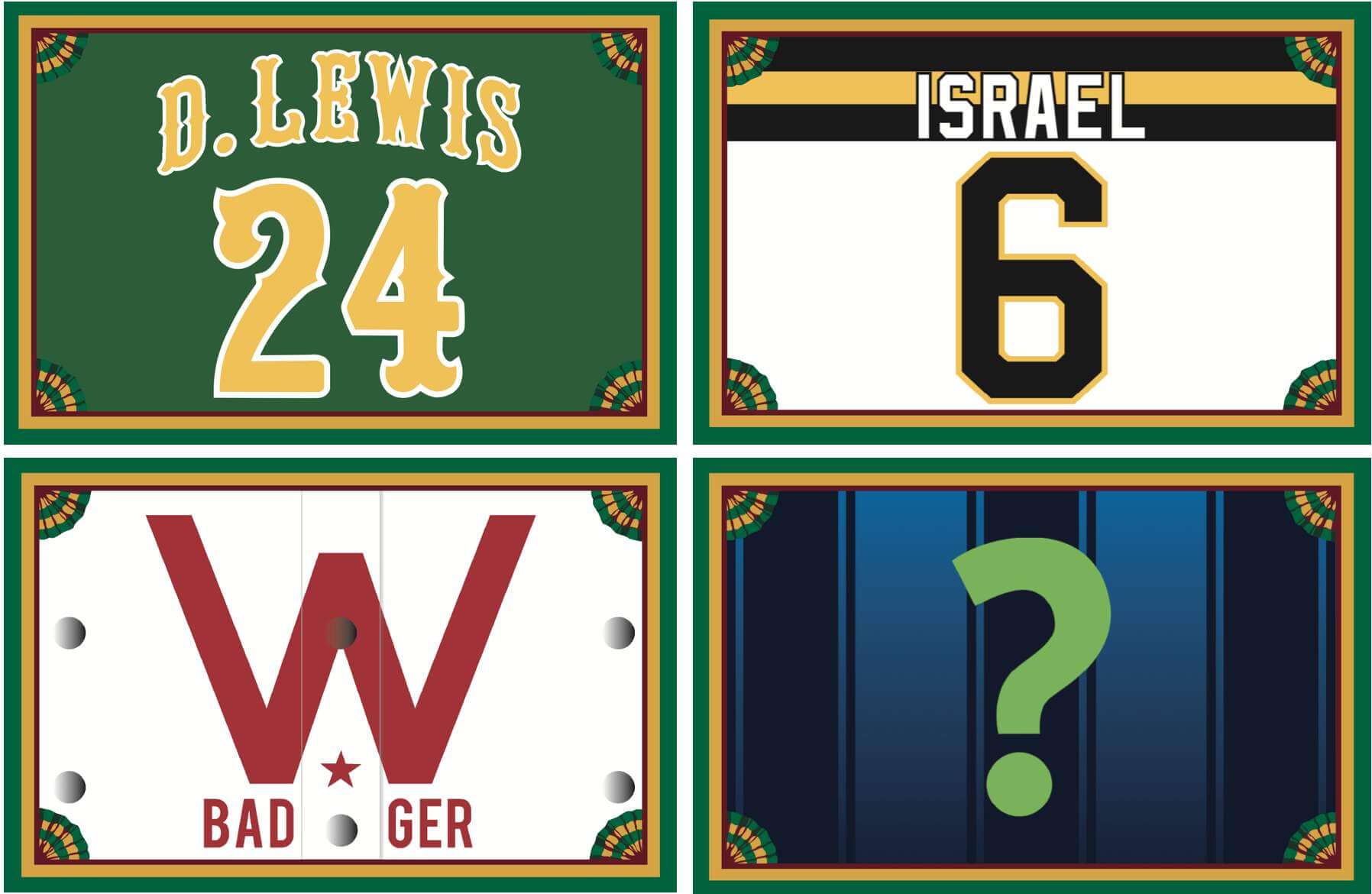 Membership update: You know how it usually works — we produce a new sheet of cards and I single out one of them to show you. But sometimes a sheet has so many interesting designs that it's impossible to choose just one. That was the case with our latest batch. Clockwise from top left, we have:
• Dustin Lewis's card, based on the 1994-95 Oregon men's basketball team. Wow, what a uniform!
• Jeff Israel's card, based on the Bruins' 75th-anniversary jersey from 1991-92. Love that striped NOB panel!
• Tom Gronek's latest card, based on the Skra soccer jersey, which had a question mark on the front. We don't usually do front-jersey treatments, but this one was so unusual that I decided to allow it (plus Tom wrote a Uni Watch entry about it last year, so he's earned it!).
• Jacob Olson's card, which is based on this old Wisconsin football helmet. Spectacular job by card designer Scott M.X. Turner on this one (and on all of these, really).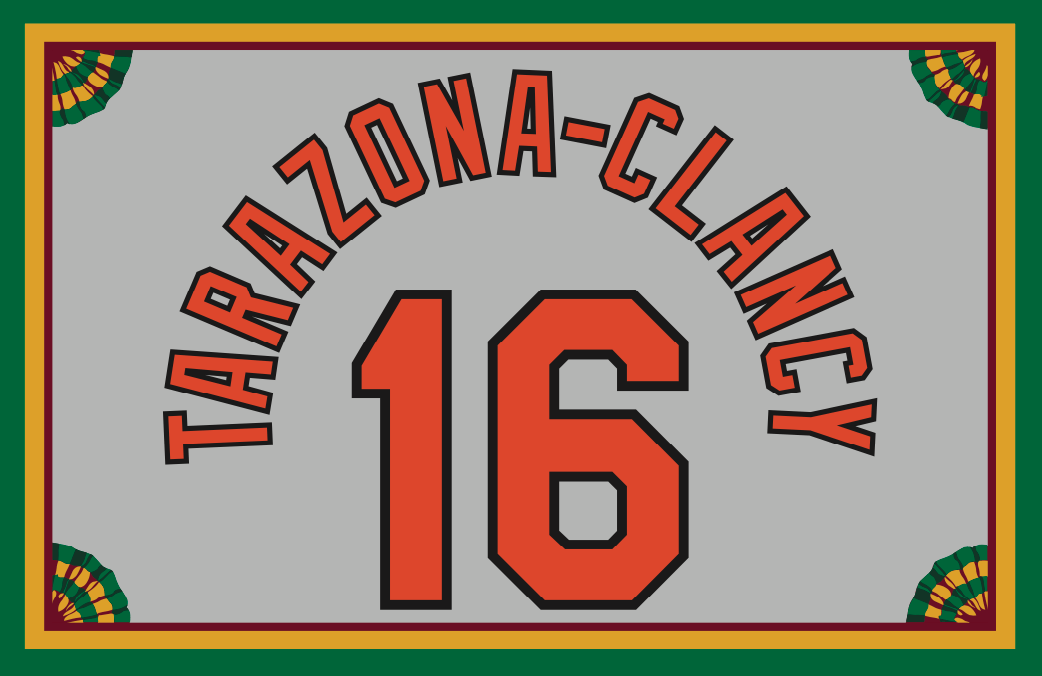 And as a bonus, we have Bridgett Tarazona-Clancy's card. The basic Orioles road treatment is fairly straightforward, but that NOB is of Saltalamacchian proportions!
Wanna get in on the fun? Ordering a membership card is a good way to support Uni Watch (which, frankly, could use your support these days). And remember, a Uni Watch membership card entitles you to a 15% discount on any of the merchandise in the Uni Watch, Uni Rock, and Naming Wrongs shops, plus the discount also applies to our Uni Watch Classic Cap. (If you're an existing member and would like to have the discount code, email me and I'll hook you up.)
As always, you can sign up for your own custom-designed card here, you can see all the cards we've designed so far here (now more than 3,000 of them!), and you can see how we produce the cards here.
• • • • •
• • • • •
The Ticker
By Lloyd Alaban

Baseball News: The Welland Jackfish of the independent Intercounty Baseball League will call themselves the Welland Roses for one game starting this season.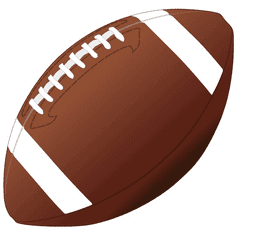 Football News: Georgia Tech is awarding single-digit uni numbers to certain notable players. … One sportswriter is asking the CFL's Edmonton Football Team to stop using its "EE" initials (from Phillip Tutor).

Hockey News: The Ontario Reign, affiliates of the Kings, will debut their Inland Empire alternate uniforms tonight (from @artofscorebug). … A sportswriter thinks the NHL's ЯR uniforms should stick around (from our own Phil Hecken).

Basketball News: As previewed in yesterday's Ticker, the Lakers wore their City alternates last night as a memorial tribute to Elgin Baylor (from our own Phil Hecken). … The Women's NIT played some of its regional games on a court in Rockford, Ill., with Raptors PG Fred VanVleet's logo at half court. Rockford is VanVleet's hometown (from Jeff Lowary). … Throwbacks last night for Syracuse women's (from Matt Rashford). … Reader Adam Zajac noticed the increase of players tucking under the legs of their shorts in the men's tourney.

Soccer News: New sleeve ad for the Seattle Sounders (from multiple readers). … Adidas has released some Euro 2020 and Copa América shirts. … Mexico's national teams have a new first shirt. It is (again) black, with pink this time (from our own Jamie Rathjen). … New shirts for Indian side FC Goa. "They'll be worn in the Asian Champions League," says Ed Zelaski.

Grab Bag: A sportswriter has ranked what he believes are the best cricket kits of all time (from our own Phil Hecken). … Graphic designers have noticed that the new Paramount+ logo may contain a serious error. … Interesting report on the results of a study about the effects of "brand activism."
• • • • •
• • • • •