Click to enlarge
By now, most of you folks are probably familiar with the major uniform history online databases — Dressed to the Nines for MLB, NHLuniforms.com for the NHL, the Gridiron Uniform Database for pro football, and so on.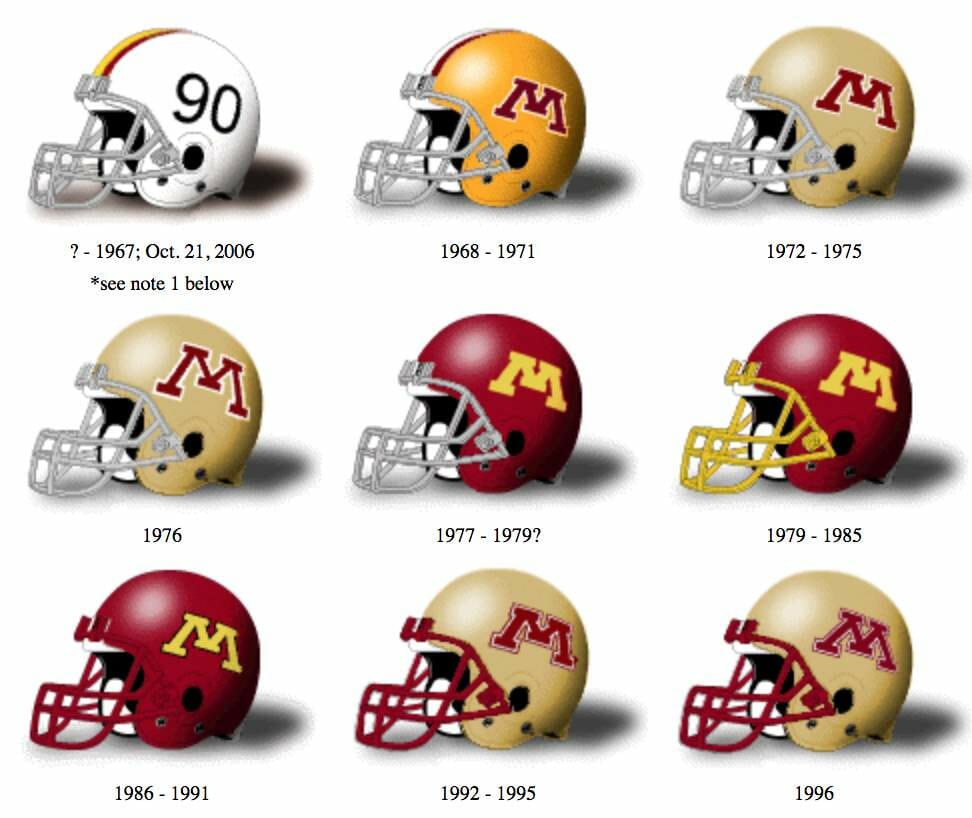 Another football resource is The Helmet Project, which documents all of the helmets worn by pro and college football teams back to about 1960 (see small excerpt at right; click to enlarge). Launched by Charles Arey back in 1999, it was one of the internet's first uni databases, and Arey still diligently updates it — no mean feat considering the proliferation of college football helmets over the past two decades.
The Helmet Project is awesome — I've referred to it countless times over the years — but it also has its limitations, the most significant of which is that Arey's default template shows only one side of the helmet — a problematic format, given how many college teams now have different designs on each side of the lid.
Now there's a new helmet database: Helmet History. The person behind it is Blaise D'Sylva, who was featured on Uni Watch a little over a year ago because of his incredible Pocket Pro helmet collection. He's taken an interesting approach with this project: Whereas other uniform databases feature templates and mock-ups that serve as representations of uniforms, Helmet History uses photographs. To my knowledge, it's the first uniform database website to go that route.
If D'Sylva can show a helmet's essential elements in a single photo, he does so. If it takes more than one photo, he runs more than one. His goal is to show everything that needs to be shown, not to shoehorn everything into a single image.
For now, Helmet History has deep historical coverage of the NFL, CFL, and FBS, with additional coverage on the way (more on that in a minute). There's definitely some room for refinement — the site's layout could be improved, and it would be so much better if the thumbnail-sized photos had a click-to-enlarge functionality (or, even better, hover to enlarge) — but this is clearly a major research undertaking, and a serious addition to the uni-verse.
Here are some thoughts from D'Sylva:
The website is at helmethistory.com. I was surprised that domain was still available! The purpose of the site is to show the helmet history of teams through actual game photos, rather than mock-ups or illustrations. I want to have the most accurate site that can serve as a historical record for football headwear, going back to the 1930s.

Photo research has been tricky. For my past projects, I've usually just needed a photo that was clear enough for me to verify which helmet had been worn in a given game. But for this new site, I wanted every photo to really show the helmet — not just be close enough to give an idea of what was worn — which meant I needed to find photos that showed specific angles, and they all had to be in focus.

Finishing all 130 FBS teams, in some cases going back to the 1930s, was an incredibly arduous process. There are over 5,000 helmets for these teams, and over 8,000 photos (because some helmets require multiple photos to show all the design details). School yearbooks are essential resources for photos, especially pre-1990. Student newspapers, local newspapers, opposing teams' yearbooks, and media guides are also helpful (as are, of course, basic internet searches).

The NFL, CFL, and NCAA FBS sections are currently complete. Next I'll start working on some FCS schools (the Ivy League will be tough, because their yearbooks are not readily available online), and eventually I'll add some other pro leagues like XFL2, AAF, and possibly the USFL and WFL, assuming I can find good photos.

I also want to go back and do some more work on the FBS teams. I want to improve the quality of photos (especially on some of the first teams I worked on, when I was still figuring out the best approach to everything) and also add more information about special helmets.

I welcome any photos, information, suggestions, and feedback that others can provide. I want to make the site as great as possible, and I've already had people reach out to share photos and information that I've incorporated into the site, so please keep it coming!
Good stuff! Please join me in congratulating Blaise on the launch of this new project, and also in thanking him for creating this valuable new research resource.
• • • • •
• • • • •
Here are the final two sides of the blocks. HUGE shoutout to @sportslogosnet for the wonderful database that helped me so much! And thank you to @ewall1225 for answering my questions! Hoping to pass on my love of logos to my little guy! pic.twitter.com/cOlg4JJiDV

— Thomas Miller (@Thomas_Miller21) January 31, 2021
Chip off the old block: Back in December 2019, I ran a guest post from reader Loren Southard about his awesome DIY uni-themed building blocks. That post inspired reader Eric Wall to create his own uni-themed blocks. And now Eric's post has in turn inspired Thomas Miller to create his own set (shown above).
I really love these projects — great stuff!
• • • • •
• • • • •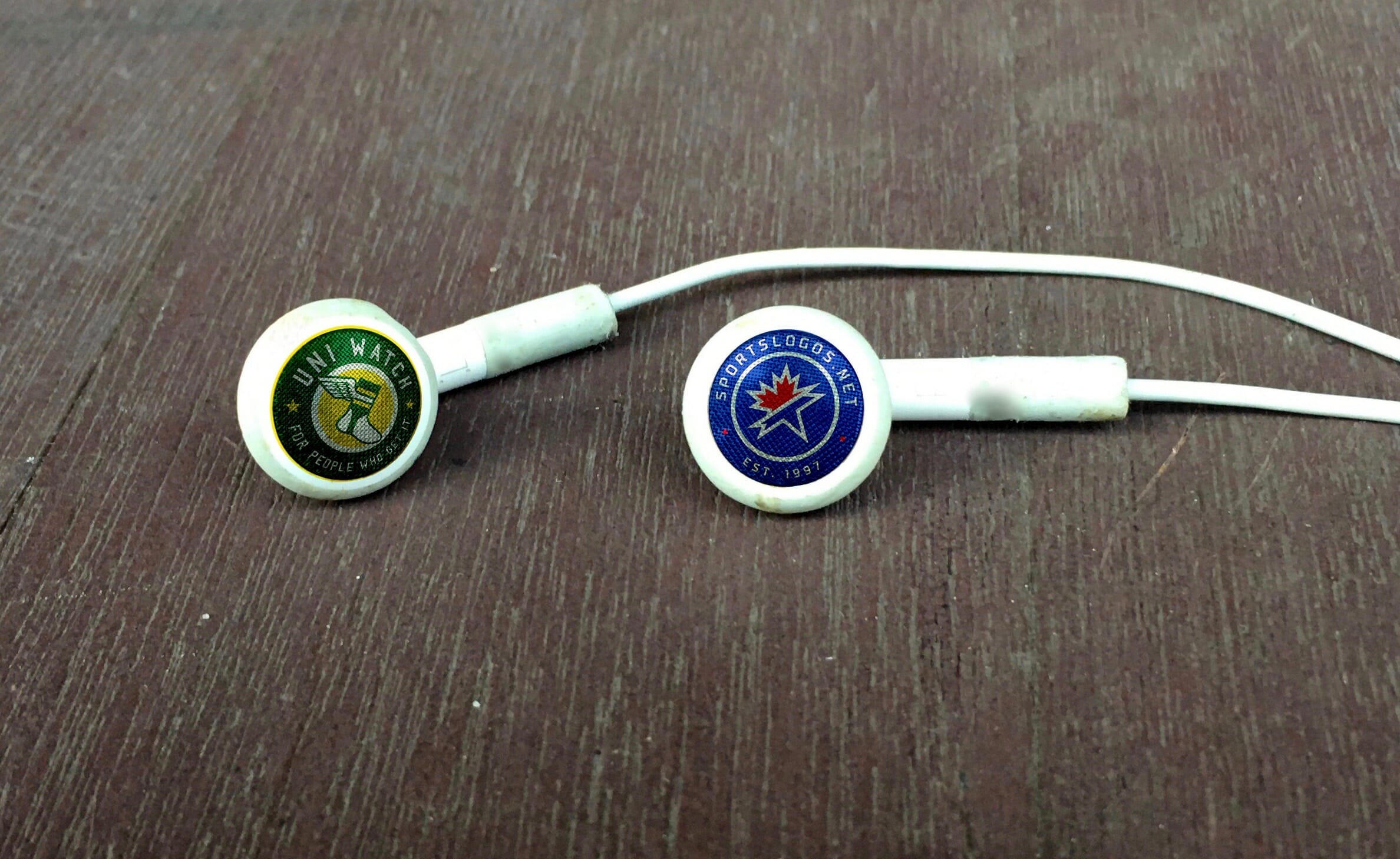 Podcast update: As I mentioned last week, SportsLogos.net founder Chris Creamer and I are launching a new podcast, called Unified (we've decided to go without the hyphen). Here are some updates on that:
• The audio and video versions of the first episode are edited and should be ready for your enjoyment either later today or tomorrow. After that, we aim to have new episodes each week, probably on Wednesdays or Thursdays.
• We hope to have a recurring segment in which we take questions from our listeners. If you'd like to submit a question for next week's episode, you can do so by replying to this tweet. (And if you haven't already followed the show on Twitter, you can do so at @unifiedcast.)
• We've hired the excellent sports designer Brian Gundell to create the show's logo. We had a meeting with him yesterday to outline the basic direction, and I can already tell that it's going to turn out really well.
• Longtime reader/pal Michael Princip has generously volunteered to create a motion graphic for us once the new logo is done. He's already created a sort of shell/placeholder version, and it looks sensational — thanks, Michael!
• In another very generous move, reader Chris Fraterrigo, who has lots of experience with this kind of thing, has volunteered to be our producer. Thanks, Chris!
That's it for now. Thanks for all the enthusiasm you folks have expressed about this project — it's really nice to have something new to be excited about during these stressful times.
• • • • •
• • • • •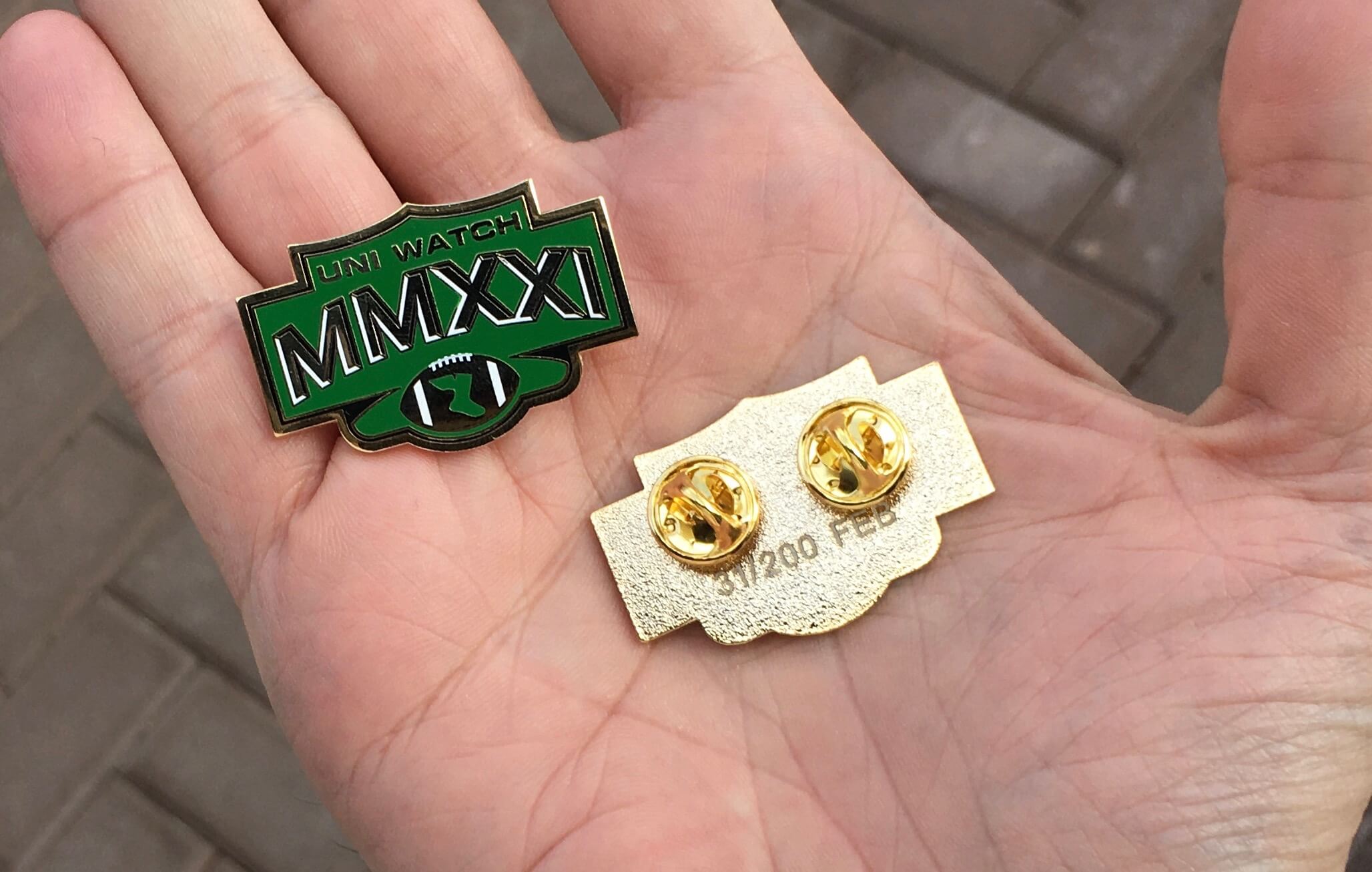 Click to enlarge
Pin Club reminder: In case you missed it on Monday, the Uni Watch Pin Club's design for February is now available. It's a shout-out to the Super Bowl, with the year 2021 rendered in Roman numerals.
Again, the pin is available here. My thanks, as always, for your consideration.
• • • • •
• • • • •
The Ticker
By Lloyd Alaban

Baseball News: New all-gold unis for Georgia Tech (from Michael Zoid). … New Sox IF Enrique Hernandez will wear No. 5 (from our own Anthony Emerson). … The Appalachian League's Johnson City Cardinals will now be called the Doughboys (from Chandler Parker). … Miller Park Way in Milwaukee has now officially become Brewers Boulevard (from R. Scott Rogers).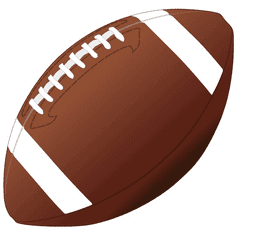 Football News: New helmet design for the University of North Dakota. Previously it was a green logo on the right, numbers on the left. This year they'll go with a black logo on both sides (from Dan Ullsperger). … Nike and the NFL have partnered for a $5 million grant for girls' flag football (from our own Brinke Guthrie). … EA Sports is bringing back a college football video game.

Hockey News: Capitals D Zdeno Chara appeared to have a hole cut out of the palm of his glove the other night. "Not entirely sure what the purpose of this modification is," says Brandon Weir. "As a hockey player, I can tell you that this type of thing happens over time as glove palms wear down with use, but to do it intentionally?" … ЯR unis last night for the Blue Jackets and Kings (from multiple readers). … Kings analyst Jim Fox got into the ЯR spirit with a retro-themed Kings tie (from Jakob Fox). … The Flyers are the latest NHL team to release their uniform schedule. … Devils G Scott Wedgewood's new mask for is inspired by Seinfeld character David Puddy's face-paint pattern (from Wade Heidt). … New mask for Jets G Connor Hellebuyck as well (from Ted Arnold).

Basketball News: The NBA has released more stringent mask protocols (from multiple readers). … Pistons F Blake Griffin, apparently experiencing some frustration, ripped apart his jersey while walking off the court at halftime last night. … Penn State men's went with the school's original black/pink color scheme last night (from Deb Seymour). … Baltimore photographer and activist Devin Allen is releasing a sneaker and apparel line with Under Armour, and Warrior G Steph Curry wore Allen's sneakers last night (from Andrew Cosentino).

Soccer News: New match ball for the Ekstraklasa (from Ed Zelaski). … Atlanta United will be the only MLS club to get a third shirt this season (from Matt Austin). … Liverpool DF Ozan Kabak is going FNOB (from @blakesjerven).

Grab Bag: Sports Illustrated has instituted a paywall for much of its online content. … Business Insider will now just be called Insider. … Teespring, the platform where lots of Uni Watch's merchandise is sold, is now just Spring. … Some very solid jersey-redesign concepts by @petemrogers on Instagram (from Tamás Szalai, checking in all the way from Budapest).
• • • • •
• • • • •